Santa Barbara county wine tour: sip, taste & discover the beautiful vineyards and wines 
Not knowing much about the various wine regions and appellations of the Santa Barbara county wine region, I opted to work with a popular wine touring outfit in the area called Savoir Fare Wine Tours. The knowledgeable guides customized a tour of the region highlighting some of the wonderful wineries, exploring the fun towns around wine country and some hidden/beautiful landscape around the county to explore and photograph. I was completely happy with spending part of the day touring with Savoir Fare in their comfortable Mercedes mini bus and discovering the best of Santa Barbara county and the various wine regions in the area.
I loved trying out new wines and visiting a fantastic wine destination and the doing a Santa Barbara County wine tour is a wonderful experience in Southern California. And it's fun to leave the driving and wine curating to experts that can create a customized menu of places for you to visit based on what your interests are in visiting the area and wineries.
Where is Santa Barbara wine country located at?
Santa Barbara wine country is located in the region of Santa Barbara County, which is situated along the central coast of California, United States. This picturesque wine region encompasses several valleys and towns, including the Santa Ynez Valley, Santa Maria Valley, and Sta. Rita Hills, known for their vineyards and wineries. The area is celebrated for its excellent wine production and stunning landscapes.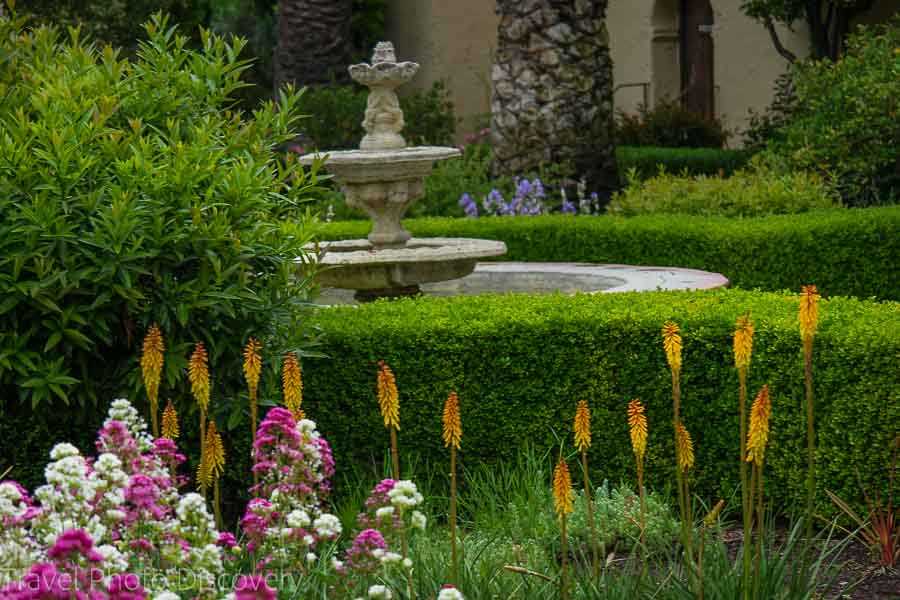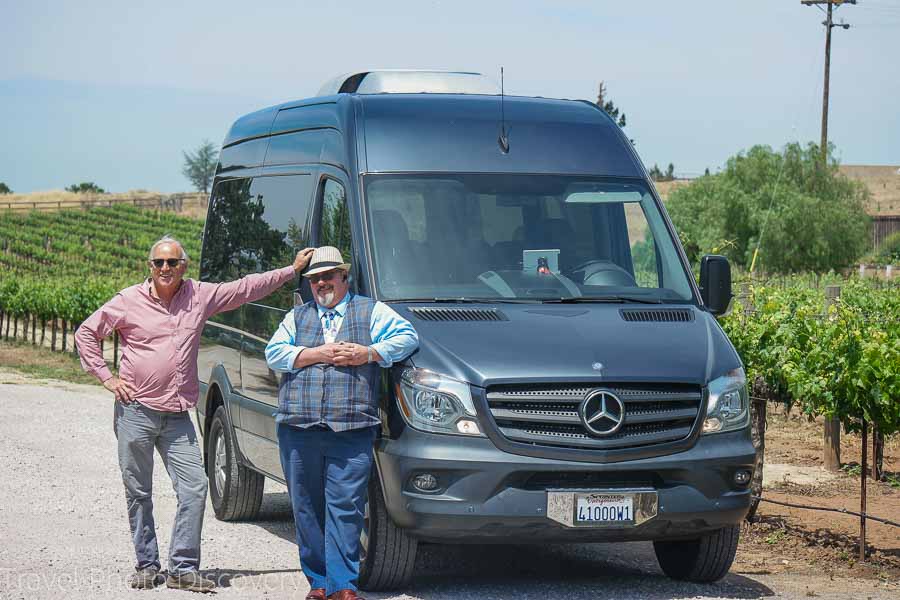 First stop – Santa Ynez Valley wine club
Our Savoir Fare wine bus picks us up in Ballard at a home my friends were house sitting and we started off quickly with a visit to a wine tasting cooperative called Santa Ynez Valley Wine Club. The wine club hand picks some of the smaller specialty producers that create selective wine varietals to grow and produce limited quantities in the region with higher quality product that meets their standard for sale with the club.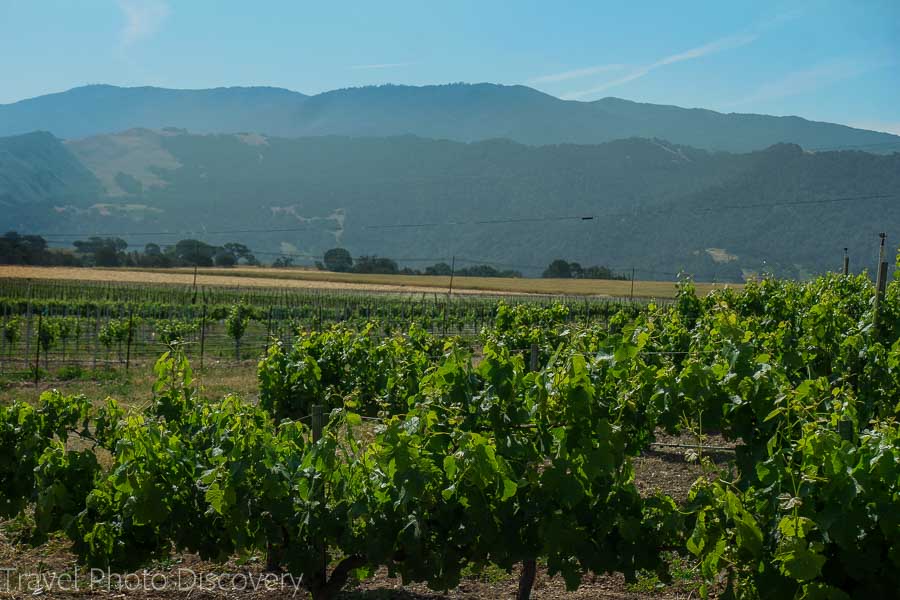 The tasting area for the wine club is outdoors in a vineyard area of Santa Ynez with a small pond amid rows of grapevines. A few white table cloth tables are set up with glassware and bottoms that will be tasted staged on top of a wine barrel for our upcoming tasting. We start a series of wines  from different areas of Santa Barbara including: a blush wine, sauvignon blanc, Merlot and a pinot noir from smaller producers that produce  "Bottled art" in the area and distribute primarily through the club for distribution. With limited production of these small brands, its good to rely on the expertise of the wine club to promote and share the specialty producers that bring more unusual and smaller production wines to their wine club.
Tip – You can also take part with a visit/tasting to the Santa Ynez Wine club with an advanced reservation to this exceptional experience. Simply check out their website here for more details on attending any of their special events.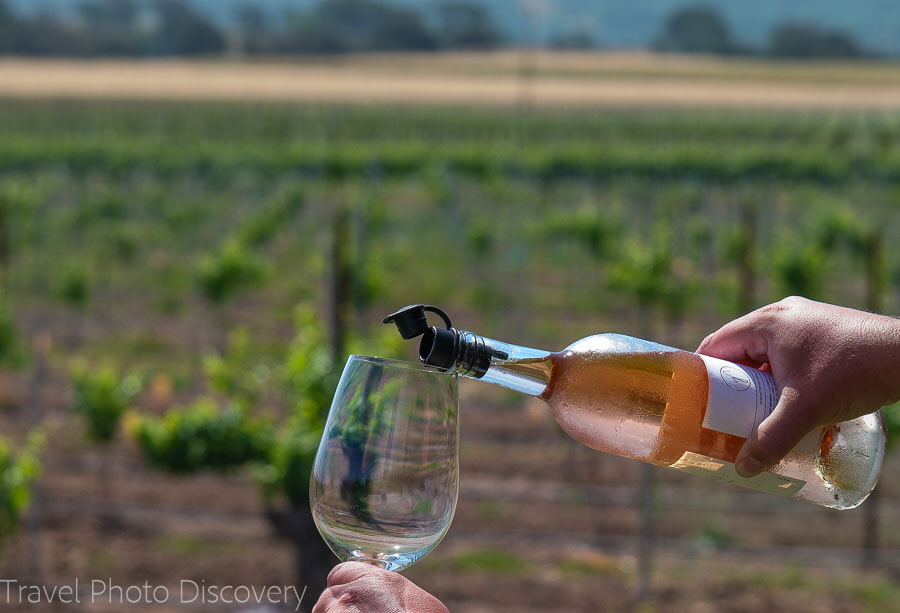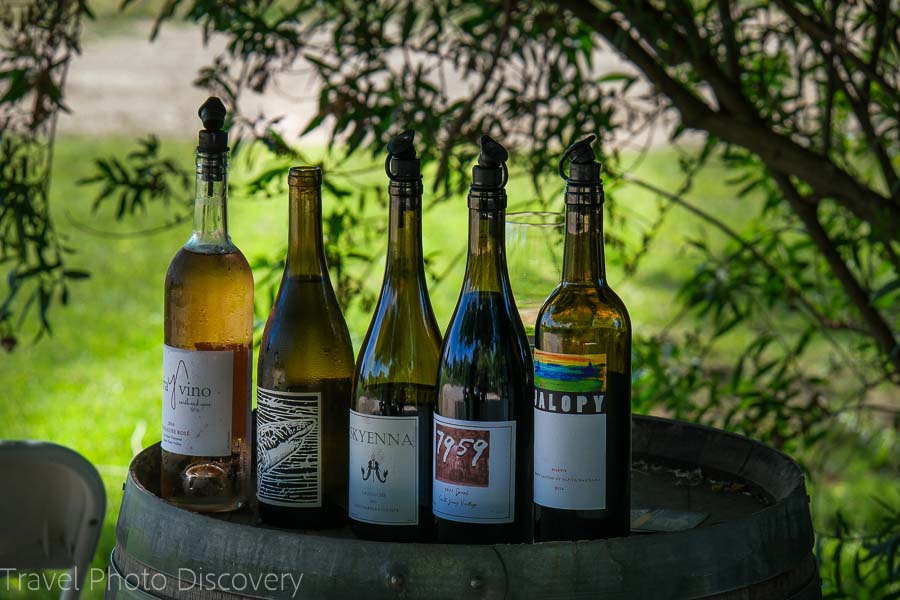 Wine country lifestyle at Sunstone Winery
After the wonderful outdoor wine club tasting experience, we head out to our first winery close by called Sunstone. We drop by the Tuscany style villa which is rented out for large parties and other events. Below the villa is the winery which with a tasting room and some wine caves in their tasting area to present some of their premiere wines including their estate grown Merlot, Cabernet Franc, Cabernet Sauvignon and Viornier farmed in an organic viticulture.
For more information on visiting Sunstone Winery and their range of wines, check out the Trip Advisor reviews on Sunstone winery here for more details and their calendar of events.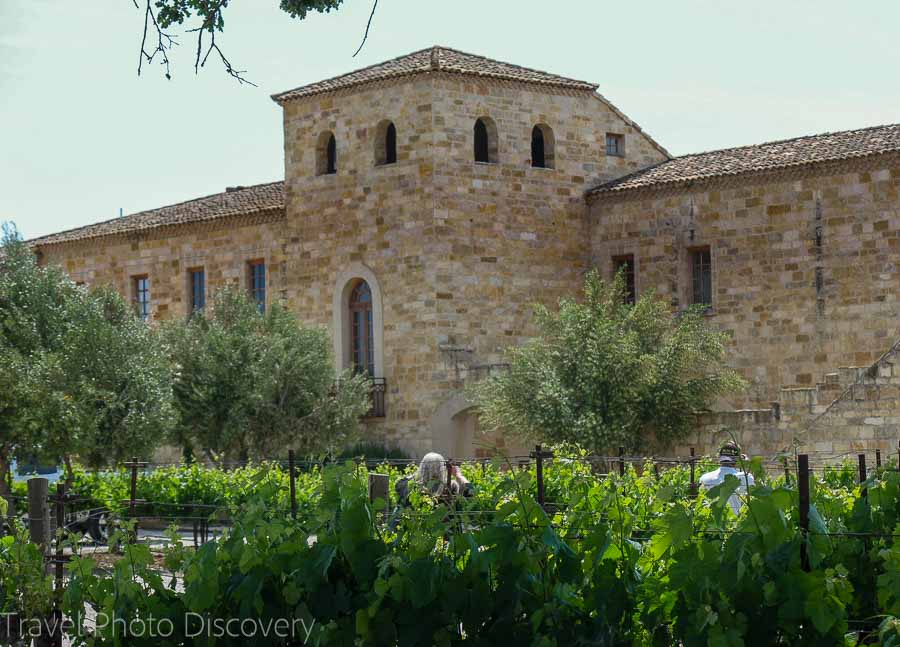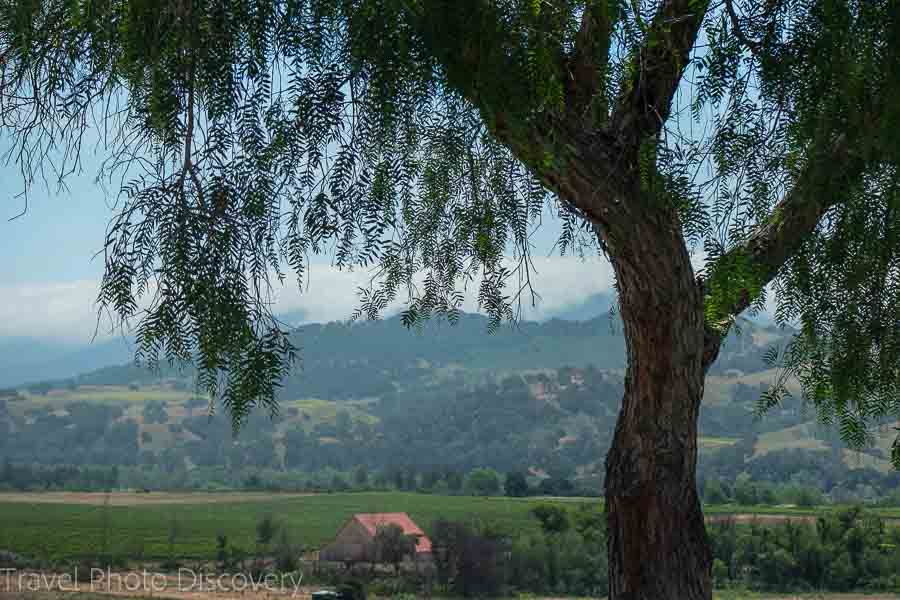 Enjoying the lifestyle and bocce ball at Sunstone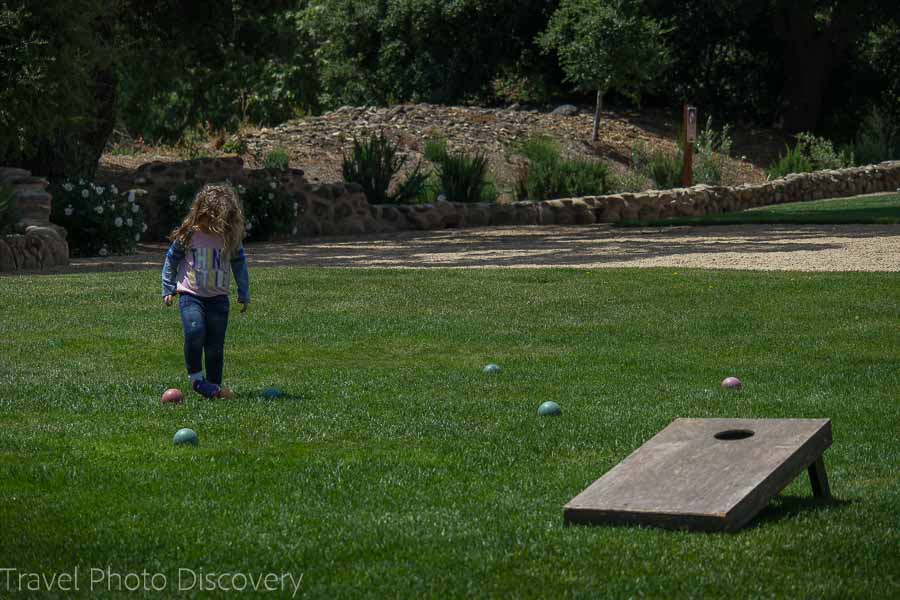 A visit to Mission Santa Ines
Passing through the Danish town of Solvang, we did a short stop and photo op at the Mission Santa Ines on my quest of visiting most of the California Missions. Mission Santa Ines is just outside of the town and is a classically style California mission that is in great condition with a beautiful interior garden and church. I will be posting soon on the blog about a separate visit to Mission Santa Ines. I loved that on our tour, the guide was very flexible in letting us spend more time checking out a place in more detail if we wanted to do so.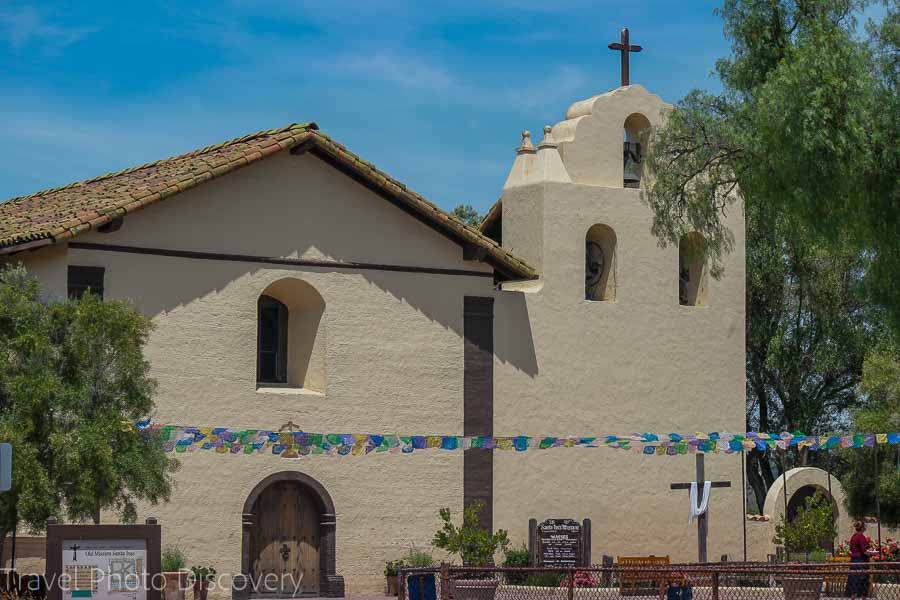 A visit to Pence ranch and winery
The landscape is really beautiful and the area around the Pence winery is filled with rolling hills, ponds and an elegant and understated tasting room. I think the simple labeling and small attention to details really makes their wines stand out especially when accompany the tasting with a delicious charcuterie plate to add to the experience. We start of trying many of their star wines of the season including their delicious Pence estate Chardonnay,  2015 Chardonnay and their upcoming Rose. Everything we tried at Pence was fresh, light and perfect for outdoors and summer time.
Since this is a smaller winery, tours are limited and only available through reservation on their website, check out the check out the Trip Advisor reviews on Pence winery details here for more information and events.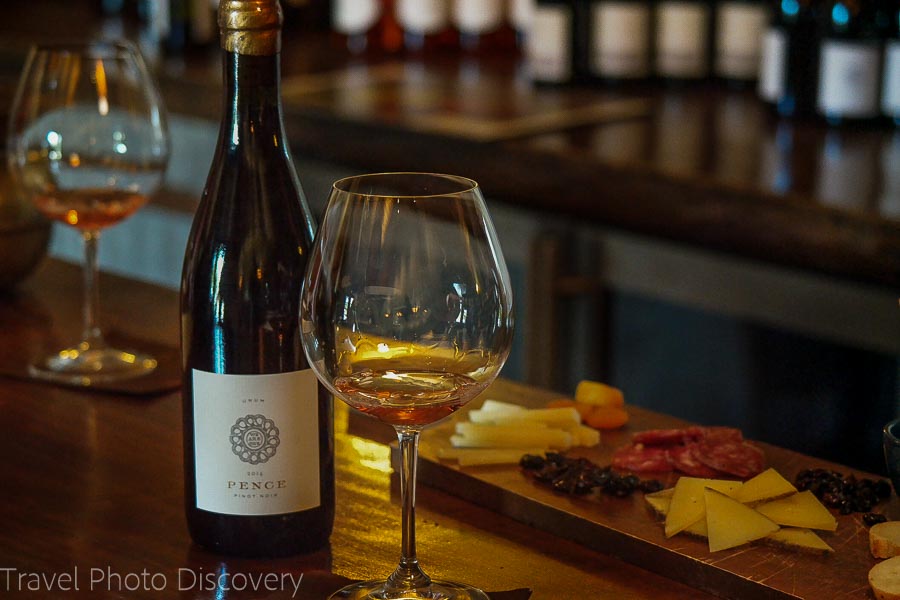 The landscape around Pence is really beautiful with a small pond and vineyards wrapping around rolling hills and you really get a sense of place and love of growing their specialty grape varietals in their vineyards. We drive slowly around their beautiful property and then head out to our next winery close by.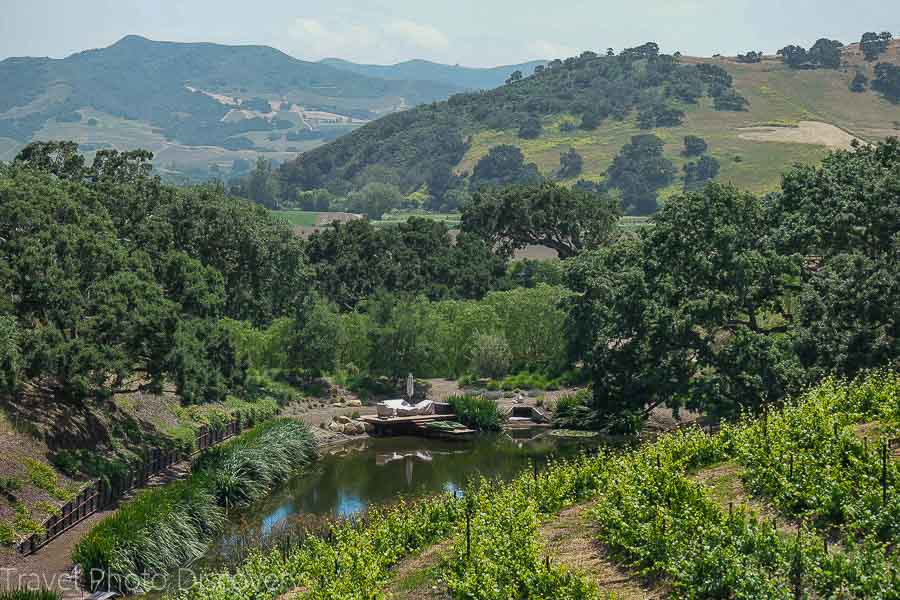 Mosby Winery
What makes touring the Santa Barbara county wine region fascinating is that there are so many grape varieties growing here due to the fantastic wine conditions in this county. Mosby Winery is no exception with their release of Cortese wines made with grapes originating from the Piedmonte region of Northern Italy.  The estate grown fruit is produced into wonderful floral wines, with a light, clean note and the art on the bottles are beautifully created with a local artist apparently that traded her craft for some cases of the good stuff.  check out the check out the Trip Advisor reviews on Mosby Winery here for more details and information.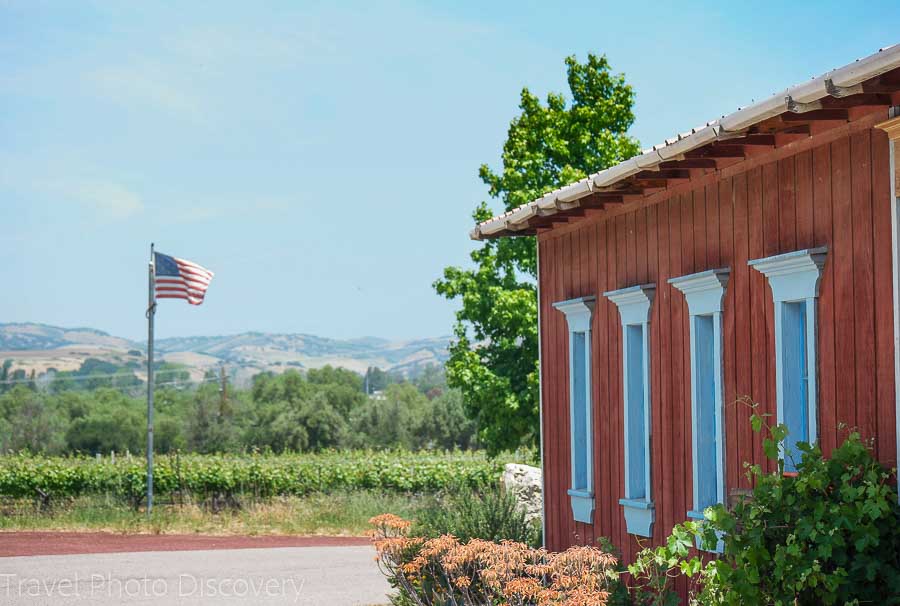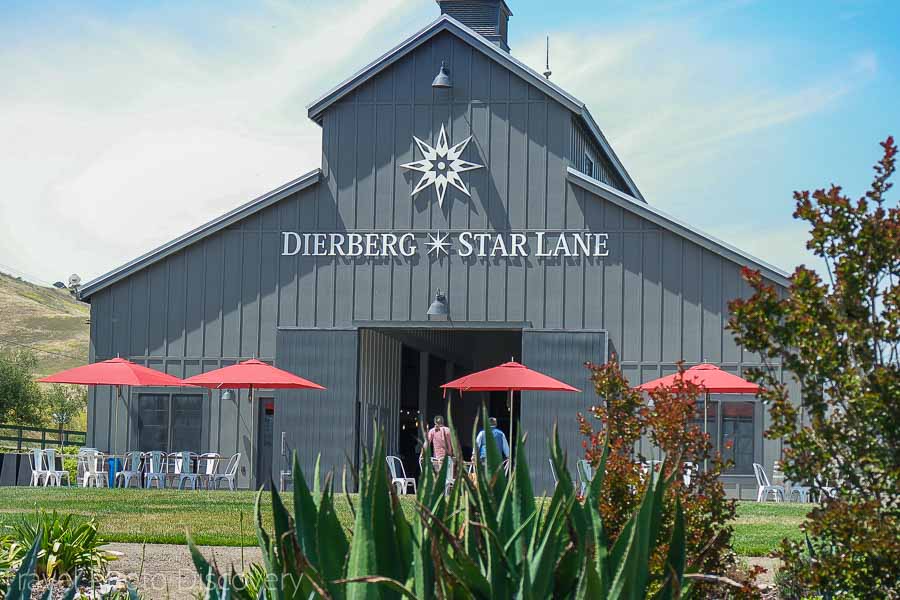 A picnic at Dierberg Star Lane Vineyard
Located in a modern barn concept, Dierberg/Star Lane winery was the next stop for us including a wonderful lunch/picnic fare that the good folks at Savoire Fare prepared for this longer stop. While our tasting room manager poured the latest varieties of their delightful Chardonnay, Pinot Noir, Sauvignon Blanc and Syrah coming from their three estate vineyards in Santa Barbara. Our host/caterer/chef at Savoire Fare prepared a series of spreads, cheese, olives and other delightful bites to complement the summer wines we were tasting at Dierberg Star Lane and it was such a perfect spot to enjoy the winery and the landscape with all the vineyards close by.
You can drop by the tasting room for smaller parties and their tasting serves a flight of their wines for $20 for 5 samples. Check out the check out the Trip Advisor reviews on Dierberg Vineyards here for more information and the wines they serve at the tasting room.
Tip – like many of the other wineries Dierberg has a lot of outdoor picnic tables set up so you can actually bring a picnic and enjoy a bottle of their wines with borrowed wine glasses.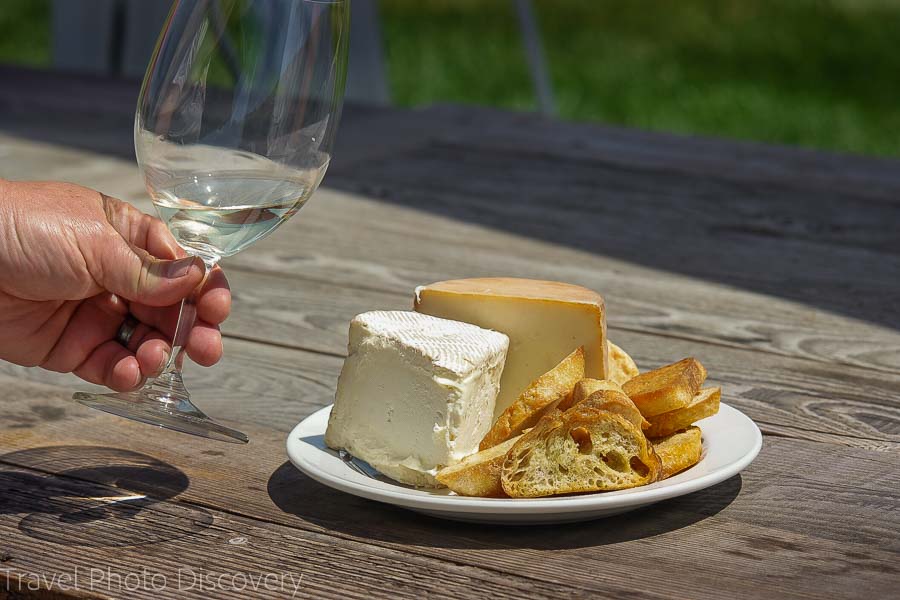 After a nice leisurely lunch and wine tasting at Dierberg Vineyards, our guide takes us on a wonderful back roads tour of the countryside surrounding Dierberg into an untouched area were the landscape is natural and stunning to drive through. It truly is the back roads since no one else seems to be traveling on this road and yes it's good to work with a guide that knows all these secret roads to enjoy along the tour.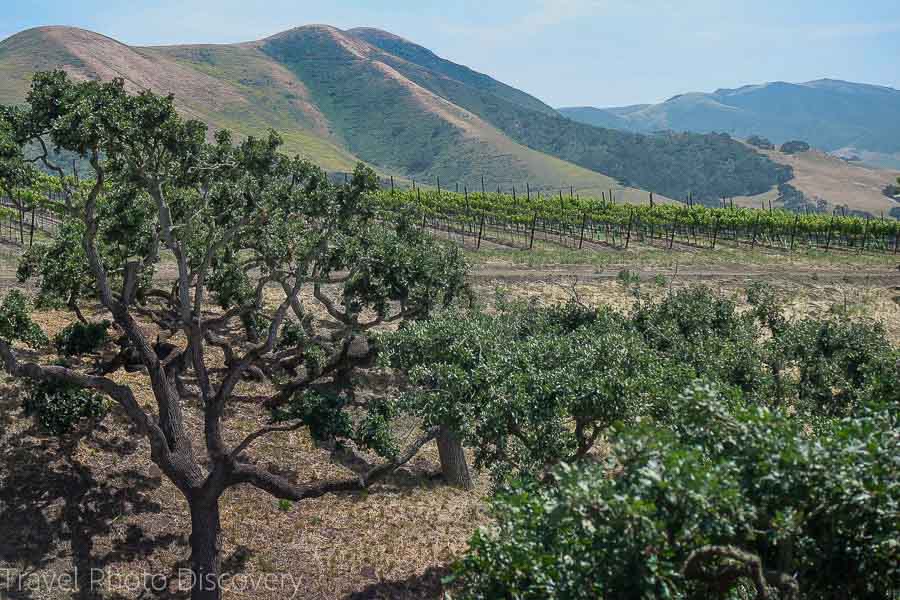 Our last stop at Brander Winery
Set in the property like a small jewel box, this chateaux inspired winery has been a name stay of the Santa Ynez valley since.  The winery established in 1975 is one of the oldest and well respected wineries in Santa Barbara wine country and their wines reflect that passion for producing organic and biodynamic grown grapes.
We enter the beautiful tasting room and meet up with our host who pours us todays selection of wines including their popular Bordeaux wines, Pinot Gris, Chardonnay and Syrah. Check out the check out the Trip Advisor reviews on Brander Vineyard  for more information and the wines they serve at the tasting room.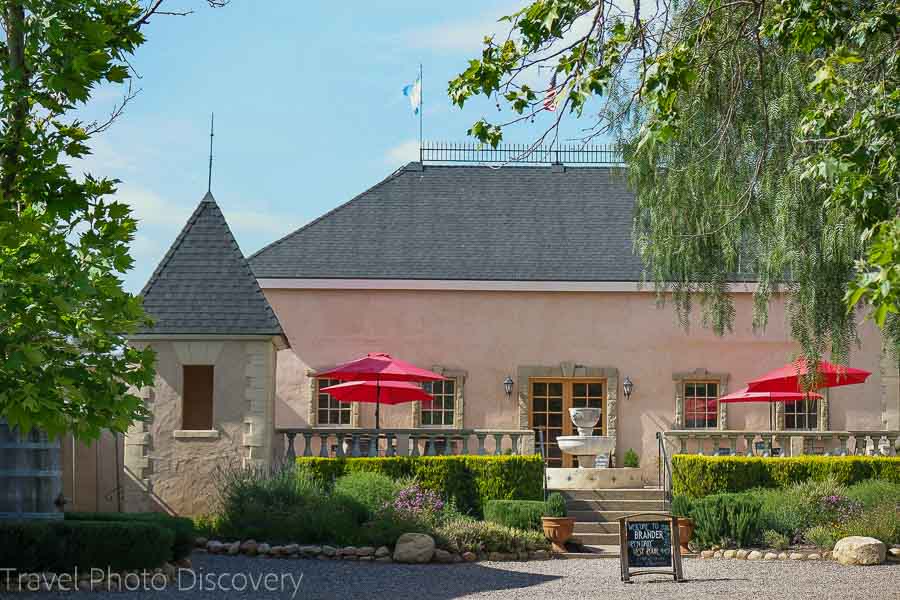 A quick visit to Los Olivos
On the way back to our homestay, we do a quick visit around the main streets of the colorful town of Los Olivos. It seems like in this town, every other storefront is a tasting room from all of the wineries in the Santa Barbara region. I love that they incorporated a lot of the old store fronts into tasting rooms and other tourist stores or galleries.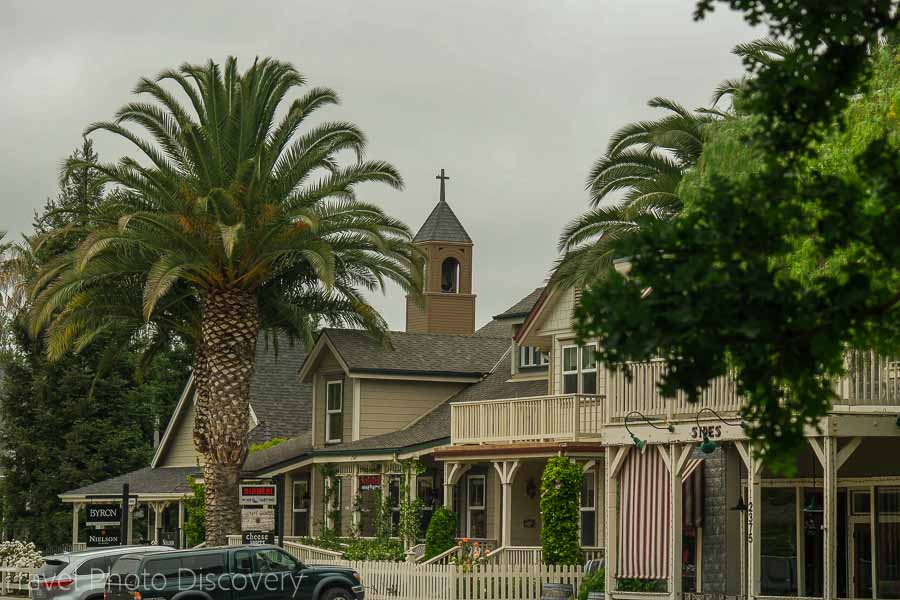 A charming stop at Los Olivos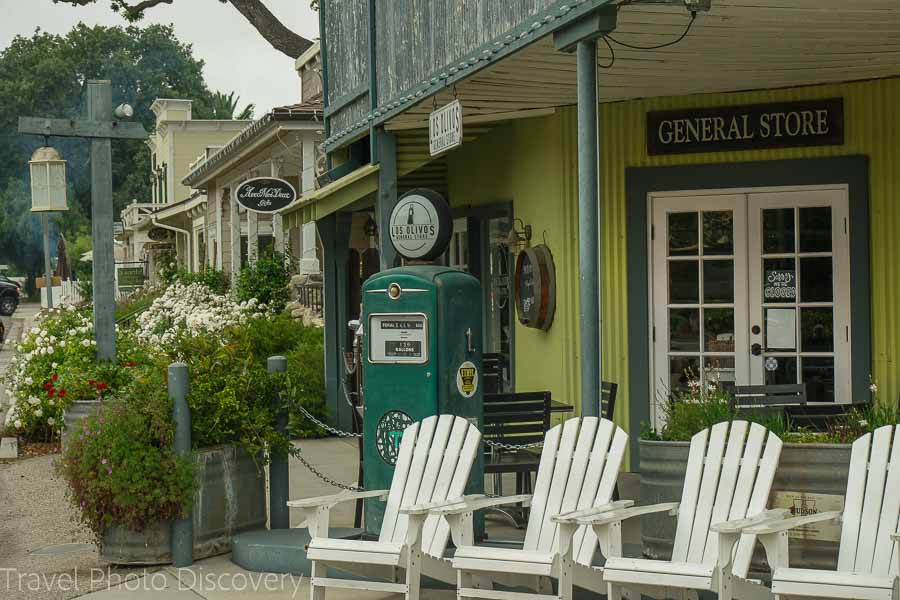 Wine tour fini!
Towards the later part of the afternoon, it's great to have our guides take us back safely to our homestay when everyone in the group has had way to much above their drinking limit at this point. Overall the customized wine tour offered through Savoir Fare Wine Tours was exceptional with attention to detail, friendly service and excellent driving to all the places we visited. To find out more about customizing a wine tour that may suit your particular needs, check out their website here for more details. Also, check out the post my friends from Passing Thru did here about their Santa Ynez experience and impression. A wine tour experience should be on your Santa Barbara itinerary of fun things to experience in Santa Barbara wine country.
This was an exception tour experience with the outfitters planning everything you would expect and more. I thoroughly enjoyed the entire day and tour with Savoir Fare Wine Bus and highly recommend their customized tours. Visiting all these wineries, tasting the wines and specialty foods of the area and expert guides were definitely a fantastic  visiting all these amazing wineries in the area.
Where to stay in Santa Barbara Wine Country
There so many beautiful places to stay around the county depending on the town or area or you might want to just choose a central location to explore the area. Here are some suggestions on where to stay in wine country.
Santa Ynez Inn – a beautiful hotel with fantastic service, ambience and complimentary wine tastings and the breakfast buffet is very generous.
The Landsby – a fresh, modern and very comfortable hotel located in Solvang with quiet but bright rooms
Hadsten House – located in downtown Solvang with easy access to shops and dining, the hotel is a great place with nicely decorated and spacious rooms with a nice hot breakfast service included.
Ballard Inn – a charming Victorian style B&B decorated in country charm and very comfortable and quiet stay in the town of Ballard
Royal Copenhagen Inn – also located in Solvang, friendly service and well maintained inn with great service and comfortable rooms.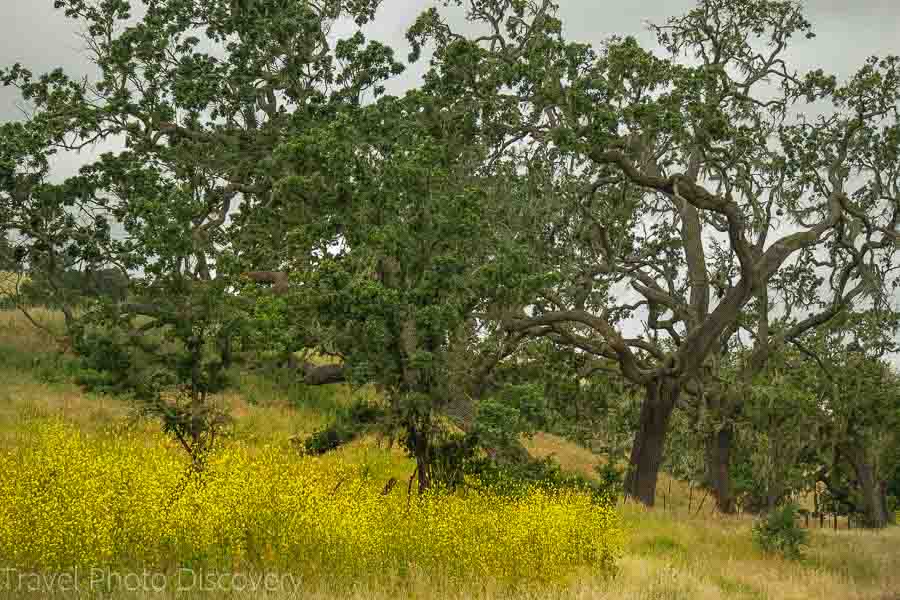 Please Pin this!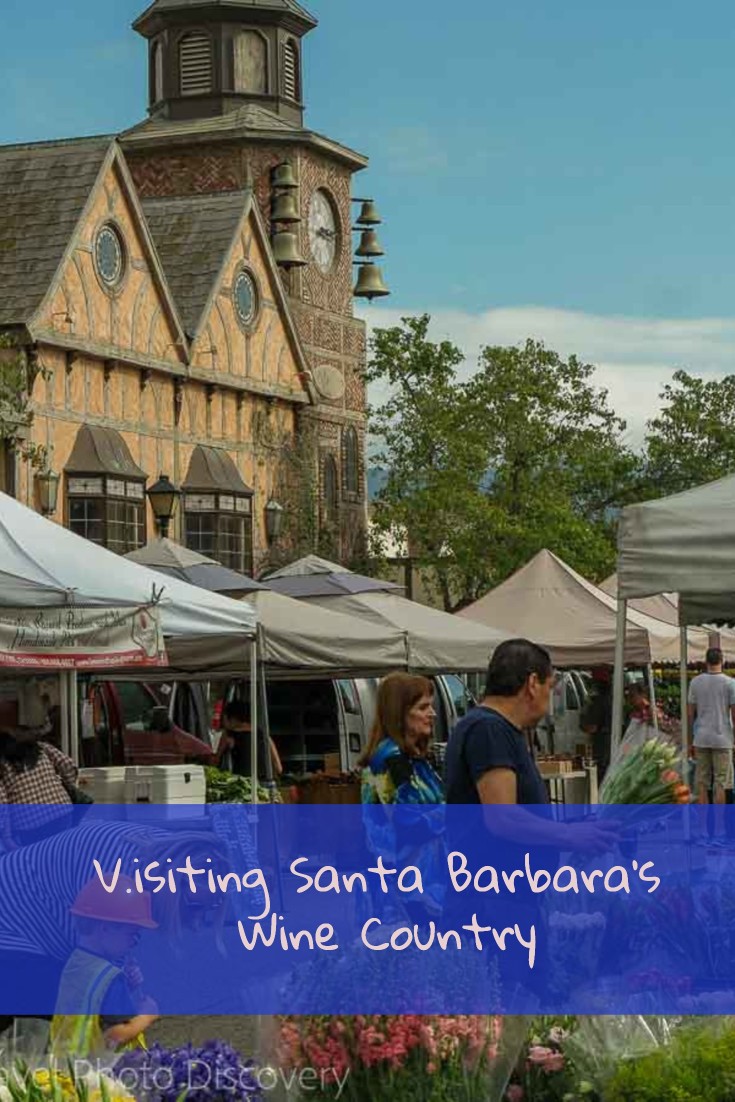 Thanks for visiting today and checking out this post on the Santa Barbara County wine tour, if you enjoyed the images and post, could you please share it with any of the social media buttons located around the post.
If you like what you see, come and check out my other social media channels for more updates, including Instagram, Pinterest and Twitter
Disclosure – I was a guest with the Savoire Fare Wine Tours visiting wine country in Santa Barbara– all opinions and thoughts are my own. Also, there are affiliates links on this posts which provide a small commission to support this site at no extra cost to you. Thank you for reading, and happy travels