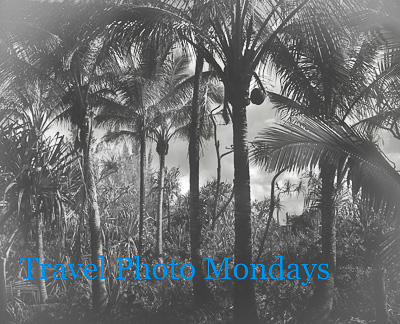 Welcome to Travel Photo Mondays
It's Monday morning, time to enjoy some gorgeous travel photography and inspiration from around the world. Let's banish those Monday blues by sharing gorgeous imagery and story telling.
Sonoma hike through Olompali 
Just south of the Sonoma city of Petaluma is a State Park called Olompali State Park. An area still preserved and left mostly in its natural state, Olompali park with its coastal range is filled huge oak forests, fern dells and beautiful vistas. Olompali means 'Southern Village or People' from the coastal Miwok people that lived in this area. The Miwok lived here continuously from 6000  to the latest date of 1850. There is a reconstruction site of typical habitats or tepees made with tree limbs and bark from the local trees, mostly oak or redwood. A large and well-known boulder called 'Kitchen Rock' was used by the local Miwok as a mortar to grind their acorns, prepare food and socialize.
Varied terrain
There are some easy to more challenging trails going through the lower portions of the park and up into the coastal hills. At the start of the trails are larger open grassy expanses and leading into shady oak forests filled with dense undergrowth of native ferns and other flora. There are magnificent vistas of the Petaluma valley floor, delta and river opening into San Francisco bay at many points to rest and enjoy the views. Further uphill, the trails open up again into and open grassy hills with rocky outcrops and scattered boulders in strange locations.
 It's always easy to take a break from the uphill hikes and enjoy scenic views of the Petaluma basin and delta.
It's easy to spend a pleasant morning or even most of the day hiking around the trails with magnificent views of the area. I hope you enjoyed your tour of Olompali State Park for Travel Photo Mondays, Please come and visit these other bloggers below sharing their photo essays.
If you like this post, please consider subscribing to the blog via RSS feed or by email  below – also 'like' my Facebook page on the sidebar, I show more images, tips and inspiration on my Facebook page, come and visit!
[inlinkz_linkup id=317337]