Have you ever seen a movie that inspired thousands of young backpackers to jump to their adventure of a lifetime – The Beach? Leonardo Di Caprio isn't the sole reason the movie rocks, far from it! The paradise-like island, the surrounding nature and awesome people are definitely something that inspired people to travel to the Southern Thailand islands to visit the amazing beaches and landscape!
When the movie was shot, Thailand was still developing for mass tourism but the situation is completely different now. Don't worry as there are still places that will give you a unique vibe and unforgettable experience, even with some tourists here and there. Southern Thailand is known for its famous beaches, thick jungles, coral reefs and countless islands that give travelers precisely what they are looking – a unique experience in the paradise.
Southern Thailand Islands to Visit: Exploring Tropical Paradise and Pristine Beaches
The Southern islands of Thailand still has its untouched islands and places not on the mass tourism radar, but it's slowly developing, so you should probably get your ticket as fast as possible if you want to have paradise-like places just for yourself.
In this article, I'm going to share with you 8 must-visit places in South Thailand. I will give my best to give you the balance when it comes to touristic and off-the-beaten-track places.
Thanks to Thailand blogger Harvie who helped in gathering the photos and sharing some breathtaking places around Southern Thailand.
8 must visit places in Southern Thailand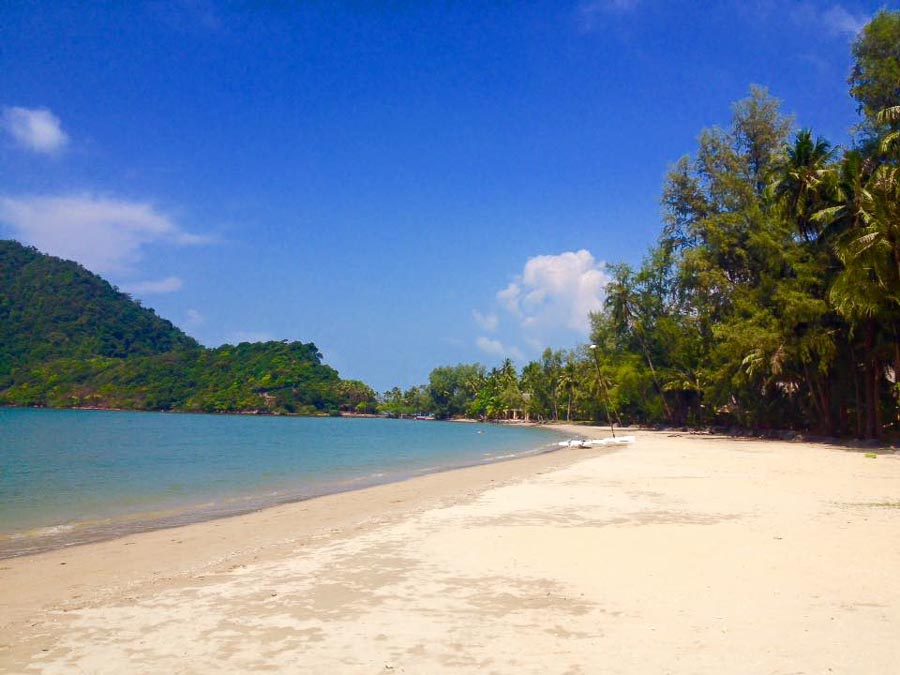 #1 Koh Phi Phi
Koh Phi Phi is by far one of the most beautiful islands in the world. During 2004. Tsunami, the island life was whipped, but soon, locals started to recover and now, it's hard to see any impact of that unfortunate event. Koh Phi Phi became a very touristic island, but don't get fooled since there are many exciting things you can do without hundreds of tourists around you.
When people talk about Koh Phi Phi, they usually refer to the main tourist path on the big island called Ton Sai. If you're traveling alone, then this part of the island might be your favorite since it's pretty lively place where people socialize. If you're looking for a retreat and relaxation, there are many resorts where you can really enjoy the island life vibe and take part in many water activities.
Did you know that Koh Phi Phi has two islands – Don and Leh? Don is the bigger island where all the action takes part, while Leh is an inhabitant island where a popular movie the Beach is shot. It's a home of world-recognized Maya Bay and one of the most touristic parts of South Thailand.
If you're into exploring and relaxing on the beaches or diving in Thailand and around stunning corals, then Ko Phi Phi might be the perfect place for you in South Thailand. For those that are into yoga pursuits, then Koh Phi Phi is definitely a fantastic area to experience yoga in Thailand and be present in nature.
It's true that Ko Phi Phi is on the mass-tourism radar for a while and you'll probably won't have a chance to experience a true Thailand, but anyway, the breathtaking nature will make up for it.
#2 Koh Lanta
Koh Lanta is a tiny island located just 45-minutes off of Ko Phi Phi by a boat. There are a few daily rides from the Phi Phi to Lanta, so if you're going from that direction, don't worry as reaching Lanta is relatively easy and not expensive. Once you leave Phi Phi you might be shocked by not so much tourism going on in Lanta.
Koh Lanta is a small island known for its long sandy beaches, thick jungle, cliffs and mountains, hidden waterfalls and historic towns. There is one main road around the island that is in relatively good condition and one of the highlights is definitely driving the motorbike around the island.
Depending on the season, during the low season, there won't be many tourists and many restaurants and bars are closed. It's perfect timing if you're looking to have an island for yourself. At the southern point of the island, there is a national park full of stunning beaches, nice view-points, too many aggressive monkeys and an iconic lighthouse helping with the sea traffic.
Such a cool and refreshing place, especially if you've just arrived from one of the tourist hotspots.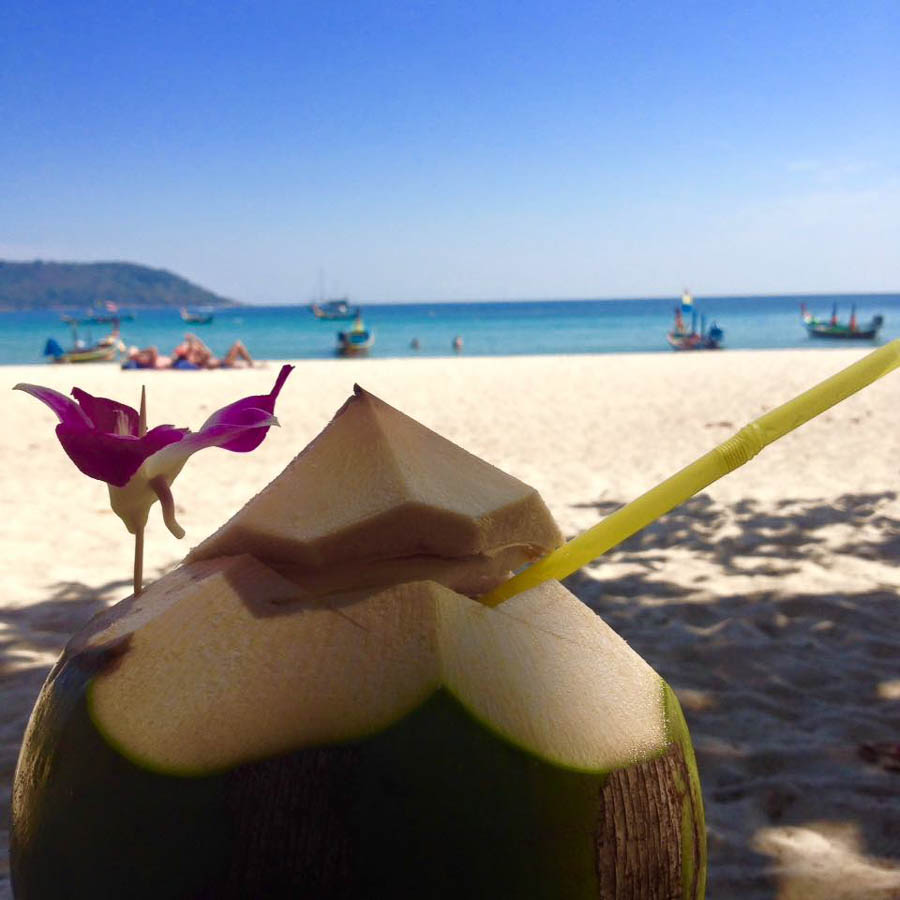 #3 Phuket
Phuket is the biggest island in Thailand and definitely a tourist hot spot. The chances are you're going to visit Phuket no matter if you've planned it or not. Phuket has an international airport with flight connections around the world which makes it an attractive destination for tourists who're bound to explore the beauties of South Thailand.
Travelers who had a chance to visit this developed island 10 years ago can't believe how fast Phuket changed. Today, there are not so many off-the-beaten-track on the island, but still, you can have an authentic experience while exploring the beaches, trekking, diving, learning about the history and having the first-hand experience on how locals live.
The western part of the island is populated with resorts, stunning sandy beaches and never-ending nightlife, while the eastern part is the local part. If you're looking for a place where you can really experience Thai culture on the island and move away from tourist crowds, head to the eastern part. Anyway, if you're planning to travel to Koh Phi Phi or Lanta island, you'll have to get to the pier that is on the eastern side, so why not to spend a day or two there?
People who're looking to spoil themselves in a cozy resort or having an unforgettable nightlife should go to Patong. Around Patong, there is a popular Chalong Bay where you can enjoy in a paradise while sipping a coconut on a sandy beach. Other exciting places to visit around Phuket are definitely a Big Buddha Statue on Naka Kerd Mountain and a popular Buddhist temple Wat Chalong.
There's so much talk about Krabi vs Phuket and which area you should visit, but if you can do both why not do just that, they are so close and very different at the same time.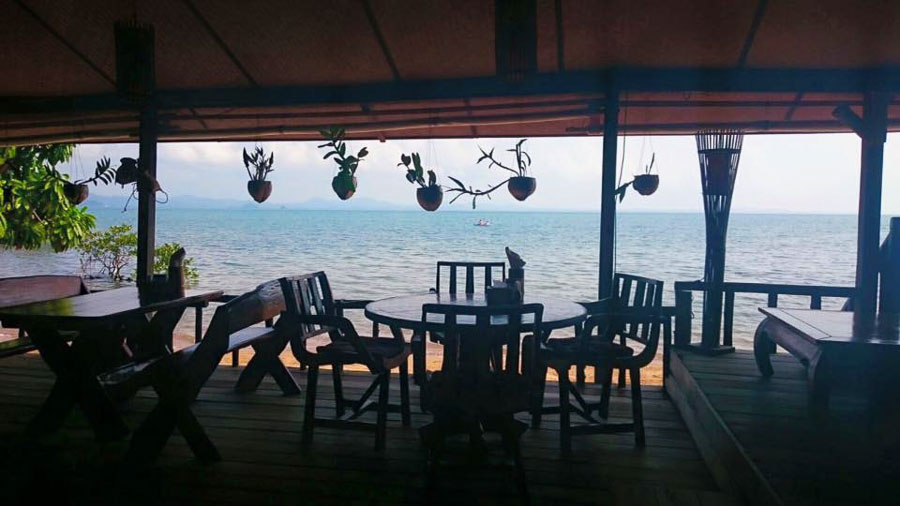 #4 Koh Samui
Another trendy island that is almost on the path of every backpacker is Koh Samui. The reason is beautiful nature, beautiful sandy beaches, affordable prices even for shoestring travelers as well as its location next to Koh Phangan.
Koh Samui is a perfect tropical island that offers something for everyone's preference and of course budget. You can enjoy the vibe of the island while staying in one of countless simple bungalows equipped only with a fan and mosquito net. Or, you can stay in a luxurious 5-star resort with a room literally on the beach.
The island changed a lot through the past 10 years, mainly because it's located next to a famous Koh Phangan and many travelers visit a world-known full-moon party on Phangan through Samui.
Anyway, you may ask what to do in Koh Samui. Well, the most favorite activity is relaxing on the beach. There are many secluded beaches that you can get to if you're driving around the island (total recommendation to avoid tourists!). Chaweng beach is the main one that hosts the majority of tourists. It's cool to experience the vibe of all the people, but after a while, it gets annoying as this beach literally never sleeps. Another option would be Lamai beach that isn't so busy, but the opportunity for someone looking to relax with a tropical vibe would be Maenam tropical beach.
On the island, you have a chance to learn a bit more about the history and culture while visiting Bophut Fisherman's Village where you can taste local delicacies too.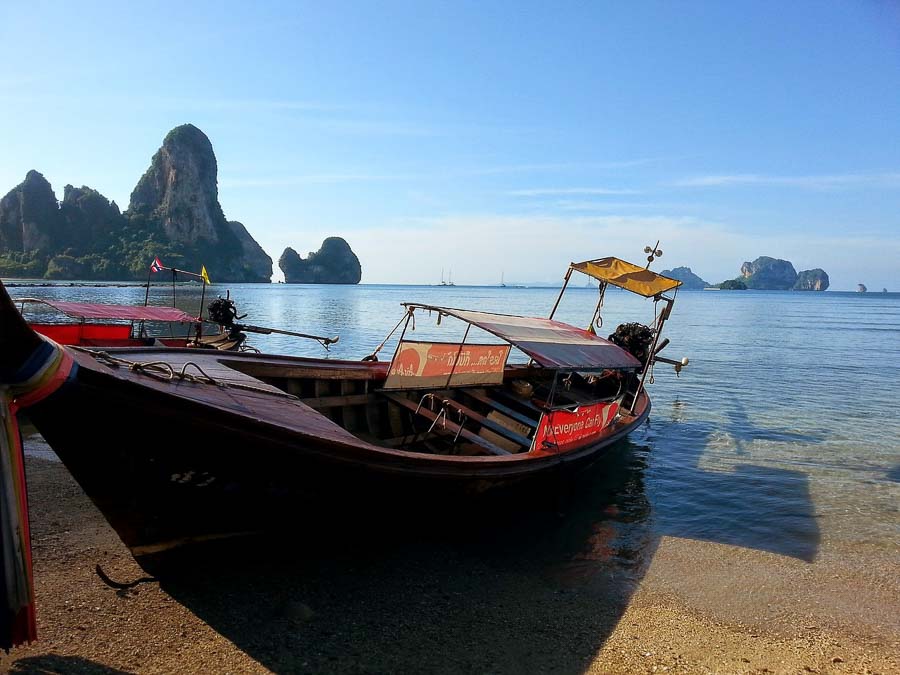 #5 Railay
For adventurous souls, Railay might be just a perfect destination in Southern Thailand. It's a vast peninsula surrounded by limestones, high mountains and thick jungle. There are few sandy beaches on the peninsula where you can relax and enjoy stunning views of sunset falling over breathtaking limestone formations.
Phra Nang beach is the main and the most touristic beach in Railay, but don't judge too fast. If you're looking for adrenaline and adventure, a bit more tourists won't be a hustle for you. There are many activities you can take apart in like rock climbing, snorkeling, diving and exploring stunning corals as well as swimming through the caves.
The west beach called Rai Leh is by far less touristy that Phra Nang and it offers its visitors a secluded and quieter vibe. This part of the peninsula is trendy for rock climbing and diving. There are many rock climbing camps where you can rent equipment and even a course to climb some of the most beautiful limestones in Thailand.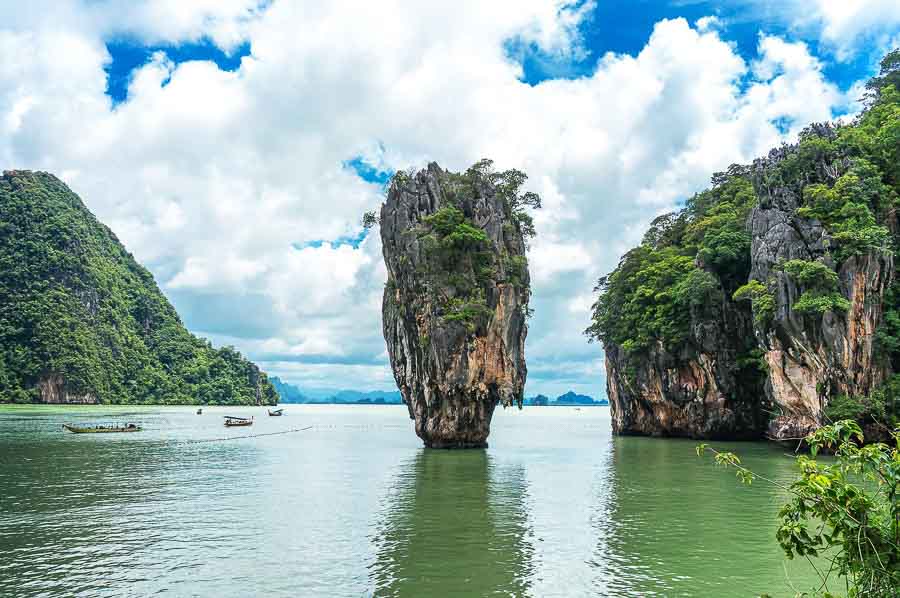 #6 Phang Nga Bay
Phang Nga Bay is by far one of the most picturesque places in the whole of Thailand since it features hundreds of limestone creations around the sea. The bay is located between Krabi and Phuket and because of its favorable location, the bay is usually filled with tourists during the high season.
There are countless boat tours driving tourists around some specific islands and that's the main way how people explore the bay. For adventurers, you can ask local fishermen to show you around while jumping to their boat. Also, the bay is known for countless fantastic diving and snorkeling spots where you can share the waters with a crazy amount of sea creatures and colorful corals.
Did you know that Phang Nga Bay is the home of a famous micro island Khao Ping Gan where the old James Bond movie was recorded?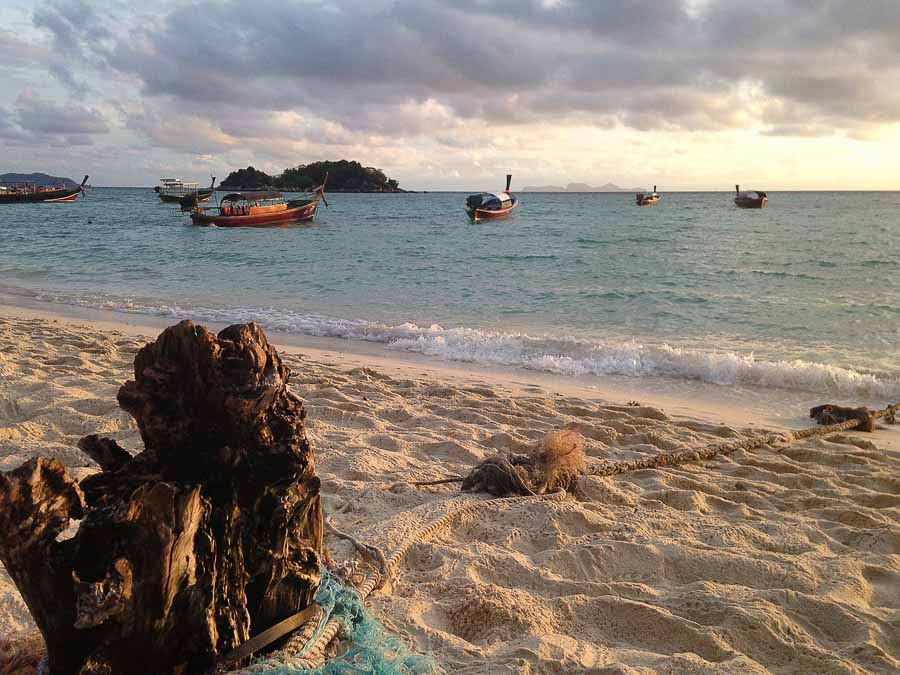 #7 Koh Lipe
A tiny island Koh Lipe is located in southwestern part of Andaman sea next to the Malaysian border. The island is still lagging behind a tourism development which is incredibly a good thing as you can still enjoy the authenticity and the real paradise vibe on the island. You'll see why Koh Lipe is considered the Maldives of Thailand.
The incredible fact is that the island is just 10s miles away from a stunning national park Tarutao and some laws are prohibiting the development to a certain level in the jurisdiction of the national park. It's such good news for the untouched nature of the island!
The main attractions in and around Koh Lipe are definitely beaches, Sunset beach and Pattaya beach. If you're into the adventure, you should rush to the western part of the island that features a thick jungle, mountains and few secret beaches. Rent a motorbike and prepare yourself for many hikes and unforgettable adventure. Kayaking, snorkeling and diving around coral reefs and shipwrecks are some of the activities you can take part in while you're staying in Koh Lipe.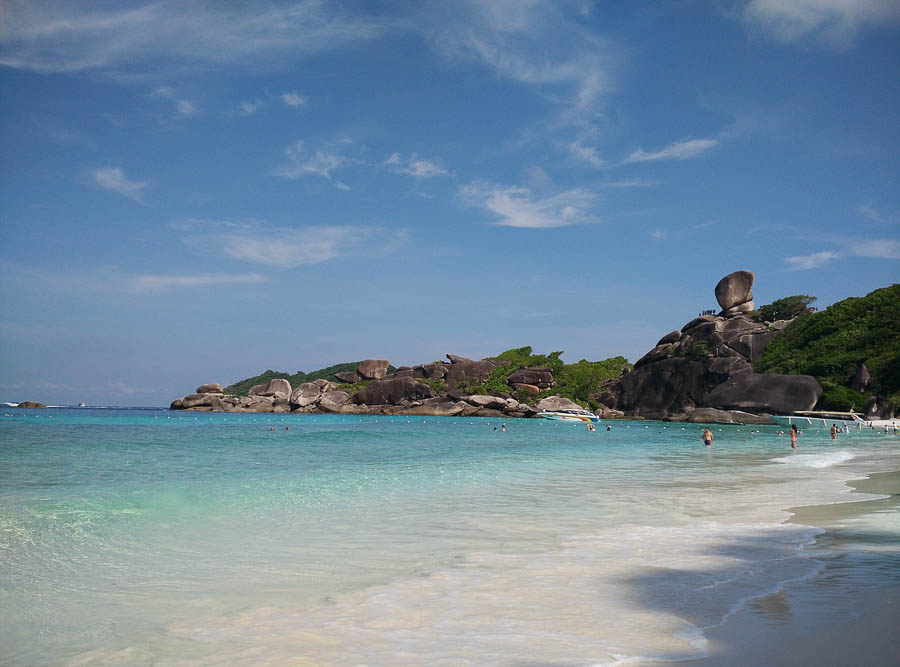 #8 Similan Islands
Last, but not least, Similan Islands, the dream of every adventurer and diver! Similan islands is the group of four islands and one huge national park located in the Andaman Sea. Nature is literally untouched and the only sign of civilization is the constant traffic of boats transferring tourists to Similan Islands. Around the islands, you can jump into the waters and explore a diverse marine life and colorful coral reef. The waters around these islands are probably the best diving spot in a whole country.
Fantasy Mound is the name of the most famous diving spot where you can share crystal clear waters with barracuda, manta rays and even whale sharks. Horseshoe Bay is the most touristic part of the island and home of the white sand beaches and turquoise waters. Make a campsite, gather around the fire, share stories and experience a real paradise!
Like this – Pin it!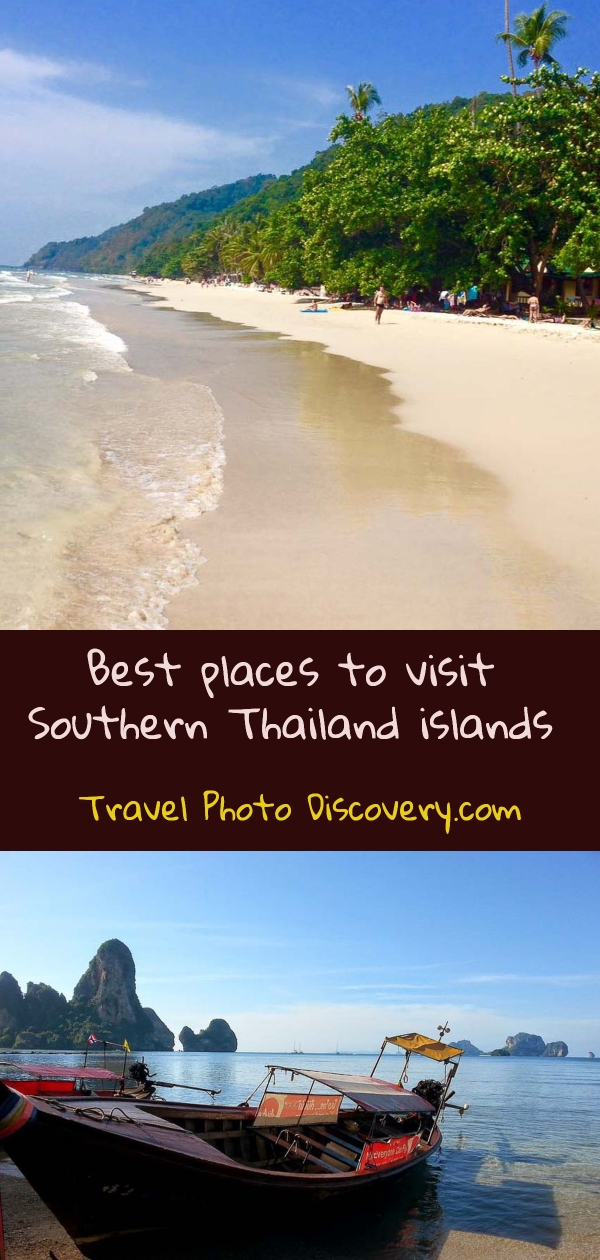 What is your favorite place in Southern Thailand? Please share your experiences and places with us!
Conclusion to
8 must visit places in Southern Thailand
In conclusion, Southern Thailand is a treasure trove of stunning destinations that offer diverse landscapes, rich cultural experiences, and breathtaking natural beauty. From the idyllic beaches and limestone cliffs of Krabi to the vibrant marine life and crystal-clear waters of the Similan Islands, this region has something to offer every traveler. The bustling streets of Phuket and the tranquil shores of Koh Lipe provide contrasting experiences, while the cultural heritage of Ayutthaya and the lush rainforests of Khao Sok National Park add depth to any itinerary. Whether you seek adventure, relaxation, or cultural immersion, Southern Thailand's must-visit places promise unforgettable experiences that will leave you longing to return.
Thanks for visiting today and checking out this post on Southern Thailand islands to visit. If you enjoyed the images and post, could you please share it with any of the social media buttons located around the post.
If you like what you see, come and check out my other social media channels for more updates, including Instagram, Pinterest and Twitter
Disclosure – There are affiliates links on this posts which provide a small commission to support this site at no extra cost to you. Thank you for reading, and happy travels