Spending a perfect day in Paris – Travel Photo Mondays
How can you not have a wonderful experience in Paris especially if you visit the city in springtime when practically everything is just bursting at the seams. There are so many options, neighborhoods and activities to explore and enjoy in Paris, but let me tell you how I ended spending a perfect day in Paris. (At least my version and how I discovered a few favorite things to do in the city of light).
It starts off with breakfast
For me, a perfect day always has to start with a generous breakfast with amazing pastries and some local foods while having my morning at hotel Movenpick Paris Neuilly in the area of La Defense. I slowly take my first bite of a chocolate croissant and memorize every single sensation, and then follow with a sip from my first café Mocha. Ah yes, (pure joy) and I was already having a perfect morning just from those first few bites. The extensive choices of hot and cold offerings along with fresh fruit, juices with an extensive pastry selection were all so tempting at the breakfast service.  I think I could have easily stayed there all morning with refills of café mochas, but there was a whole city to explore that morning. I brought my cell phone and took these quick snaps below, but it doesn't show how excellent the breakfast buffet service was. I already had a wonderful start to my perfect day in Paris.
.
After a delicious and complete breakfast, it was definitely time to walk off those calories and explore the  charming neighborhood around La Defense.  While I was walking towards the metro, I realized that area is not as touristy as many of the other arrondissemonts (neighborhoods) in the city, and that put a nice smile on my face knowing that I'm really in a lived in part of the city. I passed through a variety of pastry shops, cafes and stores mostly catering to locals. It gave a nice impression of Paris also for the locals, and not just the hordes of tourists coming to see everything in just a few days.
Spending a perfect day in Paris – using the metro
What an ego builder it is to be able to master the metro system of Paris and using the system quickly. You can literally travel the length of the city pronto, and for a very reasonable amount. Even better is to take advantage of their Paris City Pass card, which allows for unlimited use of public transportation, including the on/off buses and a cruise on the Seine river. I enjoyed using my City Pass also for the amazing and fast access to many landmarks and museums. My favorite part was the fast track entry when you visit many sites or museums that allow you to go in quickly and avoid those long lines – a real plus and time saver!
Spring time in Paris
So where to go on a gorgeous spring day in Paris and wanting to be outdoors – why the Jardin des Tuileries, of course! And what perfect timing, all the flower beds were blooming with these gorgeous tulips and masses of colorful annuals. I'm in heaven when it comes to beautiful spots for photography, and I could have easily spent all morning just walking around and looking for the perfect angle and architectural backgrounds to photograph the landscape and monuments. Although we did have a target on visiting the Tuileries, and it is right on the perimeter of the gardens can you guess what it is?  Yes, it is the Orangerie.
Originally the building that housed the tropical and citrus plants of the Louvre, the Orangerie is just the perfect first visit to see the collections of Impressionistic art created by the master painters of Impressionism in France. The museum exhibits just the right amount of paintings to introduce any art novice to the popular painting style known as Impressionism, which was a very popular form (and controversial) of painting in Paris and throughout France in the early 19th century.
Inside the Orangerie are two amazing oval shaped rooms with Monet's master works – the rooms are filled with these gigantic panels on the walls with his water lily series. They were painted in his garden and home at Giverny which is located outside of Paris. Just walking through the rounded panel paintings and admiring the huge scale in 360 degrees, gives you an immediate impression of his world, and the colorful brushstrokes that evoke spring time in his gardens.
Spending a perfect day in Paris – walking along the Seine
After touring the Orangerie, I found a convenient walk along the Tuileries and the banks of the Seine river. It was a perfect and sunny day to be outdoors and walk past so many historic landmarks and architecture lining the Seine. Our next stop is the Pont Des Arts or the Lovers bridge ,which crosses the Seine river and offers magnificent views of the river. While walking across the bridge, you can see all the grand monuments along the river and it is an impressive view. Across from the bridge is the Musee D'orsay, which is our next stop on the left bank of Paris.
The Pont Des Arts bridge really shows Paris as the romance capital with thousands of colorful locks place in every spot on the bridge. These are left by lovers visiting from around the world, many with engravings or personal messages on the locks. Afterwards, they tossed the keys into the Seine as a token of their eternal devotion.  How sweet – a little sappy, but on a perfect day like today in Paris, it all fits nicely.  The Pont Des Arts is a wonderful spot to take photos of the colorful boats, architecture and river scenes along the Seine.
An amazing lunch and visit in my favorite museum
One of my favorite activities for today had to be lunch in Paris, and not just any lunch – but a really nice meal in a nice restaurant. And we picked the perfect restaurant located at the Musee D'Orsay. Just in time since I was famished after all that walking around town. Seriously, you walk into the restaurant not expecting anything amazing for a museum restaurant and this is what you see below, pretty amazing right?
 Impressive, n'est pas?
Here is my entrée and appetizer dish
Needless to say it was a really good choice for lunch, and the hardest part was choosing what I was craving for the moment. I  decided to order their prix fix – 3 course luncheon, which included an appetizer, entrée and desert, and it was all so delicious and well proportioned. Having lunch in this splendid room really did add the perfect Paris day experience, and I could have easily finished my day here but there was still the amazing D'Orsay museum to explore.
Spending a perfect day in Paris – exploring the D'Orsay museum
It really could be quite overwhelming walking into the D'Orsay with all the incredible and extensive collections of Impressionism masters like Renoir, Monet, Van Gogh, Matisse – everyone is represented at this museum with many of their master pieces on display.
I ended up spending most of my time with the special new exhibit that coincidentally just opened –  it was a retrospective of Pierre Bonnard's introspective and intimate painting series. Hopefully this show will be around still when you visit the museum because it is the first major retrospective of his art collected from major museums from around the world. This was an amazing retrospective to see for the first time, but I'm sure any show that the D'Orsay features in it's revolving show is a must see event for any visitor or even locals.
Intimate paintings by Pierre Bonnard
Pierre Bonnard is well-known for his intimate bed and bath series and this collection showed some of the most dynamic and colorful work like these paintings.
The wonderful thing about visiting many of the museums throughout Paris is that you can actually take pictures of the artwork without using any flash. Although many special exhibits may have restrictions on photography, so do pay attention when you visit any museums to see what the restrictions are for photography.
Antique shopping and a coffee break
Surrounding the area around the D'Orsay museum is a wonderful district called the 7th Arrondissement which is the heart of Paris with all the grandest sites, architecture and charming neighborhoods. Just behind the museum is an area of antique stores, art galleries and cafes that are fun to explore. It really feels so far removed from the tourist venues and more like a neighborhood in this upscale area. It was fun to explore the high end galleries and unusual shops, if not just to peek at the store fronts. We take a nice coffee break at  the very posh and award winning pastry shop in Paris called Eric Kayser  Boulangerie – apparently they have won many bread and pastry awards and you know the French go gaga over their pastries and so did I. There are quite a few of his shops around the city so you can easily Google his shops and where to find them, but be forewarned, they don't allow any photographs inside any of the shops.
Ooh la la – yes please!
Fun and trendy St. Germain Des Pres
After our afternoon tea break, we head out St. Germain Des Pres which is a relatively short walk from the D'Orsay museum. The area is well-known for food and celebrates French cuisine at its finest with some of the best cafes, markets and specialty food purveyors all mixed into this foodie lovers ghetto. It is also a very trendy and see and be seen area where many of the locals and wannabes hang out for fashion trending and just plain people watching.  I've signed up for a food tour of the area that I took in the area and I'll post it soon so you can get a better idea about the food scene here.  So for now we are just exploring the neighborhood in a random and haphazard way. Really even getting lost in the neighborhood is fun and it's nice to discover something new or unexpected in this cool and hip area.
We ended going to a specialty market and picking up some wonderful cheeses, cured meats and wine and ate at the market. It was a perfect and simple dinner eating some of the best specialty foods from the regions around Paris right from the market.
French food at its finest at Le Marche, St. Germain de Pres
Paris at night
At this point, I was close to calling it quits for my perfect day in Paris, but no….. I just had to see the city at night time and seeing some of the monuments lit up. Just a short metro ride away is the Arc de Triomphe and visiting it at night time is a must in my book. The added surprise is also seeing the Eiffel tower in the background and the Champs Elysees (the grand Parisian boulevard) all light up and dazzling.
Time for the perfect sleep
That really was a long day enjoying all the amazing landmarks and wonderful experiences touring Paris but I'm really tired and ready for a nice long sleep. It's going to be a perfect night and when I return back to my room at the Movenpick, the turn down service is perfect and wow, the view of the Eiffel Tower lit up in the distrance is really magical! My bed is so inviting, I'm really tempted to jump right into bed, but I enjoy some of the treats and fruits that the hotel has placed in the seating area so I can enjoy the evening views of the Eiffel tower in the background.
Snack time before sleep
The bathroom is fantastic and usually I don't do baths, but after a really long walk around Paris, this is the best way to end the day with an indulgent bath with all their nice bath toiletries, yes! Afterwards, the fluffy bed is awaiting and I'm ready to crash for a very long, long time. It really was a perfect day in Paris and I'm ready for bed, good night.
If you enjoyed this post, please pin it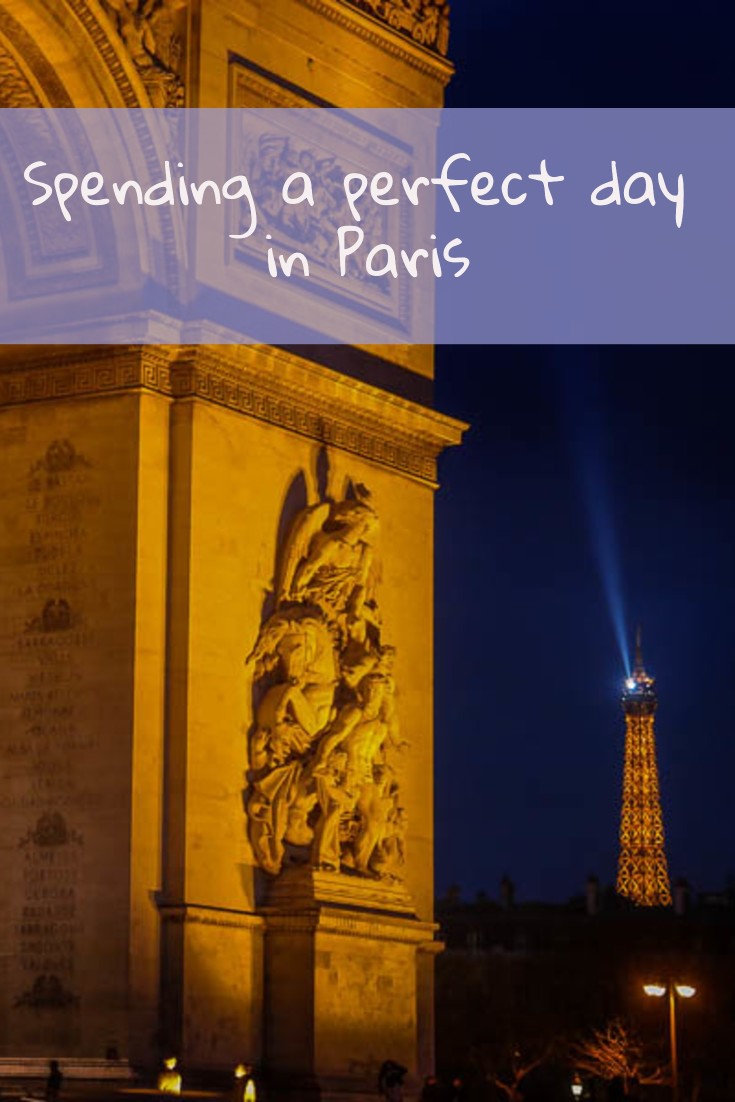 So what do you think about my post on spending a perfect day in Paris, would you do the same? Or maybe you create your own perfect day by visiting the Paris Convention and Visitors bureau website for information here.  Thanks for visiting today, if you enjoyed the post, I hope you can share it with any of the social media buttons around the post, thank you. Also today is Travel Photo Mondays, so I hope that you can visit some of the other bloggers participating in today's linkup below.
While enjoying my perfect day in Paris, I was a guest of the Paris Convention and Visitors Bureau with a stay and City Card, all opinions and thoughts are always my own. I had a fantastic stay at the Movenpick Paris Neuilly and it is a fantastic area if you want to get away from all the maddening tourists and crowds.