Sunset Sailing in Hawaii
There's nothing like taking a sunset cruise in Hawaii. Whether you are on a large cruise ship or a small sunfish out on the bay, its guaranteed that you'll enjoy the evening and hopefully see some beautiful skies and a gorgeous sunset. Even on the east side of Hawaii Island where sunrises are more spectacular, sunsets come around with some brilliant skies and colorful imagery.
We head off to Hilo bay to load onboard the trimaran and meet our captain, the Admiral of the Hilo sailing club who has graciously agreed to host a few photographers on a cruise around the bay and outside the perimeters of the break wall. It's an elegant trimaran with netting on the sides attached to the hulls which stabilize the boat. It's an easy take-off, jetting down the channel and passing the iconic Suisan fish market.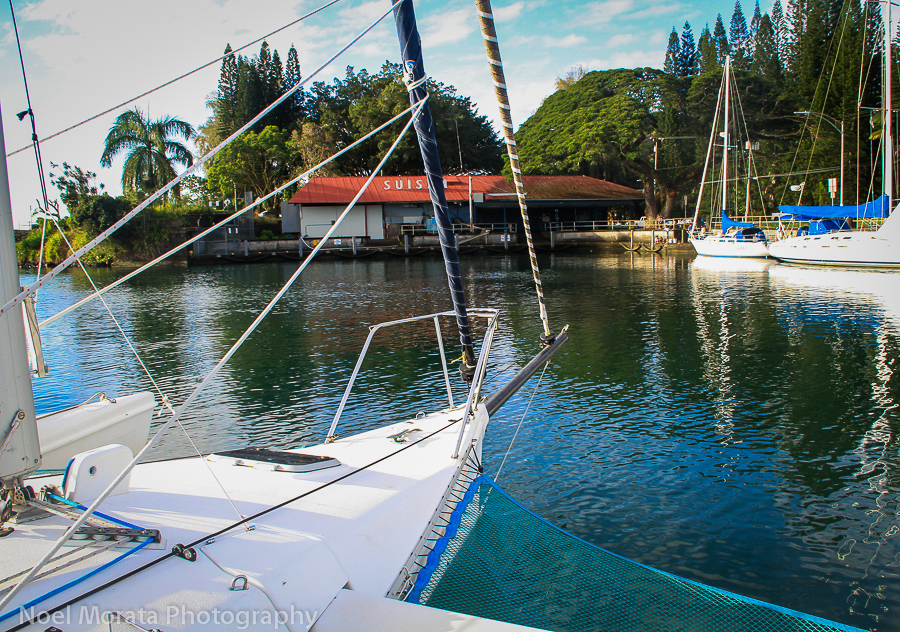 Hilo Bay cruise
The bay is very calm this late in the afternoon, hopefully there will be enough wind to enjoy the cruise or else the ship will be motoring around the bay. We let out the main sails and voila – a nice breeze appears and gently nudges the boat to a slow start. Ah yes more wind fills up the sails and the trimaran picks up speed quickly.  I settle quickly into the netting between the main hull and outrigger and enjoy the feel the breeze and ocean sprays coming through the mesh.

It's a thrilling ride on a trimaran
Sunset approaches along the Hamakua coast
 The skies slowly turn golden to pink and orange against the dark and looming clouds
Even though the sunset is not visible on the east side, its still beautiful, don't you think? The coastline with these moody skies lit up conjure a dramatic and almost scary vibe while cruising through relatively calm water. Fortunately the water and currents are mild so the cruise is quite pleasant despite some intermittent showers along the way – it's a small price you pay for living in paradise and enjoying the evening on this lovely trimaran.
If you like this post, please consider subscribing to the blog by email  below – also I appreciate it if you could share this post with any of the social media buttons located below and around the post, thank you!