Almaty is a city in southern Kazakhstan and the former capital of the country before it was moved north to Nur-Sultan (formerly Astana). In this article we will look at some of the best thing to do in Almaty.
Although no longer the capital, this cosmopolitan city represents the beating heart of Kazakhstan. The architecture is a mixture of early twentieth-century Russian, Soviet and Central Asian which gives the place a vibrant flare.
Things to do in Almaty – A Guide to Kazakhstan's former Capital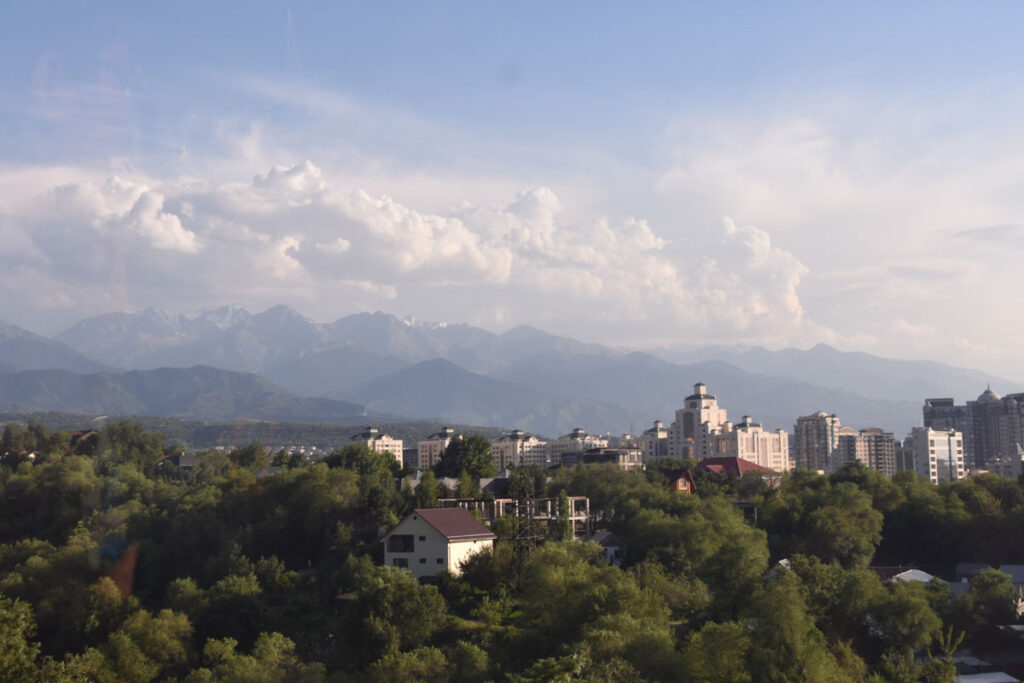 About Almaty
Café culture is thriving in Almaty and you can sometimes be forgiven for thinking you are walking through the streets of France or Italy as you pass young people sitting around chequered tables sipping coffee.
The most impressive thing about Almaty however is the ever-present Zailiisky Alatau mountain range that rears up from wherever you are in the city. The Zailiisky Alatau is part of the Tian Shan range that stretches across Central Asia and into China.
Almaty is a paradise for lovers of nature and the outdoors. It takes only 30 minutes by bus from the centre of the city to reach the mountains and nearby ski resort of Shymbulak.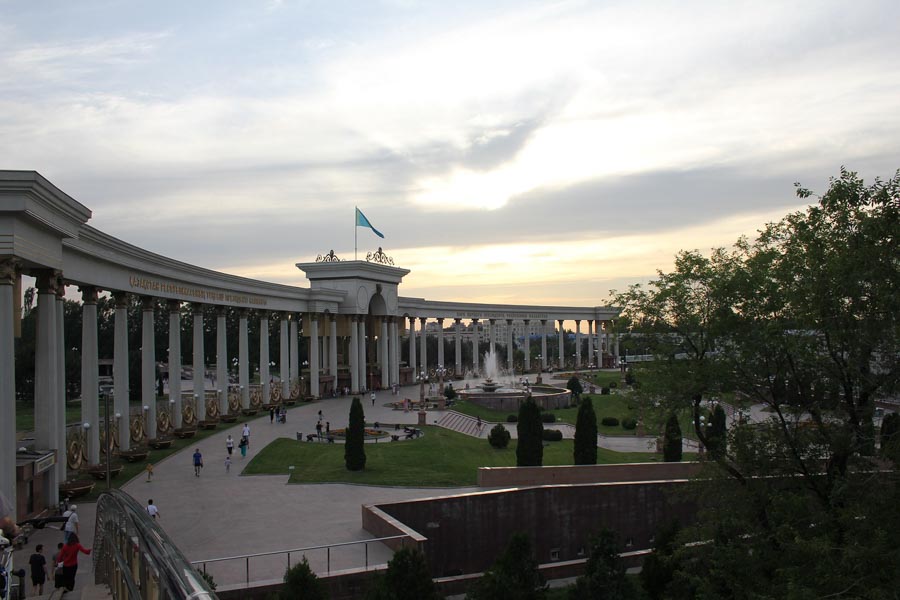 Things to do in Almaty city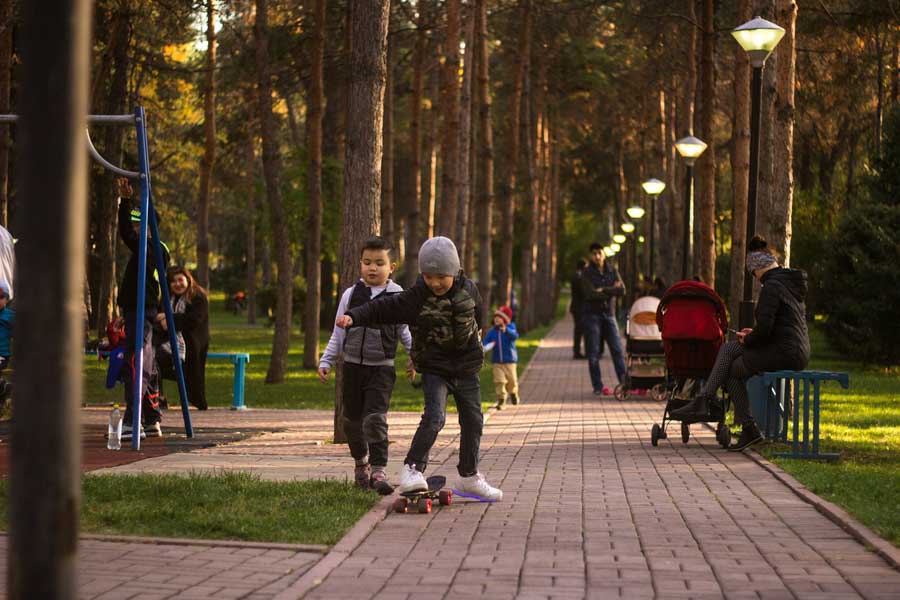 Paniflov Park
Paniflov Park is located in the centre of the city and is home of the beautiful Zhenkov Cathedral, the soviet war memorial and eternal flame, and a smattering of café' and restaurants.
The park is filled with evergreen trees along paved paths, fertile lawns and landscaped flower beds and is an excellent place to take a breather from sightseeing.
Nearest Metro: Almaly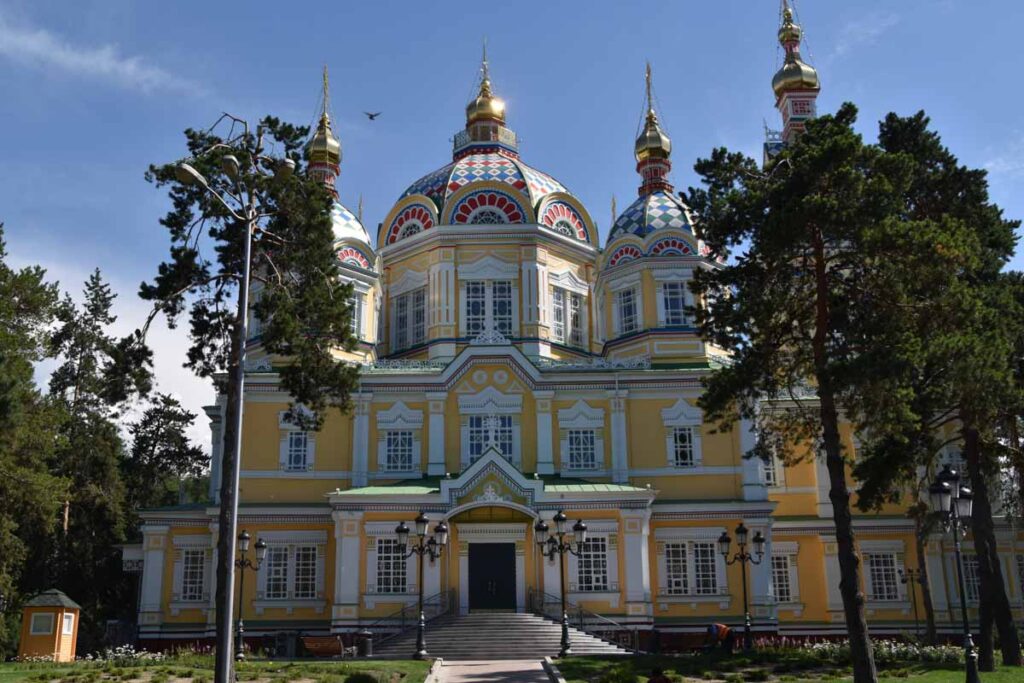 Zhenkov Cathedral
Zhenkov Cathedral is a beautifully decorated Russian Orthodox church built in 1907. The exterior is painted in bright yellow, blue and white and is a good example of early twentieth century Russian architecture.
Zhenkov, also known as the Ascension Cathedral, is famed for being entirely made from wood. During Kazakhstan's period as part of the Soviet Union the cathedral was ransacked and vandalised, but has thankfully been restored to its former glory.
 Nearest Metro: Almaly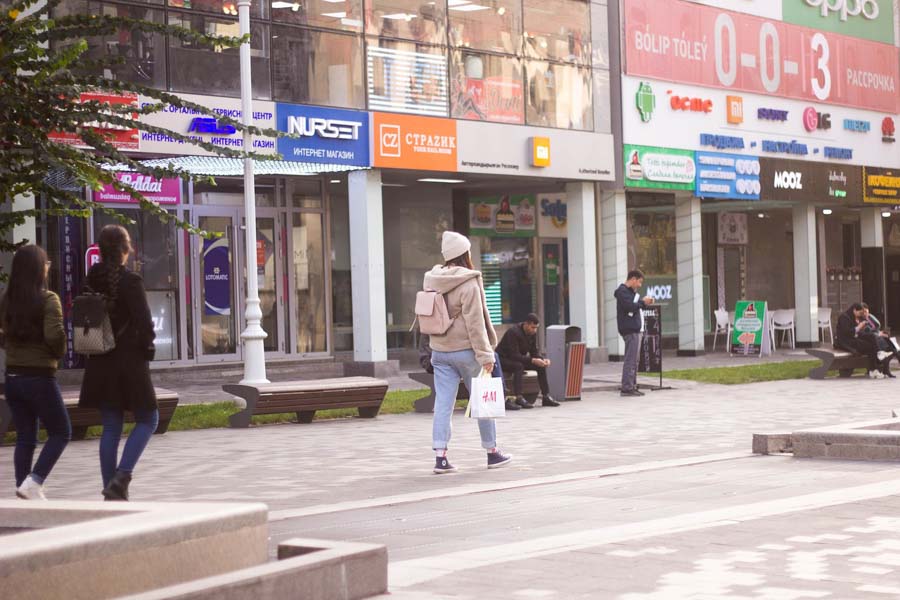 Zhibek Zholy
Zhibek Zholy is Almaty's answer to Moscow's "Arbat". This pedestrian street is lined with cafes, craft stalls and local artists displaying wonderful scenes of Kazakhstan's dramatic countryside. The perfect place to people-watch over an espresso!
Nearest Metro: Zhibek Zholy
Abay Opera House
The ornate yellow-bricked Abay Opera House is the city's home of opera, ballet and classical music. This grand opera house was built in 1934 and renovated in 2000. For those looking for a little "high-culture", check the website for current listings and tickets. The website is in Russian and Kazakh but you can see what's on and purchase tickets on site.
Nearest Metro: Abay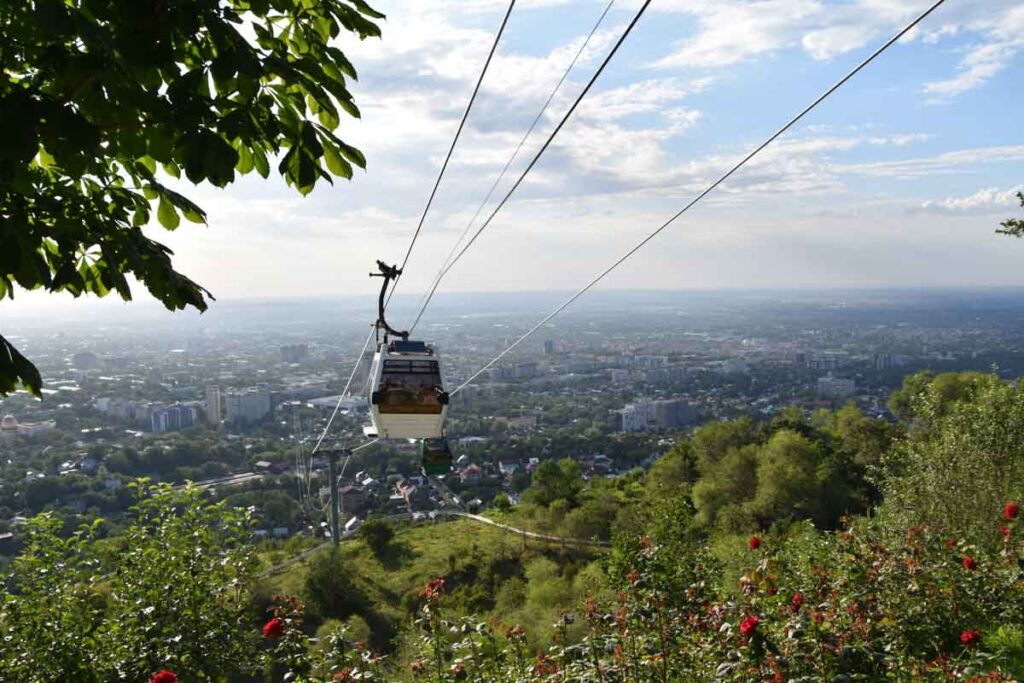 Kok Tobe
Kok Tobe Mountain is the highest point within the city at 1,100 metres (3,600 feet) and houses an amusement park, small zoo, souvenir shops and a good selection of restaurants, bars and cafes overlooking Almaty. Oh, and there is also a statue of The Beatles rather randomly!
Insider's Tip: walk past all the amusements to the very end and you will find the Kok Tobe Café which serves some of the best shashlik (grilled meat skewers) and beer in the city. The views across the city are magnificent and it's the perfect place to watch the sun set over Almaty as it casts its orange glow onto the nearby mountains.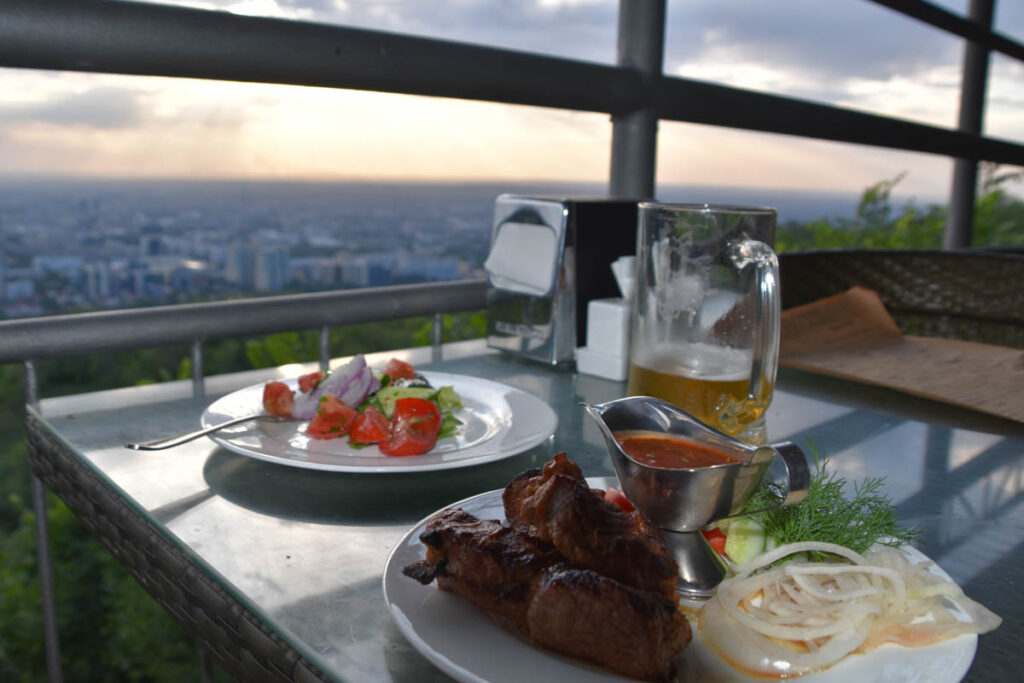 Nerest Metro: Abay. The cable car to Kok Tobe is located behind Novotel and the Abay Monument on Dostyk Avenue.
Things to do close to Almaty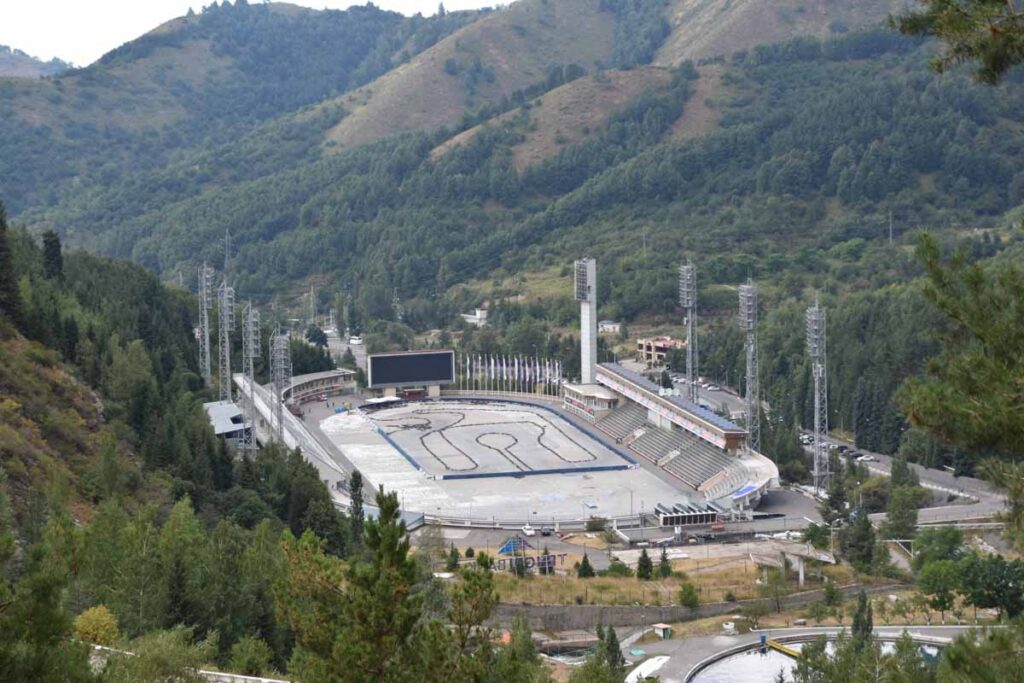 Medeu Ice Rink
Medeu is home to the world's highest outdoor ice-skating rink at 1,691 metres (5,547 feet) and is easily reachable by bus from central Almaty. In winter you can skate and in summer the rink hosts various events and activities such as go-karting.
Medeu is also where you will find the cable car that goes up the mountain to the ski resort at Shymbulak and is also a good base for some nearby hikes.
Bus: Take bus 12 from Hotel Kazakhstan on Dotyk Avenue.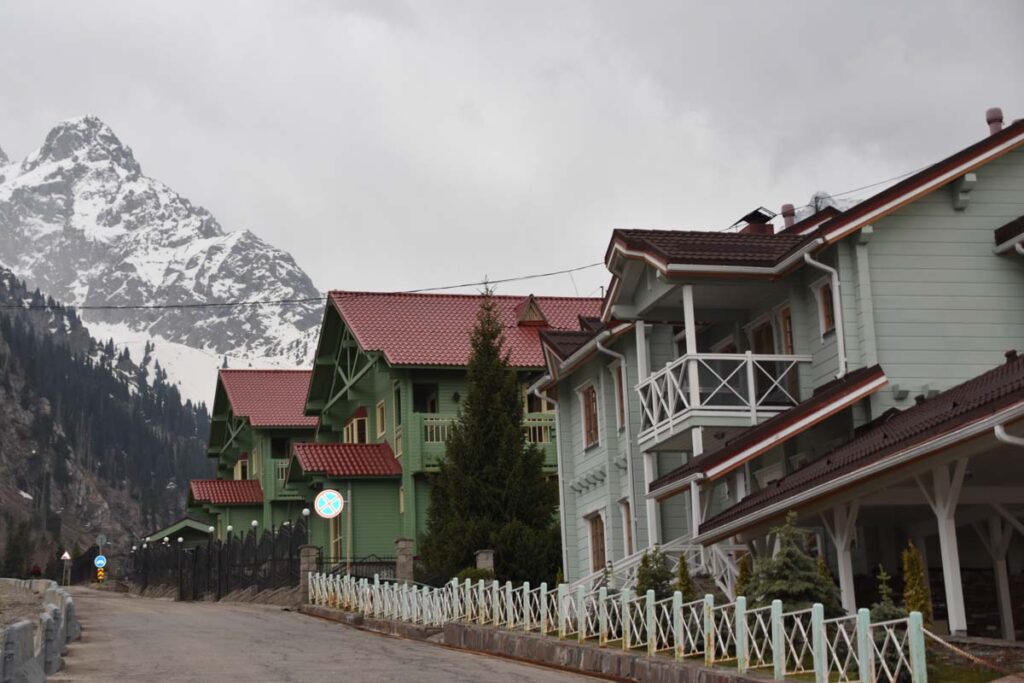 Shymbulak Ski Resort
Shymbulak is Almaty's winter playground and home to central Asia's only ski resort. Swiss-style chalets cling to the mountain alongside the various ski and snowboarding runs. There are three sections of ski-lifts going up the mountain to the peak where you can find incredible views of the city.
In summer (and winter for the more adventurous) Shymbulak offers some great hiking opportunities in the Tian Shan mountains, but be prepared with maps, warm clothes (the weather can change quickly at all times of year) and tell your hotel or hostel of your proposed route and when you expect to return.
Cable Car: Take the cable car from Medeu.
Alma Arasan
Alma Arasan is a hike in the mountains high above the city and follows a gorge along the Big Almaty River. The hike is not too taxing if done in summer, but in winter it can be a little dangerous as it involves a fair amount of clambering over icy paths above the river.
To get to the start of the hike, take bus 28 from Presidents Park to the final stop. Follow the road for a couple of kilometres until the end and join the hiking trail.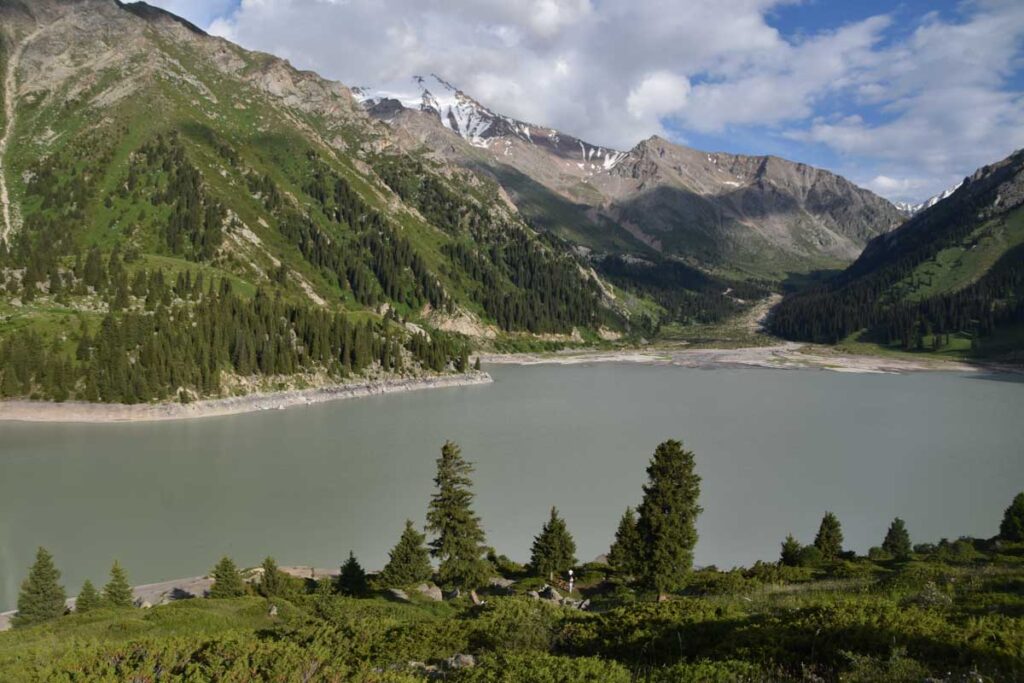 Big Almaty Lake
The jewel in Almaty's crown; Big Almaty Lake is a beautiful lake high in the green mountain pastures above the city. The lake sits at a height of 2,511 metres (8,238 feet) and turns from slate-grey to turquoise depending on the color of the sky.
The lake is very close to the border with Kyrgyzstan so heed any warning signs and don't take pictures of any border guards you may come across.
The lake is not easy to reach by public transport and the best way to get there is to take a tour or hire a car. You can also pay a taxi driver to take you and wait, but be prepared that they might get a better offer and leave you stranded (there is also no phone signal there).
For more information, see this guide to Big Almaty Lake
Where to Stay in Almaty
Budget
Sky Hostel is conveniently located on Kurmangazy street close to Abay Metro. It has its own terrace roof with incredible views across the city and mountains. Check out the reviews, availability and rates here for more information.
Mid-Range
 Hotel Kazakhstan,  is a modern hotel with clean, comfortable rooms and nice restaurant on site. The hotel is located in the business and administrative center of the city. Check out the reviews, availability and rates here for more information.
Luxury
Ritz Carlton This luxury 5-star hotel is located on the foot of Alatau Mountains offers a absolute luxury accommodations. There is a gorgeous spa, indoor pool and fitness center, elegant rooms with beautiful finishes and modern amenities. Check out the reviews, availability and rates here for more information.
Getting to Almaty
Overnight trains from the capital Nur-Sultan take between 9 and 12 hours to reach Almaty central train station. Almaty is easily reachable by train and/or bus from Bishkek in Kyrgyzstan, Urumqi in China and Tashkent in Uzbekistan.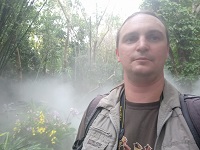 Author Bio – Steve Rohan
Steve Rohan is originally from England and has lived in China for six years. He has travelled both Europe and Asia widely and visited over 50 countries to date. He writes for the travel blogs thetripgoeson.com and chinatravelite.com.
Did we miss anything?
Thanks for visiting and checking out this post on Things to do in Almaty. Bookmark this post for future reference when you are looking for some Almaty activities, adventure or fun experiences.
Please do share this post with any of the social media icons on the side bar and thanks for visiting today!
Disclosure – There are affiliates links on this posts which provide a small commission to support this site at no extra cost to you. Thank you for reading, and happy travels