I remember how struck I was by Hanoi's vibrancy the first time I visited it. I needed to go there due to some visa problems in China and, compared to the China I knew, Hanoi seemed incredibly relaxed.
Still it thrummed with a certain energy, fueled by over a thousand years of culture and a cosmopolitan nature that, in places, felt very European.
Yet, you only need to turn a corner to be in a unique part of Asia, with banyan and palm trees growing out of the city and power cables wrapped in intricate arrangements as they cross over the narrow streets.
In fact, this place captivated my wife and I so much that we decided to live here.
Whether you want to explore Hanoi's rich history, want to sample one of the most unique and freshest cuisines in the world, or simply sip Vietnamese coffee on the street while the world spins by, Hanoi has something to cater for everyone. There are so many things to do in Hanoi, use this guide to take you through the best parts of the city in just 48 hours.
Note: I recommend using Grab to get around Hanoi. This is an app you can download for your phone that lets you order taxis throughout Southeast Asia and minimize the risk of getting scammed. It works just like Uber and you can pay via cash, so no need for credit cards.
Also, Day 2 of this guide involves visiting a museum. If Day 2 is a Monday for you, then I recommend switching Day 1 and Day 2 around as most museums are closed on Monday in Hanoi.
What to do in Hanoi with 48 Hours: Day One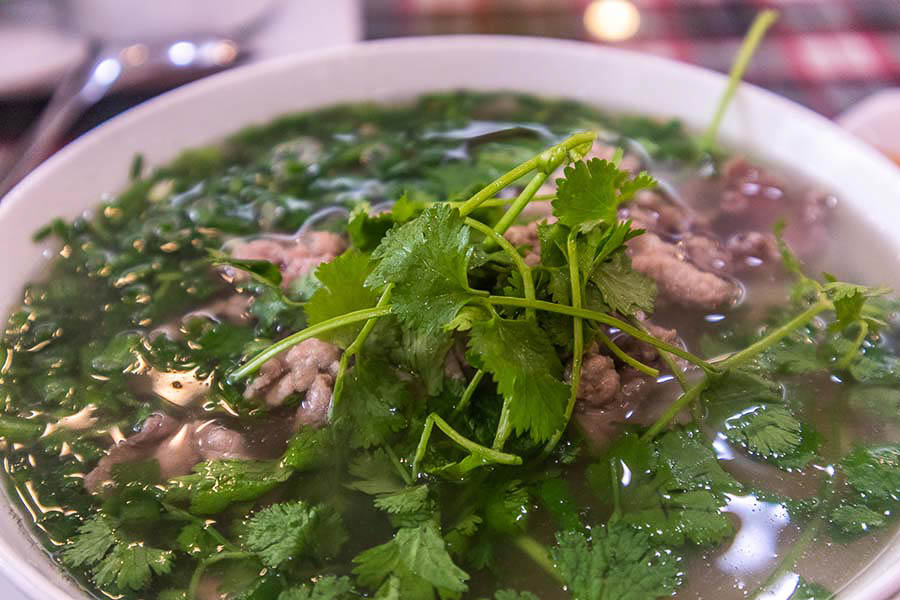 Breakfast: Pho Bo and Coffee
Pho is one of the most widely known Vietnamese dish worldwide. And there's no better place to sample it than Pho's birthplace in Hanoi .
Ask any local and chances are they'll say that best place to try pho is at Pho Thin. This local family run restaurant is just south of Hanoi's French Quarter. Get there early and ask for Pho Bo (pronounced something like 'fur burr'). The chef will dish out a bowl of broth from a vat that's been stewing there from around four in the morning.
Afterwards, hop into one of the street side coffee shops and try some of the slightly chocolatey Vietnamese coffee. Typically, this is served with condensed milk, but it's also worth trying egg coffee (coffee mixed with frothed up egg white) or coconut coffee (made with a mixture of coconut milk and milk) if they're on the menu.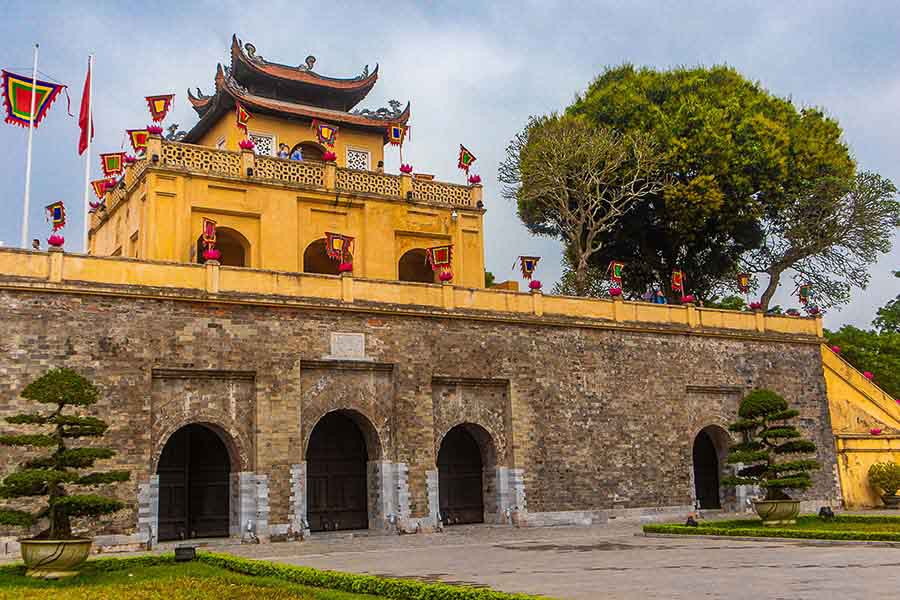 The Imperial Citadel of Thang Long
Once you're well-nourished, then there's no better place to start exploring Hanoi than its ancient capital. Early in the 11th century, Emperor Ly Thai To moved Vietnam's capital from Hoa Lu, Ninh Binh  to what was then called Thang Long.
Now, The Imperial Citadel of Thang Long is a UNESCO world heritage site with artefacts dating back to the 6th century. There's a lot to explore here, including the fortress, some gardens, a military bunker and various art and pottery museums.
Entrance to the Imperial Citadel Thang Long costs 30,000 VND ($1.30).
If you're into military history, you might also want to check out the Vietnam Military History Museum just next door (south-side). Inside, you'll find a statue of melted down war parts signifying the end of the Vietnamese war, as well as the Flag Tower of Hanoi, one of the city's most famous landmarks.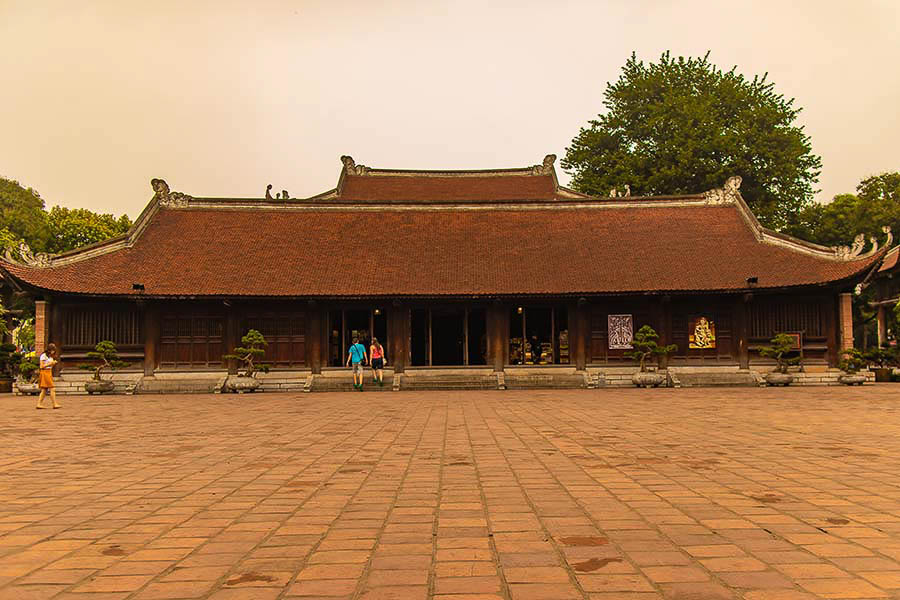 Temple of Literature
Hanoi is famous for its temples, and one of the best of them, the Confucian Temple of Literature (Vietnamese: Van Mieu Quoc Tu Giam), is only 5-10 minutes' walk south west of Thang Long. The entrance is on the south side of the temple and it costs 30,000 VND ($1.30) to get in.
Like the Thang Long Imperial Citadel, the Temple of Literature was founded by Emperor Ly Thai To in the 11th century. Back then, the temple served as a center for offerings, exams and study sessions and housed the Imperial Academy in Hanoi.
You'll pass through a series of palatial courtyards before entering the temple complex itself. Don't be fooled by the first large temple you encounter. The main temple is just behind this. You might also recognize the scene in the second courtyard as it's also depicted on the back of the 100,000 VND banknote.
Lunch: Koto or Bun Cha
Just next to the Temple of Literature is Koto restaurant, famous for taking kids off the streets and training them into waiters and chefs. Here, you can find a variety of traditional Vietnamese dishes, including summer rolls and banana salad.
If you're on a budget or want to try street food, there's also a decent bun cha restaurant on the side street just next to Koto. Bun cha, by the way, is a soupy dish with meatballs and strips of bacon, accompanied by a plate of noodles and a bowl of leafy salad. The idea is that you mix what you want to eat together, eventually letting the broth get soaked up by the noodles. Bun cha is one of my favorite Vietnamese foods, and so I recommend trying to fit it somewhere into your trip. You'll find local restaurants selling this on virtually every street corner.
Hanoi's Old Quarter
From the Temple of Literature, it's a little bit of a walk back to Hoan Kiem, your next destination. But it's a walk I thoroughly recommend taking, as you will pass right through Hanoi's old quarter. This is Hanoi's heart and soul, packed with coffee shops, street food restaurants, 'Made in Vietnam' shops selling factory goods (many fake), art galleries, and rickety store fronts built on top of French colonial architecture. Here, motorbikes buzz through narrow alleyways and the streets smell of pho, banh mi and bun cha. It's fun to shop the various galleries and street vendors and here's some of the popular souvenirs that you can buy in Vietnam to take home.
If you want to pick up souvenirs, the Old Quarter is place to look for them. Look out, in particular, for shops selling handcrafted clothes and accessories, woven by artisans of ethnic tribes who live in Hanoi's surrounding mountains.
On your way through the Old Quarter, you might wish to pass by Saint Joseph's Cathedral. This 1866 Neo-Gothic church was one of the first buildings constructed by the French Colonial government in Indochina. It had to close its doors during the occupation of Northern Vietnam by the Viet Minh and didn't open up again until 1990, Christmas Eve.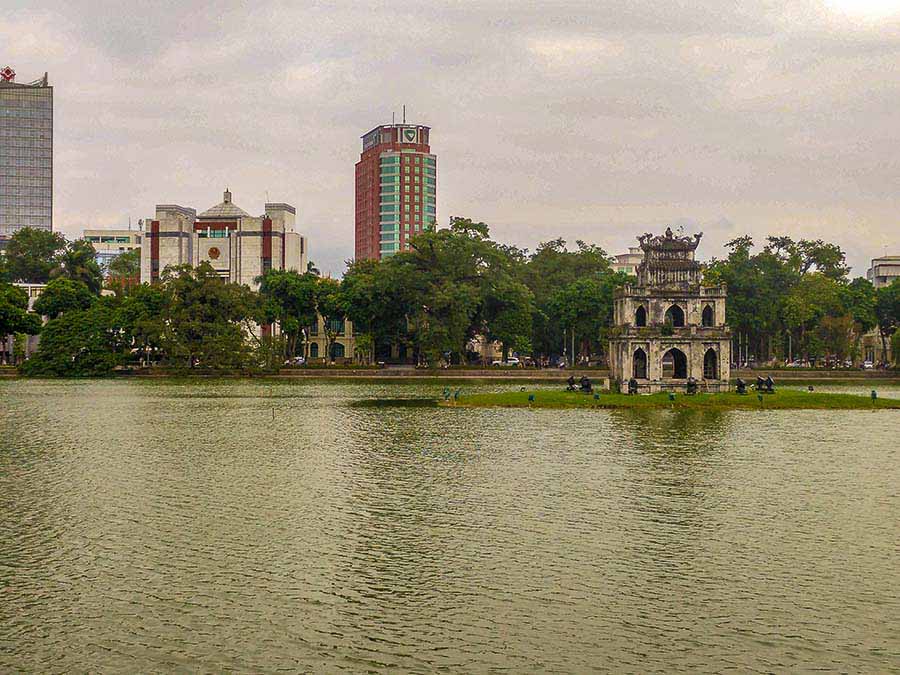 Hoan Kiem Lake
Hoan Kiem literally translates to 'Returned Sword', so called because of a local legend. The story goes that King Le Loi had an incredibly powerful sword that had helped Vietnam repel the invading Chinese. Just after China gave Vietnam its independence, a turtle arose from the lake and asked Le Loi to return the sacred sword to the lake. The turtle sank beneath the waters with the sword clutched in its beak and thus the lake became known as Hoan Kiem.
Now, Hoan Kiem is the commercial center of Vietnam. The lakeside is pleasant to stroll around in the evenings, particularly when a warm breeze is coming off the lake. Of notable interest are the Thap Rua pagoda in the center of the lake (pictured), Ngoc Son temple on an island (accessible via a bridge), and the statue dedicated to Ly Thai To.
Venture off a little southeast of the lake and you'll also stumble upon Hanoi Opera House, an impressive colonial early 19th century building and an alternative to Thang Long Theatre (see below) for a water puppet show.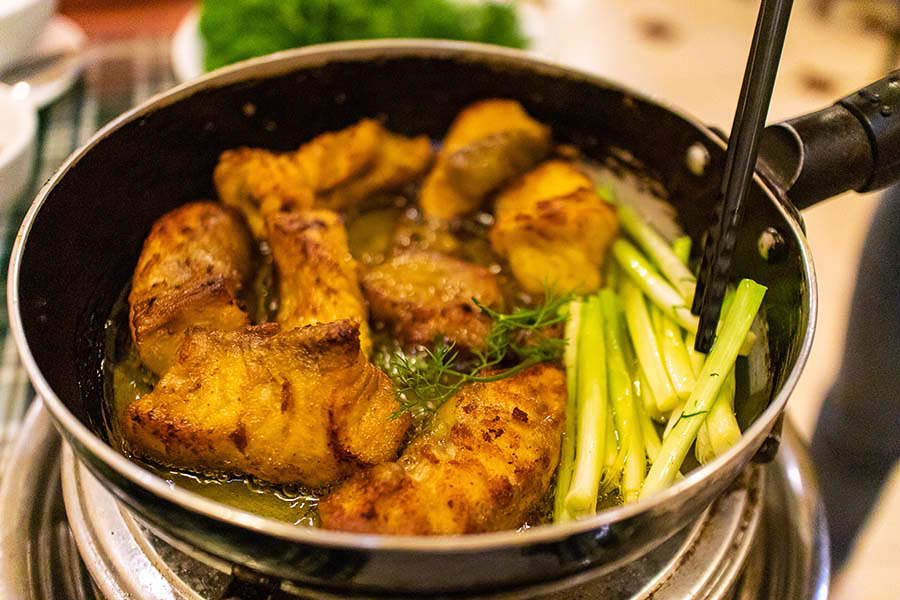 Dinner: Cha Ca
If you were to try only one dish in Hanoi, I wouldn't choose pho or bun cha, but instead cha ca. This local fish-based dish is fried over camphor in a pan in front of you and mixed with dill, coriander and a fragrant sauce. There's a lot of places to try Cha Ca around Hoan Kiem. The one I'd recommend, is a family run place called Cha Ca Tan Tan, southwest of Hoan Kiem Lake, which we stumbled across by accident. You'll need to enter an enclosed courtyard and climb the stairs to get to the restaurant.
Water Puppet Show
There's no better way to finish up your first day in Hanoi than see a water puppet show, whether you're travelling with kids or not. And the place to see one is at Thang Long Water Puppet Theatre, just north of Hoan Kiem Lake.
These puppets date back a millennium when villagers could entertain locals by standing in flooded rice paddies and performing shows.
Expect a loud, crashy performance from an orchestra as the puppets dance in the water-filled stage at the front. Eight puppeteers control these, hidden away behind a bamboo screen. The performances recite folk tales and so give a great insight into Vietnamese culture.
The last performance at Thang Long Water Puppet Theatre is at 8 p.m. and you can get tickets on TripAdvisor. 
Drinks: Beer Street
If you've still got energy after the performance, feel free to grab a Bia Hoi (locally brewed young beer) at Beer Street (Ta Hien). This street draws travelers from all over the world and serves all kinds of local street food if you get a little peckish.
What to do in Hanoi in 48 Hours: Day 2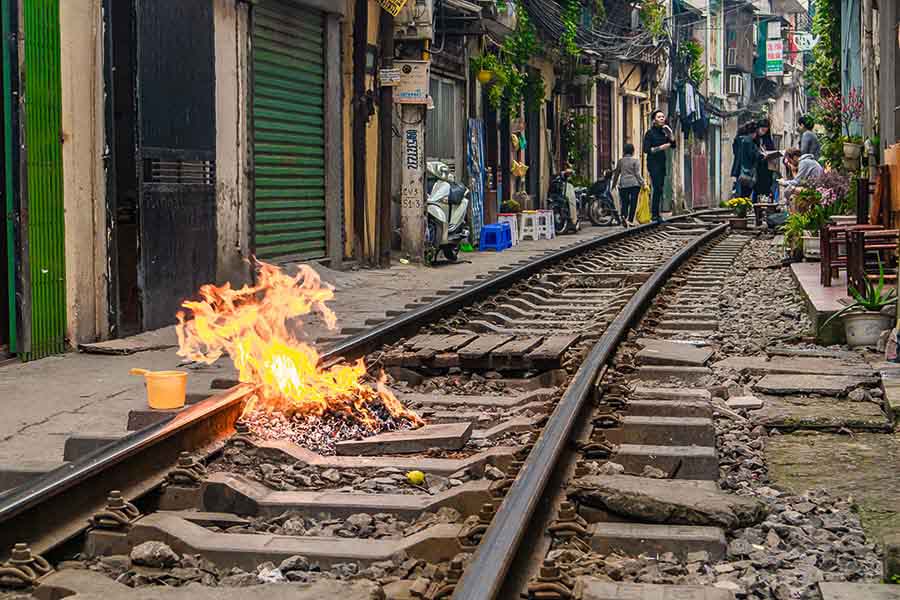 Breakfast and coffee at Train Street
As you walk around Hanoi, you'll notice people living in the most unexpected of places. One of these is on Hanoi's train streets, where the doorstep literally spills out onto the side of a train track over which trains hurtle past several times a day.
One place you'll see this is just where Tran Phu street meets the main train track. You can walk along the sides of Train Street quite safely and locals will warn you when a train's about to pass.
There's a lot of coffee shops and restaurants along the side of the track and it's a fascinating place to sit and watch the trains pass by while talking to the locals.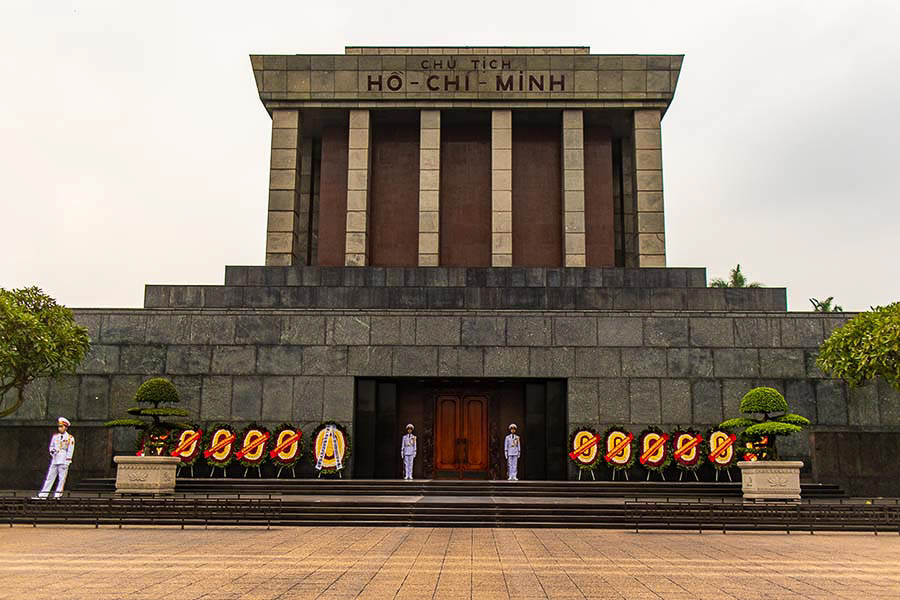 Ho Chi Minh Mausoleum
Really, you can visit Ho Chi Minh's Mausoleum at any time of the day. However, you have to get there early if you want to see Uncle Ho.
Ho Chi Minh's preserved body lies within the concrete juggernaut at the center of Ba Dinh park, which is walking distance from Train Street. Cameras aren't allowed within the mausoleum (the guards will confiscate them at the gates) and you'll need to queue before entering.
But there's a lot more to Ba Dinh Park than just the mausoleum. Around the back, you'll find a section of the park that costs 40,000 VND ($1.70) to get in. There you'll find among other things a small house on stilts which was Ho Chi Minh's residence at some point. Also look out for the One Pillar Pagoda and you can't miss the massive museum detailing Ho Chi Minh's life history.
Around the mausoleum, you'll also see white-suited Vietnamese Honor Guards. It's okay to take photographs of them.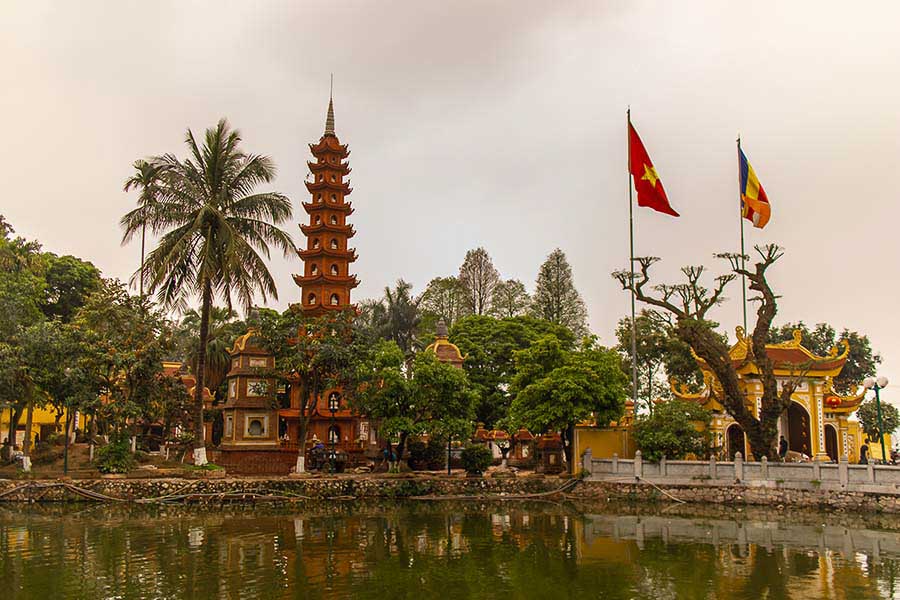 West Lake and Tran Quoc Temple
If you're spending a third day in Hanoi, I'd recommend walking the perimeter of the West Lake (approximately 10 km). If not, one of the most idyllic spots on the West Lake is only 20 minutes' walk from Ho Chi Minh Mausoleum.
Tran Quoc Pagoda is a 15-meter stacked pagoda on a small island off a causeway that runs north-south through the east side of the West Lake. The pagoda itself dates back to the 6th century, and was originally located on the Red River. But as the river expanded, locals decided to move the pagoda to a shrine on the West Lake in 1615.
The temple worship area is around the back of the island, offering panoramic views across the West Lake. Entry to the temple grounds is free.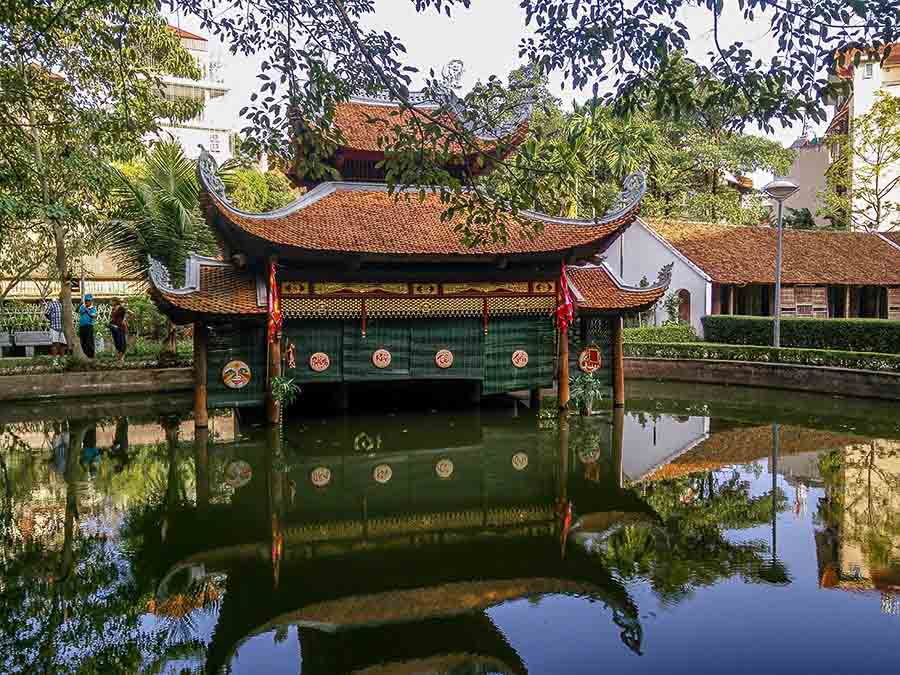 Vietnam Museum of Ethnology
From Tran Quoc Temple, your next stop is the Vietnamese Museum of Ethnology. It's quite a walk, so I recommend using Grab.
The Vietnam Museum of Ethnology is my personal favorite place in Hanoi. It paints a detailed picture of the ethnic tribes throughout Vietnam and offers information about how they live their lives.
But it's the massive pie shaped courtyard I enjoy the most. Inside, the museum have constructed an entire village of thatched roofed houses typical to various ethnic tribes. You'll find longhouses, houses on stilts, earth packed houses, and many more innovative ways of using natural resources to construct dwellings.
This gives a fascinating insight to lesser explored areas of Northern Vietnam and surrounding areas. Honestly, it's the kind of museum you could spend an entire day exploring.
Entry to the museum costs 40,000 VND ($1.70) and the museum is closed on Mondays.
Lotte Tower Observation Deck
You can't go far in Hanoi without encountering its Korean subculture. The Koreans have pumped a lot of money into the city, evident through the massive Lotte and even taller Keagnam towers.
The Lotte Tower Observation offers one of the best panoramic views of Hanoi. You can walk there in around 30 minutes from the Vietnam Museum of Ethnology, or take a Grab if time is tight. Ideally, you might want to get to the observatory for sunset.
The high-speed elevators rocket up to the 65th floor, accompanied by lights and soundworks. From there you can walk the 'Sky Walk' along the entire perimeter of the building. If you have the stomach for it, glass-floored platforms jut out of the building, from where you can watch the city move 253-meters beneath your feet.
Adult tickets to the Lotte Tower Observation Deck cost 230,000 VND per person, which includes access to the sky bar.
Dinner and Drinks: Lotte Tower Sky Bar
Take the elevator up another two floors from the Lotte Tower Observation Deck to get to the sky bar, called Top Of Hanoi. This exposed rooftop garden serves meals and cocktails from the highest accessible point in Hanoi (the top of the Keagnam Tower is closed to the public).
Or, if you're on a tight budget, head down to the bottom and enjoy hot pot (lau) or barbecue, together with a bia hoi, at one of the nearby street side restaurants.
Where to Stay in Hanoi
Most travelers in Hanoi choose to stay around the Old Quarter or near Hoan Kiem lake. Both days of this guide start in this area. Check out these fantastic reviews and rates from Trip Advisor on hotels in the Old Quarter area of Hanoi here.
Or check out popular hotels in the West Lake area of Hanoi here.
If you're visiting a friend, you might find they're based on or near Tay Ho peninsula, check out several of these hotel deals in the area. This is a peaceful suburb but be aware that it's a little further out from the city. Still, everywhere in Hanoi is accessible via Grab, though expect heavy traffic during rush hour times (during peak traffic times (approx. 7 a.m. to 9 a.m. and 5 p.m. to 7 p.m.)
Probably the worse of the two rush hours is from 5 p.m. to 7 p.m., as many of the tourists will be out of the old quarter at that time as well. Still, the morning rush hour is also horrific. For accuracy, however, maybe better to say: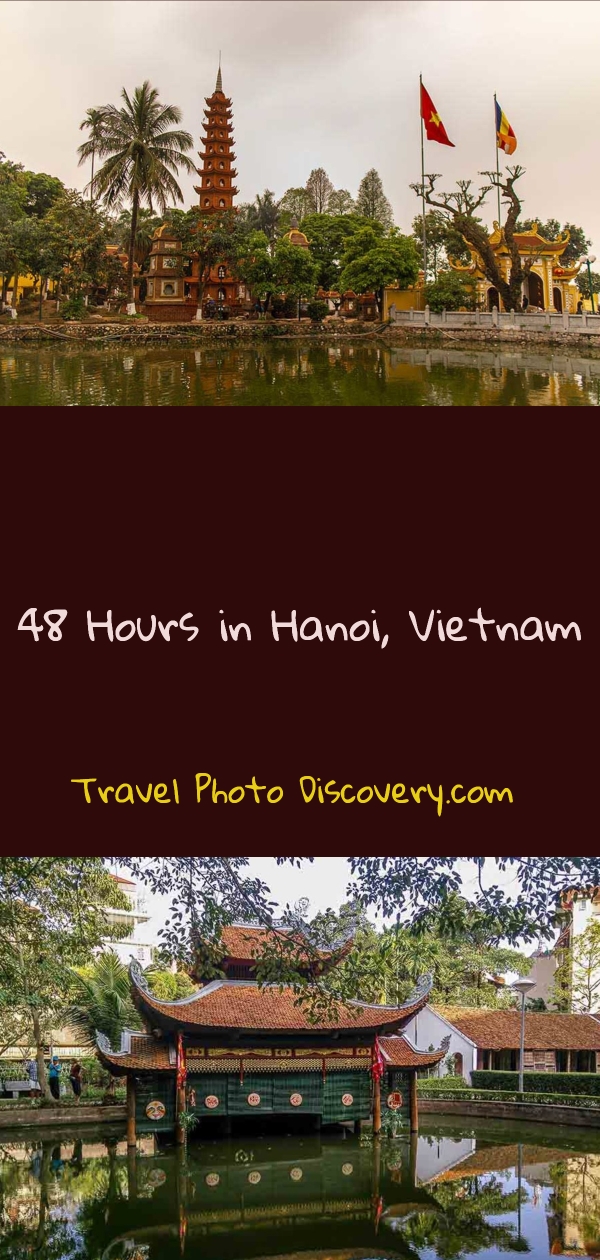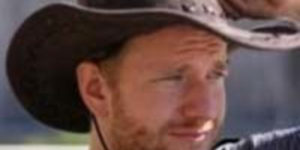 Guest post Bio
| | |
| --- | --- |
|   | Chris Behrsin is a travel writer, fiction writer, freelance copywriter, stock photographer and co-author of the Being a Nomad travel blog. He's travelled to over 30 countries, enjoys playing the piano when he has access to one, as well as photography, reading, digital art, writing and, of course, traveling. |
---
Thanks for visiting today and checking out this post on Things to do in Hanoi. If you enjoyed the images and post, could you please share it with any of the social media buttons located around the post.
If you like what you see, come and check out my other social media channels for more updates, including Instagram, Pinterest and Twitter
Disclosure – There are affiliates links on this posts which provide a small commission to support this site at no extra cost to you. Thank you for reading, and happy travels