Discover the Vibrant Charm: Things to Do in Havana
Founded in 1519 by Spanish conquistadores, Cuba's colonial capital of Havana, remains as fascinating today as it was to its founders over 500 years ago.
The 30-minute ride from Jose Marti International Airport into the city is surreal. The road meanders first through the faded grandeur of the Vedado neighborhood, once the purview of Havana's wealthiest inhabitants, past the buildings of the ocean-side Malecon Avenue into the gloriously colonial center of the capital referred to as Old Havana.
Viewing these Havana streets is like seeing a movie set from almost 70 years ago with its classic American cars from the 1950s and the mid-century, modernist architecture. The entire Habana Vieja, or Old Havana, area can be classified as a living museum since very little has changed of the architecture since 1959.
Weather and best time to visit Havana, Cuba
Havana enjoys a tropical climate, characterized by warm temperatures and distinct wet and dry seasons. The best time to visit Havana is during the dry season, which spans from November to April. During this time, the weather is pleasant with lower humidity levels and fewer chances of rain.
The average temperature in Havana ranges from 25°C (77°F) to 32°C (90°F) throughout the year, making it a destination that offers warmth and sunshine regardless of the season. However, it's important to note that the summer months, particularly July and August, can be hot and humid.
The peak tourist season in Havana falls between December and February when visitors from colder climates flock to the city to enjoy its pleasant weather. It's advisable to book accommodations and flights well in advance during this period.
If you prefer to avoid the crowds and secure better deals, the shoulder seasons of November to April and May to June are great alternatives. These periods offer a good balance of favorable weather and fewer tourists.
It's worth considering that hurricane season in the Caribbean runs from June to November, with September and October being the most active months. While Havana is generally less affected by hurricanes compared to other parts of the region, it's still advisable to stay informed about weather conditions and consider travel insurance that covers unforeseen circumstances.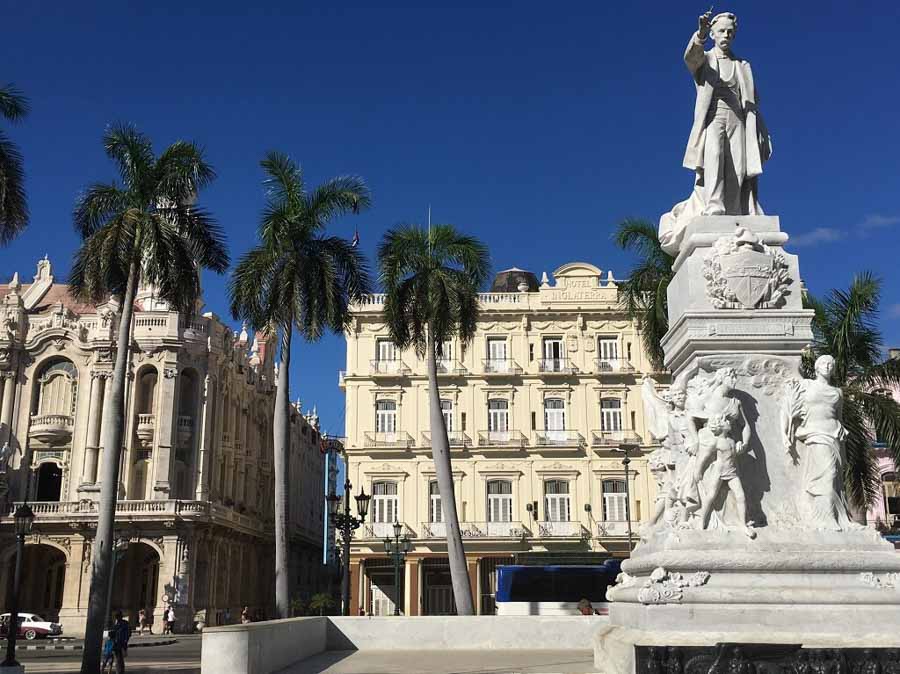 Jose Marti Plaza
Top things to see and do in Havana, Cuba
Havana preserves vibrant traces of a remarkable past and remains unique and culturally fascinating. There is nothing quite like Havana anywhere on earth, so much so that the entire colonial core of the city is designated a UNESCO World Heritage site, one of nine UNESCO sites in Cuba.
The city's plazas and streets are peppered with unusual artwork and colonial era monasteries. Convents have been converted into hotels and restaurants. Street performers dressed as colonial characters pose for pictures and the city's stray dogs are vaccinated and wear collars with their names.  Havana is full of pleasant surprises.
Anyone looking for things to do in Havana will not be disappointed. And the most enjoyable and rewarding things to do in Havana are those that involve connecting and interacting with the local "Habaneros" or residents of Havana. Here is a good list to help you jump-start your Havana adventure.
Time travel through the four main plazas in Old Havana
The very first thing a visitor to Havana should do to get a good sense of this remarkable city and its history is to visit the colonial core known as Old Havana or Habana Vieja.
You can take a self-guided Old Havana walk among colonial gems in one morning or afternoon or linger over them for days exploring all the museums, galleries, restaurants and shops along the way. It doesn't really matter in which order you see the plazas, but my favorite stroll starts with Plaza Vieja.
·       Plaza Vieja. This ancient plaza was once a slave market.  It has recently been renovated and is now one of the most beautiful in the city. It's a great place to choose from one of the many restaurants that line the square.  There is even a brewery in one corner and the musicians play long into the night.
·       Plaza de San Francisco. Nearby is this cobblestone plaza with a marble fountain on one side and one of Havana's oldest churches – now a museum – on the other. The locals love to use this plaza as a setting for important family events like weddings and Sweet 15 celebrations (yes, in Cuba it's Sweet 15, not Sweet 16).
 ·       Plaza de Armas. This is the oldest plaza in Havana and where the city was founded in 1519. It is a leafy square surrounded by monuments, museums, forts and restaurants. Make sure to check out the books and antiques market in this plaza for a really cool souvenir.
·       Plaza de La Catedral. This is the mother of all Cuban plazas with its wide square surrounded by colonial arches on its east and west sides. The south side hosts the city's Colonial Museum and on its north side, brooding and Baroque, sits the soaring Havana Cathedral, formally known as La Catedral de la Virgen Maria de la Concepción.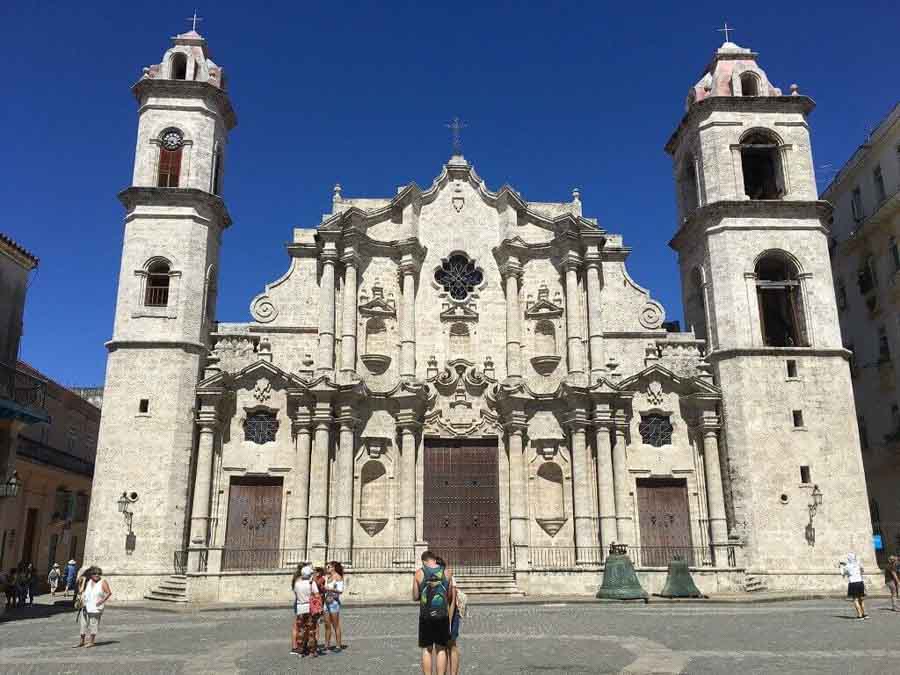 Plaza de la Catedral
Insider tip: Climb to the top of the cathedral's steeple for an expansive view of the city.
Walking between these plazas will give you a great feel for Havana's colonial past.
An ideal place to stay to experience the city's colonial vibe is in a "casa particular" or Cuban homestay, right in the center of Old Havana where you'll be within walking distance of all four plazas as well as other attractions nearby.
Tour the city on the hop-on-hop-off bus
This is a good way to get a feel for a large part of Havana early on in your visit. You can catch this comfortable, double-decker tourist bus at Parque Central in front of the Hotel Inglaterra. It is a regular hop-on-hop-off bus like in any other city. Ten US dollars will buy you the entire route which takes about two hours assuming you stay on for the duration. Get off at a destination that interests you, and when you're ready, take another bus at the same location where you got off and continue your journey.
The bus stops at key destinations like two massive colonial military fortresses: Castillo de la Real Fuerza and Castillo de La Punta. Also on the route are: Revolution Square, the Malecon, Havana's seawall, high-end hotels, the University of Havana and the beautiful eastern beaches. By the way, Cuba has some of the finest examples of Spanish colonial military fortresses, the most spectacular being in Santiago de Cuba, on the east coast.
The tourist bus also goes through the Vedado neighborhood, modeled after Miami, where Havana's wealthy once lived. Although many of the homes are crying out for repairs or at least a paint job, many are impressive mansions. The nicer ones have been transformed into government offices or embassies.  It's interesting to look at some of these crumbling mansions and imagine what that part of Havana must have been like in its glory days before the revolution.
The end of the bus route leaves you at the eastern beaches or Playas del Este with several miles of soft white sand and crystalline, impossibly blue ocean.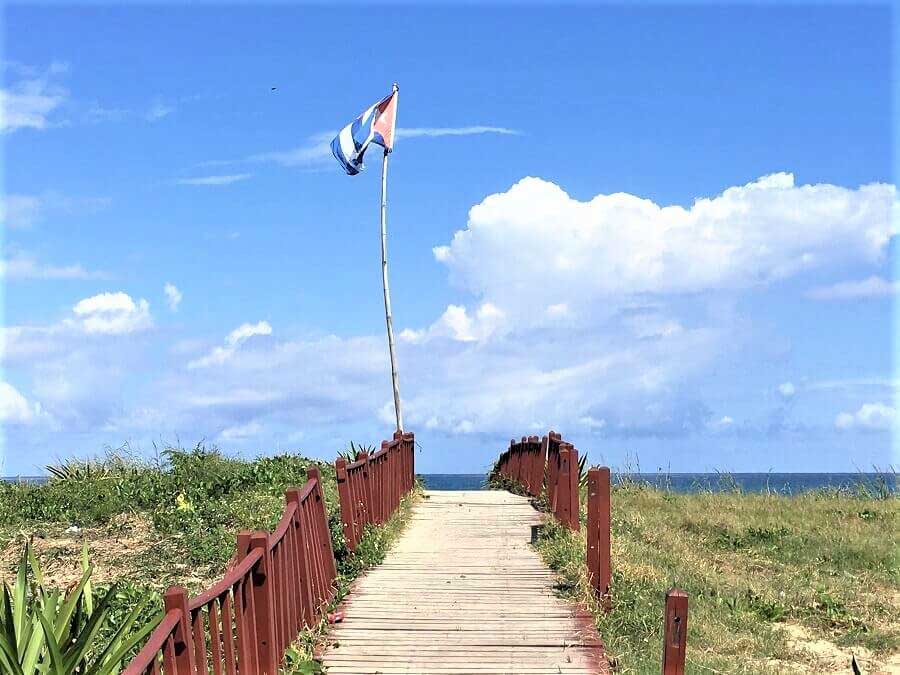 Cuban Beach
Insider tips: Your ticket is good for the entire day so hold on to it!  Also, if you sit on the upper deck in the Havana sun, you will roast. Bring a wide-brim hat, an umbrella and plenty of sunscreen or sit in the lower deck.
Ride around the city in a classic 1950s American car
Yeah, it's touristy. I know. But there is a reason why so many visitors do it. Because it's so much fun and provides probably the best photo opportunity you will have in Havana.
These classic Chevys and Fords were imported from the United States before the 1959 revolution. Due to the embargo from the United States, no other cars were imported since then. They are held together by Cuban ingenuity and not much else. But they still run, and they are lovingly cared for because they generate much needed foreign exchange. They would be museum pieces in the US and elsewhere.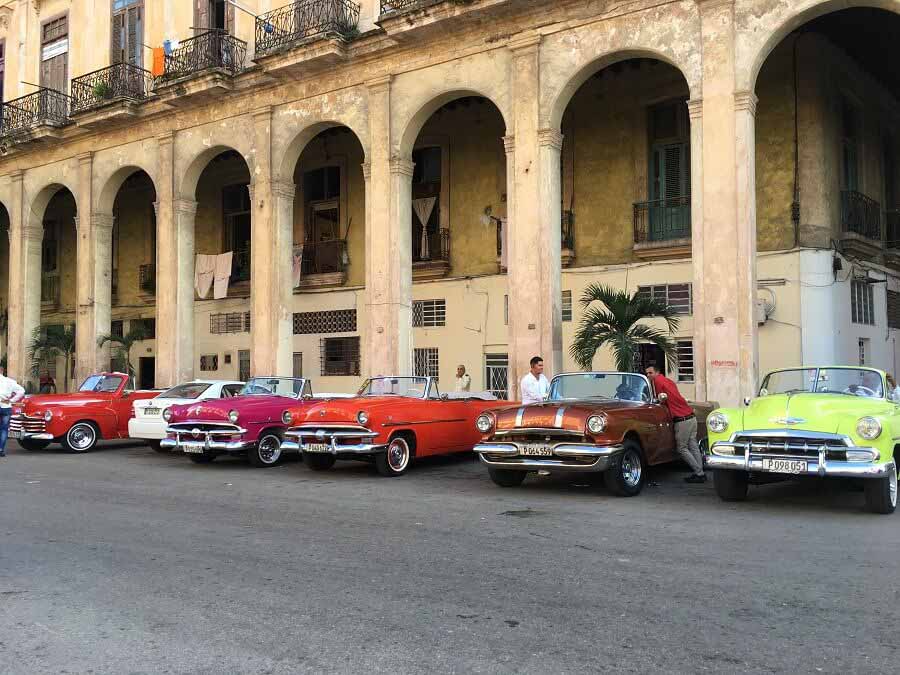 Ride a classic American car
Tour prices are charged by the hour at about $30 to $50USD per hour depending on your negotiating skills.  Most people reserve a car for 2 or 3 hours. The more hours booked the less the hourly price.  Some people will book a classic car for the entire day.
The driver can take you on the classic Havana route covering many of the key spots you can see on the hop-on-hop-off bus tour, or you can ask the driver to take you to specific destinations.
A few interesting destinations many visitors miss due to lack of time are the mosaic wonderland of Fusterlandia, a neighborhood decorated entirely in mosaics, the leafy, lush Havana Forest and Hemingway's former home, Finca Vigia, now a museum.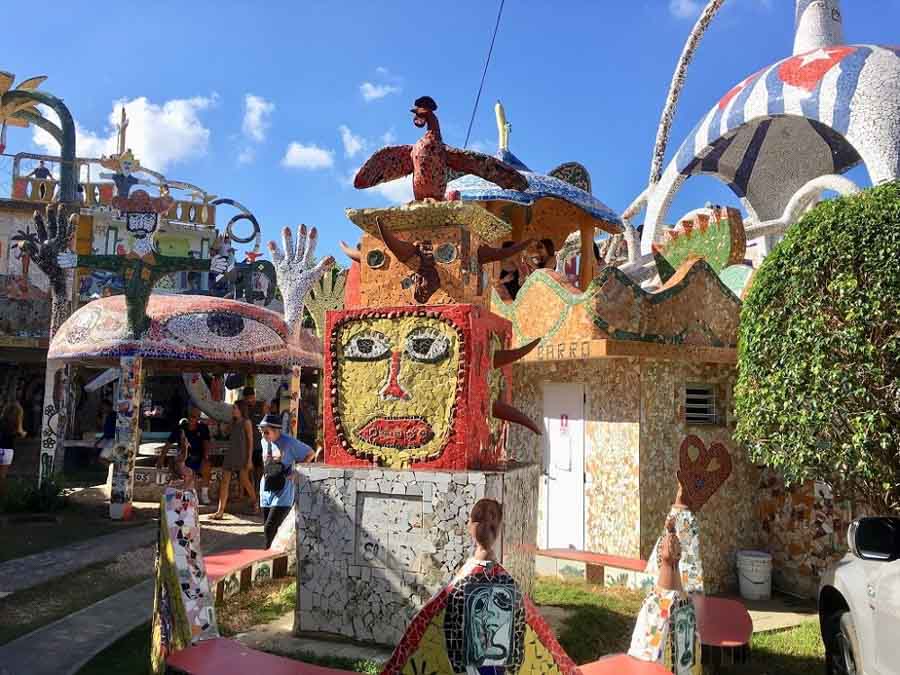 Visit Fusterlandia
Stroll the great necropolis, the Colon Cemetery
This is one of my favorite things to do in Havana because I love cemeteries. Latin American cemeteries are beautiful and the Colon Cemetery is arguably the most spectacular of all with the possible exception of La Recoleta in Buenos Aires.
 The cemetery measures 122.5-acres and sits on the western edge of the Vedado area about 20 minutes from Old Havana. It was built in the late 1800s and is named for the first European to see Cuba, Christopher Columbus, who called Cuba "the most beautiful land human eyes have ever seen."
The Colon cemetery is designed just as if it were a little city with streets and avenues crisscrossing the land. The sumptuous mausoleums are striking, blindingly white marble structures lining the broad avenues leaving no doubt that Cuba's most notable elites – or at least the wealthiest – rest here.
 Insider tips: The hop-on-hop-off stops nearby so definitely get off here. And do yourself a favor and hire an English-speaking guide at the front gate for a couple of dollars.
Experience The Cuban Art Factory (F.A.C)
Here is another "can't miss" Havana attraction. This is the one night spot to visit even if you don't like clubs or music venues.  That's because The Cuban Art Factory (Fabrica de Arte Cubano) or F.A.C for short, is neither…or is it both? It is hard to describe a place when you have no frame of reference to compare it to.
The brainchild of revered Afro-Cuban musician, X Alfonso, the F.A.C is the coolest place in Havana. It is a mixture of all sorts of different music venues: disco, Latin, jazz, classical. There are art galleries galore, cinema, dance performances, secret rooms leading to performance art and so much more…all in a giant, multi-floor refurbished cooking oil factory.
There are several cafes, a rooftop restaurant and numerous bars where you can either grab a quick snack or have a formal dinner. So, grab a mojito, daiquiri, Cuba Libre or any other classic Cuban cocktail and wander around. There are surprises around every corner.
The cover charge is only $2USD. This gets you a card that is stamped whenever you order something. When you are ready to leave, turn in your card and pay for what is stamped. Even the payment method is cool here! The only place you pay for in cash is the rooftop restaurant.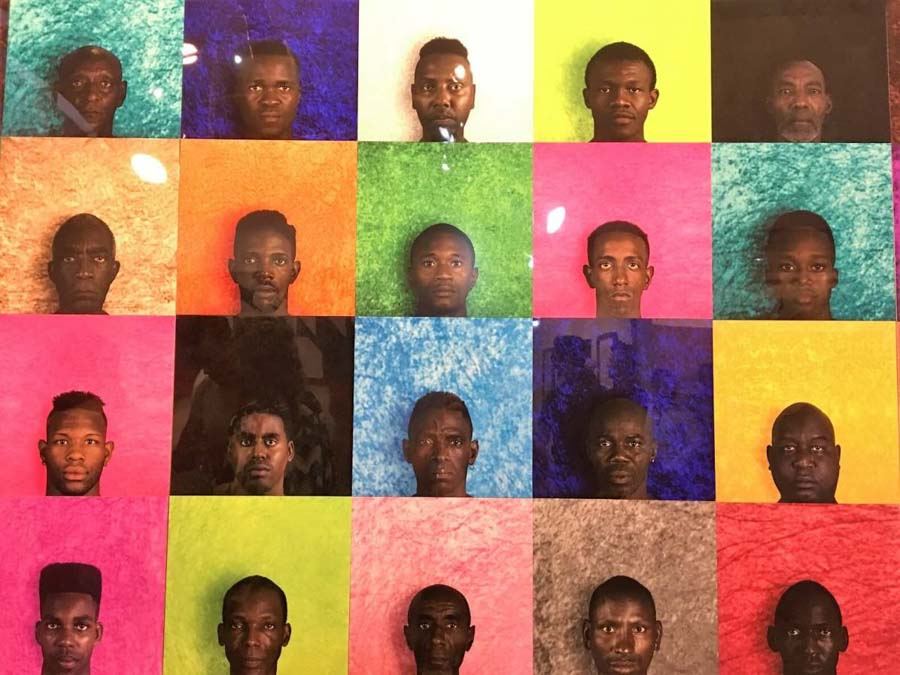 Cuban Art Factory
Insider tip: The F.A.C. opens at 8 PM but it gets very crowded and the line to get in is long. Get there early, like at 7. Taxis are always waiting outside to take you back to your accommodation at the end of the night. Negotiate the fare before you get in.
Hang out at Havana's seawall, the Malecon
Havana is hot.  The bulk of the city's apartments are cramped, crowded and have no air conditioning. When it gets hot at night, Habaneros head to the Malecon to enjoy some cool ocean breezes.
The Malecon is a broad, five-mile avenue fronting Havana's north and west borders. Locals congregate there to listen to music and have a drink or snack from the roving food vendors.
Sit on the stone seawall and chances are people will approach you to practice their English. This is Havana beyond the touristy and one of the best things to do in Havana if you want to meet and interact with locals.
Insider tip: Don't buy cigars from street vendors on the Malecon. The cigars are counterfeit.
Chill out at a rooftop bar
One of the coolest – both literally and figuratively – things to do in Havana is go to a rooftop bar.  Much of life in Havana involves escaping the heat, so it makes sense to live life on the rooftops where a cool breeze is always welcomed. All the high-end hotels, and some restaurants, have rooftops with killer views (and many have pools).
You don't have to be staying at one of the hotels to have a drink or just see the view. Take a break at one, or all, of the rooftop hotels. These are some of my favorites:
·       Hotel Ambos Mundos where Hemingway lived and worked. His old room has been turned into a museum but, unless you're a real Hemingway fan, it's not worth the $5USD admission. Just check out the view.
·       Most of the higher-end hotels around Parque Central: Hotel Inglaterra, Saratoga, Iberostar Parque Central and the Kempinski have breathtaking views.
·       The newer Iberostar Gran Packard Hotel on Paseo del Prado has an infinity pool overlooking the ocean and a view that is hard to beat.
·       Having said that, the brand-new SO/ Paseo del Prado, has a view that beats the Grand Packard's. It has 360-degree vistas of the city and an amazing sunset that will make you feel like you are floating in the sky.
Experiencing life on Havana's rooftops is one of the most pleasant and off-the-beaten-track things to do in Havana.
Have a meal in Chinatown
Havana's Chinatown is staging a comeback, albeit a slow one.
Over 150,000 Chinese were brought to Cuba in the mid-1800s as contract workers. Most Chinese settled in Havana where they created a lively, prosperous community that reached its apex in the late 1950s. Once the Cuban revolution established itself in 1959, many Chinese decided to escape the country.  Most fled to the United States prompting Havana's Chinatown to fall into decline and decay. The local government now encourages a renaissance because they realize the neighborhood's potential as a tourist magnate.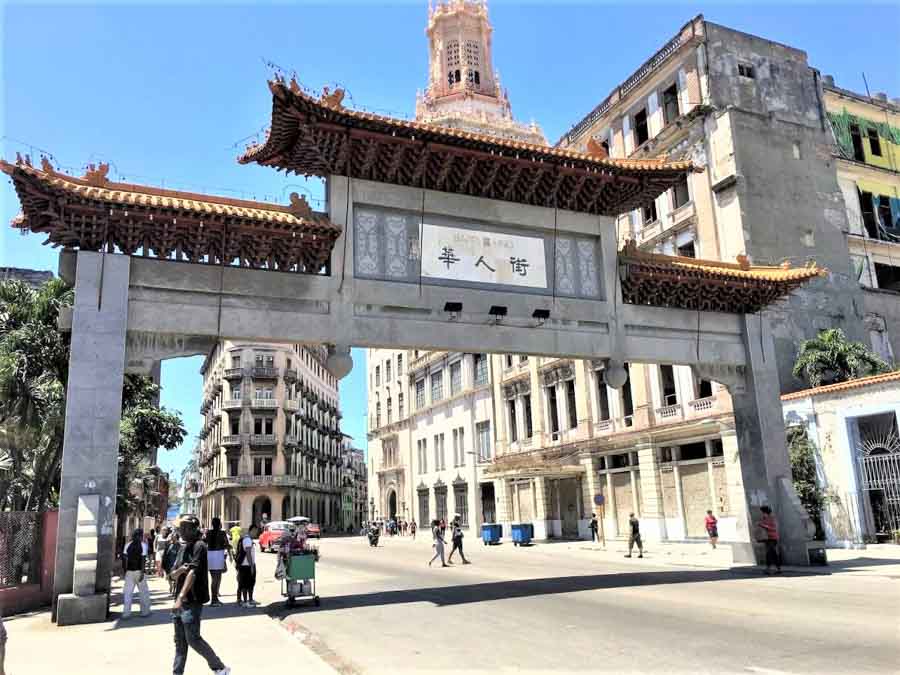 Explore one of Havana's many museums
There are dozens of museums to choose from in Havana, a true museum city. The city offers the art and history buff a wide selection of museums displaying everything from fine art to the kitschy and quirky.
Some of my favorites include:
·       The Cuban art wing of the Museum of Fine Art. Don't confuse this with the International Art wing as they are both in the same building. It's the Cuban art wing you want.
·       The Rum Museum. As touristy as you imagine, but fun, especially the free samples at the end of the tour. Don't buy rum here. Buy it at the airport when you leave. Prices are the same and you won't have to lug liquor bottles around during your stay.
·       The unimaginably cool Museum of Decorative Arts. Walk through the former home of the very, very rich Gomez family that owned large swaths of Havana including the city block where the Kempinski Hotel now stands. Every room houses art work in a different style like Art Deco or Art Nouveau. The house itself, designed in Paris by French architects in the Renaissance style, is a work of art.
·       Notable mentions go to the Chocolate Museum – get your free samples, and the Napoleonic Museum with the finest collection of Napoleonic memorabilia outside of France and the Museum of the Revolution, housed in the former presidential palace, for those interested in that part of Cuba's history. Last but definitely not at all least is the Museum of the City of Havana in Plaza de Armas.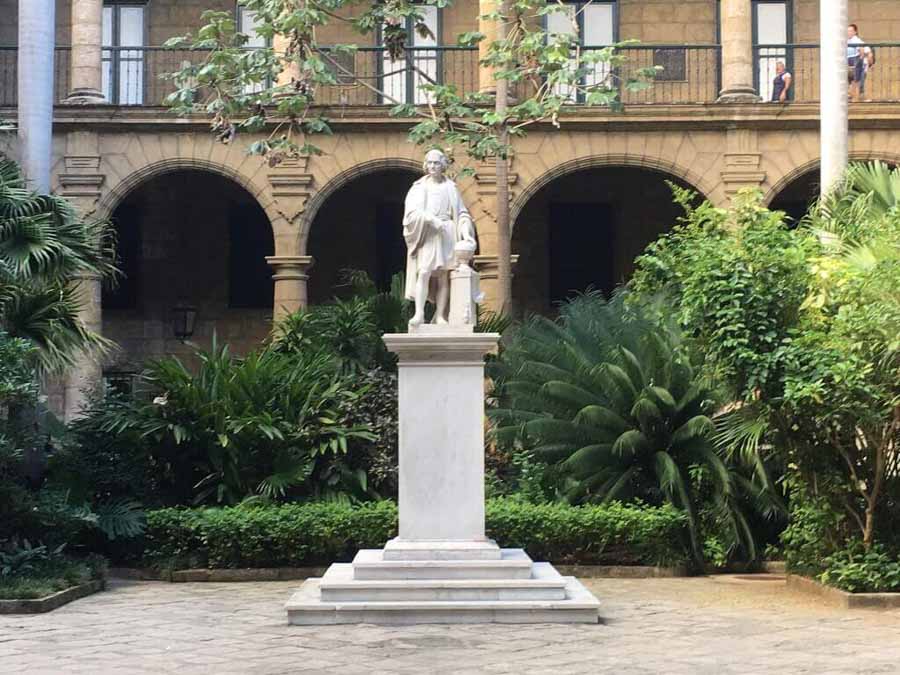 Witness a Santeria religious performance
Santeria is a local religion important to many Cubans. Over the centuries, Santeria evolved through a process of syncretism blending the traditional West African Yoruba religions brought to Cuba by enslaved peoples, spiritism and Roman Catholic Christianity.
Every Sunday at 12PM at the Callejon de Hamill, or Hamill's Alley, near the University of Havana, there is a Santeria performance. The dance performances are bursting with energy and color and are worth seeing at least once.
Insider Tip: Check beforehand to confirm the time. Arrive early to get the best seats. It gets crowded.
Havana grows on you. The more time you spend in this fascinating city the more you grow to appreciate its history and culture. Make sure to research your visit and plan carefully beforehand. You don't want to miss any of the cool things to do in Havana.
Sample the local and traditional cuisine
When visiting Havana, you'll enjoy this culinary journey and tasting the traditional and the delightful flavors of the local cuisine. Here are some must-try foods you need to look out for when visiting Havana:
Ropa Vieja: This traditional Cuban dish consists of shredded beef simmered in a savory tomato-based sauce with onions, peppers, and spices. It is often served with rice and black beans, creating a satisfying and flavorful meal.
Moros y Cristianos: A classic Cuban staple, Moros y Cristianos combines rice and black beans cooked together with garlic, onions, and spices. This dish is a perfect side dish or can be enjoyed as a main course accompanied by plantains or meat.
Lechon Asado: A mouthwatering dish, lechon asado is slow-roasted whole pig marinated in a blend of spices and citrus juices. The result is tender, flavorful meat with a crispy skin. It is often served with congrí (rice and beans) and yuca (cassava).
Tostones: These crispy plantain slices are a popular snack or side dish in Havana. The plantains are sliced, fried, flattened, and fried again until they become golden and crispy. Tostones are typically served with a side of garlic sauce or enjoyed as a complement to main dishes.
Cuban Sandwich: A Cuban classic, this sandwich features layers of roasted pork, ham, Swiss cheese, pickles, and mustard, all pressed between slices of Cuban bread. The result is a delicious and satisfying combination of flavors and textures.
Flan: For dessert, don't miss the opportunity to indulge in Cuban flan. This creamy caramel custard is made with eggs, sugar, and milk, creating a smooth and sweet treat that melts in your mouth.
Mojito: While not a food, the mojito is a signature Cuban cocktail that deserves a mention. Made with rum, fresh lime juice, mint leaves, sugar, and soda water, the mojito is a refreshing and iconic drink that perfectly complements the vibrant atmosphere of Havana.
These are just a few of the mouthwatering foods to try in Havana. Embrace the local flavors, savor the delicious cuisine, and let your taste buds embark on a culinary journey through the vibrant and diverse Cuban gastronomy.
 ———————————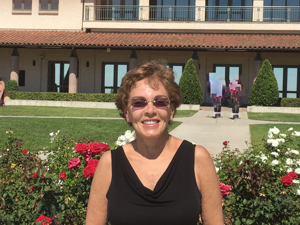 Bio for Talek Nantes 
Talek Nantes is an author and the founder of the travel blog, www.travelswithtalek.com, where she shares travel tips, advice and inspiration to help travelers create their own unique travel experiences.  She also runs tours to Cuba, where her family is from.Talek has travelled to over 110 countries and believes that when it comes to travel, it's all about the experience.
Talek Nantes
www.travelswithtalek.com
Have you visited Havana?
Do these popular attractions and places in Havana inspire you to go back? Which places would you go to first? Please share in the comments below.
Conclusion to visiting Havana, Cuba
Visiting Havana, Cuba is an enchanting experience filled with vibrant culture, rich history, and warm hospitality. From exploring colonial architecture to immersing yourself in lively music and delicious cuisine, Havana offers a unique and captivating atmosphere that will leave a lasting impression. With its tropical climate and year-round warmth, the city invites you to indulge in its beautiful beaches, vibrant neighborhoods, and lively arts scene. Discover the charm of Havana and embrace the lively spirit of this captivating city.
Thanks for visiting today and checking out this post on the Things to do in Havana to inspire you to visit, hope you are ready to do these things in Havana today. If you enjoyed the images and post, could you please share it with any of the social media buttons located around the post.
Disclosure – There are affiliates links on this posts which provide a small commission to support this site at no extra cost to you. Thank you for reading, and happy travels