Things to Do in Puebla, Mexico: Exploring Authentic Mexican Culture and History (updated 2023)
Less than a two-hour bus ride from Mexico City's Main Bus Station and you're in the gorgeous city of Puebla which is a large cosmopolitan city with a fantastic combination of old and new to explore. Surprisingly there's a lot to see and do in Puebla, a city of over 2 million people and you'll enjoy exploring all around the city in its historic district and also some of the newer places and modern parts of the city to visit. Puebla is historic and exciting and in my experience, one of the most fascinating cities in Mexico to visit.
Welcome to the enchanting city of Puebla, Mexico, where history, culture, and gastronomy intertwine to create a captivating destination. Located just a couple of hours southeast of Mexico City, Puebla is renowned for its colonial architecture, vibrant streets adorned with Talavera tiles, and mouthwatering culinary delights. As you wander through the cobblestone streets, you'll encounter magnificent churches, fascinating museums, and charming plazas that offer a glimpse into the city's rich past.
Puebla's culinary scene is equally enticing, with its famous mole poblano and a wide array of traditional dishes that will tantalize your taste buds. Whether you're exploring the UNESCO World Heritage-listed historic center, admiring the iconic volcano views, or immersing yourself in the local traditions and folklore, Puebla promises a truly immersive and unforgettable experience. So join us as we embark on a journey to discover the beauty, flavors, and cultural heritage of this remarkable city
Here's some of our favorite things to do in Puebla below.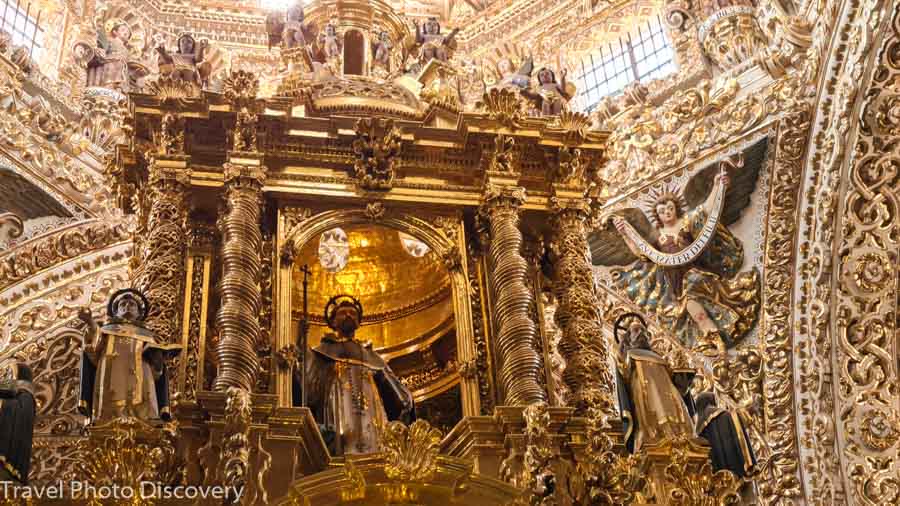 Why visit Puebla, Mexico
The fourth largest city in Mexico, Puebla is cosmopolitan, hip with a fun historic district to explore and easy to walk around. With an interesting mixture of old and new, the city is vibrant, well lived in and very colorful from the lively streets, beautiful zocalo square and all the fun public markets to explore in the city.
There are quite a few fantastic attractions and places of interest in the historic district and around different parts of the city to explore. Check out all these wonderful suggestions below that can easily fill up a two-to-three-day itinerary in visiting the city. If time is short, then you can visit Puebla on a long day trip, but it is better to stay overnight to enjoy a more relaxed visit to this historic and cosmopolitan city.
Weather and the best time to visit Puebla, Mexico?
Puebla, Mexico enjoys a mild and temperate climate throughout the year, making it a pleasant destination to visit. Understanding the weather patterns will help you plan your trip accordingly.
The best time to visit Puebla is during the dry season, which typically spans from November to April. During these months, the weather is generally sunny and dry, with average temperatures ranging from the low 60s°F (around 15°C) to the mid-70s°F (around 24°C). This period offers comfortable weather for exploring the city and its outdoor attractions.
From May to October, Puebla experiences the rainy season, characterized by increased rainfall and occasional thunderstorms. While the rain can provide relief from the heat, it's worth noting that some outdoor activities may be affected, and certain attractions may have reduced operating hours.
Puebla's altitude also influences its climate. The city is situated at an elevation of around 7,000 feet (2,100 meters), which results in cooler temperatures compared to coastal areas. Nights can be chilly, so it's advisable to bring a light jacket or sweater, especially during the cooler months.
It's important to consider that Puebla hosts various festivals and events throughout the year, which may enhance your visit. For instance, the Cinco de Mayo celebrations in early May showcase Puebla's historical significance. However, these periods can be busier with increased tourist activity, so be prepared for larger crowds and higher accommodation prices.
In summary, the ideal time to visit Puebla is during the dry season from November to April when the weather is pleasant for outdoor exploration. Keep in mind the altitude and occasional rain if planning a trip during the rainy season. Regardless of the time of year, Puebla's rich history, cultural attractions, and delectable cuisine offer a delightful experience for visitors.
How to get to Puebla, Mexico
Getting to Puebla, Mexico is relatively straightforward, and there are several transportation options available depending on your starting point:
By Air: The closest major airport to Puebla is Hermanos Serdán International Airport (PBC). It offers domestic and limited international flights. From the airport, you can take a taxi or arrange for a private transfer to your destination within Puebla.
By Bus: Puebla is well-connected to various cities in Mexico through an extensive bus network. Several bus companies operate routes to Puebla from major cities like Mexico City, Oaxaca, Veracruz, and more. The main bus terminal in Puebla is CAPU (Central de Autobuses de Puebla), located near the city center.
By Car: If you prefer to drive, Puebla is easily accessible via Mexico's well-maintained highway network. From Mexico City, you can take the Mexico-Puebla Highway (Federal Highway 150D) to reach Puebla in approximately two hours, depending on traffic conditions.
By Train: Currently, there is no direct train service to Puebla. However, the Mexican government has plans to develop a high-speed train system that will connect Puebla with other major cities in the region.
Once you arrive in Puebla, you can utilize local transportation options such as walking, public buses, taxis, or ridesharing services to navigate within the city and explore its attractions.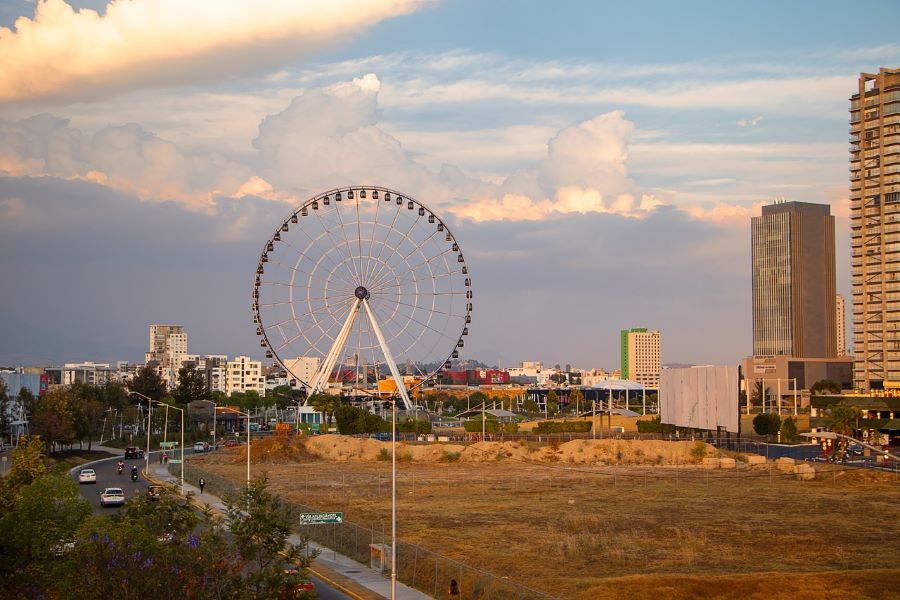 Best 20 things to do around Puebla
The historic city and old town of Puebla is a Unesco World Heritage site with stunning architecture, beautiful squares, museums, shopping venues and historic landmarks and attractions to explore in the city. The old town is fairly compact and easy to walk around with many walking promenades that are easy and fun to explore in town. Check out the highlights to visiting below.
**For a guided tour experience, try this Puebla secrets tour here for a private tour of the tunnels, cathedral and other historic attractions.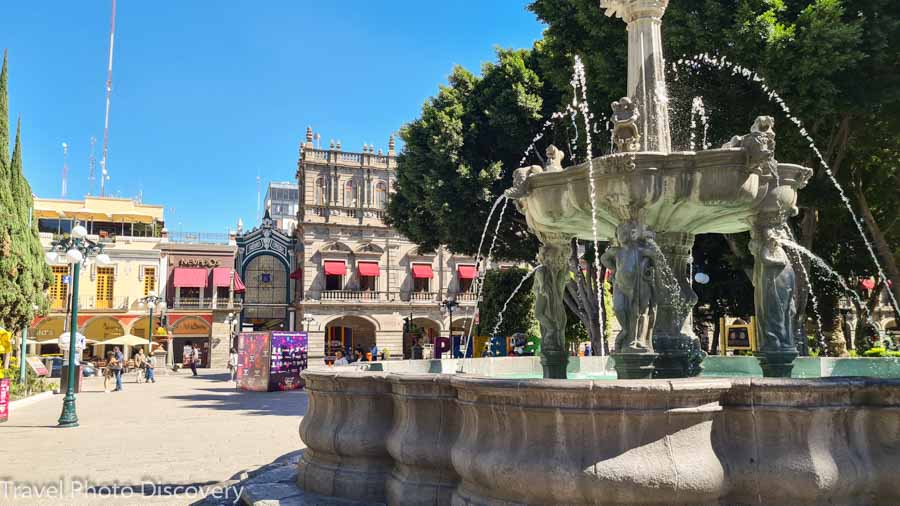 1. Main square or Zocalo of Puebla
The starting point to visiting any city in Mexico, the Zocalo or main square of Puebla is quite grand and beautiful to explore and just hang out. If you love to take pictures, then you can check out the fountains, sculptures and colorful Puebla sign along with capturing gorgeous exterior photographs of the cathedral and beautiful architecture surrounding the square. Tree lined streets with historic buildings and covered porticoes decorate the areas around the zocalo. There is a very nice tourist center across from the Puebla sign to pick up brochures and ask questions about places to visit or tours around Puebla to enjoy.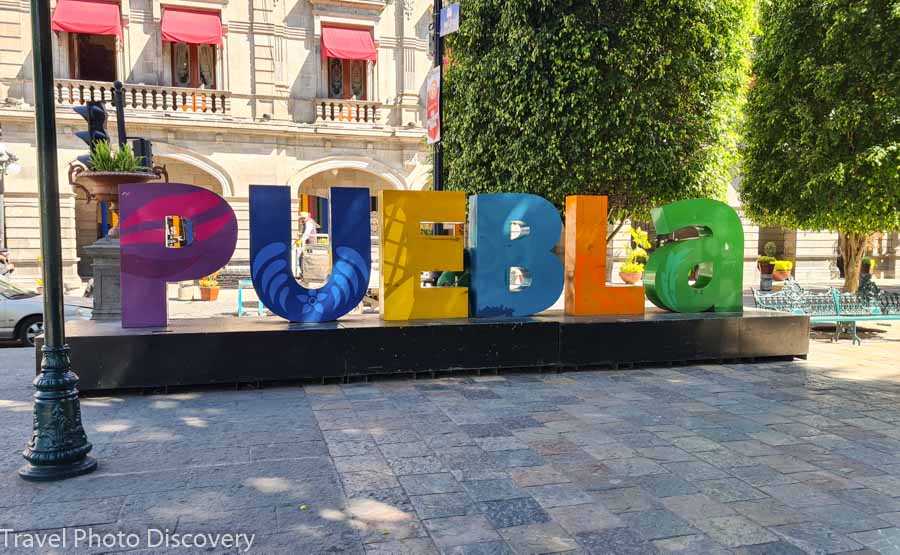 Take a selfie at the Puebla sign, check out the colorful art and sculptures or just hang out at the Zocalo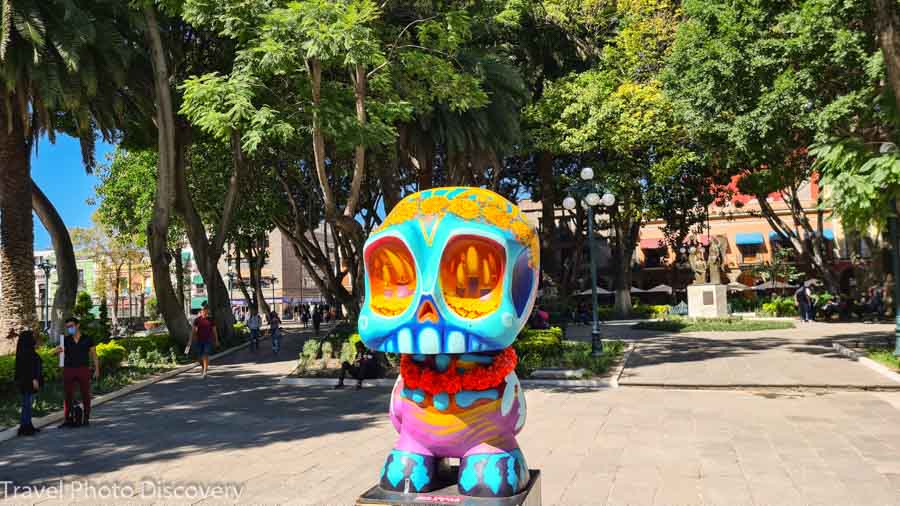 2. Explore the gorgeous arcades and shops of Zocalo
Immerse yourself in the charm of Puebla's historic center by exploring its captivating arcades. These architectural gems, known as "portales," grace the streets of the city, offering a unique and enchanting experience.
As you stroll through the arcades, you'll find yourself transported to a bygone era, where colonial influences blend seamlessly with indigenous elements. The arcades feature beautifully adorned arches, intricate stonework, and vibrant colors, creating a picturesque backdrop for your exploration.
These arcades not only serve as architectural delights but also house a variety of shops, boutiques, cafes, and restaurants. Indulge in some retail therapy, discover artisanal crafts, or savor traditional cuisine in the cozy establishments that line the arcades. You'll find everything from local delicacies to international flavors, making it a gastronomic haven for food enthusiasts.
The arcades of Puebla's centro are more than just architectural marvels; they serve as lively meeting points and social hubs. Locals and visitors gather here to chat, people-watch, and soak in the vibrant atmosphere. It's a wonderful opportunity to immerse yourself in the local culture and witness the day-to-day life of Puebla.
Here's a quick look of the Zocalo area of Puebla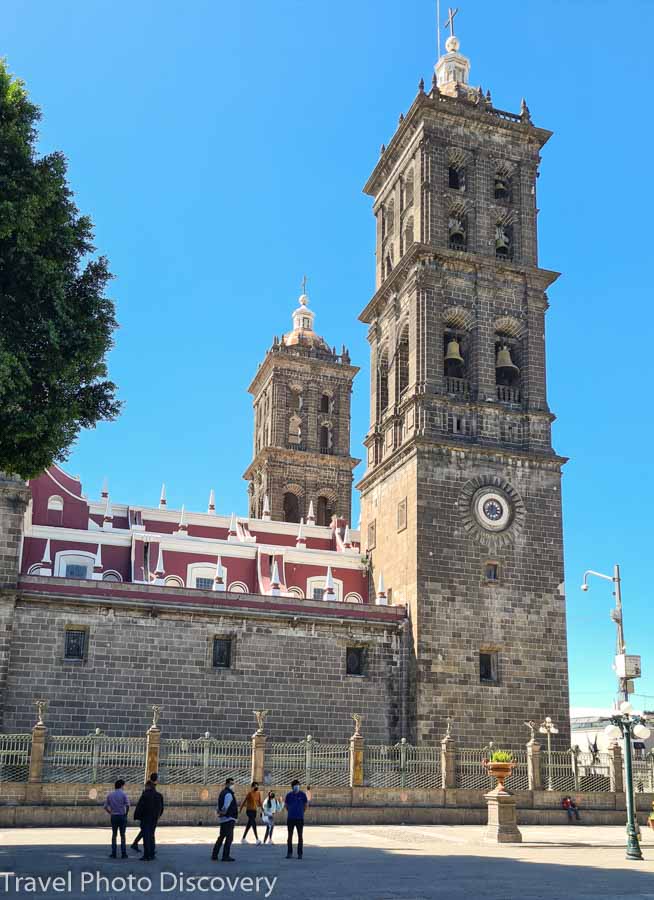 3. Cathedral de Puebla
The impressive cathedral de Puebla fronts the entire length of the main square and is a site to see from the outside and interiors of this gorgeous church. One of the earliest and most significant church built in Mexico the cathedral was created in 1575 and is one of Mexico's first sacred catholic sites in the country. With an exterior stone façade with two impressive towers the cathedral is a mixture of Renaissance and Baroque styles with an octagonal altar and an impressive 14 chapels inside. The dome is supposed to be a copy of the famous Basilica of St. Peter's in Rome.
The interiors contain many elaborate chapels and the altar is very unusual ad quite ornate, you'll enjoy visiting and capturing some beautiful imagery while visiting here.
Cathedral de Puebla, interior details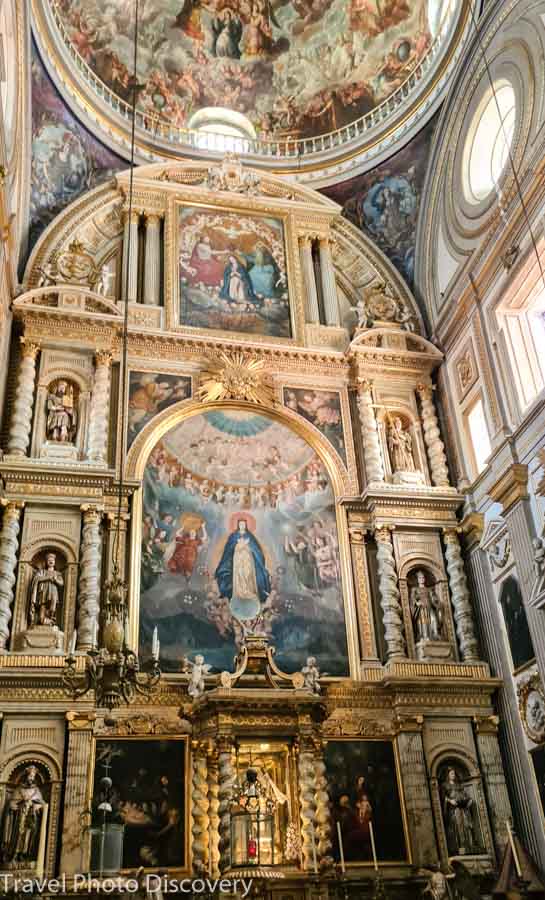 Check out the ornate interiors of the Cathedral of Puebla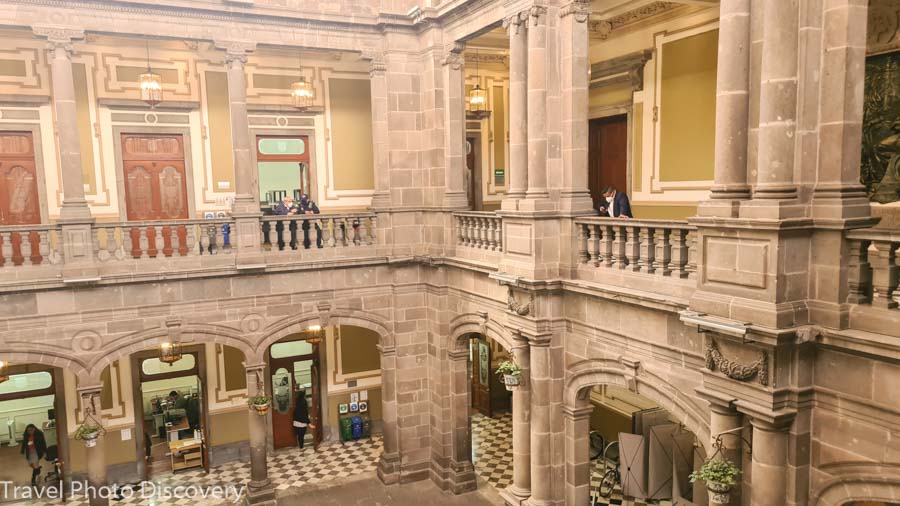 4. City Hall of Puebla
You can arrange a tour of the beautiful interiors of the City Hall from the tourism office to see some of the gorgeous interiors and murals of the building and paintings that depict historic scenes the guide can help to explain all the main details to understand the imagery.
**you do need to reserve to take a tour of the City Hall interiors through the Visit Puebla tourism office.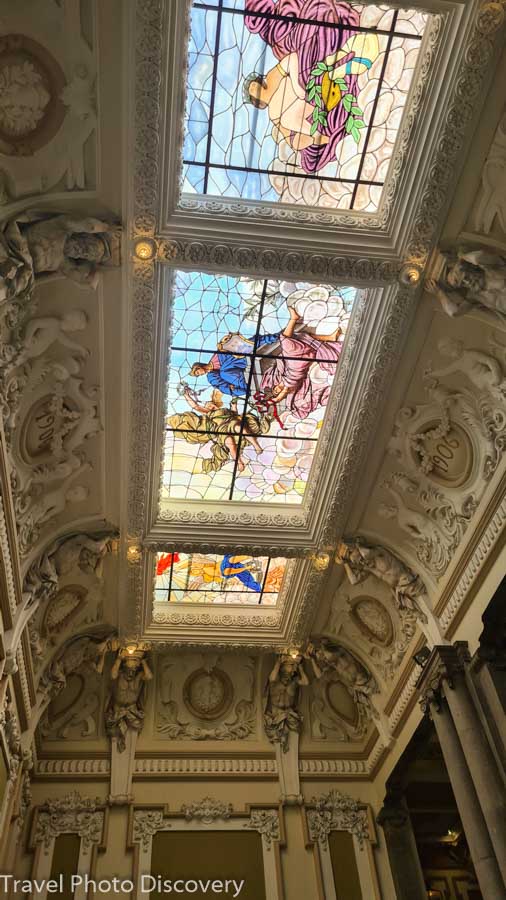 5. First Library of Puebla
Just behind the cathedral sits the first public Library called Biblioteca Palafoxiana. One of the oldest and most grand libraries in the America's, the library is really stunning to visit. You'll see a collection of books from all different periods and ranging in topics covering medicine, religion, astronomy and all great authors and documents of significant record from the greatest civilizations. Established in 1646, the library houses over 41,000 books and quite a few dates back from the 15th century on. Beautiful carved wood details from cedar, white pine and local coloyote wood along with the beautiful decorated altar make this one of the most beautiful libraries to visit in all of Mexico.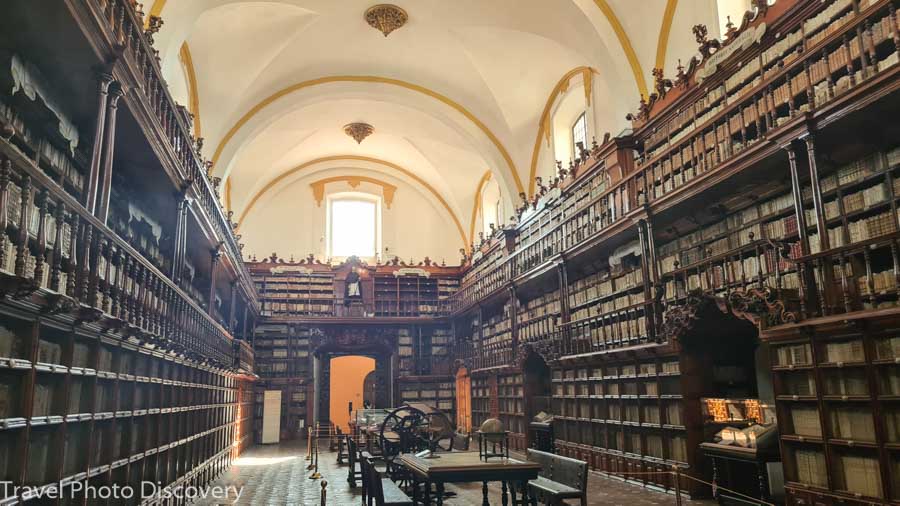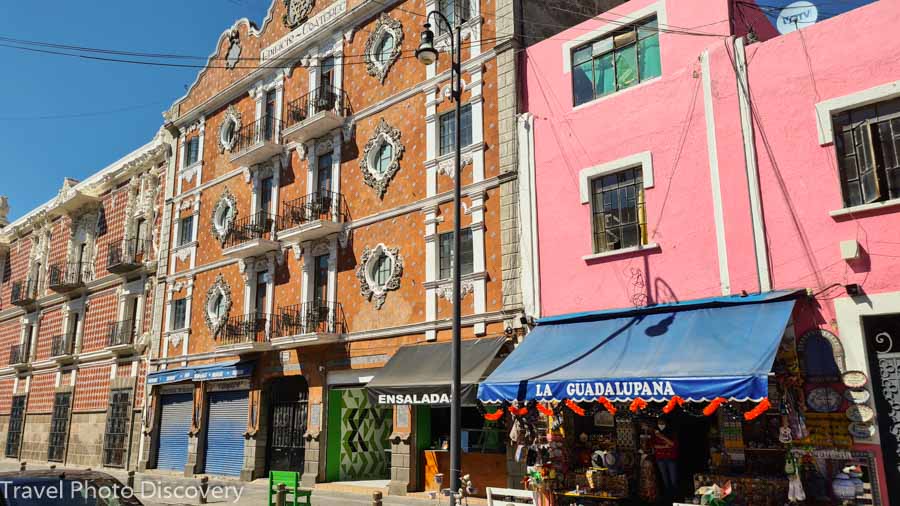 6. Callejon de los Sapos
This famous and colorful street in Puebla is better known as the Alley of the Toads with bold orange, blue and yellow. The street used to house many mills loaded with toads and there is a square with a toad fountain that pays tribute to the area. Along the street are unique shops selling antiques, books, the famous Talavera ceramics and other unique finds from the area.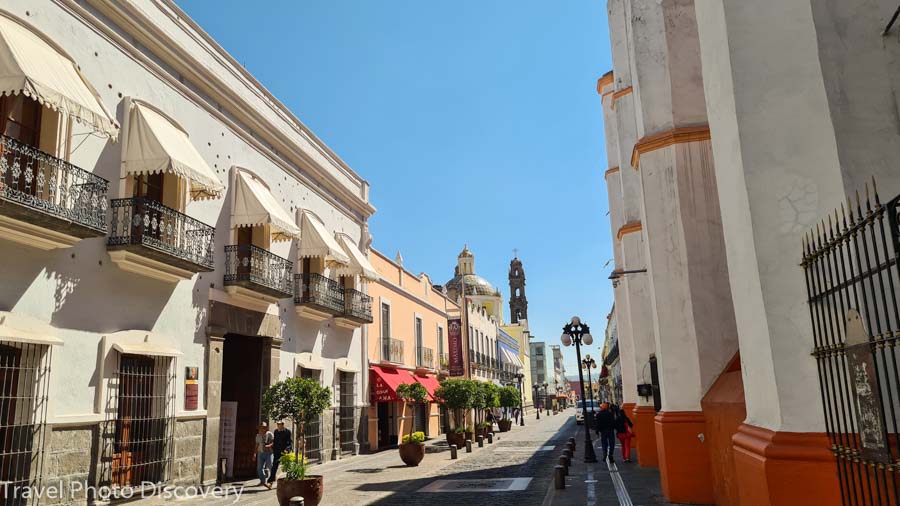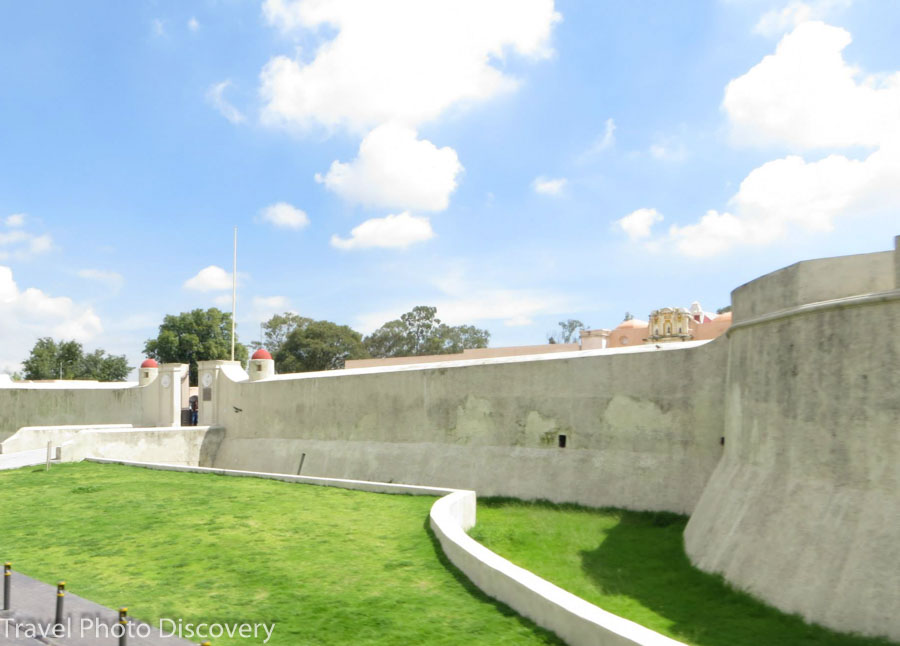 7. Fort Guadalupe
The impressive Fort Guadalupe located Acueyametepec hill are two 19th-century forts that were present during French occupation of Mexico. The major battle of Puebla in 1862 helped to defend the entire city from the French Army and helped to finally liberate Mexico from French rule. Inside the fort are collections of weapons, document, uniforms and other paintings and art to see and learn from the various displays at the site.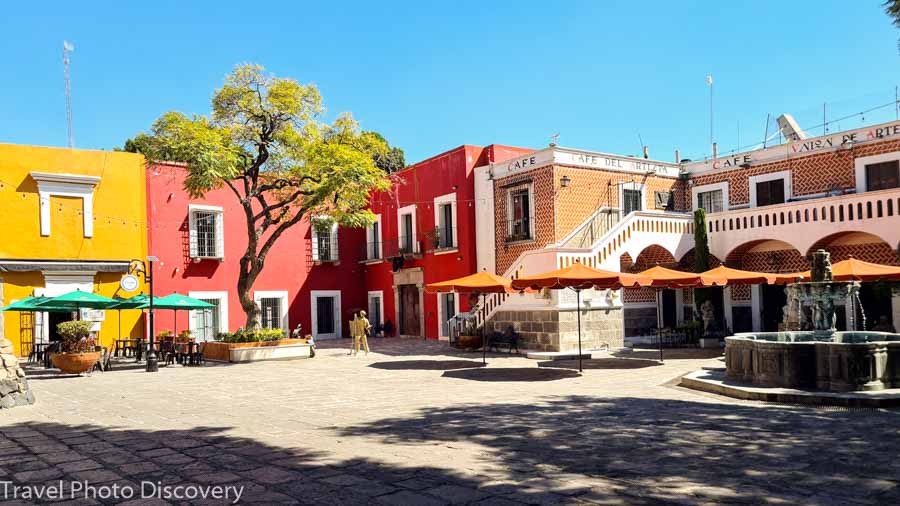 8. Visit the arts and crafts markets of Puebla
There are two fantastic markets in Puebla to explore that sell a variety of local handicrafts, specialty foods and other unique finds from the area. These markets are the called the Parian Market and the Barrio del Artista. The Parian Market is the popular arts and crafts market with Talavera shops of ceramics, candles, textiles, candies, wood, copper, pewter and hand-crafted objects. Close by is the Barrio del Artist which has stalls that sell fine art works and paintings from local artists in the area. You can also hang out at the public square called San Roque square with restaurants, fountains and places to sit and people watch in the area.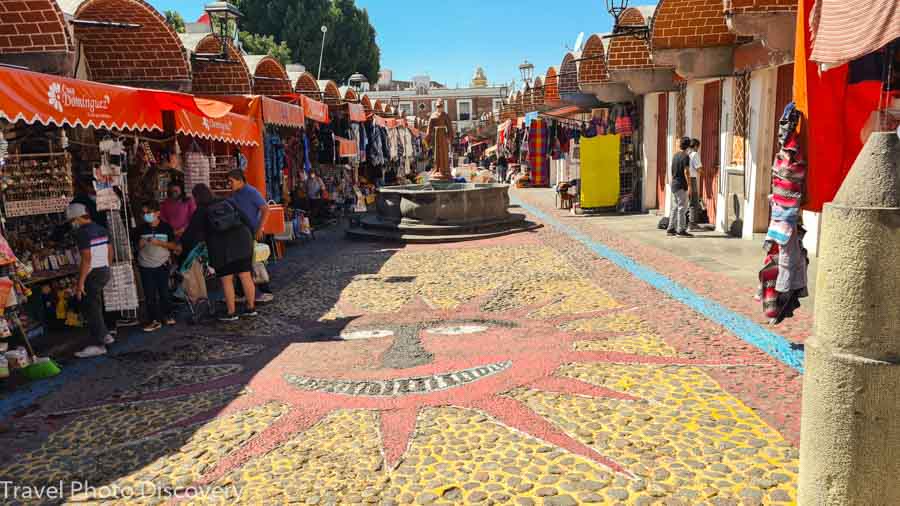 the Parian Market and Talaveras stalls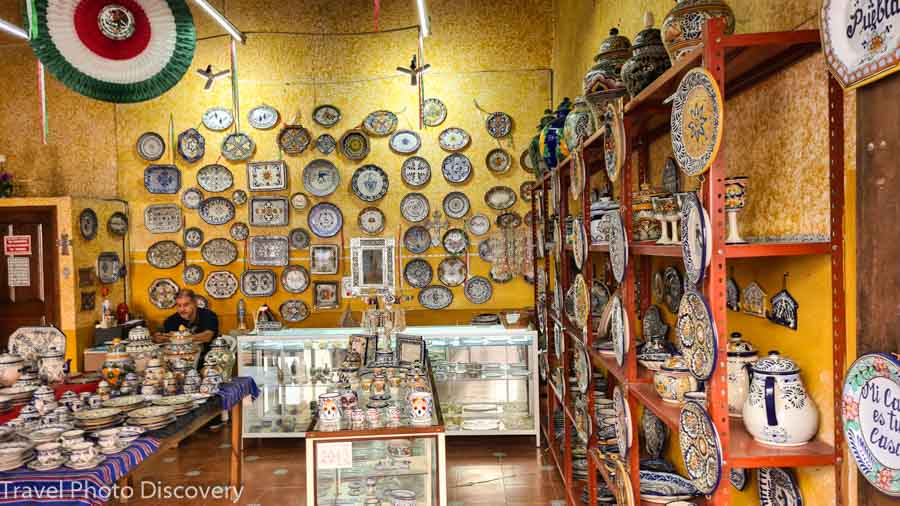 The Barrio del Artist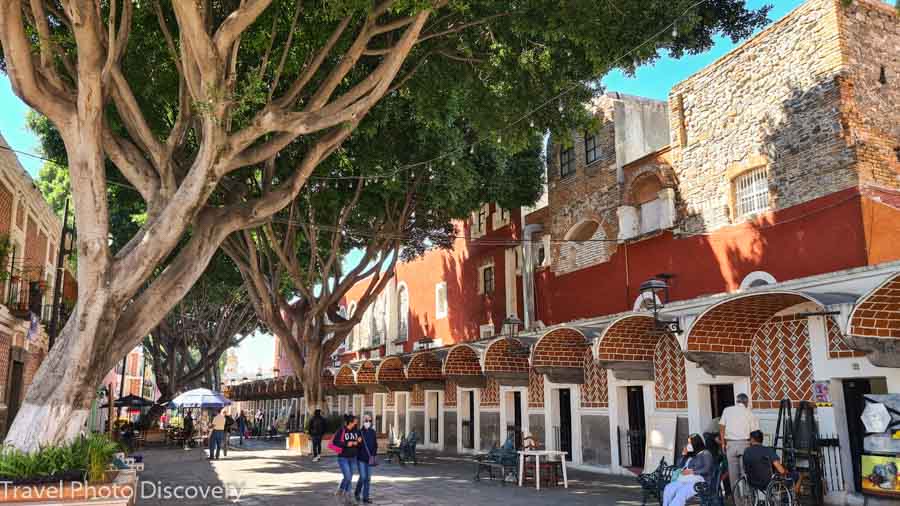 9 San Roque square
in its captivating ambiance. This picturesque square, named after the patron saint of plagues, invites visitors to unwind and soak in the local atmosphere.
As you step into San Roque Square, you'll be greeted by a delightful blend of colonial architecture, vibrant colors, and beautiful landscaping. Take a leisurely stroll along its pathways, adorned with benches and lush greenery, offering a serene and tranquil setting.
The square is adorned with a central fountain, adding a touch of elegance and providing a soothing backdrop. It's a perfect spot to sit and relax, enjoying the peaceful atmosphere while watching locals and visitors go about their day.
San Roque Square is also home to quaint cafes and restaurants that spill out onto the square, creating a lively and inviting ambiance. Grab a seat at one of the outdoor patios, and indulge in a delicious meal or sip on a refreshing beverage as you bask in the charming surroundings.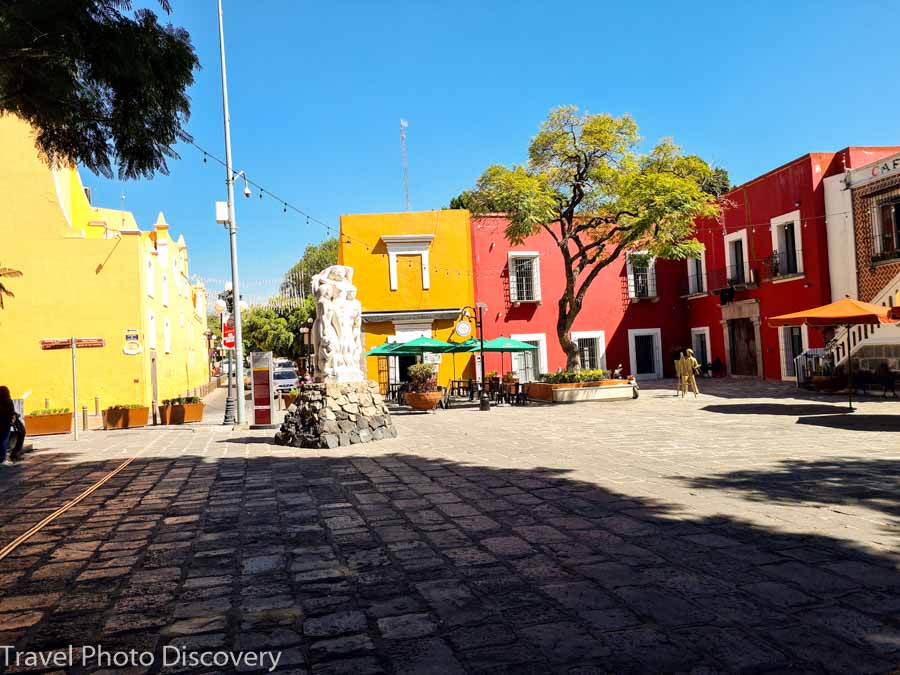 Let's check out the Parian marketplace of crafts in Puebla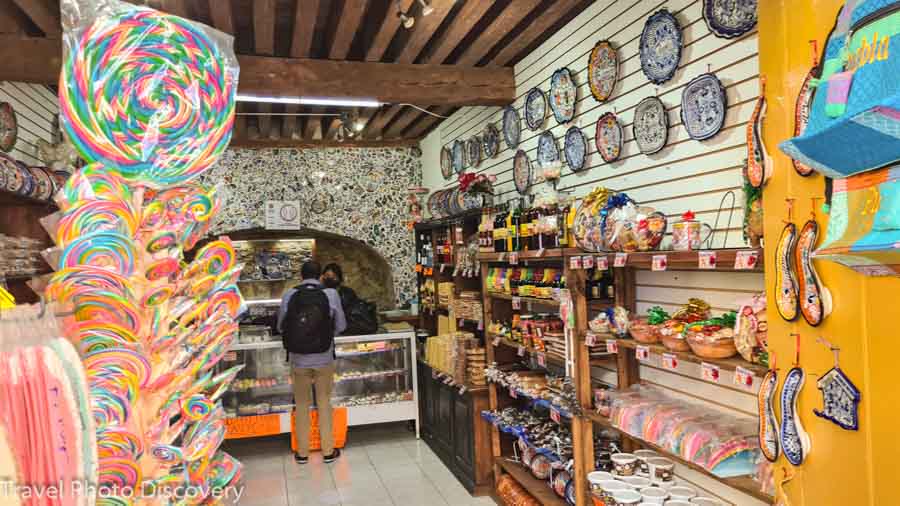 10. Enjoy a visit to the candy street – Calle de los Dulces
The popular Candy Street of Puebla or the Calle de los Dulces Beginning just after the Templo de Santo Domingo, has been nicknamed Calle de los Dulces (Street of the Sweets) or Avenida 6 Oriente. While you stroll the street, you'll find over 40 shops making traditional sweet treats from the region to sample and take home for souvenirs. The most popular sweets are the sweet potato candies or Los camotes de Puebla. Other popular candies to try include the small tarts called Tortitas de Santa Clara made with winter squash filling or muéganos which are crunchy, sweet bites of flavored cinnamon and honey.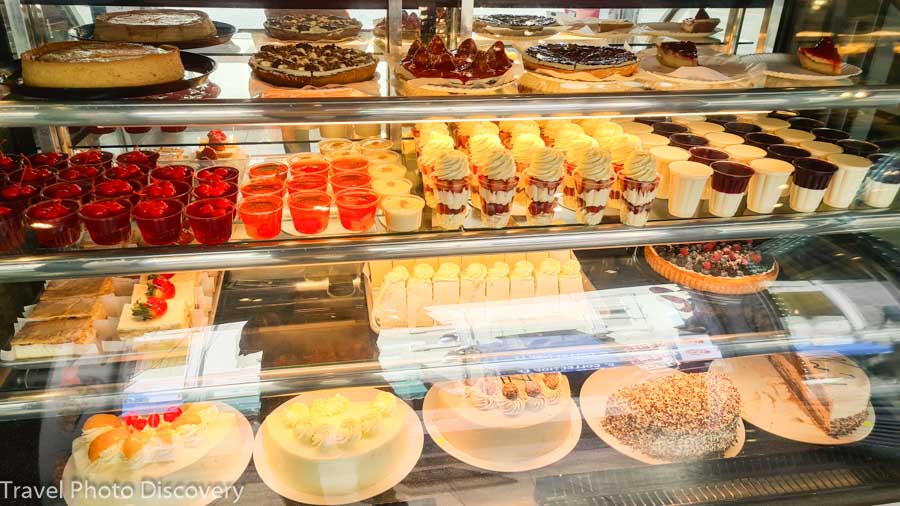 Rick Bayless shares his discovery of Candy street in Puebla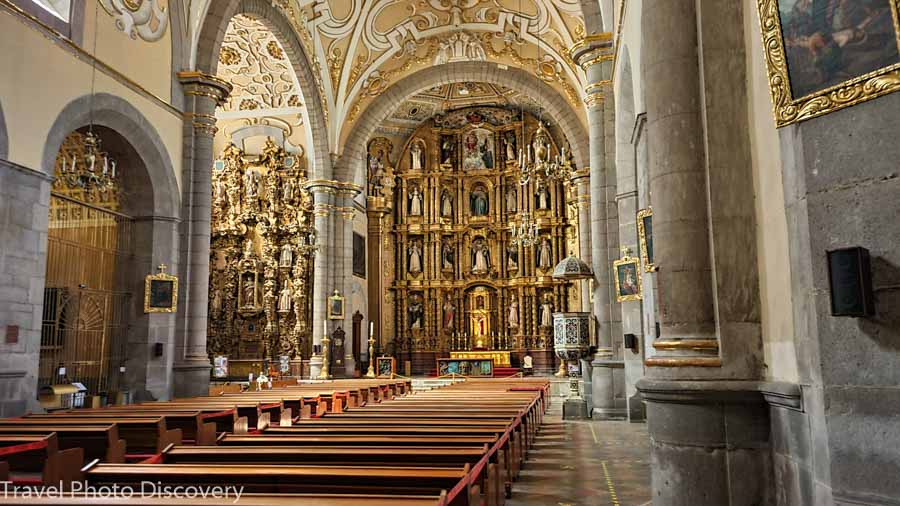 11. Stunning chapel at the basilica Templo de Santo Domingo
The hours to visiting this church is limited but worth the effort to check out the magnificent chapel of the Capilla del Rosario decked out to the hilt in silver and gold dripping from elaborate carvings and sculpture. The rest of the church within the Templo de Santo Domingo is also marvelous to walk around and enjoy the beautiful details and ornamentation and craftsmanship. Finished in 1890 the Capilla is done in the New Spanish Baroque style and ornate carvings on every surface you can imagine with also the famous Talavera tilework on the walls and floors of this gorgeous temple.
Capilla del Rosario – ornate chapel interiors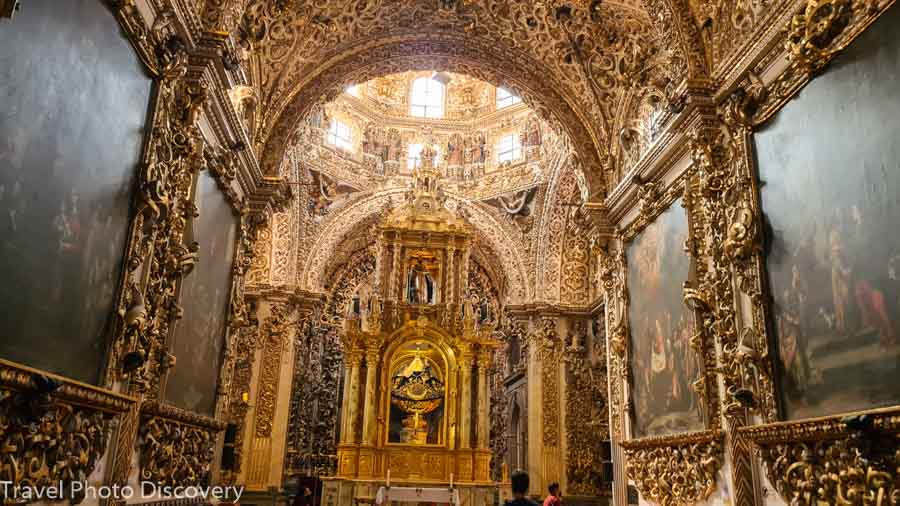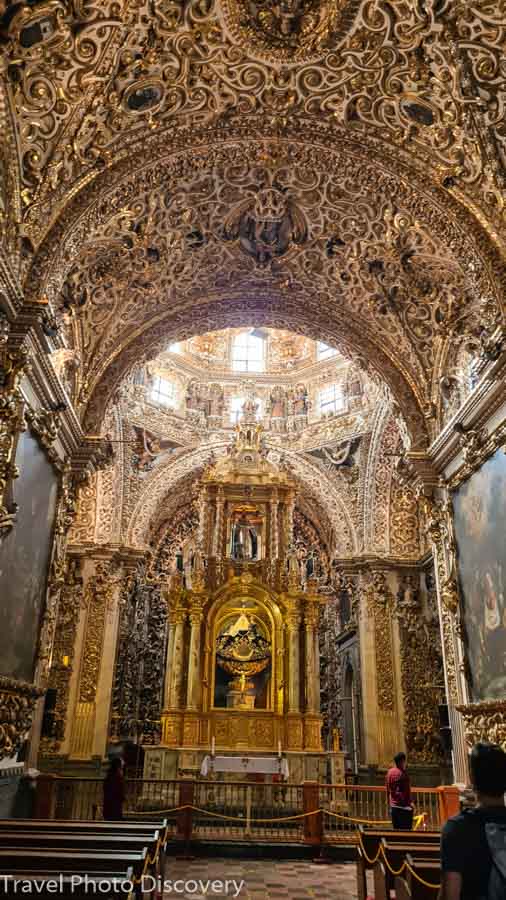 Here's a visit of the interiors of this amazing church and smaller chapels
12. Visit to Museo Amparo
An impressive contemporary building that houses the impressive collections of the museum covering a span of works from 2500 BC to current. Located in two colonial buildings with a contemporary annex the museum has an extensive Pre-Hispanic collections of art works and artifacts covering the Mayan, Aztecs, Olmecs, Mixtects, Teotihuacans, Zapotecs and Huastecs civilizations. What makes this fascinating is how the collections are curated to other important historical civilizations happening at those timeframes in Mexico to other cultures.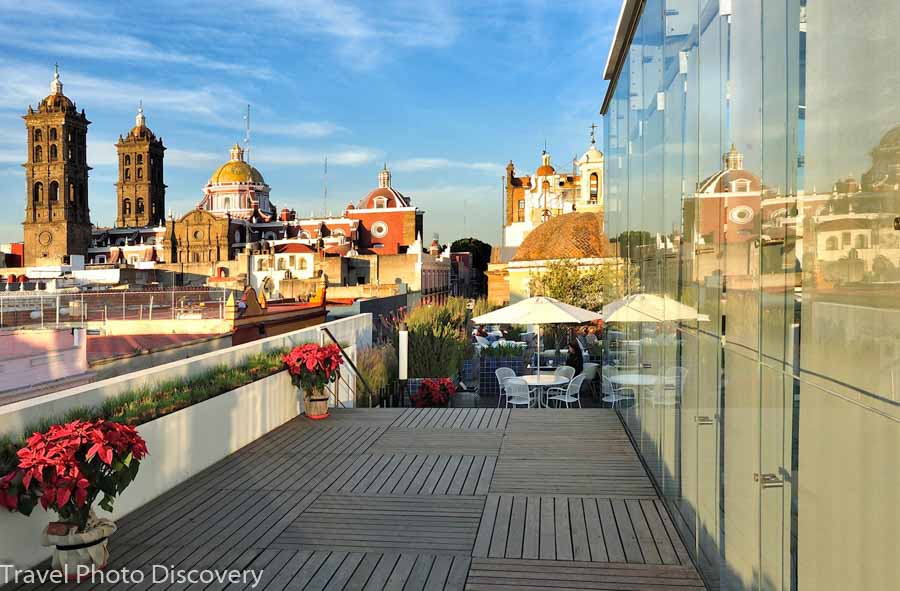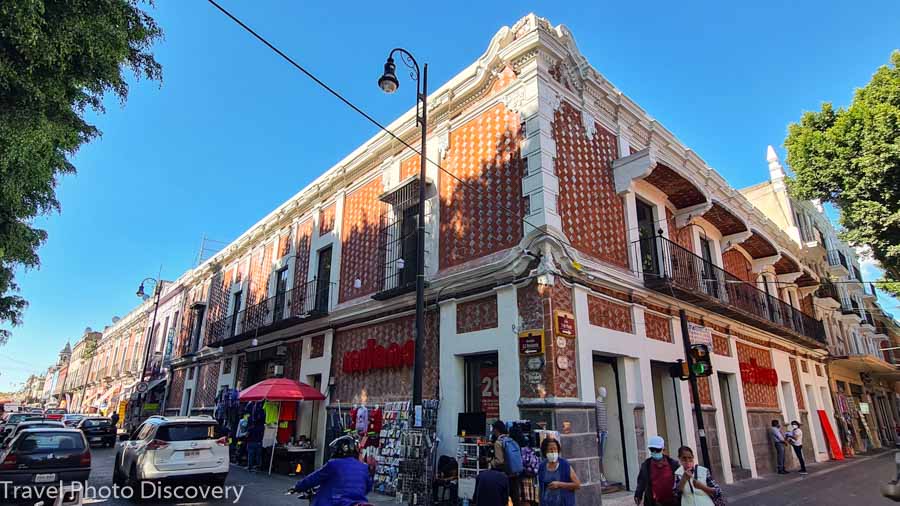 13. Walk through a pedestrian promenade at 5 de Mayo
Just of the Templo de Santo Domingo is this beautiful walking promenade in the historic district of Puebla. The walking promenade is filled with cafes, street food vendors and shops for an enjoyable stroll and experiencing the local scenes in the area. There's also a beautiful covered glass shopping arcade with a variety of restaurants and shops to explore just off the promenade along with small squares to sit, try some local snacks and people watch the various young to old locals enjoying a day out on the street.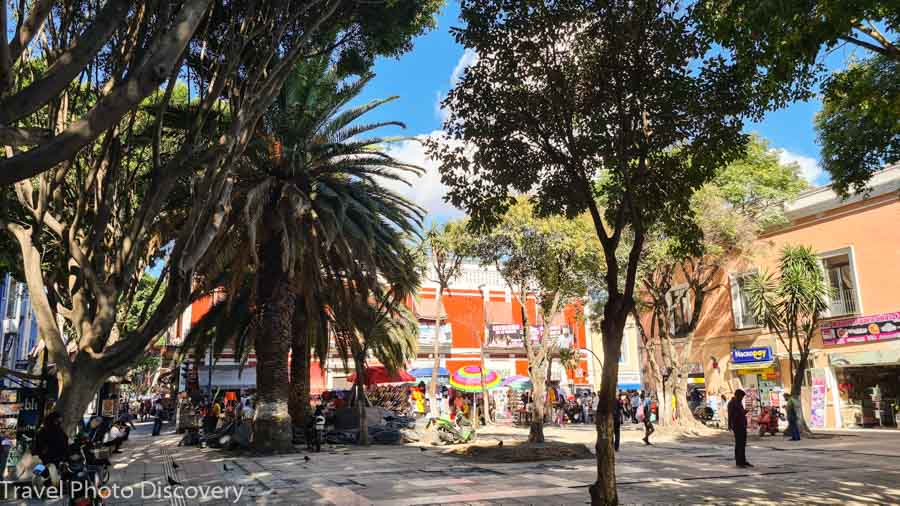 Glass atrium with shops and restaurants off 5 de Mayo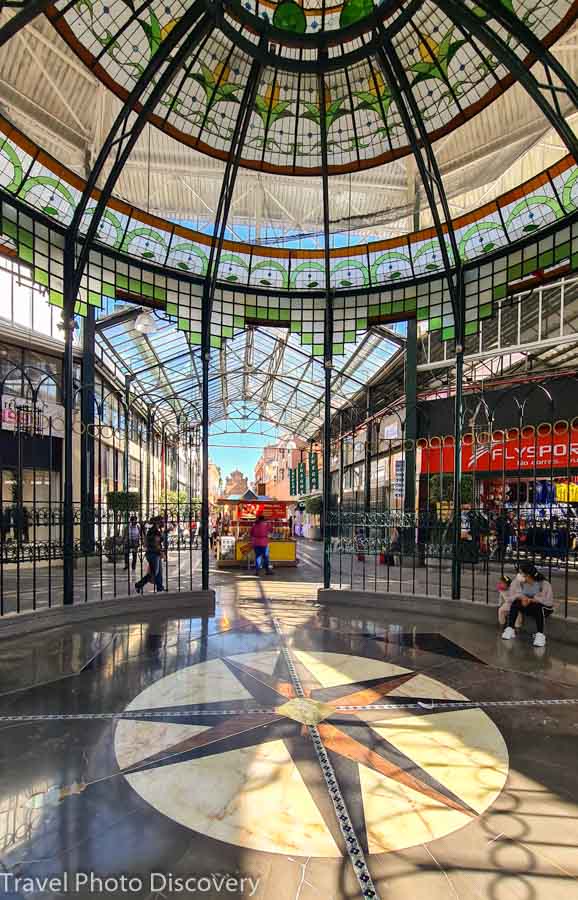 14. Try the delicious Mole of Puebla
Mole is one of the most traditional and popular local food to try here in Puebla. The most common way to eat this on the menus are typically with chicken with the mole sauce poured on top and served with rice or tortillas or also served on top of enchiladas. The birthplace of mole is said to have originated in Puebla and you definitely need to give it a try here at any of the traditional restaurants that serves this local dish.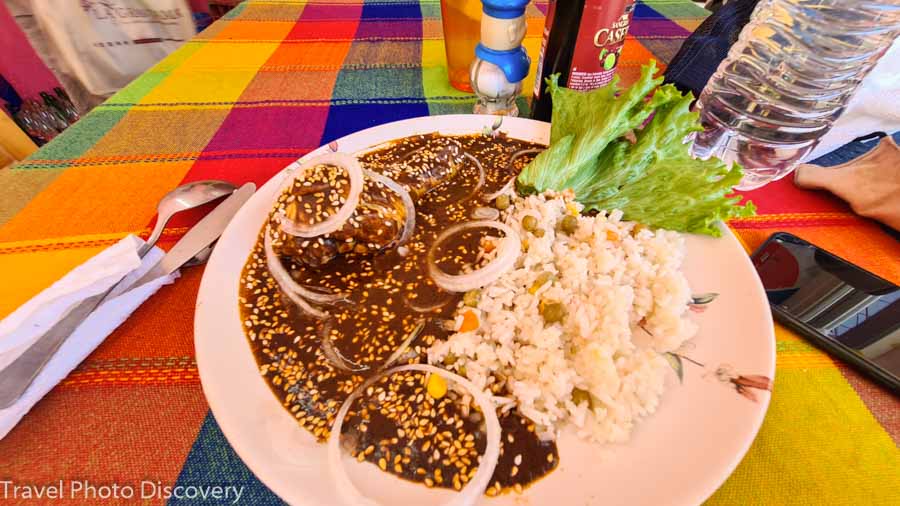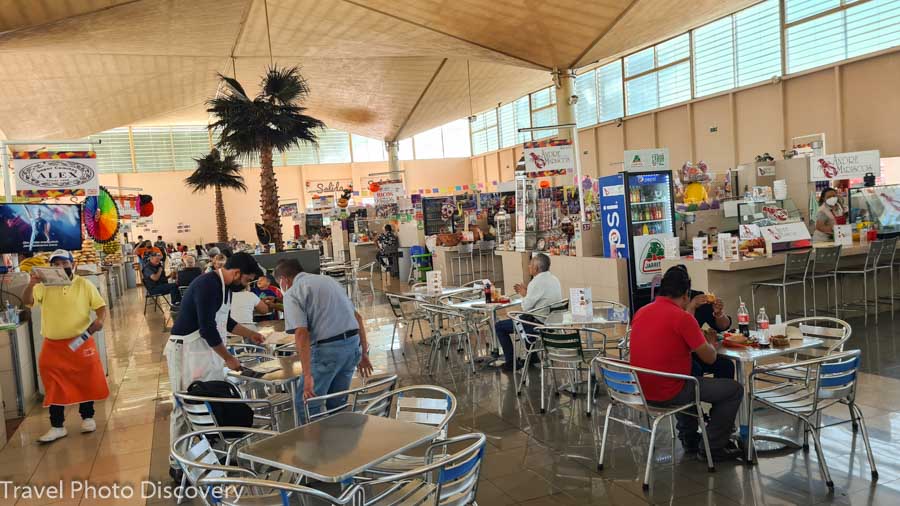 15. Explore the public markets at Mercado de Sabores
If you are into street food and public markets then head out to the Mercado de Sabores within a modern complex and filled with delicious vendors selling local food favorites from the area and delicious snacks, desserts and pastries made at the market. You'll definitely want to the explore the market before you commit to trying out some of the fabulous food for sale here.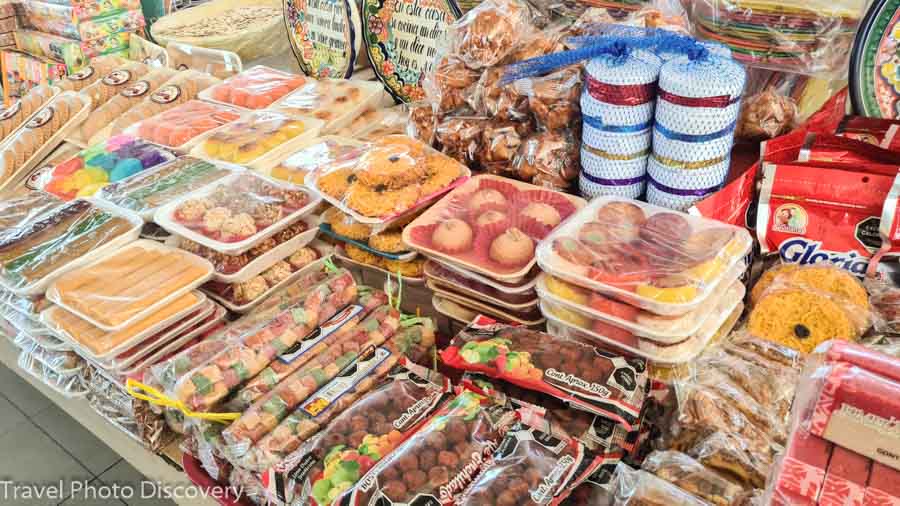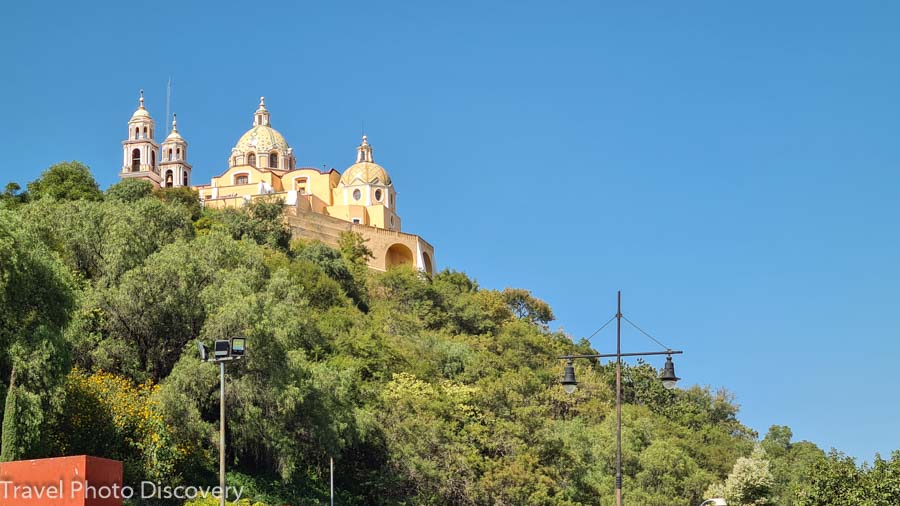 16. Visit the Pueblo Magico of Cholula
A short taxi or Uber ride transports you to the small town of Cholula with its basilica majestically situated on an ancient pyramid, the largest in the Americas if not the world in terms of girth and height. The IOur Lady of Remedies Church was built in stages from the 16th century to the 19th century and using many of the stone rocks for building the church. Up on top are many viewpoint areas to explore and check out city views from all around and further out to the main city of Puebla in a distance.
** Experience this Cholulu tour with guide here for more inspiration and booking your tour.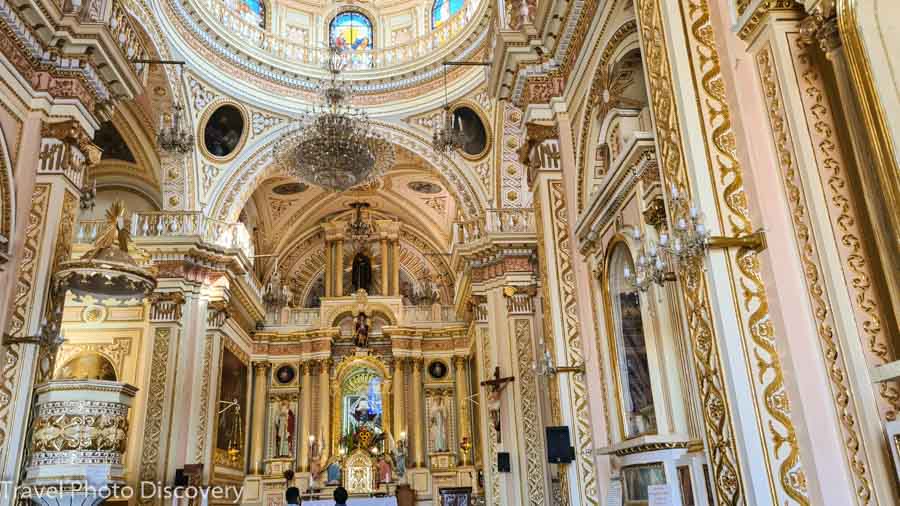 17. Pyramids of Cholula
The ancient pyramids of Cholula are fantastic to explore along with walking up to the basilica on top with magnificent views of the entire valley area. The town below is colorful and also fun to explore when you get down to the bottom and want to check out the local vibe here. At the base, you can explore the ruins with placards that highlight all the major ruins and information about daily life and the ancient people from this region.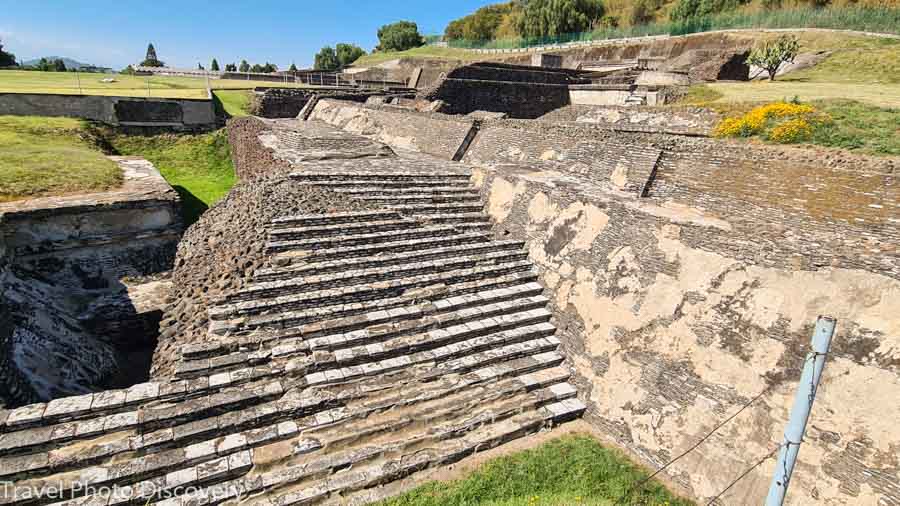 Here's a visit around the streets of Cholula outside Puebla
18. Casa de los Muñecos
This ornate building located just off the Zocalo is a beautiful 18th century Baroque style home and façade of local tiles and sculpted relief work. The casa is now the headquarters of the Bernerita University and also houses a museum inside with scientific instruments, furniture, artwork and carving detail works and important artists from the region.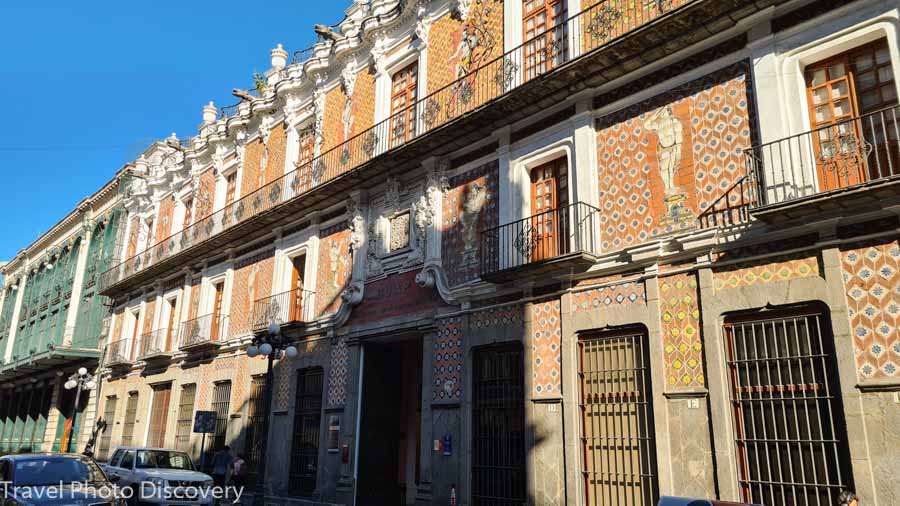 19. Indulge in Pueblo's Churros
Indulge in the mouthwatering delight of Puebla's famous churros, a delectable treat that will satisfy your sweet tooth. These fried dough pastries, dusted with cinnamon sugar, are a beloved culinary tradition in Puebla and can be found in various locations throughout the city.
Sink your teeth into a piping hot churro, crisp on the outside and soft on the inside, as the aroma of cinnamon wafts through the air. These delightful treats are often served with a side of rich and creamy hot chocolate for dipping, creating a perfect combination of flavors.
When in Puebla, head to one of the many churrerías or street stalls that specialize in crafting these delicious treats. Watch as the churros are freshly prepared right before your eyes, ensuring their irresistible freshness and quality.
Whether you prefer them straight and long or coiled into a tempting spiral, Puebla's churros are a delectable delight that should not be missed. Take a moment to savor each bite, enjoying the crispy exterior and the warm, doughy interior that melts in your mouth.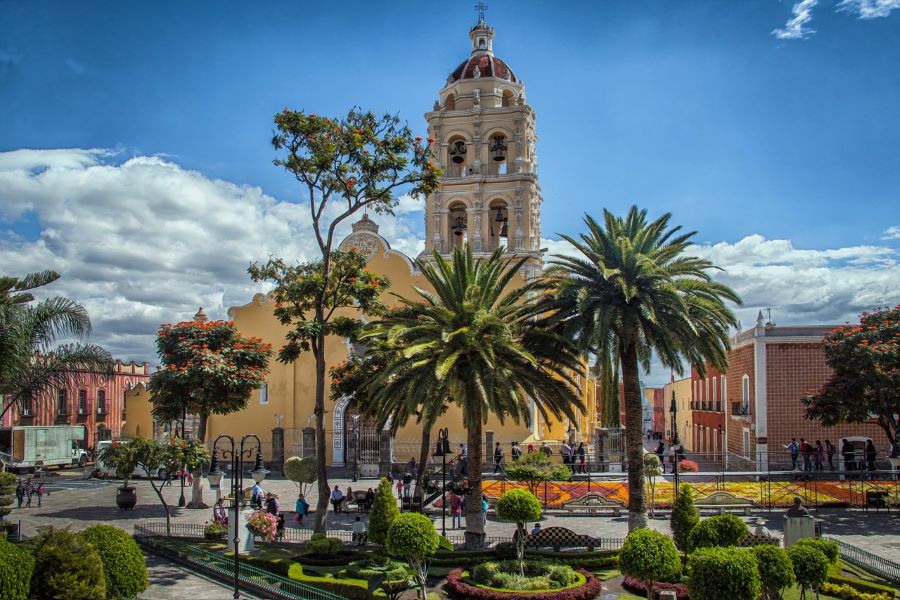 20. Visit the Magico Pueblo of Atlixco
Just a short distance away from Puebla, Atlixco offers a delightful escape from the bustling city and a chance to immerse yourself in its natural beauty, rich history, and vibrant culture. You'll enjoy visiting this Pueblo Magico and spend an easy day trip away from the Puebla Metropolis to this charming town.
As you arrive in Atlixco, you'll be greeted by its charming streets lined with colorful colonial buildings and adorned with blooming flowers. Take a leisurely stroll through the town's central square, known as the Zocalo, where you can admire the beautiful architecture and soak in the lively atmosphere.
One of the highlights of Atlixco is its stunning botanical garden, Parque Floral. Explore this serene oasis filled with a kaleidoscope of vibrant flowers, lush greenery, and tranquil water features. Take a moment to relax and enjoy the picturesque surroundings or capture beautiful photographs to preserve the memories of your visit.
Atlixco is also renowned for its traditional handicrafts and local markets. Explore the bustling marketplaces, where you'll find an array of artisanal products, including pottery, textiles, and handmade goods. It's the perfect opportunity to take home unique souvenirs and support the local artisans.
Where to stay in Puebla
There are so many options to choose from accommodations staying in the heart of the city. For easy access, you should stay in the central district to be able to walk to all the main attractions easily in town. Check out the top reviewed places to stay in Puebla here for information and updated prices.
Quinta Real Puebla – a former convent converted into a hotel, this classic building is in the heart of the old town and beautiful with nice amenities, beautiful details and great customer service
Quinta Escencia Hotel – A classic colonial styled hotel with traditional architecture combined with modern day features, amenities and bedrooms
Hilton Garden Inn PueblaQu – located in the business district, this modern hotel is clean, spacious and priced well for a Hilton property
What to eat in Puebla
As the birthplace of the popular Mole and other regional cuisine, the food here in Puebla is fantastic from the street food to more international and fine dining experiences. Check out these top places to eat in the videos below to great dining venues in the city.
Puebla, Mexico, is a culinary paradise with a rich and diverse gastronomy that tantalizes taste buds with unique flavors and traditional dishes. Here are some must-try foods when visiting Puebla:
Mole Poblano: Perhaps the most famous dish from Puebla, Mole Poblano is a delectable and complex sauce made with chilies, chocolate, nuts, spices, and other ingredients. It's typically served over chicken or turkey and is a true culinary masterpiece.
Chiles en Nogada: A seasonal delight, Chiles en Nogada is a dish featuring roasted poblano peppers stuffed with a mixture of ground meat, fruits, and spices, topped with a creamy walnut sauce and garnished with pomegranate seeds. It's a patriotic dish often served during Mexican Independence Day celebrations.
Cemitas: A local specialty, Cemitas are hearty sandwiches made with sesame seed-topped bread filled with various ingredients such as milanesa (breaded meat), avocado, cheese, and chipotle sauce.
Tacos Arabes: A fusion of Lebanese and Mexican cuisine, Tacos Arabes consist of thinly sliced marinated pork or lamb, often served in pita-like flatbread with onions, parsley, and a squeeze of lime.
Tinga: This flavorful dish features shredded chicken cooked in a tomato and chipotle sauce, often served as a taco filling or on a tostada.
Chalupas: A Pueblan specialty, Chalupas are small tortillas topped with various ingredients like shredded meat, salsa, and cheese.
Chorizo Poblano: Puebla is known for its unique version of chorizo sausage, which is typically made with a mix of pork, chilies, and various spices. It's used in many dishes and adds a distinct flavor to Pueblan cuisine.
Talavera Chocolate: Satisfy your sweet tooth with Talavera Chocolate, a traditional hot chocolate drink made with spices like cinnamon and vanilla, typically served with sweet bread.
Camotes: These sweet potato candies are a popular Pueblan treat, usually flavored with cinnamon or other spices, and make for a delightful souvenir to take home.
Aguas Frescas: Stay refreshed with Aguas Frescas, delicious fruit-based beverages available in various flavors like horchata (rice-based), jamaica (hibiscus flower), and tamarind.
** If you are looking for a fun guided tour, check out this Taste of Puebla tour here for more inspiration and booking your tour
Check out this DIY food tour of Puebla
Ultimate street food of Puebla
Brunch spots of Puebla
Organized Tours of Puebla and surrounding area
Check out these fantastic, guided tours of Puebla with a guide so you don't have to deal with the logistics and information gathering yourself.
Experience this Cholulu tour with guide here for more inspiration and booking your tour.
Check out this Taste of Puebla tour here for more inspiration and booking your tour
Do this Puebla secrets tour here for a private tour of the tunnels, cathedral and other historic attractions.
Do this Puebla and Cholula tour here for an expansive and historic day tour of the region.
Visit the historic cities of Atlixco and Atlimeyaya here for a fun and cultural tour of these pueblo magicos.
How to get around Puebla, Mexico
Getting around Puebla, Mexico is relatively straightforward with several transportation options to choose from:
Walking: Puebla's historic center is pedestrian-friendly, making it easy to explore on foot. Many attractions, shops, and restaurants are within walking distance of each other, allowing you to immerse yourself in the city's charm.
Public Transportation: Puebla has a comprehensive public transportation system that includes buses and a light rail system called RUTA. Buses are the most common mode of public transportation, covering various routes throughout the city and its surrounding areas.
Taxis: Taxis are widely available in Puebla, and they can be hailed on the street or found at designated taxi stands. It's advisable to negotiate the fare or ensure that the driver uses the meter before starting the ride.
Uber or Ridesharing Services: Uber and other ridesharing services operate in Puebla, providing a convenient and often cost-effective transportation option. Simply download the app and request a ride using your smartphone.
Rental Car: If you prefer the flexibility of having your own vehicle, rental cars are available in Puebla. However, keep in mind that traffic can be congested, and parking may be limited, especially in the historic center.
Bicycle: Puebla is becoming increasingly bike-friendly, with dedicated bicycle lanes and bike-sharing programs. Renting a bicycle is a great way to explore the city at your own pace and enjoy the scenic routes.
When using public transportation or taxis, it's recommended to have small bills or change on hand, as drivers may not always have sufficient change. Additionally, be mindful of your personal belongings and ensure your safety by using reputable transportation services.
References:
More inside tips to visiting Puebla, Mexico
If you are planning a trip soon to Pueble, here are more inside tips to enhance your visit to Puebla, Mexico:
Try Mole Poblano:** Puebla is the birthplace of mole, a complex sauce that combines chocolate, chilies, and spices. Sample this iconic dish at local eateries for a taste of Puebla's culinary heritage.
Visit Talavera Workshops:** Puebla is renowned for its vibrant Talavera pottery. Take a tour of Talavera workshops to see artisans at work and pick up a beautifully handcrafted souvenir.
San Pedro Cholula Market:** Discover local flavors and artisanal goods at the bustling market in Cholula. It's an excellent place to shop for spices, sweets, and handmade crafts.
Chiles en Nogada:** If visiting during August and September, don't miss the opportunity to savor chiles en nogada, a seasonal dish featuring poblano peppers stuffed with meat and covered in walnut sauce.
Street Food Adventures:** Puebla's streets are a treasure trove of street food stalls. Try local specialties like cemitas (sandwiches), tacos arabes, and chalupas from street vendors.
Day Trip to Atlixco:** Consider a day trip to Atlixco, a nearby town famous for its flower fields and the annual Festival de las Flores. It's a visual delight.
Lucha Libre:** Experience the excitement of Mexican wrestling by attending a Lucha Libre match in Puebla. It's a unique cultural spectacle.
Respect Local Customs:** Puebla is known for its conservative values. When visiting churches or religious sites, dress modestly and be mindful of local customs.
Attend Local Festivals:** Check the local calendar for festivals and events happening during your visit. Puebla hosts numerous celebrations throughout the year, each offering a unique cultural experience.
Learn Some Spanish Phrases:** While many locals in Puebla speak some English, knowing a few basic Spanish phrases can enhance your interactions and show respect for the local culture.
Puebla is a city rich in history, culture, and culinary delights. By embracing these inside tips, you'll have a deeper and more rewarding experience as you explore this enchanting Mexican destination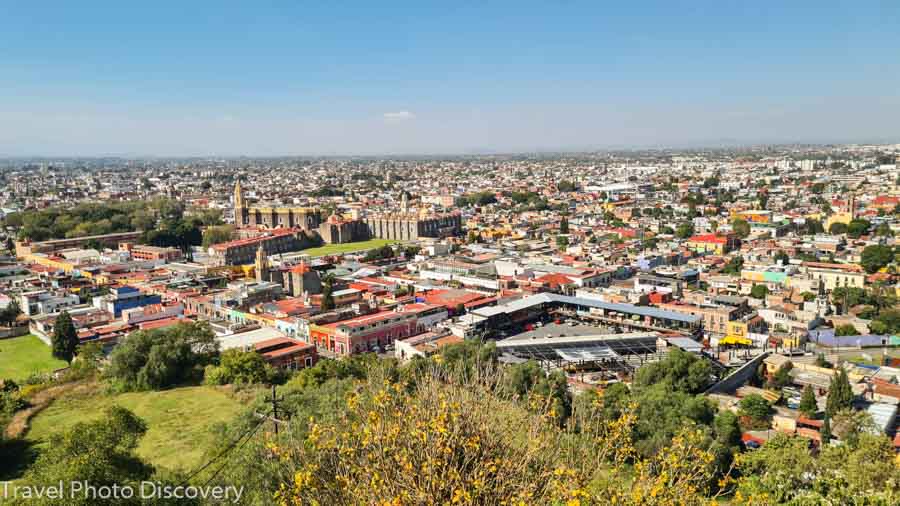 Conclusion to top places to visit in Puebla, Mexico
In conclusion, Puebla is a hidden gem in Mexico that is definitely worth visiting. With its rich history, stunning architecture, and delicious cuisine, there is something for everyone to enjoy. Whether you're a history buff, a foodie, or simply seeking adventure, Puebla has it all with all the charming and historical details to enjoy. I hope you enjoyed reading this post and found it educational to showing you the best things to do and see around Puebla, Mexico.
If you enjoyed the post, please do share it with any of the social media buttons, or just share the links with your family or friends.
Disclosure – some of the links above are to affiliate sites that are either reviews or recommendations if you book helps to keep our site running. We appreciate your supporting our website meanwhile