Queenstown in New Zealand's South Island is a beautiful town flanked by crystal clear Lake Wakatipu and surrounded by dramatic mountains. Known as the 'Adventure Capital of the World' and the 'Party Capital of New Zealand', Queenstown is the perfect place in New Zealand to try something adventurous by day and bar hop by night. Despite being given such titles, Queenstown is frequented by all who visit New Zealand. Why? It's impossible to not be moved by the town's beauty and not enjoy the plethora of things to do in Queenstown and the spectacular area surrounding the city.
Best things to do in Queenstown area now

Where is Queenstown located?
Located in the South Island of New Zealand, Queenstown is in the South West region of Otago. With a population of less than 15,000 people, the city is compact and is outdoors and adventure focused. This year round destination is an adventure lovers paradise with beautiful untouched landscape with gorgeous mountain ranges, picturesque lakes and is a must visit city for outdoor adventure enthusiasts. The closest airport to Queenstown is Queenstown International airport which is about 8 km to the downtown area.
When is the Best Time to Visit Queenstown?
The best time to visit Queenstown would depend on your preferences.
For the best weather and to partake in outdoor activities, visit in the summer season between December and February. New Year's Eve in Queenstown is a blast, albeit a little crowded!
If you want to hit the slopes for skiing and snowboarding, visit during the winter season from June to August. You may also be able to watch the town come alive during the Queenstown Winter Festival in June – an epic celebration with live music and other entertainment.
Because of the town's popularity accommodation is expensive year-round but especially so during the summer and winter months. In these seasons, book accommodation at least 3-4 months in advance.
If you're a budget traveller, it is better to avoid travelling to Queenstown in the above mentioned seasons to save money. Any other time of the year will be better suited. You may find the weather a bit unpleasant at times. Though honestly, New Zealand weather is unpredictable throughout the year.
If you are planning on planning a Australia or New Zealand itinerary, consider Queenstown as a good base to start your travels to the region.
How to Get Around Queenstown
If you're staying in the town centre, also known as the central business district or CBD, you'll be within walking distance from most attractions in Queenstown. To get to places that aren't at a walkable distance, use the extensive bus network, water taxis and cab companies (including Uber). Organised tours often offer shuttles or pick and drop service from your accommodation or from the town centre.
That said, if you want to want flexibility to drive around and visit nearby towns and villages like Arrowtown and Glenorchy, which you should, then it'll be best to have your own vehicle. New Zealand is a location usually visited as a road trip by car or campervan, so vehicles are readily available for hire on a valid driving license from any country (as long as it is in English or has been translated to English)
Where to Stay In Queenstown?
As mentioned earlier, stay in downtown (CBD) so that most eateries and attractions in Queenstown are at a walkable distance. If you're hiring a vehicle, ensure your hotel or hostel offers free parking space. Know that it is extremely time consuming to find free parking in the town. If you're living in and around the CBD and your hotel doesn't offer parking space, you'll probably have to use paid parking which isn't cheap (about NZD 4 per hour for public parking and NZD 10 or higher per hour for private car parks). Here are some stay recommendations that offer parking space and are well located – Tahuna Pod Hostel (budget), Melbourne Lodge (mid-range), and Queenstown Park Boutique (luxury).
If you are looking for more accommodations in the Queenstown area, check out the best rated and reviewed hotels in the area here for updated prices and availability.
Eight Things to Do In Queenstown
There are plenty of things to do in Queenstown to last you weeks. In this post, we will be touching upon eight of the must-dos that can easily be done in a period of 4-5 days.
1.  
   See the view from Bob's Peak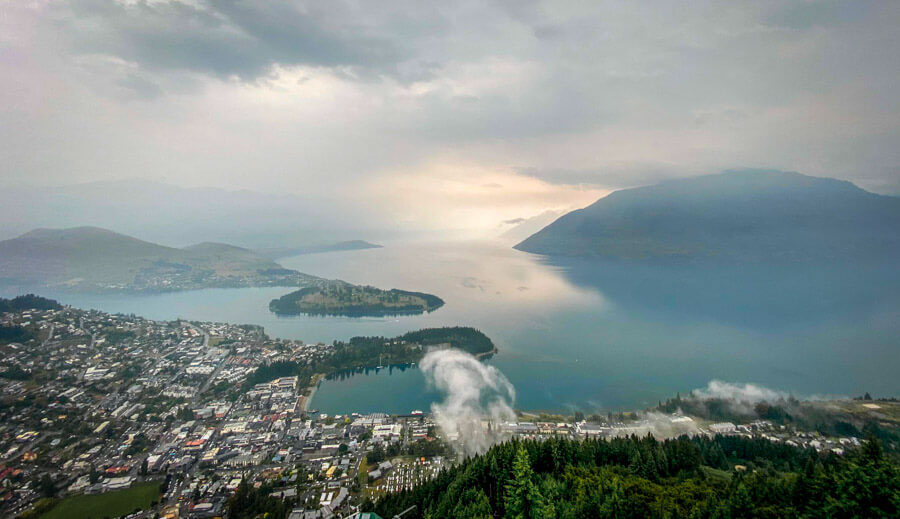 The Skyline Gondola, the steepest gondola in the Southern Hemisphere, takes you to the top of Bob's peak from where you get panoramic views over Queenstown, Lake Wakatipu and the mountains beyond. Apart from enjoying the ride and the splendid views, you can opt to ride the Luge down the slopes, bungee jump (Ledge Bungy), tandem paraglide or just enjoy drinks and a meal at the Stratosfare Restaurant. This is a superb location to visit for individuals, couples and also families. To reach Bob's Peak, you can also do a one-hour easy hike known as the Tiki Trail.
2

. Bungee Jump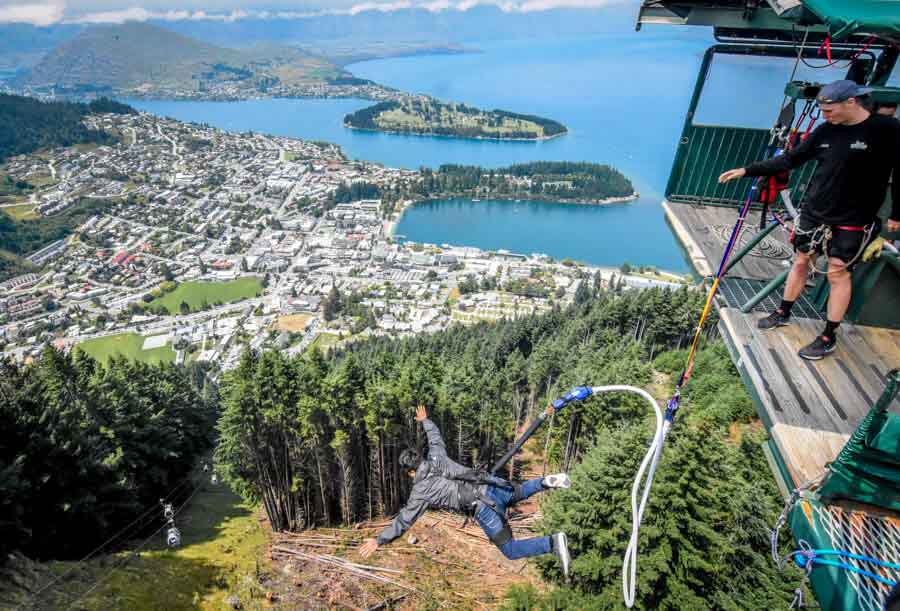 Queenstown is the birthplace of commercial bungee jumping pioneered by a Kiwi, AJ Hackett. Thrill seeker or not, you simply cannot leave without giving it a shot as it a must do in New Zealand. There are three bungee option to choose from – The Kawarau Bridge Bungy (the original), The Ledge (freestyle) and the Nevis Bungy (the highest and scariest).
If bungee jumping is a bit much for you, try the various other adventure sports options like jetboating, river rafting, canyoning, zip-lining, paragliding, and more.
3.

Sample Wine at Wineries
The Central Otago region has numerous vineyards and wineries within a short drive from Queenstown. These wineries produce highly regarded Pinot Noir, Chardonnay, Pinot Gris, Sauvignon Blanc and Riesling. Take a wine tour to avoid driving or visit one or two wineries by yourself. The best ones are Brennan Wines (for Pinot Noir), Chard Farm Winery (for views), Amisfield Winery (fine dining), and Wet Jacket Cellar Door (for relaxation).
4.

Drive to Glenorchy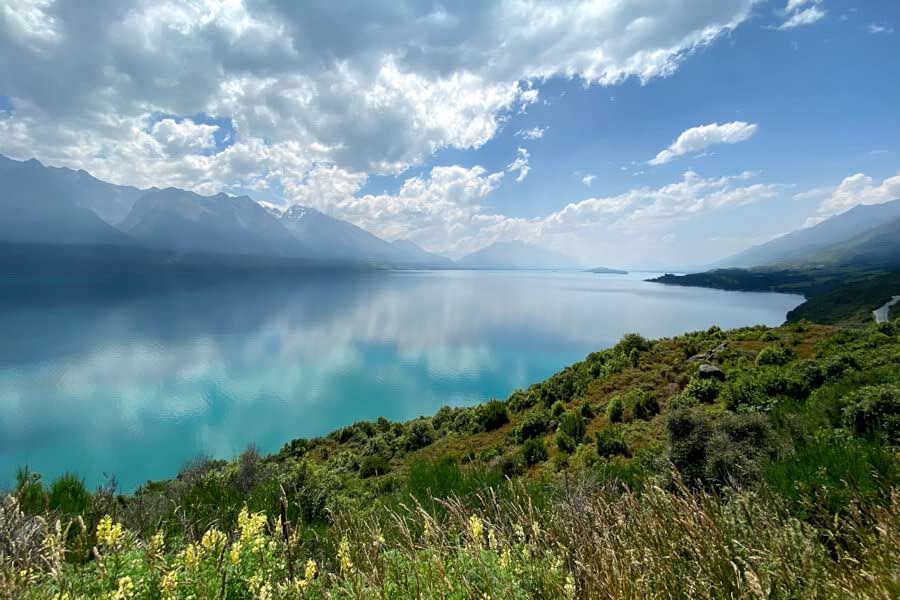 The drive to Glenorchy is one of the most serene and definitely the most gorgeous in New Zealand. This 45-minute drive takes you along a winding road with an immensely blue Lake Wakatipu on one side and mountains on the other. You can stop at viewpoints along the way and even lay out a picnic at one of the midway stops. 
The town of Glenorchy has a picturesque waterfront with a red shed – the colour of which pops beautifully against that of nature. Moreover, there is actually a place called Paradise beyond Glenorchy. We have to say that it does look like an earthly paradise with its mountains, meadows and streams. You can talk leisurely walks in the area or go on a Lord of the Rings tour.
5.

Soak in the Onsen Hot Pools
The Onsen Hot Pools is a boutique spa that overlooks the Shotover River. Here you can enjoy a luxurious soak in private cedar-lined pools with a snack of choice and bubbly in hand. The experience is an all-rounder: soothing for the skin, a treat for the tastebuds, pleasing for the eyes, and calming for the mind. Prebook your spa early on because this is a sought-after experience that gets sold out often.
6.

Visit Arrowtown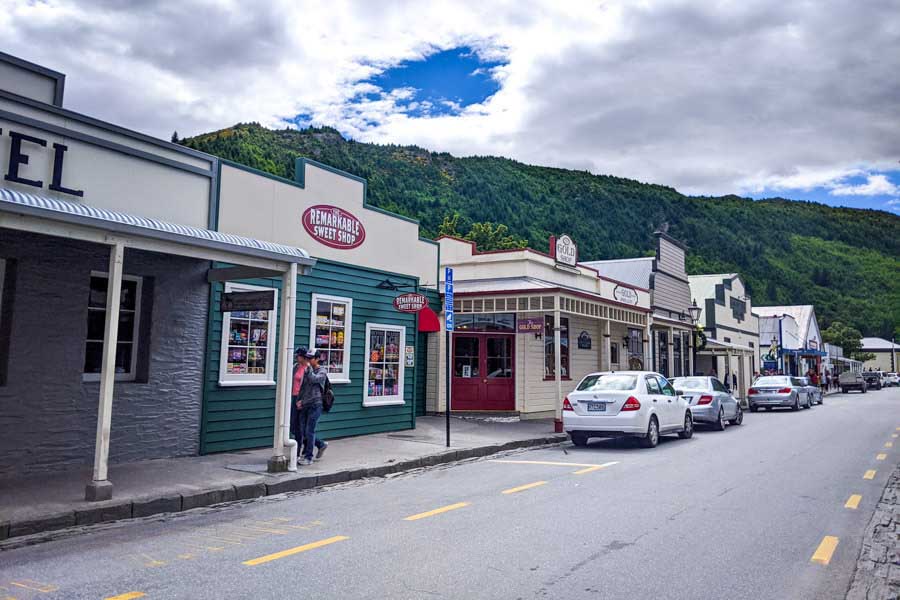 Arrowtown is a historic gold-mining town located just 19 km from Queenstown and can easily be reached via a 20-minute drive. With its colonial-style buildings, the town is a charming one that will take surely take you back in time. Visit for a meal, cafe hop and wander around aimlessly – treating your eyes to the beauty of the town's narrow lanes and boutiques. You can also visit the Lake District Museum to learn about the gold rush era or walk down to the Arrow River to try your hand at some gold-panning.
7.

Go on Hikes
There are several hikes for all difficulty levels in and around Queenstown. The most accessible is the 5 km long Queenstown hill hike which starts just a 15-minute walk from the town centre and 2-3 hours to complete. It is a moderate difficulty one through pine forests that lead to a summit from where you will get astounding views of Lake Wakatipu, The Remarkables and Queenstown. 
The most famous hike, however, is the 14 km Ben Lomond Track. It is a moderate to difficult level hike that takes 7-9 hours to complete. The summit gives a breath-taking 360-degree view of the Southern Alps.
8.

Take a Day Trip to Milford Sound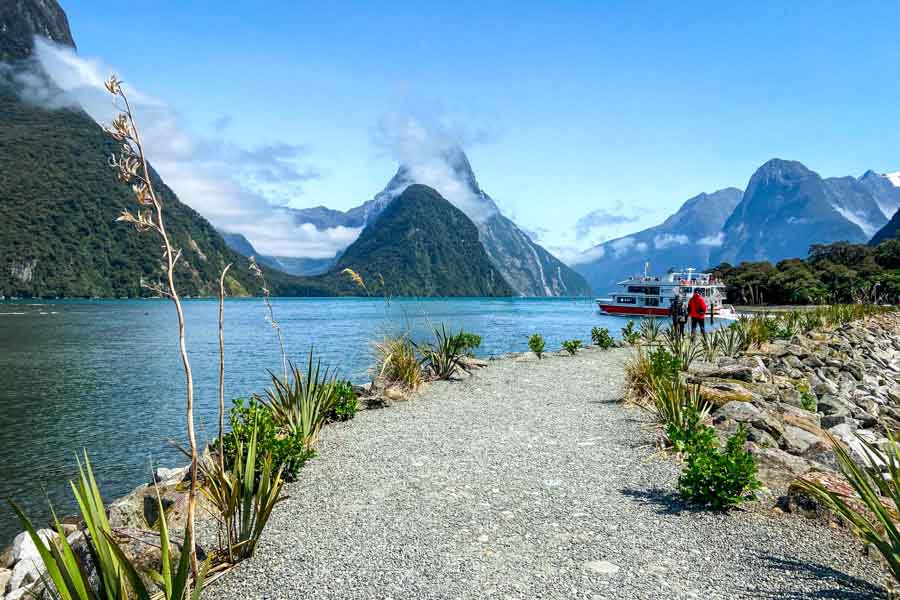 Everyone who visits Queenstown takes a day trip to the so-called eighth wonder of the world – Milford Sound. A cruise through Milford Sound is the most popular way to explore these fjords. Think towering cliffs, mighty waterfalls, cute seals, and a fabulous drive on alpine roads with low hanging clouds. The journey to Milford Sound with its numerous viewpoints and attractions is as delightful if not better than the cruise itself.
Food and Drinks
Don't forget to end the days sipping drinks at bars and taking in the lively vibe of the Queenstown nightlife. For meals, try the legendary burgers at Fergburger, the ice cream at Patagonia Chocolates, and fish and chips from Erik's Fish and Chips.
Conclusion
Queenstown is one of those places that once you set your foot in, you don't feel like leaving. You're taken by the thrill of the activities in Queenstown, the incredible mountainous landscape, the clarity of Lake Wakatipu, the peace at the beaches, the friendliness of the people, the thumping of nightlife, the history of neighbouring towns, and the charming vibe of the Queenstown itself. Travel destinations don't come better than this.
That's all for the best things to do in Queenstown! Do tell us if you found the post helpful and drop in any questions in the comments section below.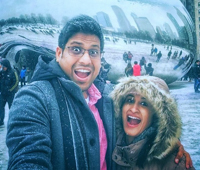 Guest Author: Trisha from Try Wandering More
Trisha and Modi from TryWanderingMore.Com are an Indian travel blogger duo. They help
mid-range travellers plan their vacations by providing in depth information on destinations
around the world. You can find them wherever there is scrumptious food and on Instagram.
Conclusion of Things to Do in Queenstown, New Zealand
For Queenstown fun, you'll love explore all fun activities and attractions around this easy trips to explore around Queenstown. Hope this gives you some great ideas of things to do and see around the town and outlying areas to visit.
Thanks for visiting This Hawaii life and checking out this post on the Things to Do in Queenstown, New Zealand. If you enjoyed reading this post, please do share it with any of the social media buttons on the slider.
Disclosure – some of the links above are to affiliate sites that are either reviews or recommendations if you book helps to keep our site running. We appreciate your supporting our website meanwhile