Experience These Top 20 things to do in Stockholm
Surprisingly there is so much to do with many Stockholm attractions to keep you busy and actively touring the 14 different islands in the city's archipelago. But if you just have enough time to visit the main sites and try something fun in the city, check out these 20 top things that you can do in Stockholm. Maybe you can do it all and more depending on your timeframe and interest in exploring the entire city or the outer islands.
 
Here's what to do in Stockholm now
#1 Shop your heart out in Drottninggatan 
A visit to Stockholm is not complete without checking this pedestrian street with all the main fashion brands in this busy shopping street in the central district of Norrmalm.  Drottninggatan is filled with all the popular department stored, designer boutiques and local specialty shops that make the street the shop til you drop spot, dining area and must go to entertainment district from day time and late into the night.
 
#2 See the royal jewels, old palace ruins and new palace all in one museum
One of the fun things to see in Stockholm is the changing of the guards in front of the royal palace. Also, when your at the palace, a visit to see the interior galleries is worth the effort along with the two more museums you can visit in once place. With the price of admission you can see the underground museum of the old palace ruins, the collection of the Swedish royal jewels, and the royal chambers,  staterooms and other important galleries in the royal palace. You have an option of choosing any of the three museums, but it is definitely worth the time and money to visit all three and get a fantastic introduction to the Swedish royalty and its history.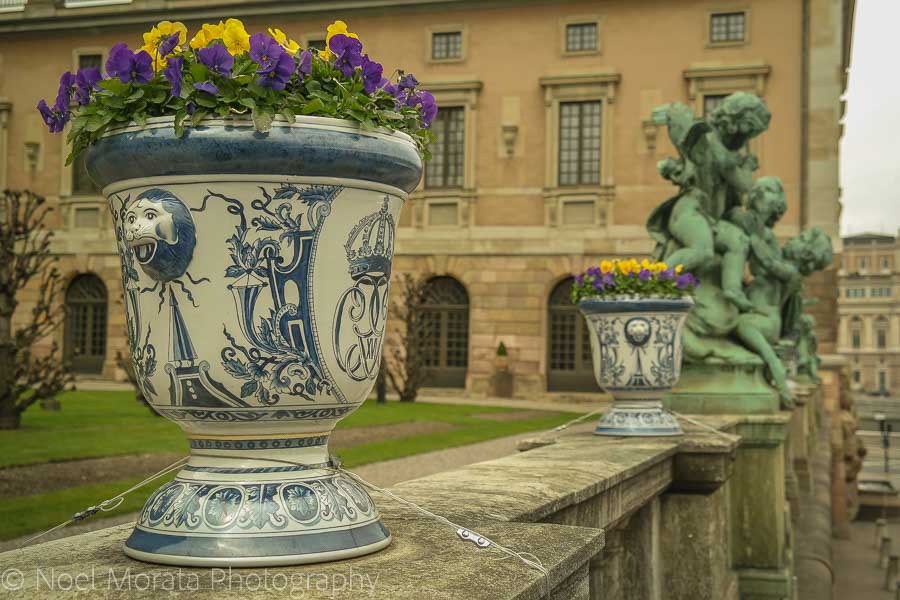 #3 Visit Drottningholm Palace
Located on the island of Lovon, about 7 miles west of the city's historic district is Drottningholm Palace which is where the King and Queen of Sweden now lives, but most of the galleries and public rooms are open for the public to visit. The castle is a Unesco World Heritage site of a 17th century Swedish designed castle with Rococo interiors. Outside of the palace you can also visit the large garden park designed in Baroque, French and English style influences.  There are also interesting adjunct buildings like the Chinese pavilion, the castle church and the court theater.
#4 Visit the flagship store of H&M  and IKea stores
Of all the places to visit in Stockholm, checking out both H&M and Ikea stores is a must since their headquarters in Stockholm, a visit to their flagship stores is a must for anyone that enjoys their merchandise and product design. H&M's flagship store is located on the busy walking promenade at Drottninggatan in Norrmalm, there are many other H&M stores all over the city so you will find one practically in every district. Ikea's flagship store is located at at Kungens Kurva, in the suburb of Skärholmen.
 
#5 Explore the cool art in the metro systems
You wouldn't think that sightseeing in Stockholm includes visiting the metro but Stockholm's largest art show is actually located in the underground metro systems. Traveling through the metro, each stop is like visiting an extended gallery with 90 of the 100 stations designed with murals, engravings, mosaics, sculpture and other mixed media applications. Since the 1950s, over 150 artists have helped to create a stunning range of artwork throughout the entire metro system especially the blue, green and red lines.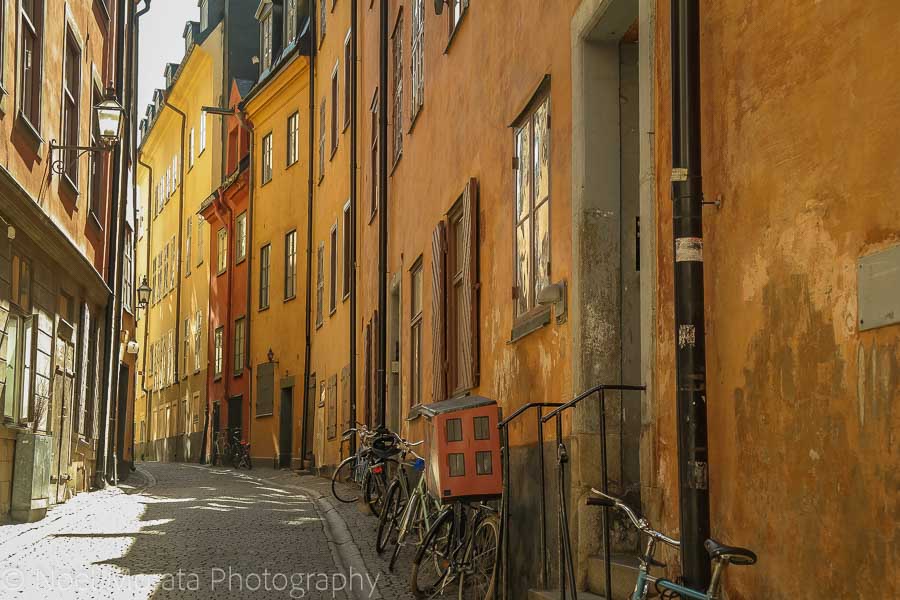 #6 Wander through the Old town at Gamla Stan
In the middle of Stockholm's archipelago is the old town of Gamla Stan located on the small central island of Stadsholmen and one of the most popular Stockholm sites to explore. The historic district is a fine example of an intact medieval old town including the main royal palace and museums. The district is filled with beautiful architecture in a colorful assemblage of Mediterranean hues which make the entire center a very attractive and popular tourist venue for walking the narrow streets, beautiful squares and attractive galleries and shops.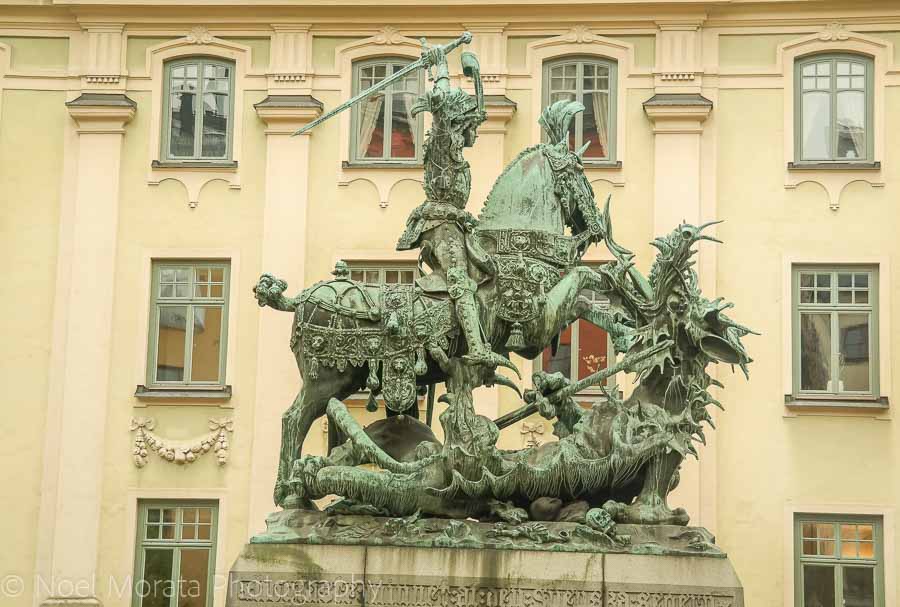 #17 Try out the Swedish smorgasbord
Tasty little bites are popular in Stockholm with a lot of bars and cafes serving local delicacies in a smorgasbord platter or better yet a specialty plates that serves up local favorites. These include the typical Swedish meatballs, herring, fried meat and potatoes, and a variety of pickled roots. To find some really good smorgasbord in the city, check out this review website of places to eat here. and hopefully you will become a Swedish smorgasbord fan.
#8 See the latest events in Stockholm
There is always so many interesting events and things to do when you visit Stockholm, it's a city that inspires and creates up the minute.  Stockholm filled with cool galleries, exhibits, and rotating shows that are worth looking into when are looking for something unique and fun to do in the city. To check out the latest events happening in Stockholm check out this website for more inspiration on what to do while you are visiting.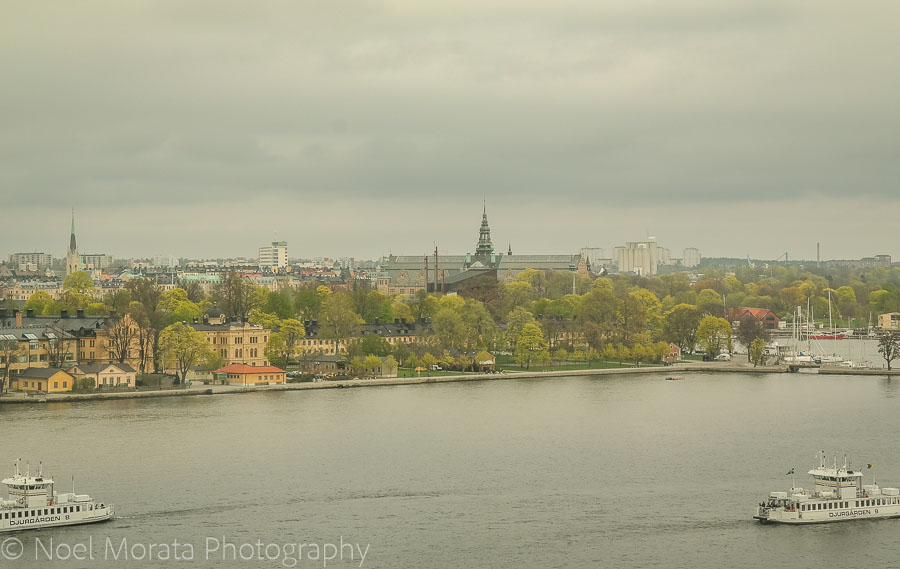 #9 Take a cheap ferry ride through the archipelago
The public ferry system covering the 14 islands around Stockholm's archipelago is efficient, cheap and a wonderful way to explore the different islands and attractions around the city. You can get an SL day pass or pay per ride to the many stops and each quay has a detailed map to show you the various routes available. You can also visit online here for more information on schedules and how to get to a particular attraction or destination by ferry system.
#10 Visit the Vasa
Sweden's historical treasure is a 380 year old warship called the Vasa. Salvaged from the muddy waters where it sank on its maiden voyage in 1628, the Vasa is full of history and intrigue. You can visit the ship at its waterfront museum at the Vasamuseum on the left tip of Skansen island and then tour the beautiful botanical garden close by. To check out more details on Vasa and the museum, you can check out their website here.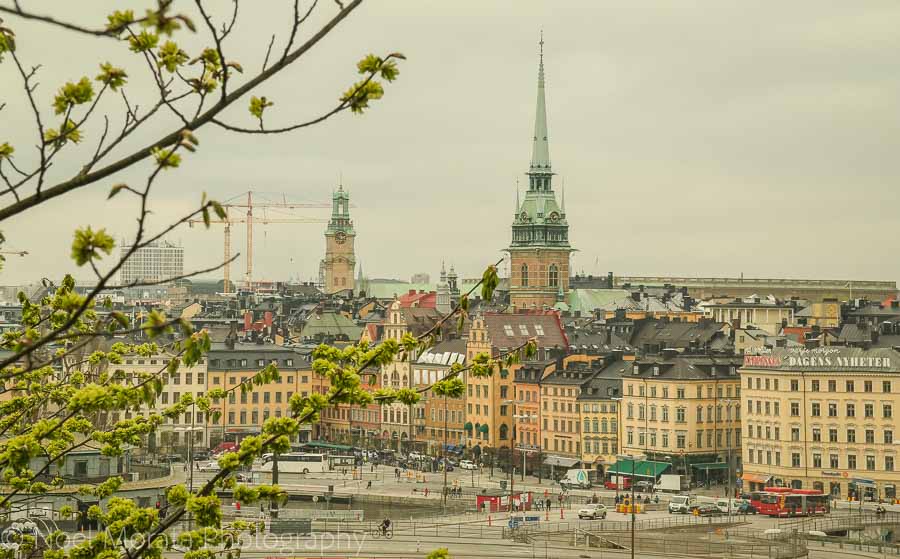 #11 find some cool views of the entire city
Sodermalm is also a fantastic spot to get nice scenic views of the entire city with its many islands. If you walk uphill on the island stay close to the perimeter viewing areas around Fjallgatan and Folkungagatan streets all the way to the eastern part of the island. For more awesome views of Stockholm and surrounding islands, check out this website here.  Many of these places are typically where local like to hang out and enjoy those magnificent views of Stockholm.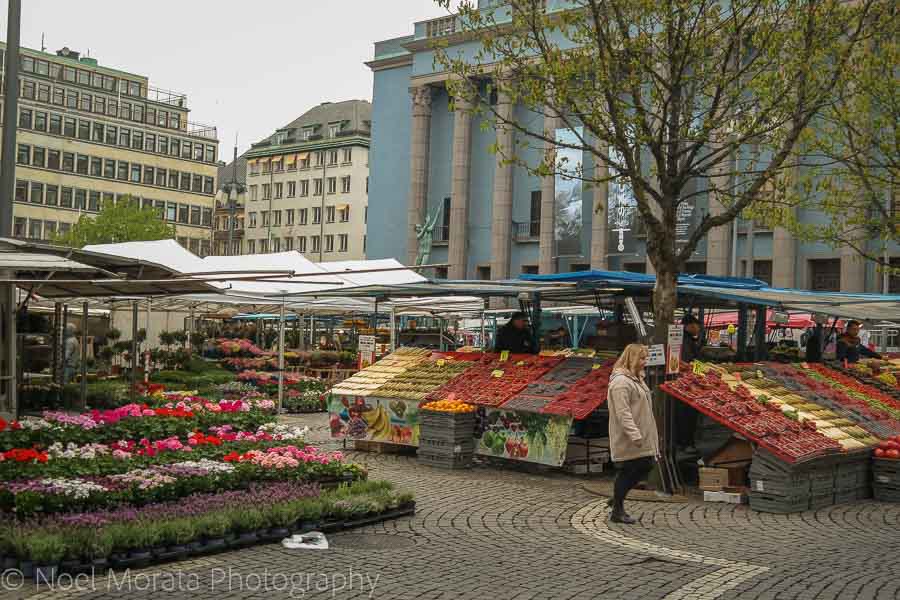 #12 Visit Stockholm's concert hall
The iconic blue concert hall at Hötorget is in the heart of Stockholm and an important landmark not just for being the home of the philharmonic orchestra but also where the annual Nobel Peace prize are awarded and also the Polar music prizes. There are guided mini tours, concerts and exhibitions that happen regularly or like most locals the area around Hötorget is a popular meeting area and spot for the local morning market.
#13 Check out some of the popular museums in the city
With over 50 museums spread around the city, you will have plenty of choices and not enough time to visit all of them at one time. But if you want to check out some of the most popular with locals and tourist alike check out these museums below and it will probably be the best thing to do on a cold or rainy day in the city. Some of the most popular museums worth checking out on a typical grey or rainy day include the following: photography museum, modern art, history museum, Museum of Nordic culture, Nobel prize museum, the National museum and the open air museum at Skansen.  For a complete list of museums to explore, check out this website of Stockholm's museums here.
#14 Visit the Stadshuset or Stockholm City Hall
This is Stockholm's most prominent landmark, City hall also plays host to some of the world's most esteemed people at its Nobel Prize awards banquet which are held annual in the building's Blue Hall. City Hall designed in a national romanticism style original to Swedish design and the tower features a spire with three golden crowns. This is one of Stockholm's most visited tourist attractions with grand ceremonial halls, museum and a tower that you can climb to check out views of the entire city.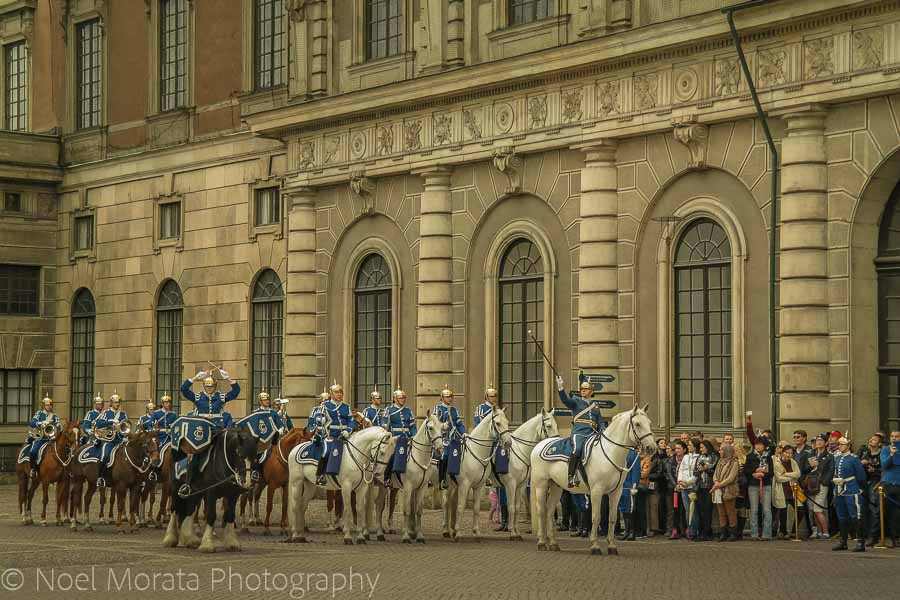 #15 Changing of the guards at Stockholm's royal palace
Considered one of the finest and most beautiful changing of the guards in Europe, this is a must see event at the royal palace entrance grounds. The elaborate mid day show is filled with pomp, dazzling and sharp uniforms and even a marching band on horseback. The music and marching ensembles are present a precision spectacle and some surprising modern twists at the performance that will make you smile and want to see more.  Just make sure you do come early to get a prime spot for taking some great photographs of the event.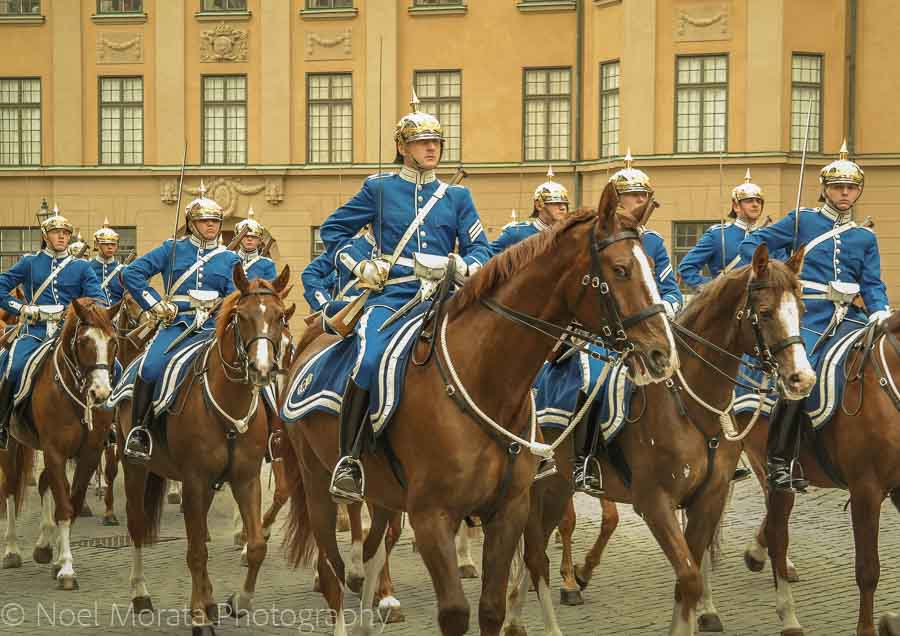 #16 Explore the hipster neighborhoods in the Sofo district
The Sofo district in trendy Sodermalm is where all the young and hipster crowds congregate at their favorite hang out spots. The area is filled with coffee shops and cafes, cool bars and clubs along with all the fun shops and galleries that attract an uber hip crowd in the area. The main shopping promenades at Gotgatan and the main square at Medborgplatsen in center of the island. This is where many of the hipster crowds congregate before heading out to some of the smaller spots and nightclubs around the island. For a better look and guide of the area, check out this website on Sofo here.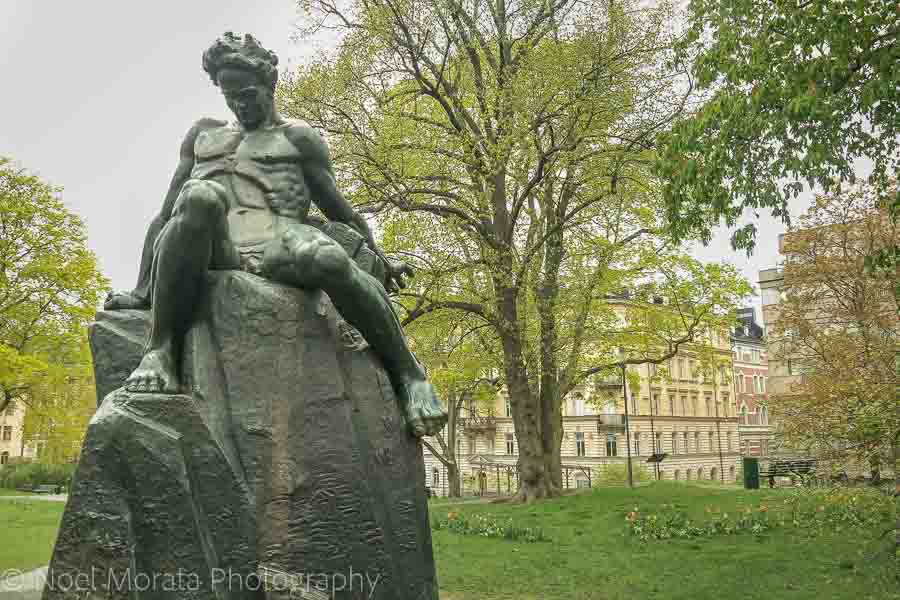 #17 Stockholm's green parks
Stockholm's parks are abundant and well loved by the locals, and it doesn't take too much effort to be in a world of green not to far from the city center. Over 26 parks are easily accessible throughout the city, from the vast green oasis at the Djurgården to a national park located in the city called the Ecopark. Nature and wildlife are evident all around the city and you can enjoy some lovely parks when you are tired of visiting many of the attractions and monuments around the city. For more information and details, check out this link on Stockholm's parks here.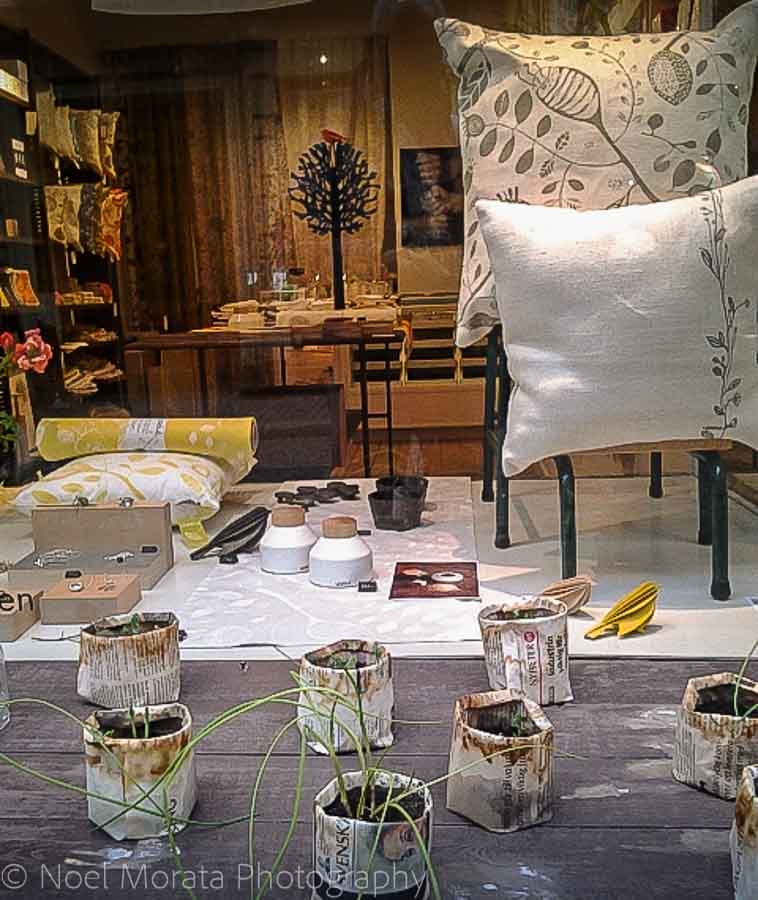 #18 Check out what's hot in Swedish design
A unique Stockholm point of interest is Swedish design and Scandinavian design which is very hot all across Europe and also in the international marketplace. There are a variety of Swedish design trends that cover fashion, home and lifestyle areas that are prevalent in the many galleries and shops around the city. Popular areas to discover these shops include the Sofo district, Ostermalm for designer boutiques and the walking promenade at Drottninggatan in Norrmalm. If your interested in learning more about the fashion design icons, specialty boutiques and shopping in Stockholm, check out this website for inspiration and what to see in the area. For those interested in interior design and lifestyle, check out this link for places to discover and shop in Stockholm.
#19 Visit the open air museum of Skansen
With over 150 traditional Swedish style buildings housed in this open air museum in Skansen, all of  the buildings are original and have been transferred to this site. You can tour the buildings, watch traditional crafts being made and sample some traditional foods from the different regions of the country. For current updates and information about the open air museum, check out the Skansen museum website here.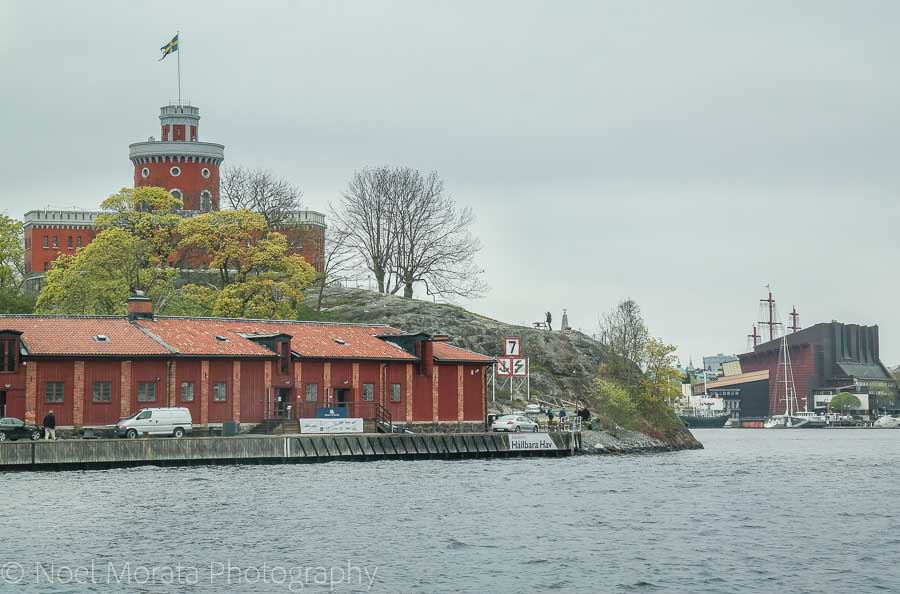 This tiny island in the center of Stockholm's archipelago is easy to walk on foot to see the beautiful views of the surrounding islands and historic sites. The island also has many popular museums that are a must visit for the Architecture, modern art museum and the museum of Asian treasures. At the tip is also the fortification of the brick Kastellet that protected the city from any invaders from its prominent vantage point.
More details on your Stockholm visit
Where to stay in Stockholm
There are so many wonderful and one of a kind hotels worth staying at in Stockholm with unique features, here are some of my favorites
The Radisson Blue Waterfront Hotel – Great location, beautiful rooms and view, the hotel service is great and service is consistent and friendly.
Nobis Hotel – perfectly located with easy access to the old town, service is great and prompt. Located in a historic building but with hip and modern appeal and conveniences
Lydmar Hotel – a beautiful boutique hotel with nice rooms, beautiful views and exceptional customer service. Gorgeous design aesthetic, art and lovely details make this a special hotel to stay in.
Grand Hotel – is just that grand, luxurious and in a perfect location. The hotel boasts beautiful rooms and design, excellent views, full breakfast buffet service in a historic Stockholm property
Check out some of the other gorgeous and cool centrally located hotels in the city here for more details and current prices.
Touring activities for Stockholm
If you only have one day in Stockholm to visit, there are plenty of fun outdoor and tour activities you can participate around Stockholm.  Check out these sightseeing Stockholm tour groups that offers some unique activities, tour experiences and venues, below
Stockholm grand tour by coach and boat – a comprehensive city tour and canal cruise the old town and historic district, main tourist attractions and other fun venues on this tour
Welcome to Sweden culinary food tour – This fun food experience is not to be missed if you want to savor some of Stockholm's history, roots and delicious food venues indulging in classic Swedish meatballs, soups, to desserts and chocolates.
Stockholm bike tour – for an active experience exploring the city by bike, you will go through the old town, many different islands and many of the city's top attractions
Stockholm pass – this pass allows you entrance to over 60 top attractions, museums and boat or bus tours which is a great deal if you have a longer time frame to visit the city
For more unique tours and excursions around the city, check out these other Viator tours here for more details.
Please pin this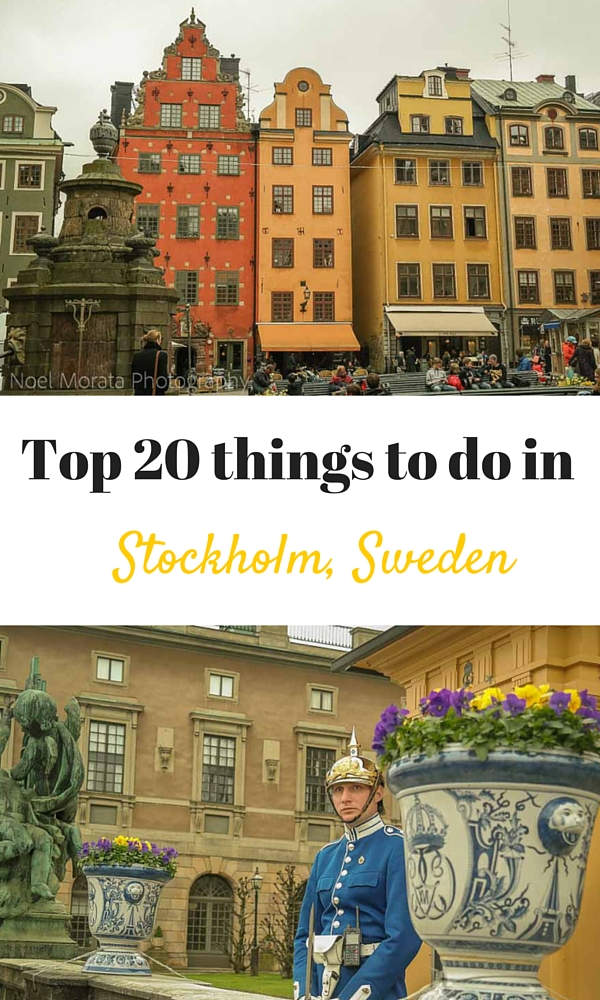 I hope that this has inspired you for exploring some of these wonderful attractions and landmarks around Stockholm. Have you been to some of these places and have some other interesting things to do and explore – please do share them in the comments section below.
Thanks for visiting today and checking out this post on Top 20 things to do in Stockholm, Sweden, hopefully check out some of these Stockhholm places today. Or it will inspire you to visit when you come to the city in the near future. If you enjoyed the images and post, could you please share it with any of the social media buttons located around the post.
If you like what you see, come and check out my other social media channels for more updates, including Instagram, Pinterest and Twitter.
Disclosure – There are affiliates links on this posts which provide a small commission to support this site at no extra cost to you. Thank you for reading, and happy travels