Travel Photo Roulette #66 – A winner has been chosen
It wasn't an easy task with all the amazing and colorful entries, we had over 38 submissions! If you didn't have a look at the pictures please do so now.. they are all a wonderful representation of amazing markets around the world.
I want to thank each one of the participants, it's been an exciting contest and I'm very glad for all the submissions received, thanks again everyone.
So, here are the finalists and winner
After careful consideration I decided to name my top three favorites to the 38 entries, and I wanted to give credit to other images that were quite inspiring for myself and making it difficult to choose the winner.
The third runner-up for round 66 is Tony from 20 Years Hence
Second runner-up is Patosan at Chez Patosan
And the winner and moderator for #67 of #travelphotoroulette is (drum roll please)
Stuart from Are we There yet
This image to me embodies the essence of a market, lots of energy and movement, fresh food being prepared, great color and some drama with the fire – its active and engaging in all the right areas. The whole composition is tight, colorful and graphic.
Congratulations Stuart, and we look forward to you moderating the next Travel Photo Roulette #67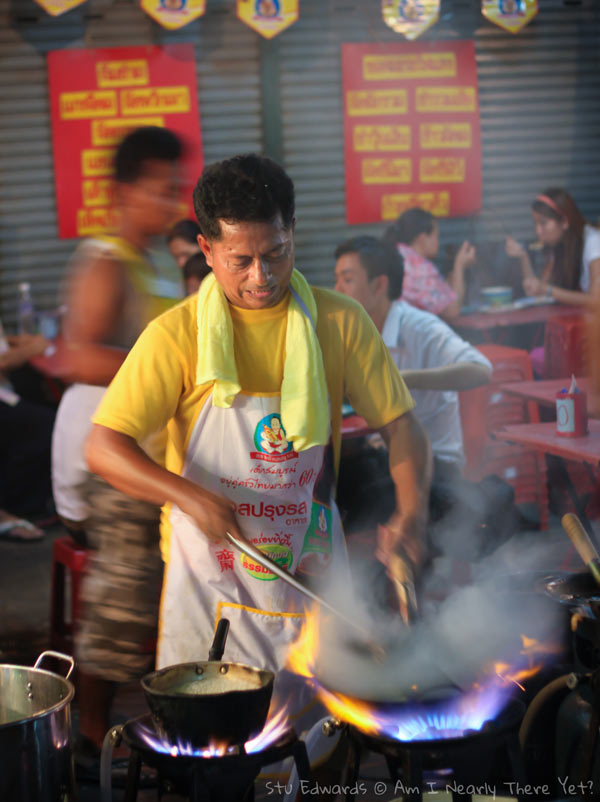 ———————————————————————————————————————————————-
Travel Photo Roulette round: 66 – Market
This is an awesome travel photography competition open to anyone with a blog and a collection of photographs
The game is simple. Each week a host picks the theme, and all are welcome to submit their photos to take part. Then, the host picks a winner, who goes on to host the next round of the game.
It's been incredibly popular with travel bloggers and photographers, and even has it's own hashtag on twitter, #photoroulette. It's a great way to see some great photos, share your memories, and connect with other bloggers.
Last week, Clelia of of Keep Calm and Travel chose the theme the sea, I decided to submit one of my favorite pictures from my regular sunrise morning photo strolls along the coastline in Hawaii Paradise Park –  a rugged and beautiful coastline in East Hawaii.  I feel honored that Clelia kept getting drawn back to my image of the ocean and chose it,  the image is beautiful but even more amazing when viewed in person.
THE THEME FOR THE ROUND  66 IS…… the market!
Choosing my theme was actually quite easy for me, I think that markets are perfect venues to take photographs and highlight unusual produce, beautiful people and a unique cultural perspective from a world view.
You can submit whatever picture that fits the theme, not necessarily produce or the actual market, it can be anything from the vendors and people you meet, amazing displays or colorful presentations, even spontaneous events that capture a special moment. The important thing is to capture a unique presentation,  emotion or composition that tells the story completely on its own.
Here are some of my favorite shots of markets around the world to give you an idea (but don't limit your choice to that, be creative, surprise me!!)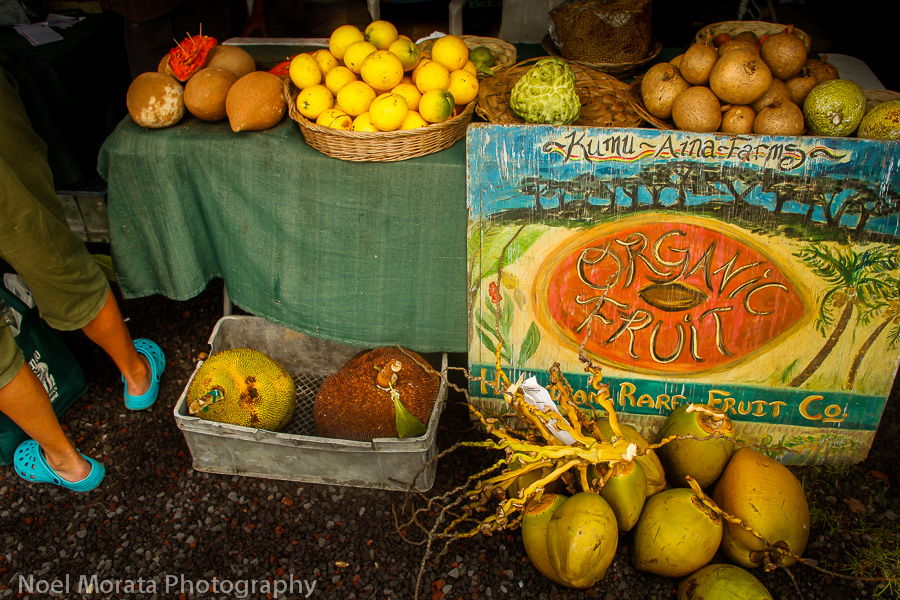 Contest Overview
The Travel Photo Roulette rotates through travel and/or photography blogs.  The winner of the previous round of Travel Photo Roulette hosts the subsequent round on their own blog. The new host then chooses the next theme, a generic keyword or phrase, and players submit their interpretations of the theme over the course of the week of the contest.
At the end of the week, the hosting blogger chooses their favorite photo from the submissions and displays it as the week's winning entry. They then include direction to the new host for the next round. Readers can attempt to lobby the author toward a certain photo via comments or the #PhotoRoulette hashtag on Twitter – the author can accept or ignore any lobby as they see fit. The game is repeated with the winner hosting the following week's game and choosing a phrase for new photo submissions.
Entry Guidelines
One submission per blog (so sites that have 2+ authors only get one entry).
Post processing is permitted, but photo altering (ie. Photoshopping) is not.
Abstract submissions are welcomed as long as it fits within the interpretation of the chosen phrase. (Remember, the hosting blogger chooses the winner, so if they cannot understand the submission, you might not win!)
Please try and keep your images medium-sized and web-optimized (600-800px).
If you win, keep the following in mind when choosing a new theme:

Keep phrases general so that all bloggers can participate. Specific items like "Eiffel Tower" should be avoided but rather made open-ended like "monuments." For variety, it is okay to say focused things such as "monuments at night" which most of us have pictures of. Phrases can be generic 'signs,' or abstract 'religion.'
Abstract thoughts are appreciated, but keep it within the realm that all readers will understand. No "Kafka-esque", or "Overlooking Creation". Use something that is able to be interpreted by all.
After 1 year, phrases can be reused, however new photos must be submitted.

No obscene pictures or phrases allowed. Suggestive phrases and photography can be accepted, but please keep it within reason.
Keep the ideas and photos fresh!
Pictures from your entire portfolio are fair to submit. You do not have to take the photo within the week of the contest period to submit it.
Most importantly, all photographs must be your own.
One last rule, since this is a competition for travel and photography bloggers, you must have a travel/photography blog to enter. Sorry!
How to Submit Your Photos
To enter in the Photo Roulette competition just leave a comment below with a link to the image (whether Flickr, Picasa or your own site) so it can be uploaded to this post. Don't forget to provide a brief description or caption for the photo so we can all get some background on what's happening.
Check back here throughout the week to see all the entries as they come in and feel free to comment on them. The contest runs for 7 days from today, with the submission dates being September 26th to Oct 3rd. (No more entries will be accepted after 11:59 pm EST on October 4th.) The winner will be announced a few days after the deadline, and they will host round #67.
Spread the Word!
Tweet using the hashtag #PhotoRoulette and share this page with your friends on Facebook, StumbleUpon G+, or your favorite Social Media outlet. The more the merrier! Comments on photo entries are strongly encouraged! We expect to need all the help we can get when it comes time to making decision.
Please remember, submit your entries by October 3th, 2013!
I can't wait to see your photos and hear the stories behind them!
Past Photo Roulette Winners and Hosts
The following is a list of the previously played rounds of the game and the hosting blogger for each.  As the game has been running for a few years now, a few of the winners are no longer blogging and the posts have since been removed from the list below.  Click the host's link to go directly to that entry to see some stunning photographs from the chosen term/phrase!
1. Nov 4–10, 2010 – Living the Dream – "Animals" 2. Nov 17–24, 2010 – Skinny Backpacker – "Road Signs" 3. Nov 29–Dec 6, 2010 – Dream a Little Dream– "Street Art" 4. Dec 8–15, 2010 – Flashpacker HQ – "Festival" 5. Dec 17–24, 2010 – Over Yonderlust – "Landmarks" 6. Dec 26–Jan 2, 2011 – Don't Ever Look Back – "Beaches" 7. Jan 5–12, 2011 – ThePlanetD – "Portraits" 8. Jan 15–22, 2011 – Travel with a Mate – "Motion" 9. Jan 26–Feb 3, 2011 – Johnny Vagabond – "Water" 10. Feb 8–15, 2011 – Ken Kaminesky – "Urban" 11. Feb 21–27, 2011 – Travels of Adam– "Friday Night" 12. Mar 7–13, 2011 – Itchy Feet Chronicles – "The Journey" 13. Mar 19– 25, 2011 – Brendan's Adventures – "Changing Seasons" 14. Apr 4–10, 2011 – Shutterfeet – "Storytelling" 15. Apr 13–21, 2011 – 10 Times One – "Piousness" 16. Apr 26–May 4, 2011 – Beached Eskimo – "Learning" 17. May 21–27, 2011 – Travel Junkies – "Architecture" 18. Jun 1–7, 2011 – Destination World – "Transportation" 19. Jun 8–15, 2011 – Living the Dream – "Paradise" 20. Jun 21-28, 2011 – Vagabond Quest – "Clothes" 21. Jul 4-11, 2011 – The Unframed World – "Symmetry" 22. Jul 16-25, 2011 – Beached Eskimo – "Home" 23. Jul 31 – Aug 7, 2011 – BackPackerBanter – "Inspiration" 24. Aug 14 – 21, 2011 – WanderingTrader – "Darkness" 25. Aug 28 – Sep 4, 2011 – Finding the Universe – "Tranquillity" 26. Sep 12 – 19, 2011 – Fearful Adventurer – "Food" 27. Sep 23 – 30, 2011 – Adventures of a GoodMan – "City" 28. Oct 06 – 13, 2011 – Globe-Trekking.com – "Reflections" 29. Oct 17 – 24, 2011 – Scene With A Hart – "Framing" 30. Nov 9 – 16, 2011 – Vagabond Quest – "Silhouettes" 31. Nov 26 – Dec 3, 2011 – Hecktic Travels – "Music" 32. Dec 11 – Dec 18, 2011 – Globetrotter Girls – "Love" 33. Dec 25 – Jan 1, 2012– Man on the lam – "Humor" 34. Jan 8 – Jan 15, 2012 – My Walkabout – "Winter" 35. Jan 15 – Jan 22, 2012 – The Art of Slow Travel – "Blue" 36. Feb 6 – Feb 13, 2012 – Ten times One – "Depth of the Field" 38. March 7 – March 14, 2012 – Nomadbiba – "Sunshine" 39. March 24 – 31, 2012 – Travel With Kat – "Local Character" 40. April 10 – 16, 2012 – The Travel Bunny – "Street Scene" 41. April 23 – April 30, 2012 – Adventure Crow – "Spirit of the Country" 42. May 7 – 14, 2012 – Food Travel Bliss – "Evening" 43. May 17 – May 24, 2012 – Matt Gibson – "Adventure" 44. May 30th – June 6, 2012 – Flashpacker HQ – "Once In A Lifetime" 45. July 23rd – July 30, 2012 – Skinny Backpacker – "Surreal" 46. August 10 – August 17, 2012 – 2away – "Smile" 47. Aug 27 – Sept 2, 2012 – Bridges and Balloons – "Excellent Splendour of the Universe" 48. Sept 8 – Sept 15, 2012 – The GypsyNester – "What the ?!" 49. Oct 22 – Oct 29, 2012 – Runaway Juno – "Sweet" 50. Nov 12 – Nov 19, 2012 – GQ Trippin – "Play" 51. Nov 25 – Dec 2, 2012 – Life's Little Victories – "Friendship" 52. Dec 15-22, 2012 – Breakaway Backpacker – "Face" 53. Jan 14-21, 2013 – Fly, Icarus, Fly – "Serendipity" 54. Feb 1-8, 2013 – Travel Transmissions – "Lost in Thought" 55. Feb 15-22, 2013 – Wanderlusters – "The Natural World" 56. Mar 17-24, 2013 – Travel Junkies – "Patterns" 57. April 25-May 3rd, 2013 – Living the Dream – "Your First Time" 58. May12-19th, 2013 – Getting Stamped – "As The Sun Goes Down" 59. June 6-13th, 2013 – The GypsyNester – "Cheesy Tourist Diversions" 60. June 27-July 4, 2013 – Boomeresque – "Revolution" 61. July 18-July 25,2013 – Breakaway Backpacker – "Colorful" 62. August 14-August 21, 2013 – Around This World – "Mountains" 63. August 25th – September 1st 2013: Passports and Pamplemousse – "Hands at Work" 64. September 4th – 11th, 2013: TurtlesTravel – "Dance" 65.September 12th-19th, 2013: Keep calm and travel – "The sea"
66 Sept 26th – Oct 3rd Travel Photo Discovery   – "The Market"
This Round's Entries
Photo captions have been provided by the contestants, and provide a bit of background on the setting and some insight on the capture! Please note some of these images may be disturbing to see, but they are markets none the less.
One of my favorite photos from the souk in Marrakech. I was wondering around early in the morning before shops opened

We took this photo during our honeymoon in Peru in — 1982. It was taken in the market at Pisac, a small Andean town near Cuzco
This photo was taken at a Hookah stall when my husband and son visited Tehran, Iran for the 1st time in 2004.
This image was taken at a market at Phan Thiet. A village near Mui Ne in Vietnam where I stayed a couple of days. I have several of these images, I was surprised how much people just get a nap in their 'shop'
I took this at the Tomohon Market in North Sulawesi, Indonesia. There are many animals for sale there, both living and otherwise. This one dog looked so sad — it's like he knew what his fate was going to be, and it wasn't going to be life as someone's pet.
So many to choose from but I'm going to go for the bling – and nobody does bling better than Venice and their masks.
I took this photo while visiting the market in Stone Town, Zanzibar. The smell of fish was overpowering, but the colours were so vibrant, that I wasn't content with the fast walkthrough the city tour I had booked provided and I just had to come back for more later.

The thing about the Grand Bazaar, Istanbul is that it's actually full of stuff that you do want to buy. We bought spices, nuts, three paintings, and two carpets, and thoroughly enjoyed the process. I consider myself very lucky that I got out of Mehmet's shop with only two carpets. Hey, I was going to buy Christmas gifts anyway. Right?
I love farmer's markets anywhere in the world.  This royal purple shot comes from the Monterey Farmer's Market in California
I'm submitting this photo taken in the Parque Colon in Granada, Nicaragua. We'd been exploring the dilapidated city for most of the day and on returning back to the main square I became aware that a young market trader was watching intently as I photographed the scene around me. Capturing her gaze as she watched me, I managed to snap this shot before she realized I had noticed her through my lens
Every Sunday we head out with our baskets to our local market in Pisac in the Peruvian Andes to stock up for the week.These natural dyes made from local plants and flowers always add a bit of colour to my day! Suzanne, interesting to see that the Pisac Market hasn't changed too much since 1982!!
One of my favourite parts of the world is SE Asia.  The markets are so colorful, full of life and full of completely random items – scorpian in a jar for instance!  This shot was taken in Hoi An, Vietnam
Here's mine, a photo taken in Cartagena, Colombia
This picture is from a Mercado in Cuenca that I shop at every time I stay in Cuenca. It has an unbelievablae array of choices and the colors are awesome
Here it is my market, a bit different from all these but still a market.
The voodoo market of Lome, Togo. Please note this photo can hurt the sensibility of animal lovers. If so, sorry for that!
I am submitting a photograph from the morning fish market in Essaouira, Morocco
La Boca Craft Market in Buenos Aires. I don't think it can be more colorful and can compare to shopping in Peru for souvenirs. I just love seeing vendors as they hand make their crafts before placing them for sale!!!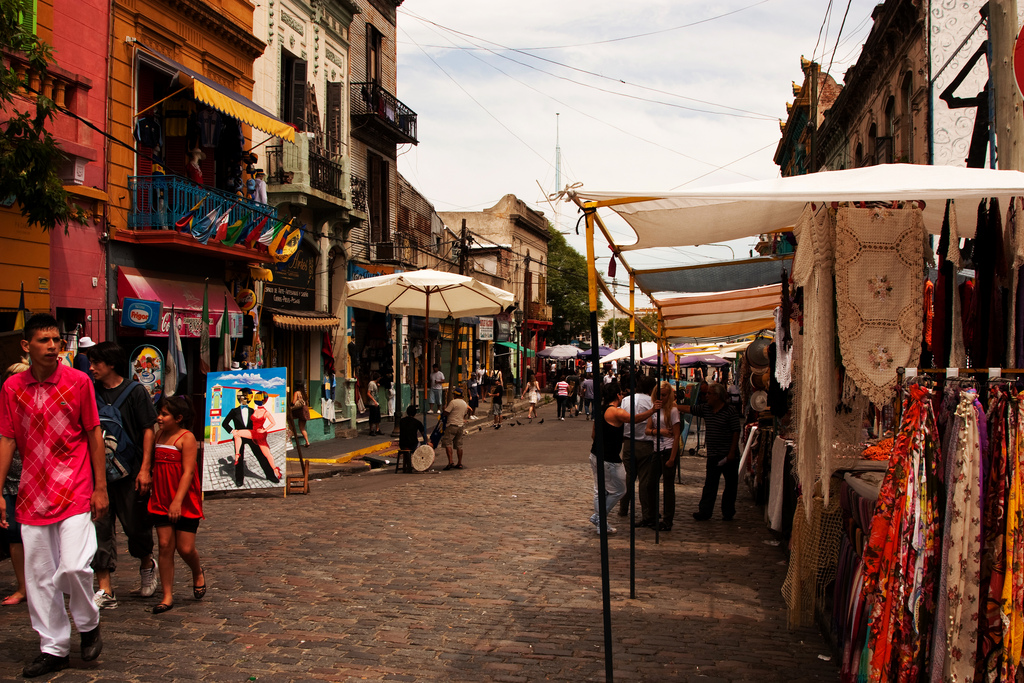 The picture is from the Goldfish Market, Mong Kok of Hong Kong. The Goldfish market, like all the other markets of Mong Kok, was fascinating, the exhibition of all that you could buy there was intriguing and the people interesting, In fact one of them told us about a brother, who emigrated only to become gold fish trader in the States.
I wanted to showcase a typical Indian village Bazaar
Even though it's still a couple months away, I'm already looking forward to the holiday season. Nothing says the holidays more than visiting the Christmas markets in Europe, sipping on a hot cup of mulled wine and browsing the beautiful crafts. This is a shot from one of the markets in Vienna
English Market in the beautiful of Cork City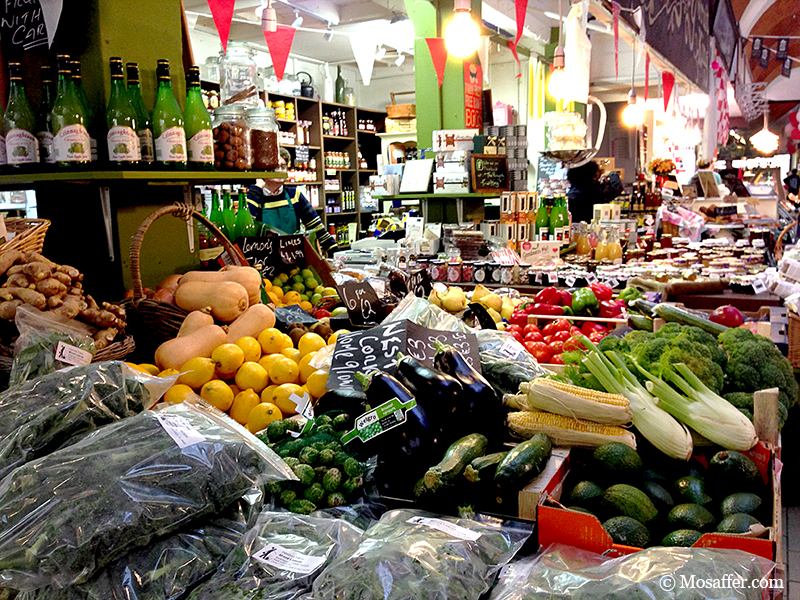 This is one of the earliest photos on my site, it's still one of my favourites, from my favourite type of market, a souk. This is Marrakech; it always amazes me how they pile those olives like that, and even more how they manage to pack up without them going everywhere?
Entry 23 GypsyNester at GypsyNester
Busan is the busiest port in South Korea and fishing is a big part of all of that maritime activity. This has created one of the biggest fish markets in all of Asia. The enormous Jagalchi indoor market covers three floors and is extremely busy, so venders have to catch a nap when they can.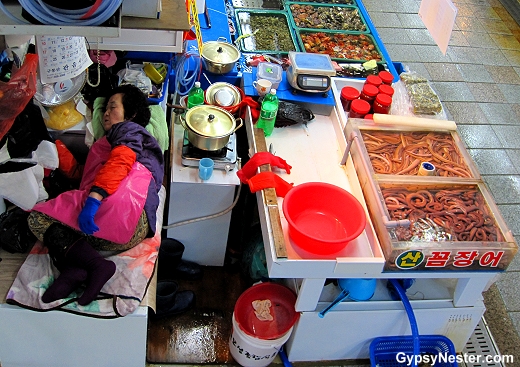 Everyone loves a market, but what happens after? The hard working ladies clean up their bowl in the river. – This image was taken in Hoi An, Vietnam, after the daily morning market.
Madame Theresa has been selling her handmade socca (chickpea flour flatbead) at the Cours Saleya Market in Nice, France for the past 25 years.
Crossing Brazil's north-eastern border, we arrived in French Guiana. The first place we stop – Cacao – looks like a miniature Laos in South-America. It's here where the Hmong fled in the seventies to build up their lives again. The Sunday market gave us a bit of a view on how these Laotians manage to maintain their culture far away from home
One of the markets that frequently rolls through Edinburgh has a tasty sweets section that's impossible to pass up
Entry 28 Tash at Jouljet
This was taken on a trip to the market in Phnom Penh, with the cook at the shelter for girls I was working at – she loved having me tag along, and she introduced me to each of her regular stall-owners as part of her shop. I was the subject of much Khmer discussions, and they were the subject of much wonder and photo taking for me!
There is nothing I like photographing more than markets so it was hard to choose one entry.
I decided in the end to go with these colorful ladies walking through a craft market in The Gambia.
"Taken at a busy night market in Bangkok's China-town, the humidity was bad enough without standing over a hot wok all night! I think the blurred action captures the pace and intensity of the night market quite well, as does the strained look on the mans face"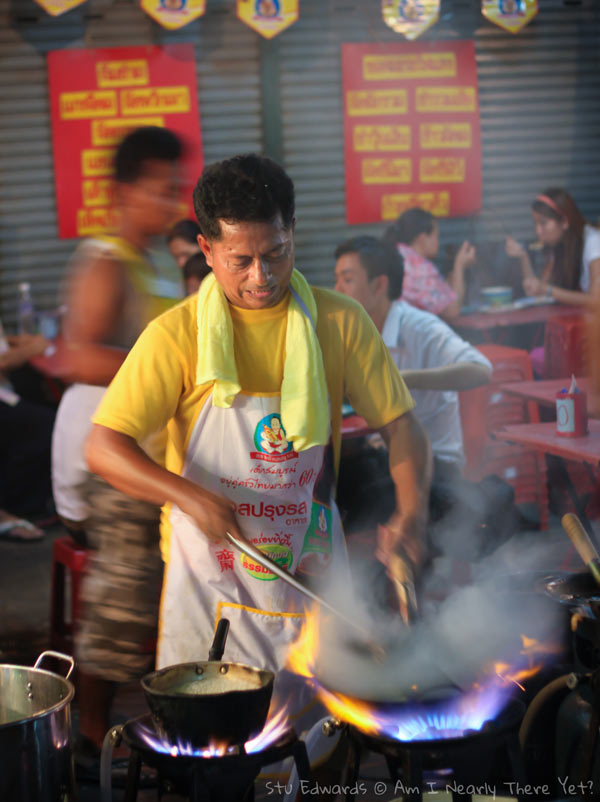 Our image was taken in one of the many narrow streets of Hanoi.  This woman was absorbed in reading her newspaper while she waited for someone craving duck to happen by.  This also gave me the chance to snap the shot with confidence, making for a natural and unstaged photo.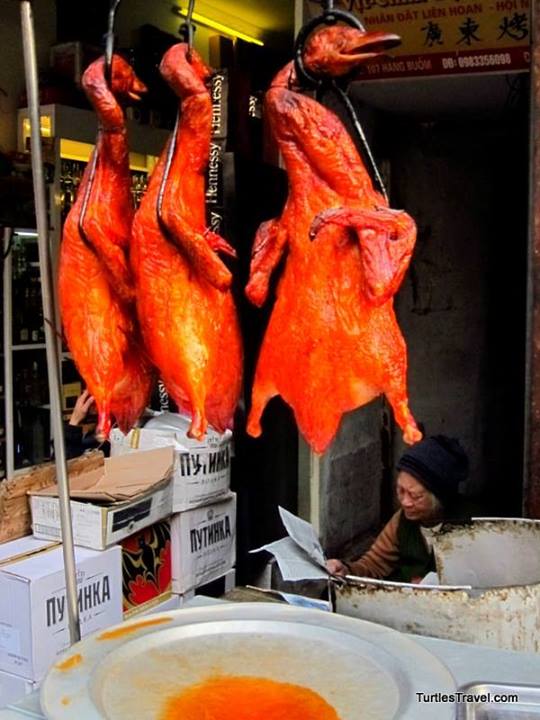 There's nothing like an Asian market for color and life. I shot this in the hills of northern Vietnam, near the Chinese border. I love the unabashed love of hats the the Vietnamese people have, and watching this woman shop for that perfect conical hat was a treat, not to mention her beautiful clothing
Entry 33 Lunaguava at Lunaguava
While in Mirissa, Sri Lanka, the gentleman in the photo became our favorite stop in our morning shopping routine. One day I asked him if I could take a photo while we prepared paan. He kindly accepted, and here's the result
My favorite market experience has been in the food city of Florence, Italy.  In every market we saw tomatoes that were shades of red I never thought possible.  No wonder the pasta sauce tastes so good!
I hope I'm not too late to join! We're in Turkey at the moment and I met this fabulous lady in the bazaar in Gaziantep. I had seen her wandering through the alleyways bent over her walking stick and wanted to ask her for a photo…but I didn't. Next minute I felt something tapping me on the leg and there she was, stick still prodding me, asking for her photo to be taken! I just wish I could have understood what the joke was!
We stayed three weeks in La Antigua Guatemala, the old capital of the country. We spent most of our time learning and practicing Spanish in one of the numerous schools of the city. And every Thursday and Saturday, we went to the market, both to buy vegetables and fruits, and to take pictures.  The loads carried by these men were very impressive. They moving around like this, among so many people, gave me the idea to try a motion blur. It was quite difficult because of the lack of light.
A stall holder was fanning her charcoal to get the kebabs cooked so the early morning sun shone through this wonderful ephemeral veil of smoke!   People browsing, people chatting and some hurrying to get the essentials and get home to get on with the day
This lady caught my eye as I was walking around the La Vega market in Santiago de Chile, one of the most beautiful in the world according to some people.
What do you think, tell us what is the best market photo from all the entries above?