While Havana may be known for its colonial architecture and classic American cars, peeling back the layers there is much more to discover about this bustling capital you might not expect. Havana is as innovative and modern as ever, affording visitors a chance to experience a vibrant arts scene, unforgettable nightlife, and something new to be discovered around every corner. Traveling to Havana is easy and here's how to spend 24 hours traveling to Havana, Cuba.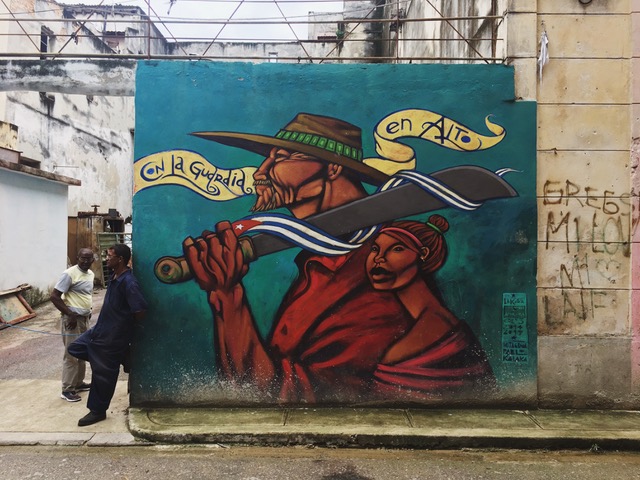 How to spend 24 Hours traveling to Havana, Cuba
Book a stay in a "casa particular" – a Cuban bed and breakfast or private apartment rental – for the full local experience. While you'll find there are plenty of incredible accommodation options in Havana, there are plenty of casas particulares to choose from at every price point, and even a luxury rental will probably cost you less than an average hotel room.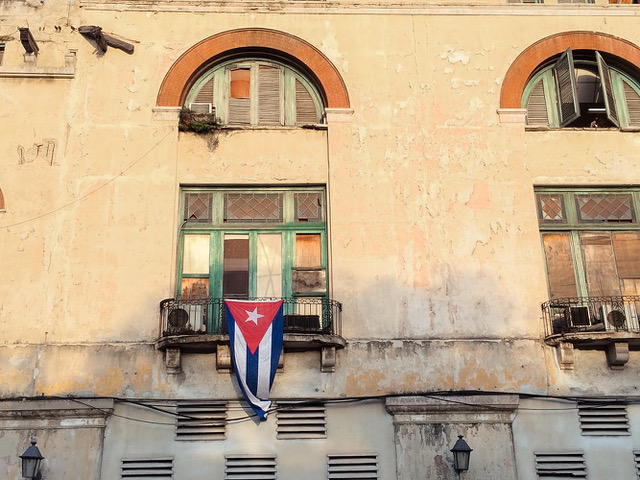 Start your morning early in Havana
Breakfast at El Café
Get the morning started at one of the best breakfast spots in Havana, El Café. Located in Old Havana, you'll find El Café in a restored colonial building with the emblematic soaring ceilings and ornate tiles that are so common in Havana's historic buildings. It boasts one of the most extensive selections of specialty coffee beverages in Havana, including the best iced latte in the city for hot days. Make sure to order something with their famous sourdough bread. Make a note for later: this place also turns into a bar in the evening with their own inventive Cuban rum beverages, making it worth a second visit!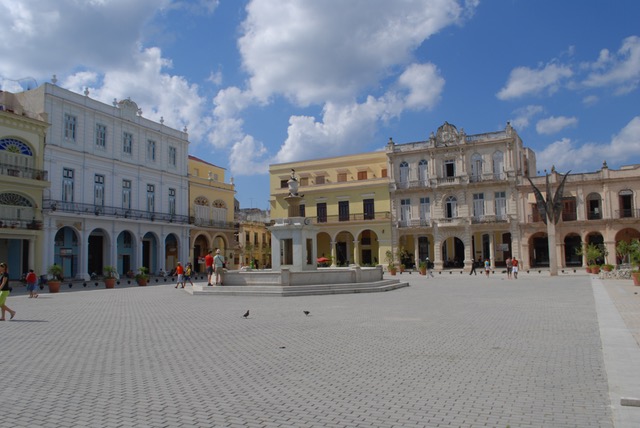 Explore Old Havana
Old Havana is best explored in the morning, before the heat of the day and cruise ship visitors arrive. You'll have busier destinations to yourself, and get to glimpse more of local life, with shops opening and vendors setting up shop in markets. Make sure to visit the city's famous squares with their beautifully-restored buildings, including Plaza de la Catedral with Havana's centuries-old cathedral, along with Plaza de Armas and Plaza Vieja.
Don't skip Plaza de San Francisco, home to a former Franciscan convent with an incredible view of the city from its spire. If you're looking for a coffee break, stop in to Café El Escorial in Plaza Vieja, or even better, grab a coffee from one of the many vendors in Old Havana selling espressos, sodas, and sandwiches from the front windows of their homes. These neighborhood spots are where Cuban coffee first got its fame.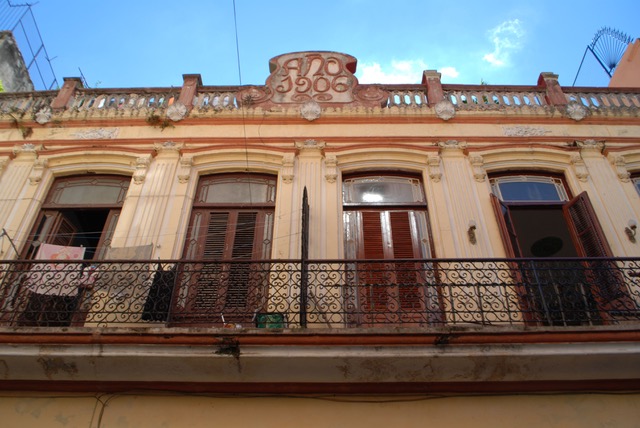 Shop at Memorias
One of the best shopping spots for unique treasures to take home from Cuba is Memorias, centrally located in Old Havana next to el Prado. You won't find any of the typical Cuban souvenirs here, like rum or cigars – Memorias is one of the most interesting shops in Havana for its massive collection of old memorabilia including antique movie posters, pins, maps, pamphlets, and postcards from decades ago. Even if you're not interested in buying anything this store practically serves as a museum of Cuban history – you'll find posters of Che Guevara and other revolutionary leaders, postcards and magazines from the 1950s when the U.S. mob bosses ran the city, and much more.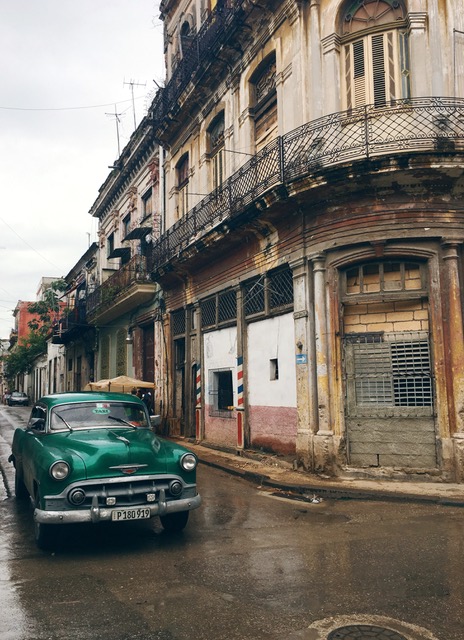 Afternoon in Havana
Lunch at Lo de Monik
Stop for lunch at Lo de Monik for fantastic dishes and generous portions at good prices. This is the place to try a Cuban sandwich if you've come to Havana in search of one – but remember, Cuban sandwiches were actually popularized in Tampa, Florida by Cuban laborers a century ago. Restaurants in Havana started making them when tourists visited expecting to find them on the menu – the Cuban sandwich at Lo de Monik may not be the original, but they do a great job!
Beside the Cuban sandwich, standout dishes are the tacos and the rotating seafood options. The fresh juices – try the cucumber lemonade! – and mixed drinks like daiquiris and piña coladas merit the visit on their own. If you save space for dessert, try their flan, one of Cuba's most traditional desserts.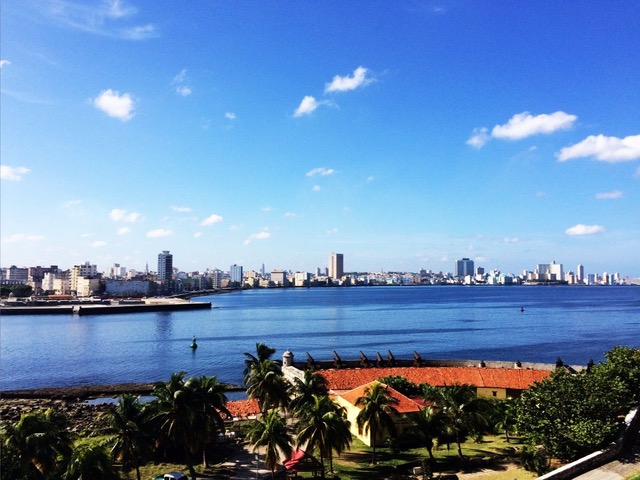 Visit El Morro
Heading across the Havana harbor to visit El Morro, a Spanish fortress guarding the entrance to the city, makes for an incredible excursion for its views over the city. The walls of El Morro wrap around the corner of the harbor and offer a panoramic view of both the ocean and the entire city skyline that are not to be missed. El Morro isn't just a perfect excursion for its view – it also offers a dose of colonial history for visitors. Plus, the insides of the fortress also remain naturally cool even on the hottest Caribbean day, a nice relief if you're visiting in the warmer months.
Evening in Havana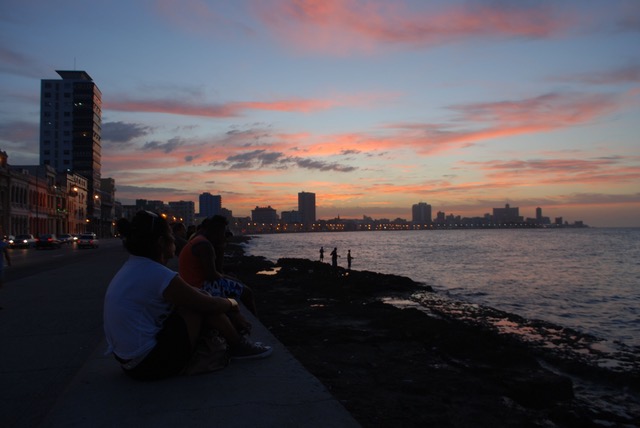 Sunset at Gran Hotel Manzana Kempinski
Heading from El Morro – one of the oldest buildings in Cuba – to the Gran Hotel Manzana Kempinski – one of the country's newest luxury hotels – may feel like a bit of historical whiplash, but shows how Cuba is moving forward without leaving its history behind.
The Gran Hotel Manzana Kempinski opened just a few years ago as one of the nicest luxury hotels in the country, and while its rooms may be out of reach for the average traveler, the rooftop bar offers an incredible view for just the price of a drink. Time your visit to enjoy the sunset over some of the Havana skyline's most emblematic features for a night you won't forget. While you're there, it's a perfect time to try a mojito or daiquiri – both original to Cuba – or some of Cuba's legendary rum. If you're a cigar lover, make sure to check out the cigar bar on one of the lower floors. It's worth a visit even if you don't know anything about cigars – the staff there are willing to give a crash course in one of Cuba's most famed products.
Dinner at El del Frente
El del Frente was founded by a successful restaurant owner ready to expand – so he did so right across the street from his first venture, thus this restaurant's cheeky name, which translates to "The One In Front" in English. While El del Frente might be the owner's second brainchild, it stands out for its relaxed atmosphere and dreamy rooftop deck strung with lights. This place has incredible drinks – don't skip the guava daiquiri! – and incredible seafood dishes, including fresh grilled fish and lobster tacos.
Night in Havana
Drinks and Dancing at Fábrica de Arte Cubano
A day in Havana isn't complete without a visit to the Fábrica de Arte Cubano, an innovative mixed-use art space and venue in the Vedado neighborhood. Not only has the Fábrica de Arte Cubano taken Cuba by storm, but others have taken notice, too – Time Magazine included it in its 2019 list of the World's 100 Greatest Places. This unique spot, formerly a factory, includes several bars, a variety of stages for performances, gallery space, and courtyards that make it easy to spend hours exploring. Grab a drink from one of the bars and take in the modern Cuban art installations while you wait for the first show of the night – you could be in for anything from a fashion show from an up-and-coming Cuban designer to a documentary screening or a performance from an internationally-renowned singer. Plan on staying for a few hours to take in several performances – there is a café in the back of this hotspot if you need a pick-me-up, or El Cocinero next door offers late-night snacks as well.
Pin and save this to your Cuba board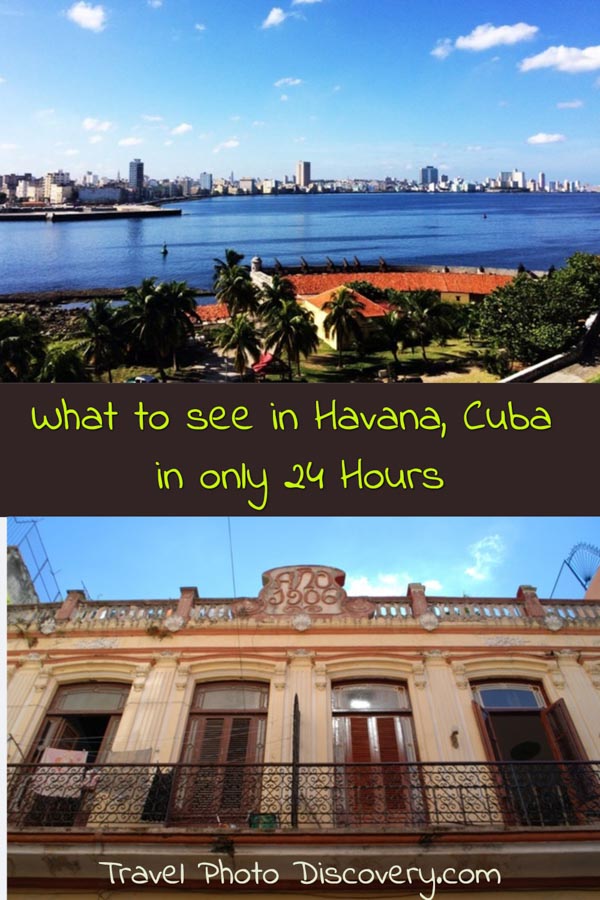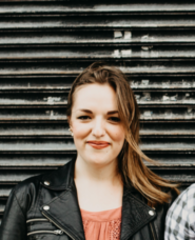 Guest writer Bio
Carley Rojas Avila is founder of Home to Havana, a travel blog dedicated to inspiring transformational travel in Cuba and beyond. She and her husband, Jose, launched Home to Havana as way to share their story of moving from the United States back to Cuba, and inspire travelers to transform their own travel dreams into reality. When not obsessing over creating inspirational online content she can be found trying to befriend street cats and personally taste-testing every pizza in Havana.
Instagram: @hometohavana
Facebook: facebook.com/hometohavana
Thanks for visiting and checking out this post on Traveling to Havana. Bookmark this post for future reference when you are looking for some Hawaii activities, adventure or fun experiences.
Please do share this post with any of the social media icons on the side bar and thanks for visiting today!
Some links in this article on Traveling to Havana are affiliates which provide a small commission to support this site at no extra cost to you. Thank you for reading, and happy travels