New Zealand is such a paradise for nature and outdoor lovers. With plenty of amazing things to do especially in South Island, there are no reasons you should leave New Zealand out of your bucket list. But people often leave out Queenstown in their New Zealand itinerary, thinking that it's just the starting point for their road trip. But if you're planning to give Queenstown a go, you're in the right place – here's how to enjoy your 2 days in Queenstown!
Queenstown is one of the two cities in New Zealand South Island that has an international airport. Most people chose Queenstown to start their road trip because it's the closest to most attractions on the island, compared to Christchurch city.
What people don't tell you is that Queenstown is also a paradise for foodies and we have some great suggestions of places to eat below!
Here's what to Do in Queenstown, New Zealand
Day 1 – Exploring Queenstown nice and easy
For the first day in Queenstown, here are some of my suggestions. For me, I don't like my first day in any city to be too packed, so all of the things to do below are not too adrenaline-stimulating.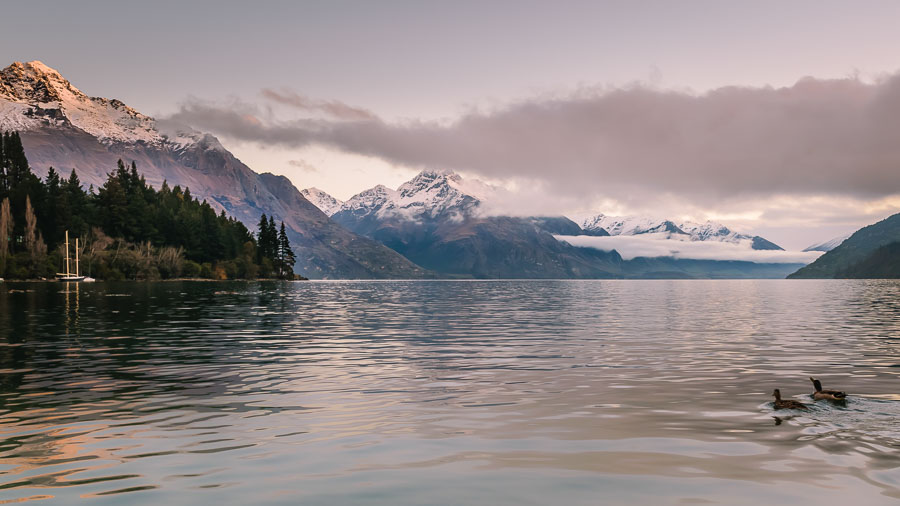 Walk Around Lake Wakatipu 
Queenstown was built along Lake Wakatipu, one of the largest lakes and attractions in New Zealand. For me, it's the most beautiful lake in the country, especially during the winter and there are so many Wakatipu walks to hike around in this scenic region.
Surrounded by snow-capped mountains, there are no better views than having a sandwich by the beach in Lake Wakatipu.
There are walkways around the lake in Queenstown Gardens. As I said, the lake is massive, so the walkway wasn't extended to cover the entire lake. At evening, spend some time walking around, or try the coffee in the cafe by the lake!
The mountains there aren't as steep as Mitre Peak in Milford Sound of Fiordland National Park, but still, they'll give you a 'Wow' when you got there. Definitely the best evening activity for your 2 days in Queenstown. Check out this post on visiting Lake Wakatipu and other things to do in Queenstown here for more inspiration.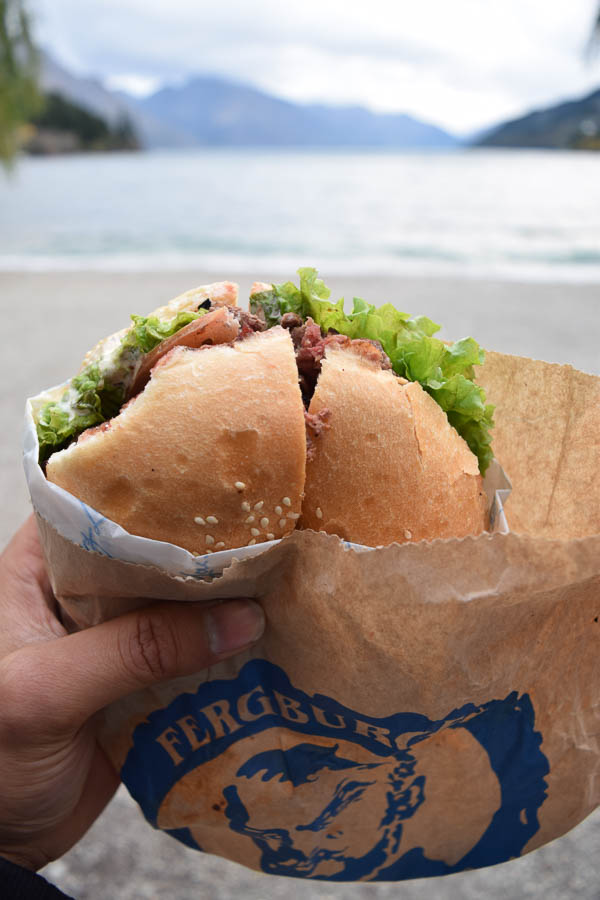 Lunch in Fergburger
The burger restaurant in Queenstown has a long queue any time of the day. It's crazy how people are craving the burgers in Fergburger and are willing to queue up for that long time.
I've visited when the queue was shorter, but still have to wait 20 minutes for my orders to be served. But you know what? It was worth the wait. The serving speed was fast and efficient, unlike the burger stalls near my home. It's a huge business, and they never compromised on the quality. The extensive menu also contributed to the restaurant's success.
When you're there, try out the gelato ice cream on the next door as well! It's called Mrs. Ferg Gelateria. It's also out of this world.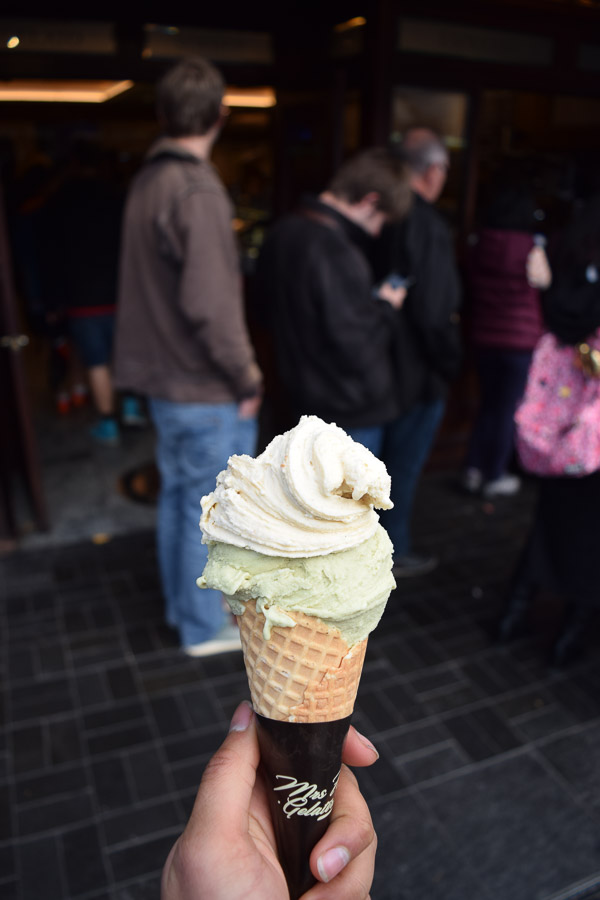 Having Fun in Queenstown Gardens 
Queenstown Gardens is a botanical garden right beside Lake Wakatipu, facing the town area. With a variety of native and exotic floras, this attraction is one of the best free things to do in Queenstown. It's within walking distance from the town area and has no closing hours.
The well-paved walkway around the huge compound is accessible for everyone, on foot or wheelchairs. Queenstown Gardens is also a perfect picnic spot if you're going to have one with your travel mates. The facilities are very well-maintained, so are the information boards and signboards.
The best time to visit is right before sunset when the sky turns purple. You get the scenery view of snow-capped mountains as a backdrop, and ducks swimming in the lake.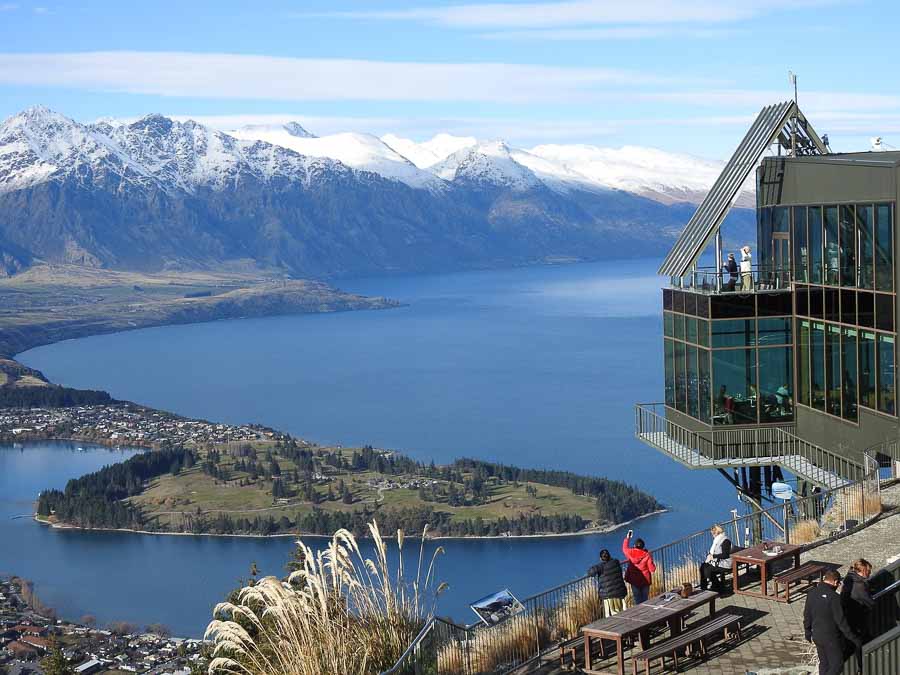 Enjoy the City View on Skyline Gondola 
From the foothill in Queenstown, take the gondola all the way up to the top of Bob's Peak and enjoy the scenic panoramic view of the surrounding Southern Alps snow mountains.  Besides that, there are plenty of activities prepared for you at the peak, like magic shows, luge rides, or even dinner inside a gondola! Check out this fantastic combo activity with the gondola tour with a fantastic buffet lunch or dinner.
Day 2 in Queenstown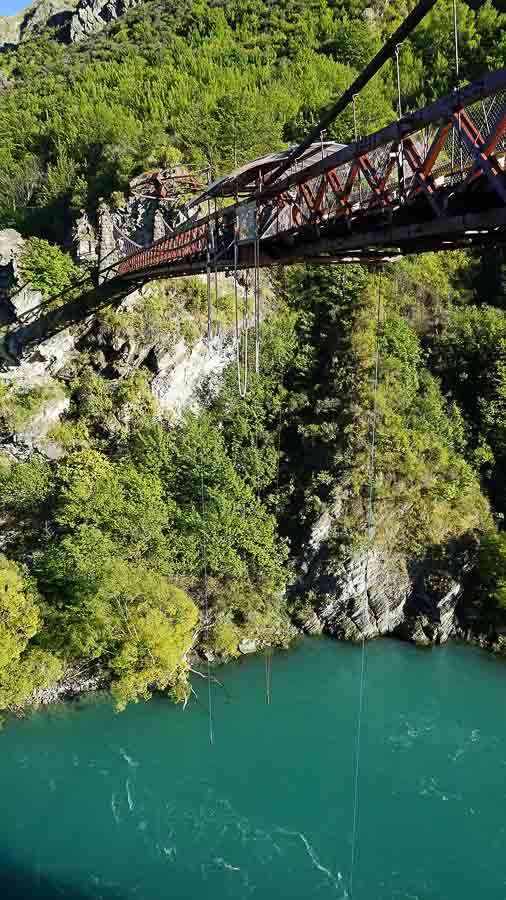 Go Bungy Jumping 
Fun fact: Did you know that commercial bungy jumping actually started in Queenstown, New Zealand? Yes, I'm not kidding.
When you're in Queenstown, look for this spectacular bungy experience and register yourself for a once in a lifetime thrill experience. No problem if you don't have a car, they have free shuttle service, fetching you to Kawarau Gorge Suspension Bridge, where the bungee jumping takes place. They'll then fetch you back too.
Even though it's not a cheap activity, it's definitely worth it once in a while. A jump with video and photos package costs more than $200. To save yourself some time, book yourself a seat on the day before.
If you have to choose one activity for your 2 days in Queenstown, make this the one!
Devil Burger 
When all the tourists and foreigners prefer Fergburger, the locals would say, "Nah, I'll just go for Devil Burger,"
Devil Burger, which is less commercialized is more of a preferred choice for the locals. Great burgers, reasonable prices, and excellent customer services. If you have the luxury of staying a few days in Queenstown, definitely try both of them out!
Not into burgers for two days in a row? Read on!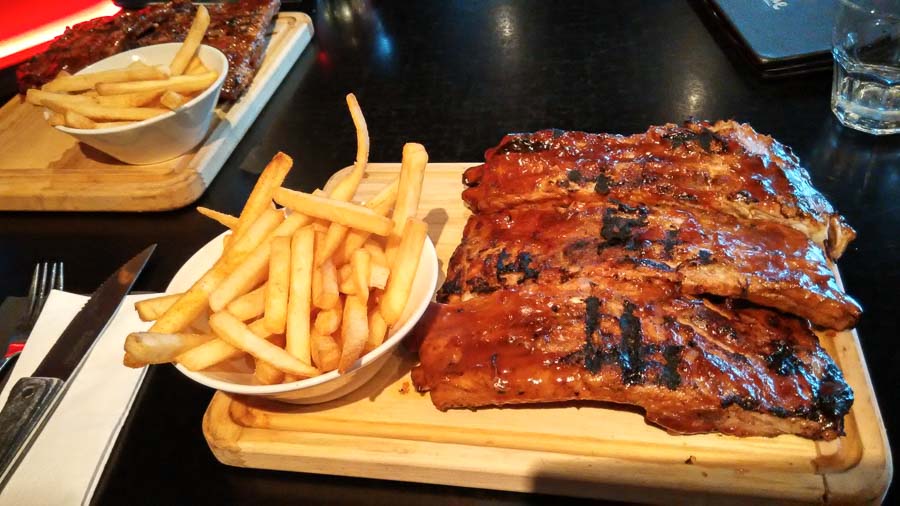 Flame Bar & Grill
I've been hearing about how good are the pork ribs months before I drove down from Motueka, the northern end of South Island. I found that pork ribs in New Zealand, generally are delicious, no matter where you have them.
But the best one in the country is none other than those in Flame Bar & Grill. It's the signature dish of the restaurant, at a reasonable price for the mount-watering pork ribs.
The downside is that you'll have to arrive earlier and queue up by writing your name on the log book. The great news is that you don't have to queue up physically.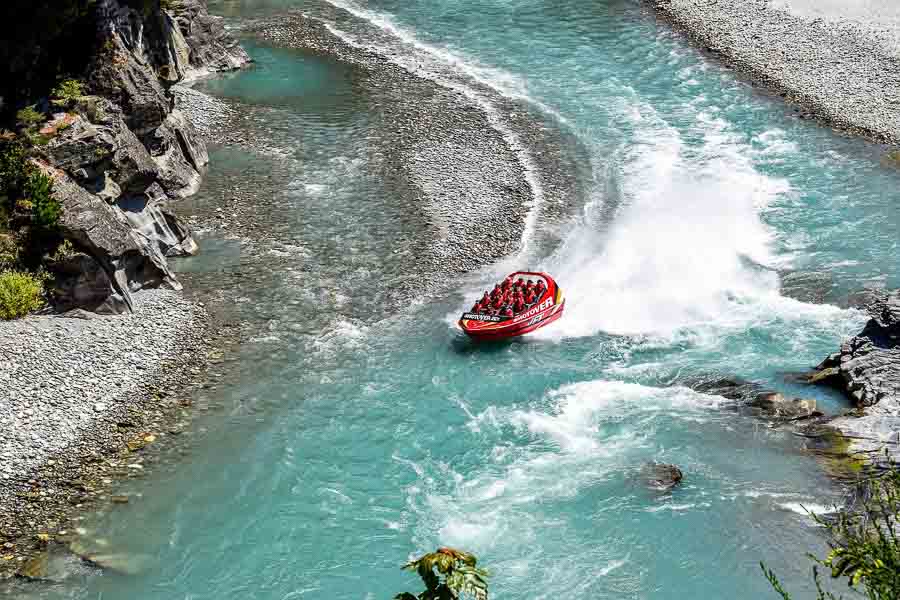 Jet Boat Adventure in Shotover River
Another popular adrenaline-rushy activity for travelers who're looking for some kicks to ignite their travel in New Zealand.
There are plenty of operators for these activities, like Shotover Jet. They're one of the best-reviewed jet boating and rafting company in Queenstown. Yep, there is rafting too!
And again, it's not the cheapest tourism activity but you'll definitely enjoy the experience, nevertheless. These are something you don't see a lot in the North Island.
Hop On The Cruise in Queenstown 
Since Lake Wakatipu is so huge, it's no wonder that cruises operate there. It's the best way to enjoy Lake Wakatipu with zero hassle.
Most of the cruises will offer meal packages, which you'll get to enjoy your lunch or dinner on board. They're not as expensive, so I'd say it's highly recommended for all kind of travelers! Check out this popular Wakatipu cruise on the lake with an old style steamer.
Alternative Things to Do in Queenstown
Rent a Car and Explore Around 
There are plenty of destinations you can go with a car in Queenstown of Central Otago. Make sure you book your car beforehand prior to arriving at the airport. Arrange your car to be waiting at the airport for your arrival so that you'll get to enjoy once you got out of the airport.
Here are some of the destinations you should be visiting – Wanaka, Arrowtown, Glenorchy, and Paradise. They are excellent day trip options if you're staying in Queenstown for a longer time too!
Wondering which rental companies is best for you? I would suggest Jucy, as I rented from them and was very satisfied with the price, customer service and the quality of the cars.
Where to Stay in Queenstown
So, where to stay for your 2 days in Queenstown? Well, Queenstown is a famous destination for travelers all around the world. That being said, there are plenty of hotels and backpacker hostels for you to choose from.
I'll list some of the most popular choices here, feel free to choose the one that fits your budget the most.
Budget hotel options 
Base Queenstown
Probably the most popular hostel option for backpackers. Most people are here for the party, so you'll have to expect some noise when the sun goes down. This place is not for you if you hate noises and parties.
JUCY Snooze Queenstown
Another great hostel choice for backpackers. Price is almost the same as Base Queenstown, and both of them are very close to the city center
Non-Pocket-Sensitive Option 
Sir Cedrics Tahuna Pod Hostel
An upgraded version of your average backpacker hostels. The pod beds in this hostel are designed to give you the maximum comfortability and maximize your stay. A wide variety of choices for you to choose from as well.
Luxury Option 
Mi-pad Smart Hotel
Probably the best 4-star hotel you can get in Queenstown. They have everything you need in a hotel, and a location close to major attractions in Queenstown. Solo travel or traveling as a couple, they got you covered.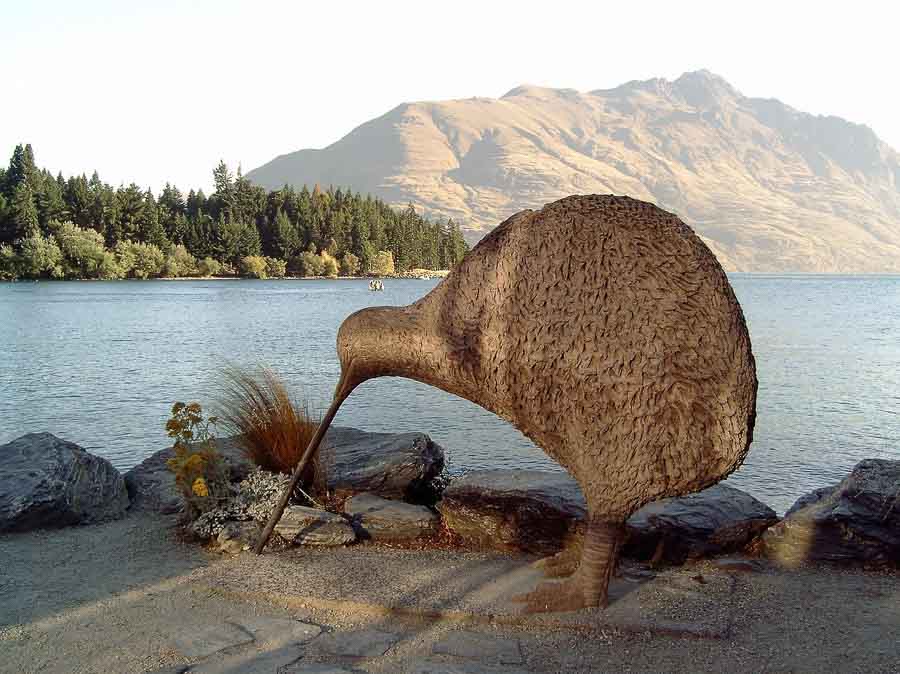 Ready to Enjoy Your 2 Days in Queenstown, New Zealand? 
So that's all I've got to offer for your 48 hours in Queenstown, New Zealand. I hope you enjoyed reading and that my article helps you in planning your Queenstown itinerary. Feel free to comment below on what you think about this article. As usual, happy traveling!
Save this and pin for later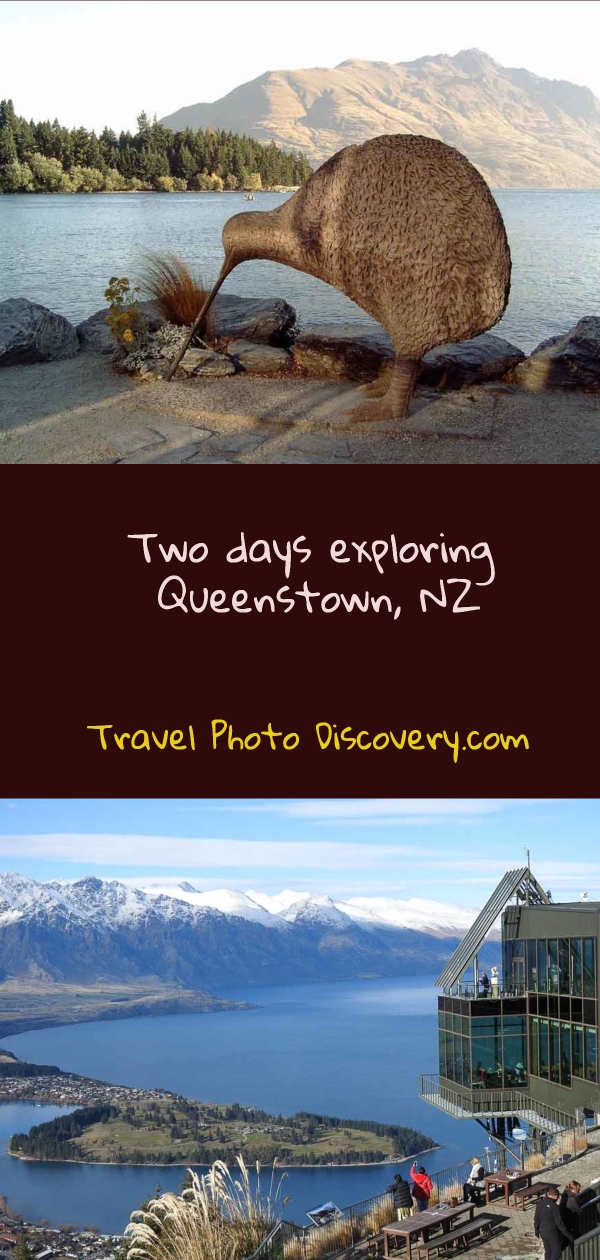 Suggested Outbound Links
– Skyline Gondola 
– AJ Hackett Bungy 
– Jucy 
– Top reviews of places to stay in Queenstown
Author: Yen
Blog – www.wanderingjournal.com
Yen is a full-time university student who always takes full advantages of his holidays to travel for new experiences. He's been to New Zealand for Working Holiday before having his road trip, volunteered in Kathmandu, Nepal and exchanged in California along with several backpacking trips through Southeast Asia. Having spent months in foreign countries, he gives in-depth travel tips and guides in his travel blog, Swing Abroad.
Thanks for visiting today and checking out this post on Two days in Queenstown New Zealand. If you enjoyed the images and post, could you please share it with any of the social media buttons located around the post.
If you like what you see, come and check out my other social media channels for more updates, including Instagram, Pinterest and Twitter
Disclosure – There are affiliates links on this posts which provide a small commission to support this site at no extra cost to you. Thank you for reading, and happy travels