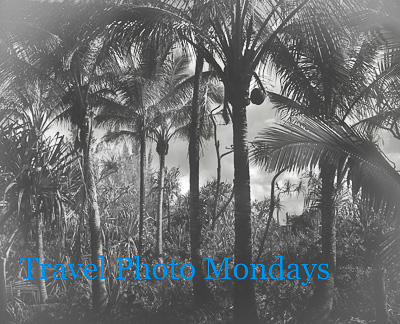 Welcome to Travel Photo Mondays
It's Monday morning, time to enjoy some gorgeous travel photography and inspiration from around the world. Let's banish those Monday blues by sharing gorgeous imagery and story telling.
Views of Hilo Bay
It's late afternoon in Hilo bay and I'm sharing some wonderful afternoon to evening views of Hilo bay while sailing on a catamaran. We are taking a nice slow cruise around the bay and head into adjoining Reeds Bay where the ocean liners dock in Hilo.  It's a wonderful time of day to be outdoors in Hilo, even with dark moody skies above the town. I actually like to have clouds in my pictures – they create interesting light and amazing skies frame excellent views to the landscape.
Cruising next to the busy port area of Reeds Bay, there are usually cruise ships docked at the terminal, but its quiet today so it's great to take pictures of the bay and sailboats. There are many sailboats docked here, bobbing up and down in the gentle waves amid quiet views of the bay.
 Dark clouds loom over the quiet port of Hilo
The clouds here in Hawaii are always changing and creating dramatic light.
Partial sunset views over Hilo Bay and the Hamakua coastline,
                         stunning even without the sun setting on the east side.
I hope you enjoyed this brief tour of the harbor and views of Hilo bay, it's spectacular on days like this with amazing clouds and light. Come and take a look at some of the other entries for todays Travel Photo Mondays below.
If you like this post, please consider subscribing to the blog by email  below – also I appreciate it if you could share this post with any of the social media buttons located below and around the post, thank you!
 
[inlinkz_linkup id=324522]