5 Most amazing villages on the Dorset Coast
Every year, Dorset attracts thousands of tourists to walk, camp and stay in its beautiful towns and
countryside towns. One of the most popular attractions in Dorset is the Jurassic coast. This large
strip of coast with towering white cliffs is the perfect spot for hikes, beach walks and fossil hunting.
To help you plan your perfect trip to Dorset and the Jurassic coast, we have put together an
overview of the 5 most amazing villages on the Dorset coast.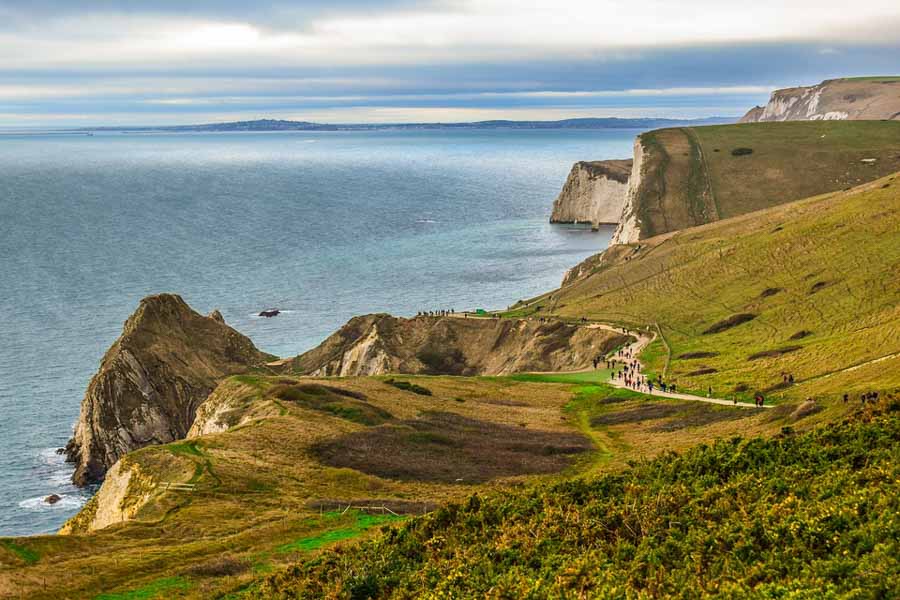 Swanage
Swanage is a beautiful coastal town near Pool and the Studland and Godlingston Heath National
Nature Reserve. It is the perfect base to explore the Eastern part of the Jurassic part with easy access
to Corfe Castle and the insta-famous dancing ledge.
This rather traditional Victorian coastal town has a large sandy beach with a pier and lots of cute
little tea houses and boutiques and shops to spend the day window shopping.
Where to stay in Swanage
If you are planning on visiting Swanage, check out the best reviews with listings to stay in the Swanage area here for more information, prices and reviews.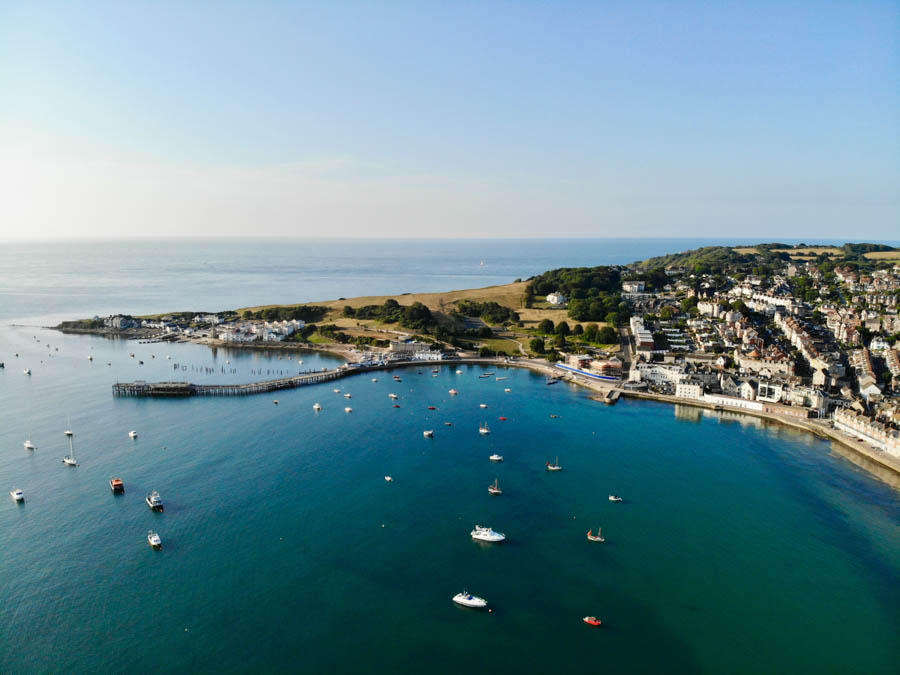 What to do in Swanage
1.
Swanage Railway
The Swanage Railway is an old railway branch that would bring people from Swanage to Wareham
from as early as 1885. At the moment, this line is closed and operates as a heritage railway where
tourists and families can experience riding in an old steam train.
2. Corfe Castle
Corfe Castle is a national trust fortification towering over Corfe village in the Purbeck peninsula.
Swanage is the closest town and the perfect base for those who would like to visit Corfe Castle
during their trip along the Dorset coast. Corfe Castle was built by William the Conqueror in the 11 th
century and was one of the last royalist strongholds in Southern England in 1645. If you are traveling
with kids, Corfe castle is a great educational daytrip filled with legends of knights and stories of
wars!
3. Peveril Point
Are you fond of long walks and beautiful hikes? Don't forget to head out to Pevril Point! This
promonotory on the east-coast of Purbeck offers amazing views of the nearby limestone cliffs and
offers access to the tunnels connecting the disused gun emplacements that would defend the
entrance to Southampton and the Isle of Wight during the second world war.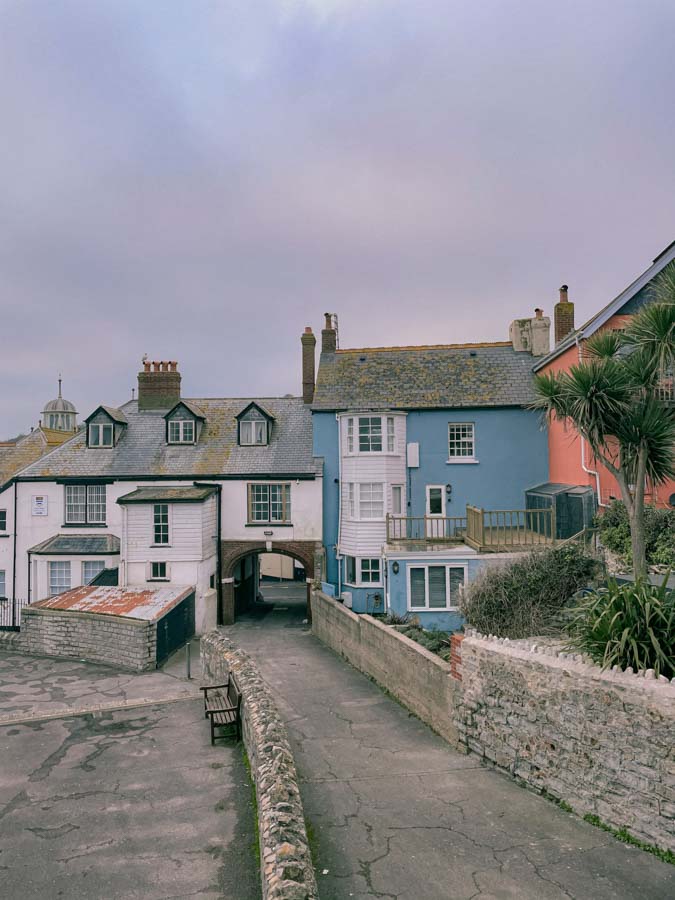 Lyme Regis
Lyme Regis, named after the river Lym which worms its way through this town's centre, is a lovely
little village with a large and famous sandy beach. Lyme Regis is known to attract holiday makers
from all over the country. Especially prided on their cute little centre with white historical buildings,
dotted with blue, red and pink houses, this holiday town on the Dorset Coast should not be missed.
Where to stay in Lyme Regis
If you are planning on visiting Lyme Regis, check out the best reviews with listings to stay in the Lyme Regis area here for more information, prices and reviews.
Best things to do in Lyme Regis
1. Lyme Regis philpot Museum
The Lyme Regis Philpot museum offers visitors a glimpse into the 185 million years of history of the
Dorset Coast. This family friendly museum has a large geology gallery and even a learning centre for
those bringing their kids (kids enter free by the way!). The Philpot Museum teaches you everything
you need to know about the fascinating fossils found in Lyme Regis and the people that played a
major part in the history of Lyme Regis such as fossilist Mary Anning.
2. Dinosaurland Fossil Museum
Those who want to see cool dinosaur fossils can head to the Dinosaurland Fossil Museum. There are
more than 10.000 fossils on permanent display, and they even have some real dinosaur skeletons!
3. Monmouth Beach
After a day of learning about fossils in the Philpot Museum and the Dinosaurland Fossil Museum,
you can head out to Monmouth beach to marvel at the old, fossilized stones or even go and hunt for
fossils on the beach yourself!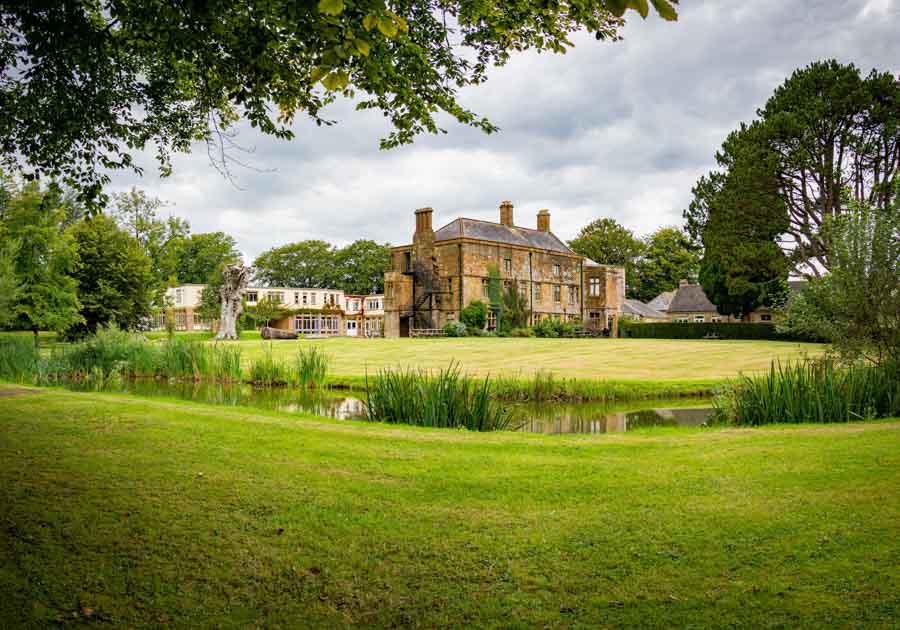 West Bay Bridport
Although Bridport's West Bay might not necessarily ring a bell, you might recognise this little village
from the hit-series Broadchurch. West Bay was used as the setting for this ITV TV-series and has
been attracting tourists from all over the UK – and even Europe, ever since the show aired. Although
it is recommended to stay in Bridport just down the road rather than West Bay, you might be up for
a couple of nice walks and hikes over the large (and famous) cliffs around Bridport!
Where to stay in Bridport
If you are planning on visiting Bridport, check out the best reviews with listings to stay in the Bridport area here for more information, prices and reviews.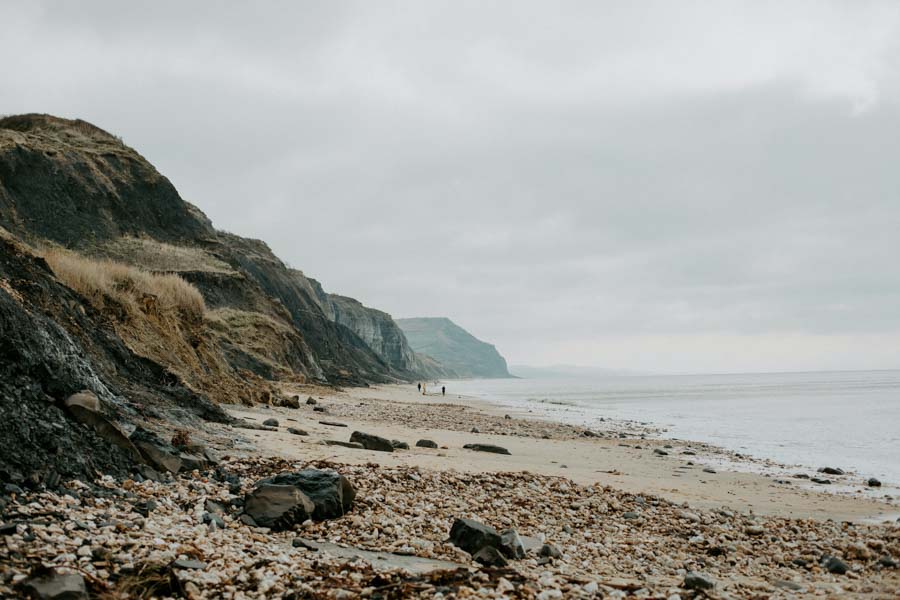 Things to do in Bridport
1. Bridport Museum
The Bridport Museum is located in an old manor house known as the castle, set in the centre of
Bridport which will teach you everything about the history of Bridport and even the fossils found in
the area and on the beaches of the Jurassic coast.
2. West Bay Cliffs
Heading down to West Bay in order to catch a glimpse of the famous Broadchurch cliffs? You will not
be alone! Many tourists head up to the beach and climb the high cliffs in West Bay to marvel at the
gorgeous panoramic views!
3. West Bay Discovery Centre
If you are travelling with kids, the West Bay Discovery Centre should not be missed. This beautiful
little museum teaches kids and adults everything there is to know about the history of West Bay,
fossils, and the life in and on the sea.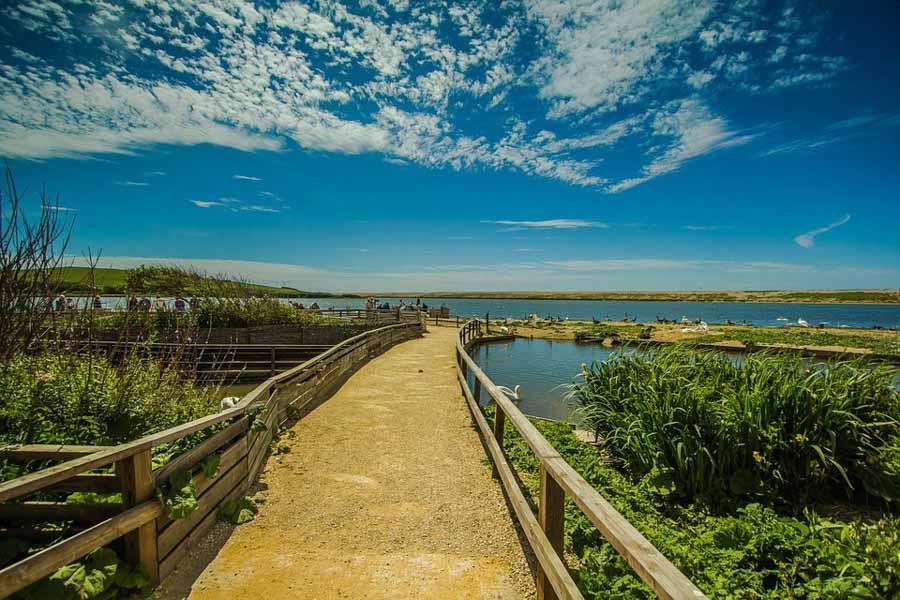 Abbotsbury
Abbotsbury is a small, historic village by the Dorset coast, known for its large swannery and its
honeypot thatched roof cottages. This small and cute village coasts an old abbey and offers visitors
beautiful views over the waters of West Fleet and the beach beyond. Abbotsbury is the perfect little
village for those looking to stay in the rural parts of coastal Dorset, far away from the hustle and
bustle of the city, and those who would like to combine beautiful historical villages with long days on
a calm and tranquil beach!
Where to stay in Abbotsbury
If you are planning on visiting Abbotsbury, check out the best reviews with listings to stay in the Abbotsbury area here for more information, prices and reviews.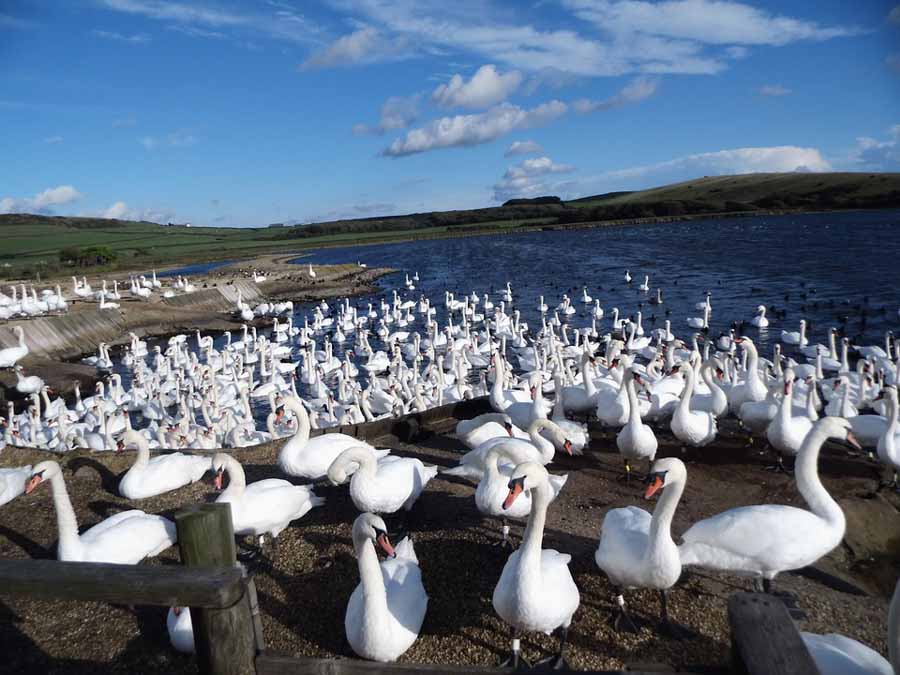 Best attractions in Abbotsbury
1. Abbotsbury Swannery
Do you like swans? Then you need to visit the Abbotsbury Swannery. Here you will be able to learn
more about these beautiful white birds, and you even get an opportunity to feed some of the more
than 600 swans roaming around the waters and grounds of the Abbotsbury Swannery.
2. Abbotsbury Subtropical Gardens
Not too far from the centre of Abbotsbury the Abbotsbury Subtropical Gardens will whisk you away
to the remote jungles of India and Sri Lanka. These beautiful grade II listed gardens were built in
1765 by the Fox-Strangeways family. The 8 hectares gardens were filled with exotic plants of which
many were newly discovered species at the time. The Abbotsbury Subtropical Gardens are a great
day out for the whole family!
3. Abbotsbury St Catherine's Chapel
Perched on top of a hill overlooking the little of Abbotsbury, St Catherine's Chapel is a grade I listed
chapel dating back to the 14 th century. This chapel forms the end point of many great hikes in the
area and offers a gorgeous view over Abbotsbury and the ocean in the distance.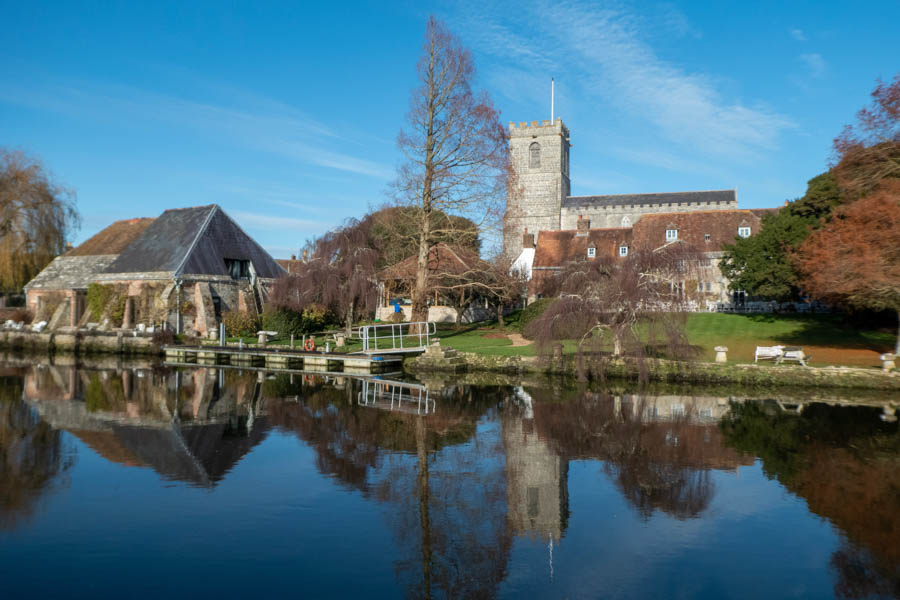 Wareham
The little town of Wareham on the Purbeck peninsula is a great town to stay if you would like to
combine the beautiful rural views of the Purbeck Peninsula with the ease that comes with having
large cities and towns such as Poole and Bournemouth close by. Wareham is an old market town on
the river Piddle. It is a well-known stop-off for those sailing the Southern-English canals as Wareham
gave its name to the Wareham Channel leading to Poole Harbour.
Wareham is a great little town if you are looking for great restaurants and pubs nearby or want to
enjoy long walks on the Purbeck Peninsula with quiet and deserted beaches within a 20-minute
drive.
Where to stay in Wareham
If you are planning on visiting Wareham, check out the best reviews with listings to stay in the Wareham area here for more information, prices and reviews.
Best things to do in Wareham
1. Wareham Town Museum
The Wareham Town Museum will teach you everything there is to know about this old market town
and takes you from the prehistoric times to present day. The Wareham Town Museum even has a
special exhibition on the famed Lawrence of Arabia who used to live nearby.
2. St martin's on the walls
St Martin's on the Walls is a lovely little chapel at the end of the Wareham high street. Inside you
will be greeted by marvellous frescos and the beautiful architecture of this 11 th century Saxon
church.
3. Visit galleries and artisan yards
Wareham is known to be a haven for artisans and painters with many little galleries and artisan
centres dotted throughout the little high street. When staying in Wareham, it is a good idea to visit
some of these galleries and craft centres, or to even take part in a work shop yourself!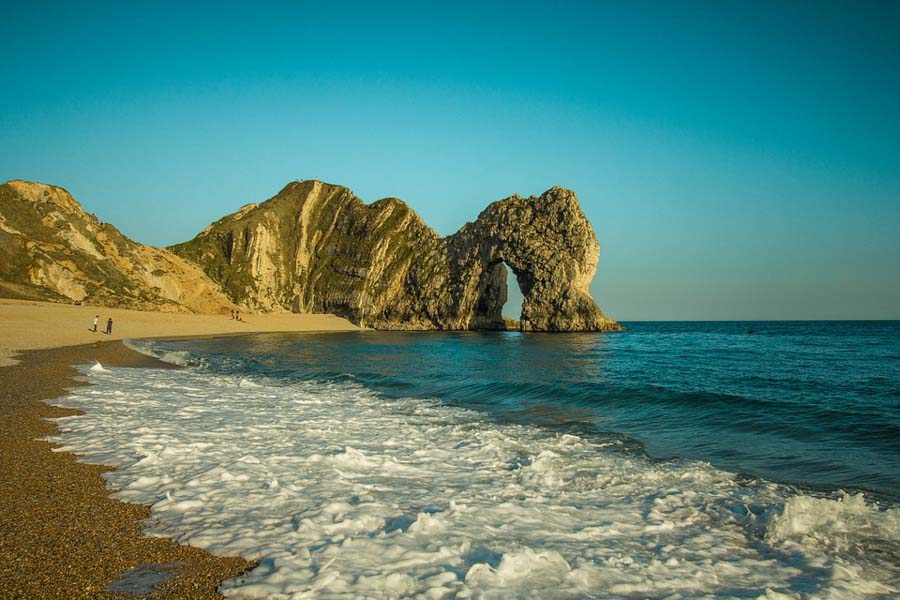 Guest writer Bio
Lieze Neven is a travel blogger currently living in Nepal
She and her husband travel the world looking for great views and amazing food.
Lieze Neven with www.glitterrebel.com
Check out Lieze's post on Dorset Campfires
Conclusion on villages on the Dorset Coast
Have you visited any of these places along the Dorset Coast? We would love your tips and observations to visiting these spectacular sites around Dorset.
Please share your thoughts and other recommendations in the comments below with your tips and suggestions for additional things to do in the city.
Thanks for visiting today and checking out this post on villages on the Dorset Coast. I hope you are inspired to plan a visit and enjoy these wonderful attractions. If you enjoyed the images and post, could you please share it with any of the social media buttons located around the post.
Disclosure – Some links in this article on places along the Dorset Coast are affiliates which provide a small commission to support this site at no extra cost to you. Thank you for reading, and happy travels