Visit Bilbao Spain on this two day itinerary tour and surrounding areas
2 days in Bilbao is not enough to see all of this quirky city. You could easily spend a week exploring the hidden delights of Bilbao. This city in Northern Spain has undergone a revitalization in recent years. An old port city, new buildings such as the Guggenheim Museum, have breathed new life into the city. If your planning on visiting Spain, you should go visit Bilbao and enjoy two days or more exploring this beautiful city and region.
The city may not be well-known outside of Spain, but it should be. The creative nature of Bilbao makes it an interesting place to walk around. Seeing how the new mixes in with the old is a fascinating experience.
If you get the chance to visit Bilbao, if only for a short while, there are certain places that should be nailed onto your itinerary.
What to see and do in Bilbao and the surround areas to explore
Day 1 – Arrival and visiting Bilbao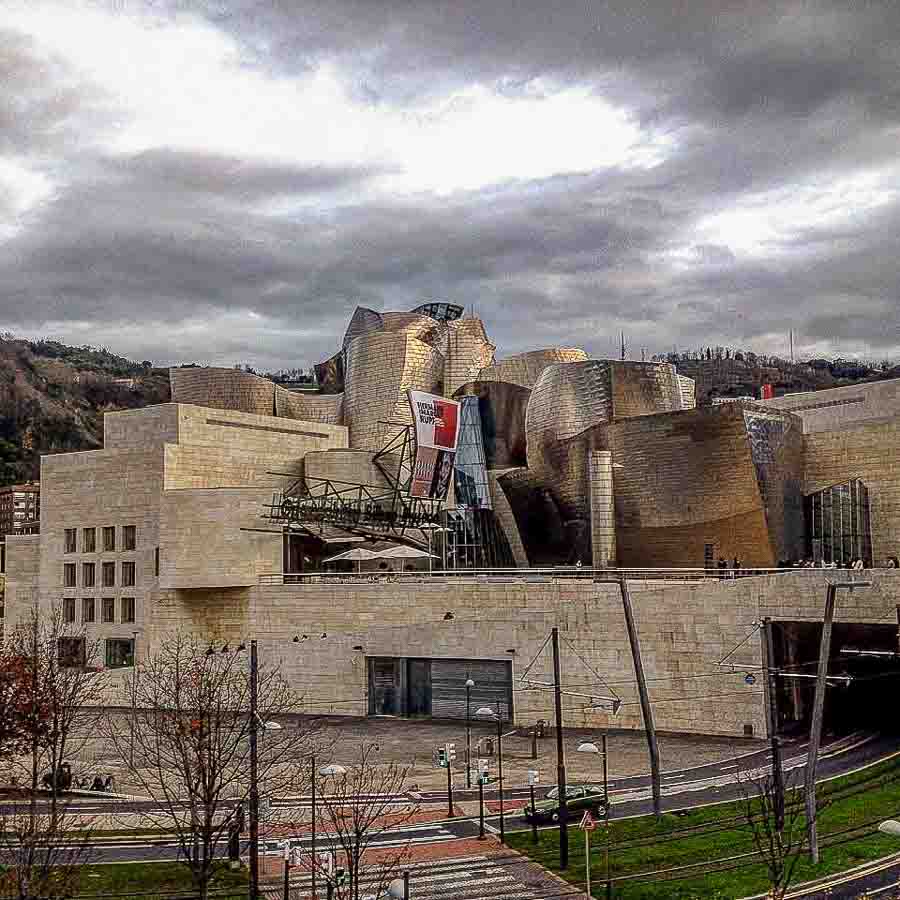 Bilbao's Guggenheim Museum
The Guggenheim Museum is synonymous with Bilbao. Since its opening 20 years ago, it has become a hugely popular attraction in the city. This is due to the striking appearance of the building. The Guggenheim flows together in random lines and shapes. It's hard to get a grasp of the building without walking completely around it.
As you walk around the Guggenheim, you'll notice a number of sculptures. There's one of a freakishly big spider, as well as a giant dog made out of flowers. The museum is eclectic, but you simply cannot visit Bilbao without checking it out!
Close to the Guggenheim Museum is the Zubizuri, which means 'White Bridge' in Basque. It's a beautiful and unusually shaped bridge that has a translucent deck. It adds to the quirkiness of the city and offers excellent views of the city as it hugs the Nervion River.
San Memes stadium
Athletic Bilbao is one of the most famous and successful football teams in Spain. If you're a sports fan, a visit to the San Memes stadium is a must. Renovated in 2013, the stadium is an impressive sight. Planning your trip to coincide with a match would be a good idea. The fans in Bilbao are among the most passionate in Spain, and the atmosphere is electric during a match.
If this is unfeasible, you can still go on a stadium tour to learn more about the club and its proud Basque tradition! The club is unique in Spanish football. No players born outside the Basque Country can play for the club! A visit to the stadium is recommended to take in part of Bilbao's soul.
Casco Viejo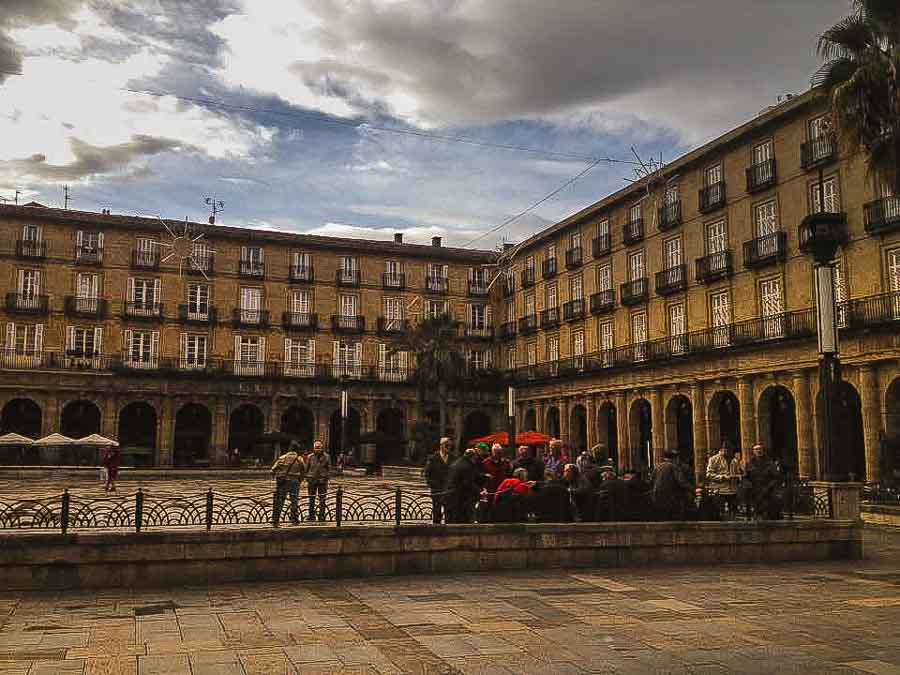 Casco Viejo is the old town of Bilbao. It's one of the most charming parts of the city. You'll find narrow streets and alleys as you traverse your way through. Previously a walled city, Casco Viejo has been opened up and is a bustling hive of activity. Locals mingle and mix in its various open spaces.
The streets contain a number of intriguing cafes and shops that sell all sorts of trinkets. Another highlight of Casco Viejo is Plaza Nueva. It's the biggest square in Bilbao and is an impressive sight. The architecture is striking and unmistakenably Spanish. Previously the site of the Biscay government until 1890, it's now home to the Euskaltzaindia, the Basque Language Academy.
Plaza Nueva hosts a flea market every Sunday. Ancient books coins and stamps are among the items on sale. If you're 2 days in Bilbao are over the weekend, this is an activity you must check out.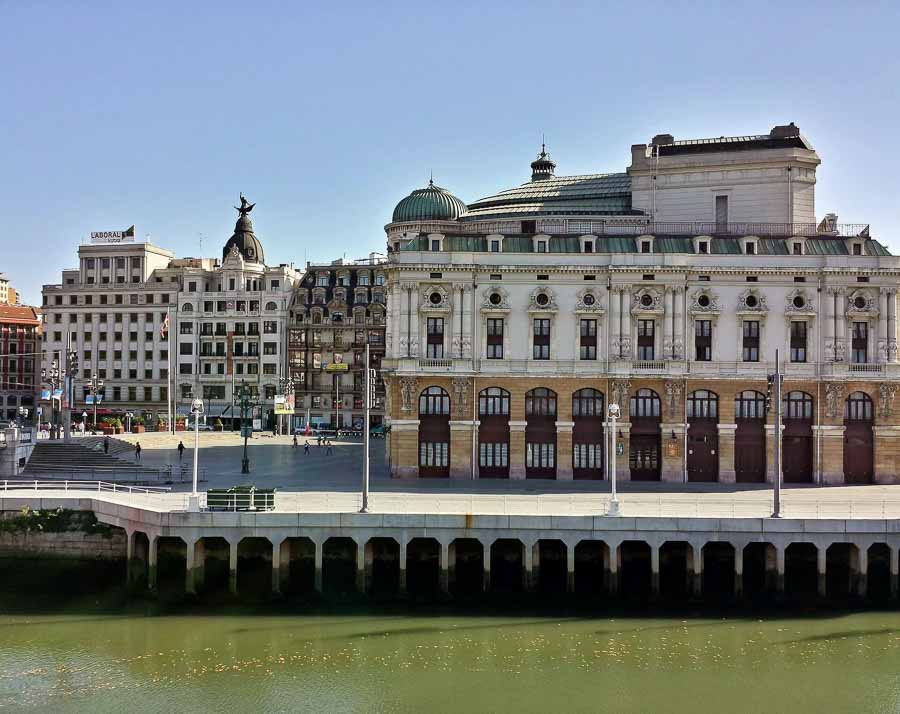 Day 2 – Visiting Bilbao
Mount Artxanda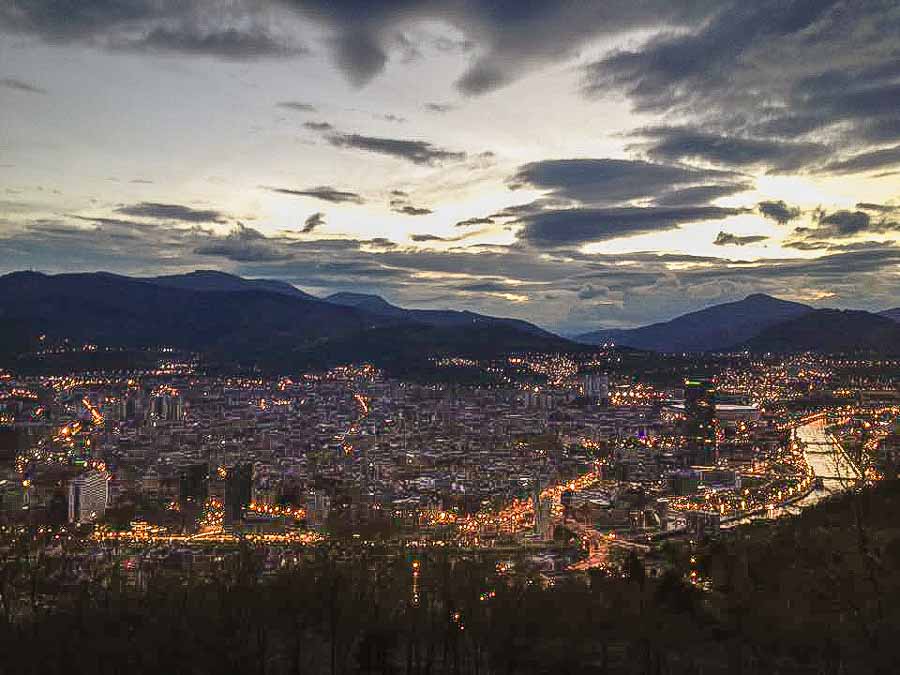 There's only one place to go in Bilbao if you want a panoramic view of the city, and that's Mount Artxanda. You need to take funicular to the top, which only costs €1-2. Once you're at the top, the view is simply stunning. You can see the whole city and see how it is hemmed in by the hills surrounding Bilbao.
On a clear day you can see for miles. The views of the Basque Country from Mount Artxanda are simply spectacular. It's a must visit, if you want to get a sense of the beauty of the region.
Bilbao Fine Arts Museum
Bilbao has a dearth of museums and the Fine Arts Museum is one of the best. The museum houses over 8,000 pieces from the 13th century to the present day. A lot of them are by Basque artists, and the museum offers an interesting insight into the local culture.
The museum hosts international artists too, such as Van Dyck, Ruisdael, and Bacon. There are two parts to the museum. One part is dedicated to classical art, while the other is about modern art. If you're an art lover, this is a must-visit. You could spend a large part of the day exploring this fascinating museum!
Pintxos / Tapas Tour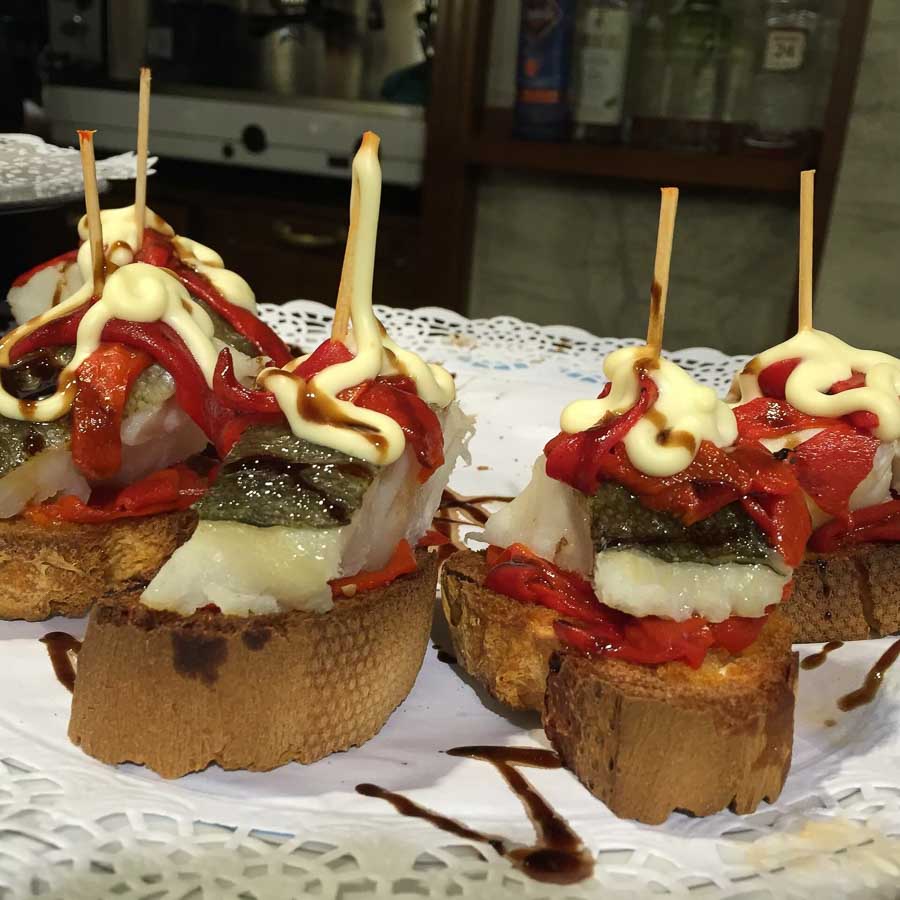 Pintxos are quintessentially Basque. The small snacks are common in all bars in Bilbao. You have to sample them while you're in the city. The best way to sample the delicacies do is via a Pintxos tour. You'll learn about the history of Pintxos and their importance in Basque culture. You'll also be able to sample a wide variety of tastes, which will leave you desiring more.
Pintxos are similar to Tapas, but there are a few distinct differences. The main difference is that Pintxos are spiked with a toothpick, whereas tapas is not. There is a strong socialising element to Pintxos. Groups of friends will go from bar to bar, sampling the food, while having drinks.
You can do this too, but you will get a better sense of the history and cultural importance of Pintxos if you go on a guided tour!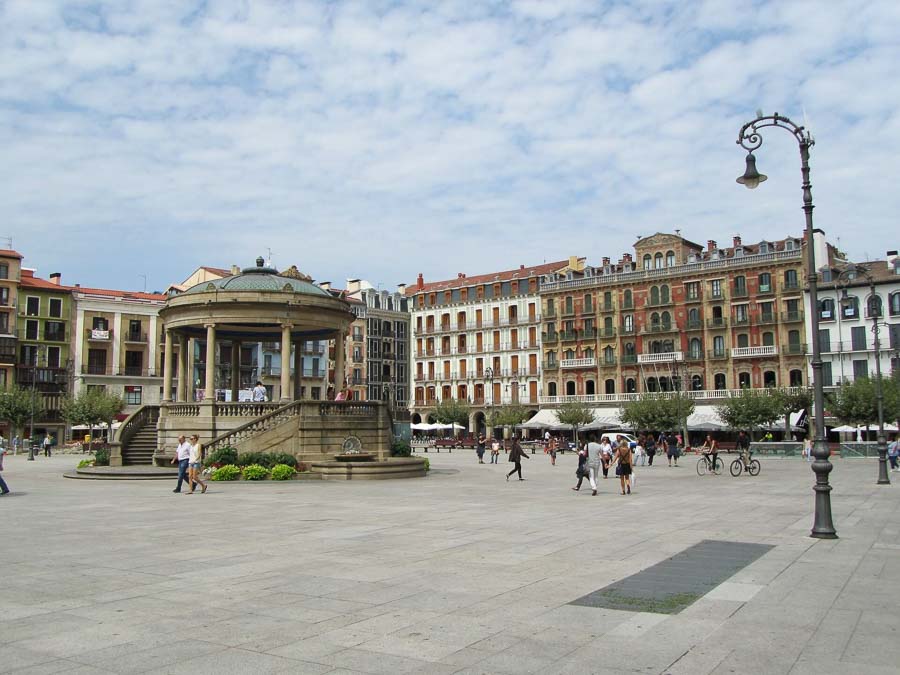 Ensanche District
If all the sightseeing has tired you out, you can take a break and head to the Ensanche District for some retail therapy! The majestic and wide boulevard Gran Via Don Diego Lopez de Haro is a worth in its own right. However, it's also home to some of the best shops in Bilbao. There are interesting and unique shops around every corner, and you could spend a whole day looking around them.
Bilbao might not be the first place people think of when it comes to Spain, but it's most definitely worth a visit. The city is brimming with culture and life. There is always something happening, and it possesses some of the most interesting sights in Spain. None more so, than the curious Guggenheim Museum.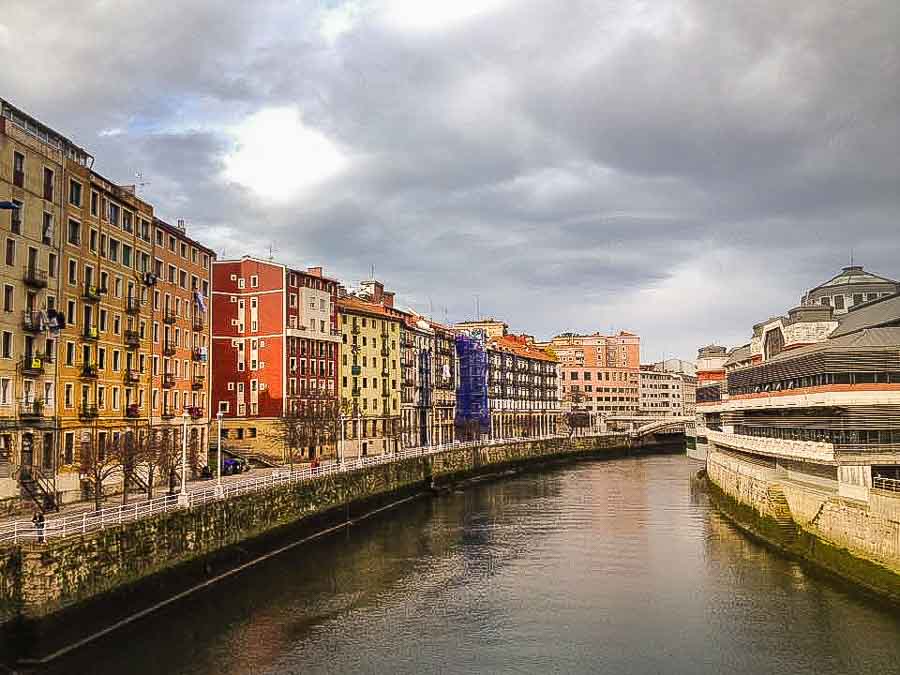 The Basque Country is one of the most beautiful and culturally rich parts of Spain. You would be severely missing out if you did not include it on your Spain itinerary
Where to stay in Bilbao and base yourself centrally in the city
No visit to Bilbao would be complete without a fantastic stay at any of these amazing inns or hotels in the heart of the city, check out these fantastic properties.
Barcelon Bilbao Nervion – A modern hotel in a great central location with easy access to the historic district and other attractions. Fast internet, comfortable rooms and nice buffet breakfast included.
Carlton Hotel – In the heart of the historic Casco Viejo with this classic hotel, central location, spacious updated rooms and good buffet breakfast service. Front desk service very friendly and accommodating.
Gran Hotel Domine Bilbao –  Located right across the street from the Guggenheim, this modern hotel has spacious rooms and comfortable beds, breakfast service and a nice roof top restaurant with views.
If your looking for more places to stay, check out the reviews and currents prices on TripAdvisor here for more details and availability.
Enjoyed the post – please pin it!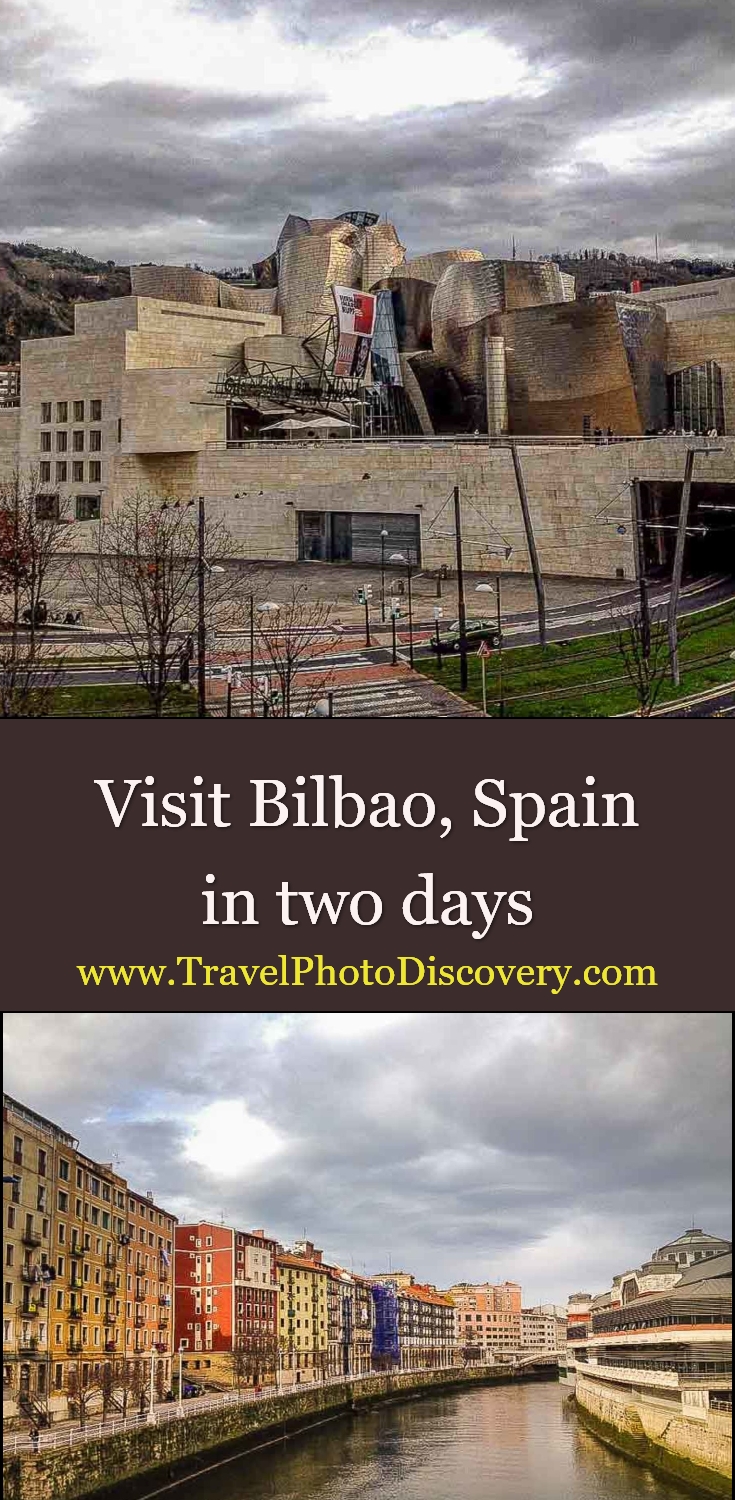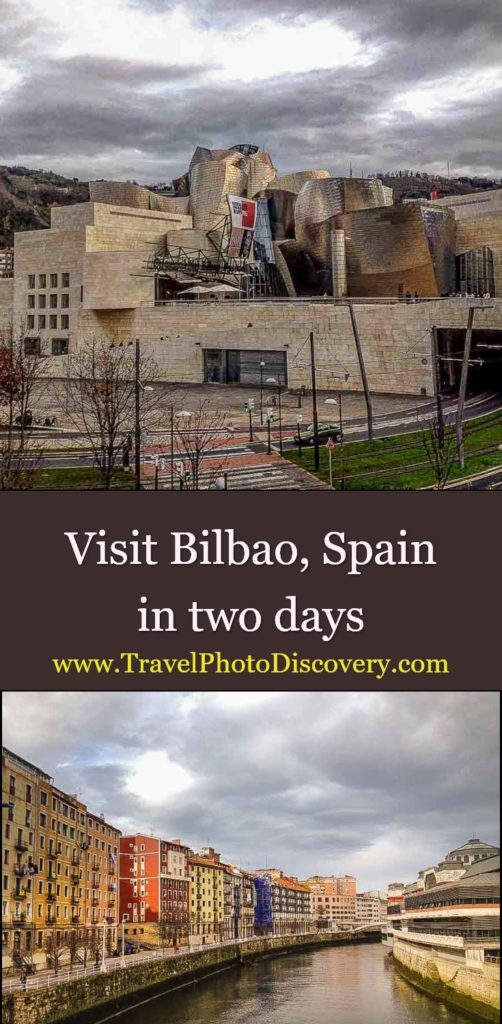 Guest blogger bio
Tom is a traveler from England who has spent the past five years living in various countries around the globe such as Australia and New Zealand. He decided to set up his own blog, The Travelling Tom, to help people travel cheaper and for longer. He is into fitness and a keen sports fan, who loves the occasional Guinness!
Check out Tom's current post guide on Bilbao here
Thanks for visiting today and checking out this post on Visit Bilbao Spain in two days, if you enjoyed the images and post, could you please share it with any of the social media buttons located around the post.
If you like what you see, come and check out my other social media channels for more updates, including Instagram, Pinterest and Twitter
Disclosure – There are affiliates links on this posts which provide a small commission to support this site at no extra cost to you. Thank you for reading, and happy travels