Malta's a small, stunning, and exotic island located slap bang in the middle of the Mediterranean. With a rich and turbulent history, it also boasts a fascinating blend of cultures. Ancient fortified cities, amazing nature, pristine azure waters, and glorious sunshine combine to create a unique, eclectic, and endlessly fascinating country that deserves its place on anybody's bucket list.
Are you planning to travel in Malta at some point soon? Well, I'm incredibly jealous!  Having spent two months exploring there recently, I can't recommend it enough.
To help you make the most of your trip, I decided to put this beginner's guide to traveling in Malta together. Give it a read to learn when to go, where to stay, and what to do to truly maximize your time in Malta!
A Beginner's Guide to Travel in Malta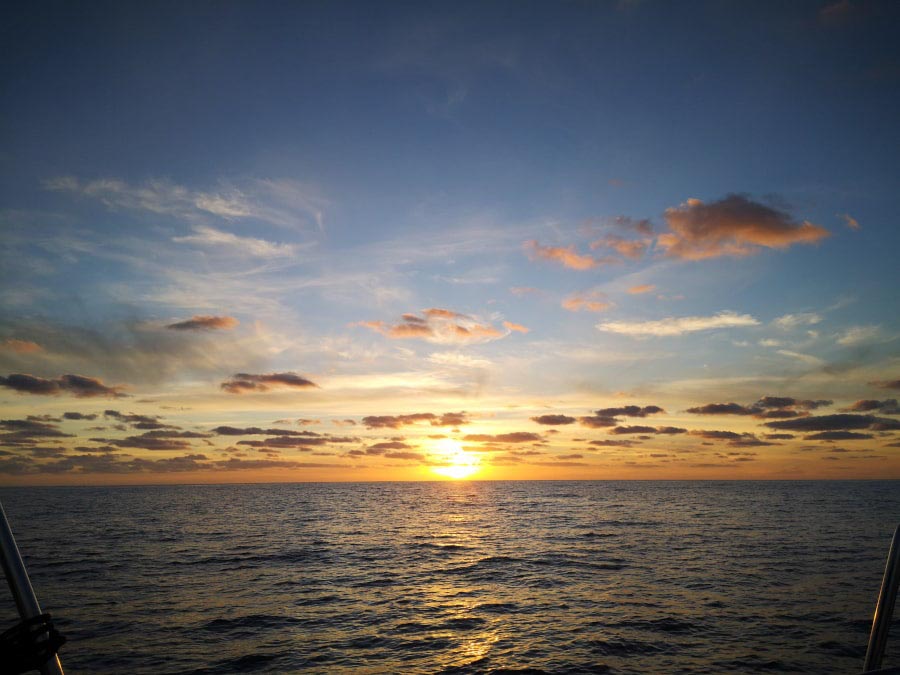 Traveling in Malta: Fast Facts to Know Before You Go
Here are a few key facts to keep in mind before heading to Malta for the first time:
Currency: Euro
Languages: Maltese and English
Population: circa 500,000
Tap water: Drinkable, but tastes awful! Bottled water's better and is often your only option at restaurants and cafes.
Famous Maltese cuisine: Pastizzi and Rabbit Stew
The Best Time to Visit Malta
Malta's a lovely, temperate country throughout the year.
But it's best in summer! From June to August, temperatures hover at around 30°C (86°F), the sun shines every day, and both the skies above and the water around you are glorious shades of blue.
As always, though, beautiful weather plus the holidays mean one thing:
Tourists!
Plan a trip to Malta at this time of year and you can expect it to be busy. So a) book your accommodation in advance to avoid disappointment and b) be prepared for the prices to be at their highest too.
For a happy medium, try going in the shoulder season (May or September/October). You'll get good weather, cheaper prices, and fewer crowds to cramp your style.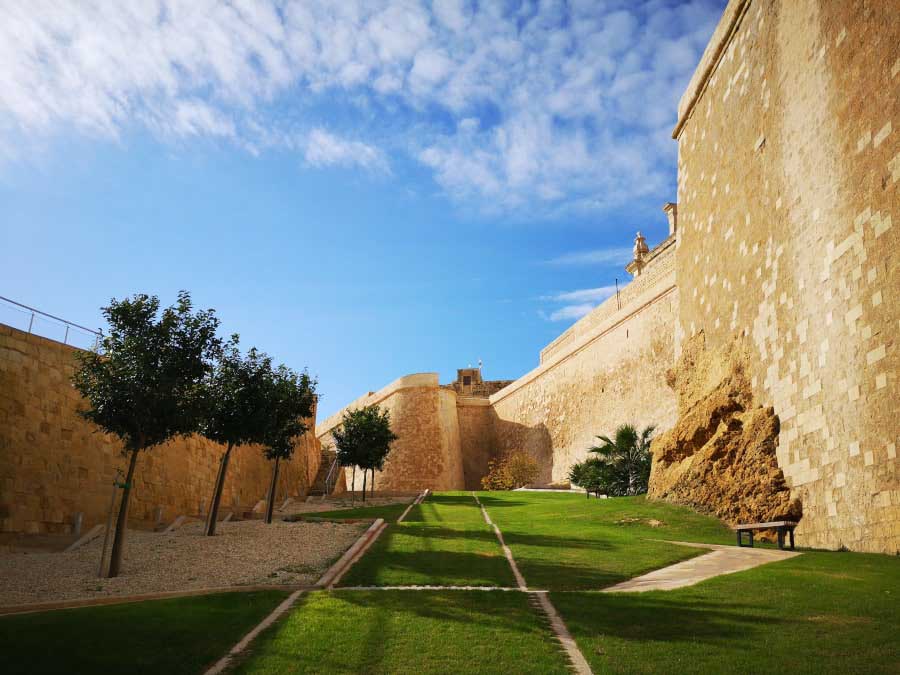 How to Get Around Malta
You can rent a car or moped in Malta without breaking the bank.
However, I strongly recommend taking public transport! The bus network here's great. Expect cheap fares (€1.50 per ride) and a reliable service that takes you almost everywhere in the country.
Make sure you take enough cash/change for the full journey though.
Depending on where you're staying in Malta, you may have 2 to 3 bus rides to take in each direction! Not only does that add up after a while, but it also means you'll need to carry a reasonable amount of change.
Thanks to COVID-19, it's currently against the rules for drivers to give passengers any change. So, if you're taking the bus here any time soon and only have a €10 note, it could be a very expensive ride unless you break it up beforehand!

Where to Stay In Malta
There are a few main hubs of activity where people seem to stay in Malta. Remember, though, one of this island's greatest attributes is its tiny size!
Wherever you book accommodation, you'll never be too far away from the sights and attractions. Nevertheless, here's a bit more info on those hubs I was talking about:
St. Paul's Bay
Popular with expats, St. Paul's Bay is the perfect place from which to explore the north of Malta, spend lazy days on the beach, and enjoy plenty of modern cafes, bars, and shopping opportunities.
Valletta
Valletta, AKA "The Fortress City" and Malta's capital, is a unique, mind-bending place that blends ancient and modern in a seamless fashion. It's the seat of culture, with galleries, museums, parks, and palaces to explore during the day. Throw in the endless bars, restaurants, and shops and you're in for a real treat.
Sliema
Located just north of Valletta, Sliema's the best of both worlds. You have easy access to the capital, stunning seafront walkways, a thriving art scene, and more bars, cafes, shops, and restaurants than you can shake a stick at.
St. Julian's
If you're looking for nightlife, cool vibes, and great hostels with easy access to the sea, head to St. Julian's. It's just next door to Sliema (heading north) and has a unique atmosphere that backpackers are sure to appreciate.
A Quick Note On Accommodation
Hostels and hotels are available in abundance in Malta. Yet I'd say Airbnb's your best choice in terms of striking a balance between cost and quality.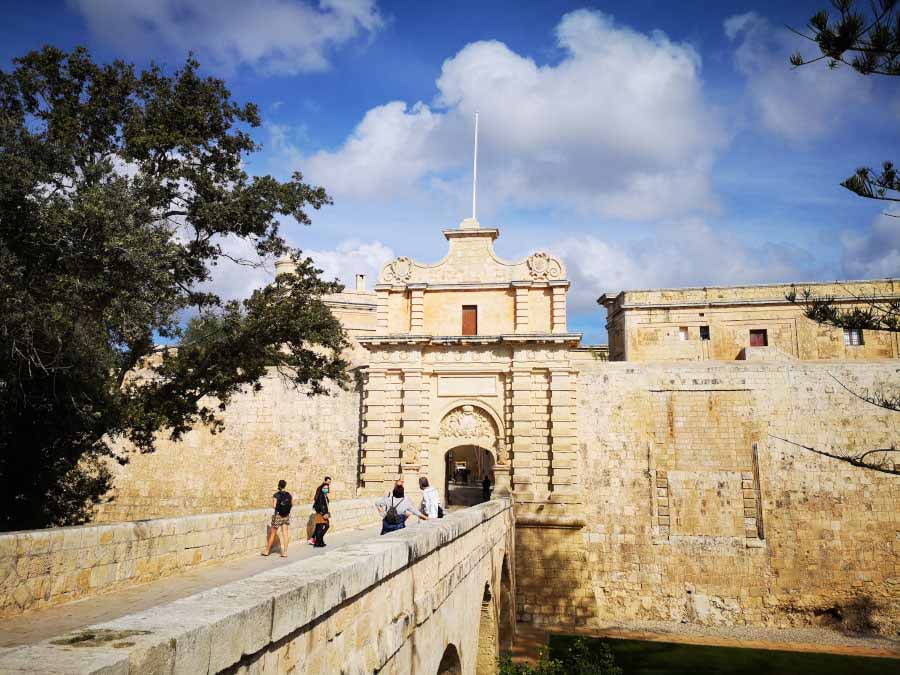 8 Essential Things to Do In Malta
For such a small place, there's an impressive array of things to see and do in Malta! In no particular order, here are some of the essential sights and activities to enjoy in this wonderful part of the world:
Explore the Ħaġar Qim Temples
1000 years older than Egypt's infamous pyramids, the Ħaġar Qim megalithic temples are the epitome of ancient. Step back into prehistory by visiting them and have your mind blown by their scale and workmanship.
Make sure you check the opening hours before you go, though! The temples are only open to visitors between Thursdays and Sundays, from 1000 to 1630.
Go to Mdina
If you love Game of Thrones, then you'll adore Mdina- the old capital of Malta. This fortified town sits atop one of Malta's biggest hills, with spectacular panoramic views from its solid stone ramparts.
Nicknamed "The Silent City", Mdina's a joy to behold and an even greater pleasure to stroll around- eyes wide open at the history on display.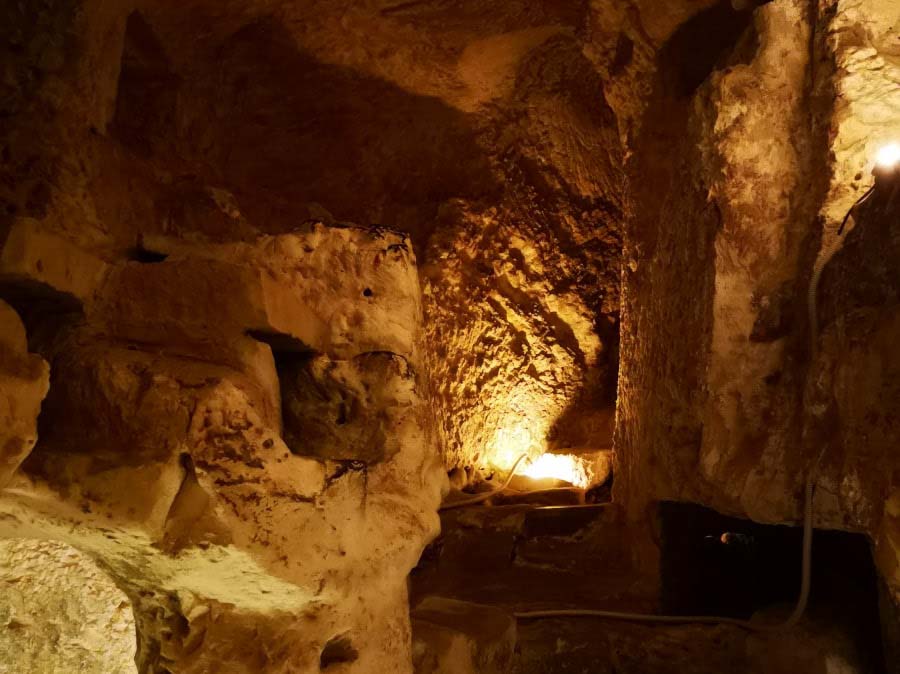 Explore St. Paul's Catacombs
If you're in Mdina, I strongly suggest making the trip over to St. Paul's Catacombs in Rabat. A short 20-minute walk (or 10-minute bus), a cheap ticket gives you access to dozens of age-old underground burial sites and various galleries that shed light on how they've been used throughout history.
Strolling through these cramped, low-lit chambers that once held human remains feels a little eerie. But it's also a fascinating insight into another amazing part of this country's history.
Visit Pop Eye's Village
A musical production of "Popeye" was filmed in Malta back in 1980, for which they constructed an entire village along a stunning stretch of coast! When the filming finished, they decided to keep it open as a tourist attraction.
Having morphed into an attraction park, the Popeye Village might not be "quintessential Malta", but it's still a fun day out in a beautiful location. It's sure to go down a treat if you've got kids in tow.
Do a Coastal Walk
One of my favourite things to do in Malta was to walk around its spectacular coastline! There are trails to follow at every turn- especially as you venture out of the main towns and off the beaten track.
Top tip: my favourite hike here was on the northwest coast. If you head to Golden Bay (which is well worth visiting in its own right!), you can walk south along the coast, past impressive cliffs, epic old watchtowers, and gorgeous beaches.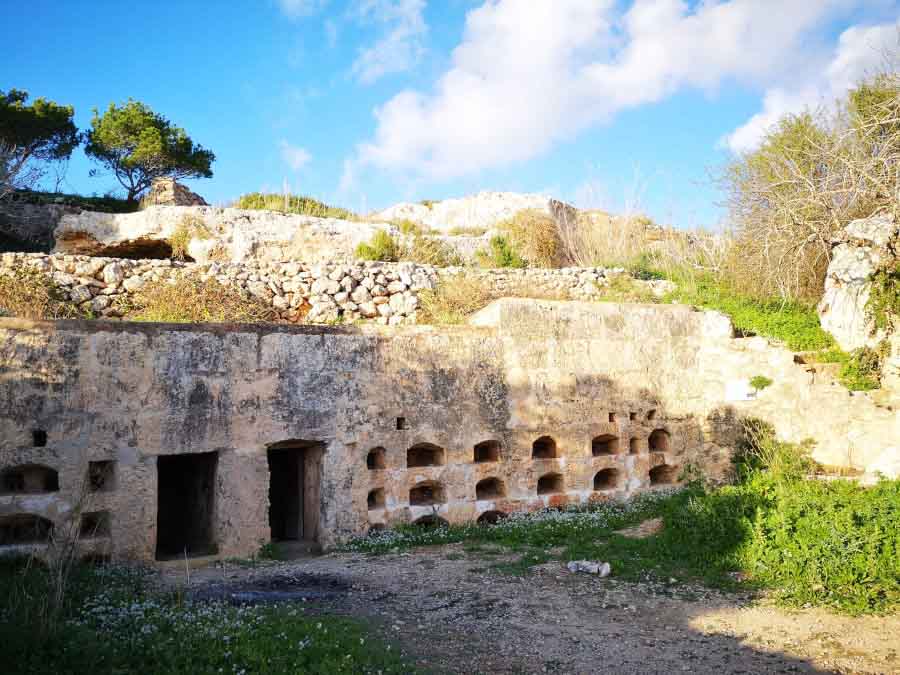 Explore the Ancient Ruins in St. Paul's Bay
St. Paul's Bay, on the northeast coast of Malta, is a popular spot for holidaymakers. With beaches, bars, a large aquarium, and endless cafes and restaurants, it's well worth a visit! However, something I chanced upon one sunny afternoon there sits just outside of town and doesn't seem to get the acclaim it deserves…
Search for "Xemxija Hill Heritage Walk" on google maps. Follow the path a few kilometres north of St. Paul's Bay and up the hill until you see signs for a Punico-Roman Apiary. Once there, you're greeted by ancient dwellings and an apiary (somewhere you keep bees) that you can peruse at your leisure!
This remarkable place is just there, with no special tourist booth or anything- as if this site that's probably thousands of years old is no big deal. Walk around the caves, climb the crumbling steps, and see if you can find the oldest tree in Malta, hidden amongst it all.
Explore Valletta
One of my favourite places in the country, Valletta's a breath-taking fortified city with towering walls and impenetrable ramparts that dominate the landscape. You feel like you've stepped back in time, to an age of armour-clad soldiers and naval warfare.
I could easily write an entire article just on things to do in Valletta! However, particular highlights include the Upper and Lower Barrakka Gardens, the atmospheric waterfront, the Grand Master's Palace, and St. John's Co-Cathedral. Oh, and definitely take the time to visit the famous Three Cities on the others side of the Grand Harbour!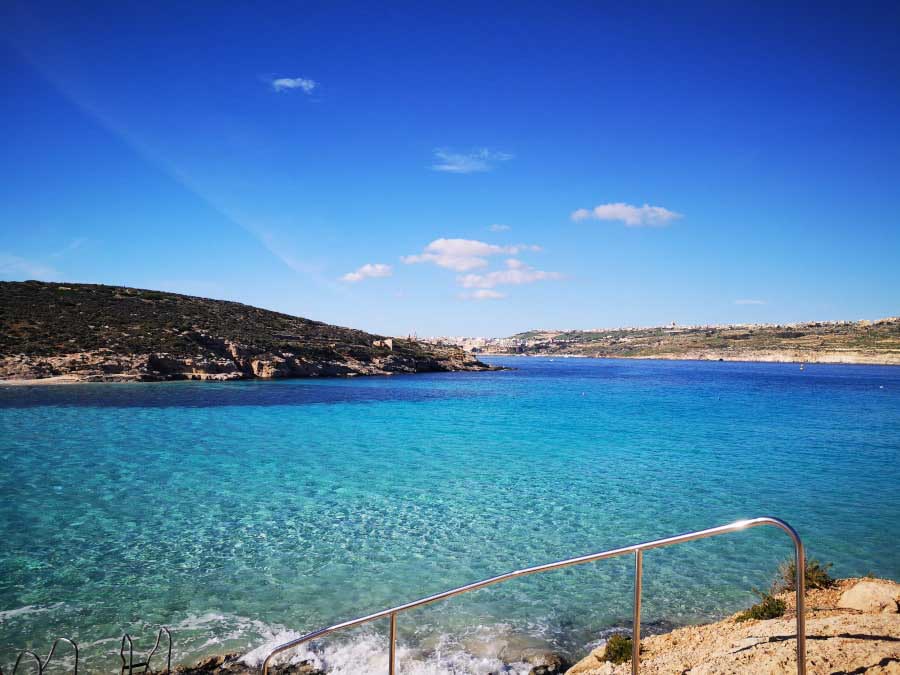 Take a Trip to Gozo and Comino
Many people who travel to Malta are surprised to discover that it's not actually a single island. It's an archipelago! The Maltese Archipelago, as it's known, comprises three islands: Malta, Gozo, and Comino.
If you've got the time, I highly recommend visiting each of them on your trip!
Gozo's smaller and less inhabited than Malta and Comino's a tiny little landmass perched between the two. Needless to say, they're both absolutely beautiful.
On Comino, you can swim in the infamous Blue Lagoon, jump from cliffs into crystal clear waters, and explore the 17th Century St. Mary's Tower. On Gozo, you've got endless sights and attractions to enjoy. From the picture-perfect citadel that blew my mind to more Neolithic temples, countless coastal walks and an Inland Sea Divesite, you could easily spend a few days here.
Enjoy Travel in Malta
There you have it: a brief beginner's guide to travel in Malta!
Trust me, this picture-perfect archipelago in the middle of the Mediterranean is a gem of a travel destination. Whether you have 2 days, 2 weeks, or 2 months here, you're in for an absolute treat. With any luck, the tips, insights, and ideas in this guide will help you make the most of your trip!
Do you have any questions about traveling in Malta? Drop a comment below and I'll try my best to help.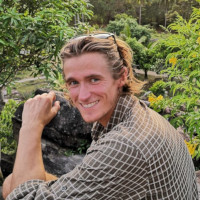 Guest Author: Danny Newman
Bio: Danny Newman is currently writing and travelling his way around the world in a bid to figure out exactly what he's doing with his life. He'd love you to follow along with his journey over at What's Danny Doing.
Social Media: Facebook