Visiting Genoa: Unveiling Italy's Coastal Charms and Rich Heritage with historic sites and attractions 
Visiting Genoa, Italy is one of those harbor cities that are so underrated and not even on any radar for travelers visiting Italy. Even though the big three destinations, Rome, Florence or Venice are a must, Genoa is also special because of its illustrious trading history.  For those looking beyond the popular destinations in Italy, Genoa is an authentic city experience and filled with amazing palaces, stunning architecture, grand boulevards and piazzas, and too many historic monuments to visit Genoa in a twenty four hour time frame.
Nestled along the picturesque Ligurian coast, Genoa invites travelers to embark on a captivating journey through its rich history, vibrant culture, and coastal charms. As Italy's largest seaport and birthplace of explorer Christopher Columbus, this maritime gem holds a treasure trove of architectural wonders, medieval alleyways, and delectable cuisine. Whether you're wandering through its UNESCO-listed historic center, indulging in fresh seafood delights, or basking in the Mediterranean sun along its charming harbor, a visit to Genoa promises an enchanting experience that will leave a lasting impression.
Where is Genoa, Italy located?
Genoa, Italy, is located on the northwest coast of the country, along the Ligurian Sea in the region of Liguria. It's a picturesque coastal city known for its rich maritime history and vibrant culture.
Genoa is approximately 150 kilometers (about 93 miles) southwest of Milan, Italy. You can reach Genoa from Milan by train, car, or bus, making it a manageable journey for a day trip or a longer visit.
Here's what to see in Genoa, Italy
Why Visit Genoa, Italy?
Most visitors to Italy wouldn't even consider one of the top cities to visit in Italy but if you knew that Genoa was one of the richest trading cities on par with Venice in power, trade and wealth, don't you think there are attractions and historic sites worth visiting in this Mediterranean city? In fact Unesco has designated the historic district as a certified Unesco World Heritage site for all the impressive streets, plazas and villages at showcase the wealth and prestige of the city with its trading heritage. Check out why Genoa is worth putting on your travel map and worth visiting in Italy for these many fabulous attractions below.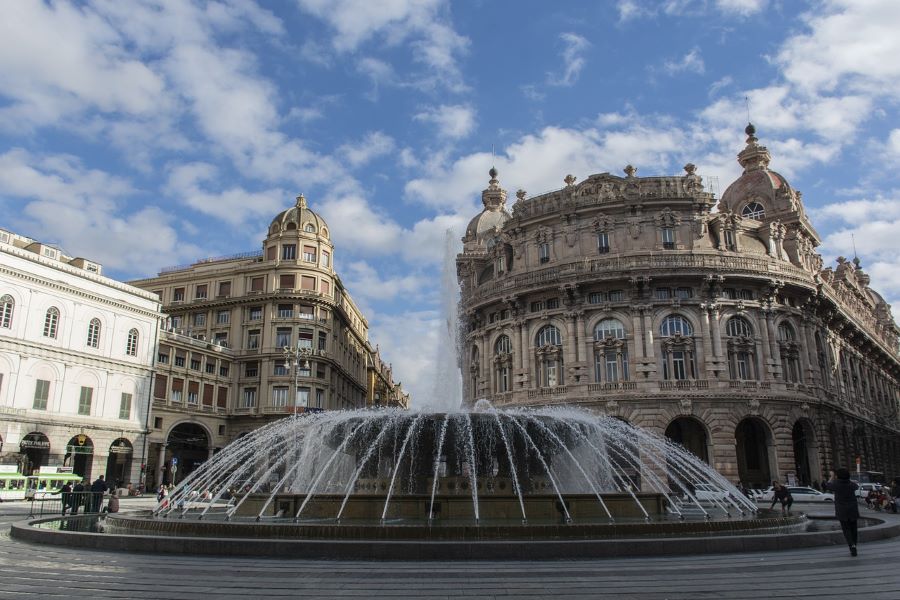 Weather and best time to visit Genoa
Genoa enjoys a Mediterranean climate with mild winters and warm summers, making it a pleasant destination to visit throughout the year. However, the best time to visit Genoa is during the spring (April to June) and autumn (September to October) when the weather is comfortably mild and the tourist crowds are relatively smaller.
During spring, temperatures range from 15°C to 20°C (59°F to 68°F), and the city is adorned with blooming flowers and lush greenery. It's an ideal time for exploring Genoa's historic sites, strolling along the promenades, and enjoying outdoor activities.
Autumn brings similarly pleasant temperatures ranging from 15°C to 23°C (59°F to 73°F) and offers a delightful atmosphere for sightseeing, as the summer heat gradually subsides. It's also a time when the city hosts various cultural events, such as the Genoa Boat Show and the Genoa International Film Festival.
Summer (June to August) is the peak tourist season in Genoa, with temperatures ranging from 20°C to 30°C (68°F to 86°F). The city comes alive with bustling markets, lively festivals, and beachside activities. However, it can get crowded, especially in August when many locals take their summer holidays.
Winter (December to February) is the low season in Genoa, with temperatures ranging from 5°C to 12°C (41°F to 54°F). While it's cooler, the city still holds its charm, and you can explore museums, enjoy Genoese specialties in cozy trattorias, and experience the festive atmosphere during Christmas and New Year.
It's important to note that Genoa can experience occasional rain showers throughout the year, so having an umbrella or rain jacket handy is recommended. Additionally, it's advisable to check the local weather forecast and any travel advisories before planning your visit.
Ultimately, Genoa's mild climate and the variety of activities and attractions make it a captivating destination year-round, allowing visitors to immerse themselves in the city's rich history and coastal allure.
Top places to visit around Genoa, Italy
Visiting Genoa – street scenes
A little gritty on the edges, Genoa is a city filled with Italian gusto, amazing Italian cuisine and Buon Vivre (the good life). Fortunately the city is relatively compact and easy to navigate by foot to visit many of the interesting neighborhoods and historic landmarks and the following Genoa attractions are easy to see on foot. The grand boulevard called Via XX Settembre, leads straight to the city center at Piazza De Ferrari. The boulevard is lined with beautiful buildings selling all the famous Italian and international clothing brands. Surprisingly, Genoa also boasts ornately decorated porticoes with elegant details and craftsmanship all along Via XX Settembre. At night, the porticoes are lit up with a multitude of neon lights that make the promenades glittery if not a little bizarre compared to the classic porticoes and rennaisance style buildings along the boulevard.
Visiting Genoa – the fabulous daily market
Local Genovese love to buy fresh, beautiful produce along with other local provisions. A fun Genoa attraction, stopping by the daily market at Mercato Orientale is a feast for the eyes. Filled with a variety of produce, meat, seafood and specialty foods booths, the mercato is fun to explore and photograph many of the striking food displays. There's such an Italian pride in presenting the beautiful food and local specialties on display at the market. This is also a great place to shop for souvenirs and finished products to take back home with you to remember your visit to this market.
Passing by the seafood area, you see a plethora of different fish and shellfish available, it is amazing to see all the variety of seafood caught in the region. Even though some of the displays are a little shocking to see (shark displays and local fish), the way the seafood is presented is well designed and quite beautiful as a whole. It's fun to take pictures in at the Mercato Oriental,  I ended up taking more than my usual number of market photo-ops.
Fresh seafood caught locally or in the area
Things to do in Genoa – visiting the Piazza De Ferrari
Genoa's central square –  Piazza De Ferrari, is grand and a major hub for local and regional transportation routes. A large fountain dominates the center of the piazza and is surrounded with colorful buildings of every style and time frame. At night the fountain is wonderfully illuminated along with large neon lights that give a different and more colorful vibe to the entire place. Just around the main piazza are many pedestrian areas through the ancient part of the city. The streets are filled with stunning architecture and buildings ranging from medieval, Renaissance, Baroque to Venetian style architecture in very tight walking promenades.
Most visits start with this square and also ends at night in this square with the fabulous lights above the buildings illuminating the square, fountains and surrounding area with brilliant neon lights, Italian style and fun to explore late into the nght.
Visiting Genoa – the main cathedral
If your looking for what to see in Genoa with limited time, the main attraction to visit is the cathedral of Genoa, called Cattedrale di San Lorenzo. The cathedral is located just off the the Piazza di San Lorenzo in the historic district of the city. It sits in regal splendor in its alternating black and white marble façade with two stately stone lions guarding the main entrance of the cathedral. The façade is stunning and hosts beautiful statuary of local saints, ornate portals with stained glass and religious figures on the ornate facade. The area around Cattedrale di San Lorenzo is filled with wonderful restaurants serving authentic local Genovese cuisine including local succulent shellfish and other seafood specialties.
Visiting Genoa – the waterfront of Genoa
Walking down the main promenade called Via San Lorenzo leads directly to the waterfront area of Genoa. The harbor contains an eclectic mix of rapidly deteriorating renaissance buildings, contemporary structures like the aquarium, Bigo structure, maritime museum and the requisite tourist shops. It's a little on the gritty side but still fascinating to explore the area due to Genoa's impressive history as an important maritime and international trade center. The city's rapid growth in trade and international commerce made the local traders and families extremely wealthy. This eventually added prestige to Genoa's status and influence in the international marketplace.
Genoa, Italia and the glamorous Via Garibaldi
The nouveaux wealthy from international trade created some of the most magnificent palaces in Genoa's historic district along Via Garibaldi built during Genoa's golden age between 1557 to 1627. Now this  most illustrious street in Genoa filled with Renaissance and Baroque buildings is also significant because the entire areas is certified as a Unesco World Heritage site. All of the palaces on this promenade have been converted into 5 star hotels, galleries, restaurants and museums open for the public to enjoy.
 Unesco opulence at Strade Nuovi
This area of Strade Nuovi or new streets built by Genoa's most influencial families was known as the Palazzi dei Rolli for the roll of luxurious residences that lined this area and hosted important guests of the families. Many of the palazzos are open as living museums for the public to tour and give an inside peek to the glamorous and opulent lifestyles of Genoa's prominent families.
Interior splendor at the Palazzo Reale in Genoa
One of grandest palaces in Genoa, Palazzo Reale is open to the public for viewing. Inside the palazzo are 23 sumptuous rooms filled with stunning architectural details, furniture and artwork that were built to match the grand castles of France including Versailles, which the Savoy dynasty at that time wanted to emulate. The self tour lead you to many of the royals personal rooms, assembly rooms and other state rooms including this magnificent hall of mirrors below which are elaborate and filled with statuary, artwork and fine details to the interior rooms.
Tip: you can buy combination tickets to visit various Unesco buildings palaces along the Strade Nuovi. For more information on the different self tours available, you can check out the Genoa Palazzi dei Rolli website here.
Throne room of Palazzo Reale
Hall of mirrors at Palazzo Reale
Night time in Genoa's main piazza
Later in the evening, the activities return back to the Piazza De Ferrari and the historic promenades along Piazza di San Lorenzo. The evening passieggata has started with all the bars open and filled with locals and travelers visiting the area. The restaurants are also busy serving many of the local seafood and specialty Genovese dishes which is worth a splurge to enjoy authentic Genovese cuisine.
Along Piazza Matteo and Chiesa San Matteo
What are the local food specialties and delicacies to try in Genoa
In Genoa, Italy, you'll find a delightful array of local food specialties and delicacies to try. Some of the must-try dishes and treats include:
Pesto Genovese**: This world-famous basil and pine nut sauce originated in Genoa. It's typically served with trofie pasta or drizzled over fresh focaccia.
Focaccia Genovese**: Genoa is renowned for its fluffy and flavorful focaccia bread. You can enjoy it plain or with various toppings like olives, rosemary, or onions.
Farinata**: This savory pancake is made from chickpea flour, olive oil, and salt. It's a popular street food in Genoa and has a unique, slightly crispy texture.
Trenette al Pesto**: Similar to linguine, trenette pasta is often served with the classic Genovese pesto sauce.
Acciughe al Verde**: These are fresh anchovies marinated in a green sauce made from parsley, garlic, and vinegar. They're a local delicacy.
Frittelle di Zucchine**: These deep-fried zucchini fritters are a delicious and crispy snack or appetizer.
Pandolce**: A sweet Genoese Christmas bread filled with candied fruits, nuts, and spices.
Sardenaira**: A pizza-like dish with tomato, garlic, olives, and anchovies, often served on thin, soft bread.
Ligurian Olive Oil**: The region is known for its high-quality olive oil, used in many local dishes.
Sciacchetrà**: This sweet wine is produced in the Cinque Terre region, not far from Genoa. It pairs perfectly with dessert or local cheeses.
When visiting Genoa, be sure to explore the local markets and traditional trattorias to savor these delicious flavors and experience the culinary richness of the region.
Visiting Genoa – A local favorite wine bar
Just off Piazza San Matteo is the Osteria San Matteo wine bar, a local favorite in the old section of Genoa. The restaurant features many specialty seafood, pasta and local entrees from the region. Here's a sampling of some of the menu items below. The vinoteca has an extensive wine cellar selection of local to regional wines on their menu. The best suggestion for ordering wine is to ask your waiter what wine will complement your dish perfectly.
Genoa's local seafood tasting menus
Genoa's neon lit Piazza De Ferrari 
At night the neon lights and fountains are lit for late night strollers and passing through the beautiful porticoes along Via XX Settembre. It's a really interesting contrast of old and historic buildings lit up with neon lit signs, in this Italian version in Genoa of Times Square and actually fun to see and hang out at night time.
Where to stay in Genoa
You can stay at some fabulous places in Genoa since it isn't a major tourist attraction but prices are fantastic.
Hotel Bristol Palace – a charming and elegant hotel in a great location, fantastic and attentive staff and large beautiful rooms and details.
NH Collection Genova – located on the harbor in a pier with fantastic bay/harbor views. Excellent breakfast service, large modern rooms with open areas in a nautical theme. Close to many attractions in the city center.
Grand Hotel Savoia – a classic grand style hotel located across from the railway station with well appointed rooms, fantastic breakfast service and good front desk service. Located close to major attractions in the historic district.
For more reviews and prices of Genoa hotels, check out Trip Advisors listings here for more details and updates.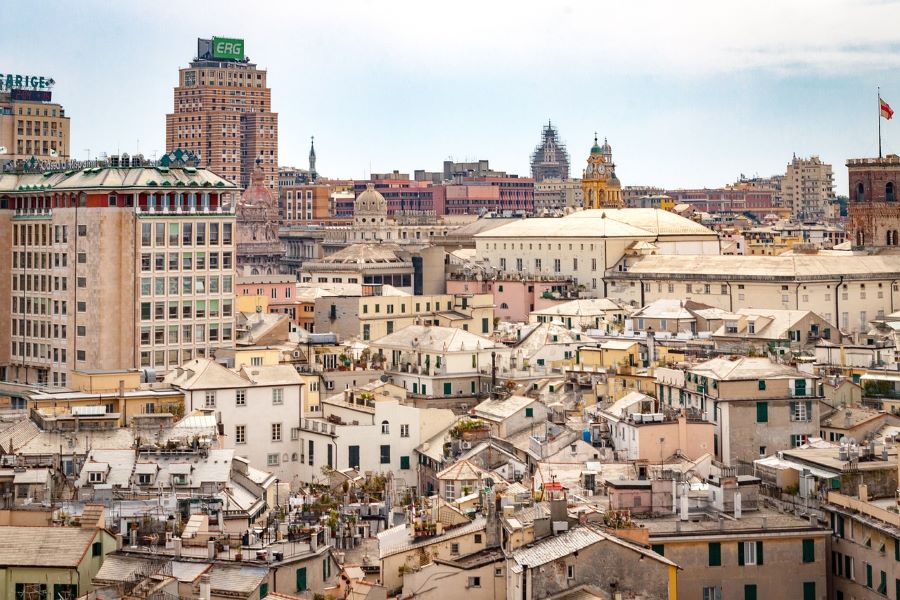 Consider these inside tips to visiting Genoa
When visiting Genoa, Italy, consider these inside tips to enhance your experience:
Explore the Old Town: Genoa's historic center, a UNESCO World Heritage site, is a maze of narrow alleys known as "caruggi." Get lost in its charming streets, discover hidden squares, and admire the beautifully preserved medieval architecture. Don't miss landmarks like the San Lorenzo Cathedral and the Palazzo Ducale.
Visit the Old Port: The Porto Antico is a vibrant waterfront area that has been transformed into a modern complex. Explore attractions like the Genoa Aquarium, one of Europe's largest, and the Maritime Museum. Take a leisurely stroll along the promenade and soak in the maritime atmosphere.
Try Local Delicacies: Genoa is famous for its culinary delights. Indulge in traditional dishes like pesto alla genovese, focaccia bread, and fresh seafood. Sample local street food such as farinata (chickpea flour pancake) and fried anchovies. Don't forget to pair your meals with a glass of Ligurian wine.
Take a Boat Tour: Experience Genoa's coastal beauty by taking a boat tour along the Ligurian coastline. Admire picturesque views of the city, explore hidden coves, and discover charming fishing villages like Camogli and Portofino.
Visit the Palazzi dei Rolli: These palaces, dating back to the Renaissance and Baroque periods, were once the residences of Genoa's noble families. Some of them are open to the public, allowing you to admire their opulent interiors and beautiful artwork.
Ride the Funicular: Enjoy panoramic views of the city by taking a ride on the Zecca-Righi funicular. This historic cable railway connects the city center to the hilltop district of Righi, offering breathtaking vistas of Genoa and the surrounding area.
Experience Local Festivals: Check the calendar for festivals and events happening during your visit. The Genoa Lantern Festival (Festival delle Lanterne) in December and the Genoa Boat Show in September are just a couple of the vibrant celebrations that showcase the city's cultural heritage.
Visit Nearby Cinque Terre: Genoa serves as a convenient base for exploring the picturesque Cinque Terre region. Take a train or boat ride to the five colorful coastal villages and hike along the breathtaking cliffside trails.
Remember to take your time to wander, soak in the local atmosphere, and interact with the friendly Genoese people. Embrace the city's authenticity and allow yourself to discover its hidden gems beyond the well-known attractions. With its captivating blend of history, culture, and coastal allure, Genoa invites you to create unforgettable memories during your visit.
If you enjoyed this post, please pin it!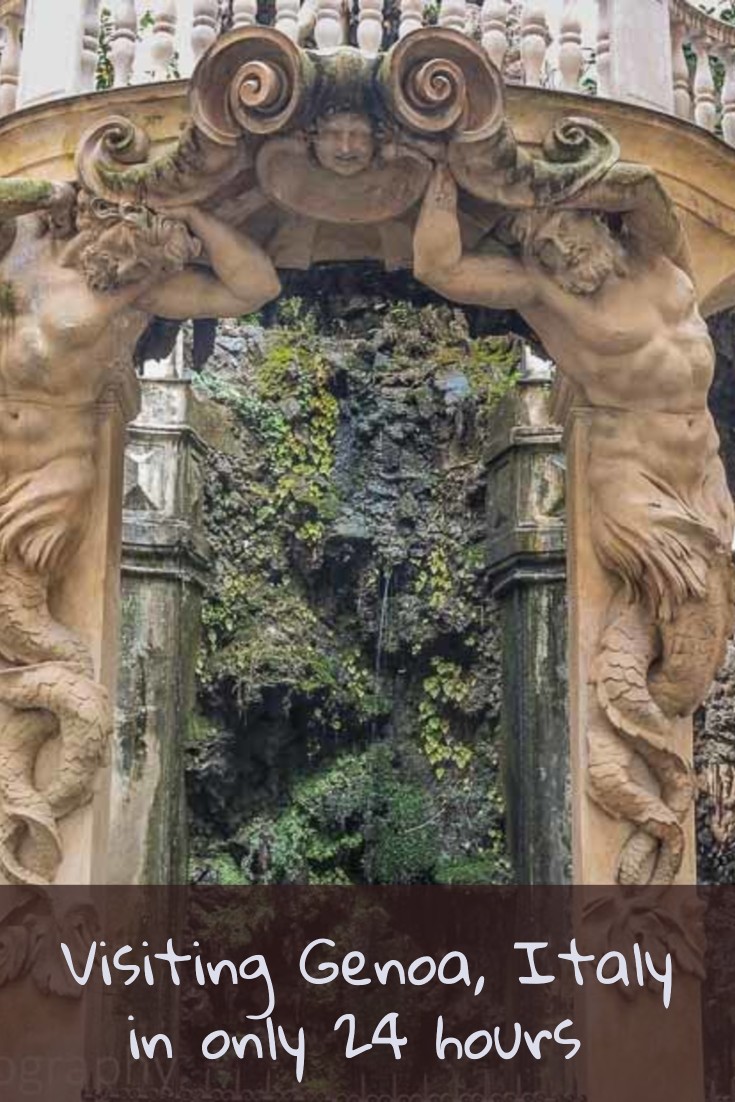 Next Stop Cinque Terre and Milan 
Next in line traveling around Italy a quick trip hiking around the scenic Cinque Terre region and then to Milan which is a very short train ride from Genoa. This bustling metropolitan city is a major hub to all destinations around Italy. I have a short transit stop in Milan so I can do a quick visit to the city. I've checked out some free things to do in Milan in a short visit, so stay tuned for this upcoming post. I hope you enjoyed these things to do in Genoa, Italy and it will inspire you to visit soon.
Please check out my other post on visiting Genoa's spectacular Unesco heritage sites around the city and the gorgeous palazzo's of Genoa.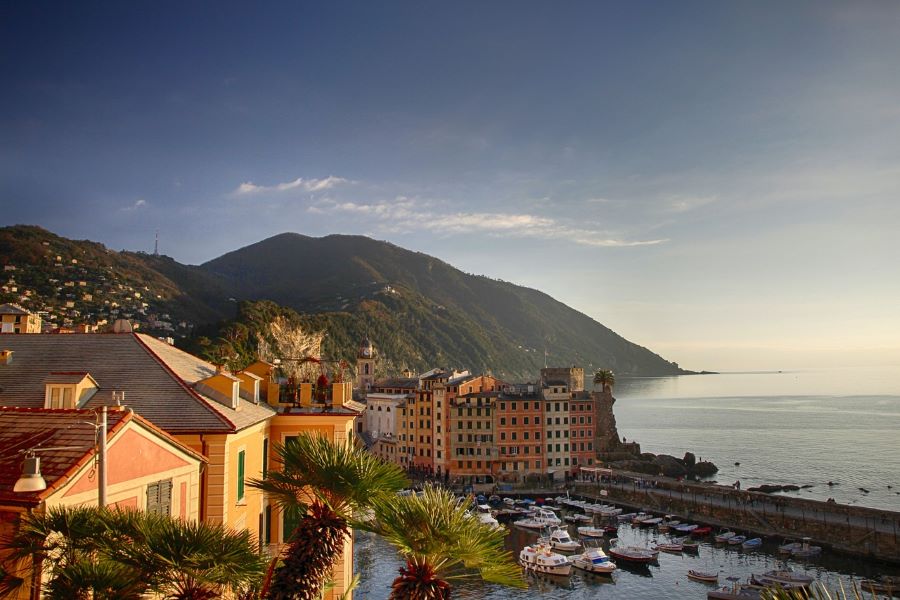 Conclusion to Visiting Genoa, Italy
Thanks for checking out this post on Visiting Genoa. If you enjoyed the post, please share it with any of the social media buttons located around the post, thank you.
If you like what you see, come and check out my other social media channels for more updates, including Instagram, Pinterest and Twitter.
Disclosure – There are affiliates links on this posts which provide a small commission to support this site at no extra cost to you. Thank you for reading, and happy travels