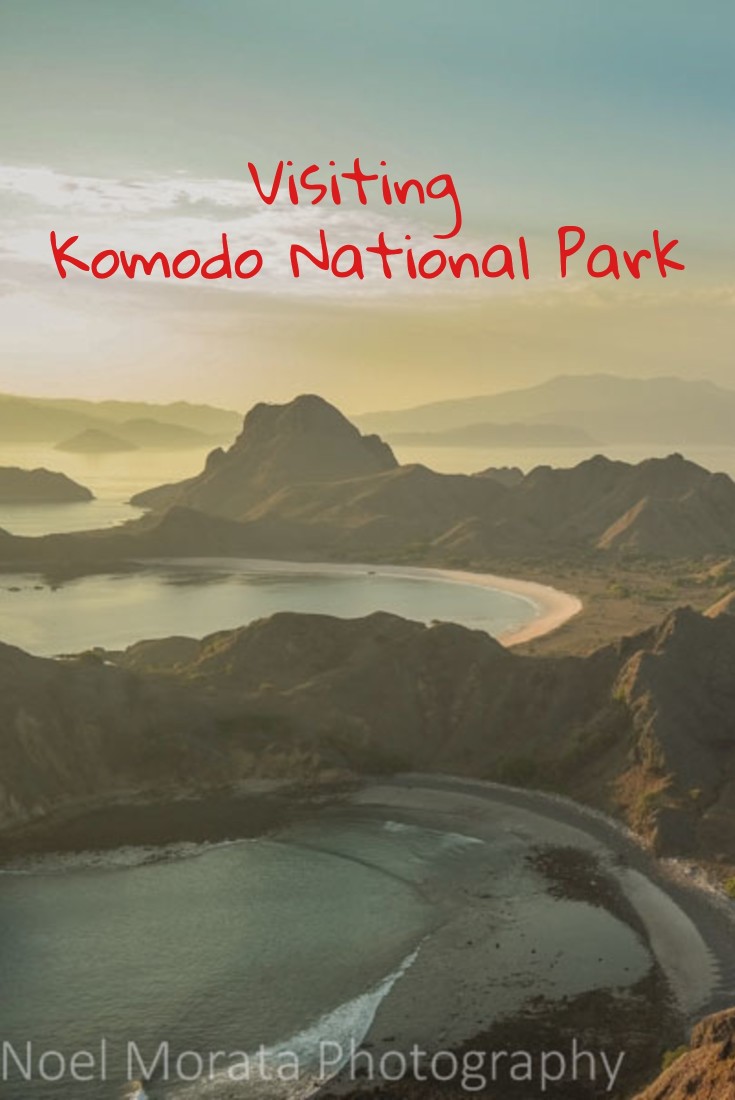 Discover the Untamed Beauty of Komodo National Park: A Journey into a World of Dragons and Breathtaking Landscapes
Of all the most exotic places to visit in Indonesia, Komodo National Park, a chain of isolated islands from the Indonesian archipelago of Flores is sensational. Dedicated as both a Unesco World Heritage site and a Man biosphere Reserve, points to the importance of this national park and the famous Komodo dragon in its natural habitat.Visiting Komodo National Park in my experience was one of the highlights to visiting Indonesia and seeing wild natural landscapes and wildlife roaming around freely.
The tour of Komodo Island was definitely one of my favorite tours and a highlight in visiting Indonesia, a country of over 17,000 islands.
Komodo National Park is quite an amazing experience that is unlike any of the national parks in Indonesia to visit. Starting off on the island of Flores, you can find a variety of adventure outfitters that can do a tour of the islands around the national park and offer specialty tours like diving or snorkeling and other adventure experiences depending on what you are interested in doing and your budget for this.
Following are the highlights of Visiting Komodo National Park below.
Where is Komodo National Park located?
Komodo National Park is located in Indonesia, specifically in the eastern part of the archipelago. It encompasses several islands, including Komodo Island, Rinca Island, and Padar Island. The park is situated within the Lesser Sunda Islands, between the islands of Sumbawa and Flores. It is part of the East Nusa Tenggara province of Indonesia. The park's central point is Labuan Bajo, a town on the western tip of Flores Island, which serves as the main gateway to Komodo National Park.
What is the best time to visit Komodo National Park?
Komodo National Park is a stunning destination in Indonesia that is famous for its giant Komodo dragons, incredible underwater world, and breathtaking scenery. If you're planning a trip, the best time to visit is from April to June or from September to November. During these months, the weather is dry and sunny, with fewer chances of rain, making it perfect for outdoor activities.
In addition to the comfortable weather, these months also offer calm seas, which is ideal for snorkeling and diving. You'll have a chance to explore the park's incredible coral reefs and spot an incredible array of marine life, including manta rays, sharks, and sea turtles.
Another reason to visit Komodo National Park during these months is that the island is less crowded. You'll have a chance to enjoy the park's beauty without the crowds of tourists that can descend during peak season.
So, if you're planning a trip to Komodo National Park, consider visiting from April to June or from September to November to enjoy the best of what this stunning destination has to offer.
How to get to Komodo National Park
Komodo National Park is a remote and pristine destination located in Indonesia. To reach this enchanting paradise and witness the legendary Komodo dragons, here are some transportation tips:
Fly to Labuan Bajo: Labuan Bajo is the closest town to Komodo National Park and serves as the main gateway. The most convenient way to get there is by flying to Komodo Airport (also known as Labuan Bajo Airport) from major Indonesian cities like Jakarta, Bali, or Surabaya. Several domestic airlines operate regular flights to Labuan Bajo.
Sea Transportation: Another option to reach Komodo National Park is by sea transportation. There are ferry services available from Bali to Labuan Bajo, providing a more adventurous and scenic journey. However, be prepared for longer travel times and less frequent schedules compared to air travel.
Liveaboard Cruises: For a unique and immersive experience, consider joining a liveaboard cruise. These cruises depart from Bali or Labuan Bajo and offer multi-day trips exploring the Komodo National Park. It's an excellent opportunity to visit multiple islands, dive sites, and witness the Komodo dragons up close.
Local Boats: Once you arrive in Labuan Bajo, you can find local boats known as "phinisi" or "klotok" that offer transportation to various islands within the national park. These boats can be chartered for day trips or longer excursions, allowing you to explore the stunning landscapes, snorkel in crystal-clear waters, and encounter the unique wildlife.
Park Entrance Fees: Before entering Komodo National Park, be aware that there are entrance fees and permits required. These fees contribute to the conservation efforts of the park and support the local communities. Make sure to check the current fees and regulations and obtain the necessary permits in advance.
Guided Tours: To make the most of your visit to Komodo National Park, consider joining guided tours. Local tour operators offer a range of packages that include transportation, accommodation, guided hikes, snorkeling trips, and opportunities to see the Komodo dragons. This ensures a well-organized and hassle-free experience.
Safety Considerations: While exploring Komodo National Park, it's important to follow safety guidelines and respect the natural environment. Always listen to your guides, keep a safe distance from the Komodo dragons, and adhere to park rules to ensure your own safety and the preservation of the park's biodiversity.
By planning your transportation in advance and considering these tips, you can embark on a remarkable journey to Komodo National Park. Brace yourself for encounters with ancient reptiles, stunning landscapes, and a world of underwater wonders. Komodo National Park promises an unforgettable adventure that will leave you in awe of nature's marvels.
Komodo National Park via boat tours
Getting to Komodo National park is also a fun adventure in itself. Typically on a Komodo National Park trip you get to visit the 3 major islands of the park via private boat tour or you can take any of the Komodo boat trip tours offered through the local port town of Labuan Bajo on the island of Flores.
There are a variety of options to visiting the national park or diving the many islands which is also a popular attraction in the area. The boat ride from Labuan Bajo to Komodo National Park takes about 45 minutes and is a scenic ride through the many smaller islands leading up to the park. At Labuan Bajo, there are a variety of tour operators that offer different tours from day tours to longer stays and depending on your budget. You can also create your own customized tour and places to visit along with some adventure experiences depending on your budget and interest.
Colorful boating options and tours
Labuan Bajo as a base for your Komodo tour
Labuan Bajo is a good place for getting provisions and having a meal prior to or after your days adventure exploring the park. Since there are no accommodation or camping allowed on the park, you will find the best accommodations at this port town. Or you can sign up to take a variety of boat Komodo tours that include stays overnight on the ships in visiting the various islands and Komodo travel offered. Another popular excursion includes Komodo diving tours to Komodo National Park diving or at the various island diving spots.
Tip: for more information about housing, dining or tour operators around Labuan Bajo, check out the Flores destination site here.
Here's a quick look around the area of Lubuan Bajo below
Boat experience to Komodo National Park
The boating trip through the many islands towards Komodo National Park is very scenic and easy and skirting the many small islands along the way. The average time frame of the trip to Komodo National Park from Labuan Bajo takes about 45 minutes and docks right up to the main visitors center.
Fun on board 
It isn't too often that you get beautiful models and travel writers to participate and enjoy the ride to the national park. With the temperatures getting warmer, our writers and models didn't mind adding more to the natural beauty of the landscape around the boat.
Natural beauties of the Komodo islands
Exploring the islands around Komodo National Park
Composed of three major islands and some smaller islands, Komodo, Rinca and Padar islands are a refuge to indigenous wildlife including the Komodo dragons, the Timor deer, Orange footed scrub fowl and a host to other unique animals and sea life within the national park. The parks main marine life and terrestrial are constantly in threat to over fishing and poaching and it is a commitment to the National parks services to educate and protect this precious biodiversity of this amazing region.
Here's a quick view of the one day boat trips from Lubuan Bajo below
First stop, Rinca Island
We first explore Rinca and do a panoramic hike to discover all the amazing wildlife on the island and what everyone experiences first in their Komodo Island tour. The longer hike takes you through forest lowlands, hilly chaparral to the peak which offer excellent views of the entire landscape and surrounding islands. The longer hike is moderate in effort and time, approximately 40-50 minutes to the peak and is definitely the better option to the shorter hike.
Tip: once on the island check in at the welcome stand at the ranger area camps and you can arrange for a tour with a local ranger. Self tours are not allowed due to the many different wildlife on the island.
Here's a visit to Rinca Island and what you'll see with your local guide
Waiting for the Rinca island tour to begin
A little background on the dragons of Komodo
The dragons of Komodo, known as Komodo dragons (Varanus komodoensis), are the world's largest living lizards and a fascinating species found exclusively in the Indonesian archipelago. Here's a brief description of these remarkable creatures:
Size and Appearance: Komodo dragons can reach lengths of up to 10 feet (3 meters) and weigh around 150 to 200 pounds (70 to 90 kilograms). They have stout bodies, strong limbs, and long, muscular tails. Their rough skin is covered in armored scales, which range in color from gray to brown.
Adaptations: These powerful reptiles have unique adaptations that make them formidable predators. They have a keen sense of smell, excellent vision, and sharp, serrated teeth. Their long, forked tongues help them detect prey, while their claws and strong jaws enable them to capture and kill their prey effectively.
Feeding Habits: Komodo dragons are carnivorous and primarily feed on a variety of prey, including deer, pigs, birds, and smaller reptiles. They are skilled hunters and ambush their prey, using a combination of stealth, speed, and a powerful bite. After capturing their prey, they use their sharp teeth to tear apart the flesh and consume it.
Venomous Bite: Komodo dragons possess a unique venomous bite. Their saliva contains a mix of bacteria and toxic proteins, which can cause a severe infection and reduce the prey's ability to escape. While the venom itself does not have a lethal effect on adult humans, it can lead to significant complications if left untreated.
Behavior and Habitat: Komodo dragons are solitary animals and prefer a habitat that includes dry grasslands, savannahs, and tropical forests. They are known for their ability to swim between islands and can tolerate a wide range of environments. These reptiles are most active during the day and often bask in the sun to regulate their body temperature.
Conservation Status: Komodo dragons are listed as vulnerable by the International Union for Conservation of Nature (IUCN) due to various threats, including habitat loss, poaching, and human-wildlife conflicts. Efforts are underway to protect their habitat, regulate tourism activities, and raise awareness about the importance of preserving these unique creatures.
Welcome area to Komodo National park
A cluster of buildings at the entrance is where you can use the bathroom, check out the gift shop or buy some snacks and cold drinks before or after your hike around the island.  You will probably pass by the official kitchen which always has a few or more Komodo dragons hanging around because of the delicious smells coming from the kitchen windows.
Hiking to the peak of Rinca island
At the Rinca island welcome center, we are introduced to our  rangers and given a quick introduction and safety talk about the komodo dragons and how to behave around them. There are two options of hiking tours on Rinca island and the longer tour is the more scenic hike which typically takes about two hours.  It is a fantastic hike that covers dry chaparral, forest area and hilly with grassy terrain at the overlook area at the end of the hike. You are rewarded with magnificent and panoramic views of the entire island and the habor area below.
Grassy chaparral areas at Rinca Island
Yoga time and goofing off at Rinca Island
Views to the harbor at Rinca Island 
Komodo island visit and lunch
Next stop on our visit to the park was a short cruise to Komodo island for a short tour and lunch. There is also an option to tour the island on guided tours, but our group spent most of the time touring along the coastline and then having a prepared lunch at the large outdoor pavilion. The coastal areas are fairly dry with low foliage and these unusual looking trees below.
** Depending on the boating tour you take, lunch typically is an option included in many of these tours when there are no food outlets available on the islands.
Tip – you might want to also check out the amazing world below in the ocean by diving in Komodo.
Fortunately, the elevated pavilion is set high with small steps to discourage the dragons from climbing up to the dining areas and surprisingly there were Komodo's already at the base of the platform eager to join us for lunch.  It was good to have a host of guides with big wooden sticks to separate us from the komodo dragons which were very aggressive in trying to climb up the platform steps. In the end, this was the closest opportunity for the visitors to take pictures above looking directly at the Komodos and taking fantastic close ups. (images below)
Looking for a free lunch at the dining pavilion on Komodo Island
Here's a quick look at more scenes and islands around Komodo National Park
Visiting a pink beach at Padar Island
We have an option to visiting a pink sand beach or Padar Island for an additional hike and a group of visitors opt for a short stop to seeing the famous pink beach of Komodo Islands. Once you arrive close to the beach it really is hard to distinguish that this is a pink beach until you actually get right up to the shoreline, then you notice the smaller reddish speckles that mix in with the white sandy beach and giving a pink hue to the entire beach.
The pink beach up close
Here's a view of Padar island at the top spot of the island
Climbing to the top of Padar Island
Padar Island is also a must see when you visit the national park. The main attraction is to climb to the peak for magnificent views of the different beaches and mountains of this stunning location. It's a rough climb to the top but if you take it slowly you will eventually reach the peak and the views are truly spectacular. Sunset is the best time to visit so arriving late afternoon to see the sunset is worth the effort.
Climbing to the top of Padar Island
Sunset at Padar Island
Diving and snorkeling experiences
There's plenty of live aboard and water adventure tours that you can also do visiting Komodo National Park area with various tour outfitters to the islands here.
You can check out all these various day tours to multiple day tours to the Komodo National park here for more information.
This is the popular day tour boating and walking experience you can book here for more information.
Go by speed boat to Komodo National park here for more information
Check out this gorgeous diving experience below
If you are looking for an extended visit and boat stay, consider this 3 day tour of Komodo National Park here for more information.
More inside tips to visiting Komodo National Park
To make the most of your visit to Komodo National Park and create unforgettable memories, here are some inside tips to consider:
Plan Ahead: Komodo National Park is a popular destination, so it's advisable to plan your trip in advance. Check the best time to visit, make accommodation arrangements, and book your flights or boat transfers to Labuan Bajo. Having a well-thought-out itinerary will help you optimize your time and ensure a smoother experience.
Guided Tours: Consider joining guided tours led by experienced local guides. They possess valuable knowledge about the park's flora, fauna, and cultural significance. Guides can enhance your understanding and provide insights into the Komodo dragons' behavior, making your visit more informative and engaging.
Trekking Routes: Explore the various trekking routes available in the park. These routes offer opportunities to witness breathtaking landscapes, encounter wildlife, and reach stunning viewpoints. Some popular trails include the Komodo Island trek and the Rinca Island trek. Remember to follow the guidance of your guide and stay on designated paths for your safety and to protect the park's ecosystem.
Snorkeling and Diving: Komodo National Park boasts incredible marine biodiversity. Snorkeling or diving in the park's crystal-clear waters allows you to discover vibrant coral reefs, colorful fish, and other marine creatures. Bring your own snorkeling gear or rent from reputable operators in Labuan Bajo for a more immersive underwater experience.
Sunrise and Sunset Views: Witnessing the sunrise or sunset in Komodo National Park is a magical experience. Find out the best spots for capturing the stunning hues of the sky and the surrounding islands. Padar Island is particularly famous for its panoramic views, making it an ideal destination for sunrise or sunset photography.
Respect Wildlife: Komodo dragons are the park's main attraction, but it's important to maintain a safe distance from them. These are wild animals, and while they may appear sluggish, they are powerful and can move quickly if provoked. Listen to your guide's instructions and avoid any actions that could disturb or endanger the wildlife.
Bring Essentials: Be prepared for your adventure by bringing essential items. These may include sunscreen, a hat, insect repellent, comfortable walking shoes, a reusable water bottle, and a camera to capture the awe-inspiring moments. It's also a good idea to carry some cash as credit card acceptance may be limited in certain areas.
Eco-friendly Practices: Help preserve the park's natural beauty by practicing eco-friendly habits. Avoid littering, use reusable water bottles instead of single-use plastic, and refrain from touching or removing any plants or animals. Respect the park's rules and regulations to ensure its sustainability for future generations.
By following these inside tips, you can enhance your experience in Komodo National Park and fully immerse yourself in its breathtaking landscapes, remarkable wildlife, and captivating culture. Enjoy every moment of your adventure and embrace the wonders that await you in this remarkable natural paradise.
Where to stay visiting Komodo National Park
Most accommodations visiting the national park are at Lubuan Bajo on  Flores Island. Here are some of the best rated hotel reviews for the surrounding area to check out.
Plataran Komodo Resort
– tranquil and secluded in this luxury resort with exceptional food, service and spacious rooms
Seraya Hotel Resort
– A calm oasis away from loud Lubuan Bajo, beautiful rooms, public areas, pool and impeccable service.
Check out these additional hotel
reviews here
for the best prices and availability on your visit.
More details on Komodo National Park
For visiting Komodo National park, check out the following details and websites below. Since you will outdoors most of the time, you should be prepared for changes in weather and bring the necessary equipment and outdoor gear for this outdoor adventure.
There are no hotels or housing at the national park, you can either book a boat tour with overnight stay or take a boat tour from Labuan Bajo. Here is a list of hotels available from Labuan Bajo.
Visiting Flores and surrounding areas, Flores official website here.
Or how about doing a Komodo live aboard experience.
If you want more information about visiting this amazing National Park, you can get more information on the Wonderful Indonesia site here.
Conclusion to visiting Komodo National Park
Komodo National Park is a truly exhilarating destination that is sure to ignite your sense of adventure. From up-close encounters with giant Komodo dragons to vibrant underwater vistas that are perfect for snorkeling and diving, there's something for every thrill-seeker here. And the best time to visit – from April to June or from September to November – offers optimal weather and fewer crowds, making it the perfect time to explore.
So, get ready for an unforgettable journey of discovery as you explore this breathtaking natural wonderland. With its stunning scenery, fascinating wildlife, and exhilarating activities, Komodo National Park is a destination that promises excitement at every turn. Don't wait – start planning your adventure today and experience the thrill of Komodo National Park for yourself!
Thanks for visiting Komodo National Park. If you enjoyed the images and post, could you please share it with any of the social media buttons located around the post. Thank you for hosting me on this tour Wonderful Indonesia and Ministry of Tourism of the Republic of Indonesia, all thoughts and opinions are my own.
If you like what you see, come and check out my other social media channels for more updates, including Instagram, Pinterest and Twitter.
Disclosure – some of the links above are to affiliate sites that are either reviews or recommendations if you book helps to keep our site running at no additional cost to you. We appreciate your supporting our website meanwhile.