Exploring the Cultural Riches of Salvador de Bahia: Unveiling the Historic Charm of Visiting Pelourinho
Welcome to Salvador de Bahia, Brazil, a city that pulsates with vibrant energy and cultural treasures. Within this captivating city lies the neighborhood of Pelourinho, a place where time stands still, and the past comes alive. Prepare to be enchanted as you stroll through its cobblestone streets, adorned with colonial architecture in a kaleidoscope of colors. Immerse yourself in the rhythmic beats of Afro-Brazilian music that permeate the air, igniting a sense of celebration and joy.
Once the historic capital of Brazil during the early Portuguese colonial settlement, Pelourinho in Salvador de Bahia is filled with amazing architecture, historic churches and buildings to this well restored Unesco World Heritage site. This is definitely worth taking a short plane ride to explore the first and oldest colonial capital of Brazil and enjoy the essence of the regional capital of Bahia.  Check out the highlights to visiting Pelourinho Salvador de Bahia and hopefully you will put it on your travel agenda while visiting Brazil.
Let us guide you on a  discovery tour as we uncover the cultural riches and historical sites and one of a kind places around Pelourinho. This will be an experience that promises to leave an indelible imprint on your heart and ignite a lifelong love affair with this captivating corner of Brazil.
Where is Pelourinho in Salvador located
Pelourinho is located in the historic center of Salvador, the capital city of Bahia state in Brazil. It's a vibrant and culturally rich neighborhood known for its colorful colonial architecture, lively streets, and as a hub for music, dance, and Afro-Brazilian culture.
Historic capital of Pelourinho in Salvador
Pelourinho or Pelo is the historic neighborhood of the main city of Salvador. The name is derived from the whipping post in the main plaza where slaves were punished for any infractions or disciplinary purposes. The city of Salvador was the first colonial capital of Brazil and was the first city established by the Portuguese in 1549 with the historic district at Pelourinho. This area is rich in historic attractions, dazzling churches, public squares and monuments built-in the 17th to 19th centuries. The Unesco World Heritage sites certified this district as an outstanding colonial capital and center designated in 1985.
How to get to the historic district of Pelourinho
Getting to Pelourinho, the historic neighborhood in Salvador, Brazil, is relatively easy. Here are a few options to consider:
From Salvador International Airport (Deputado Luís Eduardo Magalhães):
Taxi: Upon arrival, you can find authorized taxi services outside the airport terminal. Inform the driver that you want to go to Pelourinho, and they will take you directly to your destination. It is advisable to agree on a fare beforehand or ensure that the meter is used.
Airport Shuttle: Some hotels and tour companies provide shuttle services from the airport to popular tourist areas like Pelourinho. Check with your accommodation or research shuttle options in advance.
Public Transportation:
Bus: Salvador has an extensive bus network that can take you to Pelourinho. Look for buses heading towards the city center or ask for assistance at the bus station or information desk. Be aware that bus schedules and routes may vary, so it's advisable to check ahead of time.
Elevador Lacerda and Historic Center Train: Salvador has an iconic elevator, Elevador Lacerda, that connects the lower and upper parts of the city. Once you reach the upper level, you can take a short walk to Pelourinho. Additionally, a historic train called "Bonde do Pelô" operates within the historic center, providing a unique and nostalgic way to reach Pelourinho.
Taxi or Ride-Hailing Apps: Taxis are widely available in Salvador, and you can easily hail one on the street or find them at designated taxi stands. Alternatively, you can use ride-hailing apps such as Uber or 99 to conveniently travel to Pelourinho. Just enter your destination in the app and follow the driver's instructions.
Walking: If you are staying in a nearby neighborhood or hotel, you may consider walking to Pelourinho. It is a compact and pedestrian-friendly area, making it an enjoyable stroll, especially during pleasant weather.
Weather and best time to visit Salvador de Bahia
Salvador de Bahia, Brazil, is blessed with a tropical climate, offering warm temperatures and abundant sunshine throughout the year. However, it's important to consider the weather patterns and the best time to visit based on your preferences and activities. Here's an overview of the weather and the recommended times to explore Salvador de Bahia:
Dry Season (Best Time to Visit): The dry season in Salvador de Bahia extends from November to March. During this period, you can expect sunny weather, minimal rainfall, and warm temperatures ranging from 25°C to 32°C (77°F to 90°F). The dry season is ideal for beach activities, outdoor exploration, and enjoying the city's vibrant festivals, such as Carnival in February or March.
Wet Season: The wet season in Salvador de Bahia occurs from April to October. This period experiences higher levels of rainfall, but it is still possible to have sunny days interspersed with showers. The temperatures remain pleasant, ranging from 22°C to 28°C (72°F to 82°F). If you don't mind occasional rain showers and want to experience a quieter atmosphere with fewer tourists, the wet season can still be a good time to visit.
Carnaval: Salvador de Bahia is renowned for its vibrant and exuberant Carnaval celebration. It takes place in February or March, attracting visitors from around the world. If you're interested in experiencing the electrifying energy of Carnaval, plan your visit accordingly. Note that prices may be higher, and accommodation may be more challenging to secure during this period.
Shoulder Seasons: The transitional periods between the wet and dry seasons, such as November and October or April and May, are considered shoulder seasons. These months offer a good balance of fewer tourists, comfortable temperatures, and occasional rain showers. It's an excellent time to explore the city's attractions and enjoy discounted prices on accommodations.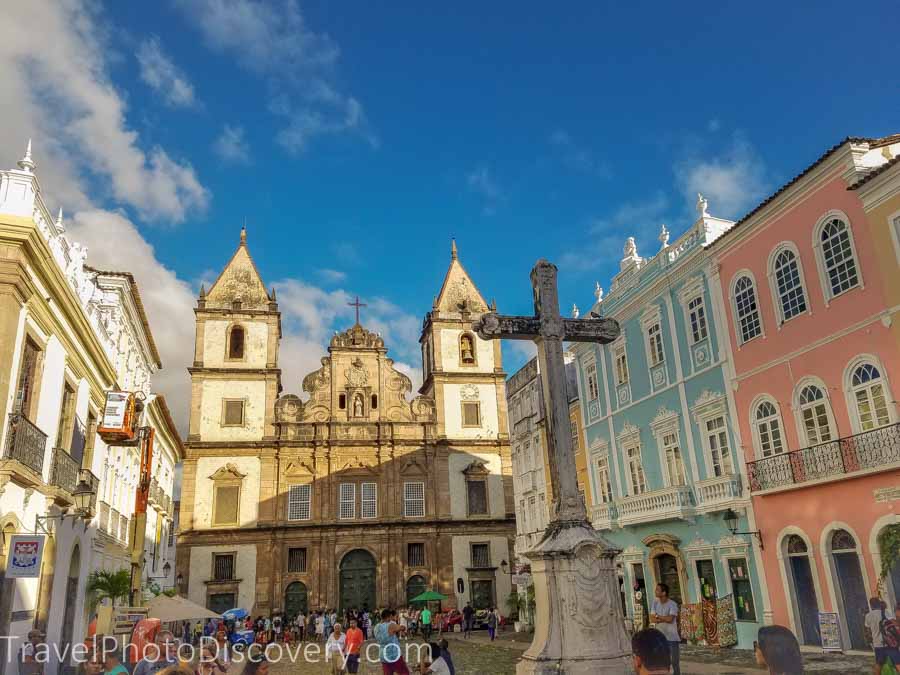 Unesco World heritage site of historic Salvador
As I walked around the many cobbled streets and wonderfully restored squares, I see there are still many buildings being retrofitted with the aid of Unesco and this is a fantastic sign that these grand buildings in Pelourinho are being brought back to life including the main cathedral that is going through a major remodel while I was visiting.
The Unesco designation of Pelourinho certified in 1985 has done a lot to bring back the grand scale of this historic capital and Portugal's first colonial capital being a shining symbol of how significant and stunning the churches, public buildings and other architectural gems can be visited and repurposed to their former glory. In spite of all these colorful and beautifully restored buildings, there are still so many left either slowly decaying or waiting for some other investors to bring them back to a glorious return.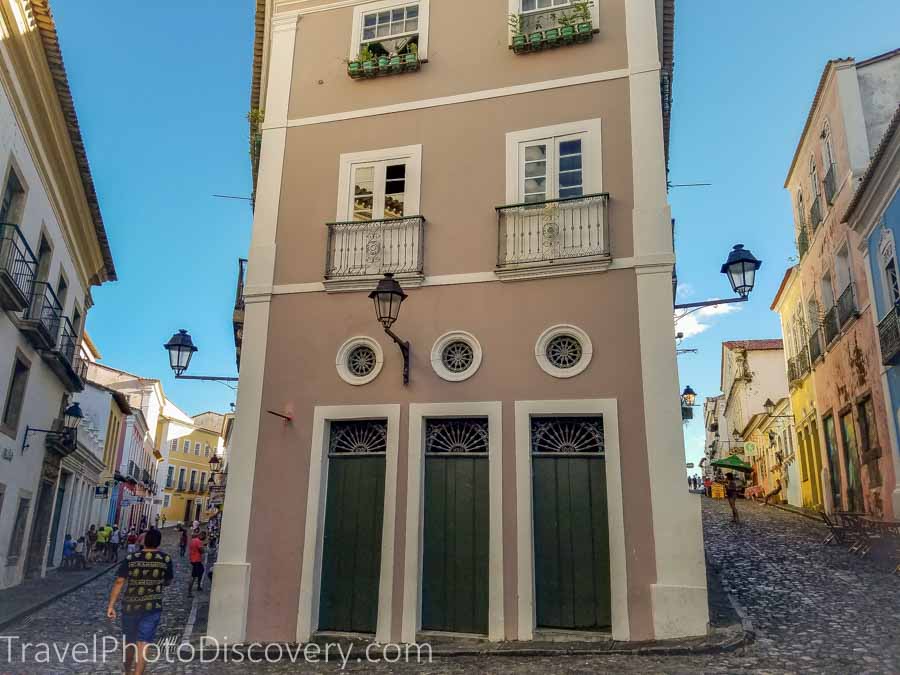 Exploring the streets & neighborhoods at Perlourinho
It doesn't matter what side street or road you take in the historic district, they all come back into the main squares of the old town. Colorful buildings with attractive signs and dressed up ladies in their local costumes wink and try to get you closer in for a photo-op or even get a blessing in the local voodoo ritual to cleanse your spirits and bring you good luck.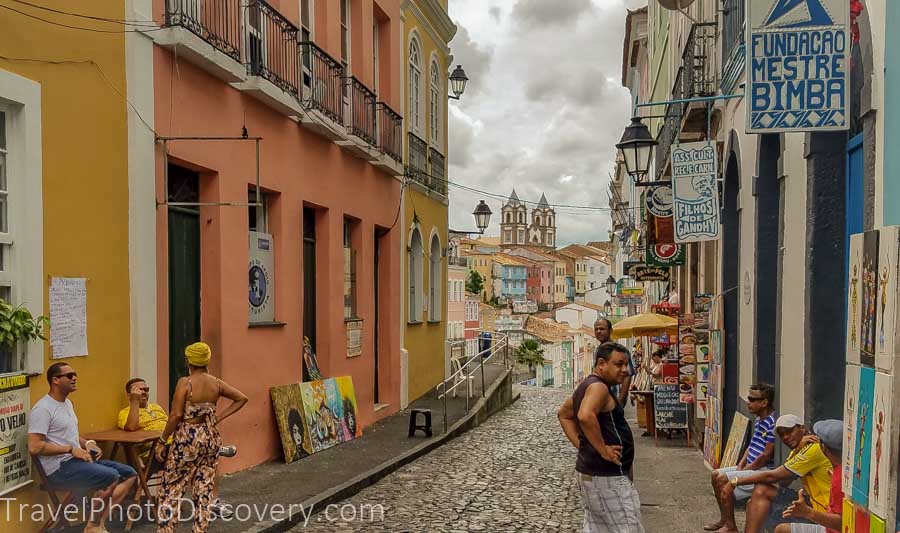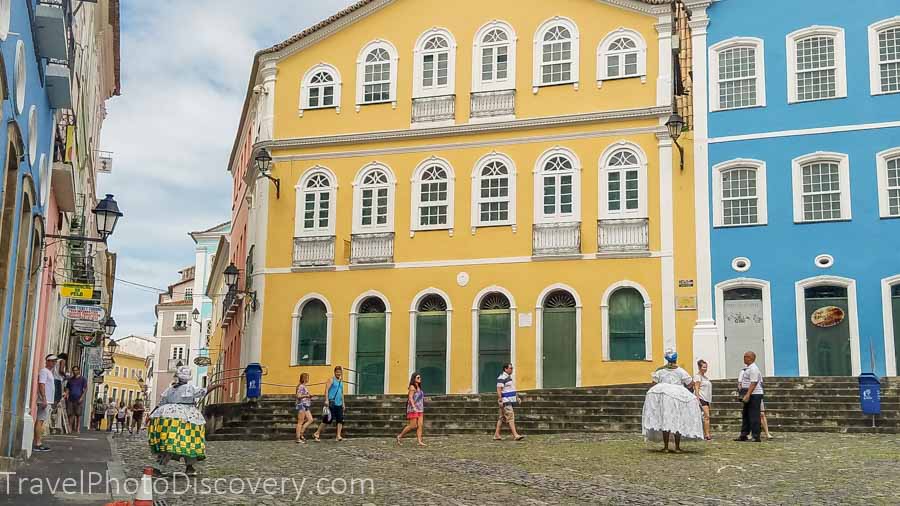 Do you want to try a Bahian ritual blessing?
A Bahian ritual blessing, deeply rooted in Afro-Brazilian traditions, is a sacred and spiritual ceremony that seeks to invoke blessings, protection, and positive energy. In Bahia, Brazil, this ritual blends elements of African, indigenous, and Catholic beliefs, reflecting the rich cultural diversity of the region.
The ritual often takes place in a terreiro (a spiritual community space) led by a spiritual leader known as a pai de santo (father of saint) or mãe de santo (mother of saint). Participants gather to honor and connect with the Orishas (deities), spirits, and ancestors, seeking their guidance and blessings.
During the ceremony, rhythmic drumming, singing, and dancing create a sacred ambiance, inviting the presence of the spiritual entities. Offerings like fruits, candles, and flowers are presented to the deities, symbolizing gratitude and devotion.
The pai or mãe de santo may use special herbs, oils, and sacred objects to cleanse and bless participants, helping to remove negative energy and promote healing. Each individual receives personalized blessings and prayers, bringing a sense of harmony and spiritual empowerment.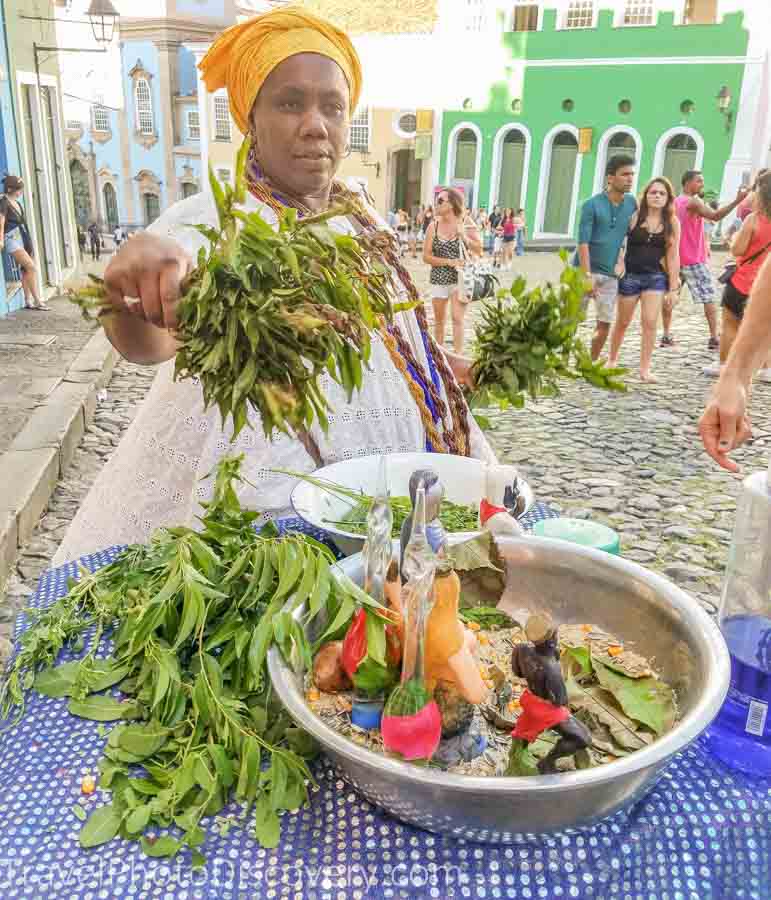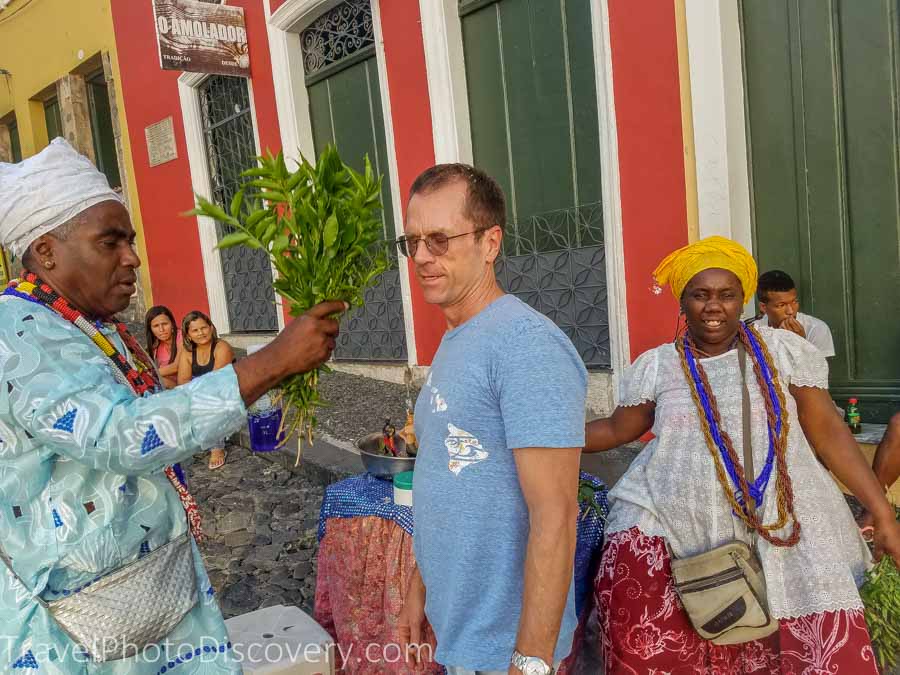 Exploring one of the fun neighborhoods in the Pelourinho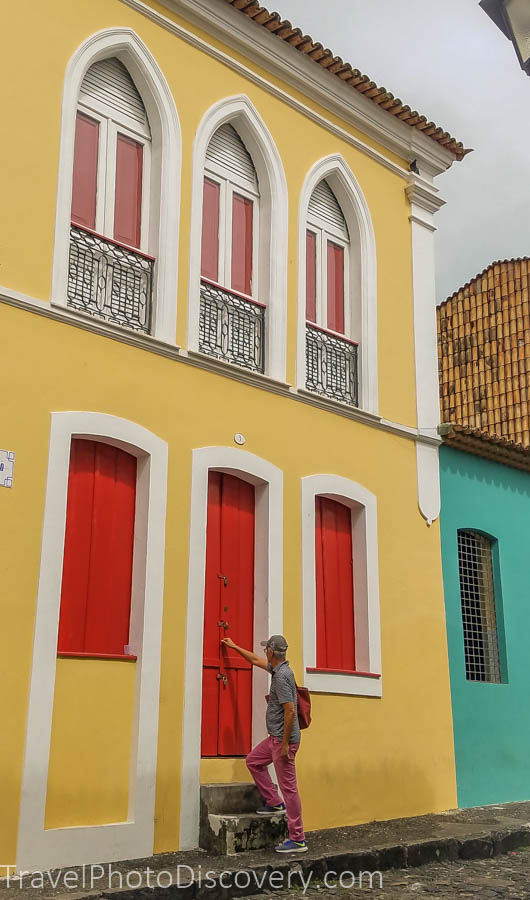 Colorful buildings at every corner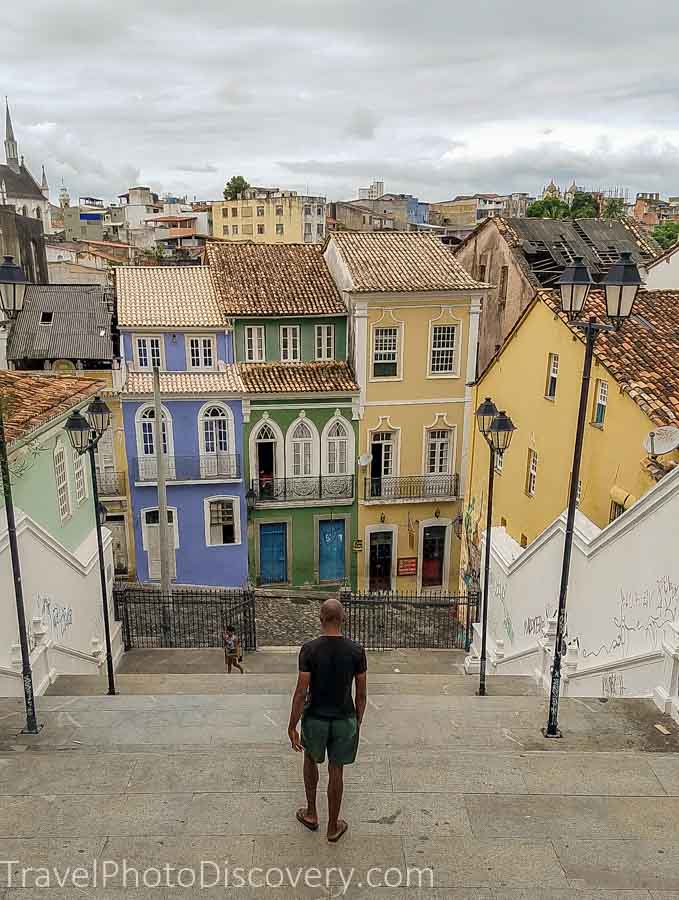 The quiet streets are fun to explore in Pelourinho, if you just turn a corner you'll suddenly find the street filled with outdoor cafes and leading directly into smaller squares filled with art galleries, cafes and the typical souvenir shops selling cheap and colorful take home momentos. Be prepared for climbing a lot of hills, the old town has plenty of them to explore and enjoy some interesting architecture and views all around the city.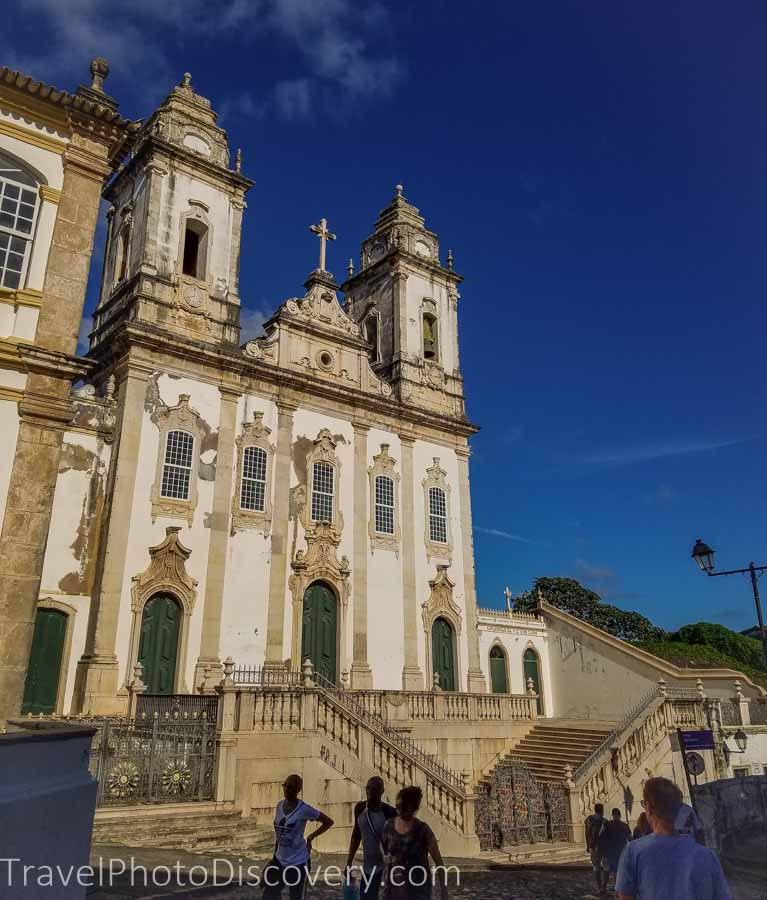 The stunning churches of Pelourinho
It seems like there is one stunning church after another located in each the beautiful squares around the old town and tucked into back streets of the historic district. All of these churches have a fascinating history, creation and containing wonderfully made local artwork, glorious altars and chapels filled with impressive artifacts, collections, paintings and over the top spiritual creations.
Located on one of the main squares of Pelourinho sits the majestic Church of Our Lady of the Rosary of the Blacks. Built by the brotherhood of enslaved Africans, this historic church is impressive to visiting walking around its exteriors and ornate interior halls and chambers. The church is rich in architectural details and beautiful panels that explain the history of the church and catholic faith through the Portuguese settlers.  A visit during church services really brings the spiritual energy alive with devoted parishioners that sharing their rituals and faith and lively spiritual music in this wonderful space.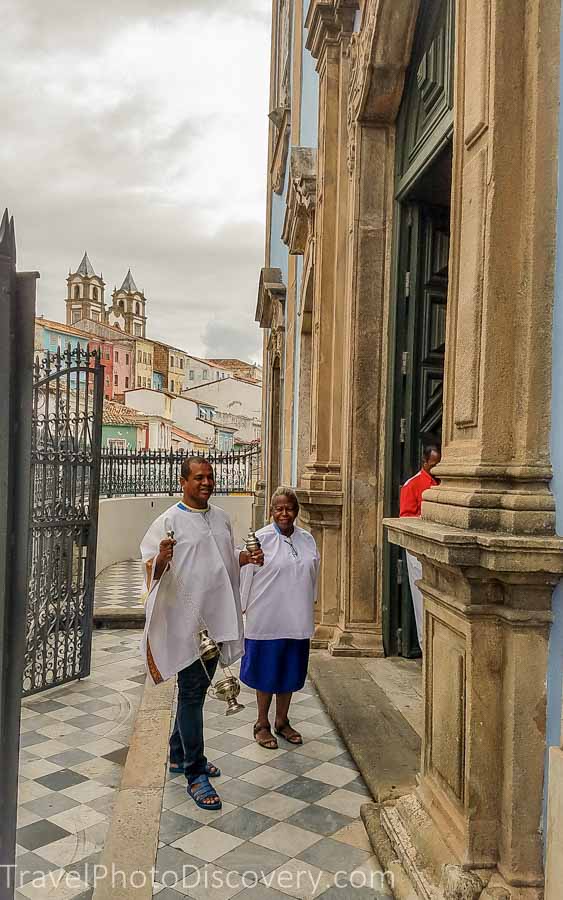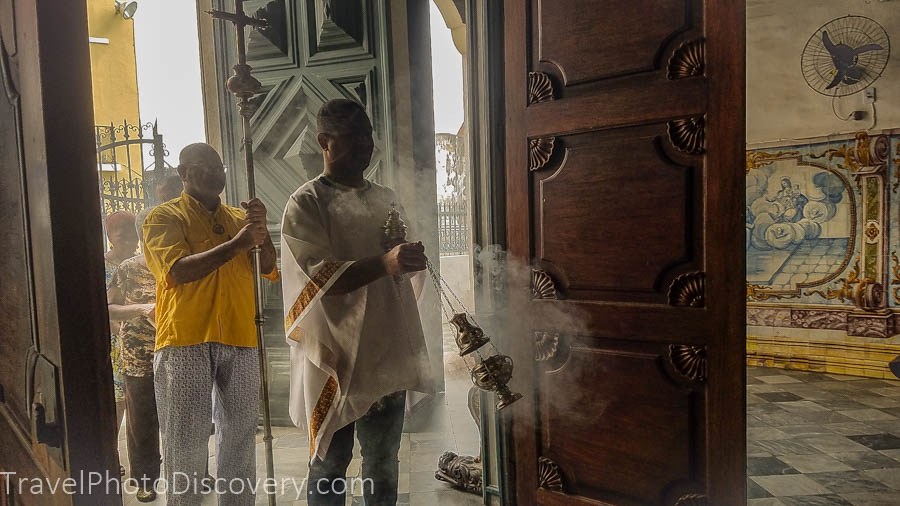 I loved visiting the many other monasteries and adjunct buildings with stunning Portuguese blue tile work that have been imported and brought back to adorn these impressive structures and the many unique rooms that are open to visit. The impressive church and convent of the Igreja e Convento de São Francisco in the historic district truly exceeds all expectations of the grandeur and elaborate churches built during that timeframe of the colonial capital. Even though the church is dedicated to the order of St. Francisco, the interior of the church is built with over the top carvings, precious metals, sculpture and riche materials that showcasing a grand baroque appeal and style.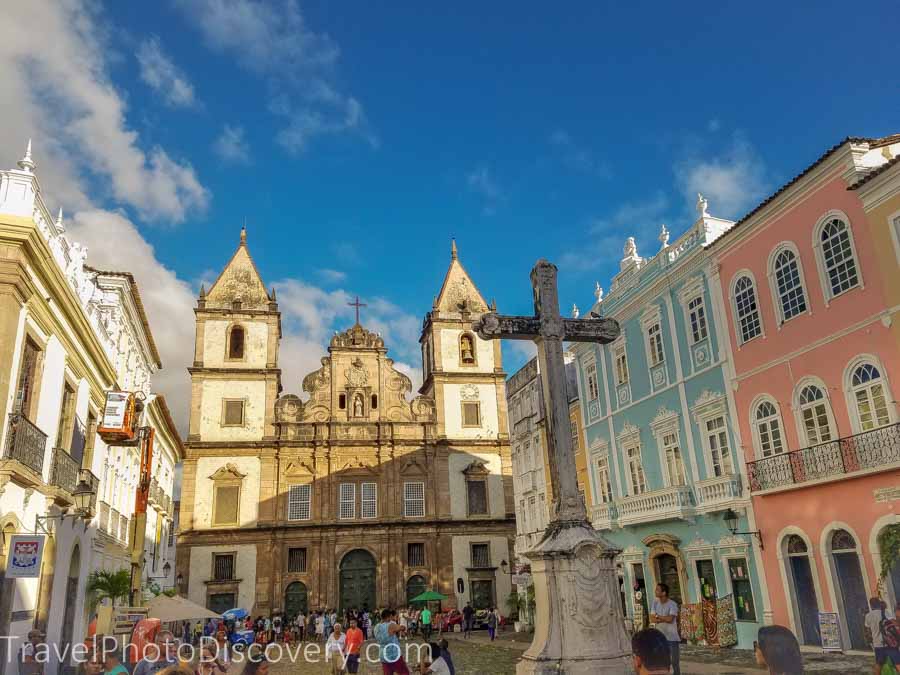 The elaborate interiors of the Igreja e Convento de São Francisco
The Igreja e Convento de São Francisco, also known as the Church and Convent of St. Francis, is a magnificent religious complex located in Salvador, Bahia, Brazil. This historic site holds significant cultural and architectural importance, representing the colonial legacy and the fusion of European and indigenous influences in Bahia.
The complex was originally constructed in the early 18th century by the Franciscan Order, and its architecture showcases the Baroque and Rococo styles. The façade of the church features intricate carvings, elaborate decorations, and statues, making it a striking example of colonial artistry.
Inside the church, visitors are captivated by the opulent decor, including gilded altars, ornate wooden carvings, and stunning frescoes that depict biblical scenes and religious figures. The altar of the main chapel is adorned with intricate gold leaf work, exemplifying the wealth and religious devotion of the period.
One of the most fascinating aspects of the Igreja e Convento de São Francisco is its unique combination of Christian and indigenous symbols, reflecting the blending of cultures during the colonial era. The complex serves as a testament to the history, spirituality, and artistic achievements of Bahia's diverse heritage.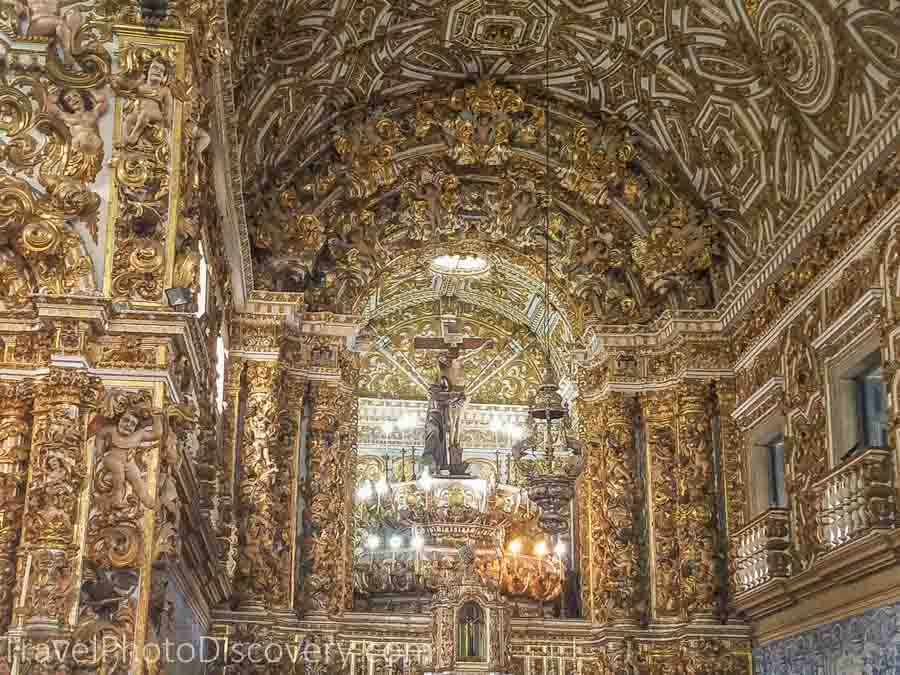 Side chapels of the Igreja e Convento de São Francisco
The interiors of the church are ornately decorated in Portuguese baroque fashion with gold everywhere to show the opulence of the catholic church in the New World. The church initially built-in the mid 1580s were then destroyed and rebuilt in the 1720s with several local artists completing the interiors towards the early 18th century.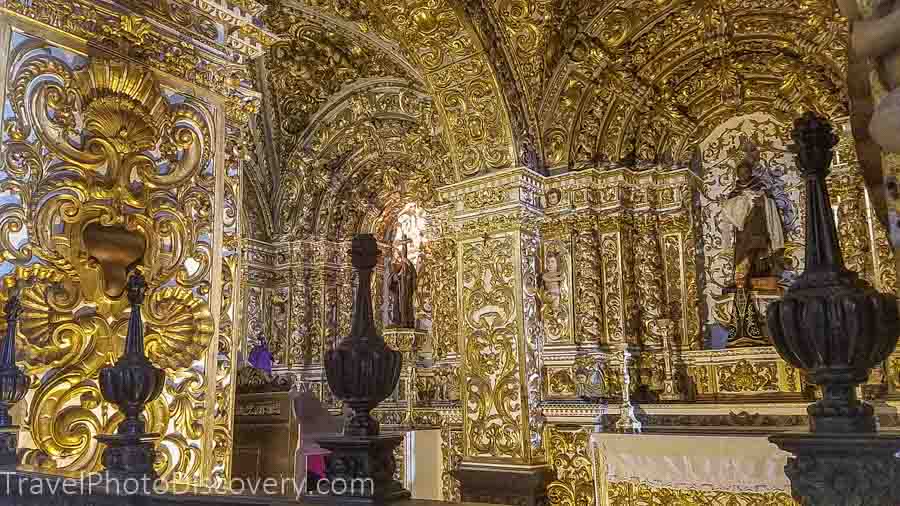 The convent and grounds
The convent and church grounds are all part of the historic colonial monuments which make up the Unesco World Heritage site and part of the historical center of Pelourinho. And it is a stunning and well maintained group of churches that form this Unesco designation.
Elaborate imported tile work from Portugal
This is the most gorgeous church and monasteries to visit in Salvadore below
Largo Terreiro de Jesus plaza with the cathedral and other churches
One of the larger squares of the historical district, this square features the cathedral of Salvador, two other significant churches, the palace of the archbishop and other baroque palaces fronting this magnificent square. Currently during my visit the cathedral is undergoing major retrofit through Unesco but many of the adjacent buildings and churches are open depending on hours of operation.
What are the main churches to visit at Pelhourinho?
When exploring Pelourinho in Salvador, Brazil, you'll encounter a wealth of historic churches that showcase the rich religious and architectural heritage of the area. Here are some of the main churches you should consider visiting:
São Francisco Church and Convent (Igreja e Convento de São Francisco): This magnificent church is a UNESCO World Heritage site and a true architectural gem. Admire its ornate Baroque façade and step inside to marvel at the opulent golden interior, intricately decorated with wood carvings and stunning tilework.
Cathedral Basilica of Salvador (Catedral Basílica): Located at Terreiro de Jesus square, this prominent cathedral is the seat of the Archdiocese of Salvador. It showcases a mix of architectural styles, including Gothic, Renaissance, and Neoclassical. Inside, you can find beautiful religious artwork and a peaceful atmosphere.
Our Lady of the Rosary of the Blacks Church (Igreja de Nossa Senhora do Rosário dos Pretos): This historically significant church was built by enslaved Africans and is an important symbol of Afro-Brazilian culture and spirituality. Admire its simple yet striking façade and step inside to appreciate its spiritual significance and vibrant community.
Church and Convent of St. Anthony (Igreja e Convento de Santo Antônio): Nestled in the heart of Pelourinho, this church is known for its stunning blue and white azulejo tiles. The interior features beautiful sculptures and paintings, and you can also visit the attached museum to learn more about its history.
Church and Convent of the Third Order of Saint Dominic (Igreja e Convento da Ordem Terceira de São Domingos): This religious complex boasts a picturesque exterior with vibrant yellow and white colors. Inside, you'll find a serene atmosphere, intricate woodwork, and religious artifacts.
Church of Our Lady of the Rosary of the Whites (Igreja de Nossa Senhora do Rosário dos Brancos): This church, built by and for the white population during colonial times, showcases a unique blend of Baroque and Neoclassical architectural styles. It holds historical significance and is worth a visit for its striking beauty.
These are just a few of the notable churches in Pelourinho, each offering a glimpse into Salvador's rich history, religious devotion, and architectural splendor. As you explore this historic neighborhood, be sure to appreciate the unique charm and cultural significance of each church you encounter.
Other must visit attractions in Pelourinho
Other that visiting the main squares, churches and small side streets of Pelourinho, there are many other attractions, museums and monuments worth visiting in the historic center of Salvador. Here are the must visit sites worth spending time to explore: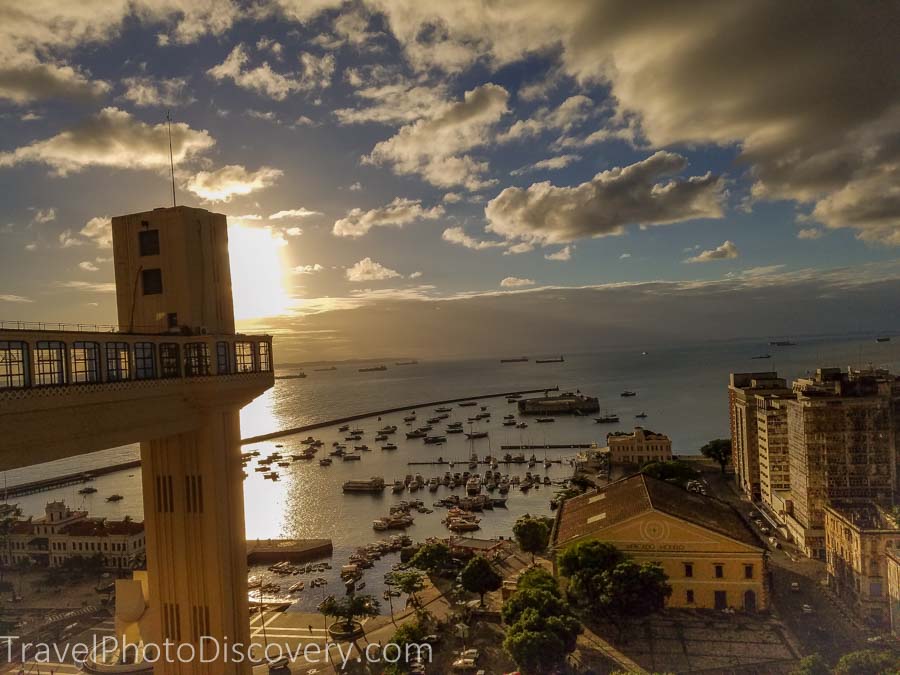 Checking out the views from the elevators to the lower town of Salvador de Bahia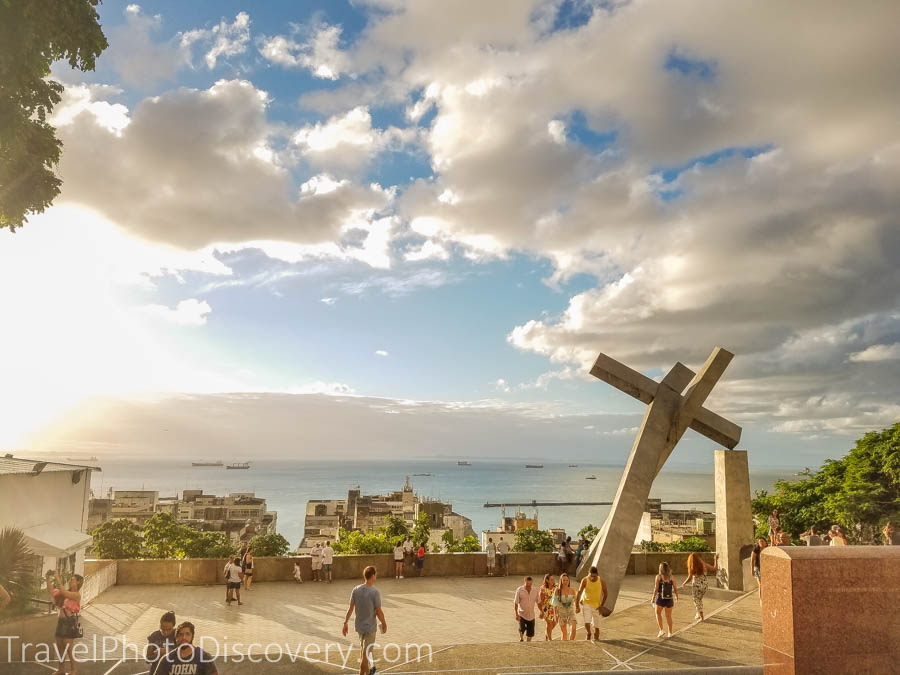 Trying out the funicular to lower town in Pelourhino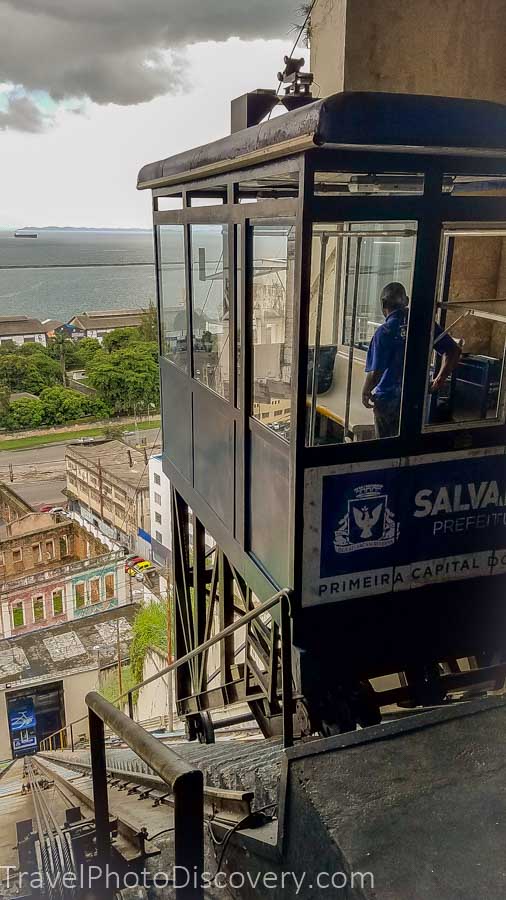 Here's a fun Salvador tour of the Historic district
Visiting the harbor and craft center in Salvador's lower town
The lower town of the city is part of Salvador, the name of main city and area in which Pelourinho is considered the upper and historic district. There are many things to do and see in the lower town including the harbor area, the craft center called Mercado Modelo and even a cruise around the bay and a historic fort located in the harbor area. Unlike the mostly refurbished upper town, the lower town is slowly falling apart but still fascinating to explore all the beautiful but decaying buildings that at one time were gorgeous structures during its timeframe.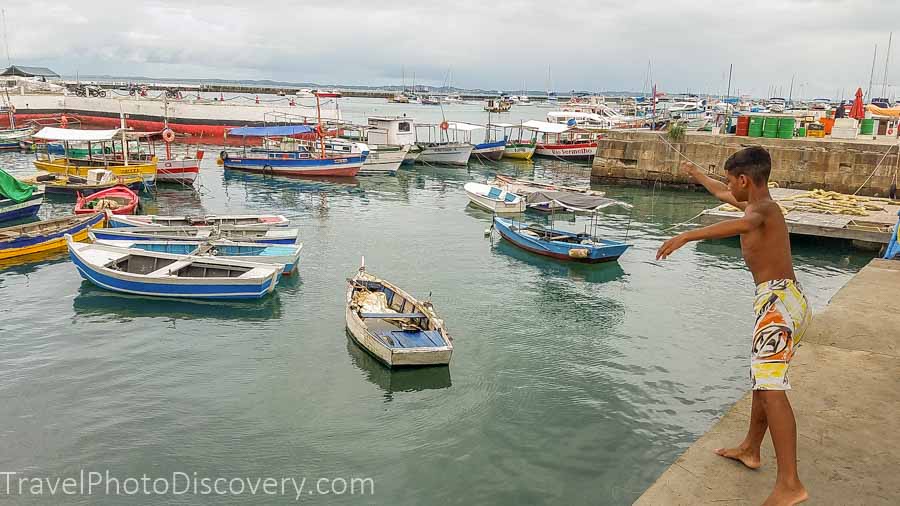 Looking for souvenirs and bargains at Mercado Modelo by the harbor
Mercado Modelo, located in Salvador, Bahia, Brazil, is a vibrant and bustling marketplace known for its lively atmosphere and diverse array of goods. Originally constructed in 1861 as a customs house, it was later converted into a market in 1912. The market is a popular destination for locals and tourists alike, offering a wide range of handicrafts, souvenirs, clothing, and traditional Bahian artwork.
Visitors can explore the market's stalls, which overflow with colorful and authentic Bahian crafts, including handwoven textiles, woodcarvings, leather goods, and jewelry. Additionally, Mercado Modelo is a great place to sample local delicacies and immerse oneself in the region's cultural heritage.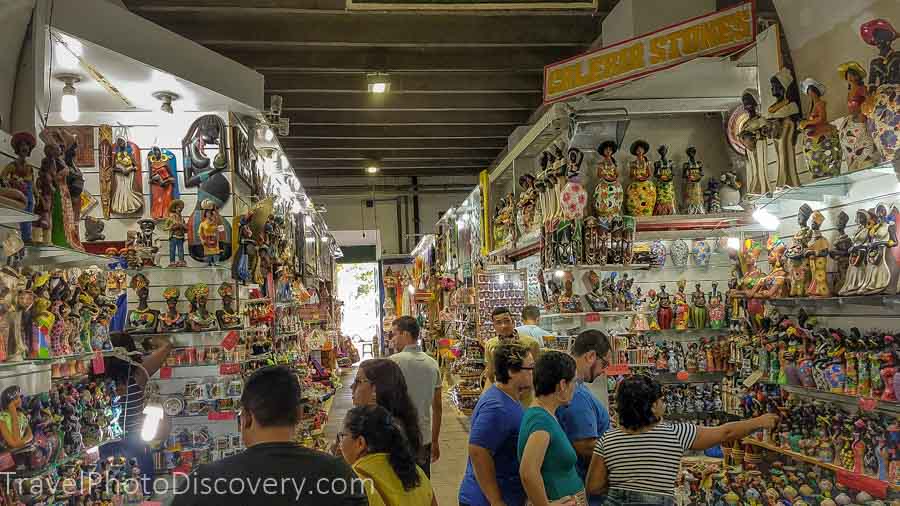 Check out this visit to the market in Salvador at Mercado Modelo
Sunset time at Pelourinho is a must!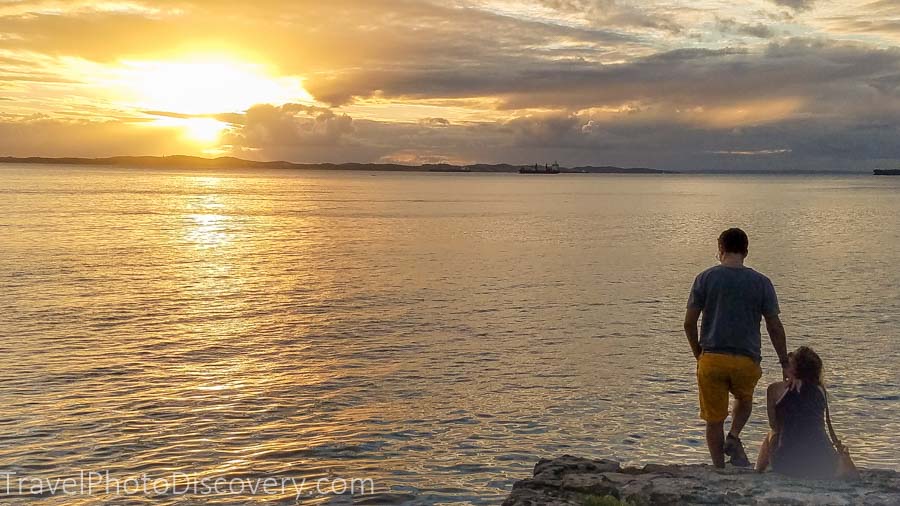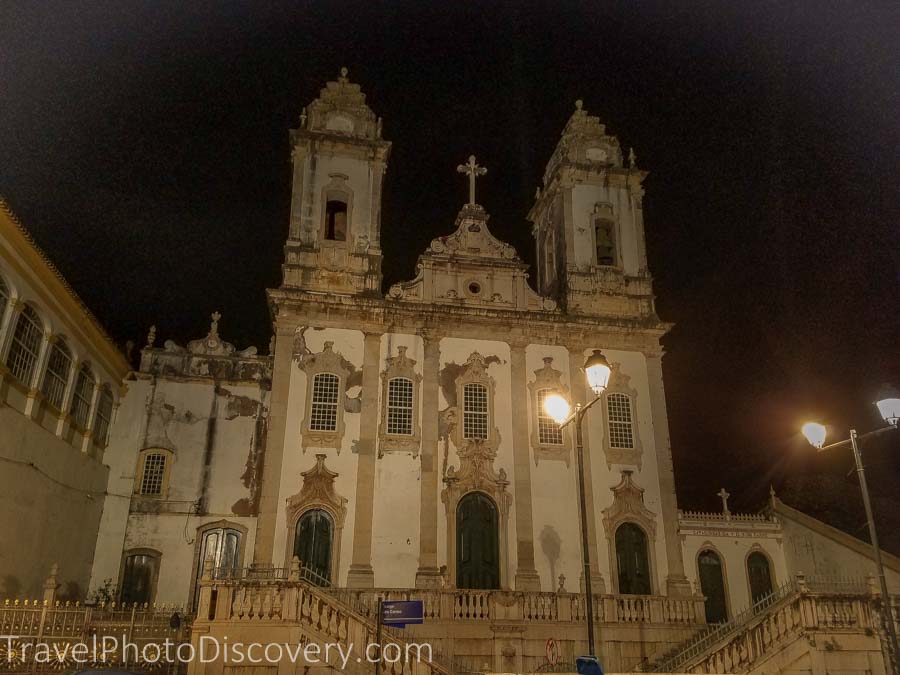 Exploring Pelourinho at night is magical!
Night time is a wonderful time to explore Pelourinho with all the squares, monuments and buildings lit up. It's fun to find a cool outdoor venue, an intimate rum bar or even more lively Samba club that is very loud and addictive to walk into and enjoy the local vibe and music. For those wanting a little more quiet – it's easy enough to walk the quiet streets away from the crowds and enjoy this beautiful area without the throngs of tourists walking the streets.
Check out this visit to Pelourinho at night below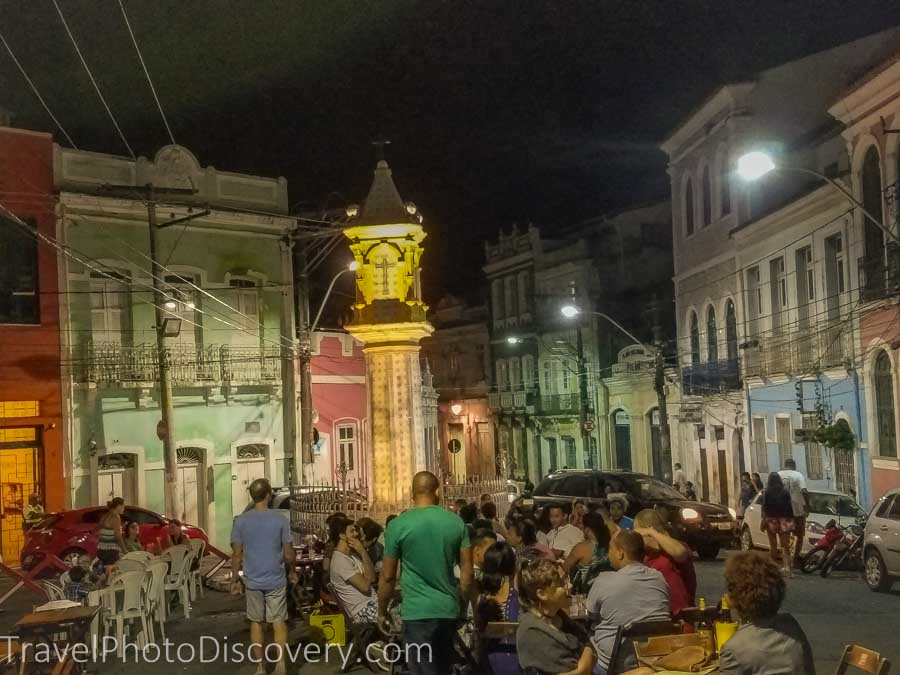 Enjoying a rum bar and delicious caipirinha
At night the scenes in Pelourinho cater to more lively scenes at rum bars and Samba clubs for visitors to enjoy, there's a variety to choose from and you can easily hear the loud samba dance music from a distance to help lead you to a lively spot for some fun dancing and people watching.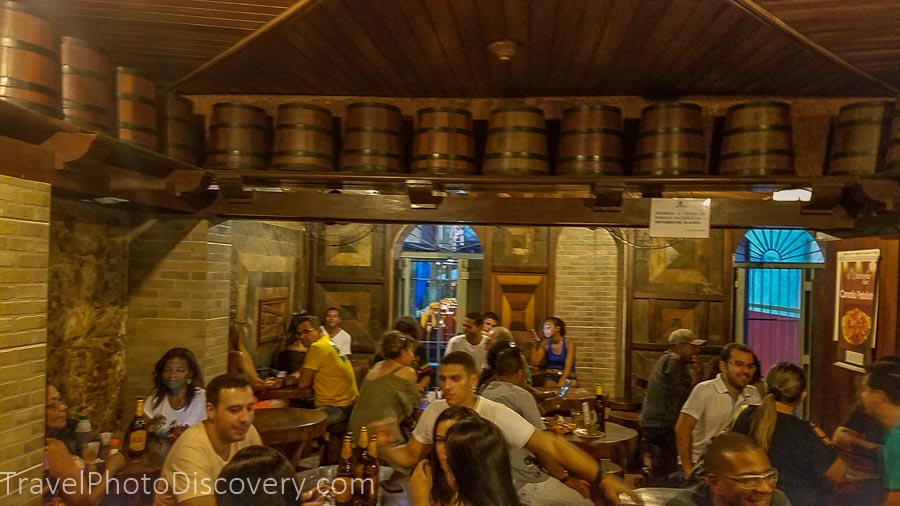 Enjoying a delicious Caipirinha
If you are interested in seeing the history and culture of Brazil wrapped up in a beautiful colonial city, then head out to Salvador de Bahia and the old town of Pelourhino. It's a fascinating Unesco world heritage site filled with amazing architecture, monuments, squares and impressive attractions worth visiting in the old town and around the different areas of Salvador in general. Hope you enjoyed this post and summer and please bookmark this for any future visits to the area.
These drumming shows happen spontaneously around the streets of Salvadore, check them out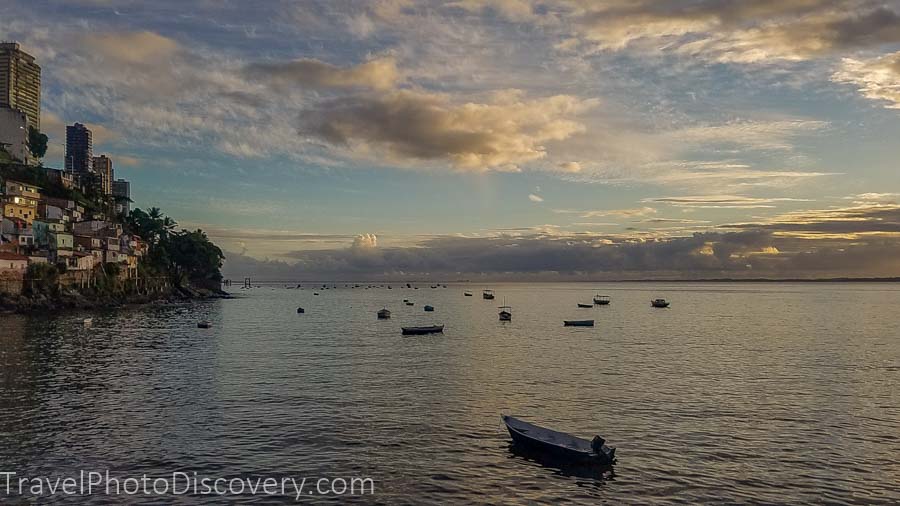 What are the local foods to eat in Pelourinho
When visiting Pelourinho in Salvador, Brazil, you'll get hungry just walking around and exploring and we have some recommendations of what types of street food, drinks and other traditional Bahian style food you should try in the region.
Acarajé: This iconic street food is a deep-fried ball made from black-eyed pea dough, filled with shrimp, vatapá (a spicy paste made from bread, shrimp, coconut milk, and spices), and caruru (okra stew). It is typically served with hot pepper sauce and is a beloved Afro-Brazilian specialty.
Moqueca: A flavorful seafood stew made with fish, shrimp, or both, cooked in a fragrant broth of coconut milk, palm oil (dendê), tomatoes, onions, and peppers. It is usually served with rice and farofa (toasted cassava flour).
Acarajé and Abará: Similar to acarajé, abará is a steamed version of the deep-fried ball made with black-eyed pea dough. It is often filled with a mixture of smoked shrimp, onion, and palm oil. Both acarajé and abará are commonly found in Pelourinho and are enjoyed as a snack or light meal.
Vatapá: This rich and creamy dish is made from bread, shrimp, coconut milk, peanuts, cashews, palm oil, and spices. It is often served as a side dish or as a filling in acarajé or abará.
Bobó de Camarão: A flavorful shrimp stew prepared with cassava (yuca) root, coconut milk, dendê oil, tomatoes, onions, garlic, and spices. It has a creamy consistency and is best enjoyed with rice.
Tapioca: A popular snack made from tapioca flour, which is heated on a griddle until it forms a thin, crepe-like pancake. It can be filled with various ingredients such as cheese, coconut, or condensed milk, offering both sweet and savory options.
Cocada: A traditional Brazilian sweet made from grated coconut, sugar, and sometimes flavored with spices like cinnamon or cloves. It is typically served in bite-sized portions and makes for a delicious treat.
Caipirinha: While not a food, this famous Brazilian cocktail is worth mentioning. Made with cachaça (a sugarcane liquor), lime, sugar, and ice, it is a refreshing and tangy beverage that perfectly complements the flavors of the local cuisine.
As you explore Pelourinho, keep an eye out for street vendors, local restaurants, and food stalls where you can savor these delectable dishes. Embrace the flavors of Bahian cuisine and immerse yourself in the culinary delights that this vibrant neighborhood has to offer.
How to get to Salvador de Bahia
Salvador is located on the Northeast region of the country with plenty of regional carriers that fly to Salvador airport. The flight is under an hour and a half from Rio and about 2 and 1/2 hours flight from Sao Paulo. You can easily check for discounted airfares if booked in advanced through Expedia and Cheapo Air to compare prices to Deputado Luís Eduardo Magalhães International Airport in Salvador.
You can also take regional buses to Salvador but the driving times are very long from both major cities.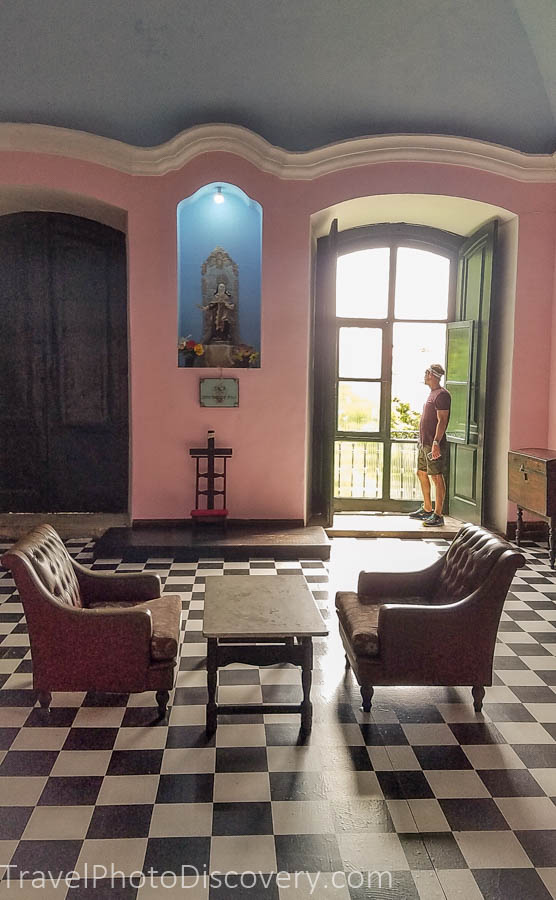 Where to Stay in Salvador and Pelourinho
There are so many wonderful places to stay in Pehourinho, but to get a real flavor of this colonial capital I suggest staying at any of these wonderful small inns called Pousadas.
Pousada do Boqueirao – a charming inn with lots of appeal, cool rooms and colonial charm. We stayed at this property and it was fantastic just outside the tourist zone so very quiet, amazing buffet service and spacious rooms.
Pousada Bahia Pelo – Affordably priced and a popular choice review, this pousada is centrally located, new, clean and friendly front desk service.
Casa de Vitoria Pousada de Charme – a charming inn in a good part of the historic district with comfortable rooms, good breakfast and priced well.
For more reviews of Pousadas in Pelourinho, check out these Inns here for current prices and availability.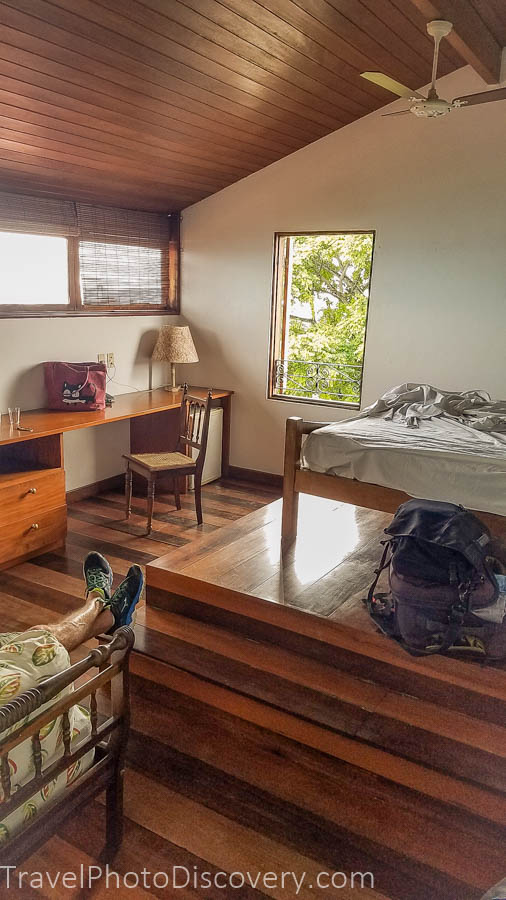 Check out this magical drone aerial views of Salvador de Bahia
More inside tips to Visiting Pelourinho Salvador de Bahia
Exploring Pelourinho in Salvador de Bahia beyond the main attractions is a fantastic way to immerse yourself in the local culture:
Street Performances:
Wander the cobblestone streets to discover impromptu performances by local musicians and dancers. These authentic displays of Bahian culture are often found in hidden corners.
Culinary Delights:
Try the local street food, like acarajé (deep-fried bean cakes), cocada (coconut candy), and tapioca crepes. Look for food stalls frequented by locals for an authentic taste.
Art Galleries:
Visit the lesser-known art galleries and studios showcasing contemporary Bahian art. You might stumble upon unique pieces and meet local artists.
Explore Side Streets:
Pelourinho has many charming side streets and alleys. Take the time to wander off the beaten path, where you'll find quieter spots and more opportunities to interact with locals.
Attend Local Events:
Check if there are any local events, festivals, or celebrations happening during your visit. These can provide a deeper insight into Bahian traditions and rituals.
Capoeira Rodas:
Keep an eye out for capoeira performances or rodas (circles) where practitioners showcase this Afro-Brazilian martial art. It's a captivating blend of dance, acrobatics, and music.
Talk to Locals:
Strike up conversations with residents, artisans, and shopkeepers. Many are eager to share stories about Pelourinho's history and their personal experiences.
Museums and Cultural Centers:
Visit smaller museums and cultural centers in the area, like the Jorge Amado Foundation. These venues often host exhibitions and events that shed light on Bahian culture.
By delving into these lesser-explored facets of Pelourinho, you'll have a richer and more authentic experience of Salvador de Bahia's vibrant heart.
Like this post – Please pin it!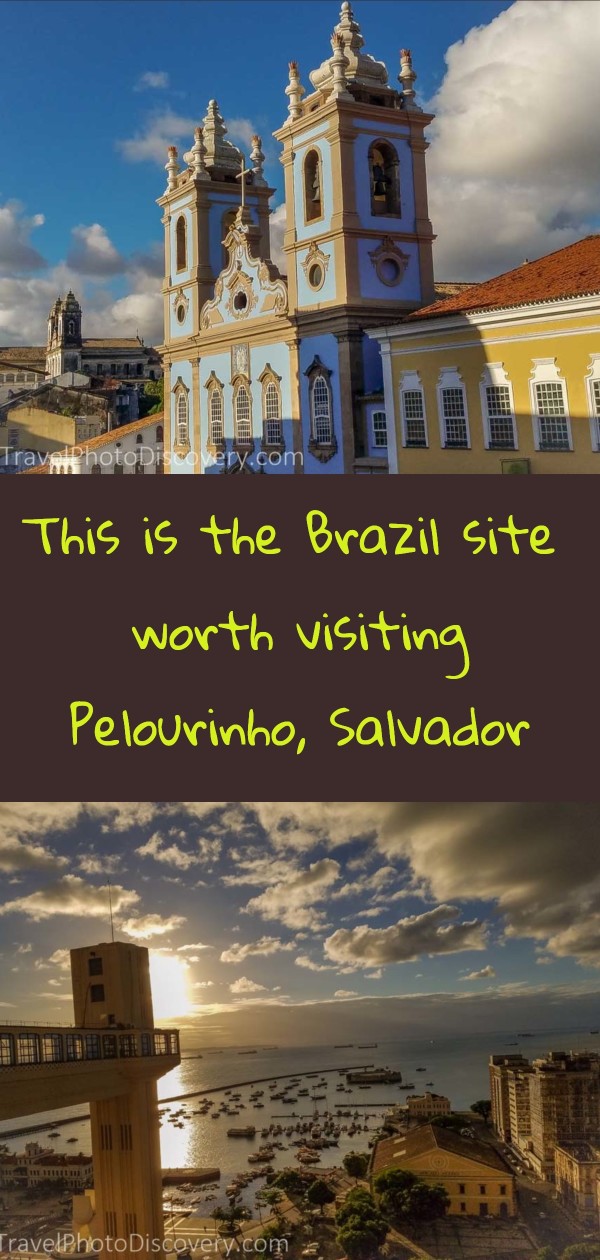 Have you been to Pelourinho at Salvador de Bahia?
I would love to get your input on your visit and other tips and suggestions to visiting the area in the comment section below.
Conclusion to visiting Pelourinho at Salvador de Bahia
Visiting Pelourinho in Salvador, Brazil, is an immersive and captivating experience that will leave you enchanted by its vibrant culture, rich history, and culinary delights. As you wander through its cobblestone streets, adorned with colorful colonial buildings, and soak in the rhythmic sounds of Afro-Brazilian music, you'll find yourself transported to a bygone era.
Thanks for visiting today and checking out this post on Visiting Pelourinho Salvador de Bahia, if you enjoyed the images and post, could you please share it with any of the social media buttons located around the post.
If you like what you see, come and check out my other social media channels for more updates, including Instagram, Pinterest and Twitter
Disclosure – There are affiliates links on this posts which provide a small commission to support this site at no extra cost to you. Thank you for reading, and happy travels.