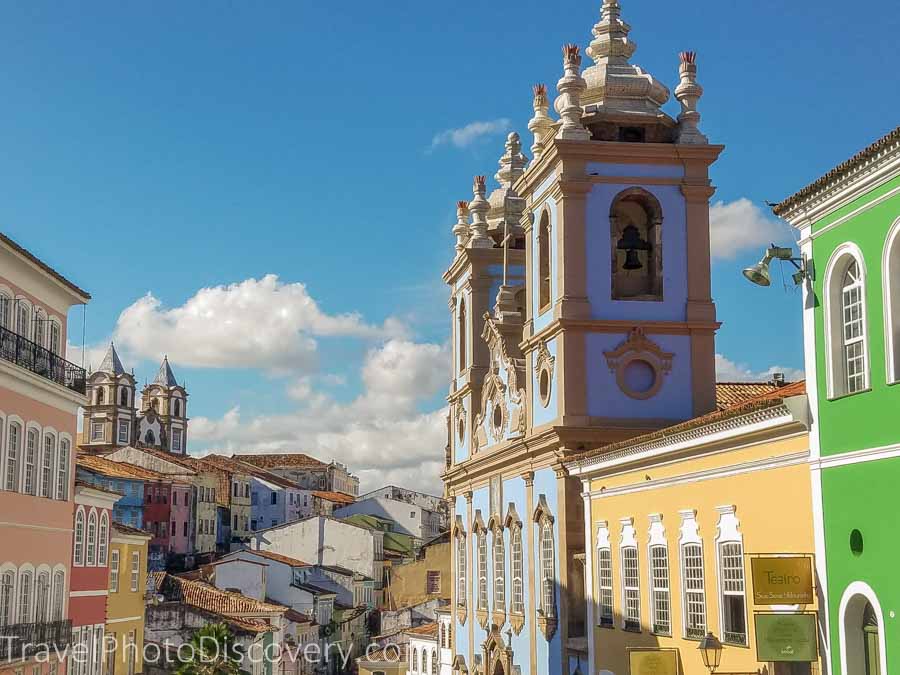 Once the historic capital of Brazil during the early Portuguese colonial settlement, Pelourinho in Salvador de Bahia is filled with amazing architecture, historic churches and buildings to this well restored Unesco World Heritage site. This is definitely worth taking a short plane ride to explore the first and oldest colonial capital of Brazil and enjoy the essence of the regional capital of Bahia.  Check out the highlights to visiting Pelourinho Salvador de Bahia and hopefully you will put it on your travel agenda while visiting Brazil.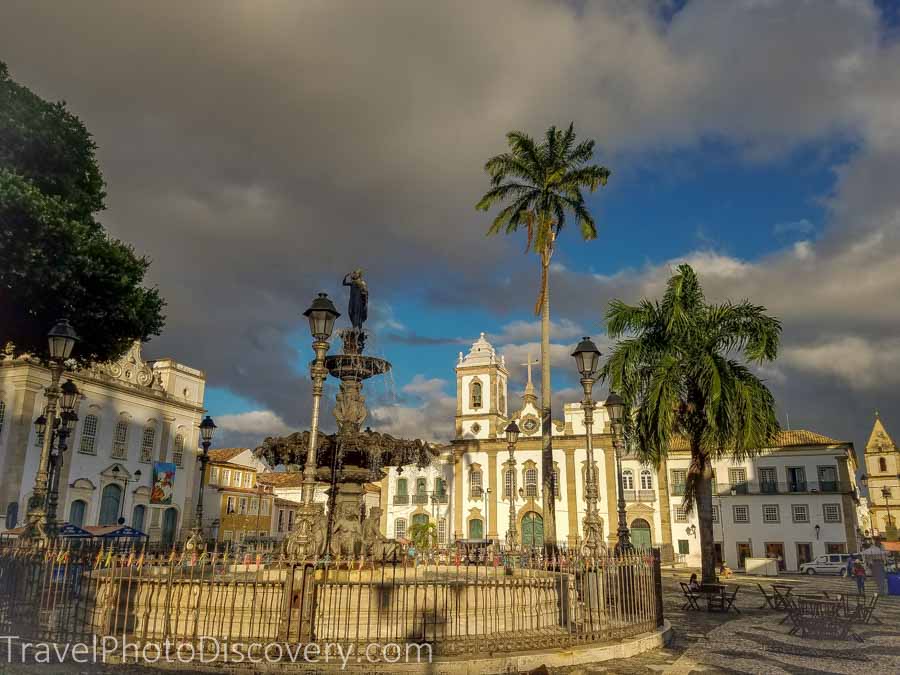 Historic capital of Pelourinho in Salvador
Pelourinho or Pelo is the historic neighborhood of the main city of Salvador. The name is derived from the whipping post in the main plaza where slaves were punished for any infractions or disciplinary purposes. The city of Salvador was the first colonial capital of Brazil and was the first city established by the Portuguese in 1549 with the historic district at Pelourinho. This area is rich in historic attractions,  dazzling churches, public squares and monuments built-in the 17th to 19th centuries. The Unesco World Heritage sites certified this district as an outstanding colonial capital and center designated in 1985.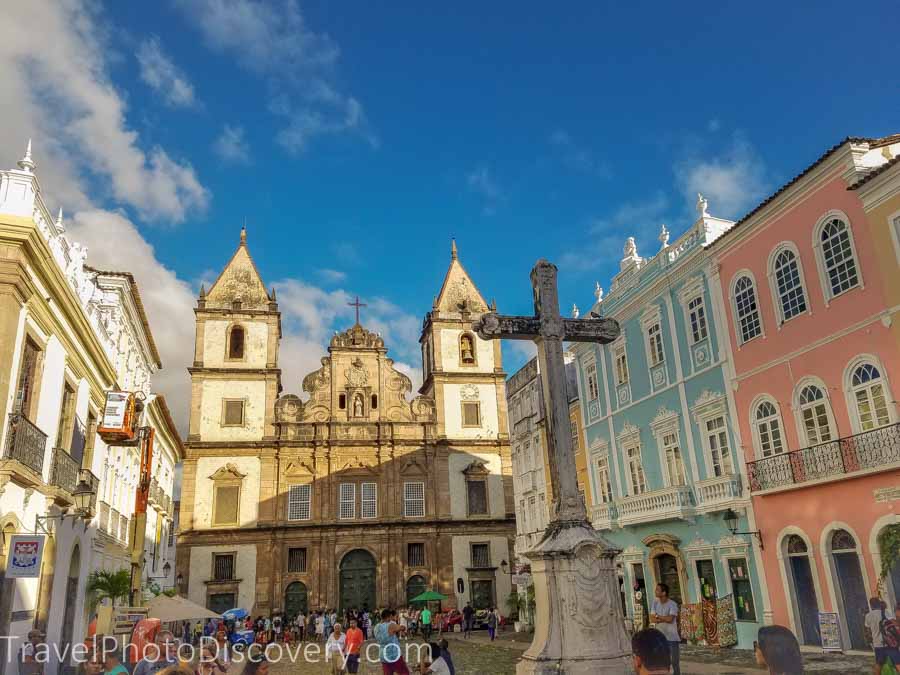 Unesco World heritage site of historic Salvador
As I walked around the many cobbled streets and wonderfully restored squares, I see there are still many buildings being retrofitted with the aid of Unesco and this is a fantastic sign that these grand buildings in Pelourinho are being brought back to life including the main cathedral that is going through a major remodel while I was visiting.
The Unesco designation of Pelourinho certified in 1985 has done a lot to bring back the grand scale of this historic capital and Portugal's first colonial capital being a shining symbol of how significant and stunning the churches, public buildings and other architectural gems can be visited and repurposed to their former glory. In spite of all these colorful and beautifully restored buildings, there are still so many left either slowly decaying or waiting for some other investors to bring them back to a glorious return.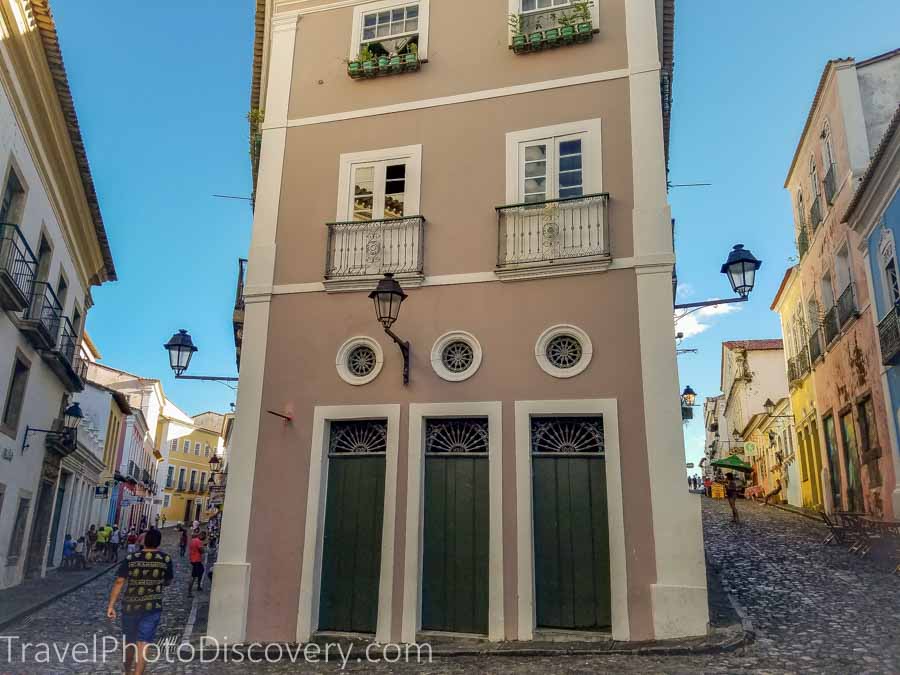 Exploring the streets & neighborhoods at Perlourinho
It doesn't matter what side street or road you take in the historic district, they all come back into the main squares of the old town. Colorful buildings with attractive signs and dressed up ladies in their local costumes wink and try to get you closer in for a photo-op or even get a blessing in the local voodoo ritual to cleanse your spirits and bring you good luck.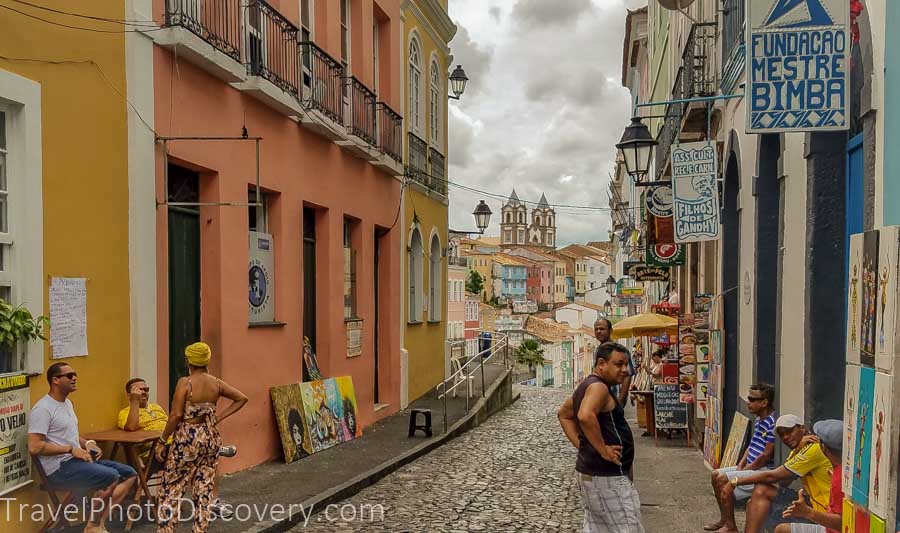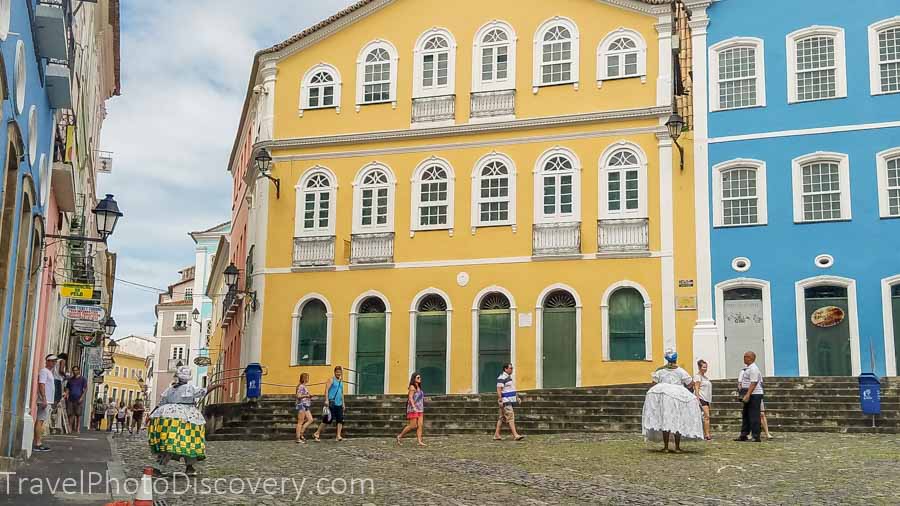 Do you want to try a Bahian ritual blessing?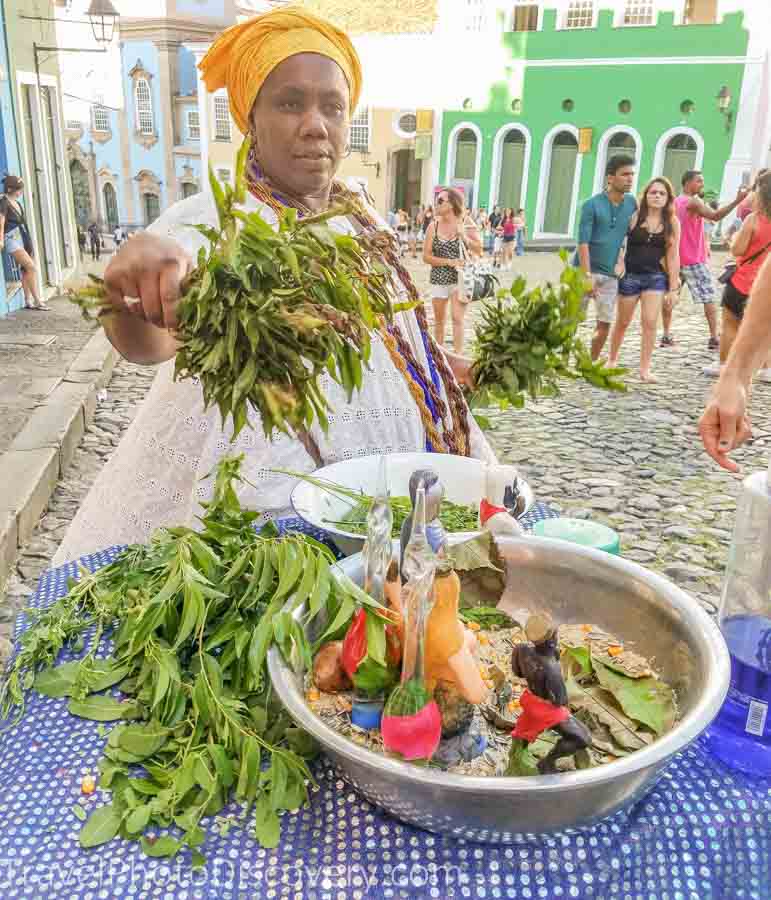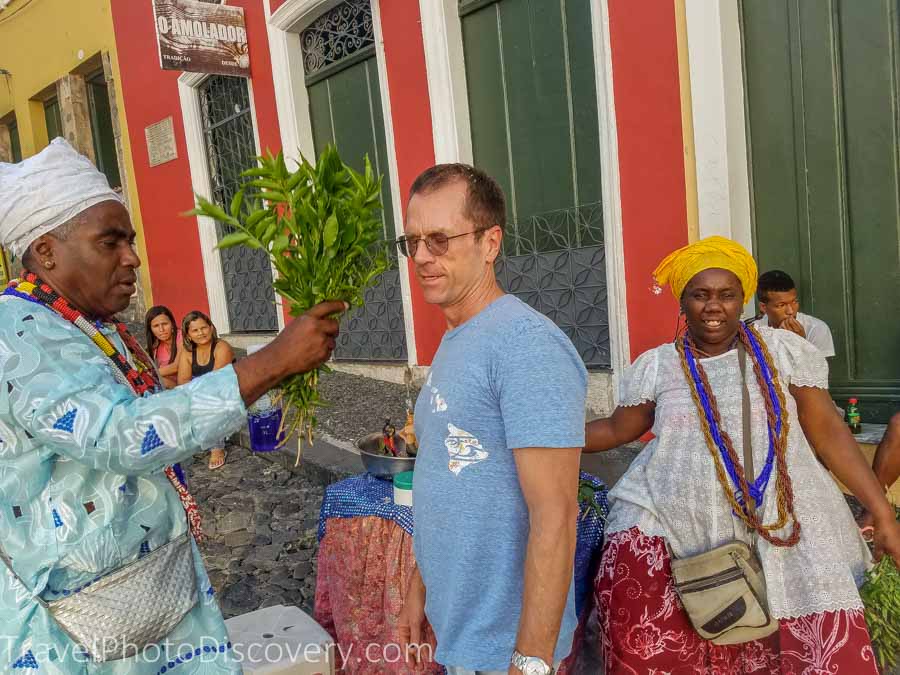 Exploring one of the fun neighborhoods in the Pelourinho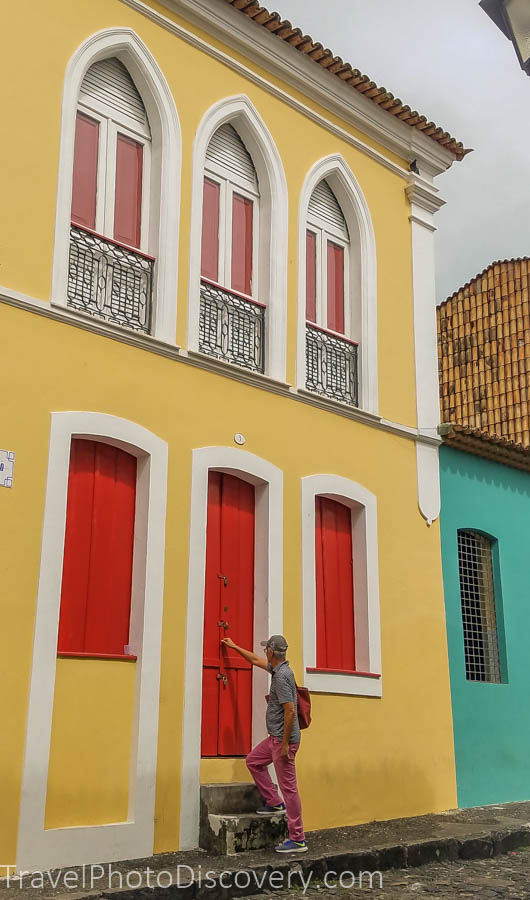 Colorful buildings at every corner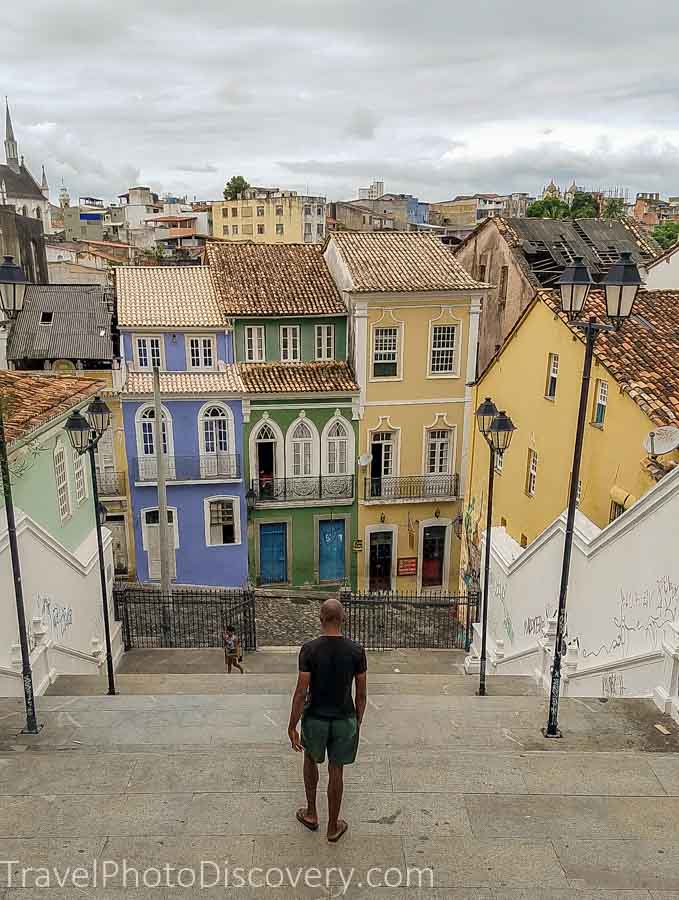 The quiet streets are fun to explore in Pelourinho, if you just turn a corner you'll suddenly find the street filled with outdoor cafes and leading directly into smaller squares filled with art galleries, cafes and the typical souvenir shops selling cheap and colorful take home momentos. Be prepared for climbing a lot of hills, the old town has plenty of them to explore and enjoy some interesting architecture and views all around the city.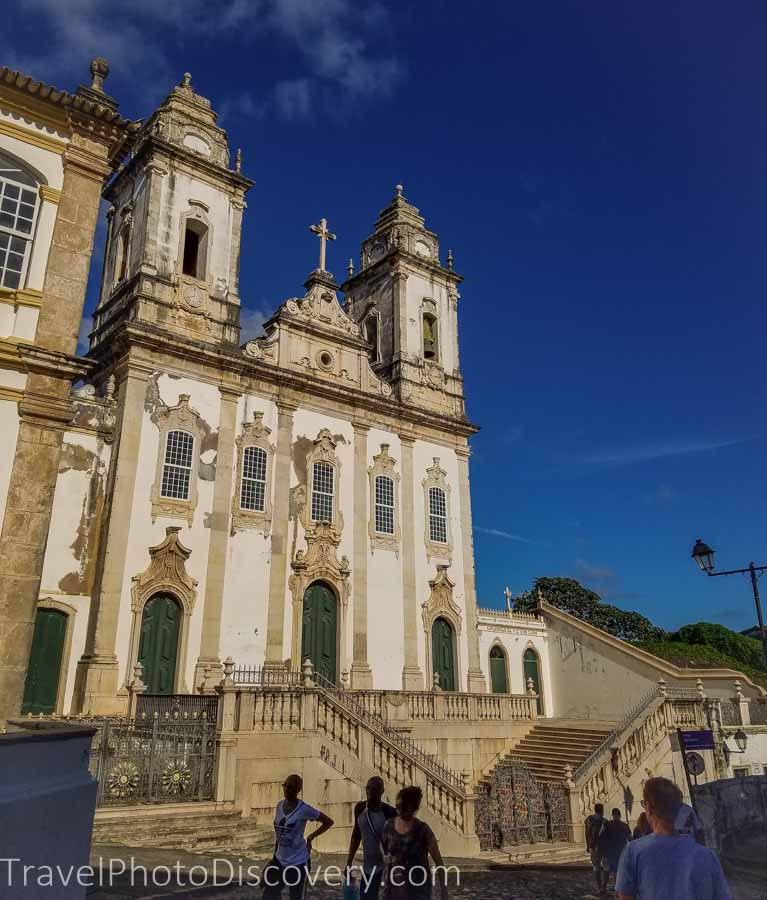 The stunning churches of Pelourinho
It seems like there is one stunning church after another located in each the beautiful squares around the old town and tucked into back streets of the historic district. All of these churches have a fascinating history, creation and containing wonderfully made local artwork, glorious altars and chapels filled with impressive artifacts, collections, paintings and over the top spiritual creations.
Located on one of the main squares of Pelourinho sits the majestic Church of Our Lady of the Rosary of the Blacks. Built by the brotherhood of enslaved Africans, this historic church is impressive to visiting walking around its exteriors and ornate interior halls and chambers. The church is rich in architectural details and beautiful panels that explain the history of the church and catholic faith through the Portuguese settlers.  A visit during church services really brings the spiritual energy alive with devoted parishioners that sharing their rituals and faith and lively spiritual music in this wonderful space.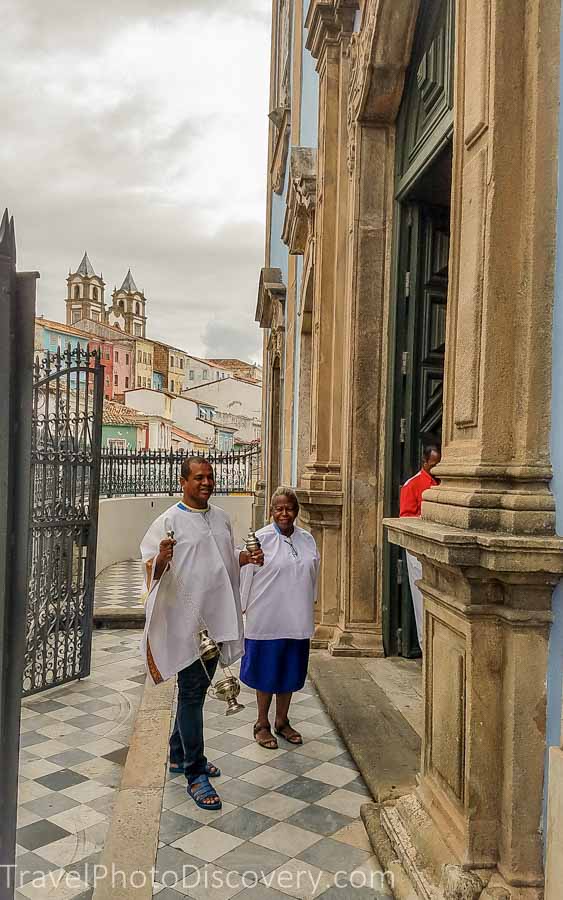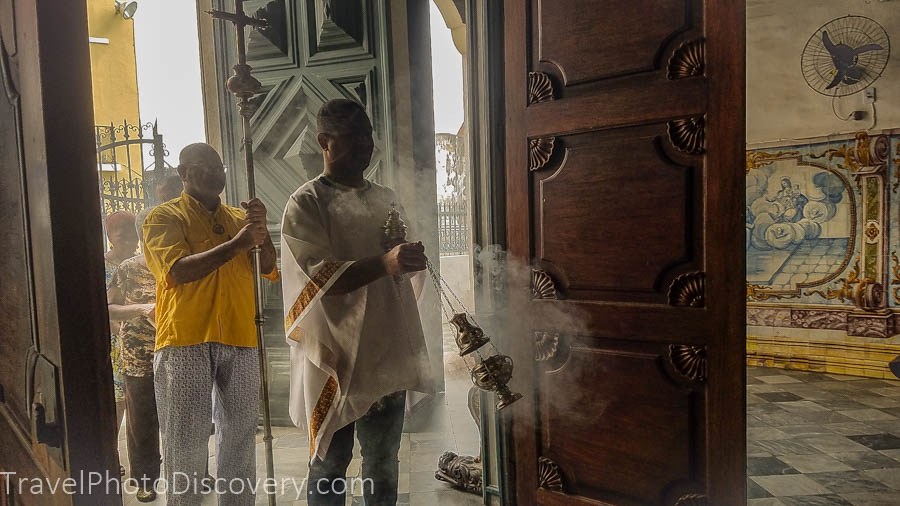 I loved visiting the many other monasteries and adjunct buildings with stunning Portuguese blue tile work that have been imported and brought back to adorn these impressive structures and the many unique rooms that are open to visit. The impressive church and convent of the Igreja e Convento de São Francisco in the historic district truly exceeds all expectations of the grandeur and elaborate churches built during that timeframe of the colonial capital. Even though the church is dedicated to the order of St. Francisco, the interior of the church is built with over the top carvings, precious metals, sculpture and riche materials that showcasing a grand baroque appeal and style.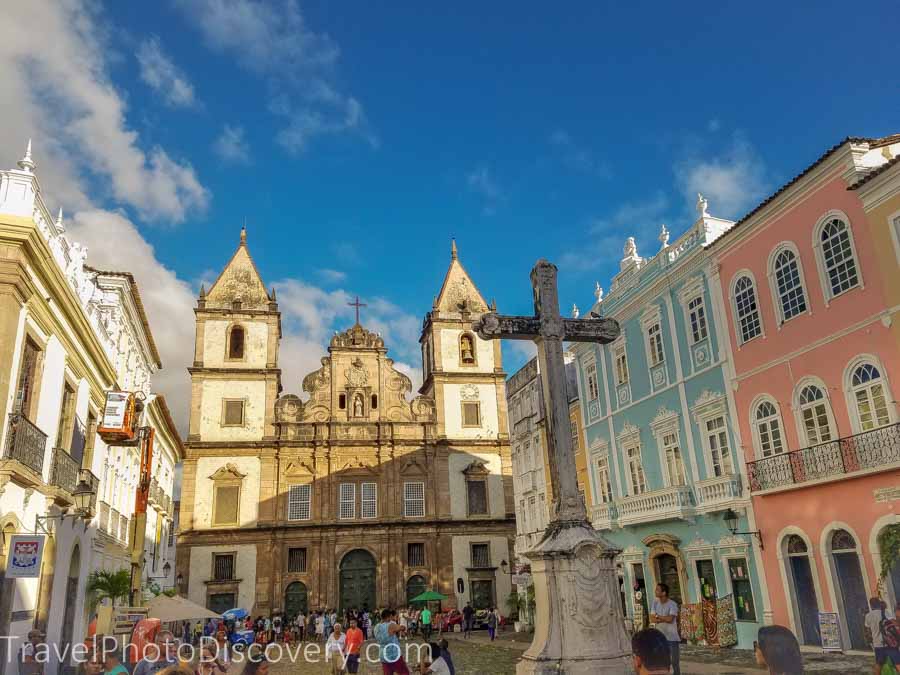 The elaborate interiors of the Igreja e Convento de São Francisco
The interiors of the church are ornately decorated in Portuguese baroque fashion with gold everywhere to show the opulence of the catholic church in the New World. The church initially built-in the mid 1580s were then destroyed and rebuilt in the 1720s with several local artists completing the interiors towards the early 18th century.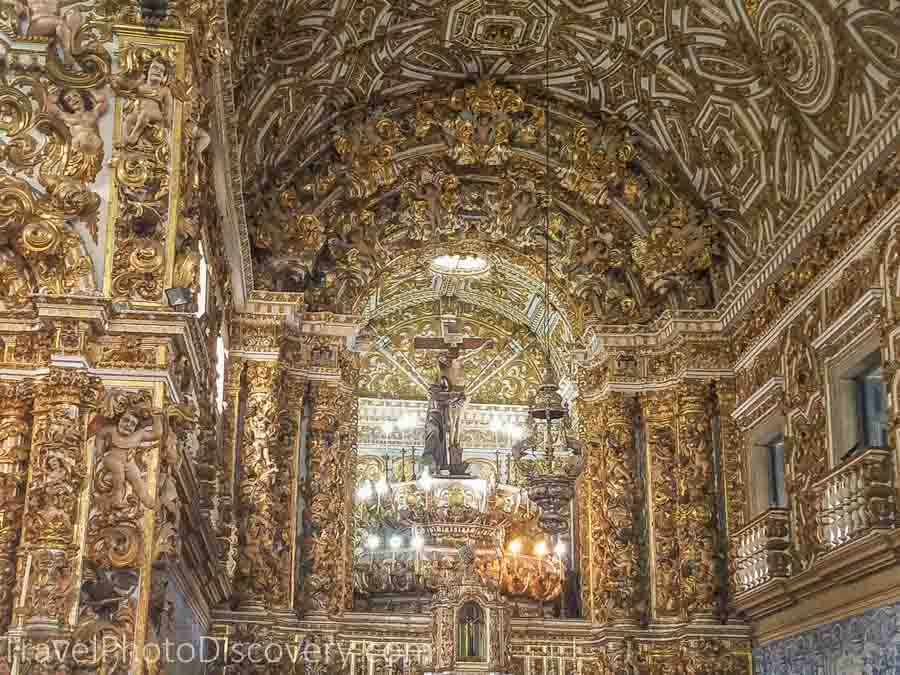 Side chapels of the Igreja e Convento de São Francisco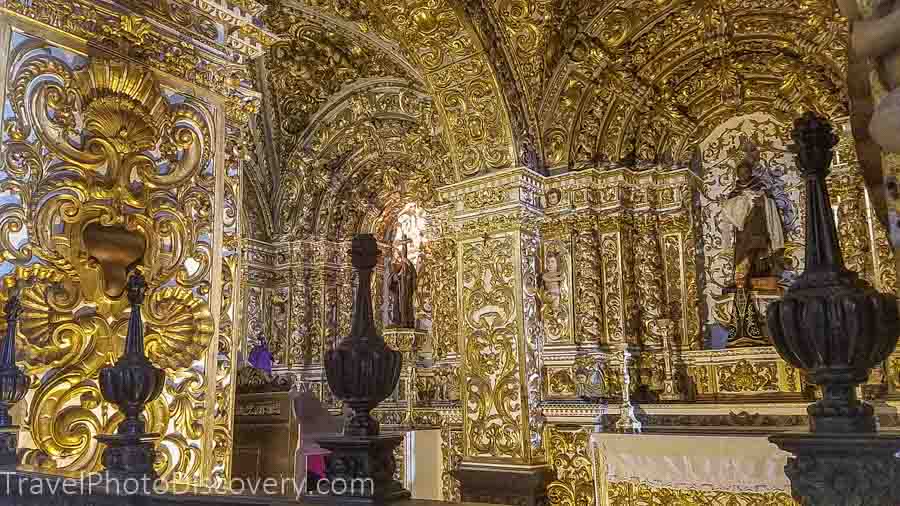 The convent and grounds
The convent and church grounds are all part of the historic colonial monuments which make up the Unesco World Heritage site and part of the historical center of Pelourinho. And it is a stunning and well maintained group of churches that form this Unesco designation.
Elaborate imported tile work from Portugal
Largo Terreiro de Jesus plaza with the cathedral and other churches
One of the larger squares of the historical district, this square features the cathedral of Salvador, two other significant churches, the palace of the archbishop and other baroque palaces fronting this magnificent square. Currently during my visit the cathedral is undergoing major retrofit through Unesco but many of the adjacent buildings and churches are open depending on hours of operation.
Other must visit attractions in Pelourinho
Other that visiting the main squares, churches and small side streets of Pelourinho, there are many other attractions, museums and monuments worth visiting in the historic center of Salvador. Here are the must visit sites worth spending time to explore: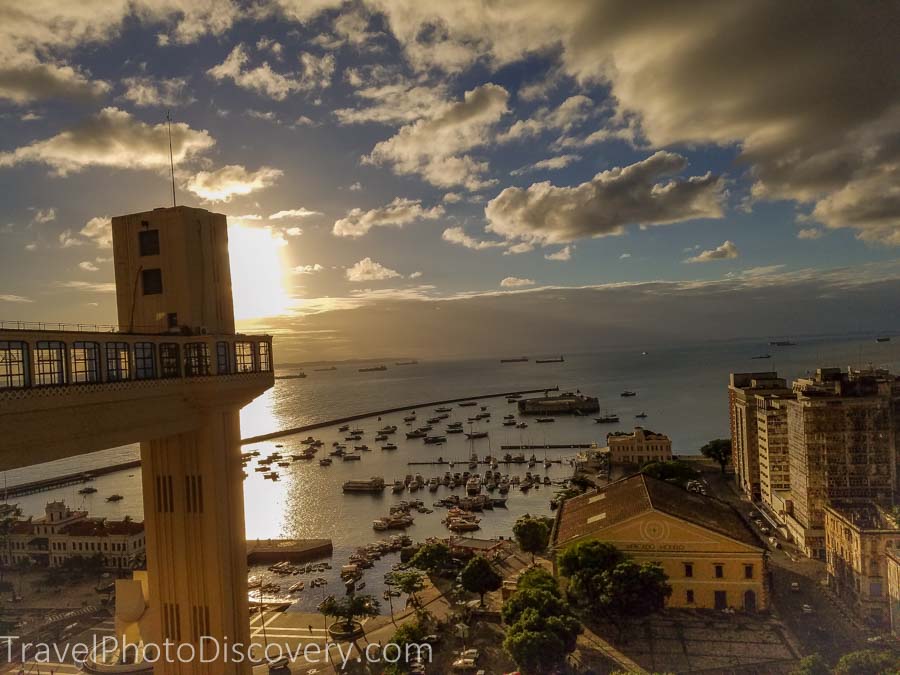 Checking out the views from the elevators to the lower town of Salvador de Bahia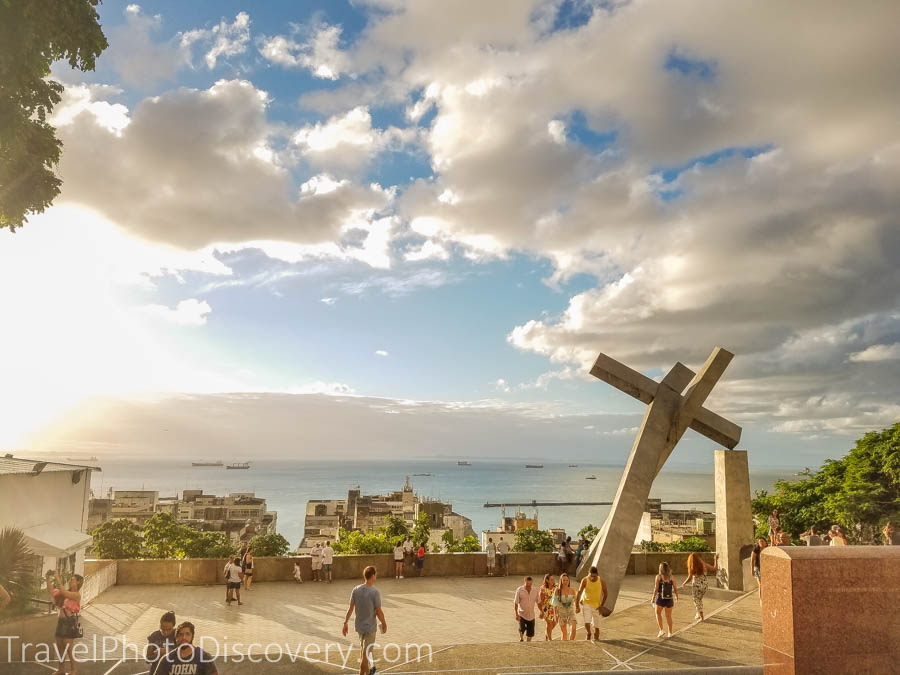 Trying out the funicular to lower town in Pelourhino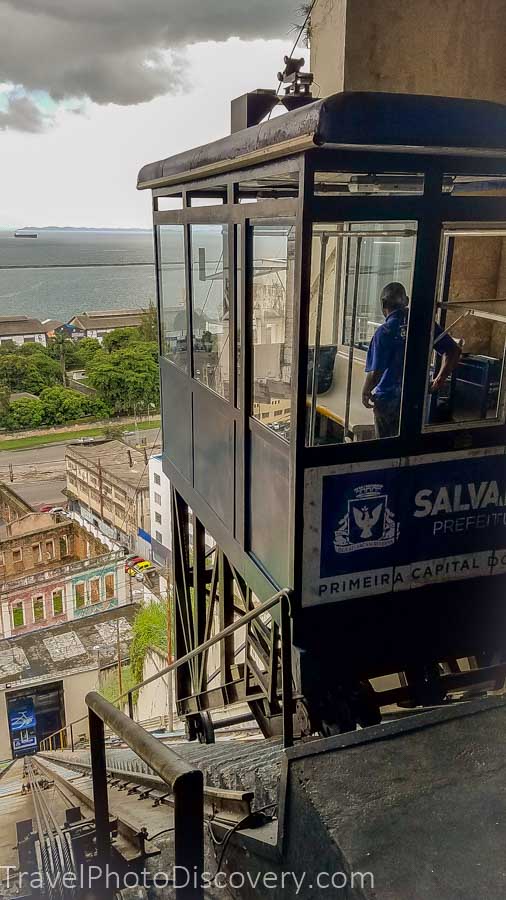 Visiting the harbor and craft center in Salvador's lower town
The lower town of the city is part of Salvador, the name of main city and area in which Pelourinho is considered the upper and historic district. There are many things to do and see in the lower town including the harbor area, the craft center called Mercado Modelo and even a cruise around the bay and a historic fort located in the harbor area. Unlike the mostly refurbished upper town, the lower town is slowly falling apart but still fascinating to explore all the beautiful but decaying buildings that at one time were gorgeous structures during its timeframe.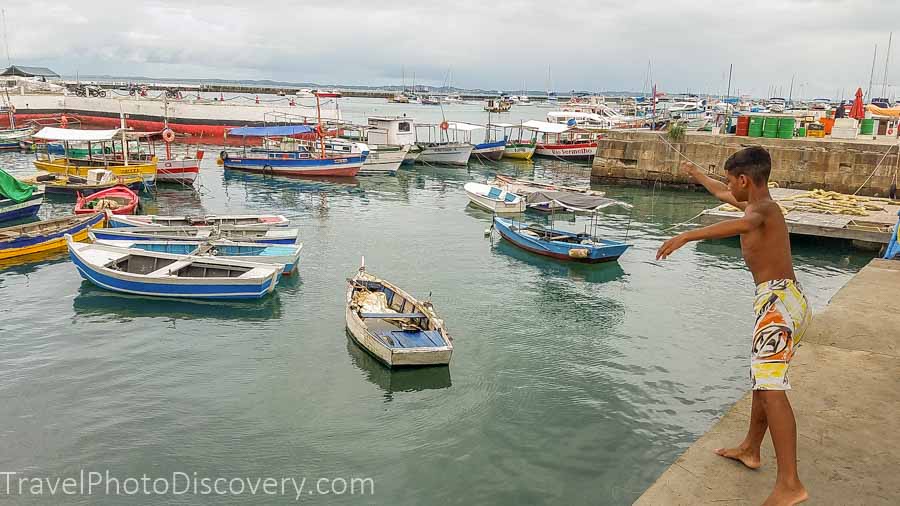 Looking for souvenirs and bargains at Mercado Modelo by the harbor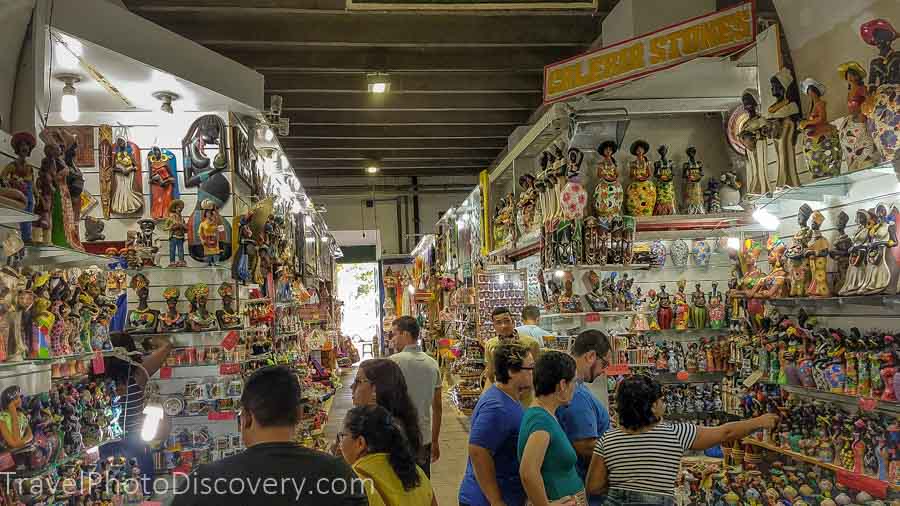 Sunset time at Pelourinho is a must!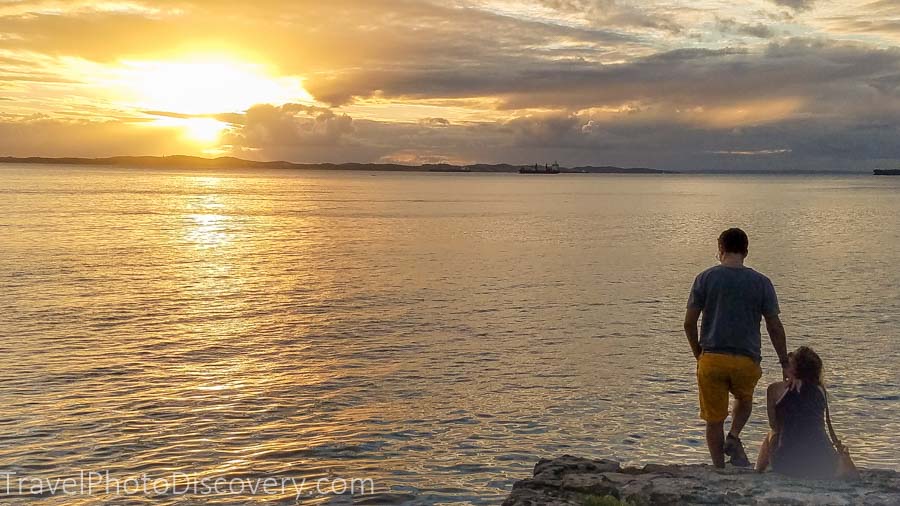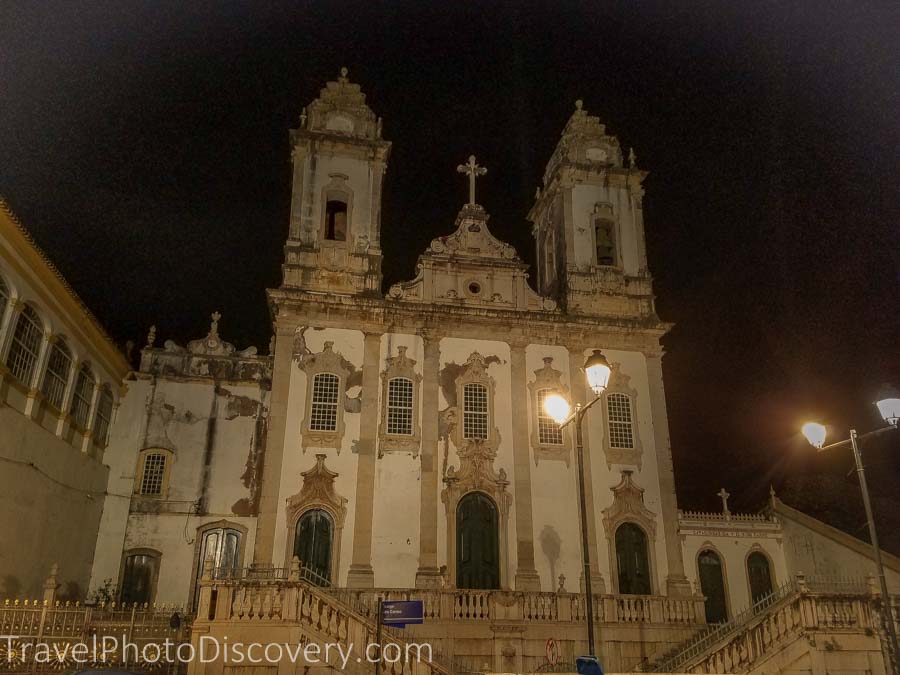 Exploring Pelourinho at night is magical!
Night time is a wonderful time to explore Pelourinho with all the squares, monuments and buildings lit up. It's fun to find a cool outdoor venue, an intimate rum bar or even more lively Samba club that is very loud and addictive to walk into and enjoy the local vibe and music. For those wanting a little more quiet – it's easy enough to walk the quiet streets away from the crowds and enjoy this beautiful area without the throngs of tourists walking the streets.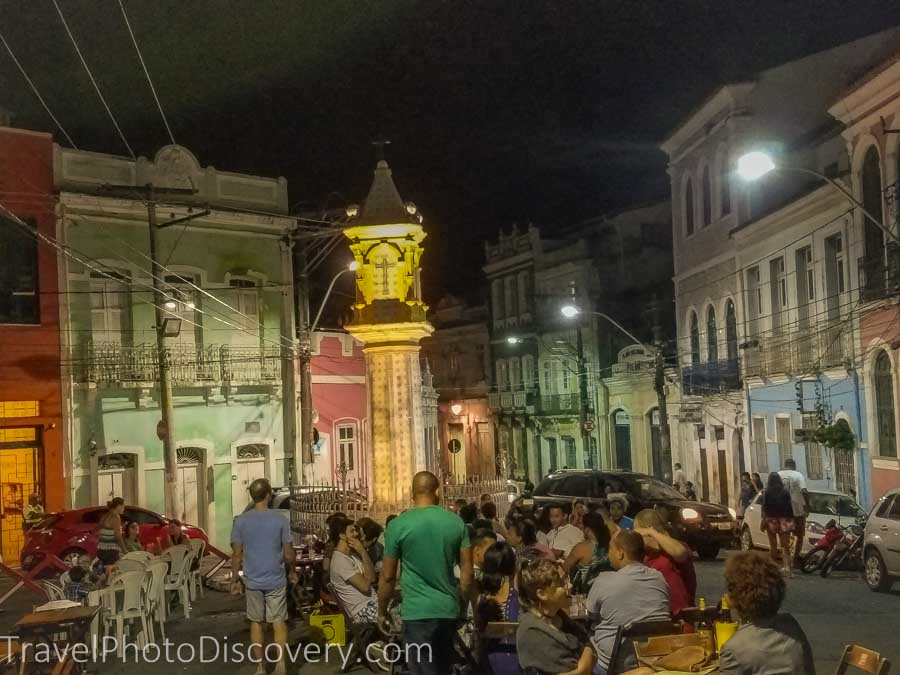 Enjoying a rum bar and delicious caipirinha
At night the scenes in Pelourinho cater to more lively scenes at rum bars and Samba clubs for visitors to enjoy, there's a variety to choose from and you can easily hear the loud samba dance music from a distance to help lead you to a lively spot for some fun dancing and people watching.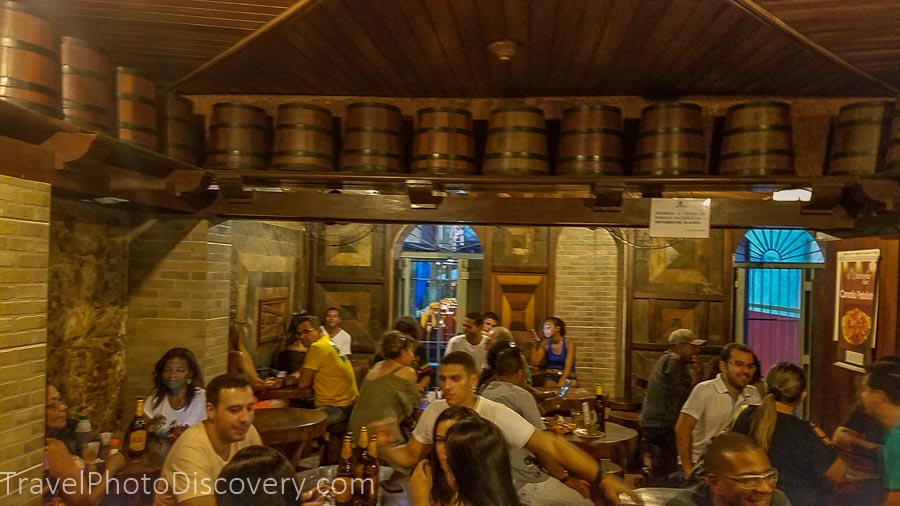 Enjoying a delicious Caipirinha
If you are interested in seeing the history and culture of Brazil wrapped up in a beautiful colonial city, then head out to Salvador de Bahia and the old town of Pelourhino. It's a fascinating Unesco world heritage site filled with amazing architecture, monuments, squares and impressive attractions worth visiting in the old town and around the different areas of Salvador in general. Hope you enjoyed this post and summer and please bookmark this for any future visits to the area.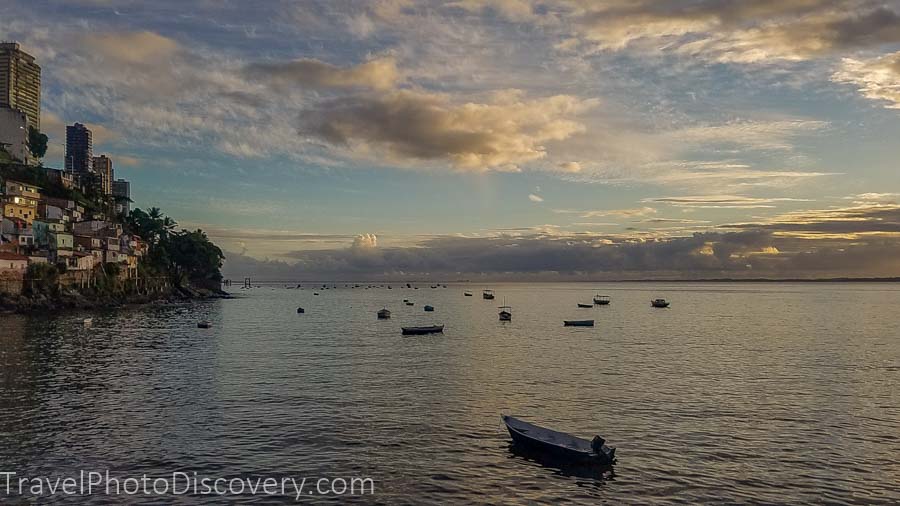 How to get to Salvador de Bahia
Salvador is located on the Northeast region of the country with plenty of regional carriers that fly to Salvador airport. The flight is under an hour and a half from Rio and about 2 and 1/2 hours flight from Sao Paulo. You can easily check for discounted airfares if booked in advanced through Expedia and Cheapo Air to compare prices to Deputado Luís Eduardo Magalhães International Airport in Salvador.
You can also take regional buses to Salvador but the driving times are very long from both major cities.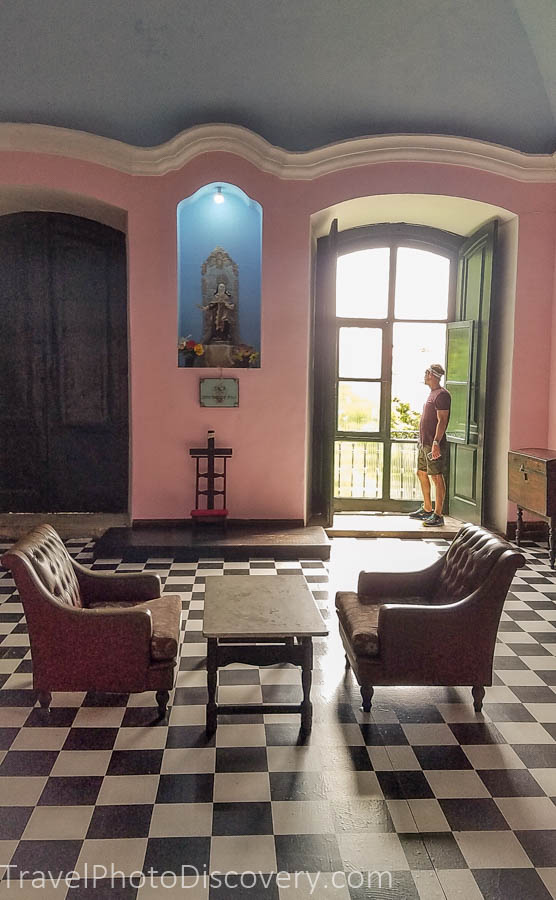 Where to Stay in Salvador and Pelourinho
There are so many wonderful places to stay in Pehourinho, but to get a real flavor of this colonial capital I suggest staying at any of these wonderful small inns called Pousadas.
Pousada do Boqueirao – a charming inn with lots of appeal, cool rooms and colonial charm. We stayed at this property and it was fantastic just outside the tourist zone so very quiet, amazing buffet service and spacious rooms.
Pousada Bahia Pelo – Affordably priced and a popular choice review, this pousada is centrally located, new, clean and friendly front desk service.
Casa de Vitoria Pousada de Charme – a charming inn in a good part of the historic district with comfortable rooms, good breakfast and priced well.
For more reviews of Pousadas in Pelourinho, check out these Inns here for current prices and availability.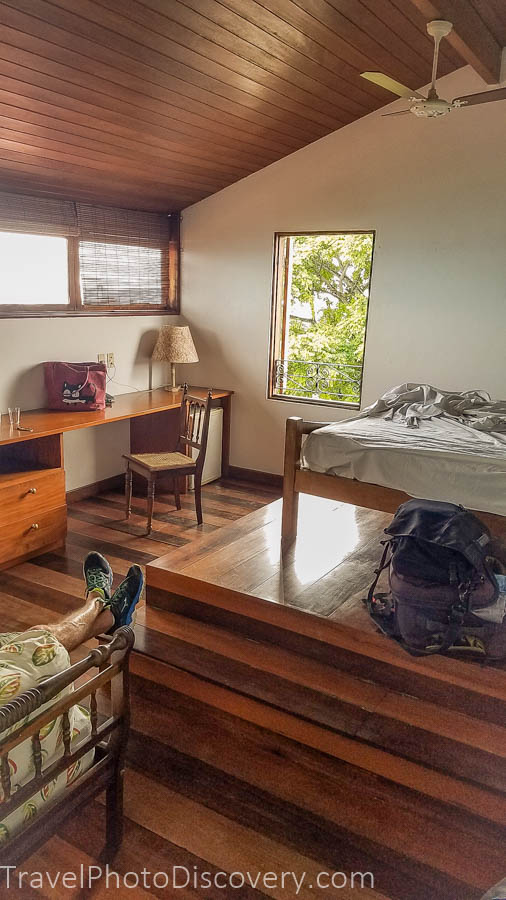 Like this post – Please pin it!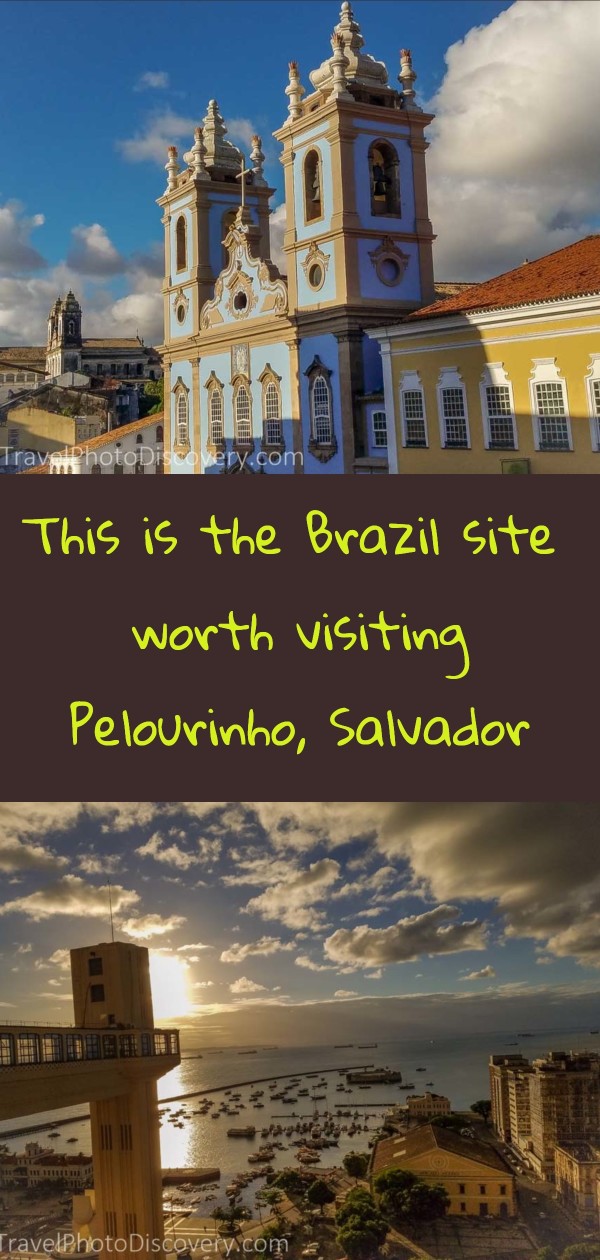 Thanks for visiting today and checking out this post on Visiting Pelourinho Salvador de Bahia, if you enjoyed the images and post, could you please share it with any of the social media buttons located around the post.
If you like what you see, come and check out my other social media channels for more updates, including Instagram, Pinterest and Twitter
Disclosure – There are affiliates links on this posts which provide a small commission to support this site at no extra cost to you. Thank you for reading, and happy travels.