Voluntourism with Fathom cruise in the Dominican Republic
I just finished taking one of the most fascinating cruise trips that I will stay in my mind –  it was an incredible personal journey with Fathom Cruise traveling to the Dominican Republic. What was different about this trip was the opportunity to really make a personal contribution and give back to various local communities in the Dominican Republic while traveling and connecting with locals on the island. This concept of incorporating volunteerism while traveling has always been something I've wanted to do and make a little contribution in order to help the world heal one little step at a time.
The cruise to the Dominican Republic, one of the most impoverished island nations in the Caribbean shares that type of caring and experiential experience that imparts sharing,  giving and developing a real connection and experience with the local community.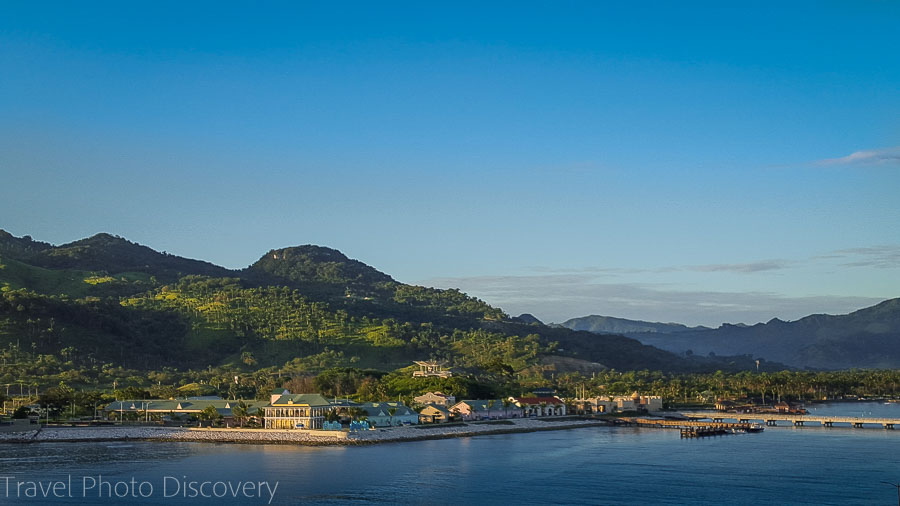 Why the Dominican Republic?
The Dominican Republic is one of the most impoverished island nations in the Caribbean shares that type of caring and experiential experience that imparts volunteering, contributing and sharing a real connection and experience with local communities on the island. In collaboration with the local non profit group IDDI, Fathom has forged some solid commitments and volunteer based impact experiences for travelers to be active in community based programs that enrich education, environment and support local economic cooperatives that empowers individuals and groups. In addition to these programs, visiting the visually stunning region around Amber cove and Puerto Plata is a feast for the eyes and delicious local foods.

Video highlights tour on Fathom
Here are some highlights on the Fathom Cruise experience, the gorgeous landscape of the Dominican Republic and the main city in the area called Puerto Plata. I'm also sharing some of the wonderful experiences connecting with the local community and participating on some of the volunteer impact experiences that Fathom offers while visiting the Dominican Republic.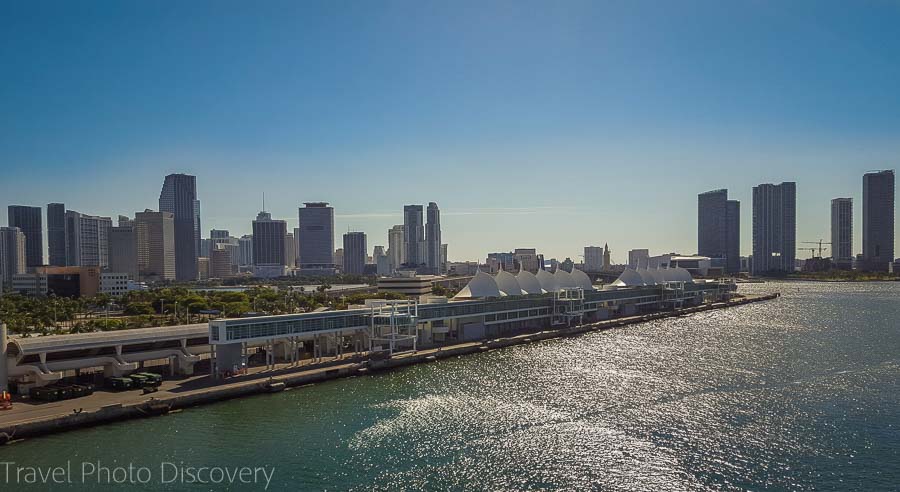 Leaving Miami to the Dominican Republic
Leaving Miami is festive like the typical departure from the port with lively Caribbean band music filling the air, but the smaller cruise size which maxes out at 700+ passengers (about 300 or so on our tour) made the cruise more intimate in size and more fun.  I practically met everyone on the cruise and became friends with many visitors that I'm sure I will be in contact with on an ongoing basis, even participating in a few Fathom Facebook group to share pictures and experiences.
Passing through Miami Beach area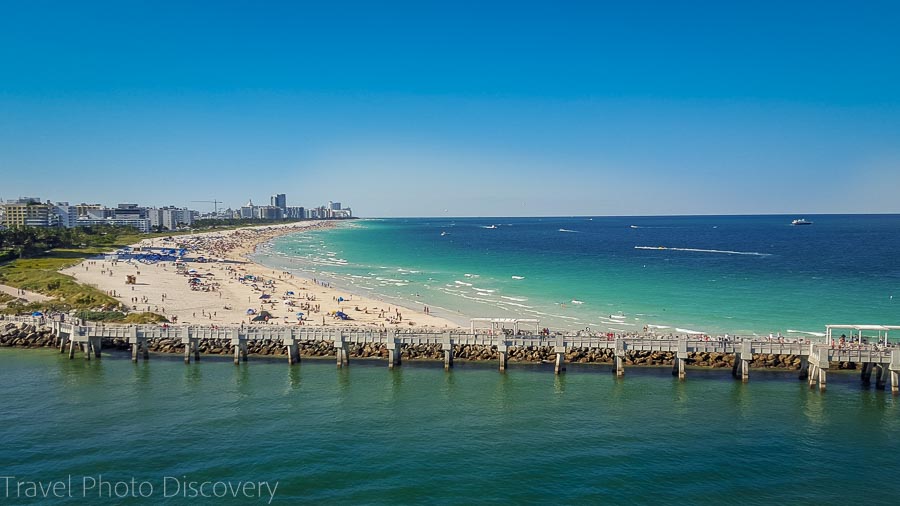 Departure and live music on the Adonia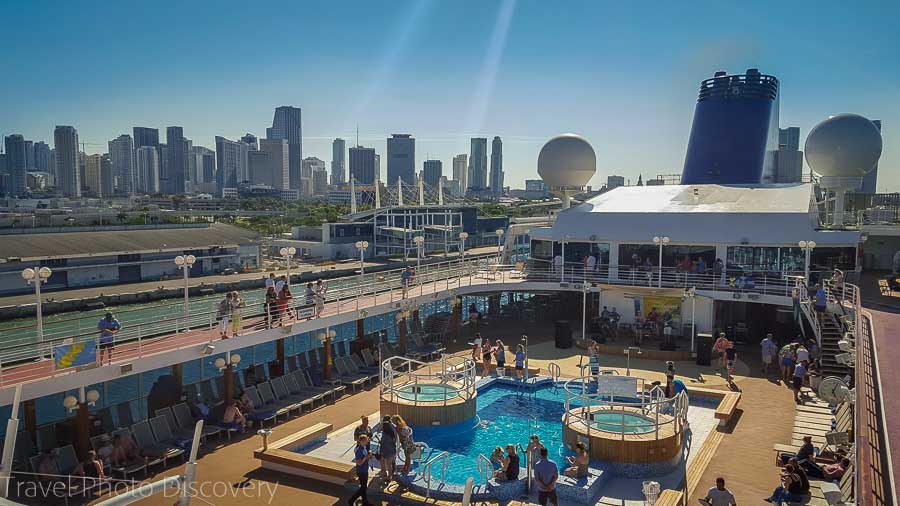 Sunrise on the Adonia in transit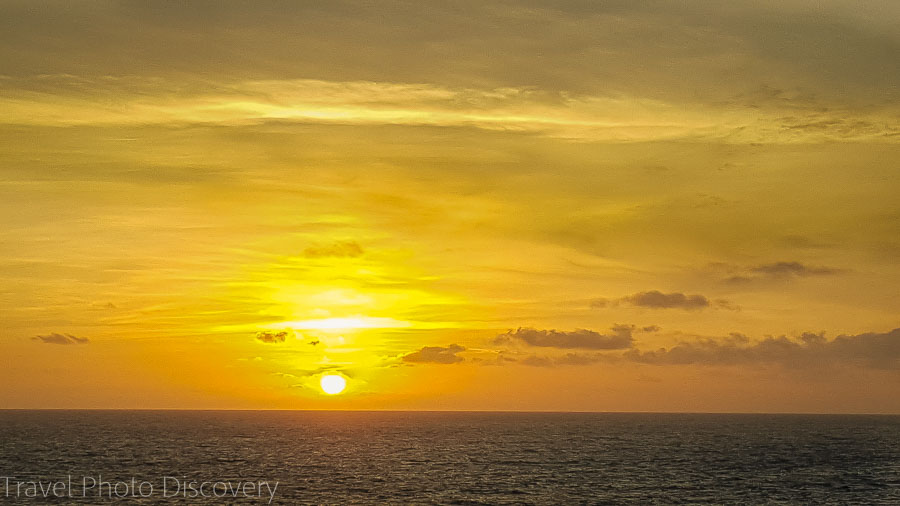 Transit time filled with education and inspiration
Unlike many cruise lines that are filled with entertainment activities, on board games, casinos and conga lines, the Fathom Cruise minimizes the entertainment venues but replaces those with rich, life affirming and positive change making sessions. This includes talks covering discussions that are broken down into cohort groups or open drop in talks
Introduction to Fathom and the travel deep experience
Basic Spanish conversation
Understanding the people and culture of the Dominican Republic
Empowering English tutoring
Dance classes in Merengue, Salsa and Bachata
Life hack boot camp
Most of the gatherings are open discussions or low impact activities that involve community discussion and participation and hopefully inspires you to draw on these talks to use them as tools for your own deep impact programs that you can take part on at the Dominican Republic.
First glimpse of the Dominican Republic coast
Arriving mid day to the Dominican Republic was welcomed after two days of ocean travel. It was a nice sunny afternoon and everyone was ready to go out and explore the Amber Cove resort with a nice village, beaches and resort amenities that are reserved primarily for Fathom and Carnival guests visiting the Amber resort. Visitors are given free choices to take part immediately on impact experiences around the island or just take it nice and easy with the huge swimming pools, bars and resort atmosphere and amenities at Amber Cove. There were also available tours available to take around key landmarks and attractions in Puerto Plata and other popular destinations along the Amber Coast. We even visited a local gem museum featuring some of the some of the popular gems like Amber filled with strange insects and other strangely entombed oddities.
Fathom's stop at Amber Cove

The Amber Cove resort area and swimming pools
In between the scheduled impact visits to local nonprofit groups and education centers, visitors had enough down time to hang out at Amber Cove village and the gorgeous swimming pool areas or shop in the village for souvenirs or specialty goods from the island.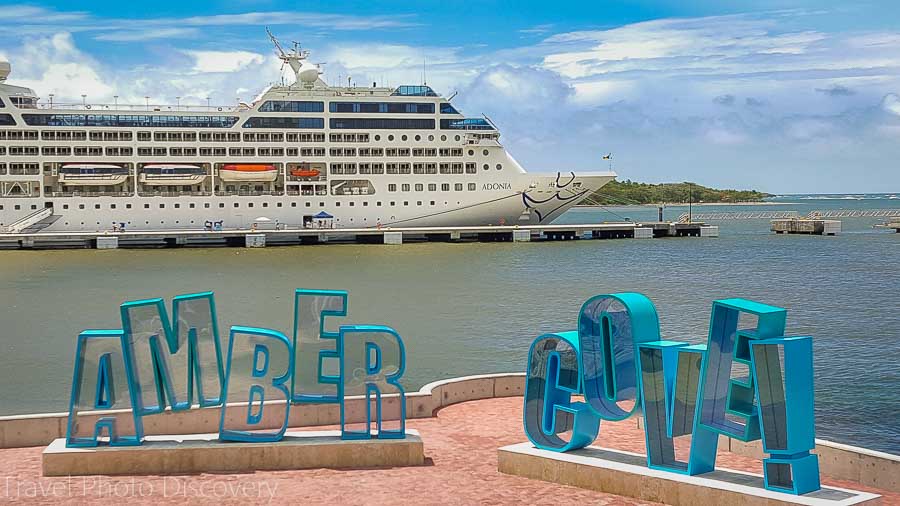 Fathom impact activities
For the three days that Fathom is docked in Amber Cove, the guests have up to six impact activities that they can take part in. These include a variety of community oriented activities that support environment, commerce or education purposes which have been thoroughly planned and coordinated with the Fathom team and local nonprofit organizations IDDI, Wine to Water and Etrena supporting local community and rural projects. Fathom impact guides have been active during the two day transit time to lead us in effective participation and involvement and now they are also our local guides with the nonprofit representative for each impact activity that visitors can choose from the following:
Reforestation and Nursery
Cacao and Women's Chocolate Cooperative
Community English Conversation and Learning
Student English Conversation and Learning
Water Filter Production
Concrete Floors in Community Homes
Creative Arts, Music and Sports
Recycled Paper and Crafts Entrepreneurship
I signed up for three: the Women's chocolate cooperative, Recycled paper and crafts and Community English which were all fantastic, here's a quick summary of each impact program below.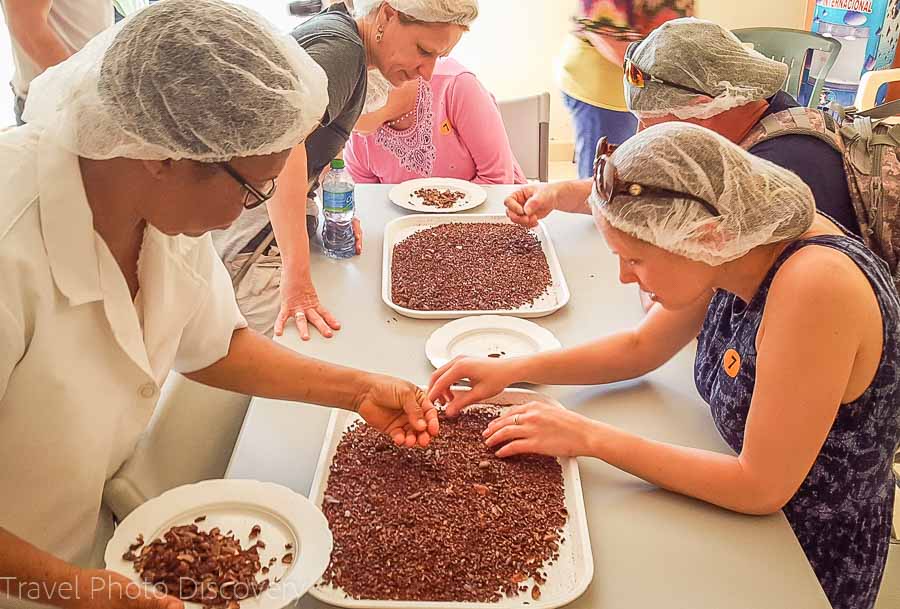 Chocal – women's chocolate cooperative
One of my favorite activities was a visit to the local cacao factory called Chocal, a women's chocolate cooperative in the rural hill area outside of the main city of Puerto Plata. We did a quick meet and greet and tour of the facility and later broke out into smaller groups to start participating in the impact activities including sorting, using molds to create chocolate and finally helping in the packing process. Even though the volunteer sessions were relatively short, we made some impact and helped financially in purchasing a bus load of goodies from all the participants. You can check out more images and my complete story of the Chocal experience here.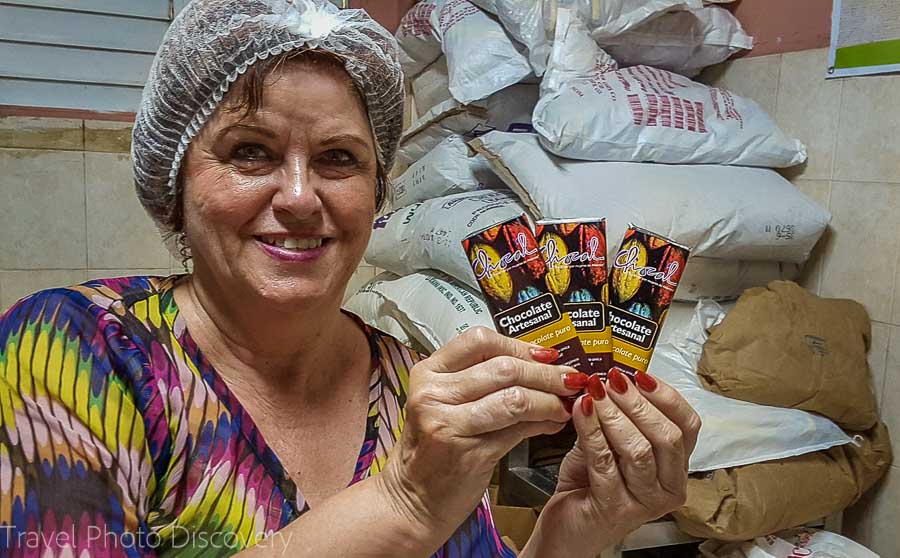 Recycled paper and crafts at RePapel
A visit to a very poor district is the inspiration for another group of women forming RePapel with the help of local nonprofit IDDI and Fathom Cruise. In a large building the women of Repapel create recylcled paper and other products for various commercial uses. Along with the Impact guides we are broken into smaller groups to learn and give in the paper making process and other crafts programs like candle making, jewelry and coasters that are primarily sold in their store to the visitors along with selling in other local markets. The spirit, camaraderie and impromptu singing and dancing of the RePapel women really inspire and make their work so much fun. You can check out my video below of the experience.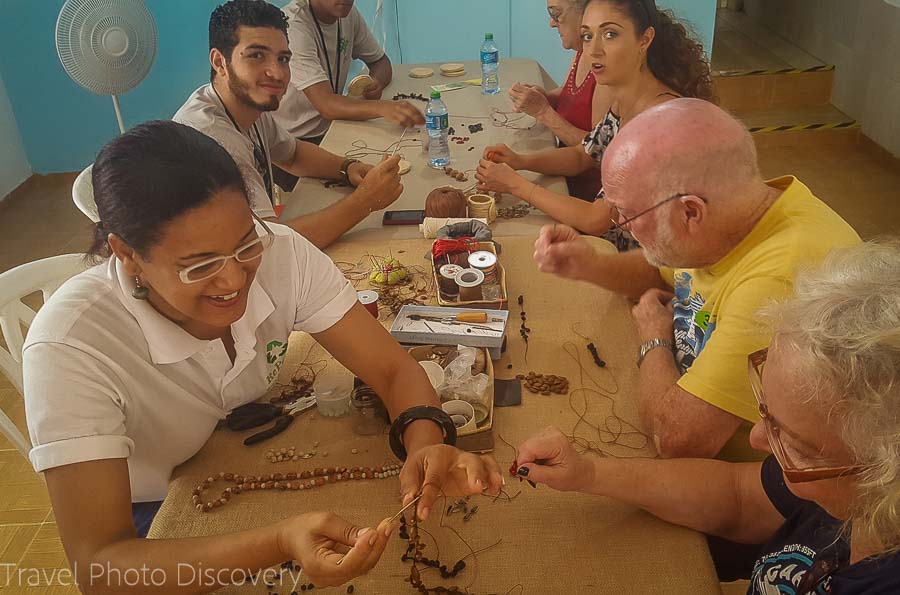 A demonstration on paper making at RePapel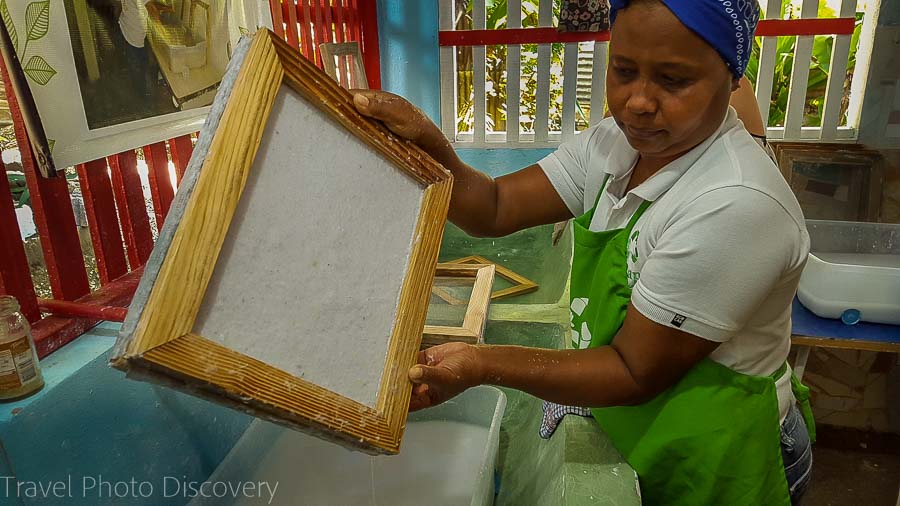 Impromptu dancing and singing at RePapel
Community English program
An hours drive from Amber cove in a rural hilltop community and traversing through some rough dirt roads brought us to the village of Altamira where the community continues their English conversation program with visitors. The volunteers follow a basic lesson plan for the day including covering some previous lessons to reinforce what the student is learning. Basically each volunteer is paired up with an individual family member to go over the new lesson for the day. I think this program is good, but more one on one training and or conversation sessions with each participant would be more effective along with more training for the volunteers.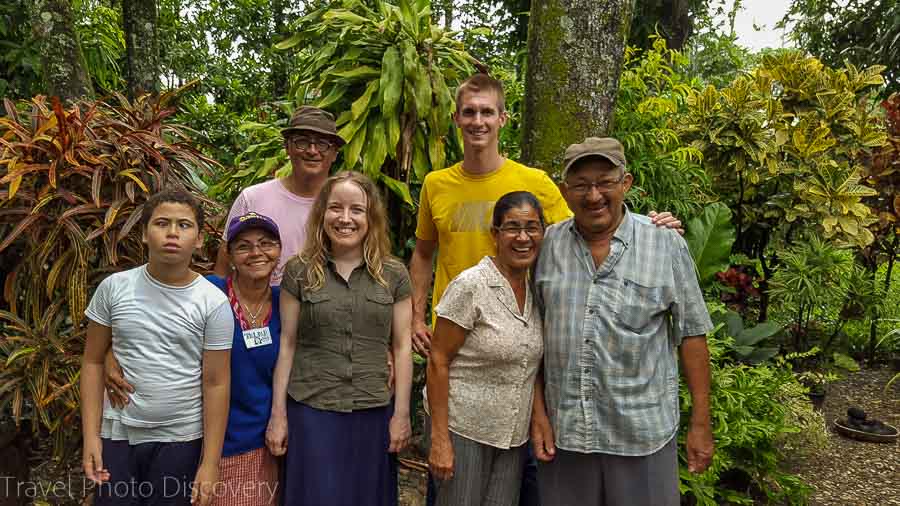 Working on the daily lesson plan for community based English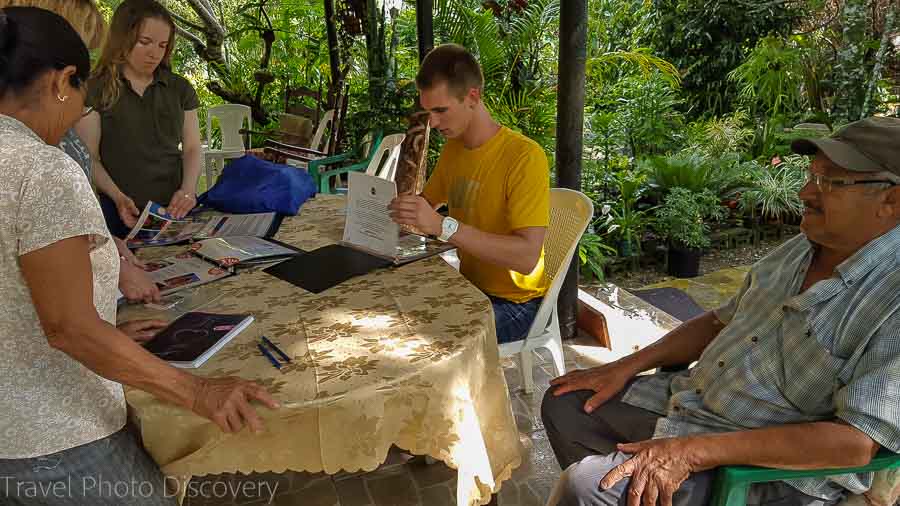 A gorgeous sunset at Amber Cove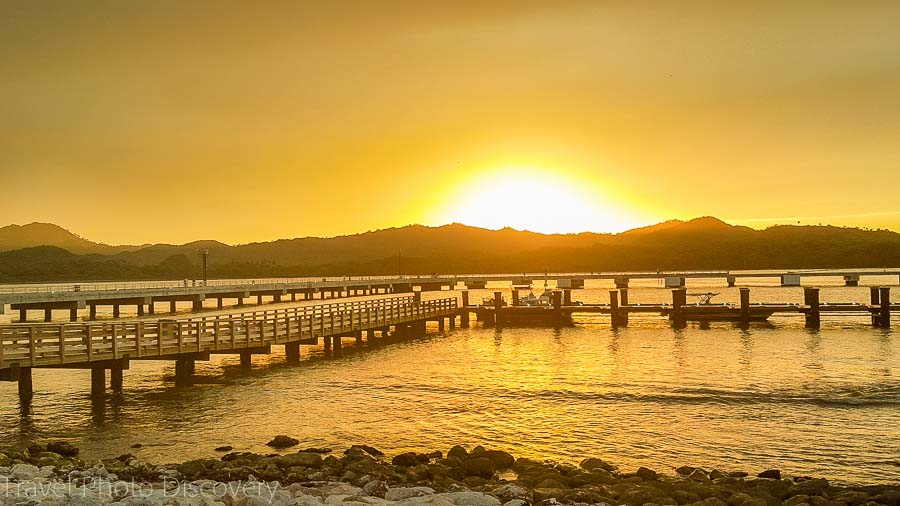 At the end of every impact program, most of the travelers retired back to the Fathom Adonia in the comfort of our own rooms and indulge in a delicious dinner and even some latin dancing classes or even live music for the late night party goers. For myself, a nice dinner with new friends and reviewing our impact activities was a nice way to talk about our own personal experience and impressions, and they were all positive.
A special discount to Visit the DR on Fathom Cruise
If this post appealed to your type of travel with social impact, you can take advantage of some fantastic discounts that Fathom Cruise is offering directly during this initial phase. Discounted prices range from $499 to $599 for an inside or ocean view cabin, but there are specials that might be even better with the link below.
Just follow the link to Fathom Cruise savings or Use Insider Code: Insider1526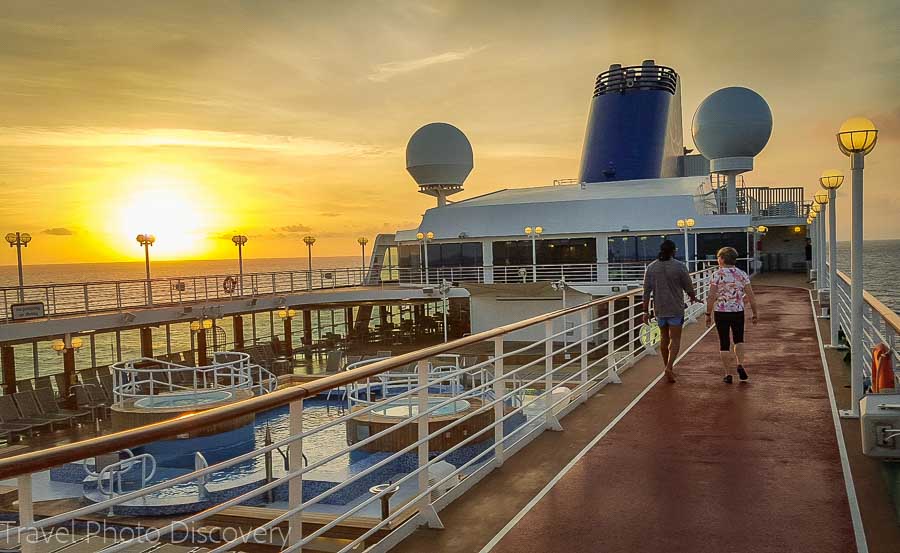 Thanks for visiting today and checking out this post on Voluntourism with Fathom cruise , hopefully the cruise will inspire you to take experience this tour and discover the social impact experiences offered by Fathom. If you enjoyed the images and post, could you please share it with any of the social media buttons located around the post.
If you like what you see, come and check out my other social media channels for more updates, including Instagram, Pinterest and Twitter
Disclaimer – I was invited to tour on the Fathom Adonia and participate on some of their impact social programs on the Dominican Republic. All thoughts and opinions are my own. There are affiliate links to the discounts posted and these help to fund my website at no additional cost to you.