Waikiki weekend at the Holiday Inn Resort Waikiki Beachcomber
* In collaboration with the Holiday Inn Resort Waikiki Beachcomber, all thoughts and opinions were my own.
The holiday season is ramping up in Hawaii and what a better way to enjoy the winter season than a weekend stay in the heart of Waikiki area at the Holiday Inn Resort Waikiki Beachcomber. It's been awhile since I've visited Oahu, so spending the weekend in Waikiki was a fantastic way to enjoy the best of Hawaii with all the right entertainment, eating, shopping venues and amazing Waikiki beach within easy walking distance from the resort.
My arrival to the hotel was a breeze with fast and friendly check in service and my room was available right on the spot. A quick elevator ride and I'm in my bedroom suite, bright with simple modern lines and a touch of tropical elegance. The room is very quiet considering that it faces the main thoroughfare of Waikiki with all the crowds and noise right below the balcony. Considering that it was very hot outside, the room temperate was set in a comfortable and not freezing temperature when you enter the room.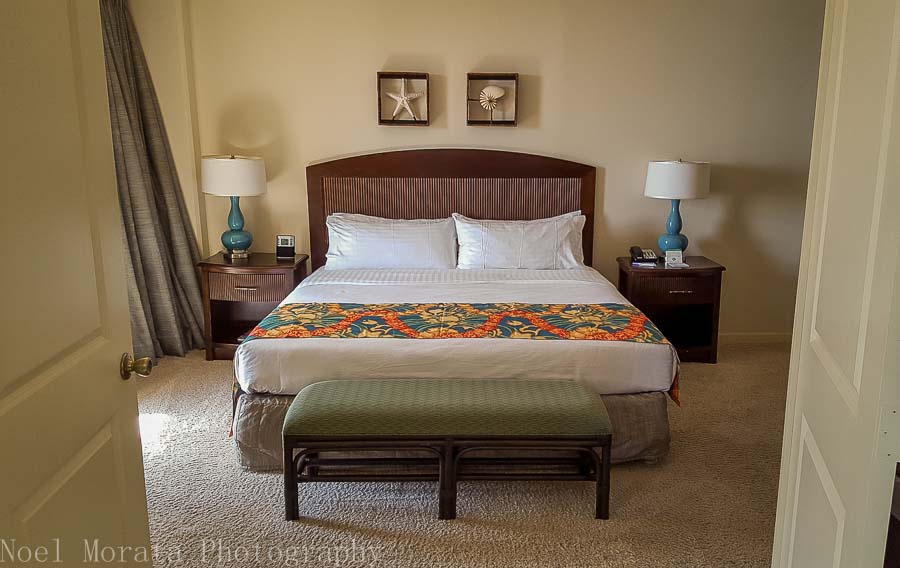 Casual and comfortable rooms
It's all about comfort when you enter a bedroom suite at a Holiday Inn hotel, it's almost like a second home. I also love that before you enter the bedroom, it is  separated with an entry area. This bedroom had a nice foyer that leads through the bathroom and then to the master suite.  I stayed in a deluxe bedroom suite with a plush king sized bed that was extra soft with plenty of large fluffy pillows. A nice wall mounted LCD screen was placed in the bedroom area for easy viewing in bed. I loved the cheery and colorful lines of the room and easy on the eye tropical motif throughout. The lighting was perfect with fixtures placed all around the room for the evening time, making it convenient for reading or just watching TV in bed. My bedroom suite also had an adjacent living room and kitchen. So much room for just one person, I really enjoyed all the extra space and amenities that were included in this suite.
Added Plusses
– fast internet throughout the suite
– a large screen TV in the bedroom area so I would watch my favorite shows in bed
– a small kitchen with microwave, sink and full size fridge that I could have easily filled with anything I wanted
– two separate balcony areas with fantastic views of the street, beach views and Diamond Head
– extra bath robes, safe, iron and board and requisite bathroom amenities
– a fantastic welcome note and concierge outreach for any activities along with a welcome goody basket of snacks
– unobtrusive turn down service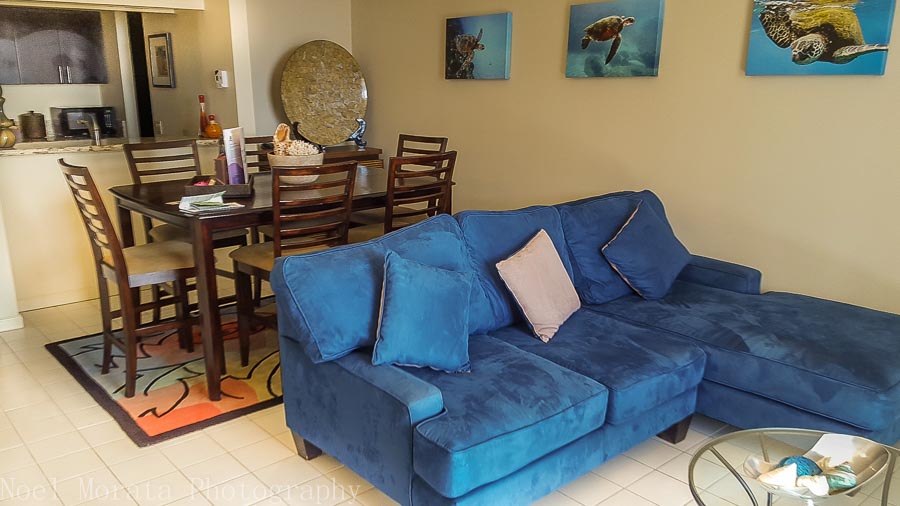 Living/Dining area
I'm not sure if these come standard in the suite, but there is an adjoining dining and living room area with separate balcony views of Waikiki beach. The seating area was perfect with a comfortable L shaped sofa in a colorful bright blue with minimal color palate and simple lines in the room. I'm found of minimal decorations and furnishings, so I was quite happy with the zen like surroundings of the entire suite.
Take a look at these spectacular views of Waikiki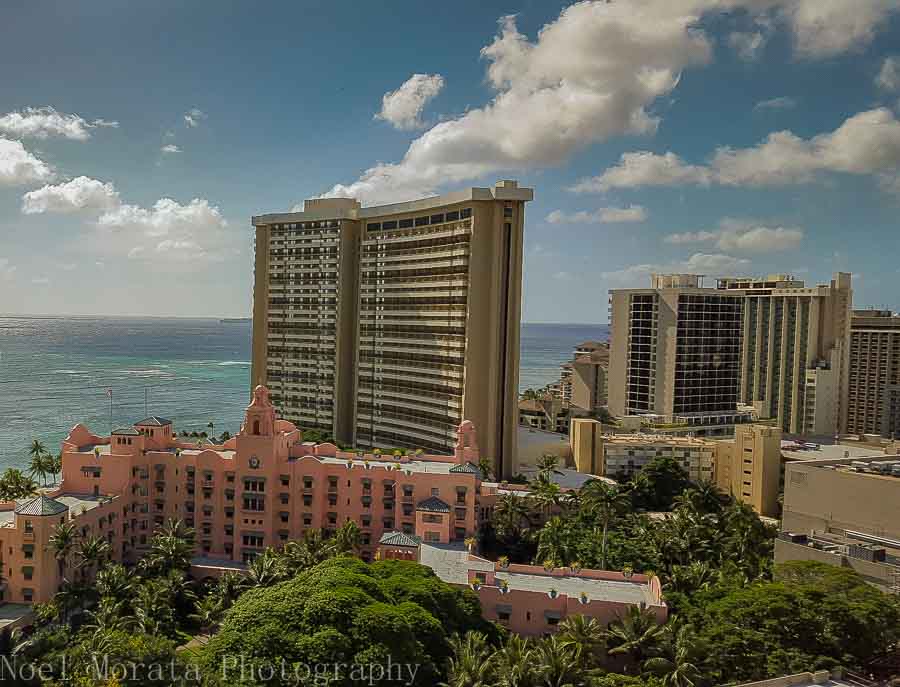 Rooftop pool area above Waikiki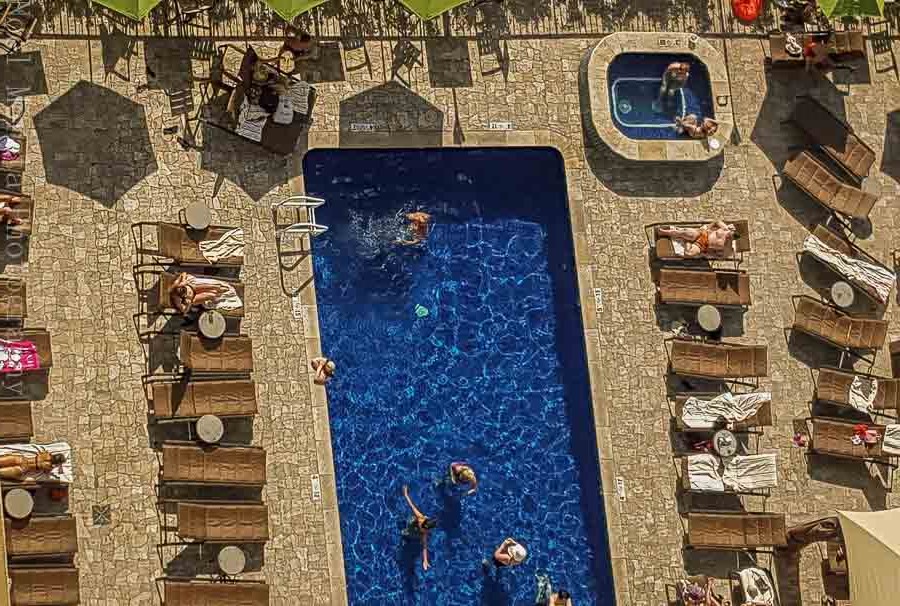 Yes – a bonus kitchen area with a large fridge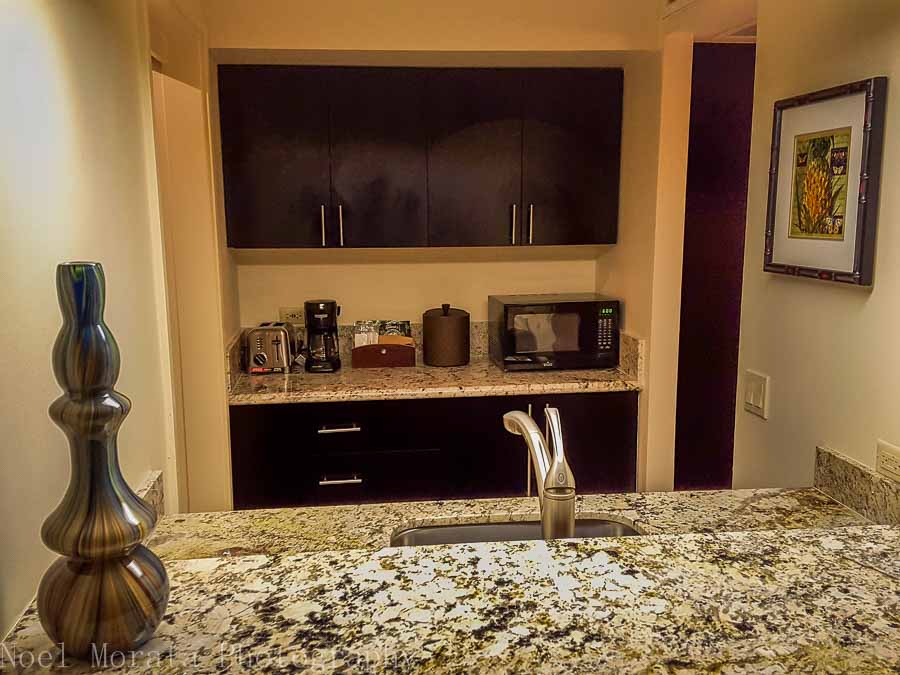 Concierge service
Friendly and attentive service at the concierge desk along with the front desk for any needs or scheduling any activities. I loved that there is also a duplicate concierge service desk on the lower level on Waikiki Boulevard so that you don't have to go to the main reception to schedule anything in the area.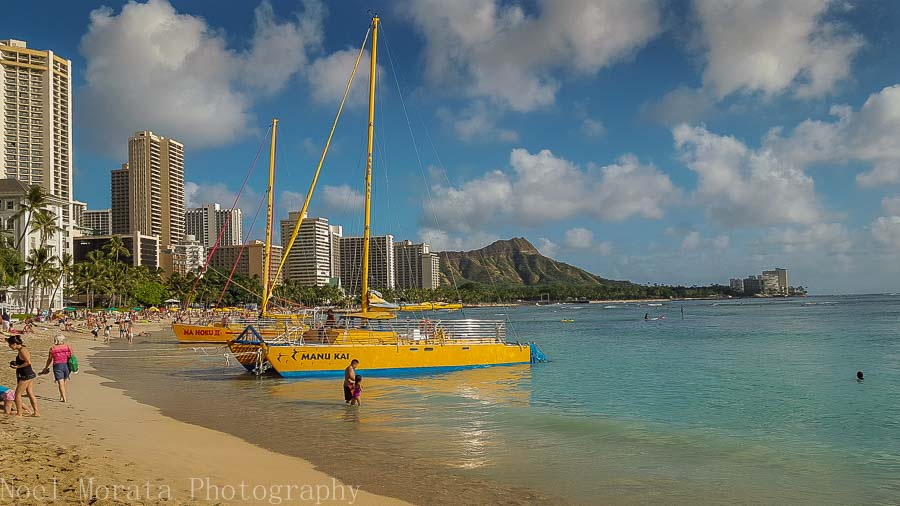 Hitting Waikiki Beach
I think the best thing about the Holiday Inn Resort Waikiki Beachcomber is its fantastic location in Waikiki and walking distance to everything you would love to do in the area including the beaches, shopping even exploring the beautiful nature at Diamond Head.
There's nothing like spending time around Waikiki beach either walking the streets, park areas and checking out the scene, just laying on the wonderful sandy beach or playing in the amazing waves on the beach. This is such a fantastic beach for recreational activities like standup paddle boarding, surfing or even canoeing on the surf. I decided to take some surfing lessons nearby at Queens Beach and even though I loved the surfing activity, I couldn't wait to get back to my room to take a nice long shower to relieve all the aches I was feeling from constant paddling in the surf. Needless to say I slept very well and late into the morning with all the recreational activity on the beach.
Walking along the beach front walkways on Kalakaua Avenue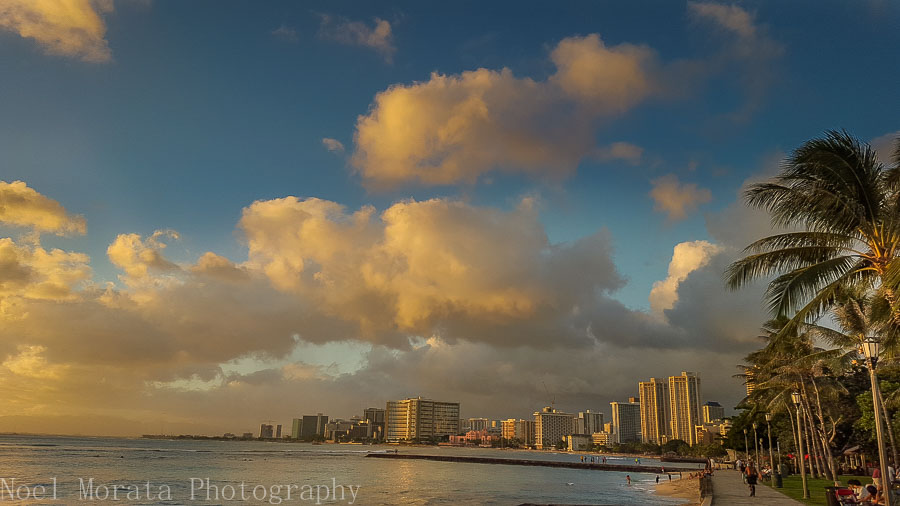 Gorgeous sunsets at Waikiki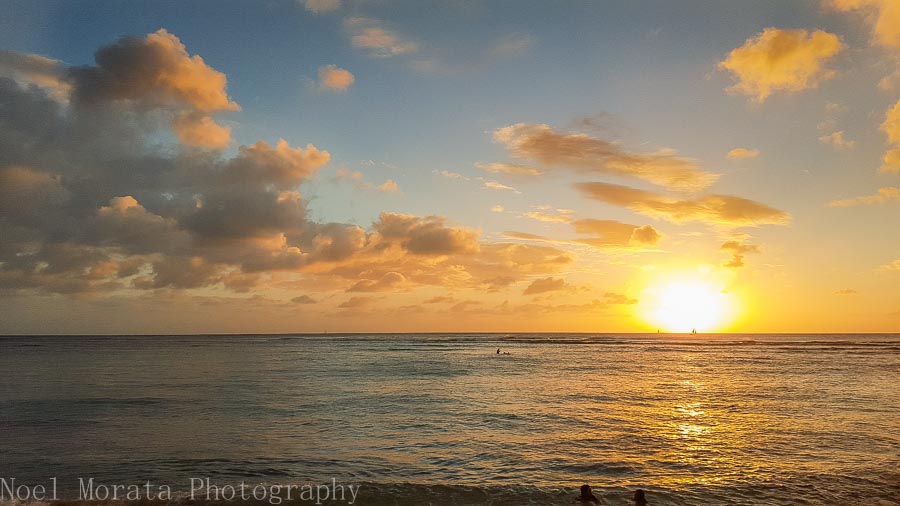 Sultry evenings on the strip at Waikiki, Oahu
Enjoying walking along the beach at night with a scenic skyline view is a fantastic way to unwind from a busy day on Waikiki. Another  option would be to do some window shopping or finding a perfect dining spot for the evening on Kalakaua Avenue. Night time in Waikiki offers so many wonderful options for entertainment or activities, but my favorite past time is just enjoying the quiet beach at night and taking a nice long walk with those magnificent views of Diamond Head in the distance while listening to some Hawaiian music or hula coming from the different open air pavilions facing Waikiki beach. Also, exploring downtown Honolulu and attractions at night is also a fun experience to get outside of the Waikiki area and explore the rest of the city.
If you are looking for good food to eat around Honolulu, check out all these popular places to eat in Honolulu now for inspiration.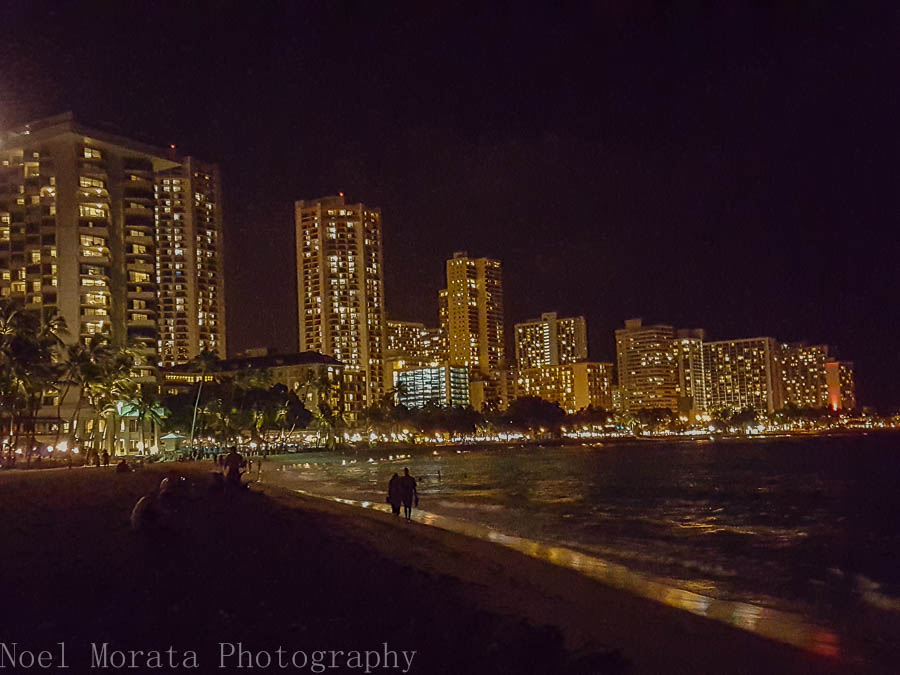 I had a fantastic weekend getaway on Oahu at Waikiki. I hope you enjoyed this quick review of my post covering a Waikiki weekend at the Holiday Inn Resort Waikiki Beachcomber. Please do share the post with any of the social media buttons around the post, if you enjoyed reading the article. If you would like to do a fun getaway to Waikiki, you can check out the hotel and features of the Holiday Inn Resort Waikiki Beachcomber here.