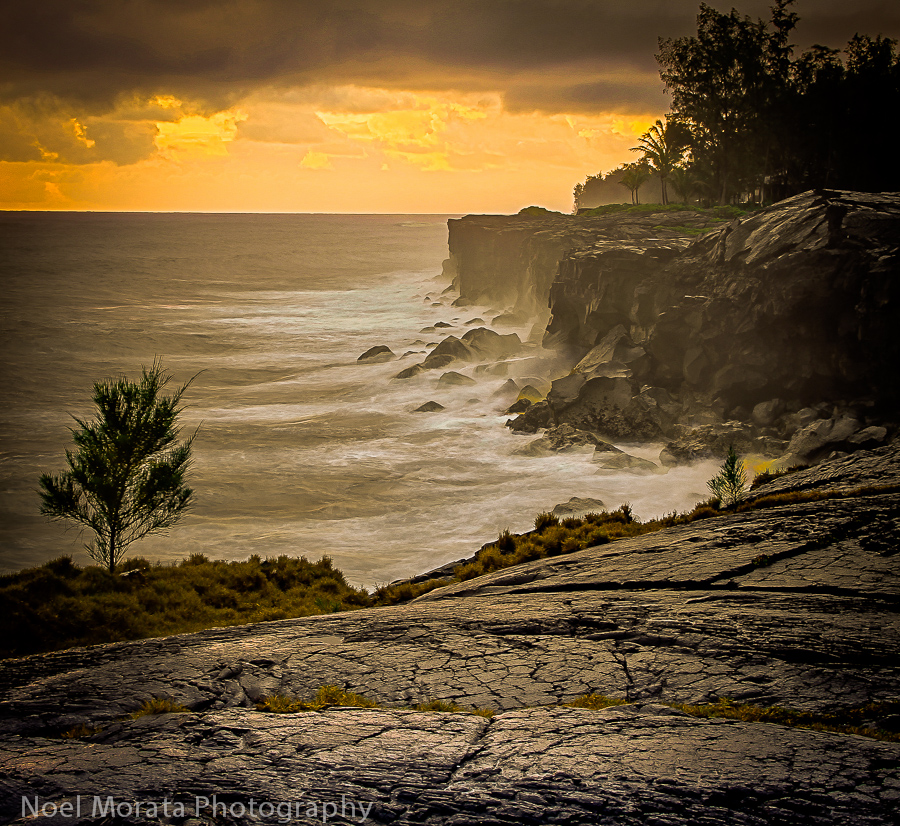 Winter destinations: Warm places to visit in December
Not everyone is fond of winter weather and blues especially at the start of December and holiday season. In fact, many snowbirds from Canada and cold winter areas of the USA and Europe opt for going to sunnier climates during the frigid winter season. If you're looking for a winter warm places to visit in December, check out these wondering suggestions of places to go to inexpensively or in a short flying distance to be completely in a warm environment or lovely tropical weather.
Top bloggers and journalist share their favorite warm weather destinations in winter for you to choose from below.
If you are considering looking for warm weather destinations for December on, consider any of these amazing places to visit when the winter chills start to approach.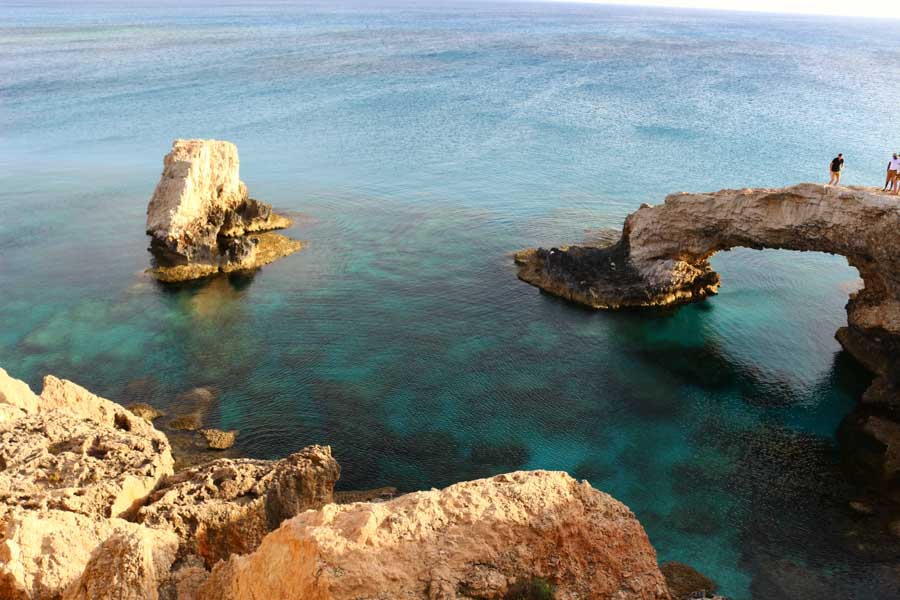 Explore these warm winter destinations in December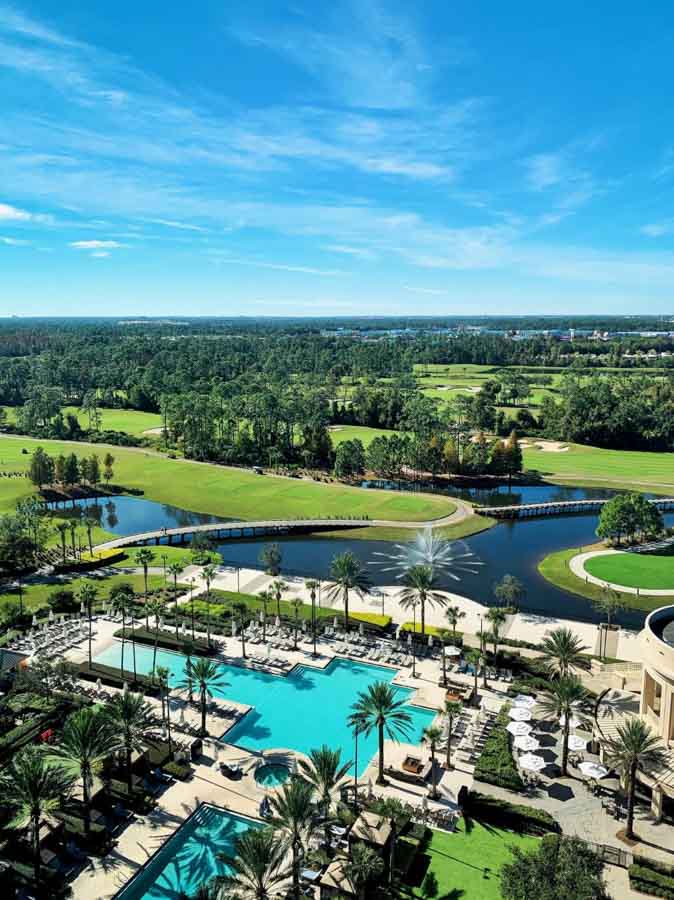 December visit to Orlando, Florida
Orlando Florida is a wonderful place to escape the cold if you live in North America, or even Europe. Orlando International Airport makes it easy to access both Orlando and the east coast of Florida. Of course, Orlando is most famous for DISNEY WORLD and other theme parks and for a good reason!
In December all the theme parks are decked out in Christmas cheer, ice sculptures at the ICEL Gaylord Palms, Many Christmas parades, firework shows and meet and greets with characters decked in Christmas garb.
The best time of year to visit theme parks in Orlando is during the winter when the weather isn't so hot in Florida! That being said, there are so many other fun things to do in and around Orlando during a winter getaway. From lounging by the pool, riding the Orlando Eye, visiting one of the cities many mediums or restaurants, or taking a day trip to the coast for a fun day at the beach, Orlando has something for everyone!
Check out Victoria's post on a Florida packing list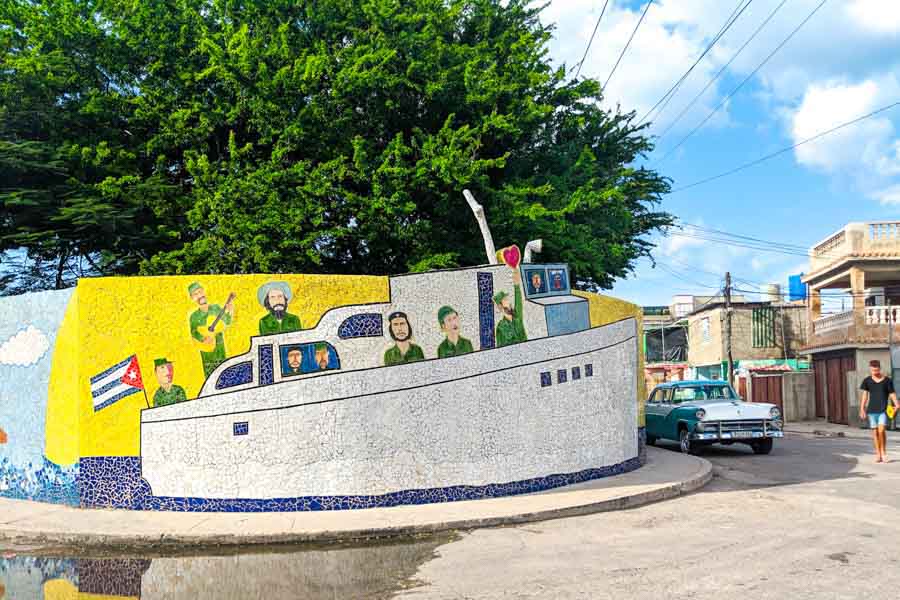 Winter time in Havana, Cuba
There's no doubt that the Caribbean has some of the best beaches in the world and some of the most beautiful are in Cuba. In December, Havana comes alive with vibrant celebrations! Experience the lively Christmas and New Year festivities, music, and Cuban culture like never before. Christmas starts early with hotels and tourist venues dressed in Christmas decorations, the Havana Jazz Festival and numerous art exhibitions held around the city.
While many people know about Varadero, Cuba is an island and there are so many others beaches to visit. I think the best combination for a sun holiday is to stay in the capital city Havana. There are plenty of cultural opportunities like the mosaic tiled neighbourhood of Cuban artist Jose Fuster who is often compared to Picasso (photo above).
There's also the Vedado neighbourhood, which was modelled after Miami and has some incredible mansions, some are in decay but many are being restored to their former grandeur. This is also where much of the middle class lives and the best local restaurants and bars are here like salsa favourite 1830.
In Old Havana you can wander the streets or negotiate with a driver to take you around in a convertible for 20 CUC/hour and visit the outlying areas. The pastel colored buildings and there are a number of rooftop bars to have a picturesque sunset view. And choosing Havana doesn't mean you have to skip the beach, Playas del Este are only 30 minutes away and a hop-on-hop-off bus can take you there for $5. You'll find the most locals here so you can practice your Cuban slang, and it also means food and drink options are very reasonable and an umbrella and chair rental is only 2CUC each for the day.
Angylena with Bacon is Magic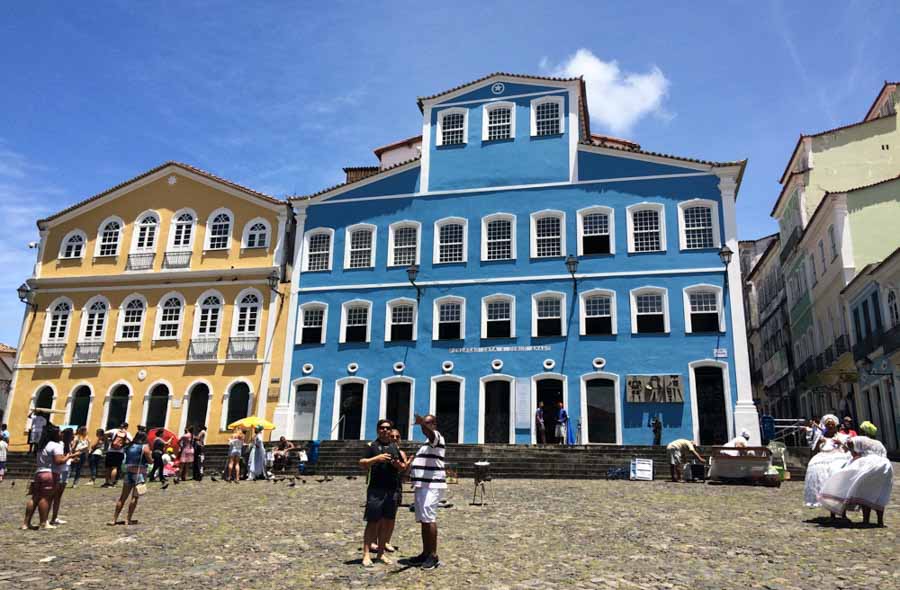 Salvador De Bahia, Brazil
Salvador, also known as Salvador de Bahia de Todos os Santos, is the capital of the Brazilian state of Bahia. The city was founded by the Portuguese in 1549, and it's one of the oldest cities in the Americas. During the colonial times, it was one of the largest slave ports on the new continent. Today, it has the largest black population in the world
outside of Africa.
Salvador marks December with Christmas decorations, lights and nativity scenes. It is the religious celebration of Lavagem do Bonim, a colorful procession to the Bonfim Church where the steps are washed in perfumed water.
This is also th start of the preparations of Salvador's famous Carnaval with rehearsals and dance performances starting to prepare for the big celebrations.
Among the best things to do in Salvador we can highlight: strolling along the cobblestone streets of the colonial district of Pelourinho; attending a Candomblé ceremony; having a swim in the crowded beach of Porto da Barra; watching a capoeira show; partying in the Bohemian neighborhood of Rio Vermelho; taking the Elevator Lacerda; visiting Mercado Modelo and of course, having a delicious bowl of Açai (a local fruit served as an ice-cream).
If you have the chance, I recommend that you visit the city on a Tuesday, when Olodum (or similar bands) takes over the streets of Pelourinho to dance to the rhythm of the drums. This unique Afro-Brazilian show begins at around 7:00 pm in front of the Jorge Amado Museum.
Check out Miguel's post on things to do in Bahia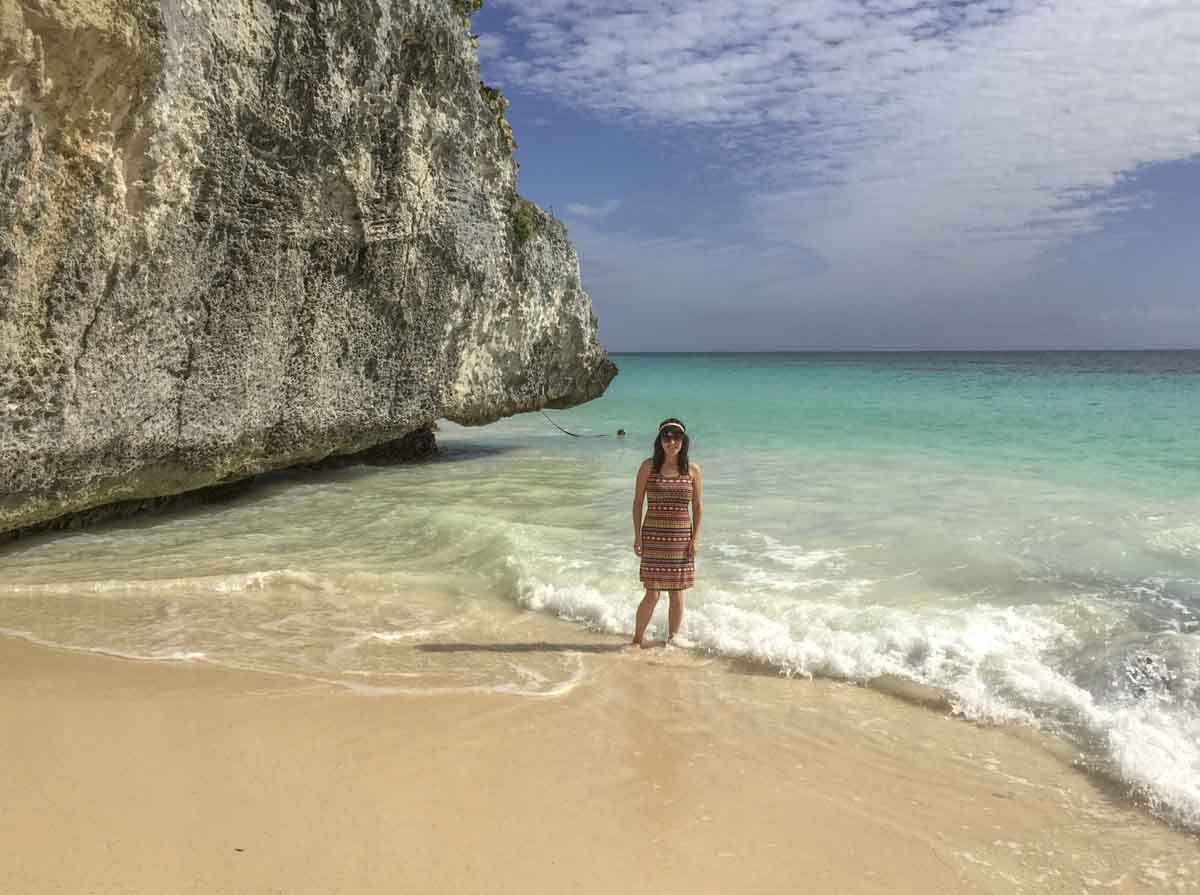 Mexico's Yucatán Peninsula
Mexico's Yucatán Peninsula is a great place to escape for a long weekend if you need a break from the harsh winter in Canada or the US and starts to ramp up in December and the rest of the holiday season. There are often cheap flights deals to Cancun from major airports in North America. Cancun is a party town, but can be great fun for the weekend if that's what you're looking for.
Mexican celebrations and decorations are on full display around the Yucatan area starting with Merida's Festival de las Luces or Festival of Lights, and then to New Year's eve celebrations, fireworks and events in popular tourist destinations around Cancun, Playa del Carmen and Cozumel.
If you don't want to stay in Cancun, it's easy to go somewhere else as busses run directly from the Cancun airport to other cities on the Yucatán Peninsula. Just an hour away from Cancun is Playa Del Carmen, a popular beach town known for it's lively nightlife. If you love diving, check out Cozumel Island, just an hour boat ride from Playa Del Carman.
Cozumel is famous for it's colorful coral reefs and marine life. If you're looking for a more relaxed weekend, check out Tulum, home to one of the most beautiful Mayan ruin sites to visit in Mexico. What makes the ruins at Tulum special is their location. They are the only Mayan ruins built by the ocean, facing the stunning waters of the Caribbean Sea. Whatever type of weekend escape you need, Mexico has it, and it's guaranteed to be warm.
Lora with Explore with Lora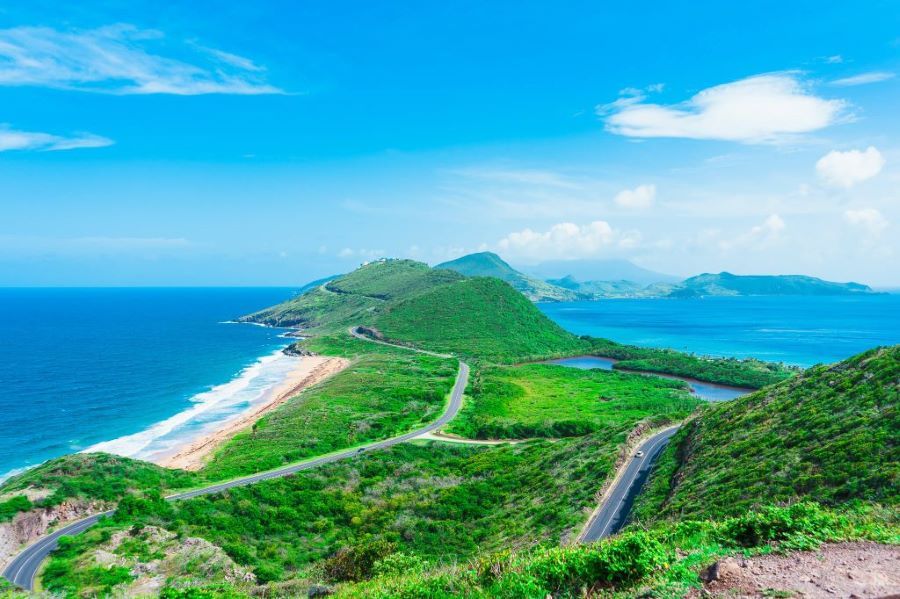 St Kitts and Nevis in Winter
As the smallest country in the Americas the twin island nation of St Kitts and Nevis is a hidden gem in the Caribbean. Don't let the small size fool you into thinking there's not much to see and do however there are lots of great activities from the Scenic Railway to UNESCO Site Brimstone Hill Fortress to beaches and scuba diving and not to mention the nightlife in St Kitts is a great scene for all ages.
December in St Kitts is also the beginning of tourist season so all of the shops and restaurants will be open for business. It also means that the hotels are likely to be pulling out all the stops to wow their guests with the best entertainment, food and deals to entice you back later in the year. If you are looking for where to stay in St Kitts then Frigate Bay is the most popular area with tourists as it is the main hub for bars and restaurants along The Strip.
As a warm weather winter destination one of the best times to visit St Kitts is in December when they hold their annual Sugar Mas Carnival parades at the end of the month. During Sugar Mas the streets of Basseterre are filled with carnival floats, coloured costumes, loud music and food and drink. The whole town turns into a giant street party that lasts all day and night.
Recommended by Steph from Book It Let's Go!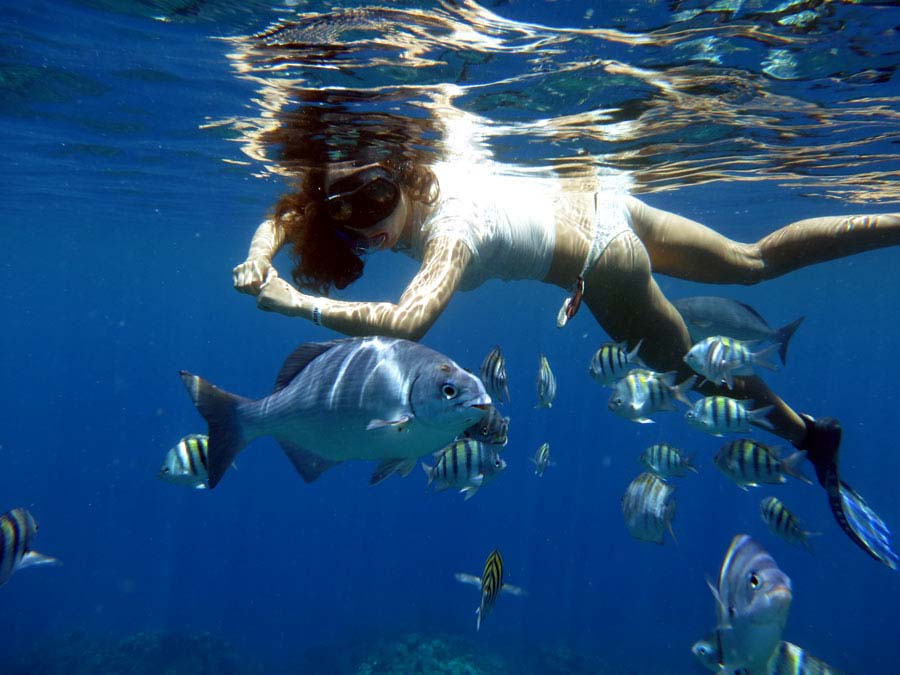 Exploring Roatan in Honduras in winter
Roatán is one of Honduras's Caribbean Bay Islands and the perfect place for a short getaway in Central America. The crystal clear, calm, warm turquoise water and white sand is nice for relaxing and swimming and excellent for water sports. From the beautiful West Beach you can learn how to master a paddle board or rent a jetski if you want some more action. The area is rich in marine life and snorkeling close to the beach you often find yourself surrounded by hundreds of fish.
Free diving in deeper water we found turtles, massive groupers and eagle rays gliding past. Scuba diving around Roatan is great with good visibility, plenty of marine life and even a large intact ship wreck close to the island. You can go diving with bullsharks, snorkel with whale sharks or swim with dolphins from Roatan! For some action on land the ziplining at Monkey Trail Canopy at Gumbalimba Park is fantastic, fly through the jungle onto the beach!
The fruit in Honduras is some of the sweetest and most diverse we have ever tasted, walk around in West End, shop for fruit and eat some delicious baleadas, these homemade flour tortillas filled with beans and cheese are amazing and very cheap. We loved the chilled out island vibe of Roatan.
Alya with Stingy Nomads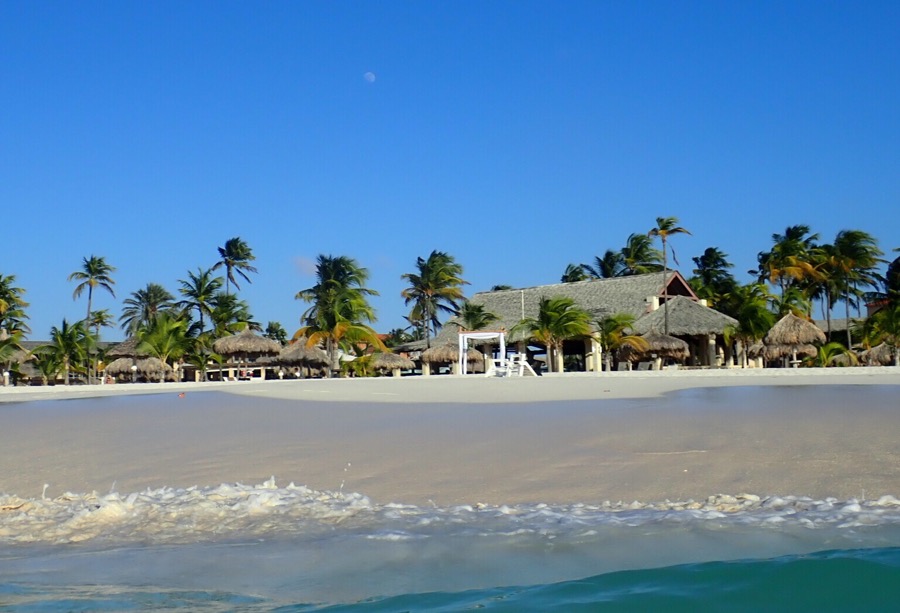 December in Aruba
Looking for white sand beaches and the bluest waters you've ever seen? Consider a quick getaway to Aruba. Many direct flights from cities throughout the US and Canada get you to this warm paradise in three to five hours – perfect for a quick getaway.
Aruba celebrates December with Christmas lights, events, parades and concerts. In New Year's, there are fireworks displays, beachfront parties, clubs and events set for the end of year celebrations.
Located in the Southern Caribbean, the weather in Aruba is always warm and sunny. The tropical breeze makes it so that you don't feel as hot (so avoid a sunburn by using lots of sunscreen!). And since the island is a desert, you don't run the risk of getting rained out during a short stay.
Prefer a little gambling? Visit one of the island's famous casinos. If you prefer duty free shopping from high retailers, Aruba's shopping can't be beat. Want something a little more adventurous? Rent a UTV and explore Aruba's natural attractions. Or learn kitesurfing at one of the local spots. Bring your snorkel gear – the water is usually perfectly clear.
For a romantic evening, make your way to the California Lighthouse. Enjoy dinner and drinks at the Italian restaurant next door while watching the sunset. Or take a catamaran sunset cruise.
If your idea of the perfect getaway involves laying under a palapa on a white sandy beach with a tropical beverage in your hand, Aruba is the destination for you.
Check out Annick Lenoir-Peek's post on Aruba's beach with The Common Traveler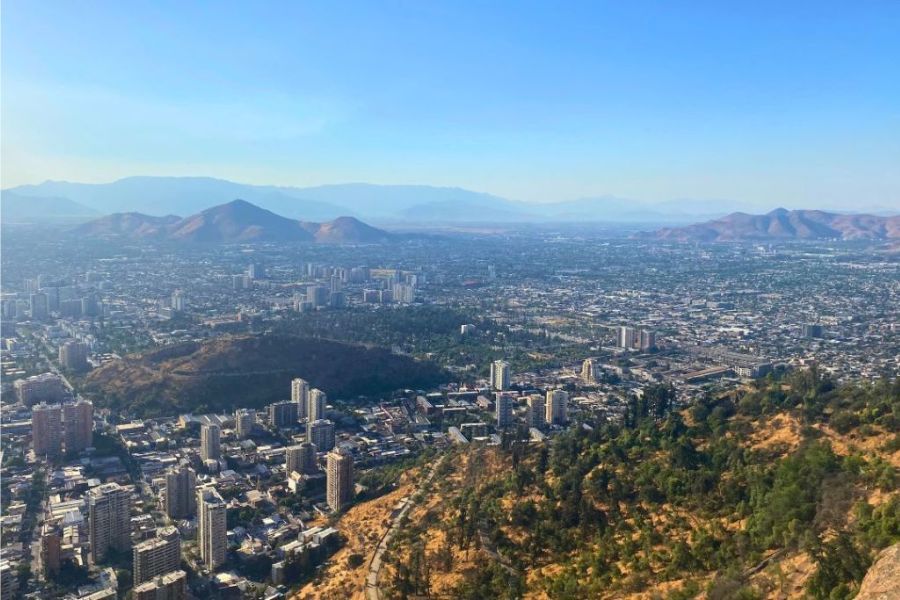 Santiago, Chile in Winter
Chile's capital city, Santiago, is an ideal warm-weather destination for those seeking varied activities, interesting history, and beautiful landscapes this December.
There are plenty of things to keep you busy in the city, including historical sites, museums, artistic neighbourhoods and excellent food and entertainment. Make sure to visit the Metropolitan Cathedral, Palacio de La Moneda (the seat of the president), and the Plaza de Armas (the central square) to see some of the city's most architecturally significant buildings. Plus, in the square, you will see Santiago's unique Christmas tree, which in previous years has been decorated with hundreds of rag dolls!
Once you've finished exploring the city, there are also several day trips worth taking. In fact, Santiago is located amidst some of Chile's most beautiful landscapes and key attractions. In a 2-hour drive or less, you can enjoy a day at the beach in the beautiful resort town of Vina del Mar, go hiking in Chile's stunning Andes mountains, and visit some of the country's best wineries. In particular, it's worth taking a trip to the Maipo Valley which is known for its Cabernet Sauvignon, and the Casablanca Valley, which produces Chile's best white wine.
You can rent a car to explore these places yourself. Or book one of the various tours which depart from Santiago daily.
Check out Chanelle Rosenbaum's post on Christmas in Patagonia with Chasing Chanelle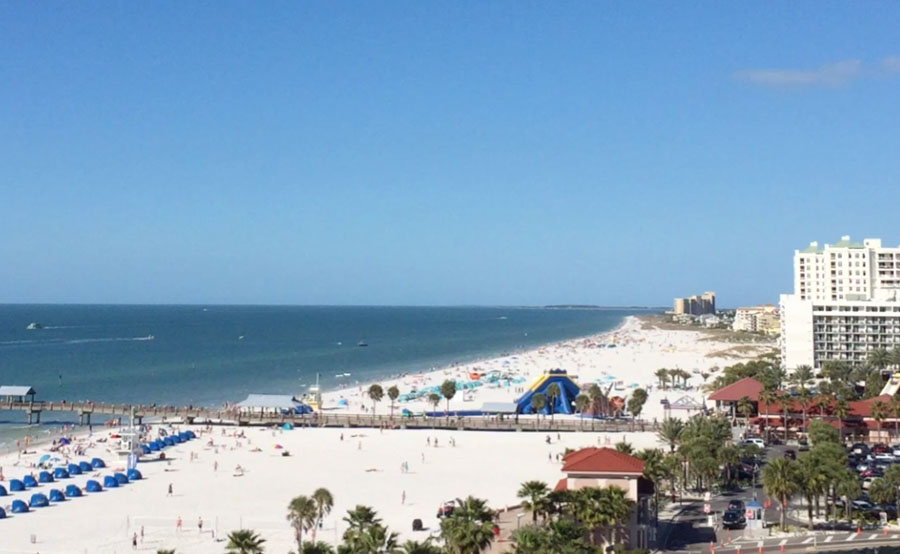 Clearwater Beach Florida
In December, Clearwater Beach dazzles with holiday lights and decorations. The annual "Holiday Lighted Boat Parade" is a must-see event, featuring festively decorated boats cruising along the waterfront. With tree lighting ceremonies, holiday events and concerts, the city is all decked out with Christmas cheer and celebrates into the New Year.
It's a rare thing in Florida not to see the sun at least once a day and that is why so many tourists come to Florida. On the west coast of Florida there is a 280 square mile peninsula surrounded by Tampa Bay and the Gulf of Mexico that is Pinellas County and home to some amazing beaches. Clearwater Beach is the star of Pinellas, it makes the perfect sunny weekend getaway for the solo traveler, couples and family. Located 45 minutes from the Tampa International Airport and a half hour from St. Petersburg Airport makes this beach easily accessible for a short vacation.
Accolades for Clearwater Beach include bring voted the number one beach in the United States 2016 and again in 2018 by Trip Advisor. White soft sand beach stretches for three miles! No wonder over four million visitors make their way to Clearwater Beach each year. There is lots to do too; parasailing, sailing, boating, jet skiing, fishing, miniature golf, beautiful hotels and restaurants, aquarium, festivals, outdoor movie nights in the park, shopping and so much more.
Clearwater Beach is also only moments away from several other beaches to explore; St. Petersburg Beach, Reddington Beach, Indian Shores Beach, Maderia Beach, Sunset Beach, Dunedin Causeway and Pass-a-Grill Beach. So you can see, a quick getaway to Clearwater Beach will keep you busy or you can just sit on the beach, soak up the sun and relax.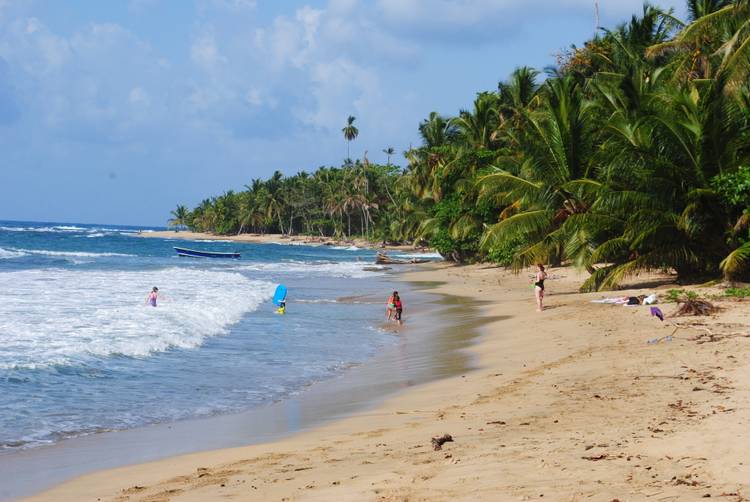 December escape to Costa Rica
Costa Rica's stunning beaches and laid back "pura vida" culture make it a great getaway for those wanting to escape from colder climates for a few weeks. In December you have the added Christas lights, Christmas markets and the Festival of lights which is a dazzling parade and the lighting of the large Christmas tree in the main plaza.
The country has a bit of something for everyone—from cosmopolitan night life in the capital San José to exhilarating multi-day hikes up Arenal Volcano and ziplining through the cloud forests of Monteverde.
But for those hoping to forget the cold back home, I recommend a prolonged visit to Puerto Viejo. This beach town lies along the country's Atlantic coast and has a distinct culture and vibe that feels a lot like a small, welcoming Caribbean island.
If you're a surfer, you've probably already heard of Puerto Viejo—it's the home of the famed Salsa Brava wave, one of the most challenging in the world. But there are other more beginner friendly surfing beaches on either side of town, including Playa Cocles (which is also great for swimming) to the east. To the west, take a stroll on Playa Negra, a black sand beach made up of ocean-weathered volcanic sediment.
Costa Rica and Puerto Viejo can cater to a wide variety of travelers and budgets. If hostels are your style, beds can be rented throughout the country for as low as $8 per night. If you're looking for something a bit higher-end, the country is also home to some
phenomenal luxury hotels.
Tim Kroeger with Luxury Adventure Travel & Lifestyle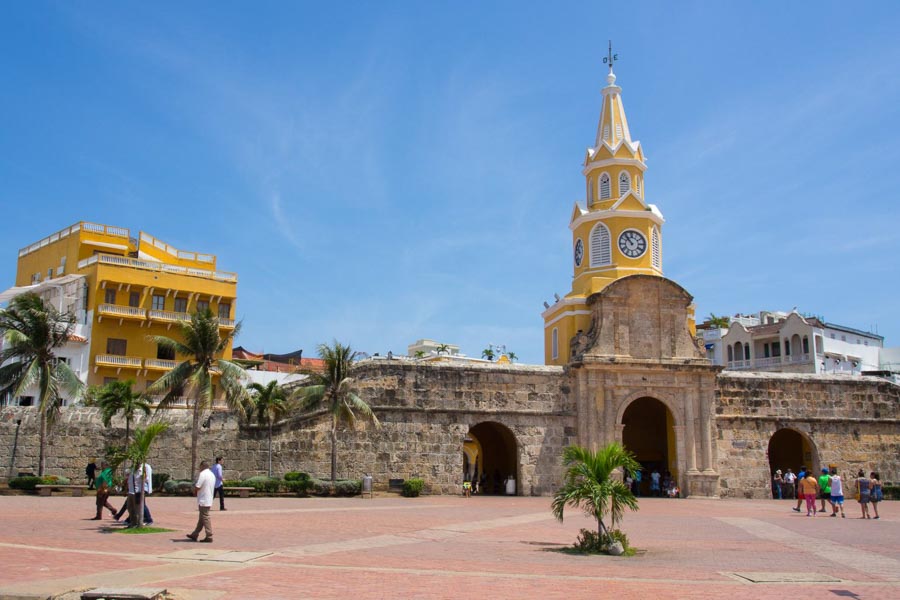 December visit to Cartagena, Colombia
Combine sea and sand to the cobbled streets of the charmingly preserved colonial city of Cartagena de Indias! While the turquoise Caribbean lures you to discover the nearby coral reefs and secluded bays, flower-filled alleys reveal treats such as the best coffee shops in Colombia, quirky museums, centuries of old walls and dungeons, and shady plazas for al fresco dining.
For December, the city celebrates with Novena Navidena – a beloved Christmas tradition with locals and visitors gathering to participate in this religious and cultural event. The city is illuminated with christmas lights especially in the historic walled city. The traditional posadas or reenactments of Mary and Joseph searching for lodging is done with processions with singing, candles and nativity scenes. Finally, the New Year is ushered in with large fireworks displays along the waterfront area.
Castillo de San Felipe, the greatest fortress ever built by Spaniards in their colonies, is whisked on a hill just a stone's throw away. In Cartagena, everything is within a short walking distance, making it an optimal weekend getaway. Wandering aimlessly around the walled old city and nearby up-and-coming Getsemani neighborhood keeps you happy for a couple of days.
If you desire more sightseeing, hop on a boat and explore the nearest island, Tierrabomba, where time stays still in the shadow of Castillo de San Fernando de Bocachica, Spanish fort guarding the Cartagena Bay. Day trip to Tayrona National Park will crown your holiday with horseback riding through a necklace of jungle beaches. If your schedule allows, stay one night inside the national park and hike up in the hills for off-the-beaten-path pre-Hispanic ruins of Pueblito. A longer detour from Cartagena is a multi-day trek to the Lost City (Ciudad Perdida).
Colombian Caribbean coast enjoys hot weather year-round, making Cartagena a perfect winter destination. If you rent a car, Cartagena is also a great base for exploring the nearby attractions, such as the mountain village of Minca and deserted La Guajira Peninsula.
Check out Nina's p0st on a Columbia 4 week itinerary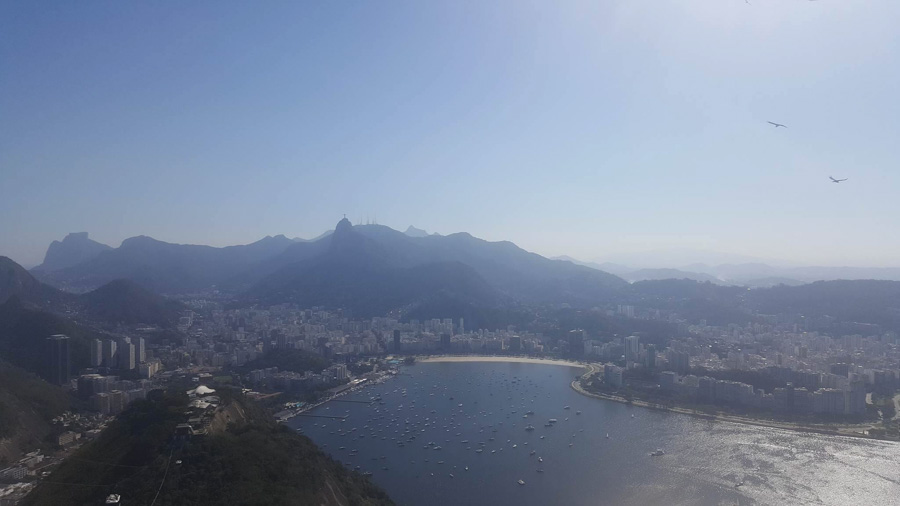 Rio De Janeiro during winter
If you're look for a quick, warm getaway away in the dead of winter, then few places are as nice as Rio de Janeiro! There are so many incredible things to do in Rio, and plenty enough to last you for a weekend.
In December, Rio de Janeiro, Brazil, is a city bursting with energy and festivities:
Christmas Lights: Rio gets into the holiday spirit with stunning Christmas lights and decorations, especially in popular areas like Copacabana and Rodrigo de Freitas Lagoon. The city's iconic Christmas tree in Rodrigo de Freitas is a must-see.
Carnival Preparations: December marks the beginning of preparations for Rio's world-famous Carnival, which typically takes place in February. You might see samba schools practicing their routines and building extravagant floats.
New Year's Eve: Rio de Janeiro hosts one of the largest and most famous New Year's Eve celebrations in the world. Join millions of people on Copacabana Beach for music, fireworks, and traditional rituals to welcome the new year.
In my opinion, there are 4 crucial places you must visit in order to get the most from your stay and to really experience the city.
The first being Christ The Redeemer, the famous 32 metre tall statue that looks out across the entire city. Afterward, head over to Sugarloaf mountain and catch the cable cart that takes you up there. Thirdly, go for a long pleasant walk in the Tijuca National Park, which feels like a world away from the hustle and bustle of the city itself.
Finally, make sure you take plenty of time to relax on the infamous Copacabana Beach. Here, you chill under the warm Brazilian sun, sipping Caipirinha cocktails whilst watching the waves lap on the shores. It has to be one of the nicest beaches I've discovered anywhere in the world and is the perfect way to unwind before heading back to your regular working life.
Bradley Williams with Dream Big, Travel Far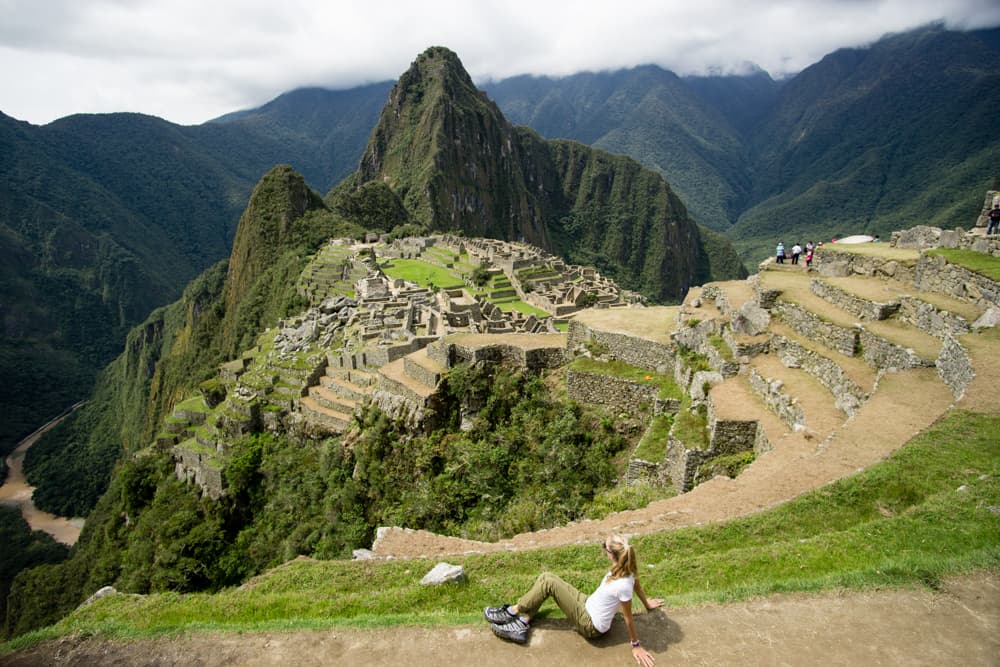 Peru in Winter
I would go to Peru any day of the year. But do you know why winter is ideal? While most of the world is trying to escape winter, Peru on the southern hemisphere has summer.
And there's a lot to choose from – surfing Peru' coastline, exploring Amazon jungle, hiking in the Andes mountain range or visiting Cusco, the capital of the Incan empire and nearby Machu Picchu, one of the new 7 Wonders of the World.
Visiting the Peruvian Andes is like visiting the world's giants. When you come to Huaraz, the base for adventures in the Andes, no matter how high you'll go, there are huge mountains surrounding you. Many of them are more than 6,000 meters high and hiking anywhere requires acclimatization. You can visit Laguna 69, the bluest lake in the Andes, as a day trip from Huaraz. After you're acclimatized, you can go trekking the Santa Cruz Trek which covers around 50 km. You will reach the highest point of the trek at Punta Union mountain pass at 4,750m.
What draws first-time travelers to Peru the most is visiting iconic Machu Picchu. Tourist agencies in Cusco are very creative and came up with a lot of options on how you can visit. The one I'd recommend is taking the adventure route – Salkantay Trek covering around 70 km over (usually) 5 days. You will reach Machu Picchu on foot on the last day and the bonus is, you can hike Machu Picchu Mountain and see the ruins and the whole valley from the highest point possible at 3,050 meters high.
Maya with Travel with the smile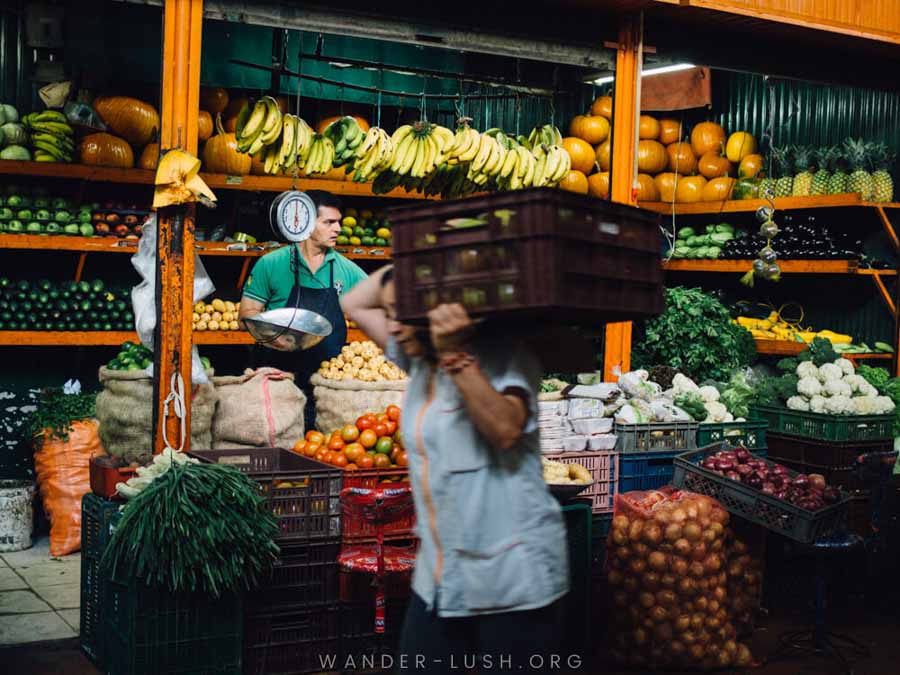 December getaway to Medellin, Columbia
A quick skip from the US, Medellin is the perfect place to escape winter's cold. Colombia's second-largest city is known for its mild weather—hence the nickname 'The City of Eternal Spring'. Temperatures sit around the low 80s in December through February, making it ideal for anyone who's looking for a warm but not-too-hot break.
Located in Colombia's fruit bowl, Antioquia Department (with Medellin as its capital) is where much of the country's fresh produce is grown. Vendors selling avocados, freshly pressed orange juice and a truly stunning array of tropical fruits are a common sight on the streets of Medellin. Head to one of the city's fresh fruit and veg markets for an even bigger range of colorful choices.
Comuna 13 is a collection of formerly notorious barrios that are now being transformed into hubs for art and culture. Nothing brightens up a winter's day like vibrant street art, and you'll find plenty of murals on Comuna 13's steeply pitched streets.
In central Medellin, parks, squares and outdoor markets are the perfect place to soak up the winter sunshine. Parque Arvi, located a cable car's ride away over one of Medellin's hills, is a great place for hiking and bird watching. Refuel on protein-heavy, indulgent food such as Bandeja Paisa, Colombia's national dish and a Medellin specialty, and locally produced coffee served at one of the city's many cosy cafes.
Emily with Wander-Lush

Palm Springs is perfect in December
The oasis in the desert that is Palm Springs, California, stands out as a sunny and surprising weekend getaway retreat. With great resorts, spectacular scenery, incredible food and a laid back Cali vibe, PS is a perfect warm weather escape that helps visitors get through the depths of winter.
The greater Palm Springs area is home to various communities, including the higher brow La Quinta and Rancho Mirage gated enclaves, to the quirky 1950s modern architectural mecca of the City of Palm Springs.
While lounging by the pool is a must – the desert climate is wonderfully hot and dry year round – stir yourself to venture beyond the hotel. Rise and shine for an early start to hike Indian Canyons, or venture into Joshua Tree National Park. For the best view of the region and Coachella valley, ascend Mt. San Jacinto on the Palm Springs Aerial Tramway. The views are spectacular at 8,516 feet, but don't forget to pack a sweater as it can be chilly at this altitude.
Take in a spa treatment, shop along trendy El Paseo, and enjoy some tasty locavore meals at Jake's, SO:PA, and Essence. And don't leave without stopping to bring some Palm Springs home with you, in the form of local dates from Shield's Date Garden in Indio.
Claudia with The Travelling Mom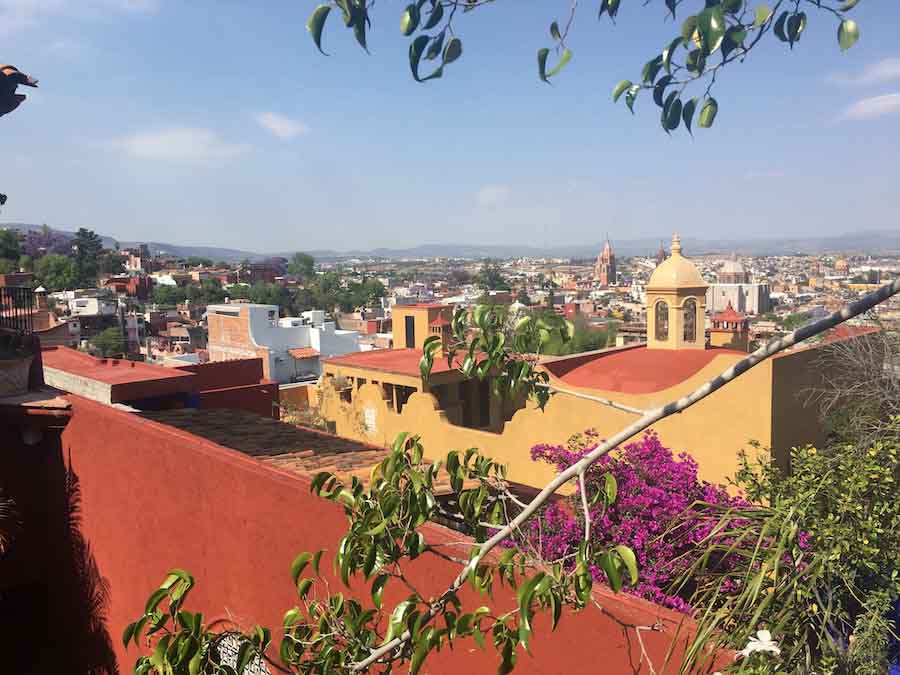 December in San Miguel de Allende, Mexico
For those that adore architecture and history, considering a trip to San Miguel de Allende, Mexico can satiate those desires along with offering a spectacular foodie scene. Filled with stone streets and brightly colored buildings, the area offers culture and a laid back vibe while serving as a hub for expats.
One plus for visitors is that the central part of town is for pedestrian traffic only, so perusing shops, frequenting restaurants, and hitting up museums can be done at a leisurely place. The city itself is landlocked, although natural respites such as lakes and hot springs are nearby. The area offers an authentic Mexican experience with its history and traditional churches, yet modern amenities like rooftop pools and bars with a view give this town an eclectic flair.
While you are there, be sure to visit the Mask Museum, catch a mariachi band in the center of town, and grab breakfast from one of the mobile breadbasket carts. The artisan market and the local shops around it are also worth perusing for their true Mexican craftsmanship. San Miguel de Allende is definitely worth the trip, and – of course – be sure to try the guac and grab a margarita while you are there!
Check out Jennifer's post on Centro Infantil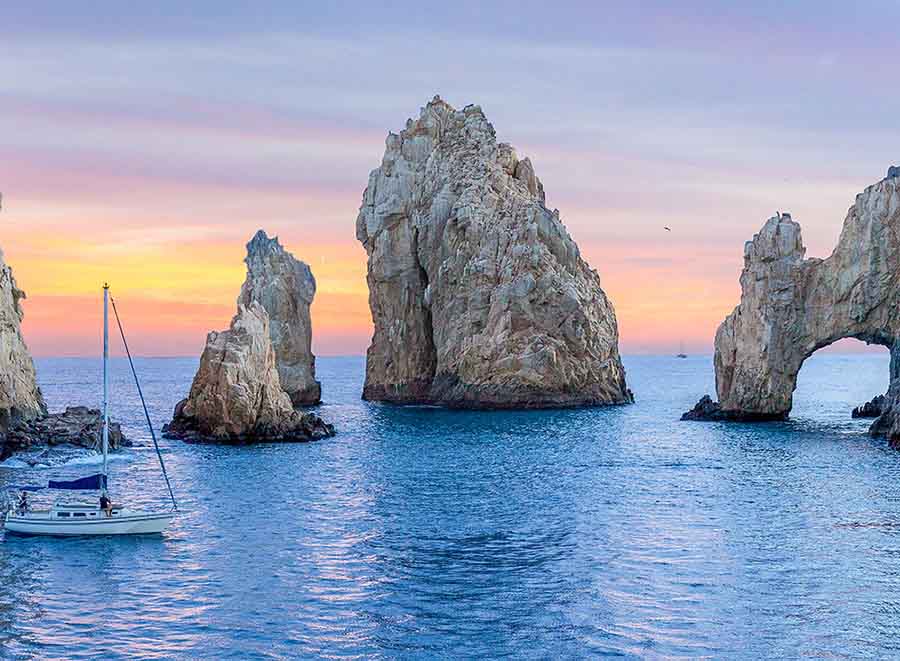 December in Baja California
If you're looking to beat the winter blues, heading to Baja California, Mexico will be your cure. With over 1,900 miles of gorgeous coastline sandwiched between the Pacific Ocean on the west and the Sea of Cortez on the east, and offering inviting beaches with warm water from the border of California down to Cabo San Lucas, Mexico, Baja is a sun-seeker's dream.
Cabo is the most popular and well-developed town in Baja California, boasting resorts of all styles and price ranges and activities for all tastes and ages. There are many things to do in Baja California with kids or without.
Outdoor activities like surfing, kayaking, boating, horseback riding, whale watching, snorkeling, scuba diving, and hiking, will fulfill your outdoor adventure wanderlust. But if its a little more rest and relaxation you're after, don't worry, you can always nap on the beach or get pampered at one of Cabo's many luxury resorts.
If you've had enough of Cabo, you can always take a day trip to one of the many incredible locations nearby like Todos Santos, known as the Magical Town, Agua Caliente in the Sierra de la Laguna Mountains where you can find hot springs and hiking, or La Paz where you can snorkel with sea lions.
Vanessa with Wanderlust Crew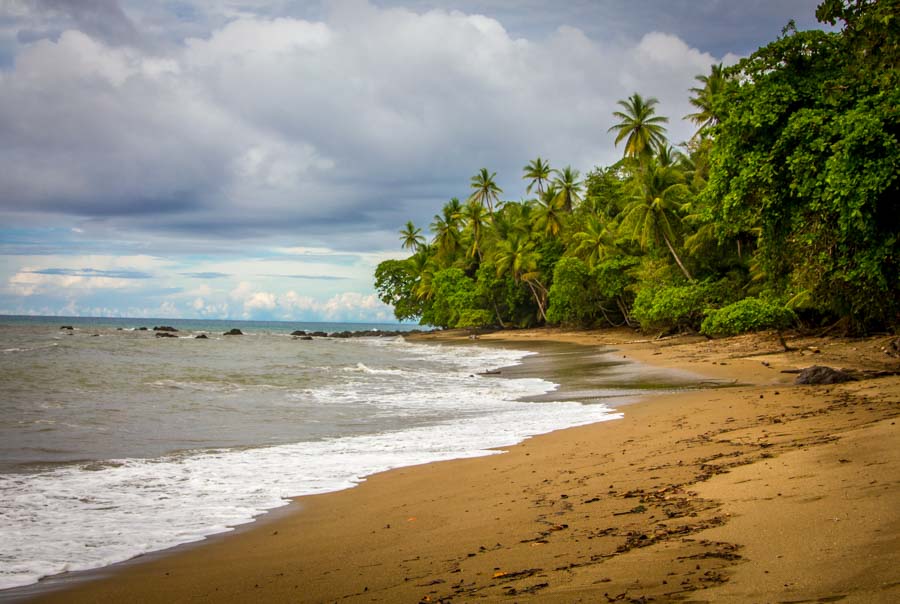 Visiting Costa Rica in winter
Ever since Costa Rica started focusing on the preservation of its prodigious nature and wildlife, the Central American hotspot has been considered a trailblazer in ecotourism. From Tortuguero National Park (on the remote Caribbean coast) and Monteverde Cloud Forest Reserve (in the central highlands) to the the ever-popular Manuel Antonio National Park and the beautiful beaches (also known as playas) on the Pacific coast, nearly every part of the country offers a haven for nature lovers and outdoor adventurers alike to explore.
Costa Rica is the perfect winter destination for North American travelers: It's close, fairly affordable, and has a warm, humid climate that makes for a great getaway from the lands of ice and snow. It's also a perfect time to visit if you love cetaceans, as whales and dolphins migrate to the warm waters off the country's southern coast each winter to breed!
For nature lovers who travel with kids, the Osa Peninsula is an awesome place for an adventure. About a third of it (164 square miles) is protected as Corcovado National Park, which National Geographic has called "the most biologically intense place on Earth in terms of biodiversity." The park is practically packed with wildlife, including all four Costa Rican Monkey species, two kinds of Sloths, two types of Anteaters, Collared Peccary, Caiman, Crocodiles, and Poison Dart Frogs. It's also home to rare species such as the Baird's Tapir, Jaguars and Harpy Eagles.
Just 40 minutes from Corcovado by boat, you'll find Caño Island, which is home to some of the best Scuba diving opportunities the country has to offer. The waters offshore provide frequent sightings of Sea Turtles, Reef Sharks, Spotted Rays, and huge schools of fish.
In other words, there's no shortage of things to do in Costa Rica, and winter (which is considerably less hot) is the perfect time to do them. The country is also less crowded then, if getting away from the masses is your thing.
Check out Bret and Mary's post on hiking Cordovado National Park.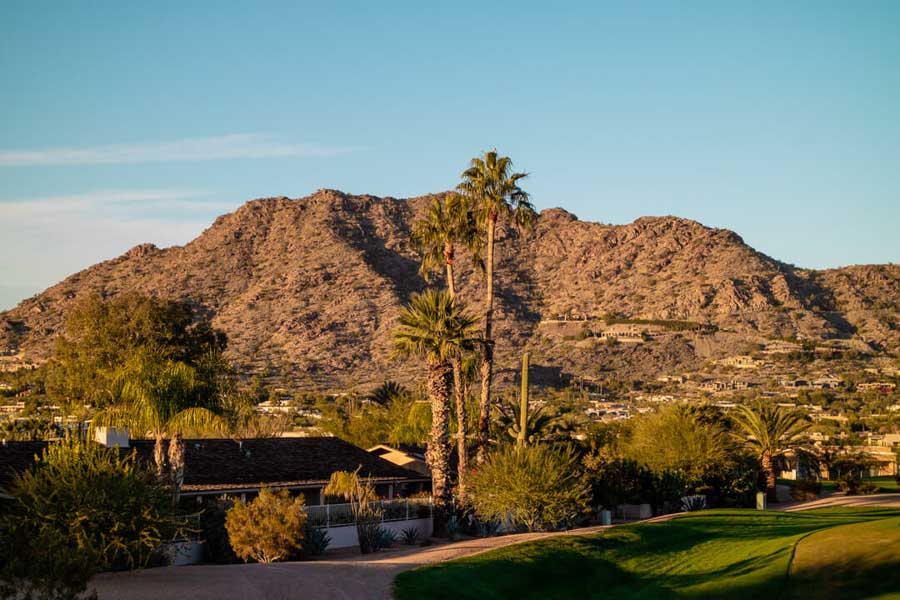 Scottsdale in winter time
Blue skies, sunny weather, saguaro cacti. It is easy to see why Scottsdale, Arizona is a popular destination for Canadians to escape the winter blues. In addition, it is easily accessible from Phoenix, served by direct flights from major Canadian cities, making it the perfect choice for a quick getaway!
Many think Scottsdale is for golfers. While it is true that the city has over 50 golf courses, there is so much more Scottsdale has to offer.
For the adventurers, hiking in the desert is magical experience. Whether you are looking for an intense workout or just want an easy stroll, there are numerous hiking trails for you to explore.
Or better yet, float sky high on a hot-air balloon ride and glide over the desert. The picturesque landscape will leave you in awe.
For the luxury travelers, Scottsdale has a good selection of high-end resorts that will take care of your every need. They usually come equipped with spa and exquisite fine dining to give you the comfort you deserve. In Scottsdale, you will never run out of ways to pamper yourself!
Food lovers are spoiled for choice when it comes to Scottsdale's food scene. From classic American fare to creative Mexican cuisine, the city has something for everyone!
If you are still looking to book a winter getaway this year, consider Scottsdale. It will not disappoint!
Check out Cat's post on what to do in Scottsdale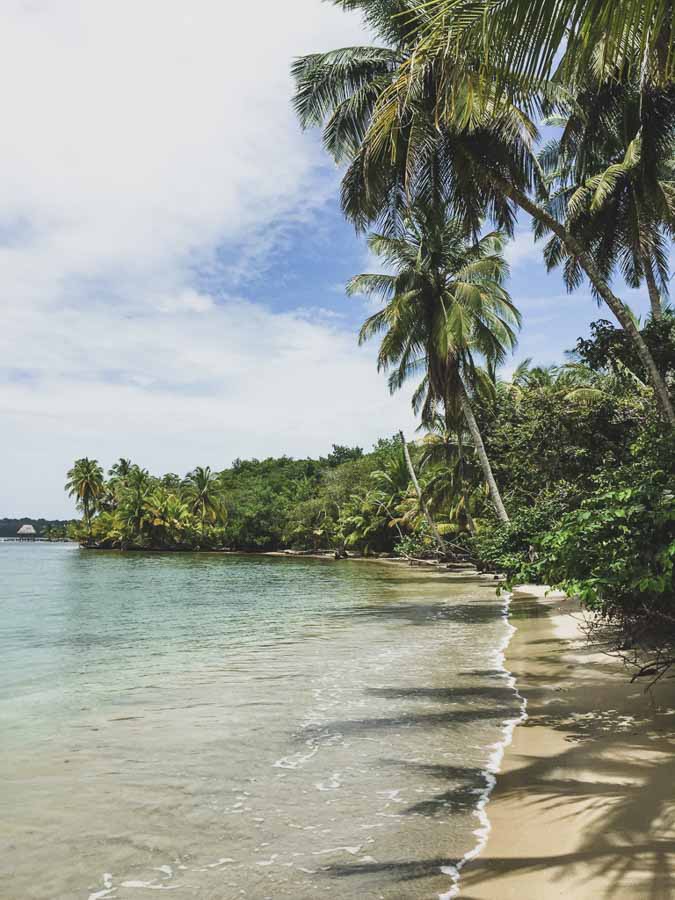 Bocas del Toro for December in Panama
Bocas del Toro is a province in Panama made up of the mainland and nine main islands off the coast. It borders Costa Rica making it very easy to visit if you're in Puerto Viejo or southeast Costa Rica. And winter happens to be a perfect time to visit. There are so many cool things to do in Bocas del Toro no matter your budget.
Some of the awesome things to do there include being a beach bum, snorkeling, island hopping tours, visiting a chocolate plantation, taking a bioluminescent tour, SCUBA diving, biking around the islands, visiting a bat cave, and try zip lining, yoga, or sailing.
Chances are pretty good you'll be staying in Bocas Town, the main town in the islands. This is probably the place with the most access to these activities. You can rent a bike and bike across the island to see Boca del Drago and Playa Estrella, stopping at the bat cave along the way. A lot of tours run from here as well. But don't worry, you can stay on Isla Bastimentos, too. They have little bungalows, guesthouses, resorts, and a party hostel built over the water. There is something for everyone and the weather is tropical and perfect year-round.
Check out Megan's post on visiting Bocas Del Toro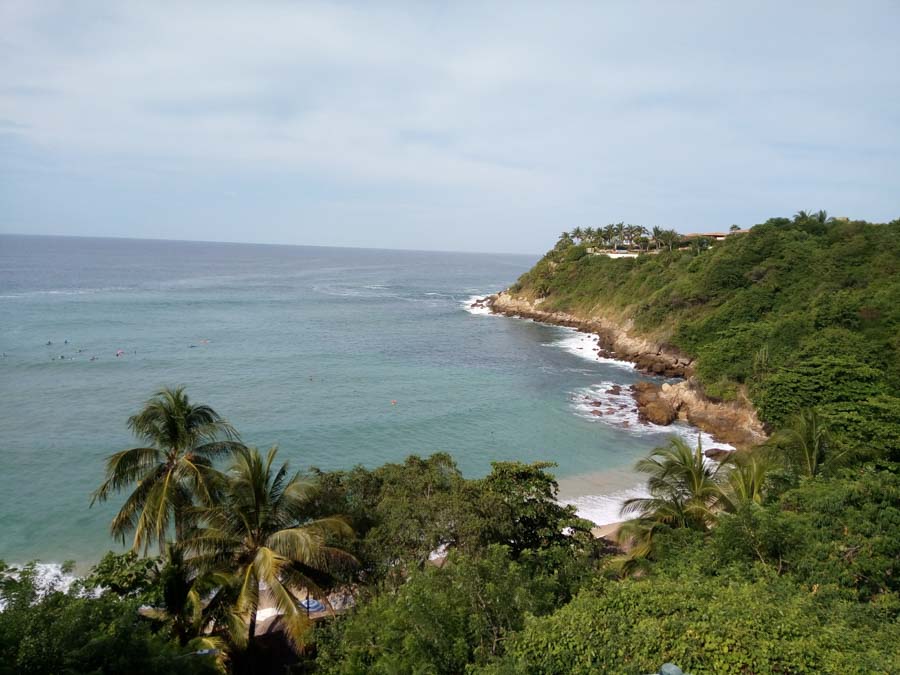 Puerto Escondido December getaway
Puerto Escondido, located on Oaxaca state's coastline, is perfect for a winter break. With average winter temperatures of 29 degrees Celsius (84 farenheight), you certainly won't be chilly here – and the winter is the dry season, so you'll be graced with beautiful blue skies and perfect beach weather.
Puerto is a place to kick back and for many, not do very much, although there are some great activities that can be enjoyed as well. Beachgoers will love Zicatela, which has an impressive restaurant and bar strip and is a perfect spot to grab a cocktail or coconut at the end of the day and watch the sun descend over the Pacific.
If you want to learn to surf, Manzanillo is the place to be. It's a small, scenic bay with lots of instructors keen to teach. If you're a competent surfer already, Zicatela has great waves, but don't take the swell lightly – it can be quite dangerous.
Other activities in and around Puerto include dolphin watching, snorkelling and birdwatching. Or you could hire a car and drive down the coast, to the even more chill beach towns of Mazunte and Zipolite, or north to the beautiful national park of Chacahua… but if you just want to hang out on Zicatela beach all day, we won't blame you!
Puerto Escondido can be reached by either flying into Mexico City and then transferring planes, or by a six-hour minivan ride from Oaxaca City.
Claire from Claire's Footsteps, check out her post on visiting Oaxaca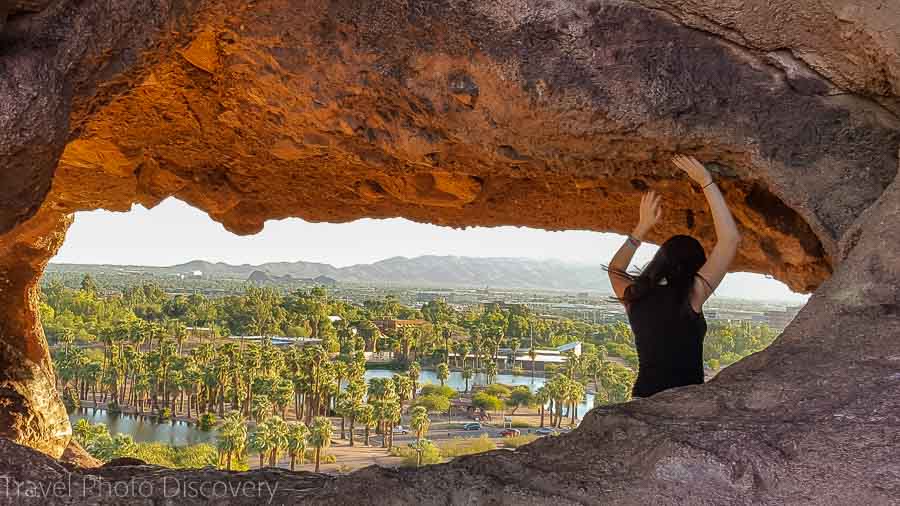 Visit Phoenix, Arizona in the winter
Phoenix, Arizona is one of the best December winter getaways for a warm escape. Whether you have just one day in Phoenix or a whole week, there is a lot to discover here.
Spend a full day exploring the lively downtown area. Immerse yourself in the city's history and art museums, and don't miss the vibrant culinary scene and trendy breweries near the Roosevelt Row art murals. Plus, getting around the city is easy and affordable with the Valley Metro Rail.
With warm winter weather ranging from 46°F to 68°F, this city is a haven for outdoor exploration. Marvel at the stunning Sonoran Desert on the city's numerous hiking trails, all conveniently located within nature parks scattered throughout the urban landscape.
Don't forget to stay hydrated and protect your skin from the sun, even in winter. Phoenix offers the perfect combination of pleasant weather, outdoor adventures, and a vibrant cultural scene for an unforgettable winter escape.
Consider staying in downtown Phoenix for easy access to cultural sights, or in the Tempe area for lively Mill Avenue's bars and nightlife.
Keep in mind that winter is a popular time to visit Phoenix, so expect some crowds, especially during the holidays. The trails and festivities come alive as both locals and visitors take advantage of the pleasant weather.
Monica from This Rare Earth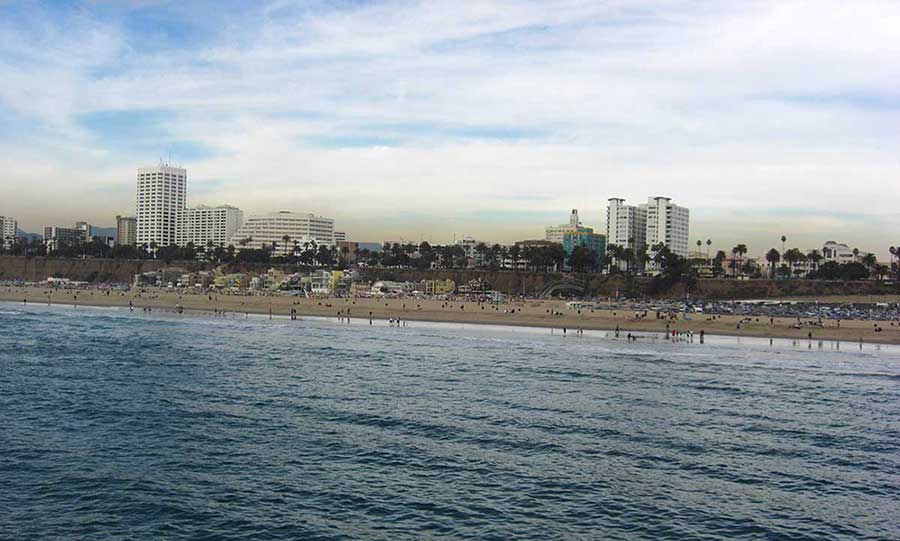 December trip to Los Angeles
Who wouldn't want to travel to Los Angeles for a warmer winter destination? The land of sandy beaches, palm trees, and Hollywood, also known as
Los Angeles, is a great weekend destination
, especially during the winter.
For beautiful beaches, be sure to check out Venice and Santa Monica. Venice is known for its gorgeous canals, as well as Muscle Beach where THE Arnold Schwarzenegger once worked out. Santa Monica's got its colorful pier with boardwalk games and rides. It also has amazing shopping along Third Street.
Explore the art scene at Los Angeles County Museum of Art (LACMA), Museum of Contemporary Art (MOCA), and the Broad Museum. Downtown Los Angeles is home to the latter two museums, but also Walt Disney Concert Hall and the beautiful Bradbury Building as seen in the hit movie, 500 Days of Summer.
Don't forget the theme parks! Los Angeles is the perfect destination for visiting some of the best amusement parks in the world. Universal Studios, with its Harry Potter World is located nearby in Universal City, Disneyland and Knott's Berry Farm are less than 1 hour away in Anaheim.
There are so many things you can do in Los Angeles no matter the season, but their mild winter weather definitely helps out with the winter activities.
Constance with The Adventures of Panda Bear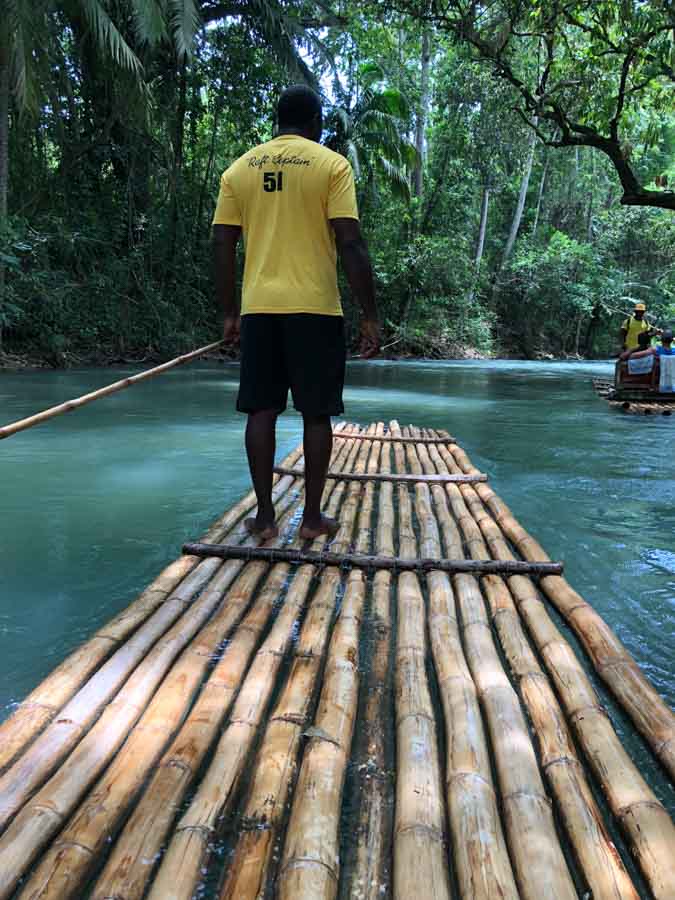 Visit Jamaica in December
If you live on the East coast of the United States or Canada and you are looking for a warm weather winter getaway, Jamaica has it all. In as little as 3 hours you can be laying on a beach drinking rum punch and eating jerk chicken. Jamaica is known for many things. Reggae music, a laid-back atmosphere "no problem mon", white sanded beaches and delicious cuisine. Most tourists head to the West coast of Jamaica to enjoy the multitude of all-inclusive resorts. The main airport in this area is Montego Bay. You can choose to stay in that area and do activities such as zip-lining or exploring the historic 1770s mansion called Rose Hall. Twenty miles from Montego Bay you will find the Martha Brae river. Rafting on the Martha Brae is the islands #1 rafting attraction.
Ocho Rios is a popular vacation destination in Jamaica and is about 1 hour & 30-minute drive from the Montego Bay airport. Be sure to take a climb up the famous Dunn's River Falls. Head 1 hour west from Montego Bay to Negril. Negril is known for its magnificent seven-mile beach. This area is also known for romantic and adult only resorts including some nude beaches. Whichever city you choose to spend your winter vacation in Jamaica, you will enjoy the warm sunshine, golden beaches, the crystal-clear Caribbean Sea and island vibes making you "feel alright".
Check out Nadeen White's blog post on visiting Jamaica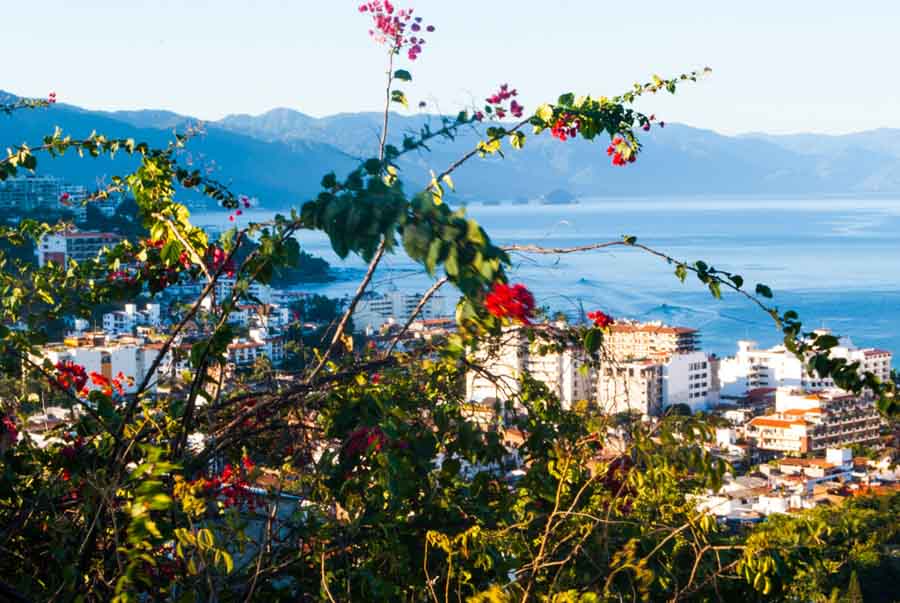 December in Puerto Vallarta, Mexico
Puerto Vallarta is one of the top destinations on Mexico's Pacific Coast for good reason. Although it doesn't have the turquoise waters of the Mayan Riviera, what is does have is its own special charm and an array of activities that can't be beat. It's quick and easy to get to from the USA and Canada and the sunny, mild climate make it a favorite winter getaway.
Beach bums will love the stretches of golden sand in and around Puerto Vallarta and the warm sea provides plenty of opportunity for water sports. The nearby town of Sayulita even offers surfing lessons and board rentals. If you're looking for a bit of Mexican culture the old town (aka Zona Romantica) offers cobblestone streets, beautiful churches and local artisan markets. And if a vibrant nightlife is your thing there are plenty of bars, clubs and lively restaurants, especially along the popular malecon.
No trip to Mexico is complete without sampling the local cuisine. Of course, Puerto Vallarta has a great selection of Mexican food from street tacos to 5 star dining but if you prefer international fare there is no shortage of Italian, Asian and American menus.
Check out Sarah's post on Puerto Vallarta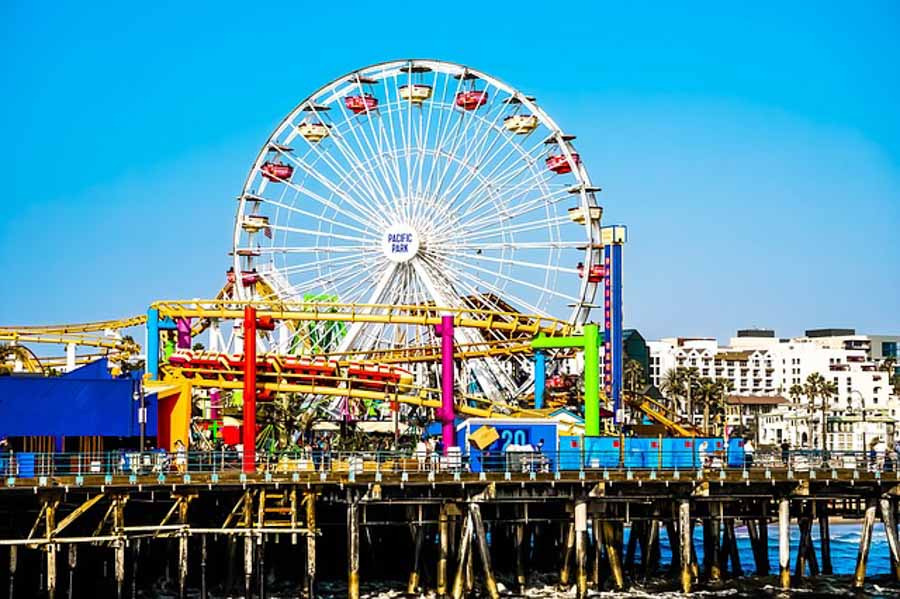 December in Santa Monica, California
Santa Monica, California is the perfect warm weather destination to head to during the cold winter days. The famous Santa Monica beach is just one of the many things you can do there. There tends to be great waves for surfers, but the waters are still tame enough for swimmers. We love walking from pier to pier between Santa Monica and Ventura beach. Santa Monica has a super fun pier that is complete with a mini theme park with rides, an arcade, and lots of shops and restaurants around. You'll probably recognize the Ferris wheel on the pier, as it's | the iconic view when people talk about this city. The Fourth Street Promenade is a great place to head for shopping and dining out. Take an electric scooter or bike around the town, and find your favorite breakfast, lunch, and dinner spots.
There's something for everyone's taste! Santa Monica is also a quick drive to Los Angeles and Hollywood, if you want to check out those cities as well. You can't go wrong with a weekend trip to the coast of California, and Santa Monica will be the perfect spot for both beach and city lovers. Plus, you'll be able to get out of the cold!
Sara with Our Kind of Crazy

South Beach December winter break
South Beach, in the city of Miami Beach, in the sunshine state of Florida is the ideal winter break location.
This little neighborhood has much to offer for the winter weary. With average winter temperatures of 77 F (25 C) this is shorts and T-shirt country.
Ocean Drive, the main drag, is flanked by trendy restaurants and shops on one side. The other side features the sparkling blue waters and sandy beach of the Atlantic Ocean.
For the party animal, there is an abundance of clubs, bars and music venues. For the stressed, there are miles of beaches for lounging and chilling. The foodie will find the ample selection of international and local cuisines to be just perfect.
There are even attractions for the culture vultures. The area boasts several museums including; the Wolfsonian, The Holocaust, The Bass, World Erotic Art and others. In fact, the entire Ocean Drive is a museum displaying art deco architecture.
Since South Beach is part of Miami Beach and the city of Miami, it is remarkably well connected and easy to get to. There are direct flights from other U.S. cities, most major Latin American cities, many cities in Europe and elsewhere. It is about 25 minutes drive from Miami International Airport.
South Beach is a great location for a weekend or several weeks stay. As it is conveniently located to so many other attractions in the area, it's a great place to use as a base to visit the surrounding city or state.
This place has it all. It is the perfect winter getaway!
Check out Talek's perfect South Beach walk here.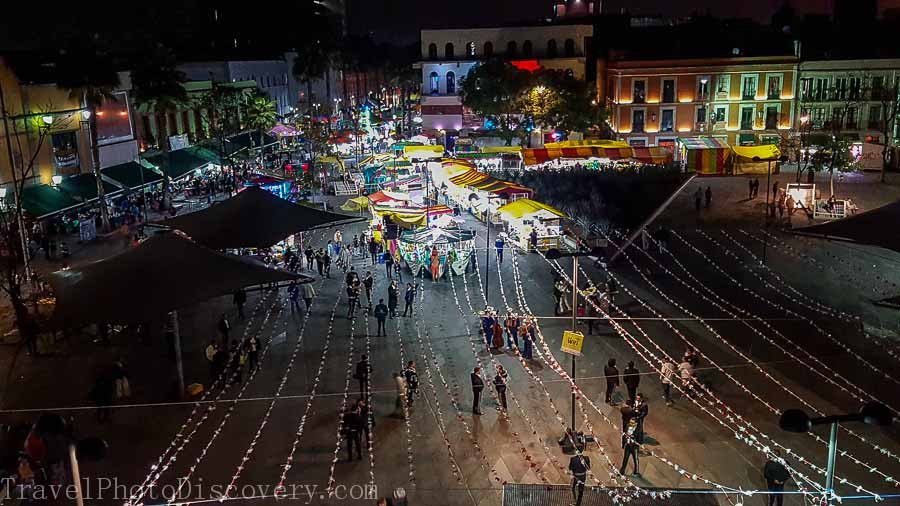 Mexico City in December
If you're looking to escape the cold this winter but want to trade in a beach for some culture – look no further than Mexico City, Mexico. As the largest metropolitan city in the Western Hemisphere, CDMX has something to offer to everyone and with an average temperature of 75 degrees Fahrenheit throughout the winter, everyone can enjoy it! Get lost in the colorful streets of the trendy, Instagrammable Roma, Condesa and Coyacán areas of the city or make your way to some of the (many) traditional local markets that feature any and everything from leather shoes to woven baskets to even various foods (think: tapas, imported European meats and cheeses, fruit stands and fish mongers, and even bites of iguana, alligator or scorpion). There's no shortage of art around the city, as well. An art aficionado could easily spend months exploring local art around Mexico City from murals on the streets to entire homes, like Luis Barragán's Casa Gilardi, dedicated to an artful experience. Don't forget to make some time to visit Casa Azul, the former home of Frida Kahlo turned museum. No matter what you're looking for from your winter getaway – Mexico City for sure has something to offer you! Don't forget to check out my suggestions to make the most of three days in Mexico City.
Jacklyn with Get lost with Jackie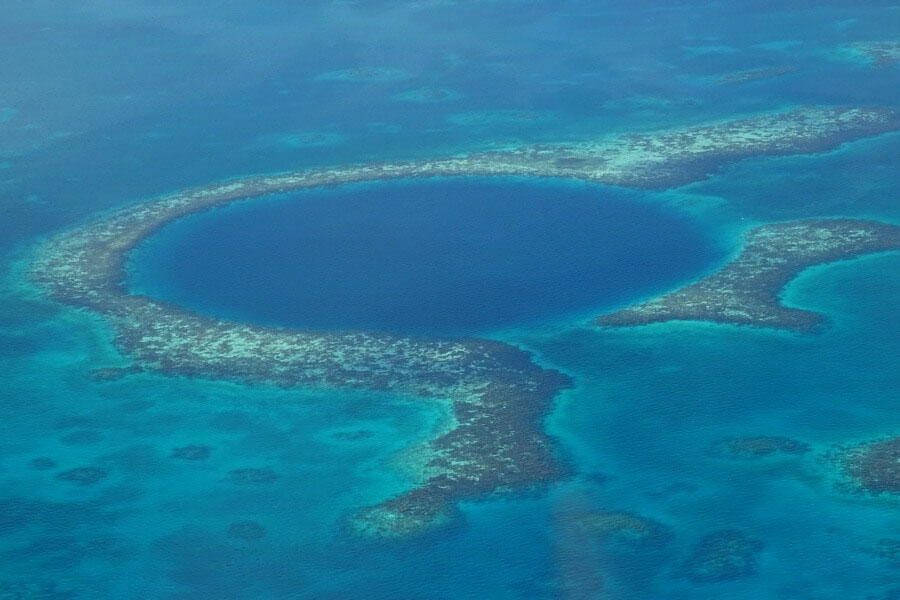 Visiting Belize for December
Belize is not very far from the US and Canada. As an example, the flight is only a little more than 3 hours from Atlanta. This English speaking Carribean country is warm even in January and a nice sea breeze keeps the islands comfortable. The island of Caye Caulker is a short boat ride from Belize City. It sits just within the barrier reef to the Caribbean Sea, so activities like snorkeling, boating, and diving are popular and waves aren't huge. Along the reef lies the perfectly round sinkhole called the Blue Hole which is perfect to see from a flight, or you can book a snorkeling or scuba diving trip to see it. There are several tour companies that can book excursions for you, or you can choose to spend your days relaxing on the beach.
Caye Caulker has a range of hotels and restaurants, and is quite suited for both the chill and party crowd. Tropical drinks both with and without alcohol abound, and it's easy enough to find a meal with a view at one of the beachside restaurants. No cars are allowed on the island, which adds to the laid back vibe, and everything is within easy walking distance. If you want a higher level of development, look at nearby Ambergris Caye.
Check out Ali's scenic flight over Belize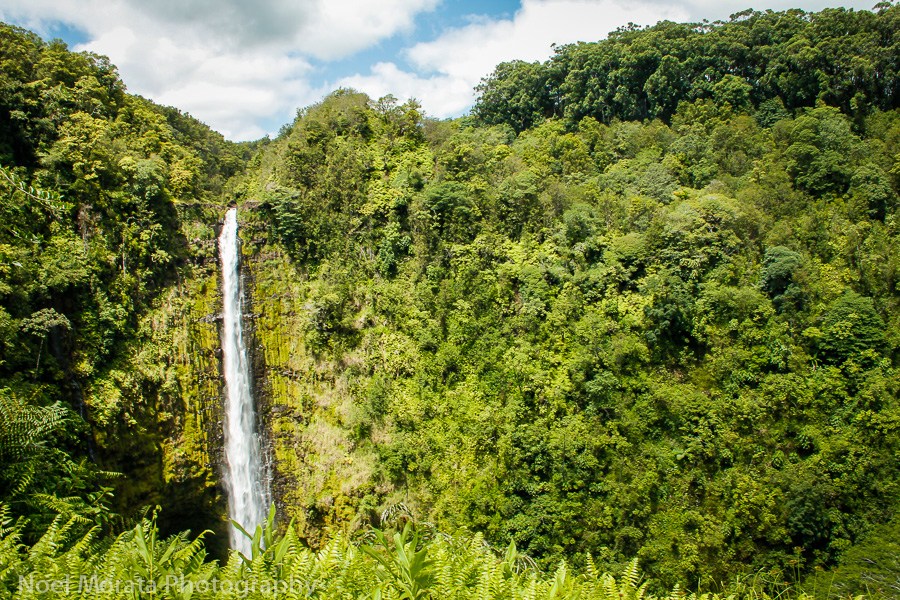 Visit Hawaii in December
Hawaii is a year-round destination but things really start happening during peak season in wintertime when visitors from all around the world come for a warm winter holiday. The peak season starts mid December until early March timeframe to explore all the islands. For outdoor lovers, there are adventures in every island, amazing food to try many international and fresh Hawaiian ingredients, fantastic events in winter time and of course amazing beaches to explore.
Each island has so many unique places of interest, historical towns and monuments and wonderful landscape, waterfalls and tropical gardens to explore. You'll never run out of fun and cool things to explore in each island and they are definitely unique and different from each other, so you do have to visit one or more to get a real flavor of each individual island.
Check out Noel's post on top things to do in Waikiki now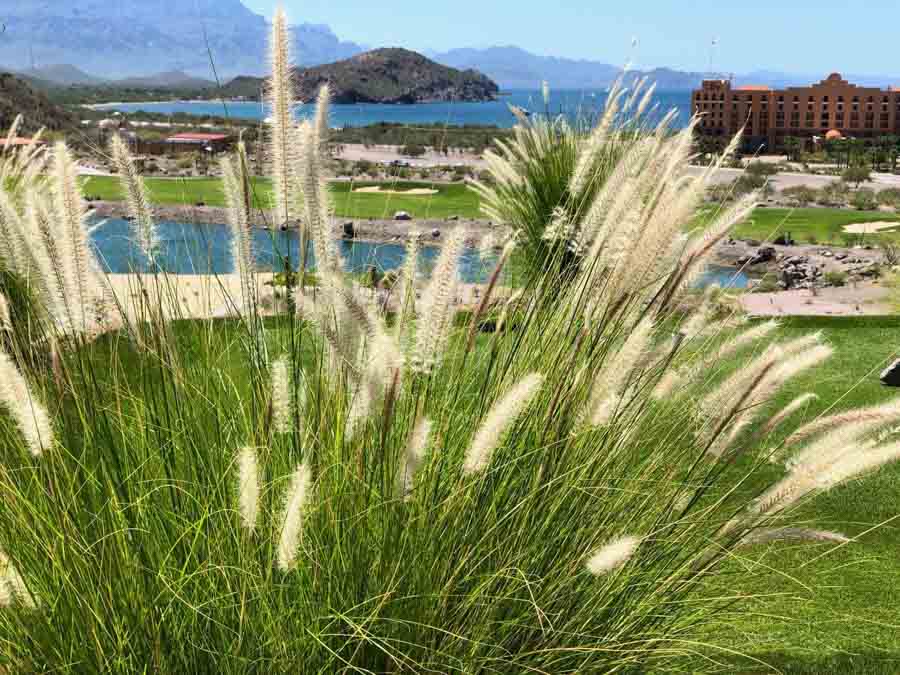 How about December in Baja California Sur
Less than a two hour plane ride from Los Angeles is a step away from the harried city life of doing and a step into the magical marine life of being, in the first pueblo built by Spanish Jesuits in the Baja California Sur area: Loreto, Mexico. The ancient city of Loreto, peppered by structures still standing and built by its original settlers, spills joyfully into the Sea of Cortez. The cobblestone streets lead away from its town square, Plaza Salvatierra, to a canopy of trees and the historic structures which have been restored and converted into boutique hotels, restaurants and shops.
Visitors boast about the unique culinary experiences available here, saying it's impossible to get a bad meal. Try Mi Loreto for warm, local hospitality and authentic, complex flavor. If you stay in town, the Hotel Posada de las Flores will impress with its rooftop pool and translucent bottom, which is the ceiling of its lobby. About a half hour from town is the Villa del Palmar Beach Resort & Spa at the Islands of Loreto. Surrounded by the indigo Sea of Cortez, with such an array of visible ocean life, even Jacques Cousteau called it the "world's aquarium." Facing the Island of Danzante and flanked by the Sierra de la Gigante mountains, the resort offers guests both all-inclusive and room only options. Kids will love the calm waters, in which LED stand-up paddleboards can be used to explore the night ocean and mom will love the award winning Sabila Spa and Wellness Center while dad can clear his mind at the 18-hole Rees Jones designed TPC Danzante Bay Golf Course, with panoramic sea views that will make concentrating on the game one of the biggest challenges.
Rina with LA Family Travel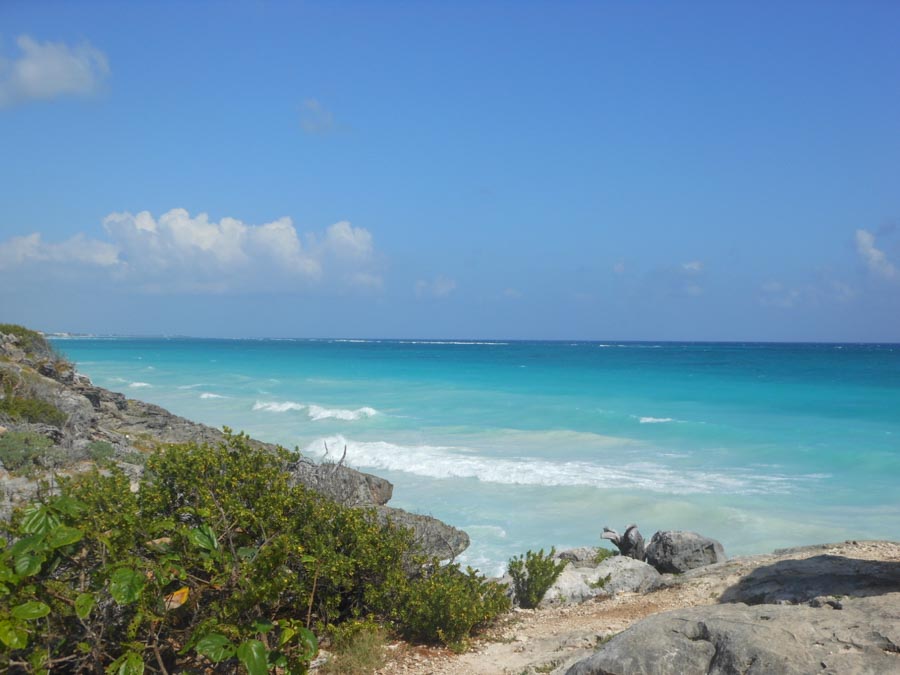 December in Tulum, Mexico
In a country where beautiful beaches are a dime a dozen, Tulum still manages to steal the spotlight. Once a sleepy fishing village on Mexico's Yucatán Peninsula, Tulum is today one of the world's best beach destinations and an easy weekend getaway located just 130km from Cancun's International Airport. Laidback Tulum is little more than a two-kilometre road lined by small eco-hotels and even smaller restaurants. On one side lies a mix of jungle scrub and new real estate development and on the other, the turquoise waters of the Caribbean Sea. It's this laidback nature plus the arrival of some celebrity chefs (Noma set up residence here recently) that has seen the town become a magnet for the rich and famous. But even if you're not on the A list don't worry, Tulum has something for everyone.
In addition to its white sandy beaches and crystal-clear waters, there's the magical 13th-century Mayan archaeological site built overlooking the sea and not far away are the mysterious ruins of Coba. Numerous freshwater cenotes dot the neighbouring countryside; once upon a time the Mayans would use these natural swimming pools to communicate with their gods but today they are a unique place to swim.
Check out Katja's post on travel adventures in Tulum, Mexico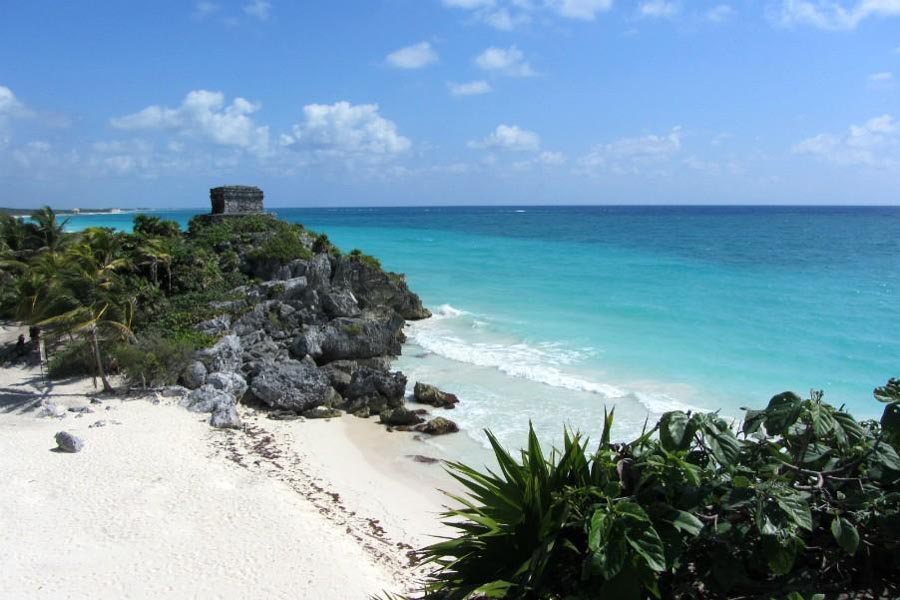 Cancun is perfect in December
It's no secret that Mexico is the top destination for both Canadians and Americans looking for sun. It's quick to get to, is home to a variety of beaches, and has some of the most delicious food on the planet. What's not to like? Of all the destinations in Mexico, however, Cancun has easily become the top choice. Whether you're into an epic all-night party or a walk down a white-sand beach, Cancun has something for everyone.
On our last trip to Cancun, we tried to experience as much as we could. For those into scuba diving, there's something very unique in the area that can't be found anywhere else – Cenotes. While the ocean provides standard scuba diving, the cenotes allow you to get a taste for cave diving, coasting through caverns and crevices while experience crystal-clear water and mystical experience. On top of the land, there's also a wide range of activities, including the opportunity to race Ferrari's, which is something I had always wanted to do. While three laps proved to be a bit short, it was exhilarating to take a Ferrari around a race track. Last but not least, a trip to Cancun just wouldn't be the same without a big party. For that, we went to Coco Bongo, a famous nightclub that starts out as a show and turns into a late-night party afterward. With sand, sun, exciting attractions, and parties, it's easy to see why Cancun has become so popular, especially for Canadians who run out of things to do in Canada during the winter or Americans looking for that postcard-perfect beach.
Matthew with Live Limitless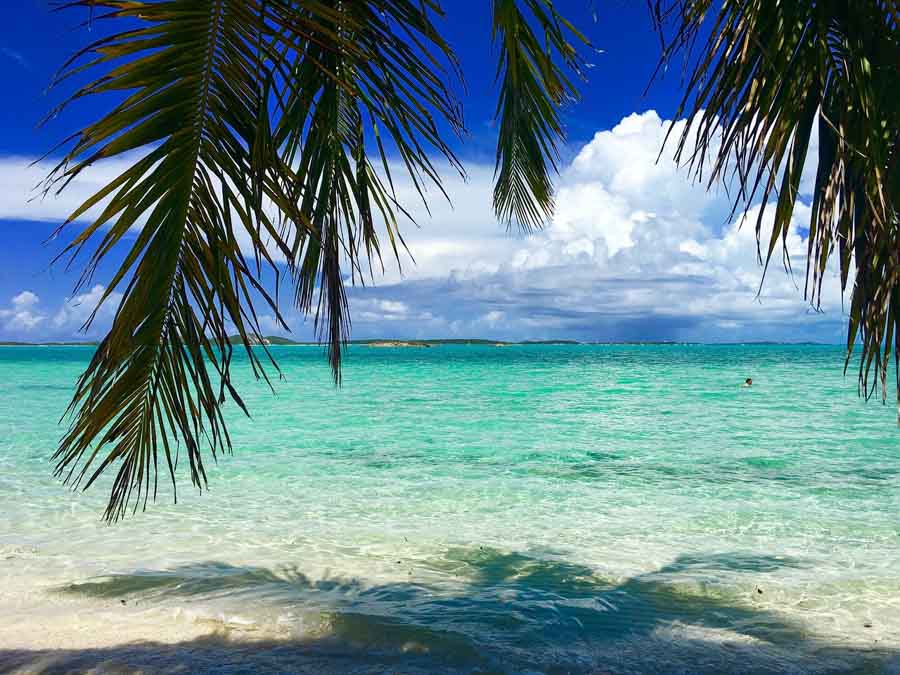 The Bahamas – a December getaway
If you need to warm up during the cold winter, the Bahamas are a great place to escape to. In the coldest months, January and February, the northern parts of the Islands average the low or mid-70s and the more southern islands will approach the 80s. These temperatures make for perfect beach day weather. The winters are also drier on the Islands, ensuring sunny days during your trip.
Center your trip around doing things you can't do at home during the winter. The Bahamas are known for their amazing beaches and you should take time enjoying them. Get to know several islands by taking a boat tour. If you are going to be near Exumas, you can take a boat ride to swim with the famous pigs at Big Major Cay. Bring some food with you for the pigs and if you dare, the nurse sharks. The crystal clear waters make for great snorkeling and scuba diving as well.
If you enjoy golfing this is the best time of year to get in a game or two on the very beautiful golf courses. Make sure you spend plenty of time enjoying the natural wonders the islands offer before returning home and waiting for summer to come again.
Dan with Honeymoon Always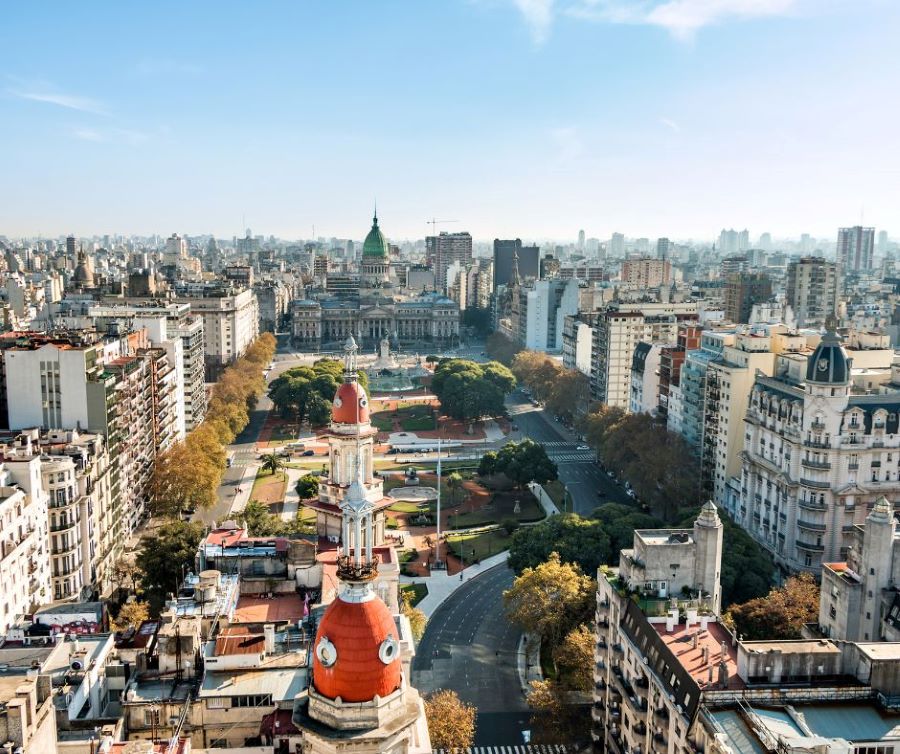 Visit Buenos Aires in December
Visiting Buenos Aires, Argentina in December is a vibrant and delightful experience. As the city welcomes summer, there's a palpable energy in the air, and a multitude of activities to enjoy in this captivating South American metropolis.
The weather in December is warm and inviting, with average temperatures ranging from 20°C to 30°C (68°F to 86°F). It's the perfect time to explore Buenos Aires' renowned neighborhoods and landmarks without the chill of winter.
There are plenty of free things to do in Buenos Aires in the warmer months. The city comes alive with a festive atmosphere as Christmas approaches. Colorful decorations adorn streets and plazas, creating a magical ambiance. You can't miss the charming Christmas markets, where you can shop for unique gifts and savor mouthwatering foods.
There are plenty of cultural events in December. From tango shows in historic theaters to open-air concerts and art exhibitions, Buenos Aires offers a rich cultural scene. Don't forget to experience the city's culinary delights, from savoring Argentine steaks at local parrillas to indulging in mouthwatering empanadas and dulce de leche desserts.
The city's green spaces, such as the Palermo Woods and the Rose Garden, beckon you to bask in the sun and enjoy picnics or leisurely walks. Plus, you can take advantage of the extended daylight hours for exploring iconic landmarks like the colorful La Boca neighborhood or the historic Recoleta Cemetery.
Visiting Buenos Aires in December provides an opportunity to immerse yourself in the city's dynamic culture, warm hospitality, and summer festivities, creating lasting memories of a vibrant Argentine adventure.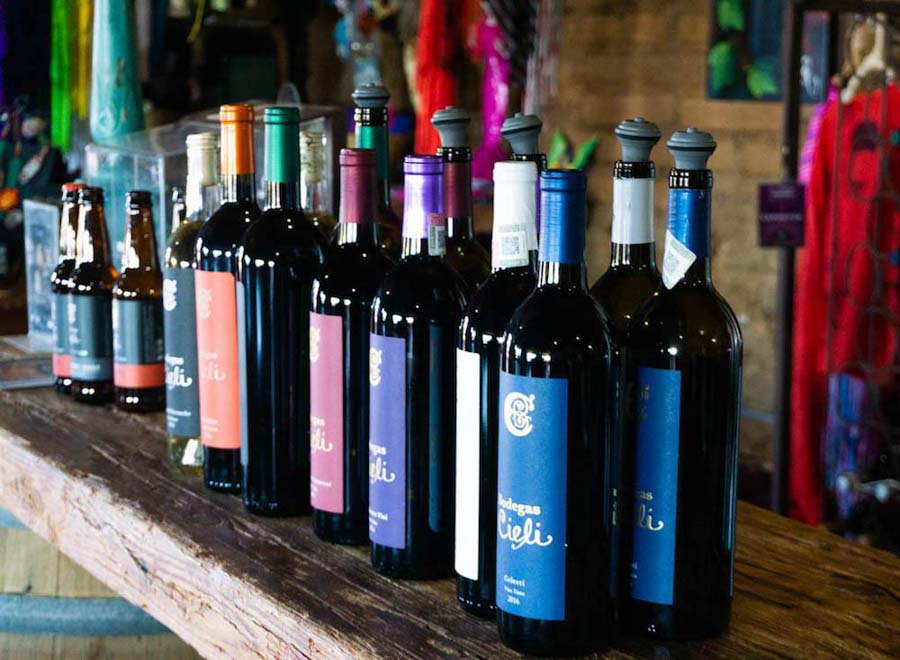 Wine Tasting in Valle de Guadalupe in winter
Just a two hour drive from San Diego, there is a wine nirvana and foodie destination that makes the perfect weekend getaway: Valle de Guadalupe. About 30 minutes east of Ensenada, it's a study in contrasts. Most of the 75+ wineries are accessed down lonely dirt roads that may leave you wondering if you've taken a wrong turn somewhere. But round a bend and you'll likely spy a sleek glass and steel winey rising up next to a manmade lake…or duck into a Frida Kahlo-themed tasting room before heading up to the Instagrammable rooftop bar bathed in sizzling tropical colors and disco beats.
If you're looking for a novel, exotic weekend in a sun-drenched locale without a 12 hour plane flight from the U.S., you can't beat Mexico's Valle de Guadalupe. Some are calling it the next Napa Valley. The best Valle de Guadalupe wineries are producing wines from an impressive list of varieties, everything from cabernet sauvignon and tempranillo to chardonnay and sauvignon blanc. Gourmet food trucks, world class chefs, and destination restaurants with multi-course food and wine pairings round out the tasting scene.
Christina with Explore now or never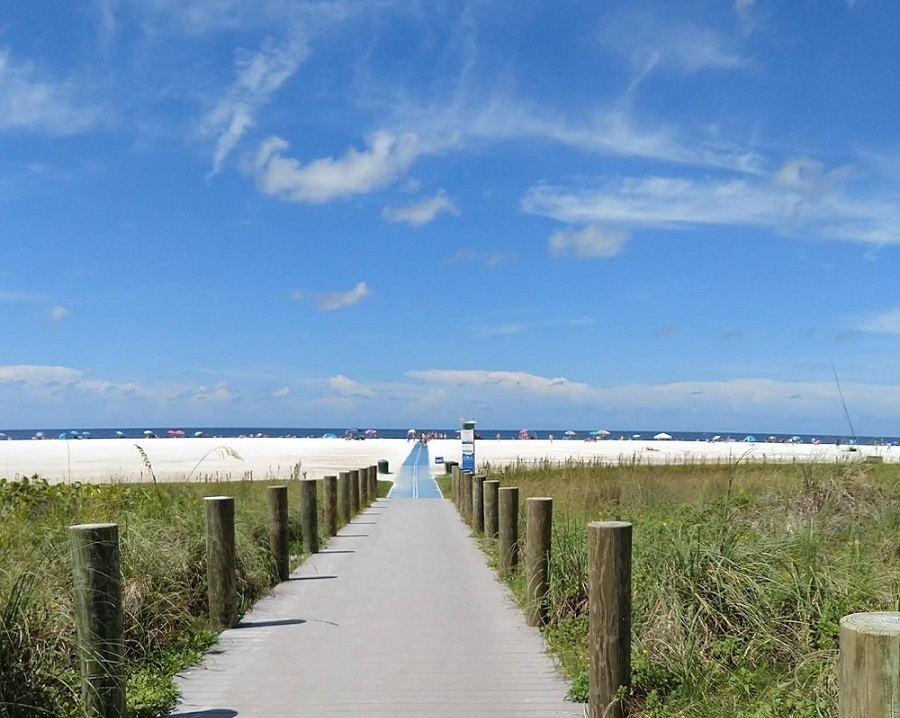 Visit to Sarasota, Florida starting December
Sarasota is famous for its sunny and sandy beaches. It is located on the Gulf coast of Florida and has a winter friendly weather with temperatures going roughly around 73 – 75°F (23 – 24°C) during the daytime, in the months of December-January. Filled with the sunny-Florida vibe, the beaches near Sarasota offers a perfect way to get soaked up in the sun.
It has a barrier island named Keys, off the Sarasota coast which separates the Sarasota Bay and the Gulf. It has a long train of white sand beaches and one of the famous ones is the Siesta-Key. The beach is great for family trips and has wonderful ambiance around the year.
Apart from picturesque beaches, Sarasota also has an aquarium called Mote marine laboratory and aquarium, jungle Gardens which is a kid's favorite and is close to Myakka River State Park.
Along with these amazing spots, you can check out my personal favorite – the Sarasota Classic Car Museum which has a display of vintage automobiles including speedsters, convertibles and even carriages giving the dose of the early 20th century.
However, if you just want to chill out, just head off to the sparkling waters of the Gulf and take a dip!
Check out Kimaya's post on visiting Clearwater in Florida

Guatemala in Winter time
Set in the heart of Central America between the Pacific Ocean and the Caribbean, Guatemala is an ideal quick weekend getaway from many cities in Canada and the US. Filled with crater lakes, volcanic mountains and lush rainforest, it offers adventurers a wealth of outdoor activities with bucket-list experiences such as hiking to the summit of awe-inspiring volcanoes to exploring archeological ruins. Or, for those interested in more urban pursuits, the sunny colonial city of Antigua is a short jaunt from Guatemala City airport but offers a splendid collection of 17th century Baroque buildings, palaces and churches as well as a bustling outdoor market, proximity to coffee plantations and authentic local culture.
It's also home to Semana Santa festivities such as the religious processions of Holy Week and Easter, one of Guatemala's most important festivals and celebrations. Easy day trips to Mayan villages such as Chichicastenango in the Guatemalan highlands offer opportunities to explore indigenous culture and traditions such as regional cuisine, hand woven textiles and regional celebrations. Sun and sea lovers can get their fill of sunshine and surf on either the Caribbean coast near Livingston or in Monterrico, a famous sea turtles nesting beach featuring black sand on the Pacific coast.
Michele Peterson A Taste for Travel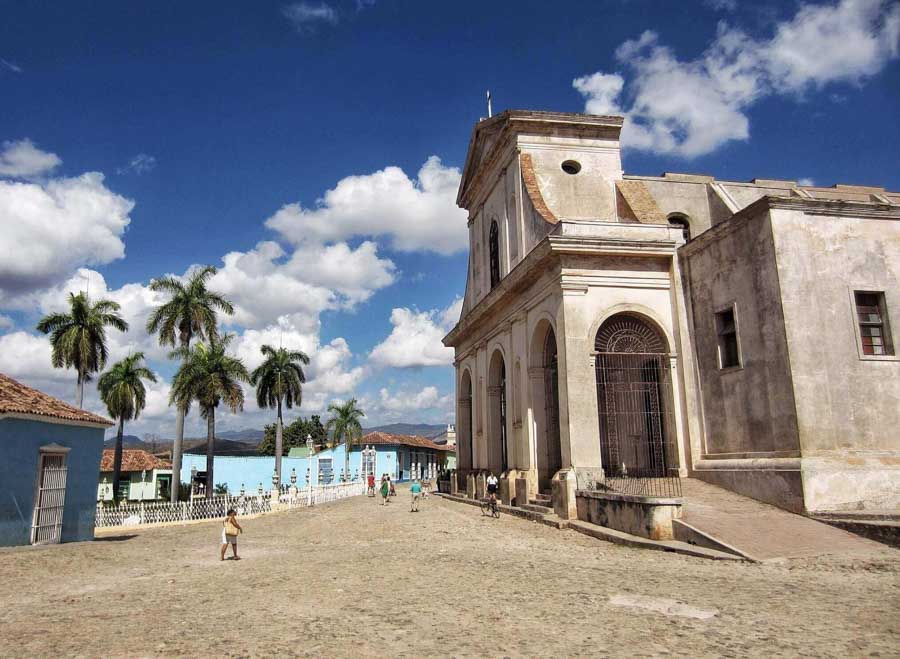 Visiting Trinidad in December
Trinidad, Cuba, is a lovely destination to travel to when seeking a break from the cold winter of North America. This beautiful colonial town is at around 4 hours drive from Havana, the capital, yet a million miles away in terms of vibe and sights. Perfectly kept and with the historical center closed to traffic, it's a nice place to explore, getting lost in the narrow cobbled alleys, exploring the many museums, shopping in the markets and in the many art galleries. The nicest place to visit in town is Palacio Cantero, home of the Museo Historico Municipal. If the exhibit may not be the best, the view from the tower inside the museum is absolutely fantastic. Another must see is the Plaza Mayor, surrounded by beautifully kept colonial buildings – most of which are open to the public.
Nightlife in Trinidad is a lot of fun. Most people – locals and tourists alike – meet at Casa de la Musica, where live music is played every night and it's possible to dance salsa while sipping a good cocktail.
Claudia with My adventures across the world.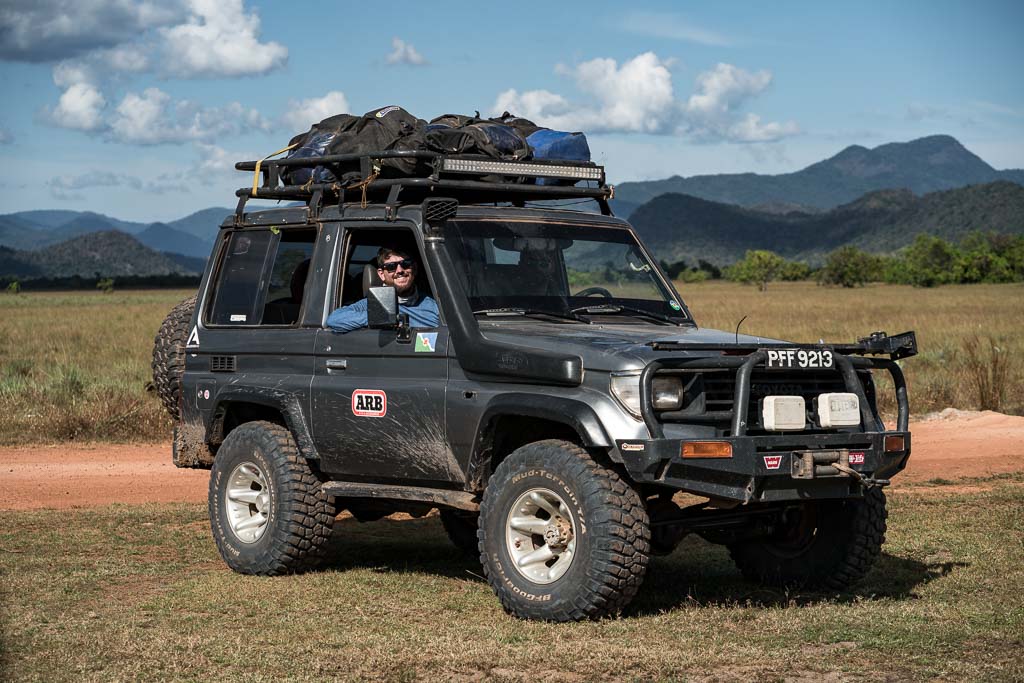 Guyana during the winter season
When the days get shorter and the temperature drops, it's time to travel to Guyana, where the sun is always shining and the weather is hot! This underrated South American destination not only has amazing weather, but plenty of fun, adventurous outdoor activities, so you can soak in the sun. If you're up for a crazy adventure, head towards Lethem in southwest Guyana to explore the rugged jungle and vast open savannah. The best way to trek across the country is by ATV, 4×4 or horse and the only way to cool down after a dusty day of exploring is to jump in a nearby river or creek. At night, even though the temperatures are still stifling, take refugee in a hammock, strung up between two trees with the bright stars shining above.
For those looking for a chiller hot weather adventure you can take advantage of the many rivers and waterfalls to explore around Georgetown and neighboring towns. Take a boat through the channels and up river to learn about the history of Guyanese occupation and emancipation, as well as explore the beautiful surrounding. While is doesn't have the white sand beaches of the Caribbean, it definitely has that chilled out Caribbean vibe to really help you unwind.
Warm winter destinations from Europe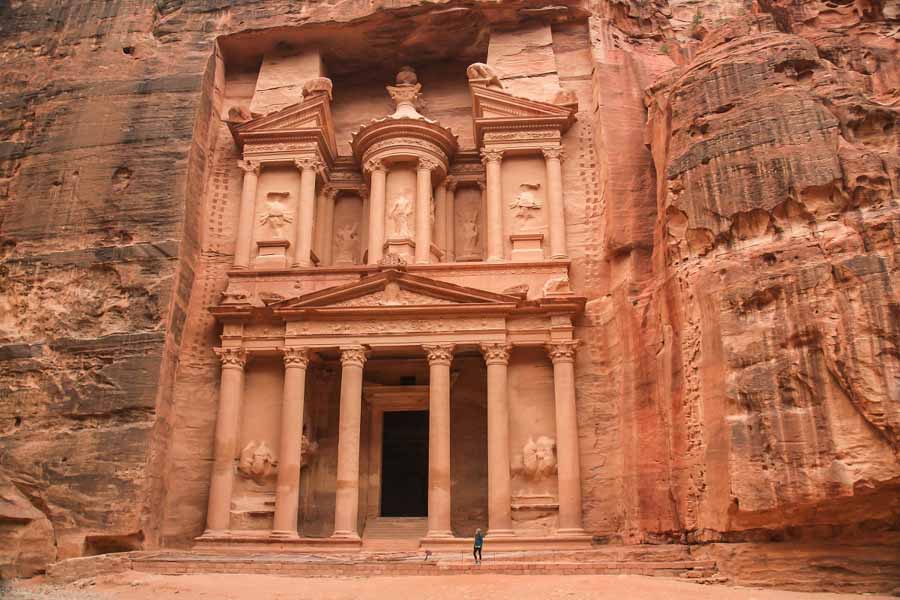 Exploring Jordan in winter time
Tucked away in the Arabian Peninsula, Jordan is a stunning place to visit in the winter time. Normal temperatures during that time are warm and comfortable. The easiest way to get there is to fly into the capital Amman. This is a great city place to explore and eat. The never-ending cafes and restaurants are delicious and inexpensive. The temple of Jerash is a perfect day trip from Amman. The towering structures date back to the Roman Era.
A must visit is the ancient city of Petra, one the world wonders. It is located 7 hours from Amman. The structures are carved into the mountainside and were not discovered until 1812. Walking through the ruins takes you back in time. The complex is massive and can take two days to explore.
Two hours from Petra is the stunning landscapes of Wadi Rum. It is out of this world, so much so that the movie The Martian was filmed here. The area is best explored by jeep tour through the sandy desert. There are many unique desert Bedouin camps to spend the night under the starry sky.
The best way to round out the trip is to relax at the Dead Sea. The Dead Sea is the lowest place on earth and also the saltiest body of water in the world. You literally float to the top! It is perfect for relaxing and getting pampered at some of the world's best spas.
The people of Jordan are generous, kind, and very hospitable. They love to share their coffee, food, or just a friendly chat. Jordan, located a short flight from Europe, is a perfect escape for a winter holiday.
Check out Yana's post on visiting Jordan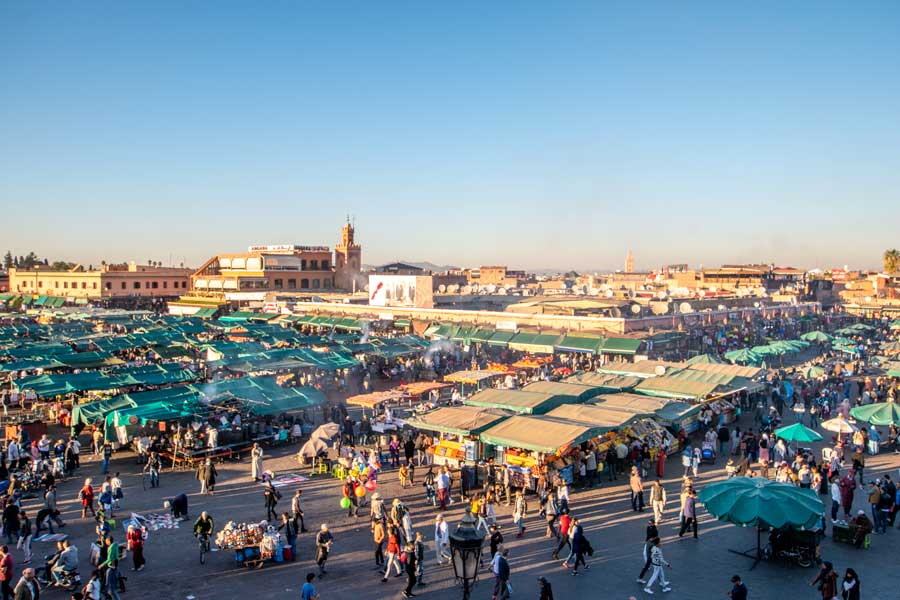 Marrakesh in winter time
Once November comes, a lot of us in Europe starts to look for a warm and sunny getaway. Been a short fly away and having temperatures around 20C (70F) Marrakesh is always a popular choice.
For many years, the legendary Moroccan town serves as a Mecca for authors, painters, photographers, and even chefs and fashion designers, who goes there looking for inspiration and going back with bright new ideas and some colorful rugs and tin lamps.
Put on your shorts and favorite T-shirt and get lost in the UNESCO recognized Marrakesh Medina. Enjoy the pink labyrinth of windy alleys and small shops offering you everything you can imagine.
Let your nose guide you to the famous Jemaa el-Fna Square, where numerous food stalls offer traditional Moroccan cuisine while snake charmers and street acrobats entertain the crowds.
When your senses get overwhelmed by the medina, take a walk at La Jardin Majorelle and find out where Yves Saint Laurent got his inspiration and became one of the most famous designers in the world.
After a cup of traditional mint tea, make your way to another popular Marrakesh attraction – the Bahia Palace. Enjoy the traditional Moroccan gardens and witness some of the best architecture in the country.
If you have more than a weekend, take the trip south to the Sahara desert where you can enjoy sand boarding, camel rides, and desert camping!
Verislav with Global Castaway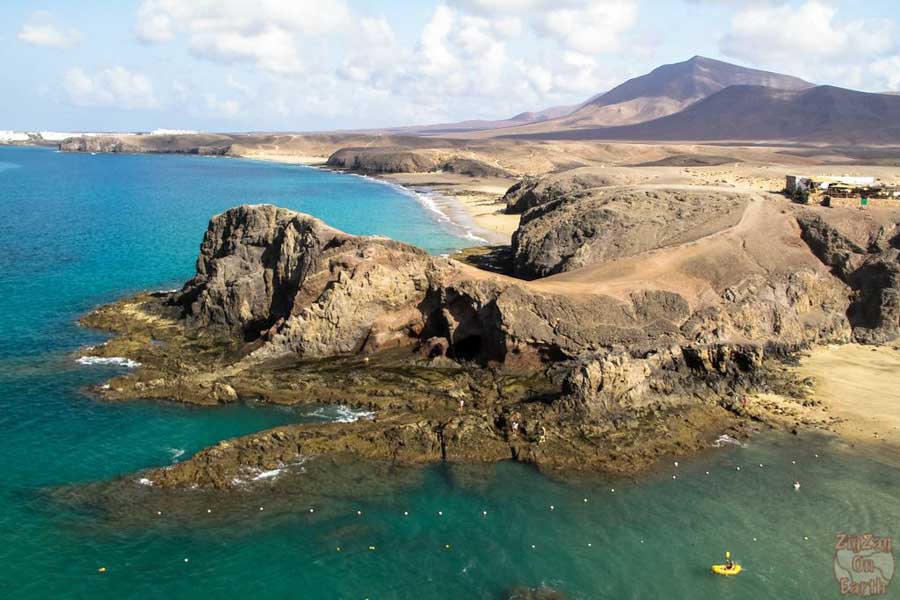 Visiting Lanzarote in the Canaries Islands
If you are looking to escape the cold and rain of Winter in Europe, traveling to the Canaries islands is a beautiful and warm option. My favorite is the island of Lanzarote.
After a short 4h flight from the main capital cities of Western Europe, you could be lying on the beach or walking around a volcano under the intense blue sky.
During European Winter time, you can expect temperature around 21°C during the day (70°F).
The advantage of Lanzarote is that it is not a beach-only destination.
The many things to do on the island make for a great exotic getaway:
· seeing the volcanic features of the magnificent Timanfaya National Park,
· visiting lava tubes transformed by the famous artist César Manrique,
· walking around conical craters,
· learning about the fascinating irrigation techniques at the vineyards,
· discovering hundreds of cactus types,
· or exploring old villages.
And if this is a romantic weekend for you, don't miss the sunset either at the green lagoon or at the cliffs of Famara beach.
Even with kids, it is a great destination. Some of the volcanic features are adapted to children, and you can also take them to one of the fun parks or to ride on a yellow submarine.
Claire with ZigZag On Earth, check out here post on visiting Lanzarote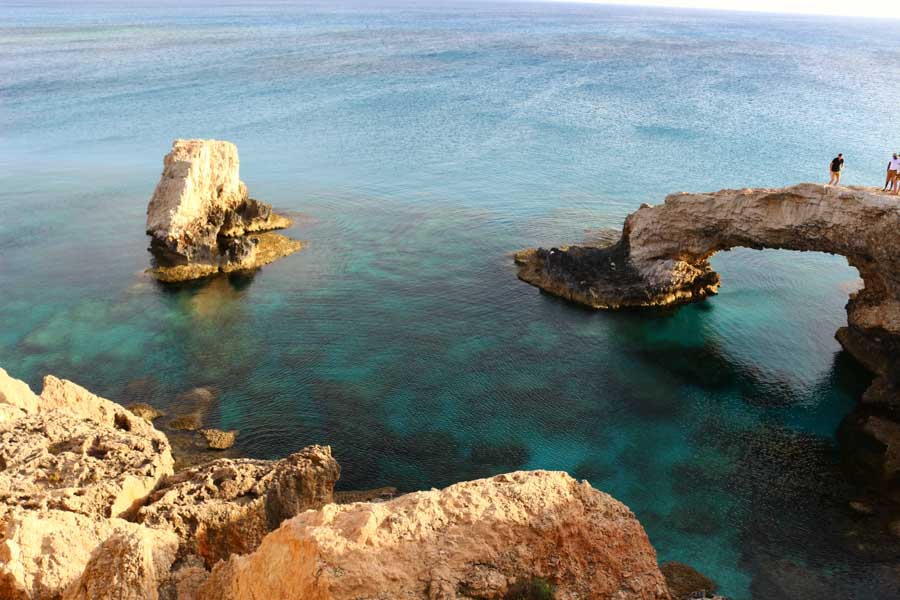 Visiting Cyprus in winter
When the winter gets a bit too cold and you need a European country to run to, Cyprus would be your best bet. From December to February, the island maintains temperatures in the range of 18-20 degrees Celsius, around 60 degrees Fahrenheit. It is just the right temperature to soak up some rays without getting burned or overheated. It may not be the ideal beach temperature, but it is just enough to chase the winter blues away. A very rare burst of rain may interrupt the sunshine and blue skies, but it is nothing prepared travelers can handle, so bring a jacket just in case.
Winter, being Cyprus's low season, has a lot of perks that include cheaper accommodation with villas and apartments rented at half the price. You can also take advantage of holiday bargain packages that will allow you to explore Cyprus in style without the usual high-season price. Getting there will also be a bargain as flights will be at their lowest.
Better yet, the sights and restaurants of the beautiful city will be all yours to enjoy. Once the festivities are over, there will be no need to queue when you enter restaurants. There will be no crowds of tourists to welcome you as you enter the historic sites of the city, giving you a better feel of what they were like back in the days of the Crusades and the Roman Period.
Karolina Klesta with Karolina Patryk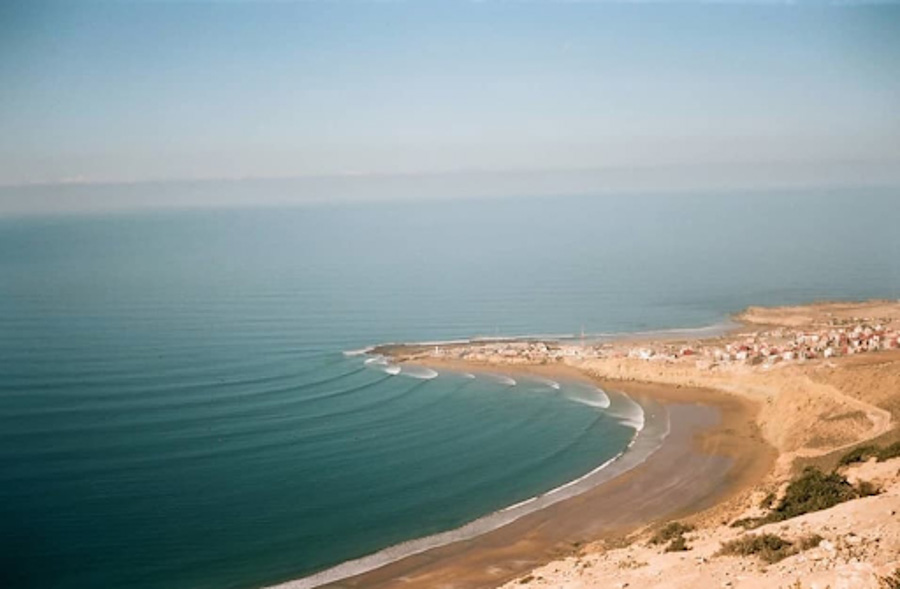 Warm weather in Taghazout, Morocco
If you're looking to escape the blistering cold European winter but don't want to spend a fortune on long flights – then check out Taghazout in Morocco.
Taghazout is a small surf town in the south of Morocco that's becoming increasingly popular amongst surfers, holiday-ers and even digital nomads.
The temperature is generally pretty nice all year round. The coldest month is usually January but even then it's usually around 15 degrees – much hotter than European countries which are often in the negative at this time of year!
Taghazout is a fairly sleepy town that centers around surfing but there's still plenty of other things you can do if you don't want to hit the waves. You can visit the beautiful Paradise Valley, shop like a local at the famous Moroccan markets, do some yoga, or have a Moroccan massage at a hammam.
If you're going for the waves, you'll be spoilt for choice. From Panorama, to Hash Point, Boilers, K17, Anza and Anchor Point – these are just some of the surf spots nearby. Or if you want to venture a little further away, you can head to Imsouane – just 2 hours away but home to the longest left wave in the whole of Africa.
Morocco might not have the craziest reputation for nightlife but you can still let your hair down here and have a drink. The beach bar Sol House hosts a party every Thursday, and often the dance floor is rammed with locals and tourists busting their moves to the techno and house playlist.
The nearest airport is Agadir which is about an hour from Taghazout. Return flights from London can be as little as $70 and they only take 3 hours – so it can be a super easy and cheap getaway from the European winter.
Harriet with Hats Off World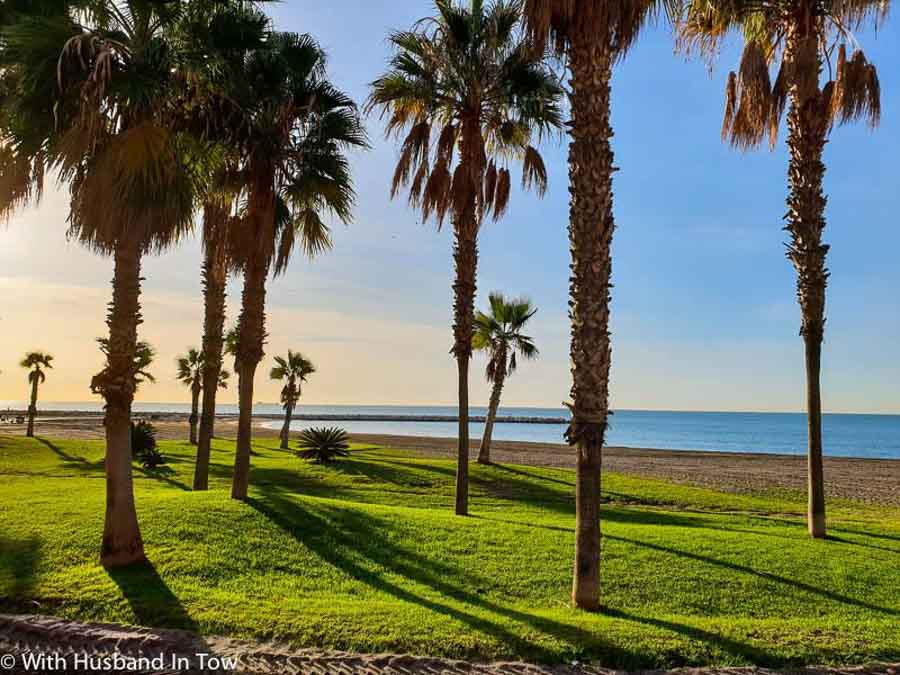 A winter getaway in Malaga, Spain
Travelers have made their way to the Costa del Sol in Spain for decades, drawn in by warm sun and beautiful beaches. The city of Malaga is the center of the Costa del Sol and can make a great weekend getaway for Europeans looking to escape the cold. The Costa del Sol, or sun coast, stretches from Malaga city to Marbella and beyond. There are a few lovely beaches in Malaga City. During the winter it might not be bikini weather, but it's great for a stroll or a run. The Malaga weather is temperate year around, with winter temps ranging in the 50's and 60's. Regardless of the temps, it's quite likely that visitors can stroll around the city center under bright blue skies. There is a Picasso Museum in Malaga, because it is his birth city. There are a few lovely fresh food markets as well. There are also some great tapas in Malaga, that are unique to Malaga or the surrounding Andalusia region. Tapas that are typical of the region include prawns pil pil and fried eggplant drizzled in honey. Both go well with the local sherry or Malaga sweet wine. Malaga has its own airport for flights within Europe and is only a three-hour train ride from Madrid.
Amber with Husbands in Tow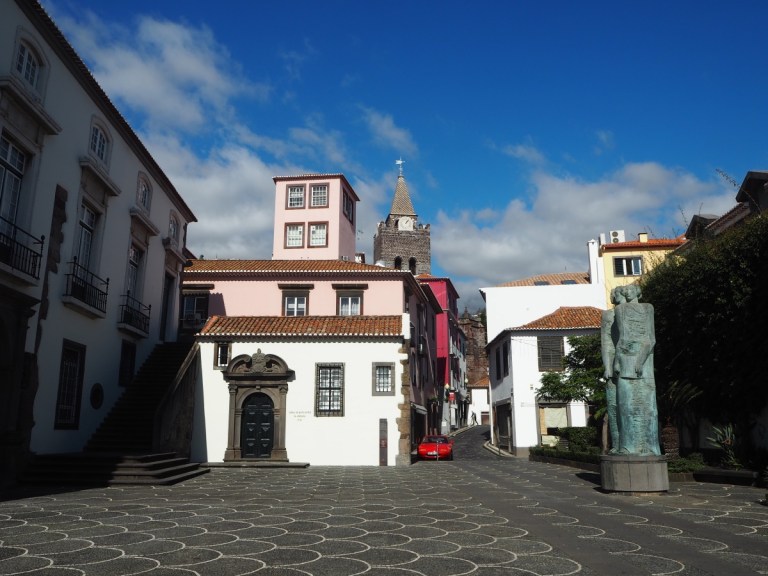 Madeira Island in Portugal from December on
Wildly underrated, the island of Madeira in Portugal is a perfect destination for a bit of winter warmth in the bleak January to February months. It has all the ingredients you need for an excellent short break: picturesque cobbled streets, arts and culture, stunning mountains and coastal views and an incredible food scene.
Like most of Portugal, Madeira is also very affordable, which is a bonus in the post-Christmas period. The island has its own airport and you can fly direct from many European cities on low-cost airlines.
You can use Madeira's capital Funchal as a base to stay in. There are so many things to do in Funchal that you can easily make it into a city break and never leave, or you can take public transport for days out around the island. There are some stunning mountain villages and fishing towns to explore, all easily accessible by bus.
Within the city itself, you can sample traditional Madeira wine or the local favourite poncha (a strong rum-based drink – proceed with caution!), have afternoon tea at the famous Reid's Palace, and ride up the cable car to visit the botanical gardens. Or of course you can simply sit back with a gelato in the sunshine and watch the world go by.
Caroline with Pack the Suitcases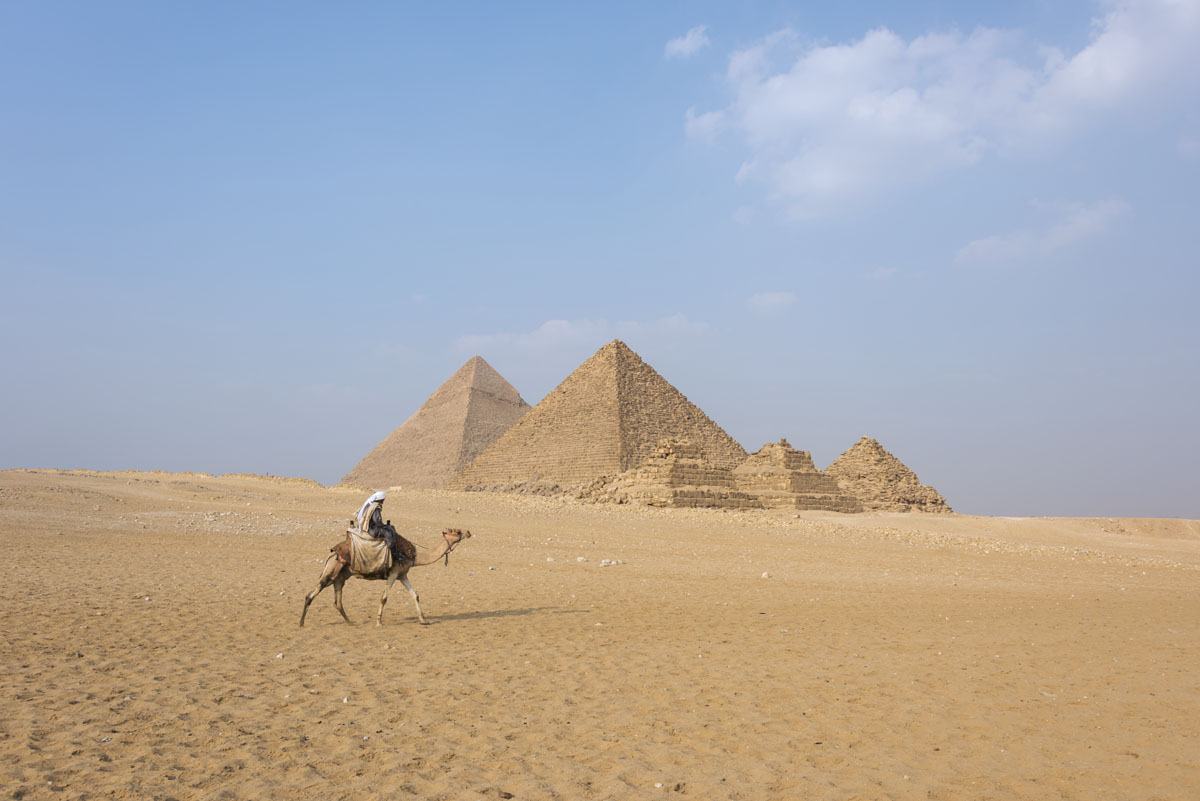 It's warm in Egypt
If you find yourself in Europe in winter and want to escape the cold weather, Egypt is a wonderful choice. Between December and March, temperatures are mild even in the north of the country, and you can visit archaeological sites and cities without having to suffer the stifling heat of summer. The best place to start your Egypt trip is the country's capital, Cairo, which is also the ideal base to visit the Pyramids in nearby Giza. Things to do in Cairo also include visiting the Egyptian Museum in Tahrir Square, the bustling Islamic Quarter and the calm Coptic Quarter, as well as having a drink overlooking the Nile. However, there's a lot more to see in Egypt besides Cairo – you can't skip Luxor, the former capital of the Pharaohs, where you can visit uber-famous Luxor and Karnak temple, and marvel at the beauty of the wall paintings in the Valley of the Kings. To end your experience in style, book a hot air balloon flight over Luxor – it's one of the most affordable places in the world to try the thrill of flying on a balloon, with prices around $50.
Margherita with Crowded Planet
Please Pin This For Later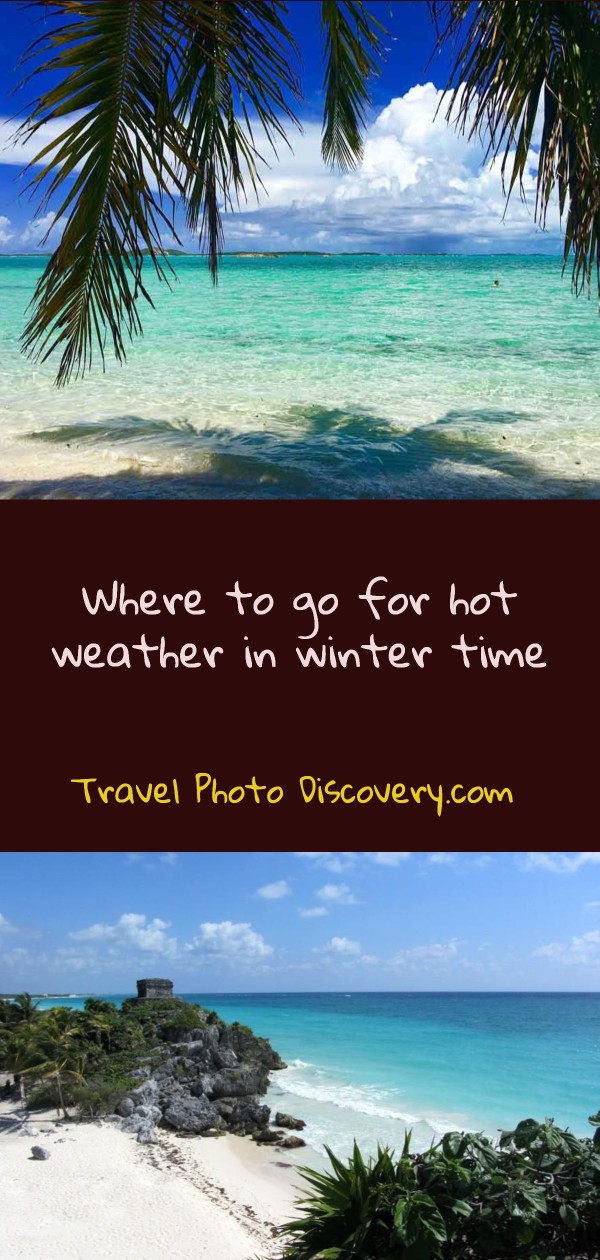 Conclusion for a warm winter getaway in December
December is cold everywhere and everyone wants to head out to all the warmer destinations around the world starting in December and the holidays. Bookmark this post for inspiration and choosing any of these warm winter destinations around the world.
Thanks for visiting today and checking out this post on warm weather destinations in winter, if you enjoyed the images and post, could you please share it with any of the social media buttons located around the post.
f you like what you see, come and check out my other social media channels for more updates, including Instagram, Pinterest and Twitter
Disclosure – There are affiliates links on this posts which provide a small commission to support this site at no extra cost to you. Thank you for reading, and happy travels