There are three national parks in Washington, all with something different to offer. While they are all unique in their own right, they all boast impressive mountain views, incredible hikes, and no end to recreational activities. Which is the best is up to you.
As a reminder, all of these National Parks will require a pass. You can purchase an America the Beautiful pass which gets you into any national park in the country, or you can buy a pass at each national park for $30, which gives you seven days.
Now, let's get into it—Here's your introduction to each national park in Washington!
Washington State National Parks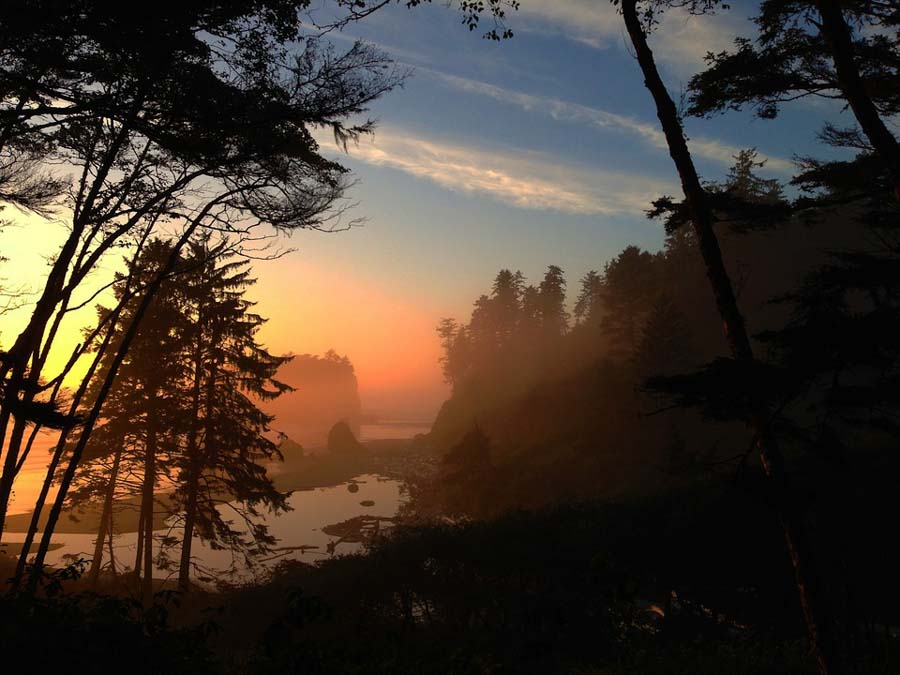 Explore these Washington National Parks around the state now
Olympic National Park
At nearly a million acres, let's just say you'll have a hard time exploring all that the magnificent Olympic National Park has to offer. It has everything you could ever want from a wilderness exploration, a moss forest, a stunning coastline, and of course, the mountain scenery that it's known for. People flock to this natural playground for adventure and exploration, whether that's climbing mountains or trekking through the moss-strewn rainforest.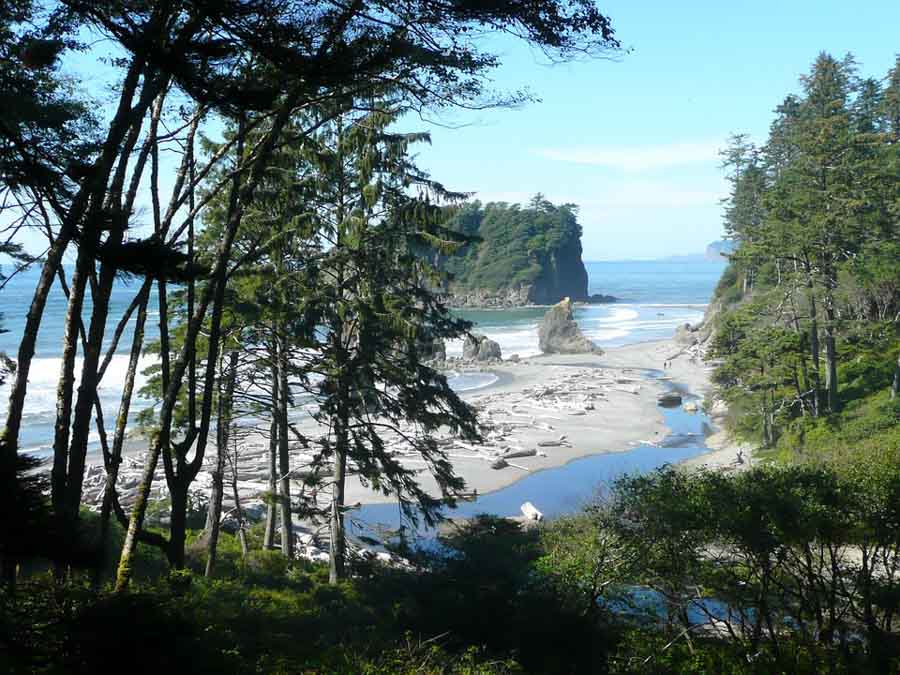 Things to do in Olympic National Park
Spend some time in an actual rainforest in Olympic National Park. That's right, you read correctly; you don't have to be in the Amazon to hike through a rainforest; they are right here in Washington. The Hoh Rainforest is stunning and offers several short trails, such as the Hall of Mosses.
Day hikes in Olympic National Park are in abundance, with options for different abilities. Take the Sol Duc Falls Nature Trail for shorter and more accessible options or the Mount Storm King Trail if you're up for something a bit more challenging with those iconic mountain views. There are also some lovely coastal hikes like the Rialto Beach Trail and the Cape Alava Trail.
Olympic National Park may not strike you as a place full of water recreation, but let us assure you that it is. There are alpine lakes, the Pacific Ocean, and wild rivers at your disposal. Head out in a canoe or kayak and explore the waterways at your own pace, like the expanse of Lake Cresent from one of the many boat launches or try your luck with a spot of fishing.
If you are patient enough, you may be lucky enough to spot some of the incredible wildlife that calls the park home. Dawn and dusk are likely to be your best chance of seeing something. Birds and deer are plentiful, but you'll be in for a real treat if you spot a cute little Olympic marmot; you won't meet a more charismatic animal! Bears, whales, and Roosevelt Elk are a little shyer, but you still might be able to see some if luck is on your side.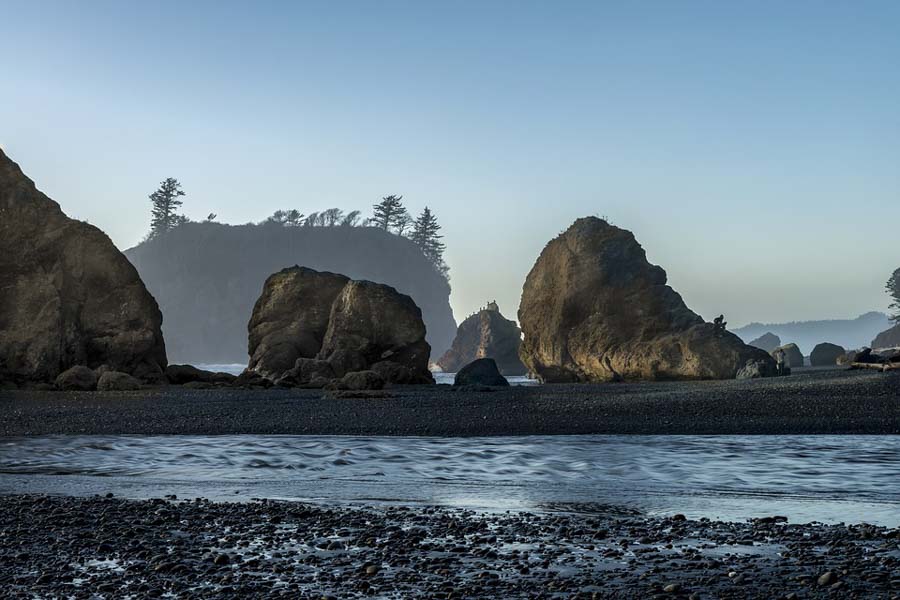 Tips for Olympic National Park
– If you fancy camping, ensure you book ahead, as the campsites can get very busy, especially at peak season.
– Download Maps.me or AllTrails along with any other content you need before going. That way, if you don't have any cell signal when in the park, you already have what you need.
– Save time when you get to the park by buying your pass online before you visit, at no extra cost. You almost need to because the park is spread out and there isn't always a spot nearby to purchase one.
– Carry extra layers of clothing, as the weather can change quickly. You should also view the park's safety page before you visit.
– Visit the most popular areas of the park either early or late in the day to avoid the crowds. Parking lots get full quickly, and you don't want to wait over an hour for a spot.
– The park is vast, so when planning an itinerary, keep this in mind. There are also limited roads within the park, so check access and distances.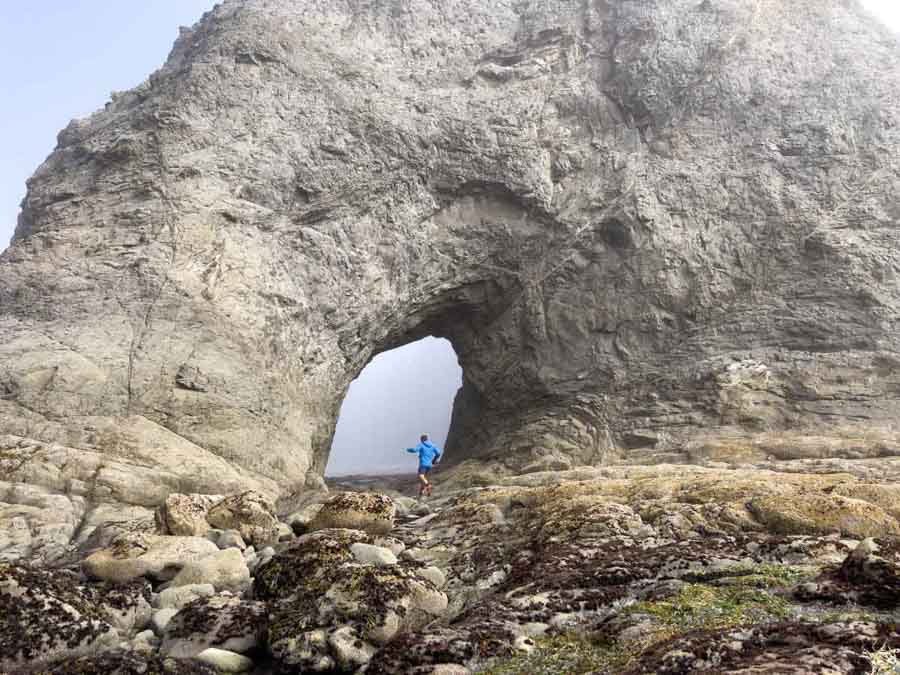 Where to stay around Olympic National Park
If you are looking for a stay around Olympic National Park, check out these top reviewed hotels and inns in or close to the national park grounds here for updated prices, availability and personal reviews.
Mount Rainier National Park
Named after the prominent peak that seems to dominate the landscape, Mount Rainier is a popular national park for those looking for natural beauty and adventure rolled into one. The volcano itself is unique, with around 20 glaciers remaining at its summit.  It is an incredible part of the Cascade Mountains, and whether you're hiking, driving, or just passing through, Mount Rainier National Park will take your breath away.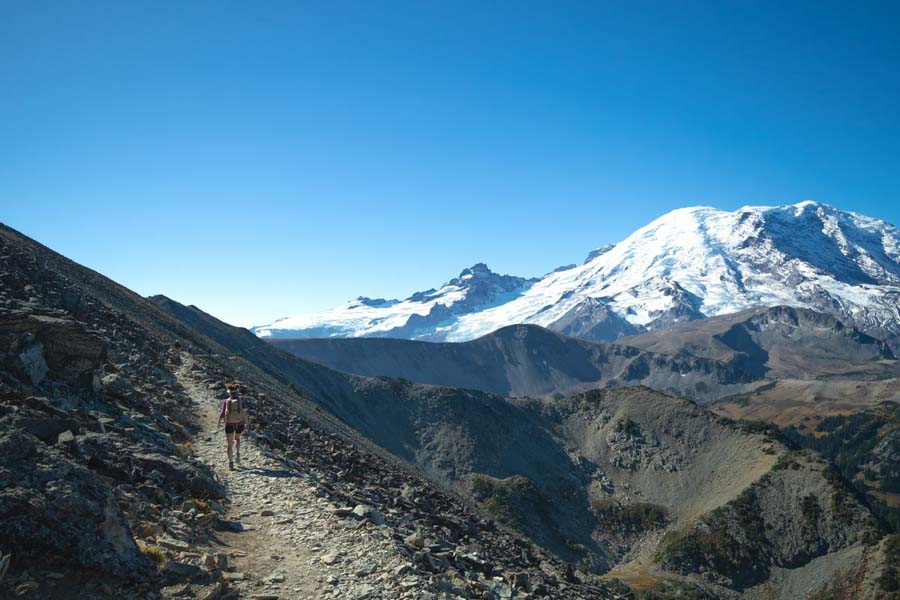 Things to do at Mount Rainier National Park
When in Mount Rainier National Park, you will be in Paradise, quite literally! The Paradise area of the park is stunning, with some beautiful hikes that will take you to the best bits, such as the Skyline Loop Trail to Panorama Point.
You can go waterfall chasing too! Everyone loves waterfalls, and Myrtle Falls is special, especially as the magnificent mountain is framed in the background—Just take the Skyline Trail. Narada Falls is another nearby beautiful cascade you should check out.
For an epic view with a fire lookout tower, tackle the Mount Freemont hike from the Sunrise Visitor Center.
About 40 minutes away is Tipsoo Lake, which is a gorgeous reflection lake showing off Rainier with the nearby Naches Peak Trail, which is perfect for almost any hiker.
Although there are some breathtaking hikes in Mount Rainier National Park, for something different, check out the Grove of Patriarchs. Along the way, you'll marvel at some of the oldest and biggest trees in the area via a series of boardwalks and bridges.
Once you've had enough walking or are just short on time, there are a couple of beautiful mountain drives to enjoy. The Chinook Pass is one of the most incredible drives in Washington and definitely won't disappoint when it comes to Mount Rainier views.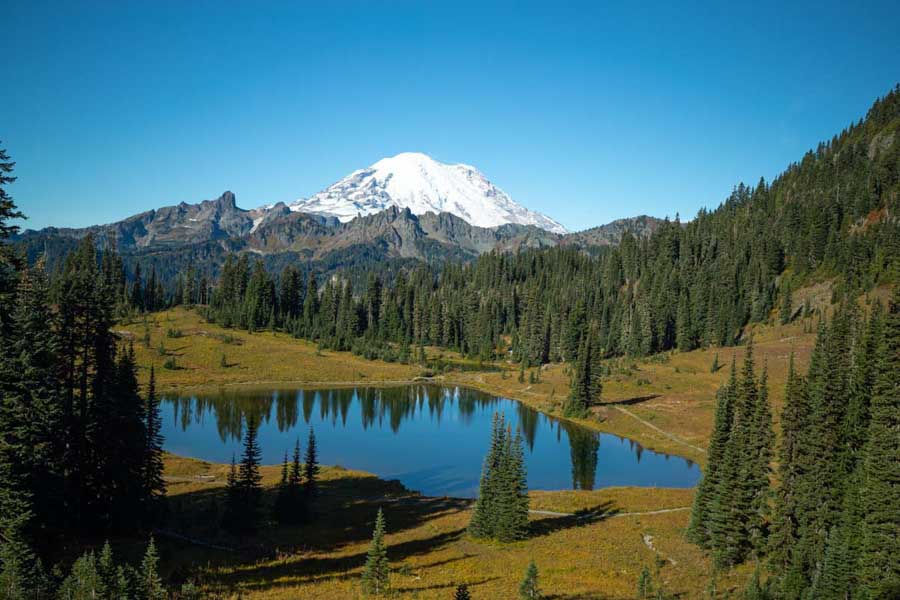 Tips for Mount Rainier National Park
– Plan ahead when visiting the park. It is vast, and there are five entrances, so work out which entrance is nearest to the hikes and stops you want so you best make use of your time. Some areas are not even assessable unless you use the right entrance, so do your homework!
– Check the trails. Due to snowfall, specific trails and drives are only accessible at certain points throughout the year. During the summer months, chances are you will be okay, but in other months you might have to use specialist gear, or they might not be open at all.
– Have your maps saved. When it comes to cell service in the park, well, there is pretty much none, so you won't be able to be downloading your trails while out and about. Have them ready to go before you travel.
– Make sure you start early. Like most popular spots, they get busier towards noon, so it is good to start early. Cloud cover also tends to creep in later in the day, so you have the best chance of views in the morning.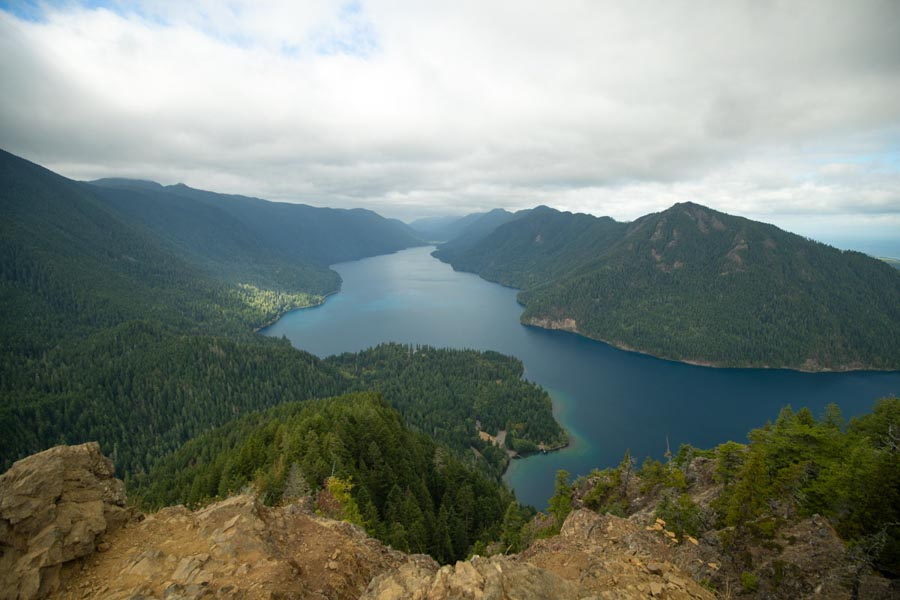 Where to stay around Mount Rainier National Park
If you are looking for a stay around Mount Rainier National Park, check out these top reviewed hotels and inns in or close to the national park grounds here for updated prices, availability and personal reviews.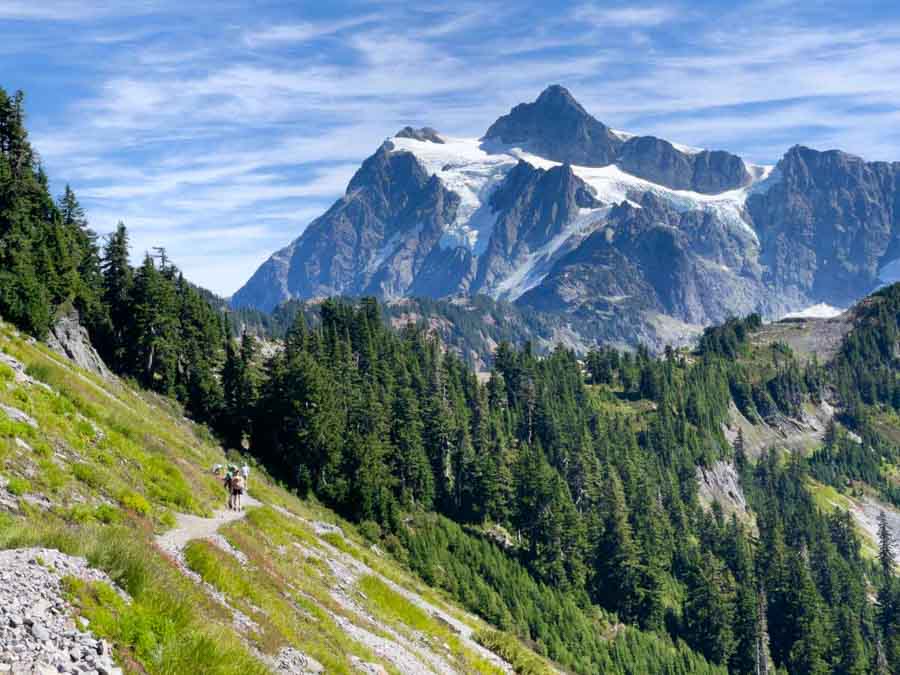 North Cascades National Park
North Cascades National Park is another one of those wild places that you see in pictures but find hard to believe are real. Often overlooked by its more well-known neighboring national parks, Cascades offers impressive trails and incredible mountain vistas.
Things to do in North Cascades National Park
The North Cascades Highway needs to be on your Cascades bucket list. There are plenty of scenic spots to stop for a quick bite to eat or admire a view on the way too.
Of course, you cant go to the Cascades without hitting up at least one trail. Picking one may be tricky. If you want a lot of bang for your buck, the Chain Lakes Loop could be a good option or the Trail of the Cedars for those who need an easier stroll. Thunder Knob, Maple Pass, or Blue Lake are longer and more tricky but are some of the best ways to explore the park for those looking for even more adventure.
You'll be spoilt for choice when it comes to scenic overlooks. The Diablo Lake Overlook is another great one, with gorgeous views of the lake's milky blue/green waters. Washington Pass Overlook is also just to the east of the park; it shows Liberty Bell Mountain at its finest.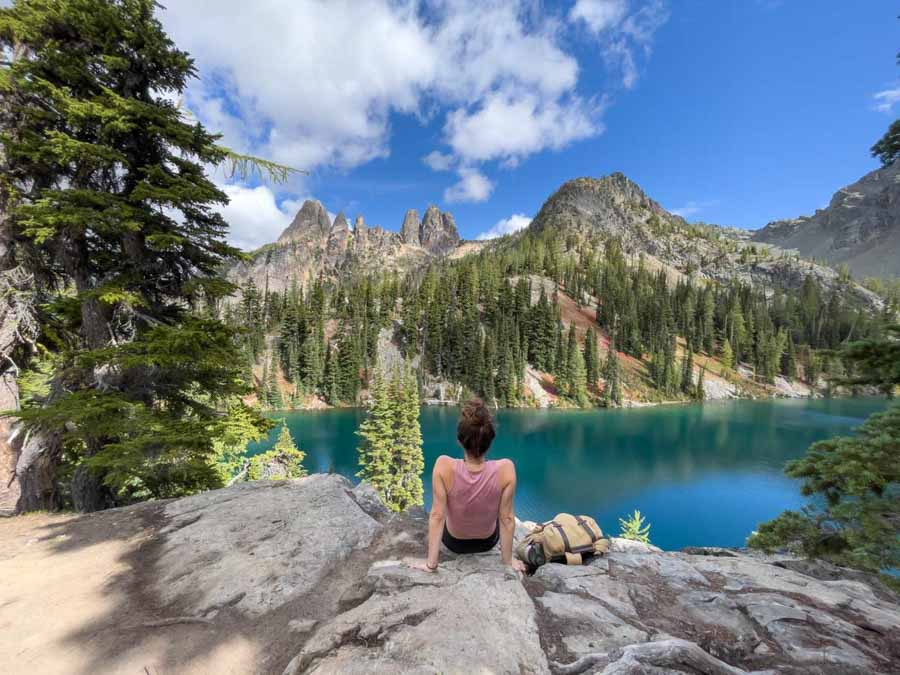 Tips for North Cascades National Park
– The best time to visit is mid-June to mid-November, as it is during this time you'll have the best chance of being able to hike the trails.
– If you want to camp, many of the campsites require you to reserve in advance, so make sure you book to avoid disappointment.
– Start your trip at the visitor's center. The center offers a wealth of information to help you get the most out of your journey. It is packed full of maps and knowledgeable rangers eager to share their park insights.
We hope this helped you plan which national park to visit or perhaps we've convinced you that you really need to visit all three!
Where to stay around North Cascades National Park
If you are looking for a stay around North Cascades National Park, check out these top reviewed hotels and inns in or close to the national park grounds here for updated prices, availability and personal reviews.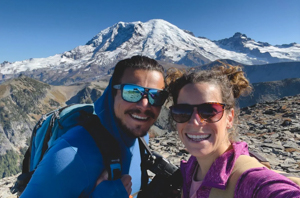 Guest Post Bio
Washington is for Adventure is an amazing resource for those visiting Washington wanting valuable advice from REAL people. We are adventurers and creators giving you the best info on exploring Washington state. You can find more at washingtonisforadventure.com
Conclusion to Washington State National Parks
Hope that this post on Washington State National Parks was inspiring and that you will get to explore the many fantastic attractions, historic sites and landmarks to visiting the national parks around the state. If you enjoyed reading the post, please do bookmark it or share it with any of the social media buttons below.
Disclosure – some of the links above are to affiliate sites that are either reviews or recommendations if you book helps to keep our site running at no additional cost to you. We appreciate your supporting our website meanwhile.