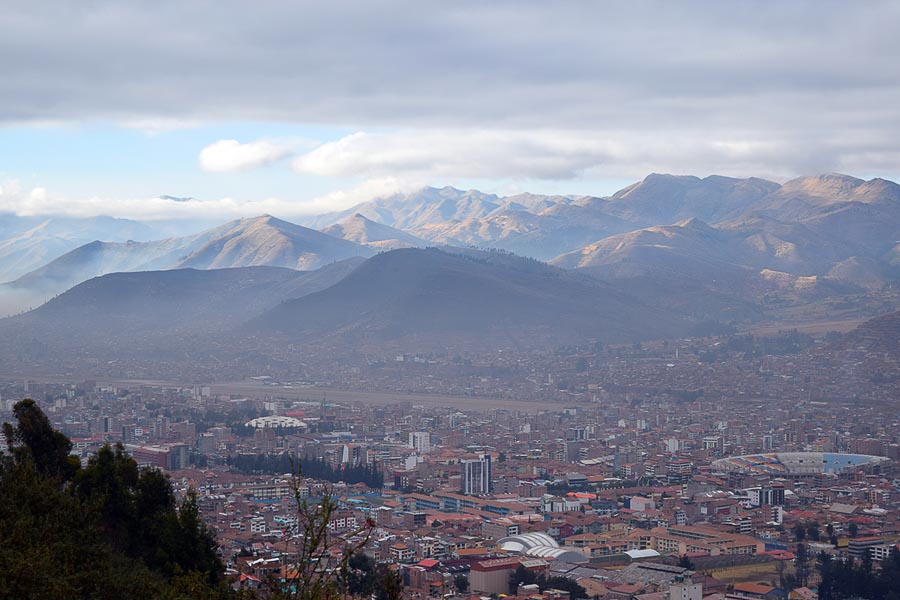 The mountain city of Cusco, Peru, is best known as being the gateway to Machu Picchu. But the city is so much more than just a transit point for the famous world wonder. As the historic capital of the legendary Inca Empire and the oldest inhabited city in South America, Cusco is steeped in history, with centuries of fascinating stories waiting to be discovered underneath its rich-red rooftops. It's also a visually stunning city, its intricate architecture sprawled across the mountainside 3,400 metres high in the Peruvian Andes. All of this makes Cusco a compelling place to visit for a short stay, whether you plan to visit Machu Picchu. Here's how you can spend 48 hours in Cusco.
48 hours in Cusco: what to do
Like many people, we visited Cusco ready to embark on an Inca Trail tour. We arrived a couple of days before the trek was due to start, to allow ourselves time to acclimatise to the altitude and explore the city. We were charmed by the steep cobbled alleys, grandiose colonial architecture and friendliness of the local people. Drawing on our experiences, here is our suggested itinerary for 48 hours in Cusco.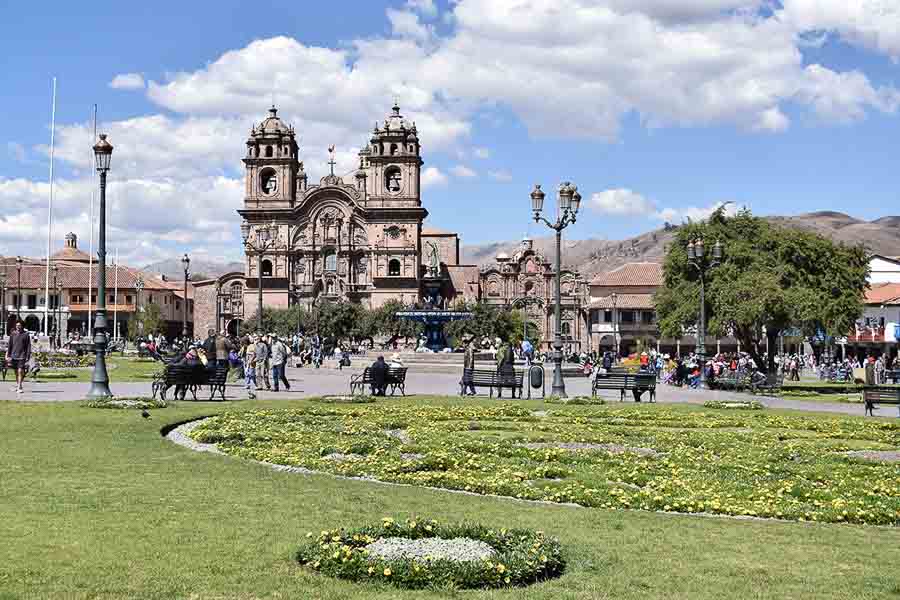 Get to know the city: Plaza de Armas
Plaza de Armas is the main square in Cusco and the perfect launchpad for exploring the historic centre, which is a designated UNESCO World Heritage Site. The plaza is one of the best examples of the city's layered history. It was once part of Huakaypata, a giant Inca square, and incorporates the original Inca structures in its foundations. But today it is most prominently marked by two landmark buildings of the Spanish era: Cusco Cathderal and Iglesia de la Compañía de Jesús.
For 30 Peruvian soles (about 9 US dollars), you can buy a 'Religious Circuit Ticket' that gives access to both the cathedral and the church, as well as several other iconic buildings around the historic centre.
The enchanting streets of San Blas
After exploring Plaza de Armas at a gentle pace in the morning (be careful with the altitude!), walk uphill to the north-east of the square and you will reach the picturesque neighbourhood of San Blas. Characterised by narrow cobbled streets and lively craft markets, it reaches high above the city for some breathtaking views across the rooftops. This was where we stayed in Cusco, and it was magical to see lights sparkling across the city at night.
If you like shopping, San Blas is one of the best spots in Cusco to indulge. At its heart is a small market square that is always bustling with local vendors selling art and cloth work. In the surrounding streets there are also many boutique shops, as well as cafés to stop for a coffee. For an injection of history, you can see the 15th-century Church of San Blas, which is included in the Religious Circuit Ticket.
San Blas is an ideal place to enjoy some lunch at a reasonable price. You will find several 'menú' restaurants that offer cheap multi-course meals. There are also various vegan and healthy-living cafés around the area.
Uncovering history
Cusco is home to some remarkable examples of Inca architecture that have endured over centuries. There will be plenty of time for that, but first consider visiting Museo Inka (the Inca Museum) to learn about the context and background.
On the short walk to the museum from San Blas, you can stop to see the famous Twelve-Angled Stone. Hidden on a side passage, the peculiar stone is lodged in the wall of the Archbishop Palace, but it was once part of an old Inca palace. It as a classic example of the intricate and meticulous nature of Inca building construction.
The museum, which has an entrance fee of 10 soles (about 3 US dollars), provides a detailed insight into Inca history and displays a range of beautifully preserved artefacts.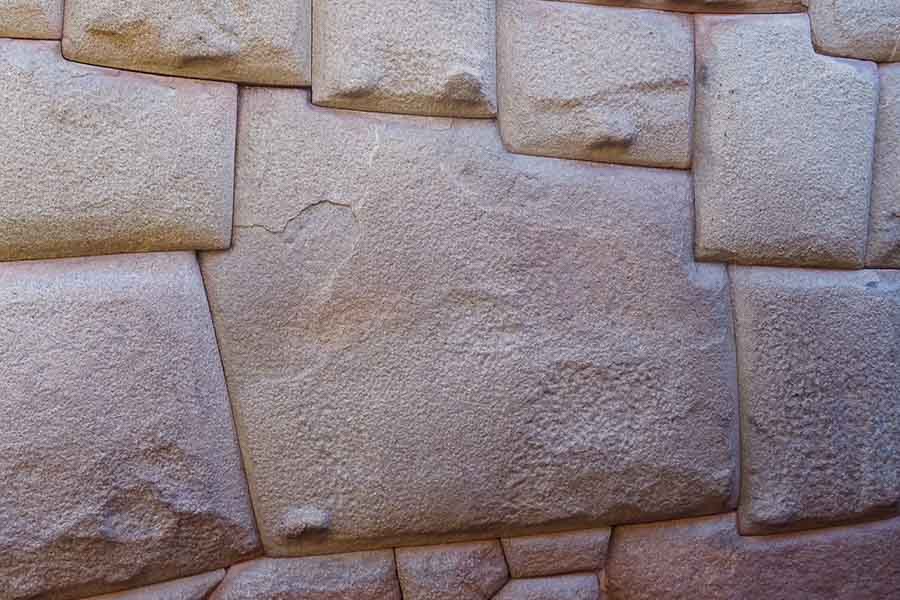 Sacsayhuaman: the remains of an Inca fortress
Sacsayhuaman is one of the most impressive Inca ruins within close vicinity of Cusco. You can reach it by foot from Plaza de Armas in about 15 minutes, but be aware that it's a steep uphill hike, made all the more challenging by the altitude factor. If you'd rather take it easy, you can grab a taxi for about 10 soles.
The original foundations of Sacsayhuaman were actually built by the Killke civilisation around the year 1100 before it was expanded a century or so later by the Incas. The site is a UNESCO World Heritage Site in its own right, and considered one of the finest existing examples of Inca engineering. Like the example of the Twelve-Angled Stone, it demonstrates the Inca technique of using building blocks of varying sizes to adapt to the space.
City view from Cristo Blanco
Just a few paces away from Sacsayhuaman stands the statue of Cristo Blanco. The statue is an unmistakable feature on the skyline from the city below, and if you chose to walk up to the ruins you will have already passed it on the way.
The statue is like Cusco's own version of Rio de Janeiro's famous Christ the Redeemer. The majestic Jesus figure towers over the sprawling city with arms spread wide. From its base you can look out upon the whole of Cusco in all its glory, spread across the mountainside. If you time your visit for sunset, you will also be able to witness the mesmerising sight of the city lit up once daylight has gone. If you do stay until after dark, however, be wary of your surroundings and consider taking a taxi back rather than walking down.
Once you're back in the city, you can finish off the day with a traditional meal of Andean cuisine. Pachapapa restaurant in the San Blas neighbourhood is a great option for delicious local recipes.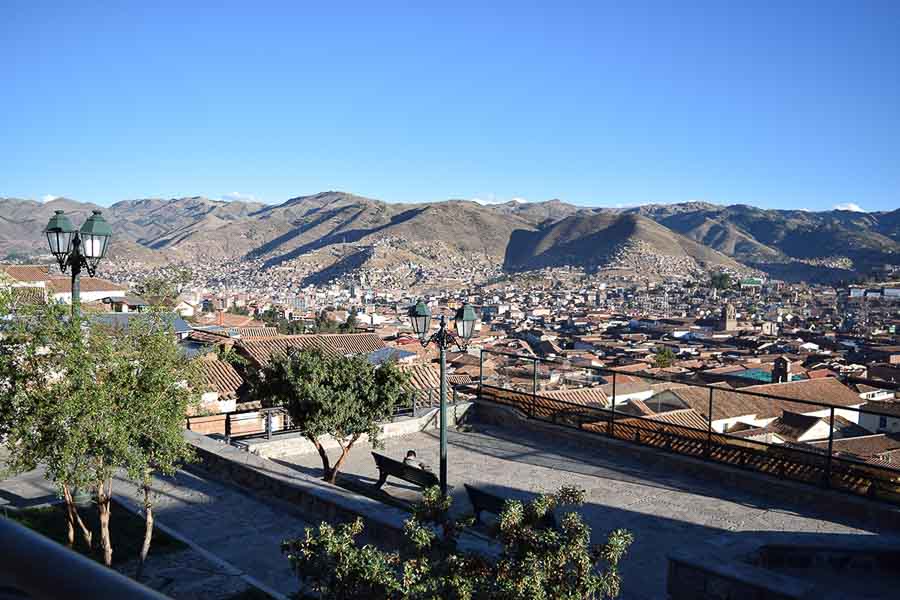 Coricancha: the heart of the Inca world
Why not start your second day in Cusco with another dose of Inca architecture? Coricancha, located a few minutes' walk south-east of Plaza de Armas, was once the most important temple in the Inca Empire and considered the heart of the Inca civilisation. The site was largely destroyed after the Spanish conquest, but its original foundations remained and were repurposed as the base of the Church of Santo Domingo. The entrance fee to Coricancha is 15 soles (4.50 US dollars).
Next to the site of Coricancha you will find Museo Quechua, a cosy little museum that gives insights into 3000 years of the Quechua culture. It's free to enter and hosts an interesting exhibit of ancient artefacts to explore.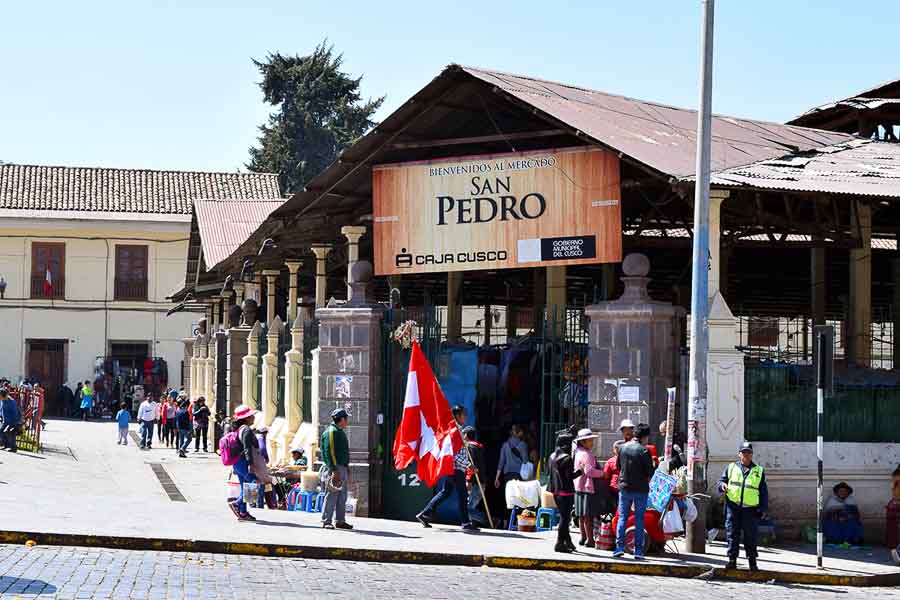 San Pedro Market: shopping and eating local
We visited many local markets on our travels in South America, but San Pedro Market in Cusco stands out as our favourite of all. Situated in a huge hall a few blocks to the south-west of Plaza de Armas, it is a hive of activity throughout the day and a favourite among locals, with rows upon rows of stalls selling everything from fresh produce to hand-made clothes.
Visiting San Pedro Market at lunchtime is perfect timing, as you can enjoy a meal at one of the food stands. We loved the experience of propping up on a stall-front among a crowd of locals while our food was hastily prepared in the busy open kitchen in front of us. If you're on a budget, you'll struggle to find a cheaper place to eat in Cusco.
Indulge at the Choco Museum
If you walk back towards Plaza de Armas from San Pedro Market, after about ten minutes you will reach the Choco Museum on Calle Garcilaso. This is a must-visit in Cusco for chocolate lovers.
Peru is one of the world's top cocoa producers, and the museum walks through the history right up until modern-day production. Of course, there are many chocolate-based treats to be enjoyed too! If you want to take a step even further, you can take part in a chocolate-making workshop, which lasts an hour and costs 50 soles (about 15 US dollars).
Inca art tattoos: a special keepsake
We were so enraptured by our experience of Cusco and the Inca Trail that we decided to take home a permanent souvenir, in the form of a tattoo of the chakana (the Inca Cross). The city is a fitting place to get some ink if you like tattoos or are interested in getting one for the first time, like I did.
There are many excellent tattoo artists around the city. We had ours done at Willka Tattoo, which is only a couple of minutes' walk from the Choco Museum. There are also plenty of substandard tattoo artists around, so check with your accommodation or other travellers for recommendations before you go ahead.
Try a chifa meal
The food of Peru comes in many forms, one of which is chifa, a fusion between Peruvian and Chinese food. It dates back to the 20th century when Chinese people immigrated to Peru to work on infrastructure construction. The chifa style of cuisine uses Cantonese cooking traditions and incorporates Peruvian ingredients. There are several places you can try it in Cusco. We had a lovely chifa meal in Kion, which is a short walk away from the south-east corner of Plaza de Armas.
Beers on the balcony over Plaza de Armas
Sipping a cool Peruvian beer while sitting on a balcony overlooking Plaza de Armas was the perfect finish to our short stay in Cusco. Norton Rat's Tavern stands on the south-east corner of the plaza. This large pub is located up a short flight of stairs, its wooden interior draped with the flags of many nations. The balcony section is quite small though, so you may need to be patient. If you can get a spot at sunset, relax and watch city life unfold below as the day's light disappears.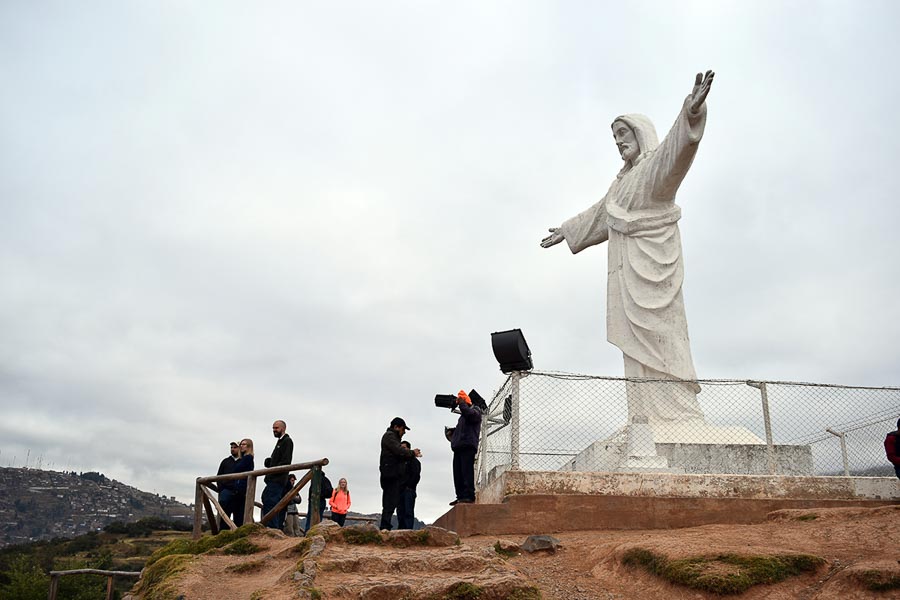 More ideas for 48 hours in Cusco: day trips
If you still have spare time in Cusco and would like to venture further afield, there are many day trips you can choose to take. One, of course, is Machu Picchu, which is possible to visit in a return day trip if you're not planning to hike to it via the Inca Trail or other trekking options.
There is a whole host of other excursions you can take from Cusco. Two of the most popular are a tour of the Sacred Valley (which is a part of some Inca Trail packages), and a trip to the Rainbow Mountain, a summit covered in multi-coloured strips caused by mineral deposits.
Whatever you choose to do with your time in Cusco, this fascinating city is sure to leave an imprint that will last you a lifetime.
Please pin this for later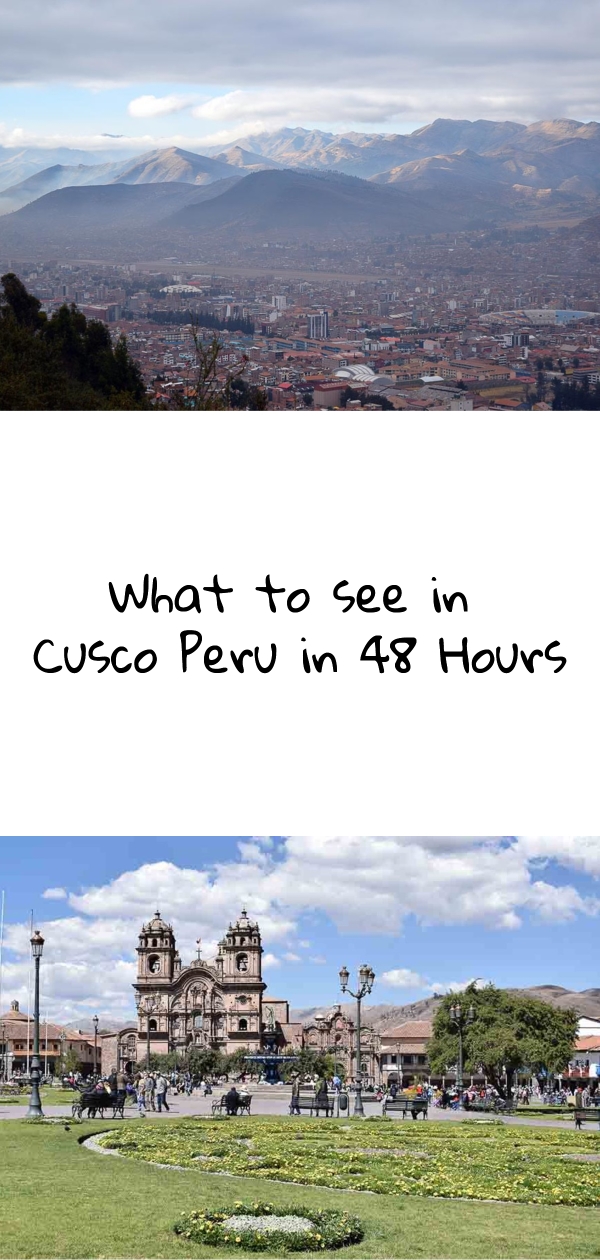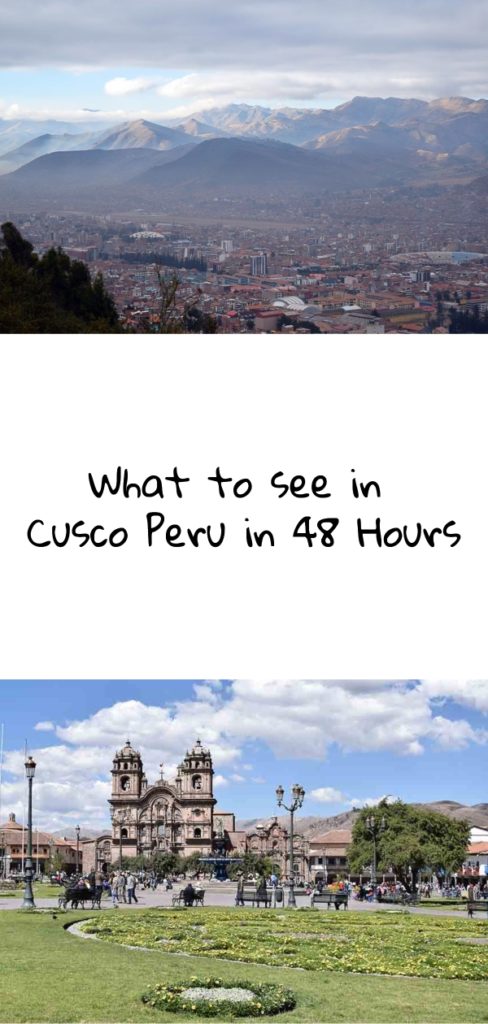 Guest post By Alex Trembath
Alex is the co-founder of Career Gappers, a blog that highlights the benefits of taking a career break to travel. The blog inspires and equips people to take time out of work to travel by providing first-hand practical advice and showcasing inspirational career break stories.