New York City, a city for Dreamers and Doers, attracts 60 million visitors every year. If a city attracts that many visitors then there must be something extra ordinary about it. And NYC has a long list of iconic experiences on its resume. Being one of the most expensive cities in the world, it is not for the faint hearted when it comes to the budget. However, if planned well, you can save a lot of dollars on what to see in New York City. Many of the historic landmarks and iconic sights can be explored for free and you can explore New York like a local with all these fantastic experiences. You can even do some fun and easy day trips from New York City if you have more time after seeing all these sites below.
Here are the 11 iconic experiences you must try in New York City:
These are some of our favorite places to explore around the city, whether you choose an easy two day trip to New York or a longer stay to explore in more detail, there's so many good things here to discover:
Visit a museum
Even a four-wall hater like me couldn't resist visiting NYC museums, which houses some of the world's best art, historical pieces, and exhibitions. Artworks of Warhol, Van Gogh, Picasso, Monet, Matisse and many other big names are housed in New York City. And guess what, a lot of museums are free to visit at certain hours or have a flexible entry fee. For example, Museum of Arts and Design has free entry on Thursdays, Guggenheim on Saturdays and Museum of Modern Art on Fridays.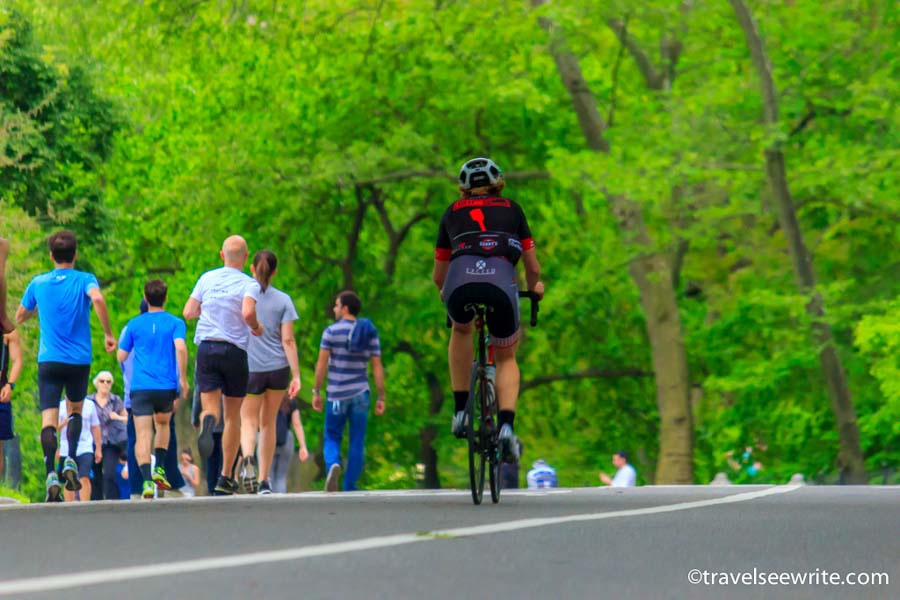 Step into Nature and Scenery
I thought NYC to be a concrete jungle but I was pleasantly surprised by the amount of green space. Almost all of them are free to the public and are best for a picnic, cycling, people watching or walking to get away from the busy city. My favorites parks are Bryant Park, Central Park, and Brooklyn Bridge Park or check out this hiking in Manhattan guide for more inspiration.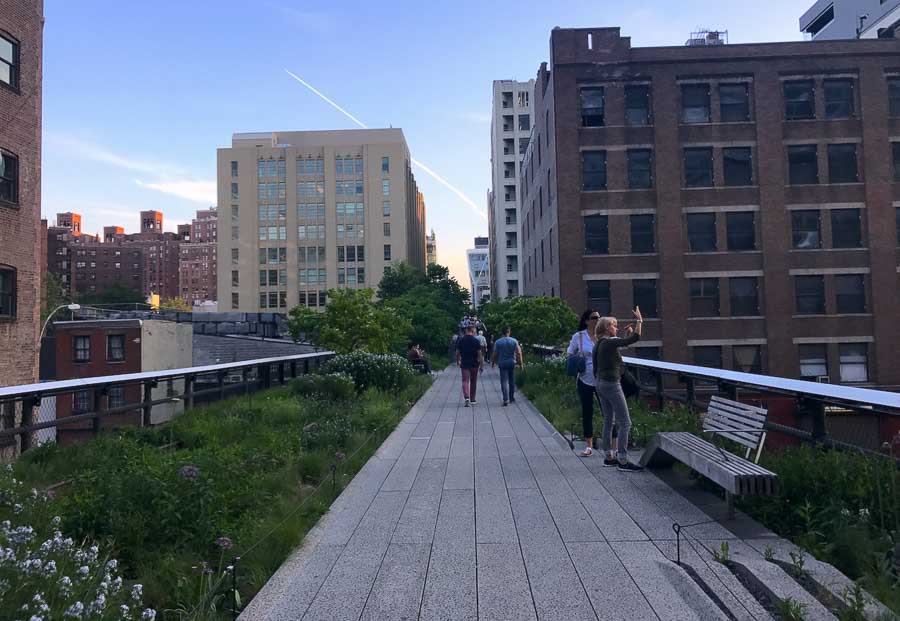 Stroll over the High Line
A historic but obsolete 1.45-mile-long railway line transformed into an aerial greenway and rails-to-trails park. It is located high above street level which means you get to see amazing views, street art and ambiance along the walk from Gansevoort Street, through Chelsea, to the northern edge of the West Side Yard on 34th Street.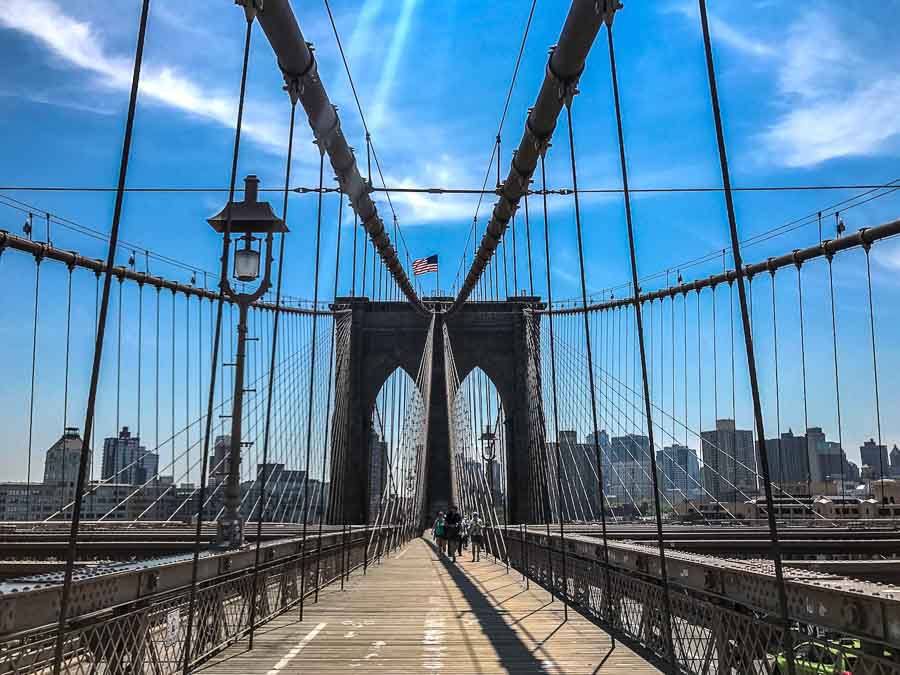 Walk across the Brooklyn Bridge
Walking across the Brooklyn Bridge is a bucket list item. Strolling along the pedestrian promenade I couldn't help but wonder how such an impressive structure was built before the days of power tools. And, don't forget to visit the weekend art market at Brooklyn.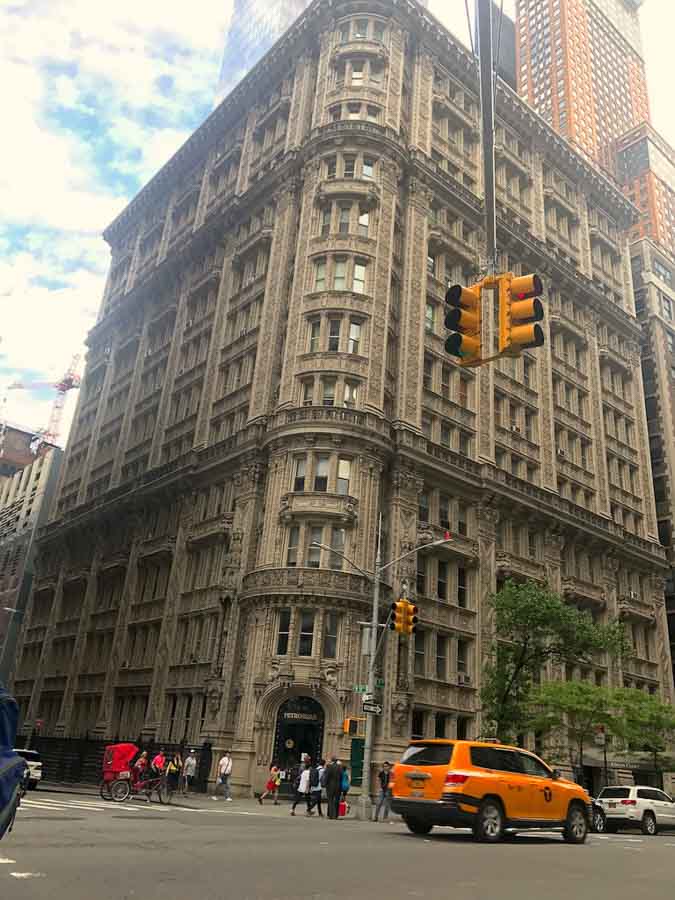 Be a bookworm at New York Public Library
Being a book lover, New York Public Library was high on my agenda. It is not only gorgeous from the outside but inside as well. Entry is free and you can spend as much time as you want. Don't forget to check out any free exhibitions there.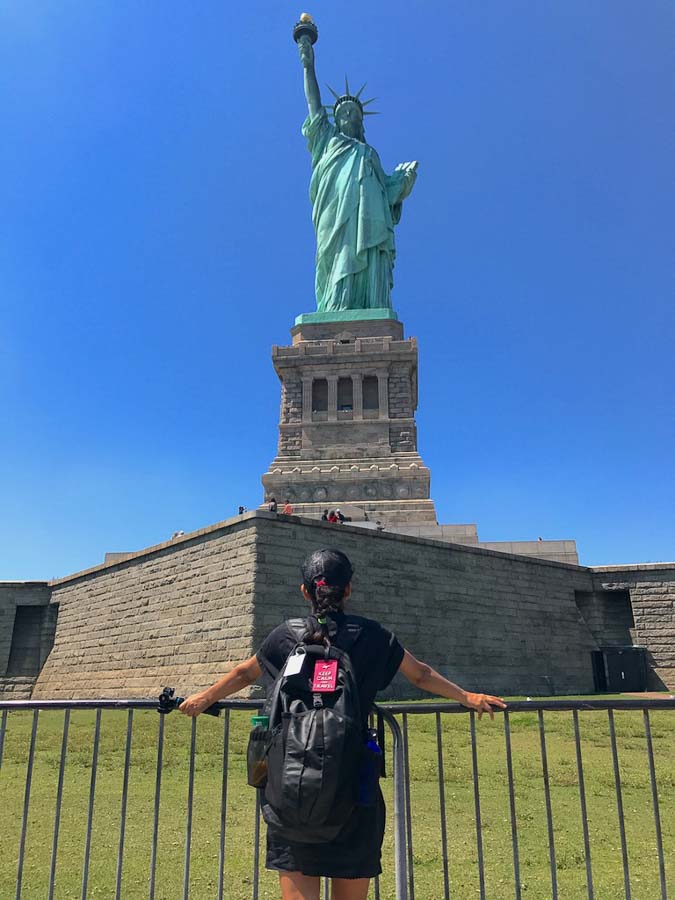 Get awed by the Statue of Liberty
One of the most famous landmarks of the world, Statue of Liberty is a colossal neoclassical sculpture that shouldn't be missed. You can either take a ferry from the Liberty State Park in Jersey City or Battery Park in Lower Manhattan. However, if you are looking for a free service then take the ferry from Manhattan to Staten Island or one of the other tour boats.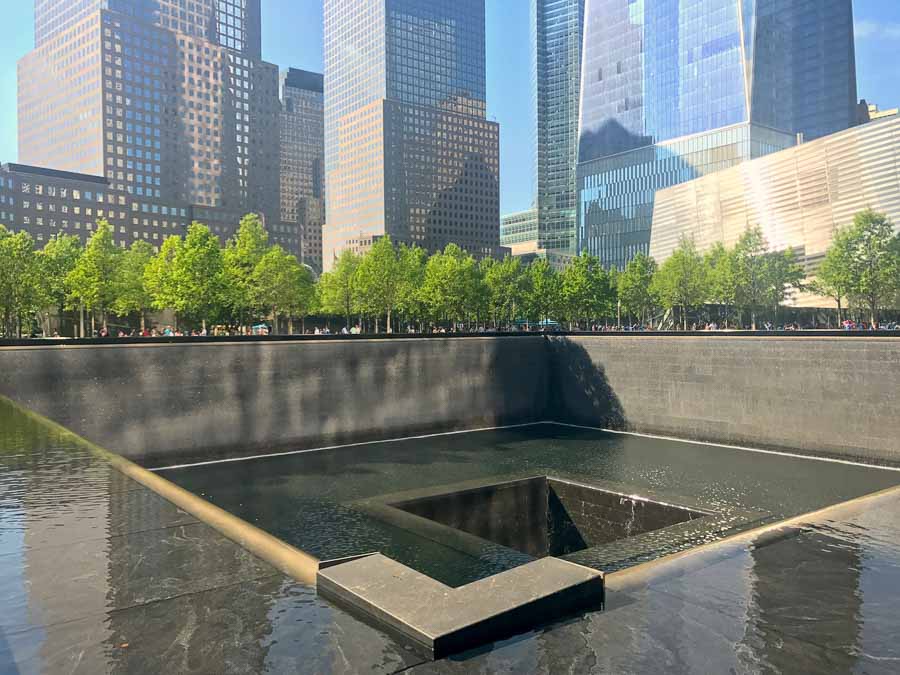 Pay homage to 9/11 martyrs
9/11 Memorial and Museum is a very emotional experience, which changes you as a person when you come out. It remembers and reflects on the events and the lives lost during the terrorist attacks. The museum houses artifacts like a damaged fire truck and the personal anecdotal accounts of the day.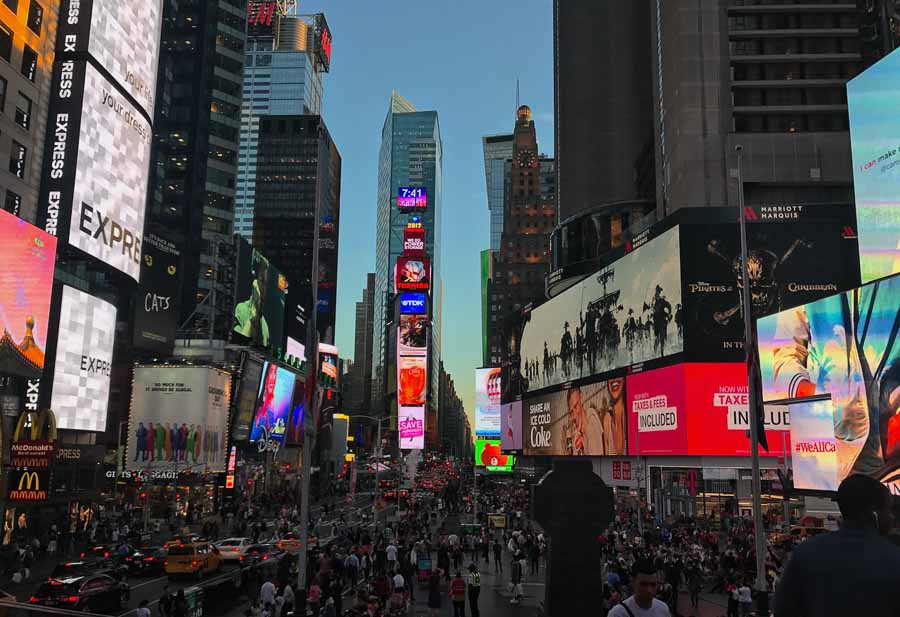 Check out the glitzy Times Square
Does this even need an explanation? Times Square with its neon signs, larger than life bright hoardings, Broadway marquis, elbow-to-elbow crowd, honking horns, and yellow taxis, all combine for a whirlwind introduction to NYC. The ideal time to visit Times Square is at night when the whole area get lit with bright lights.
Catch a Broadway show
The home of Broadway, New York City shows is of another level. Grab tickets to any popular production and you're guaranteed an outstanding entertainment. While the big shows are rarely on offer, it's worth checking out the TKTS booths and discount websites like BroadwayBox.com for discounted tickets.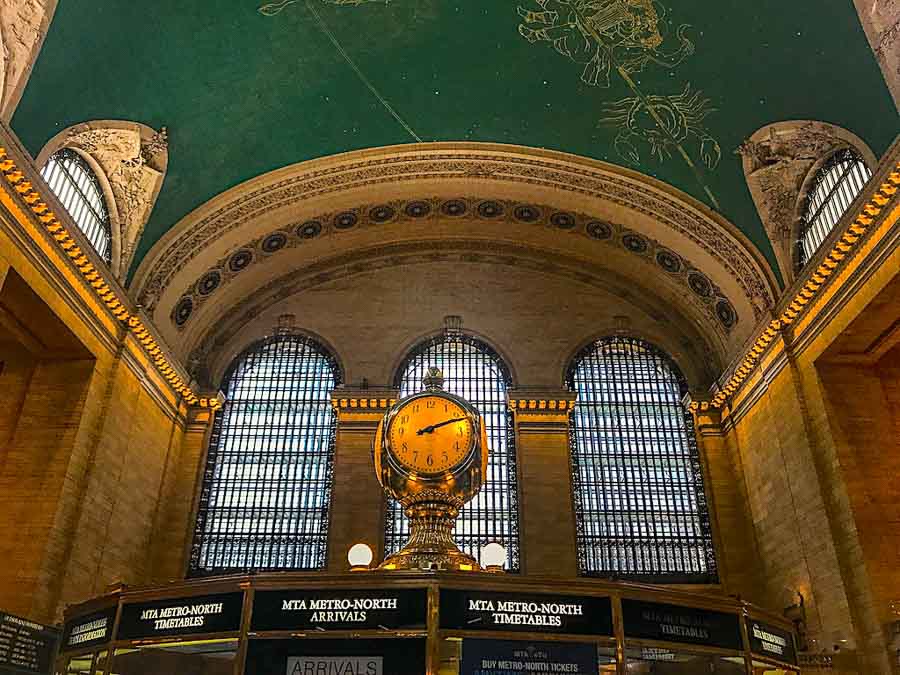 Watch people and scene at Grand Central Terminal
NYC is 24/7 buzzing with people and one of the busiest train stations in the world is an absolute sight to behold. Not only Grand Central Terminal gets a huge number of footfalls every day but it is one of the most beautiful buildings in the city.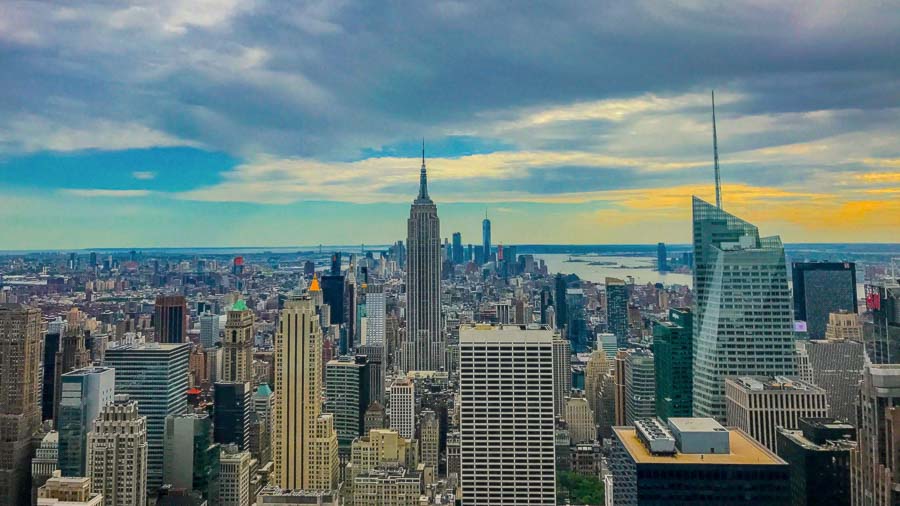 Check out the city from the top
It's a crime to visit New York and not get a birds-eye view of the city's legendary skyline. And the best places to do that are the Empire State Building and the Top of the Rock. The Empire State Building is a classic NYC landmark with an observation deck on the 86th and 102nd floors. And, the Top of the Rock's observation deck is on the 70th floor.
I would love to hear which other experiences you would add to these 11 iconic experiences in New York City.
Where to Stay in New York City
There are so many considerations on finding a place to stay in New York and I feel the most important is location and proximity to places to visit and public transportation access. Since New York is a big island, public transportation via metro, taxi or bus is the ideal way to get around along with walking the cool districts around the city. Here are some of my suggested places to stay around the city based on location and budget.
The Evelyn – a small boutique hotel close to Madison Square garden, close to many attractions – small, clean but pretty bedroom makes for a very comfortable stay
Hotel Giraffe – Located in the Flatiron building and a great location, this boutique hotel is warm and very welcoming with inviting rooms, a nice continental breakfast and wine and cheese hour. Wonderful amenities and even a balconey with views in most rooms.
The Bryant Park Hotel – located in an excellent spot on Bryant Park, the friendly front desk and concierge services are fantastic. Stylish and immaculate rooms make for a perfect stay and getaway location in the city
Luma Hotel Times Square – Just around the corner from world famous Times Square, the Luma Hotel is modern and centrally located to many districts in the city and easy public transportation. Modern, clean rooms with fantastic room service and front desk/concierge help.
For more prices and reviews of hotels in New York, check out the Trip Advisor site here for more details and availability.
Like this post – please Pin it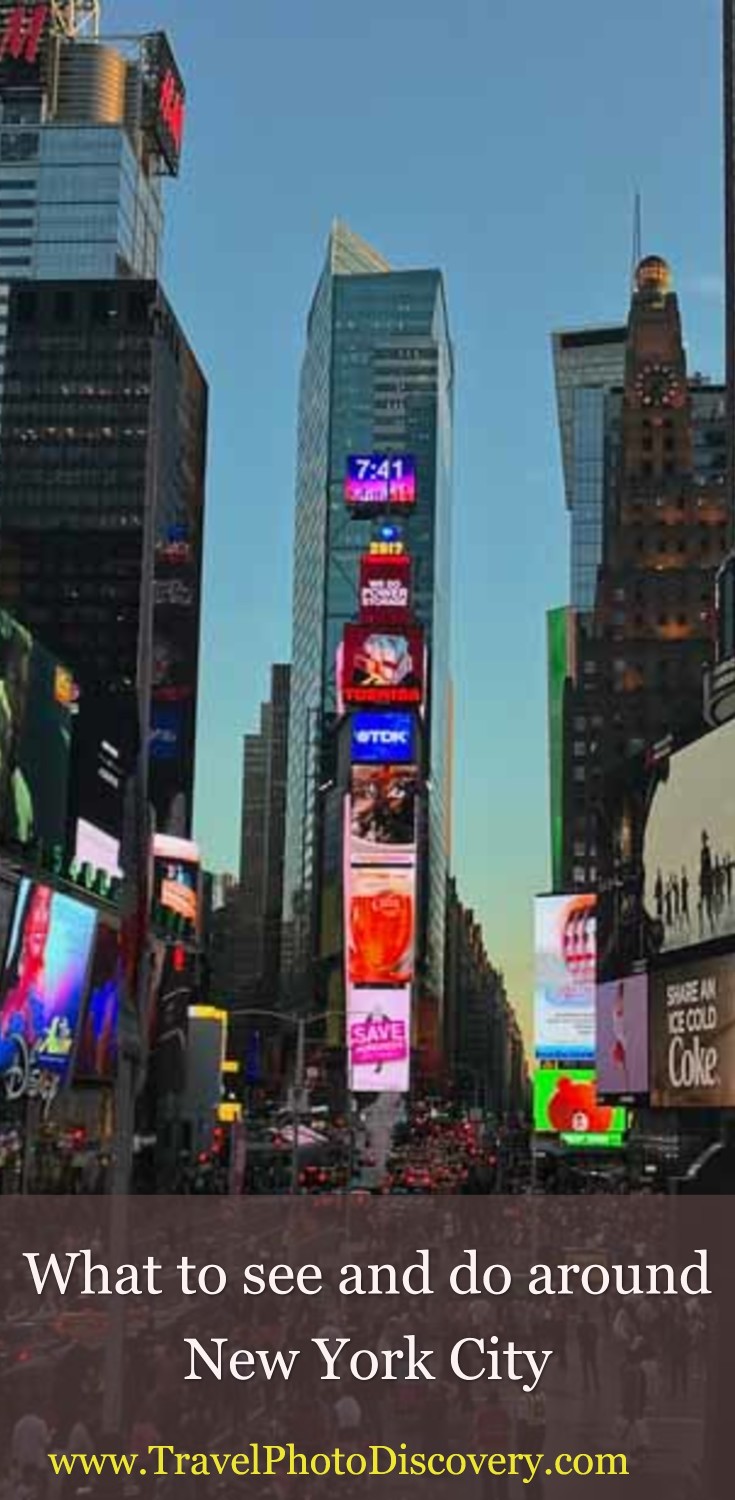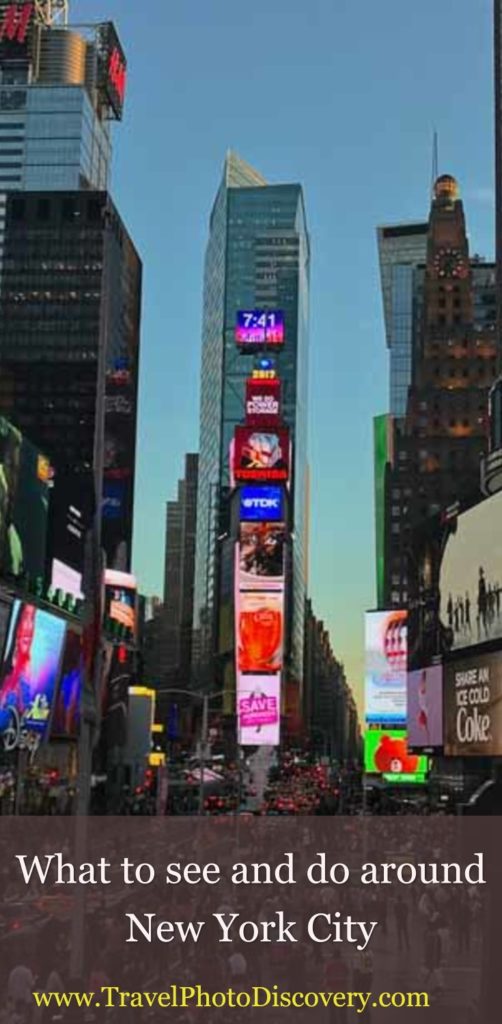 Additional reads on New York
About the Writer:
Archana Singh is a Brand Strategist turned Travel Journalist. An award-winning Travel Writer who likes to visit offbeat places in search of untold human stories. She publishes her travel experiences on Travel See Write and regularly contributes to international publications and online journals. When she is not traveling, or documenting her experiences, she makes brand strategies for some of the most iconic brands in the world. You can check out her post on Budget travel to NYC here.
Check out Archana's social media handles
Twitter: @TravelSeeWrite
Instagram: @travelseewrite
Facebook: @Travel See Write
Google+: @Travel See Write