15 stunning views of Prague – river views, scenic lookouts, secret spots (Updated 2023)
It is true, Prague is a magical place! It feels like visiting a fantasy filled with amazing castles, architecture and an eclectic combination of very old mixed in with new. In spite of the hordes of tourists that descend on the city every year (estimated 4.1 million yearly), there are many neighborhoods and areas to walk and discover that far away from the noise and busy tourist zones. You can find quiet cobbled streets and towers in the Mala strana (Little Town). and across the St. Charles bridge to the new town walking towards Prague castle and St. Vitus cathedral.  There are plenty of places to explore and discover, and here are just a few images to drool over and make you want to visit Prague in the Czech Republic – hopefully soon!
Why visit Prague, Czech Republic?
There's so many magical places around Prague to explore with gorgeous views, city skyline and panoramic vista points but also wonderful gardens, palaces and unique areas of the city to visit. Let us show you some of these fantastic and photo worthy spots around the city to capture and enjoy on your visit here to Prague.
If you love visiting historic and cultural sites with beautiful architecture and vistas from so many different parts of the city, then a visit to Prague delivers on all fronts with spectacular visuals and views.
Scenic Prague FAQ
Why visit these photo scenic spots around Prague?
When you get to these particular spots around Prague, you'll be awestruck with the stunning imagery and views from above and the surrounding areas. Make sure your camera batteries are charged because these are the best spots to capture around the city when you go exploring Prague and all the fantastic photo spots around the city worth exploring.
Selfies or IG moments are welcome here because there's so many inspiring places to visit below.
What is the best time to visit Prague city?
The best time to visit Prague would be during the spring and early fall time. The weather is typically mild during these time frames and the crowds are not around in large numbers. With less crowds, prices are more affordable for hotels, entertainment and even food venues around the city. The most comfortable months to visit are around May or September when the average temperature ranges from 18 to 20 degrees Celsius.
Summers in Prague brings the majority of visitors to the city which makes everything around the city area more congested especially in all the tourist areas of the city which is basically all of the historic district of Prague. Weather is more favorable around the mid 70s which brings the bulk of visitors into the city to enjoy all the main attractions.
Wintertime is very quiet and beautiful but the winter weather in Prague can be quite sever and difficult to get around the city area.
Prague is known as the center of Europe where Wolfgang Amadeus Mozart lived and worked and the Prague Symphony first performed Don Gioanni in the city. Other popular Czech composers are celebrated here in many spring music festivals such as Antonin Dvora Leos Janacek and Bedrich Smetana.
What food is Prague famous for?
You'll find these specialty dishes in many street food vendors and cafes around the city.
Smazeny Syr (fried cheese)
Knedliky (bread dumpling)
Bramborak (potato Pancake)
Svickova na Smetane
Nakladany hermelin
Utopenci
1. 15 best views of Prague – Looking down Staromestske namesti from above
On a clear day like today, you can see the entire city from the old town hall tower with its astronomical clock. The lookout point on the towers allows you to see 360 degrees around the entire city and beyond. Looking down to the main square called Staromestske namesti above is fascinating seeing all the crowds and landmarks surrounding the square. It is definitely one of the best scenic spots from above where you can get the best views of the old town.
**Check out this tour of the Astronomical clock and tower here for fabulous views of the square and surrounding area.
Here's what the views look like from the City Hall looking to the main square of Prague
2. Crossing the St. Charles Bridge at dusk
If you're wondering what to do in Prague during sunset and the golden hour, the best place to enjoy the city is to walk around the St. Charles bridge – it really is magical. There always seems to be a nice breeze and the weather is just right. The late afternoon light is so beautiful on both sides of the Vltava river, you can't take a bad shot anywhere from the bridge at this time. Of course, it is a little tricky with every other tourist visiting the bridge at the same time looking for the best spots to take a photograph. So be patient and that magic moment will happen – and act fast because the sun comes down quickly.
Earlier in the afternoon we crossed the bridge towards the Mala Strana and there were plenty of musicians and performers trying to coax visits to hang out and leave some pocket change. Here's a sample video below.
** You can also get some amazing scenic views on a Vtalva River cruise here of the many attractions that line the river or are closeby.
3. Sunset by the Vltava river looking towards Prague Castle
You don't have to be on the St. Charles bridge to get a magnificent sunset view, just stroll anywhere around the shoreline of the Vltava river and if you are there at the magic hour, you just may be rewarded with a spectacular sunset to enjoy and of course take a few amazing photographs of the city facing Prague castle. But crossing the St. Charles bridge during sunset is really magical and easy with fantastic views of both sides of the city, wonderful street performers and musicians stationed all around the bridge and that fantastic feeling of visiting different segments of the city that is truly magnificent.
Get to the bridge early before sunset so you can scout out all the fantastic spots to choose or impromptu moments that can happen here
4. Discovering Prague at night
It's really magic walking around the old town of Prague at night especially around the area of the main square – Staromestske Namesti.  All the monuments are beautifully lit up and the cafes surrounding the square are buzzing with activity along with street performers in the square luring tourists in for a better view and to part with their Koruna. It's fun to walk along the many pedestrian streets to check out the cafes, boutiques or bars that you may come across and drop in for a visit.
Here's some gorgeous places to explore in Prague with the lights, landscapes and views all lit up below
 5. Enjoy all the amazing public art in Prague
It's really amazing that there is so much public art to see all over the city from local and re-known sculptures and international artists. This Franz Kafka face created by sculptor David Cerny, is a fascinating kinetic sculpture that changes often from the sliced head rotating constantly. Below is a You tube video capturing some of the wonderful motions that this piece creates in its rotations. There are so many wonderful public art displays around the city to explore, check out this website here for details and inspiration.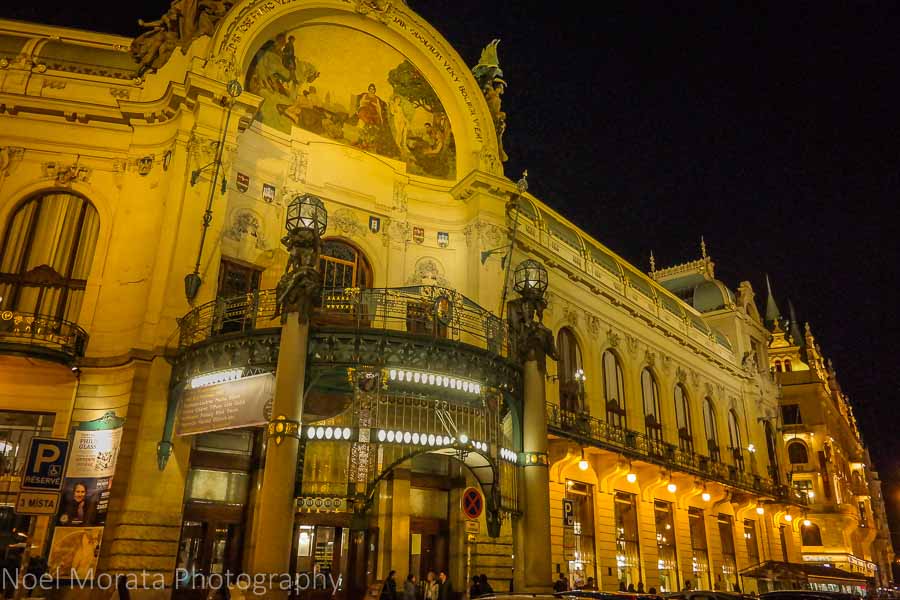 6. A plethora of music venues and concerts
It seems like every night in the city offers and unlimited number of music venues and popular music related activities from the very popular classical music styles to local cabarets and even popular jazz clubs that are a favorite pastime for Prague locals. Next to the Powder tower is the center of musical life including a concert hall, one of those special places in Prague to experience something cultural. You can enjoy a nice meal in the restaurant and then enjoy a performance. At night time the concert hall is illuminated magically from its base to the ornate roof details.
7. Views of the city from Prague Castle
A Prague sightseeing tour is not complete without climbing the top of the hill to visit Prague castle and the cathedral.  You are rewarded with one of the best Prague attractions and magnificent views over the red tiled roofs of Prague looking back towards the Vltava river and the old town. There's a lot to explore in this fortified complex with the cathedral and the many areas of the castle that have been converted into different museums and you can pay different tour packages in touring the complex. Just below the hill of the Mala strana is a string of galleries, cafes and bars that try to lure you into taking a break on the way up or down from the hilltop attractions. It's a fun street to look around and take you time exploring some of the local dishes or even a nice local beer in one of the brew pubs along the way.
** Check out this skip the line tour of Prague Castle here for more information and booking this fab tour.
Here are the views of the city from Prague Castle below
8. Prague Castle
Now the seat of the President of the Czech Republic, the castle is a series of castles and is a popular gathering spot to see the changing of the guards or visit some of the major halls that are open to the public as museums including: the royal treasury, national painting gallery and armoury.
9. St. Vitus Cathedral
Also in the complex fortification of Prague castle is the Cathedral called St. Vitus Cathedral. It was built on the site of an old Romanesque basilica and is a splendid gothic style structure with three naves and three towers. It is a gorgeous building that was started in the 13th century and took until the 20th century to complete after a series of starts and stops in construction.
10. Wallenstein Palace and salla terrena
A baroque styled palace and gardens below Prague castle. Built around 1629 the palace has a very large grotto called the salla terrena resembling an artificial grotto and cave with stalactites. The beautifully maintained baroque formal gardens are filled with colorful annuals, statuary and fountains and a perfect for strolling or having a nice picnic on the many benches lining the gravelled pathways.
11. Stroll along St. Wenceslas square
A popular spot for shopping on one of the largest squares in Prague and a historic site for many large demonstrations that have occurred in Prague's modern history including the 'Velvet Revolution' Now it is a place for fashionable shops and eateries and meeting for students and the young locals of Prague to hang out. The boulevard has many striking architecture ranging from art nouveau, art deco to classic styles and beautiful to see and photograph.
12. Walks along the Vltava river
Both sides of the Vltava river have wonderful shoreline access and roads with scenic views on both sides of the old and new town. Along the route are nice green belt areas and parks that are very popular with locals enjoying a day out along the river to picnic or enjoy a meal with views from the riverfront. Or how about renting a swan paddle boat or just going on a barge or river cruise slowly seeing the major monuments of Prague by water.
Here's a video showing some of the scenic Vltava River, you can get great views on boths sides of the river to capture the city skyline or the hills and castle of Prague along the river front areas.
13. Views of the Vltava river and new town from above
14. A walk around the Jewish district
The trendy Jewish district is filled with designer shops and international brands along with being a great dining and foodie zone for locals and tourists. There is also plenty to see of the historical district with the cemetery, synagogues and other important cultural buildings.  It's a fascinating area where you can see and admire the wonderful transition of old and new and still get a great vibe and understanding the significance and history of this area.
** Consider this guided tour of the Jewish Quarter here to give you more insight and details to visiting this fascinating area of Prague.
Exploring the Jewish Quarter the the Jewish Synagogue and cemetery below
15. Stunning architecture everywhere
The city is just filled with amazing architecture, it seems like everywhere you turn, there is always are stunning buildings in a variety of classical styles from Medieval, Gothic Baroque, Art Nouveau to contemporary styles like Polish Modern and the Stalin period architecture. It really is a city filled with stunning architecture and monuments and you will never be lacking to see something unusual or historic in the city's districts.
Here are five architectural gems to explore around the city of Prague below
https://youtu.be/FHgOqzRRfpE
Where to stay in Prague
There are so many wonderful and charming neighborhoods to stay in and it makes sense to find some place central where you can easily walk to many of the attractions in the city since this is a walking town. Here are some of our recommendations for unique stays in the historic district of the city.
Hotel Pod Vezi – A classic styled hotel very close to the St. Charles Bridge with spacious rooms, great breakfast service and central to many attractions in the area.
Golden Well Hotel – great located close to the Legislative offices and in the old city. Gorgeous, elegant and spacious rooms, wonderful service and breakfast
Boho Prague Hotel –  chic and modern hotel with luxury appeal, amenities, comfortable room and quality breakfast service and front desk service.
Check out these top rated hotels from Trip Advisor here for more details and current availability.
Transportation and how to get around Prague
Getting around Prague, the capital city of the Czech Republic, is convenient and straightforward. Here are some tips on transportation in Prague:
Public Transportation: Prague has an extensive and efficient public transportation system, consisting of metro, trams, and buses. The metro consists of three lines (A, B, and C) that connect major areas of the city. Trams cover a wide network, including the city center, and buses reach areas not served by the metro or trams. Purchase tickets at ticket machines, information centers, or using mobile apps. Validate your ticket upon boarding.
Metro: Prague's metro system is fast, reliable, and a popular choice for getting around. The stations are well-marked and easy to navigate. Trains operate from early morning until midnight, with less frequent night service. Be aware of pickpockets in crowded metro cars and keep an eye on your belongings.
Trams: Trams are an iconic mode of transportation in Prague. They provide excellent coverage of the city, including many tourist attractions. Trams operate from early morning until midnight, and some lines offer night service. Be sure to check the tram schedules, as they can vary depending on the line and time of day.
Buses: Buses are another reliable option, especially for reaching suburban areas or destinations not served by the metro or trams. They operate throughout the day, and some lines also offer night service. Check the schedules and bus stops for your desired route.
Tickets and Passes: You can purchase individual tickets for a specific number of zones or opt for day, three-day, or longer passes for unlimited travel within the specified time. Keep your ticket or pass with you at all times, as inspections by ticket controllers are common. Failure to produce a valid ticket may result in a fine.
Walking: Prague's city center is compact and best explored on foot. Many of the major attractions, such as Prague Castle, Charles Bridge, and Old Town Square, are within walking distance of each other. Enjoy the charming streets, historical architecture, and vibrant atmosphere as you navigate the city on foot.
Taxi and Ride-Sharing: Taxis are available in Prague, but it's advisable to use licensed taxi companies or ride-hailing apps for transparency and fair pricing. Ensure the taxi meter is used, or agree on a price before starting the journey. Uber and Bolt are popular ride-sharing options in the city.
Prague's efficient public transportation system, coupled with its pedestrian-friendly layout, makes it easy to explore the city's rich history, cultural gems, and architectural wonders. Whether you choose to ride the metro, tram, bus, or simply wander on foot, Prague's beauty and charm await you at every turn.
Looking for more inside tips and information on Prague?
Here are some inside tips for exploring Prague beyond the main attractions:
Vyšehrad: Visit the historic fortress of Vyšehrad, located on a hill overlooking the Vltava River. Explore the Gothic Vyšehrad Cemetery, stroll through the tranquil gardens, and enjoy panoramic views of the city.
Letná Beer Garden: Head to Letná Park and visit the popular Letná Beer Garden. Grab a refreshing Czech beer, relax on the outdoor terrace, and enjoy the panoramic views of Prague's skyline.
Prague's Hidden Cafés: Discover Prague's hidden cafés tucked away in picturesque courtyards and lesser-known streets. These cozy and atmospheric spots offer a perfect respite from your exploration. Try Café Slavia, Café Savoy, or Café Louvre for a taste of Prague's café culture.
Holešovice District: Explore the trendy Holešovice district, known for its contemporary art scene and vibrant nightlife. Visit the DOX Centre for Contemporary Art, enjoy live music at Cross Club, and browse through the eclectic selection of shops and galleries in this hip neighborhood.
Stromovka Park: Take a leisurely stroll or rent a bike in Stromovka Park, one of Prague's largest parks. Enjoy the peaceful atmosphere, go for a jog, have a picnic, or rent a paddleboat to explore the park's picturesque ponds.
Kampa Island: Escape the crowds and visit Kampa Island, a hidden gem located near Charles Bridge. Enjoy the serene waterfront setting, picturesque houses, and the famous "Baby" sculpture by David Černý.
Prague's Beer Culture: Experience Prague's beer culture beyond the typical tourist spots. Visit traditional Czech pubs, known as "hospodas," such as U Zlatého Tygra or U Medvídků, where you can enjoy authentic Czech beer and mingle with locals.
Náměstí Míru: Venture to the Náměstí Míru (Peace Square) area, located slightly outside the city center. Explore the beautiful neo-Gothic Church of St. Ludmila and visit the nearby Havlíčkovy Gardens, offering stunning views of Prague's skyline.
By venturing off the beaten path and exploring these hidden gems, you'll gain a deeper appreciation for Prague's diverse neighborhoods, local culture, and unique atmosphere. Embrace the spirit of adventure and uncover the lesser-known treasures that Prague has to offer.
If you enjoyed this post, please pin it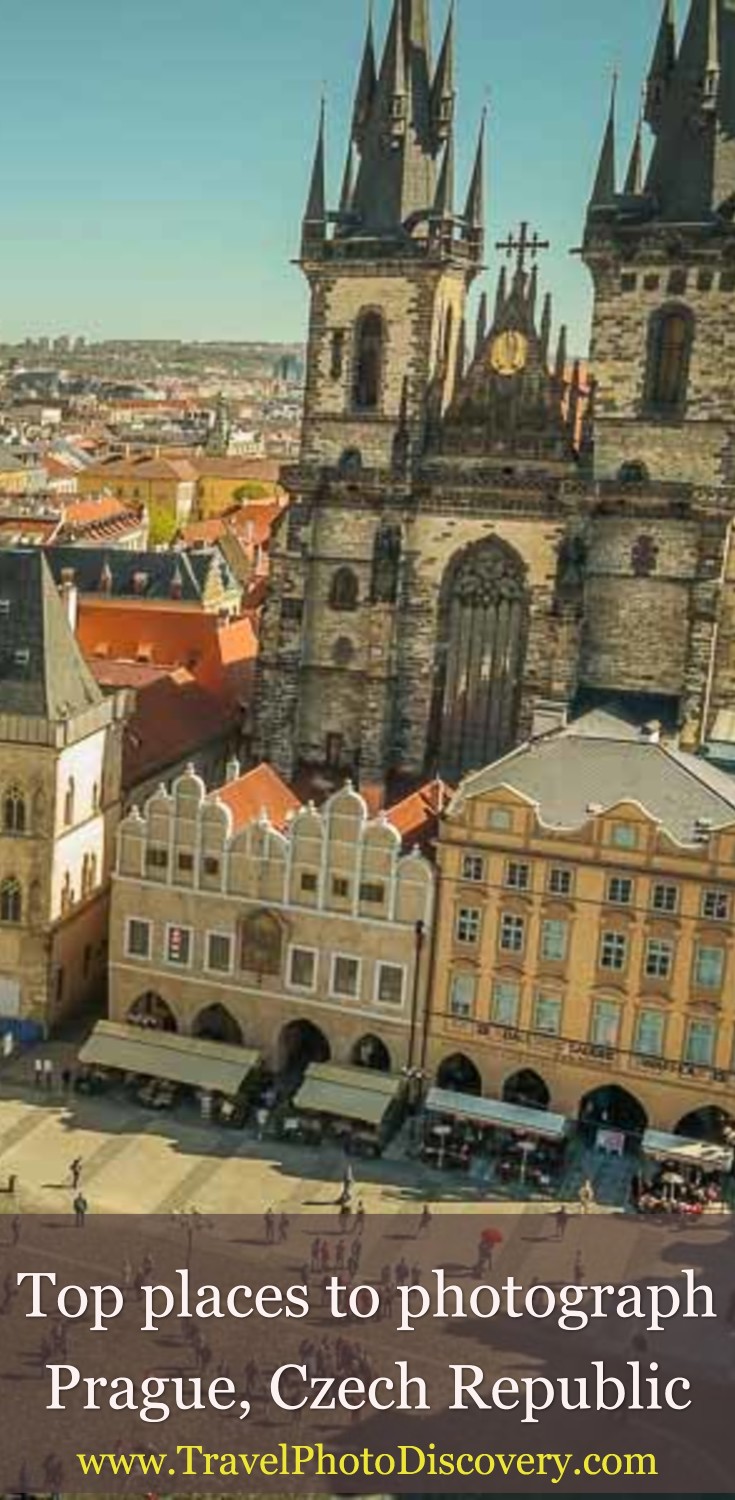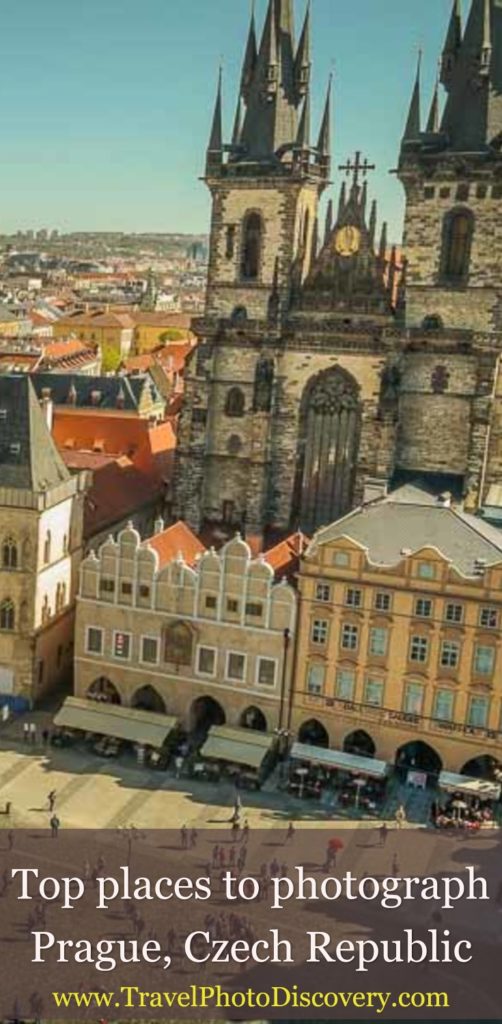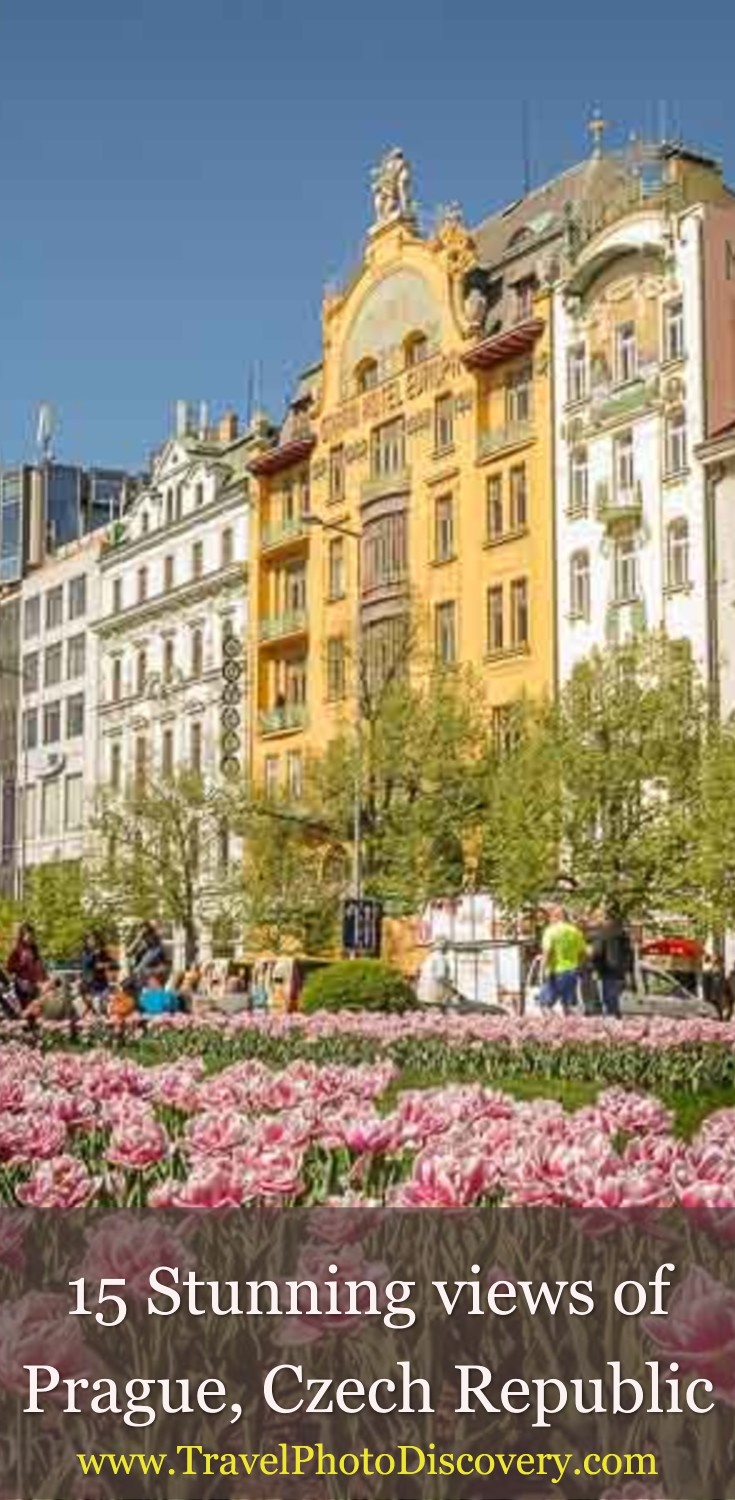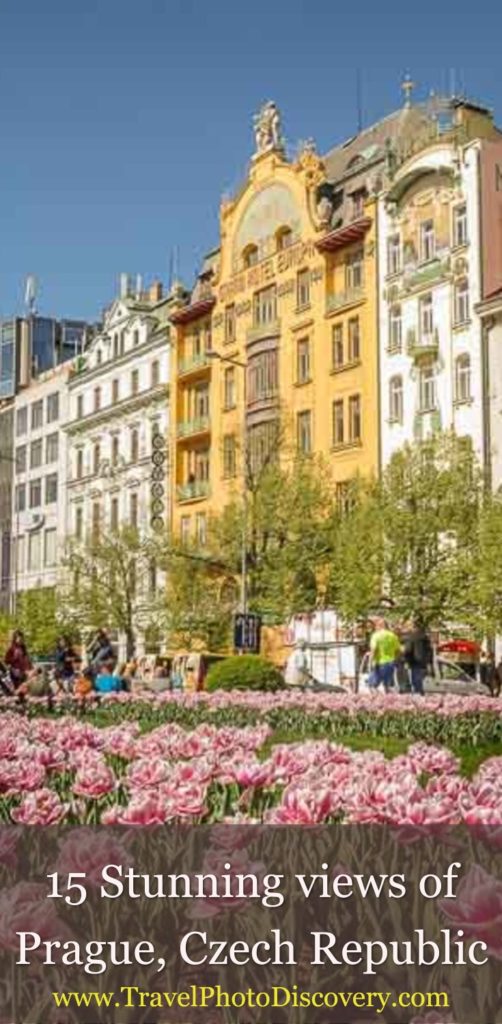 More unique tours and recreation around Prague City
Check out all these other fun recreation and fun tours you can do around the city now and make this visit to the city even more special.
How about a fun Prague brewery tour here exploring around this fun city and checking out the best craft brews in town.
Discovery tour of the Kutna Hora and Ossuary to this unique and one of a kind religious site and tour.
Enjoy this fun Prague lunch river cruise along the Vtalva River and highlights to key sites and attractions to see from a river viewpoint.
Visit the National Museum in a skip the line tour of this gorgeous building and cultural treasures.
Enjoyed the post, check out these other Prague posts
Prague's cool street and public art
Eating and touring Prague in one day
Exploring Prague's Archaeological and ancient sites
Have you visited Prague before?
Any other stunning views to explore around the city or other tips to visiting the area? Please share your thoughts in the comments below.
Conclusion to 15 best views of Prague
Prague, the capital of the Czech Republic, offers a captivating blend of history, culture, and architectural marvels. Its charming streets, Gothic spires, and Baroque facades create a picturesque backdrop that transports visitors to another time. The city's famous attractions, such as Prague Castle, Charles Bridge, and the Old Town Square, showcase its rich heritage and timeless beauty.
As you wander through Prague's cobblestone alleys, you'll be transported back in time, enchanted by the breathtaking architecture, Gothic spires, and Baroque facades. But beyond the surface, Prague's soulful energy and vibrant culture will leave an indelible impression, igniting your curiosity and inviting you to delve deeper into its hidden treasures.
Thanks for visiting and checking out the 15 stunning views of Prague. I hope you enjoyed the photos and if you did, can you please share this post with any of the social media buttons around the post.
If you like what you see, come and check out my other social media channels for more updates, including Instagram, Pinterest and Twitter
Disclosure – some of the links above are to affiliate sites that are either reviews or recommendations if you book helps to keep our site running at no additional cost to you. We appreciate your supporting our website meanwhile.