Explore Prague's Archaeological Sites & Ancient Culture
Prague is nicknamed the "City of a Hundred Spires" for its Romanesque, Gothic, Renaissance, and Baroque architecture, which gives the Czech capital its distinct appearance. The city's rich history dates back some 1100 years, and it was once the seat for two Holy Roman Emperors. But Prague is also known as a thrilling modern city to visit, replete great drinking establishments, theatres, and music halls. Here are just a few of the best modern and historic attractions that make Prague a must-visit city on any Eastern European adventure and travel by Prague Card is a great way to explore the city, the main attractions and taking public transportation through the card.
Weather and best time to visit Prague
Prague experiences four distinct seasons, each offering a unique charm to visitors. Here's a breakdown of the weather and the best times to visit:
Spring (April to June):
Spring is a delightful time to visit Prague. The weather is generally mild, with temperatures gradually warming up. The city's parks and gardens come to life with colorful blooms, making it a picturesque season for sightseeing. Be prepared for occasional rain showers.
Summer (June to August):
Summer is the peak tourist season in Prague. The weather is warm and pleasant, with longer daylight hours. However, this popularity means larger crowds and higher prices. Make sure to book accommodations and tours well in advance if you plan to visit during this time.
Autumn (September to November):
Autumn brings cooler temperatures and beautiful foliage to Prague. The city is less crowded than in the summer, making it an ideal time for exploring historical sites and enjoying cultural events. September is particularly pleasant, while November marks the transition to winter.
Winter (December to February):
Winter in Prague is enchanting, especially around Christmas when the city is adorned with festive decorations and markets. However, it can be quite cold, with temperatures often dropping below freezing. This is an excellent time for budget travelers, but be prepared for shorter daylight hours and the possibility of snow.
To make the most of your visit to Prague, consider the following tips:
– The shoulder seasons of spring and autumn offer a balance between pleasant weather and fewer crowds.
– Layered clothing is essential, as weather can change throughout the day, even in summer.
– Check the local calendar for festivals and events that might align with your interests.
– Explore indoor attractions and museums during inclement weather in winter.
Ultimately, the best time to visit Prague depends on your preferences. Whether you prefer the vibrant atmosphere of summer or the cozy charm of winter, Prague offers something special year-round.
How to get to Prague in the Czech Republic
Getting to Prague, the capital of the Czech Republic, is relatively straightforward, thanks to its well-connected transportation network. Here are the main ways to reach Prague:
By Air:
– **Václav Havel Airport Prague:** This is the primary international gateway to Prague. It's located about 20 kilometers (12 miles) west of the city center. The airport serves numerous airlines with flights from major European cities and international destinations.
By Train:
– **International Trains:** Prague is connected to major European cities via international train services. The main train station in Prague is the Prague Main Railway Station (Praha hlavní nádraží), which is well-connected to the city's public transportation system.
By Bus:
– **International Buses:** Several international bus companies operate routes to Prague from nearby European cities. The main bus terminal in Prague is Florenc Bus Station, which is easily accessible via the city's public transport.
By Car:
– **Driving:** If you're traveling from nearby countries, you can reach Prague by car. Major highways connect Prague to cities like Vienna, Berlin, and Budapest. Be aware of road rules, parking regulations, and tolls if you choose to drive.
By River (Cruise):
– **River Cruises:** Some travelers arrive in Prague as part of a river cruise on the Vltava River. These cruises often start or end in the city and provide a unique perspective of Prague's riverside landmarks.
Once you arrive in Prague, the city offers an efficient public transportation system, including trams, buses, and the metro, making it easy to get around and explore its many attractions. Taxis and ridesharing services are also readily available, but be sure to use reputable companies or confirm the fare in advance to avoid overcharging.
Visiting Prague's historic and archaeological sites


Discover the Churches of Prague

One of the dominant features of Prague's architecture is its churches. And as the city was once the capital of the Holy Roman Empire it is easy to understand why. The most important and distinctive of the city's churches and religious centres include, the St Vitus Cathedral, Our Lady Before Tyn, the Loreta, the Convent of St Agnes, St Nicholas Church, and St James Church.
The church designs range from 14th century Gothic to the early 19th century, when St Vitus' construction was complete before its belated consecration. If your looking for the best things to do in Prague, then definitely start with visiting the city's magnificent churches.


Visit the Prague Jewish Museum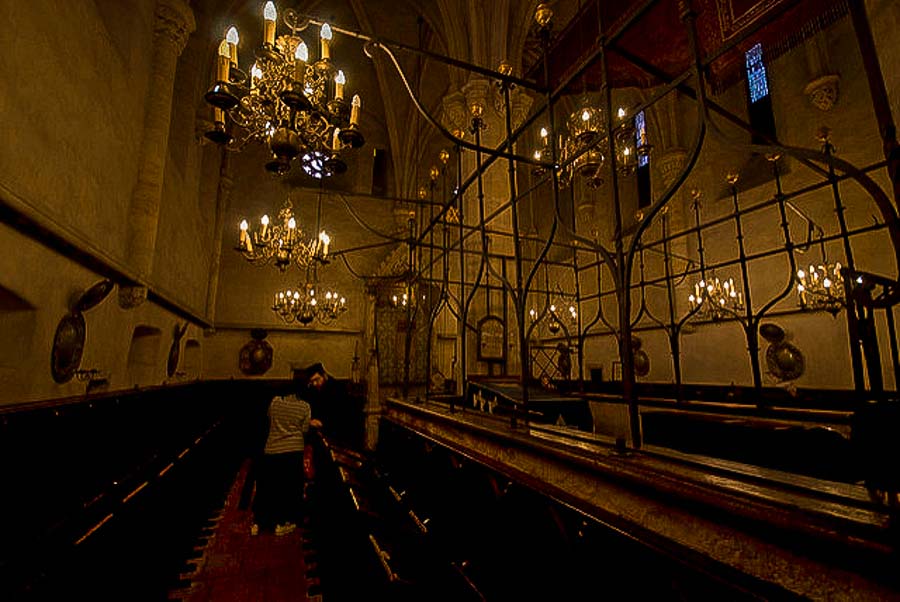 Images by Martin Rottler used under Creative Commons license.
Prague's rich Jewish history

Prague has also been an important home to Judaism over the past centuries, and its Old-New Synagogue is Europe's oldest working Synagogue. Visitors interested in Prague's large Jewish history should put this on their must visit attractions in the city. Prague has became a major Jewish religious and historical centre following WWII, and hosts one of the world's largest collections of sacred Jewish artefacts. The Jewish Museum includes six main sites: the Maisel Synagogue, the Pinkas Synagogue, the Ceremonial Hall, and the Old Jewish Cemetery.


Visit the impressive Astronomical Clock

Installed in 1410, Prague's Astronomical Clock is the third oldest in the world, and has become a popular European tourist attraction. The clock is designed with four main figures, and those lucky enough to arrive on the hour will see Death ring his bell and turn his hourglass, and the Apostles circle past.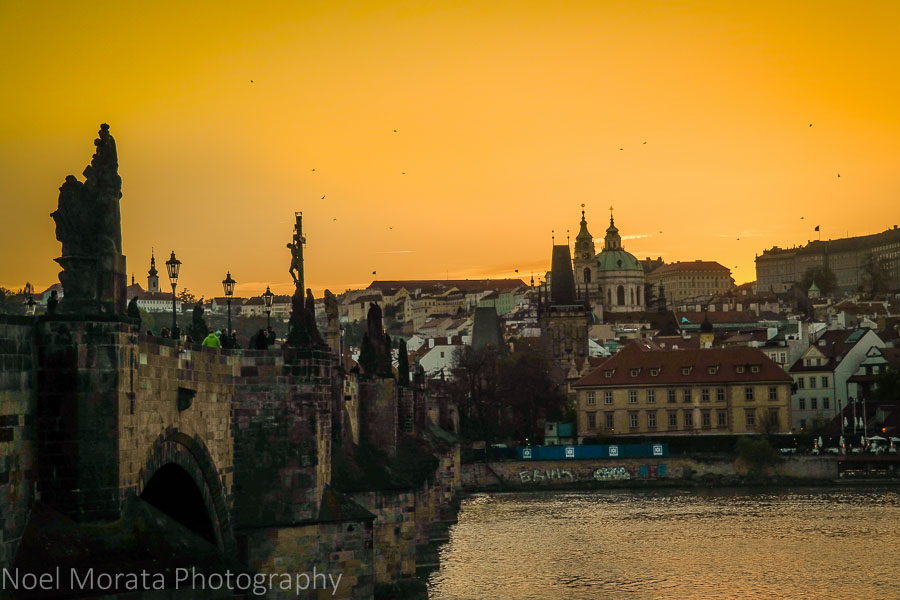 The Iconic St. Charles bridge
St. Charles Bridge, an iconic symbol of Prague, gracefully spans both sides of the Vltava River, connecting the historic districts of the city. This magnificent structure is not just a mere bridge but a testament to architectural brilliance and artistic grandeur. As you set foot on St. Charles Bridge, you are transported back in time, immersed in centuries of history and the enchanting aura that surrounds it.
The bridge itself is a masterpiece of Gothic architecture, adorned with imposing statues and intricate details that tell stories of saints, kings, and mythical figures. Walking along its cobblestone path, you are greeted by a panorama of breathtaking views. On one side, the historic Prague Castle looms majestically, while on the other, the vibrant Lesser Town spreads its colorful facades.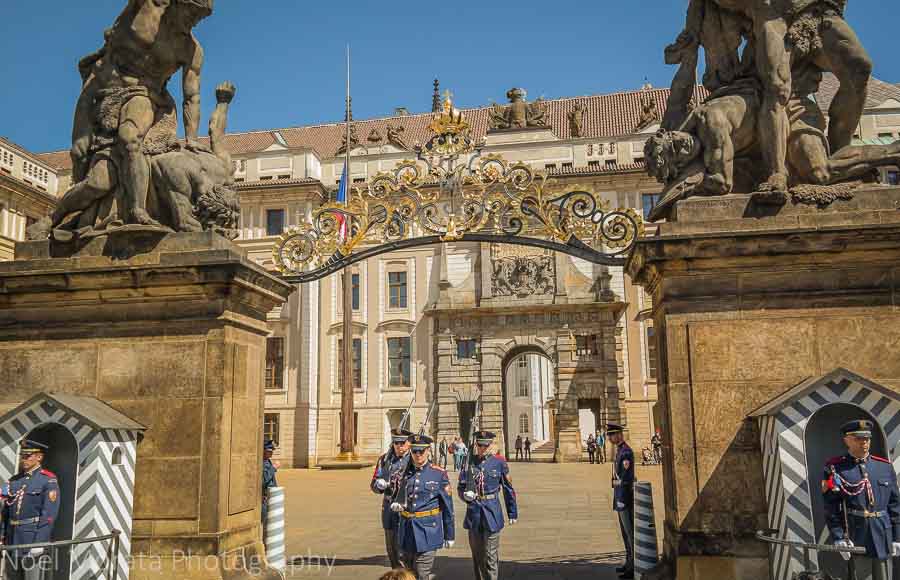 Visit
Prague
Castle
A visit to Prague Castle is essential in Prague. It's a vast complex with historic architecture like St. Vitus Cathedral and St. George's Basilica. Don't miss the Changing of the Guard ceremony. You can explore charming gardens and enjoy panoramic views from the Great South Tower. Consider buying tickets in advance and dress modestly when entering religious sites.
Inside the castle complex, you'll find several historic buildings and sites to explore, including the Old Royal Palace, St. George's Basilica,
Witness the ceremonial Changing of the Guard at the entrance to Prague Castle. This tradition takes place daily and is a colorful and photogenic event.and the Golden Lane, a charming row of colorful houses with a fascinating history.
Climb the Great South Tower of St. Vitus Cathedral for panoramic views of Prague's Old Town, Charles Bridge, and the Vltava River. It's a breathtaking perspective of the city.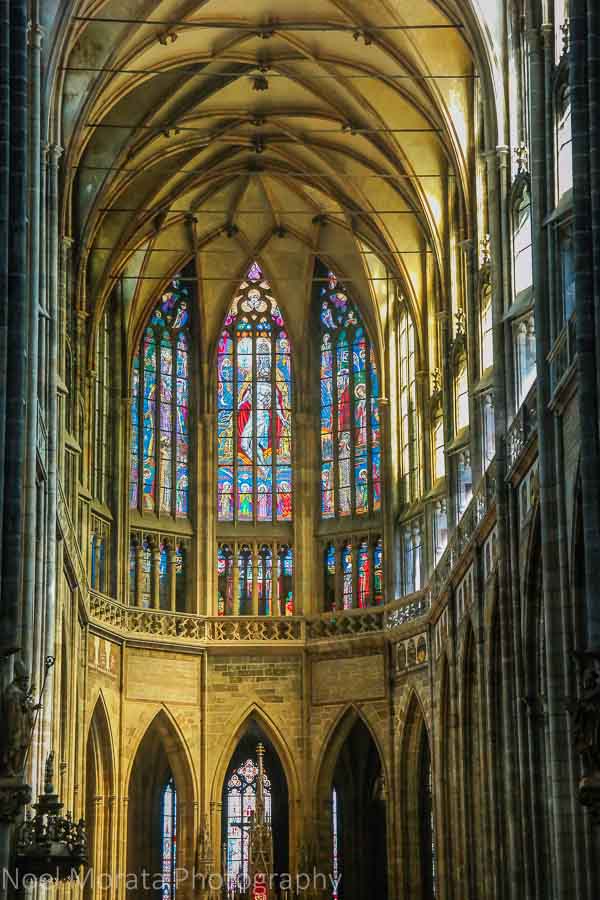 Prague Cathedral at St. Vitus
St. Vitus Cathedral, an architectural masterpiece, stands at the heart of Prague Castle. Its soaring Gothic spires and intricate stained glass windows make it an iconic symbol of the city. Inside, the cathedral's grandeur continues with its stunning interior, chapels, and the ornate St. Wenceslas Chapel, housing the Czech crown jewels. A visit to St. Vitus Cathedral is a journey through Czech history and a chance to marvel at the craftsmanship of centuries past.

Enjoy Prague's Exciting Cultural Nightlife
Opera, Orchestra and live theatre in Prague
Prague, the capital of the Czech Republic, boasts a rich and vibrant culture when it comes to opera, orchestra, and music theater. The city has long been revered as a hub for classical music, attracting renowned musicians, composers, and performers from around the world.
Opera holds a special place in Prague's cultural landscape, with the historic Prague State Opera and the National Theatre showcasing spectacular productions of renowned operas. These esteemed venues transport audiences into the world of captivating storytelling, breathtaking vocals, and elaborate stage designs, offering a truly immersive experience.
Prague is also home to exceptional orchestras, including the world-renowned Czech Philharmonic Orchestra. Their performances in venues such as the majestic Rudolfinum or the Municipal House captivate audiences with their mastery and interpretation of classical symphonies and compositions. Attending a symphony or orchestral performance in Prague is a treat for music enthusiasts, as these acclaimed ensembles bring the works of Mozart, Dvořák, Smetana, and other renowned composers to life.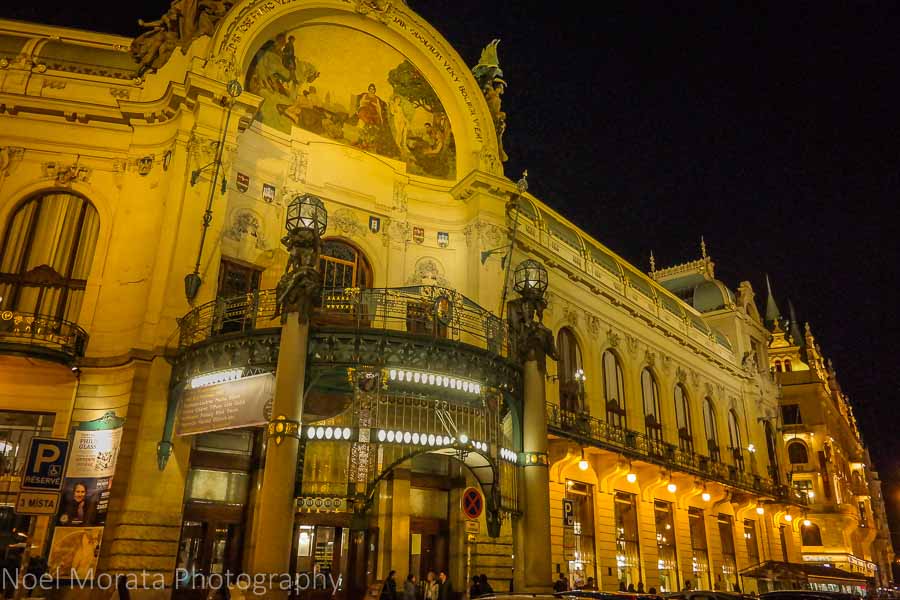 Nightlife fun in Prague
Prague is an exciting destination to head to if you enjoy a night out at the pub. The Czech Republic is known for having some of the world's best beers, and they are served-up in chic and eccentric establishments alike, including the second oldest pub in Europe. For those interested in something a little more vibrant, the city is also home to a range of nightclubs, cave bars, beer gardens, and you may even find yourself invited to a local house party.

Whether you're planning a trip through Europe or are simply looking to escape for a Prague city break, a visit to Czech capital is one experience you will want to relive again and again. If you are planning on staying, check out this website for places to stay in the historic district here for prices and availability. I did some initial research and followed these Prague Highlights to find out more about the city's cultural treasures.
If you enjoyed this post, please check out some of my other posts on Prague below.
Prague's public and street art.
Eating and Touring Prague in one day
Conclusion to visiting Prague's rich
history and
archeological sites
Prague is an enchanting city that seamlessly blends history, art, and cultural richness. Prague's stunning architecture, from the iconic Prague Castle to the intricate details of the Charles Bridge, will forever leave an indelible impression. The city's vibrant cultural scene, with its renowned opera houses, orchestras, and music theaters, offers a captivating journey into the world of classical music and performing arts. The charm of Prague's narrow cobblestone streets, cozy cafes, and lively squares invites you to immerse yourself in its bohemian atmosphere. From exploring the city's historic landmarks to savoring traditional Czech cuisine and indulging in the warmth of its people, Prague captivates the hearts of all who visit. As you bid farewell to this extraordinary city, you carry not only the memories but also the profound appreciation for its rich history, artistic heritage, and the timeless beauty that makes Prague a truly exceptional destination.
Thanks for checking out this post on Explore Prague's Archaeological Sites & Ancient Culture, if you enjoyed the post, please do share it with any of the social media icons located at the bottom and side of the post, thanks so much. There are affiliate links which help to support this site, I appreciate helping us out, thank you.