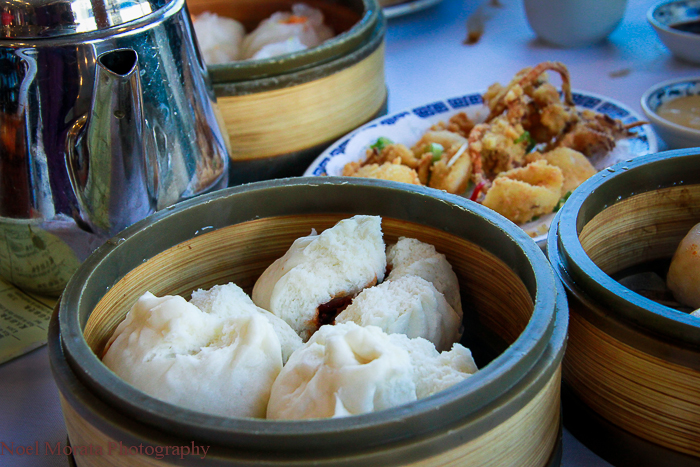 A Dim sum gathering and guide, Photo Friday
Eating dim sum (Chinese dumplings) in San Francisco is a favorite morning to early afternoon activity with locals and tourists alike in the city. Not just confined to Chinatown, there are so many dim sum restaurants to be found throughout the many neighborhood districts around San Francisco. How to find a good dim sum spot in the city? Well it seems like everyone has their favorite spots and you can easily check the many online foodie sites like Chowhound, Yelp, SF Weekly and SF Gate and read reviews to the most popular each dim sum eateries.
In almost every neighborhood in the city you can find a Chinese restaurant offering dim sum on the menu every day and especially on weekend mornings, the most popular timeframes to eat dim sum. Once you have decided on a particular restaurant, make sure you get there early. Try to get to the restaurant just when it opens up so you can get seated quickly or else you will be fighting the hoards of hungry people waiting a long time especially in the more popular dim sum houses.
Stuffed eggplant with pork and shrimp in a sweet and sour flavored sauce, in one word delicious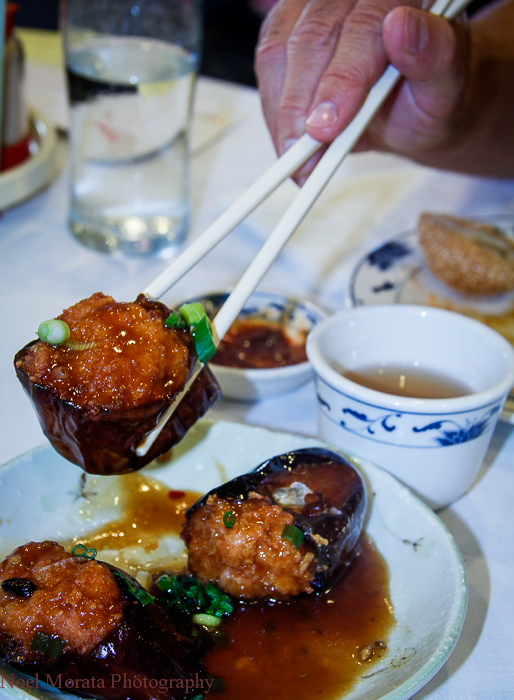 Offering an expansive assortment of goodies, its easy enough to read the menus to look at the many dishes that are hand carried or carted around the dining room. Don't be afraid of asking the server to show you what's inside each hidden bamboo steamer or covered dish. Most menu items descriptions are rudimentary, so just let your eyes and nose do the ordering and you won't be disappointed.  It's fun to try to remember the Chinese pronunciations to the popular dim sum dishes like har gau (steamed shrimp dumpling), shiu mai (steamed pork and shrimp dumpling), and chao siu bao (steamed barbecue pork bun). Hopefully, you can start to develop your dim sum vocabulary fast, at least with the dishes you enjoy ordering regularly.
These small dishes are served and shared family style, so make sure you do order enough for everyone at the table to taste each dish. Take your time in pacing and ordering the dim sum dishes in small batches so you can enjoy slowly, enjoy good conversations with friends,  and check out all the new dishes being carted out one by one and pick the one's that look the most appealing.
Table service starts with a fresh hot pot of tea, let it steep for awhile before pouring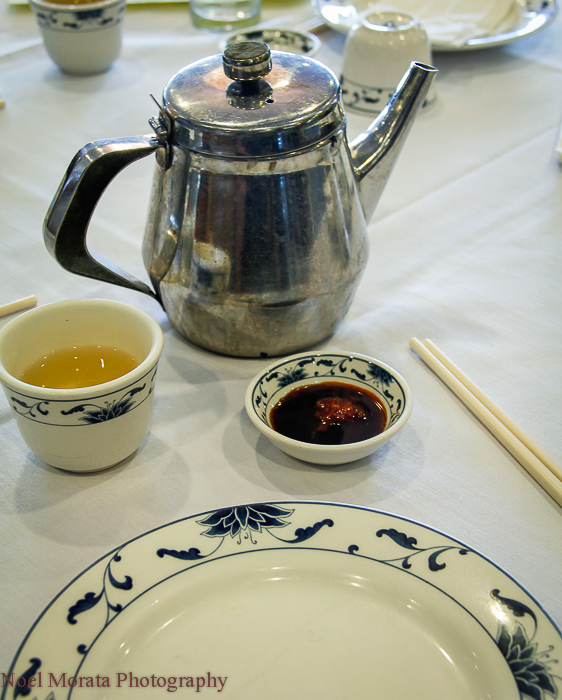 It's easy to enjoy the dim sum meal with a nice pot of Jasmine or Oolong tea which is the traditional drink served to compliment many of the greasy, fried and saucy dishes.  Make sure to let the tea seep long enough before serving and in Chinese tradition, always serve others first and then yourself last. When the pot is empty, make sure to leave the cover ajar and open so that the server will know to bring in a new pot of tea. Tea has a way of cleaning the palate and creating a nice balance with all the different dishes and help with the digestion of these varied dishes.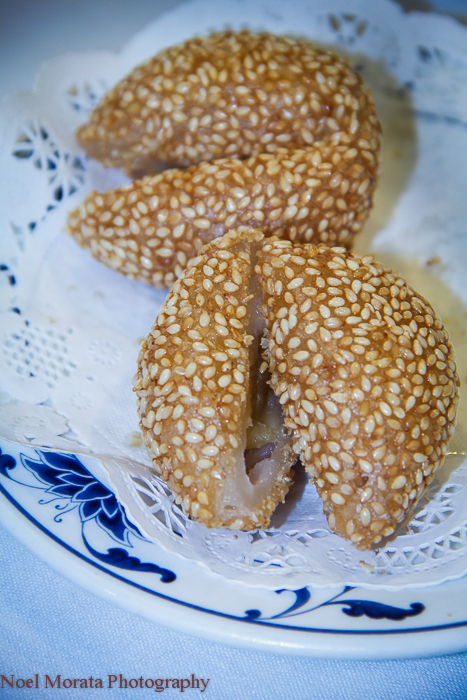 Make sure to save some room for some of the tasty dim sum desserts offered. Most chinese desserts offered are more textural, creamy or fruity in composition like daan tat (yellow egg custard cakes), mango pudding or sweet sesame fried bean cake.
Somehow, it always works out and everyone finds just the right amount of dim sum to order and be completely satisfied. Trying the many savory,  fried, soft dumpling,  and sweet flavors add up to a pleasant and enjoyable morning with friends.  And maybe, there just might be a few leftover dim sum you can take back home for a late afternoon snack.
Last thing to keep in mind is to leave a tip with the food servers and waiters separately from the bill. If you do charge your meal, you can include the tip in your bill. Tipping varies based on service and is typically 10-15 percent of the overall total on an average, more if the service was exceptional.
If you like this post on A dim sum gathering and guide, please 'Like' my page on the sidebar for more photo's, tips and additional thoughts I have to share.