Captivated by History and Charm: A First Impression of Athens, Greece and attractions (updated 2023)
Exploring around the vibrant city of Athens, Greece, I was immediately captivated by its unique blend of history, culture, and modernity. From the moment I arrived, Athens greeted me with a lively energy and an air of ancient mystique. The juxtaposition of ancient ruins against a backdrop of bustling streets and contemporary architecture was a sight to behold. As I embarked on my exploration of this legendary city, my first impression of Athens was one of awe and wonder, as I found myself immersed in a world where the past and present seamlessly intertwined, creating an enchanting tapestry of experiences.
Athens, is such an amazing place to visit and filled with so much history, architecture, amazing food and exciting, youthful areas that are popular in spite of the economic downturn in the country. I really enjoyed that  the city is relatively compact within the historic districts and most of the main attractions, squares and places of interest are centered within the historic district. It's amazing to explore the ancient city of Athens and all the Glories of Greece in this magnificent city.
Weather and best time to visit Athens
Athens, the capital city of Greece, experiences a Mediterranean climate with hot, dry summers and mild, wet winters. The best time to visit Athens depends on your personal preferences and the type of activities you plan to engage in during your trip.
Summer (June to August) in Athens is characterized by high temperatures, often exceeding 30°C (86°F), and minimal rainfall. The city can be quite crowded during this time, as it is a popular tourist destination. If you enjoy warm weather, vibrant atmosphere, and outdoor activities, summer can be a great time to visit Athens. However, be prepared for the heat and consider staying hydrated and seeking shade during the hottest parts of the day.
Spring (April to May) and autumn (September to October) are considered the shoulder seasons in Athens. During these months, the weather is generally pleasant, with temperatures ranging from 15°C to 25°C (59°F to 77°F). The crowds are smaller compared to summer, and you can enjoy milder temperatures while exploring the city's historical sites and landmarks. Springtime brings beautiful blooming flowers and greenery, enhancing the aesthetic appeal of Athens.
Winter (December to February) in Athens is relatively mild compared to other European cities, but it can still be chilly, especially in the evenings. Daytime temperatures typically range from 10°C to 15°C (50°F to 59°F). While winters in Athens might not be ideal for sunbathing or swimming, they offer the advantage of fewer tourists and lower accommodation prices. If you're interested in indoor activities, visiting museums, and exploring historical sites without the crowds, winter can be a suitable time for your visit.
Depending on how many days in Athens, Greece you want to spend, picking a perfect time really depends on your decision on when to visiting and finding the ideal budget and timeframe that works best for you.
I would recommend a minimum of three days in Athens to visit the historic sites, visit the cool neighborhoods and explore some of the outlying areas around the city for a good experience around the city.
Here are highlights of a first impression of Athens, Greece 
I love walking down the many squares, narrow streets and busy avenues of Athens – it's so alive and filled with energy. One minute you are walking down an ancient ruin, thousands of years old and adjacent is a trendy area filled with restaurants and live performances that are free to enjoy. There's so much variety of places to explore old or new, Athens street art mixed in with trendy neighborhoods next to ancient sites, enjoying the squares and Greek Coffee culture….or perhaps just a nice walk along an area that has antique markets mixed in with many cafes and pastry shops makes for a nice break during one of those walks around the city. To get my bearings around Athens and what to do, I loved referring to this infographic shortcut travel guide to Athens.
Walking around Athen's neighborhoods are easy and fun 
There are so many interesting neighborhoods to visit and experience in the city, many of them in the historic district and very close to many of the national monuments of the city including the Plaka and Monastiraki districts that are shown on this post.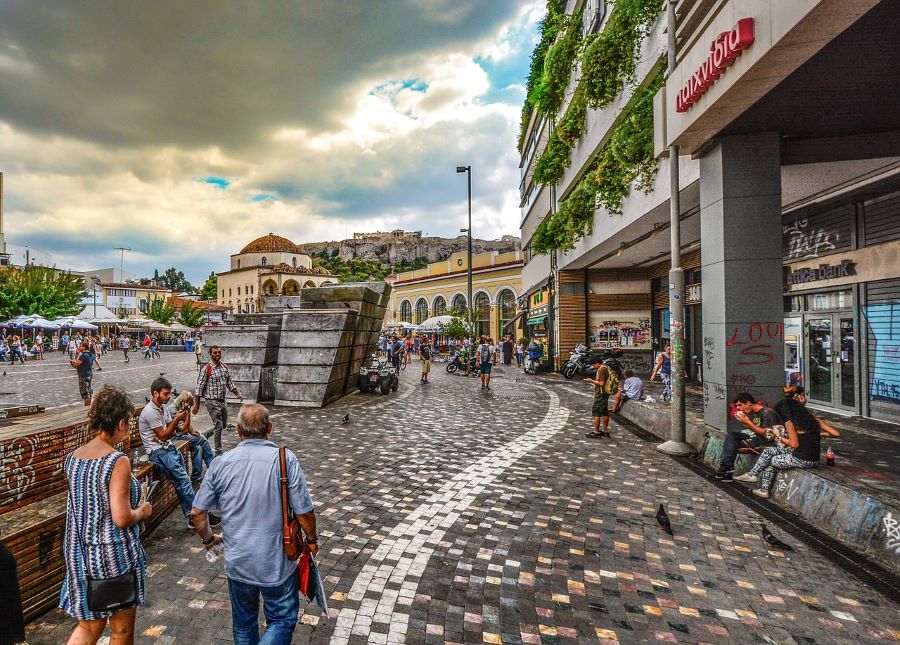 Explore the Monastiraki district
The Monastiraki district, nestled in the heart of Athens, Greece, is a vibrant and bustling neighborhood that captivates visitors with its lively atmosphere, historical charm, and a kaleidoscope of sights, sounds, and flavors. Here's a description of the Monastiraki district:
Located at the foot of the Acropolis, Monastiraki is a melting pot of ancient history and modern energy. As you step into the district, you're greeted by a maze of narrow streets, lined with a mix of neoclassical buildings, vibrant graffiti, and an eclectic array of shops, restaurants, and cafes.
At the heart of Monastiraki lies Monastiraki Square, a bustling hub where locals and visitors converge. The square is dominated by the Mosque of Tzistarakis, an impressive Ottoman-era structure that stands as a reminder of the district's multicultural past. Cafes spill onto the square, offering the perfect spot to relax, people-watch, and soak in the vibrant atmosphere.
Enjoy the Plaka district
Descending from the Acropolis, you enter the Plaka neighborhood, a labyrinthine area with narrow streets and neoclassical houses. Here, time seems to stand still as you meander through charming alleys adorned with colorful bougainvillea, stumbling upon quaint cafes, traditional tavernas, and inviting shops selling souvenirs and local crafts.
A beautiful and quiet area in the busy Plaka district in Athens
Places to eat in Athens neighborhoods
The Plaka and Monastiraki districts in Athens, Greece, are vibrant neighborhoods known for their historical charm and lively atmosphere. Here are some places to eat in these districts where you can indulge in delicious Greek cuisine:
Taverna Platanos (Plaka): Located in the heart of Plaka, Taverna Platanos offers an authentic Greek dining experience. With its traditional décor and warm ambiance, this taverna serves a variety of Greek dishes, including moussaka, souvlaki, and fresh seafood. Don't miss the opportunity to savor their delicious Greek salads and enjoy the friendly service.
Kuzina (Monastiraki): Situated in Monastiraki Square, Kuzina is a popular restaurant that combines modern aesthetics with traditional flavors. Their menu features creative interpretations of Greek classics, using fresh and seasonal ingredients. From their flavorful mezes to their delectable main courses, Kuzina offers a unique culinary experience with a stunning view of the Acropolis.
Ta Karamanlidika Tou Fani (Plaka): For a taste of Greek charcuterie and traditional delicacies, head to Ta Karamanlidika Tou Fani. This hidden gem in Plaka is both a deli and a taverna, offering a range of cured meats, cheeses, and other artisanal products. You can enjoy a selection of mezes, accompanied by a glass of wine, and take home some gourmet treats from their shop.
Avocado (Monastiraki): If you're looking for a vegetarian or vegan-friendly option, Avocado is a fantastic choice. This cozy restaurant in Monastiraki specializes in plant-based cuisine and offers a diverse menu with creative dishes made from organic, locally sourced ingredients. From hearty salads to vegan burgers and delicious smoothies, Avocado caters to those seeking healthy and flavorful options.
Dioskouroi (Plaka): Nestled in a picturesque alley of Plaka, Dioskouroi is a charming family-run taverna that has been serving traditional Greek cuisine for decades. The menu features classic Greek dishes prepared with care and using quality ingredients. Enjoy the warm and welcoming atmosphere while savoring dishes such as grilled meats, homemade moussaka, and rich Greek desserts.
Oineas (Monastiraki): For a taste of Greek wine and a delightful dining experience, visit Oineas. This wine bar and restaurant in Monastiraki offers an extensive selection of Greek wines, accompanied by a menu of Greek dishes with a modern twist. Whether you're a wine enthusiast or simply looking for a cozy place to enjoy a meal, Oineas is a fantastic choice.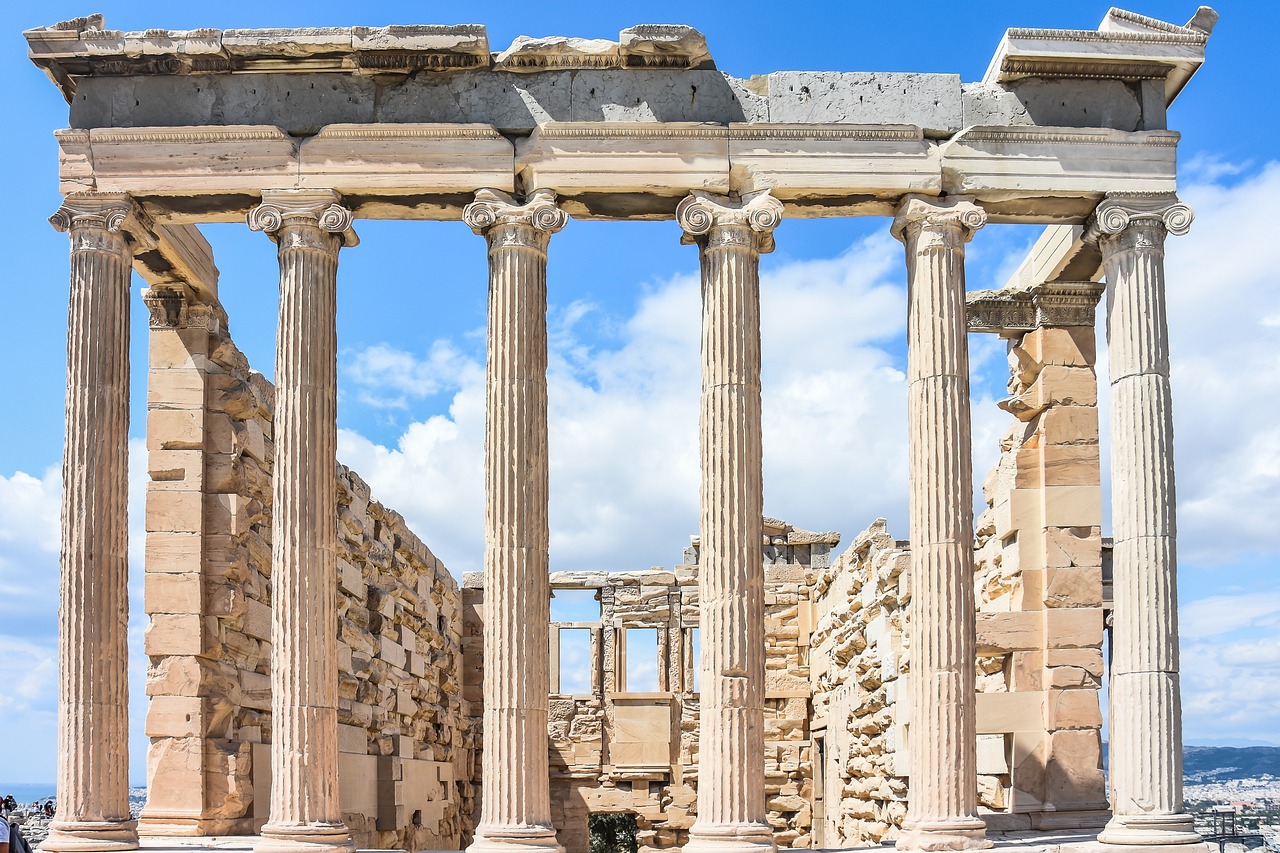 Visiting Ancient wonders and Monuments of Athens
Starting at the iconic Acropolis, the heart of ancient Athens, your walk through the historic district begins with a sense of awe. Ascending the rocky hill, you'll marvel at the majestic Parthenon, standing proudly as a symbol of classical Greek architecture. From this vantage point, the cityscape unfolds before your eyes, revealing a panorama of historic sites waiting to be explored.
Explore the ancient Acropolis area
Just above this quiet area of Anafiotika in the Plaka sits the majestic Acropolis – the main landmark of Athens.  This whole area has also been in constant flux and improvement with a stunning Acropolis museum along with retrofitting and upgrading the Unesco site above.  Later in the day is a great way to avoid the crows and enjoy the late after light and into the sunset time frame which is quite spectacular from above and looking down into the city. The Plaka has lots of cool bars, restaurants, galleries and fun shops to buy souvenirs if you are looking for things to buy in Greece.
Exploring the Parthenon
Visiting the Parthenon in Athens is a truly awe-inspiring experience. This iconic ancient temple, situated atop the Acropolis, is a masterpiece of classical architecture and a symbol of Western civilization.
Approaching the Parthenon, you'll be struck by its grandeur and the sheer scale of its marble columns. As you ascend the hill, the temple's stunning facade comes into full view, showcasing the meticulous craftsmanship and harmonious design of the ancient Greeks.
It's worth noting that ongoing restoration and conservation work may be taking place at the Parthenon and areas may be limited to visiting at certain times. This ensures the preservation of this magnificent monument for future generations.
Witness the famous Erecteion
The famous balcony of the Erechteion with the graceful Caryatids (maiden statues) which are actually copies, the originals placed in the new Acropolis Museum just located below the Acropolis and have been painstakingly cleaned and placed in a prominent spot in the museum so you can see them very close. Visiting the Acropolis is definitely what Greece is famous for its iconic temple located on a prominent bluff overlooking all of Athens along with other significant landmarks in this impressive site.
There are exceptional views of the entire city and many of the ancient landmarks around the Acropolis, it seems like everywhere that you turn, there is something even more magnificent to discover and enjoy including the Roman Odeion theater of Herodes Atticus next to the Acropolis.
Check out the ancient Roman Odeion of Herodes Atticus
The Roman Odeion of Herodes Atticus, or Herodion, is an ancient amphitheater located on the slopes of the Acropolis in Athens. Built in the 2nd century AD, it is a remarkable example of Roman architecture. Today, it hosts concerts and cultural events, showcasing its impressive stone structure and exceptional acoustics. The Odeion offers a captivating setting to appreciate the fusion of Roman and Greek influences in Athens' cultural heritage.
Details to visiting the Arcropolis
Hours of Operation: The Acropolis site has varying hours depending on the season. The general opening hours are as follows:
Summer Season (April 1 to October 31): Monday to Sunday: 8:00 AM to 8:00 PM
Winter Season (November 1 to March 31): Monday to Sunday: 8:30 AM to 5:00 PM
Admission: The admission fees to the Acropolis site are as follows:
General Admission: €20 per person
Reduced Admission: €10 per person (applicable to students from non-EU countries with a valid student ID)
Free Admission: Children under 18 years old, students from EU countries with a valid student ID, individuals with disabilities, and their escorts.
Website: The official website of the Acropolis in Athens, Greece, is www.theacropolis.gr.
Tip – the Acropolis ticket includes entrance to other archaeological sites in Athens, such as the Ancient Agora, Roman Agora, and Hadrian's Library, among others.
Visit to the Acropolis Museum
Visiting the Acropolis Museum is an enriching and immersive experience that offers a deep dive into the ancient history and artistry of Athens. Here are some interesting details to enhance your visit to the Acropolis Museum:
Architectural Marvel: The Acropolis Museum itself is a modern architectural masterpiece, designed by renowned architect Bernard Tschumi in collaboration with the Greek architect Michalis Photiadis. The building's sleek and contemporary design harmoniously blends with the surrounding historic environment, providing a stunning backdrop for the ancient artifacts housed within.
Panoramic Views: The museum boasts expansive windows and open-air terraces that offer breathtaking views of the Acropolis and its iconic monuments. As you explore the galleries, take a moment to step out onto the terraces and soak in the panoramic vistas of the Parthenon, Erechtheion, and other majestic structures atop the Acropolis hill.
Ancient Artefacts: The museum showcases a remarkable collection of ancient artifacts, primarily from the Acropolis site itself. From intricately carved marble statues and reliefs to exquisite pottery and jewelry, each exhibit tells a story of ancient Greek civilization, offering a glimpse into the artistic and cultural achievements of the past.
Parthenon Gallery: One of the museum's highlights is the Parthenon Gallery, dedicated to the iconic Parthenon frieze. The gallery provides a unique opportunity to view the original frieze and experience it in a three-dimensional representation, offering insights into the Parthenon's architectural and artistic significance.
Glass Floor Exhibits: As you navigate through the museum, keep an eye out for the glass floors that reveal the archaeological remains of an ancient Athenian neighborhood. This innovative design allows you to walk over the excavations and gain a tangible connection to the ancient city beneath your feet.
Multimedia Presentations: The Acropolis Museum incorporates multimedia elements to enhance the visitor experience. Interactive displays, videos, and virtual reconstructions help bring the ancient artifacts to life, providing a deeper understanding of their historical and cultural contexts.
The Caryatids: One of the museum's most iconic exhibits is the collection of Caryatids, the female sculptural figures that once supported the Erechtheion temple on the Acropolis. Marvel at these magnificent statues, each with its own unique pose and attire, and appreciate their significance in ancient Greek architecture.
Temporary Exhibitions: The Acropolis Museum frequently hosts temporary exhibitions that delve deeper into specific aspects of ancient Greek history and culture. Check the museum's schedule to see if any special exhibitions align with your visit, as they often provide an opportunity to explore lesser-known facets of the ancient world.
Educational Programs: The museum offers educational programs, guided tours, and workshops for visitors of all ages. Take advantage of these opportunities to gain further insights and engage in hands-on activities that deepen your appreciation for ancient Greek civilization.
The artifacts and interior of the Acropolis museum are a must visit attraction
Details to visiting the Acropolis Museum
Hours of Operation: The museum operates throughout the year, except on certain public holidays. The general opening hours are as follows:
Summer Season (April 1 to October 31): Monday: 8:00 AM to 4:00 PM Tuesday to Sunday: 8:00 AM to 8:00 PM
Winter Season (November 1 to March 31): Monday: 9:00 AM to 5:00 PM Tuesday to Sunday: 9:00 AM to 5:00 PM
Admission: The admission fees to the Acropolis Museum are as follows:
General Admission: €10 per person
Reduced Admission: €5 per person (applicable to visitors from non-EU countries between November 1 and March 31)
Free Admission: Children under 18 years old, students from EU countries with a valid student ID, individuals with disabilities and their escorts, members of the International Council of Museums (ICOM), and certified tour guides.
The official website of the Acropolis Museum is www.theacropolismuseum.gr.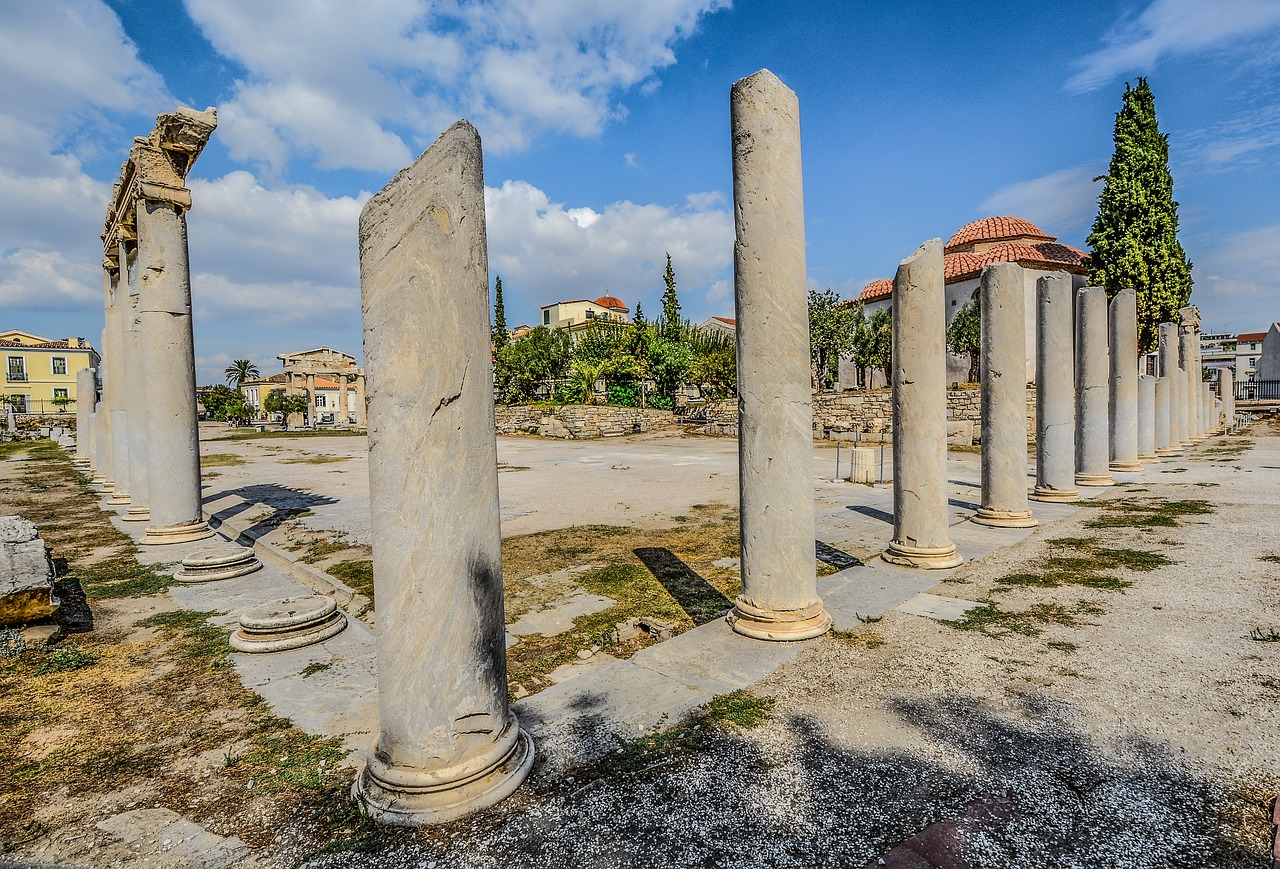 Visit the ancient Agora of Athens
The Agora of Athens holds great historical significance as the heart of ancient Greek civic life. Located northwest of the Acropolis, it served as a bustling marketplace and a central meeting place for social, political, and commercial activities.
In its heyday, the Agora was a thriving hub of daily life, where Athenians gathered to engage in discussions, conduct business, and participate in democratic processes. It was a place where philosophers, statesmen, and ordinary citizens exchanged ideas and debated important matters.
The Agora was home to various structures, including temples, government buildings, stoas (covered walkways), and marketplaces. One of its prominent landmarks was the Temple of Hephaestus, a beautifully preserved Doric temple dedicated to the god of craftsmanship.
Tip – entrance to the Agora is included with your admission to the Acropolis
Check out the views from Lycabettus Hill
There's nothing like capturing magnificent views of Athens then from above especially from Lycabettus Hill. You can catch a metro and do a workout climbing the hill or easily catch an Uber or taxi to get to the top.
There's so much to see and explore in this dynamic city. Even climbing up the hills of the city affords amazing views and panoramas at Lycabettus hill which has such a stunning view overlooking the Acropolis and the entire city from the surrounding hills down to the ocean at Piraeus port.  While your up there, stay for the sunsets, it's worth the climb and the views.
Specialty foods and dishes to try in Athens
Athens, Greece, boasts a rich culinary heritage, offering a variety of specialty foods and dishes that capture the essence of Greek cuisine. Here are some must-try items when in Athens:
Souvlaki:
A quintessential Greek street food, souvlaki consists of skewered and grilled meat (often pork or chicken) wrapped in pita bread with tomatoes, onions, and tzatziki sauce.
Moussaka:
A beloved Greek casserole made with layers of eggplant, minced meat (usually beef or lamb), tomatoes, and béchamel sauce, baked to perfection.
Gyros:
Similar to souvlaki, gyros features slices of seasoned meat (often pork or chicken) served in a pita with vegetables and a generous drizzle of yogurt-based sauce.
Tzatziki:
A refreshing dip made from yogurt, cucumber, garlic, and olive oil, often served as a side or condiment.
Spanakopita:
A savory pastry filled with spinach, feta cheese, onions, and herbs, wrapped in flaky phyllo dough.
Saganaki:
A popular appetizer, saganaki consists of fried cheese, typically served with a squeeze of lemon juice.
Greek Salad:
A classic combination of fresh tomatoes, cucumbers, onions, olives, and feta cheese, drizzled with olive oil and seasoned with oregano.
Dolmades:
Grape leaves stuffed with a flavorful mixture of rice, herbs, and sometimes ground meat, served as appetizers or a main dish.
Koulouri:
A sesame-crusted bread ring, often enjoyed as a quick snack or breakfast item.
Loukoumades:
Irresistible Greek donuts, deep-fried to golden perfection and drizzled with honey or chocolate syrup.
Octopus:
Grilled or stewed octopus is a seafood delicacy in Athens, known for its tender texture and rich flavors.
Greek Coffee:
End your meal with a strong and aromatic cup of traditional Greek coffee, often served with a glass of cold water.
These specialties showcase the diverse flavors of Athens and provide a delightful culinary journey through Greek gastronomy. Be sure to explore local tavernas and restaurants to savor these iconic dishes during your visit.
Sunset approaches on Athens from Lycabettus Hill
Evening view of the Acropolis from Lycabettus hill
How to get around Athens
Getting around Athens is relatively easy, thanks to its well-developed transportation system. Here are the various modes of transportation you can use to navigate the city:
Metro: The Athens Metro is a convenient and efficient way to travel around the city. It connects major neighborhoods and tourist attractions. The metro lines are color-coded, and signs and announcements are available in English. It operates from approximately 5:30 AM to midnight (2:00 AM on Fridays and Saturdays).
Bus: Athens has an extensive bus network that covers the entire city, including the suburbs. Buses are a great option for reaching destinations not served by the metro. They operate from early morning until midnight, with some night buses available. Be sure to check the bus schedules and routes in advance.
Tram: The Athens Tram operates along the coastal areas, connecting the city center with the southern suburbs. It offers scenic views of the coastline and is a pleasant way to reach popular destinations like the beaches of Glyfada and Voula.
Taxis: Taxis are readily available in Athens and can be hailed on the street or found at designated taxi stands. They are a convenient option, especially for shorter distances or when you prefer door-to-door transportation. Make sure the taxi meter is running, and it's advisable to have cash for payment.
Walking: Athens is a city with a rich history and many attractions within walking distance. Exploring on foot allows you to soak in the vibrant atmosphere, discover hidden corners, and experience the local culture up close. Be prepared with comfortable walking shoes and a map or navigation app.
More inside tips and Athens neighborhoods to explore
Exploring Athens beyond the main attractions allows you to discover the city's hidden gems and experience its vibrant local culture. Here are some inside tips to make the most of your visit:
Anafiotika Neighborhood: Tucked beneath the slopes of the Acropolis, the Anafiotika neighborhood offers a tranquil escape from the bustling city. Wander through its narrow, whitewashed streets reminiscent of a Greek island village, and soak in the charming atmosphere. This area is perfect for leisurely strolls and capturing beautiful photos.
Exarcheia District: Known for its alternative and bohemian vibes, Exarcheia is a lively neighborhood filled with street art, independent bookstores, and cozy cafes. Explore its vibrant squares, browse through vinyl record shops, and enjoy the local street food scene. It's also a hub for activism and cultural events, so keep an eye out for art exhibitions, concerts, and gatherings.
Koukaki Neighborhood: Adjacent to the Acropolis, Koukaki is a residential area that has gained popularity for its quaint streets, trendy cafes, and local tavernas. Take a leisurely stroll through its charming squares, such as Koukaki Square or Makrigianni Square, and enjoy the laid-back atmosphere. You'll find excellent eateries and opportunities to mingle with locals.
Plaka's Backstreets: While Plaka is a popular tourist destination, its backstreets offer a more authentic experience. Venture beyond the main pedestrianized streets and discover hidden tavernas, artisan shops, and quiet courtyards. Lose yourself in the labyrinthine alleys, and you'll be rewarded with glimpses of local life and lesser-known historical sites.
National Gardens: Located behind the Greek Parliament building, the National Gardens offer a peaceful retreat in the heart of the city. Escape the urban buzz and stroll through the verdant paths, adorned with statues, ponds, and shaded benches. It's an ideal spot for a picnic or a relaxing break amidst nature.
Mount Lycabettus: For panoramic views of Athens, head to Mount Lycabettus. You can hike to the top or take a funicular railway, and once there, you'll be treated to breathtaking vistas of the city, stretching all the way to the coastline. Sunset is an especially magical time to visit, as the city is bathed in warm hues.
Psyrri Neighborhood: Known for its vibrant nightlife and contemporary art scene, Psyrri is a neighborhood that comes alive after sunset. Explore its narrow streets lined with funky bars, live music venues, and art galleries. Experience the lively ambiance and join the locals for a memorable night out.
Local Food Markets: Immerse yourself in the local food culture by visiting Athens' bustling food markets. The Central Market (Varvakios Agora) offers a sensory experience with its vibrant stalls selling fresh produce, spices, and local delicacies. The Athens Municipal Market (Kotzia Square) and the Monastiraki Flea Market also offer a mix of food, vintage items, and souvenirs.
Byzantine Churches: Athens is home to numerous Byzantine churches, each with its unique history and architectural beauty. Visit churches such as Panagia Kapnikarea, Agios Eleftherios, and Agios Nikodimos, and admire their stunning mosaics, frescoes, and intricate designs. These hidden gems provide a glimpse into the city's rich Byzantine heritage.
Local Experiences: To truly immerse yourself in Athenian culture, consider participating in a cooking class, joining a walking tour led by a local guide, or attending a traditional music and dance performance. These experiences offer a deeper understanding of Greek traditions,
Check out these other posts on Athens & region
A stay at the Royal Olympic Hotel
Final thoughts
There's still so much of Athens to explore and this is just a first impression of my first visit to the city. Even easy access from the airport to the main city center via bus, taxi or metro system and is so well laid out. Stay tuned for more stories about the neighborhoods, food, culture and history of this amazing city in the Aegean capital. If you're exploring outside of Athens, a perfect day trip from Athens is a visit to the Temple of Poseidon in Cape Sounion.
Conclusion on a first impression on visiting Athens
In summary, Athens makes a remarkable first impression with its blend of ancient history and modern vibrancy. From the iconic Acropolis to charming neighborhoods, the city offers a unique mix of past and present. Exploring beyond the main attractions reveals hidden gems and local culture. With a well-connected transportation system, navigating Athens is convenient. The city's warm hospitality and captivating ambiance leave visitors wanting to uncover more of its timeless allure.
Thanks for visiting this first impression of Athens, Greece, hope that you enjoyed the highlight tour of the city.