9 Top Things to do in Mykonos: Visit gorgeous beaches, historic sites and beautiful views (2023)
Mykonos is undoubtedly one of the most popular and much-visited Greek Isles in the Cyclades group of islands. It is also a popular gay friendly island and gay bastian to visiting Greece and caters to this audience base.
Nicknamed as "The Island of the Winds", this beautiful Aegean gem conjures up imagery of paradisiacal beaches, traditional whitewashed architecture, windmills as well as yachts sailing in the Aegean Sea. Mykonos is a fun-loving island offering both partygoers and those in search of some rest and relaxation the perfect escape from where to unwind.
Thanks to its location, Mykonos is also fairly easy to reach by either ferry or by air from Greece's capital Athens, wonderful for those wanting to embark on a Greek Island hopping adventure.
If you too are planning to visit and wondering what to do in Mykonos, then this guide will hopefully provide inspiration. Listed below are 9 top things to do in Mykonos that you should definitely consider adding to your Greek Isles travel itinerary.
Where is Mykonos, located in Greece?
Mykonos is a beautiful Greek island located in the Aegean Sea. It is part of the Cyclades group of islands in the southeastern part of Greece. Known for its stunning beaches, vibrant nightlife, and traditional whitewashed architecture, Mykonos is a popular destination for travelers seeking both relaxation and excitement.
Mykonos is approximately 154 kilometers (96 miles) southeast of Athens, the capital of Greece. Travelers can reach Mykonos from Athens by taking a ferry or a short flight. The ferry journey offers scenic views of the Aegean Sea, while the flight provides a quicker option for reaching the island.
How to get to Mykonos from Athens, Greece
Getting to Mykonos from Athens, Greece is relatively easy and can be done by either ferry or flight:
Ferry from Athens to Mykonos:
– **Port of Departure:** The most common departure point from Athens is the Piraeus Port. There are also ferries from Rafina Port.
– **Ferry Operators:** Several ferry companies operate the Athens to Mykonos route, including Blue Star Ferries, Hellenic Seaways, and SeaJets.
– **Duration:** The ferry journey can take approximately 2.5 to 5 hours, depending on the type of ferry and the route chosen.
– **Ticket Booking:** You can purchase ferry tickets online in advance or at the port. During the high tourist season, it's advisable to book tickets in advance, especially for fast ferries.
Flight from Athens to Mykonos:
– **Airport:** Athens International Airport, also known as Eleftherios Venizelos Airport (ATH).
– **Airlines:** Several airlines offer flights from Athens to Mykonos, including Aegean Airlines, Olympic Air, and Sky Express.
– **Duration:** The flight duration is approximately 30 to 45 minutes.
– **Ticket Booking:** You can book flight tickets online through airline websites or through travel agencies.
High-Speed Ferries:
– If you're looking for a quicker ferry option, consider high-speed ferries. They typically take less time to reach Mykonos but may cost more than regular ferries.
Booking Tips:
– It's advisable to book your transportation tickets in advance, especially during the peak tourist season (summer).
– Check the departure times and availability of ferries or flights that suit your travel schedule.
Once you arrive in Mykonos, you'll find the island's main town, Chora (Mykonos Town), bustling with activity. From there, you can easily access various beaches, explore charming streets, and enjoy the island's vibrant nightlife. Whether you choose to travel by ferry or flight, the journey to Mykonos promises a memorable island experience.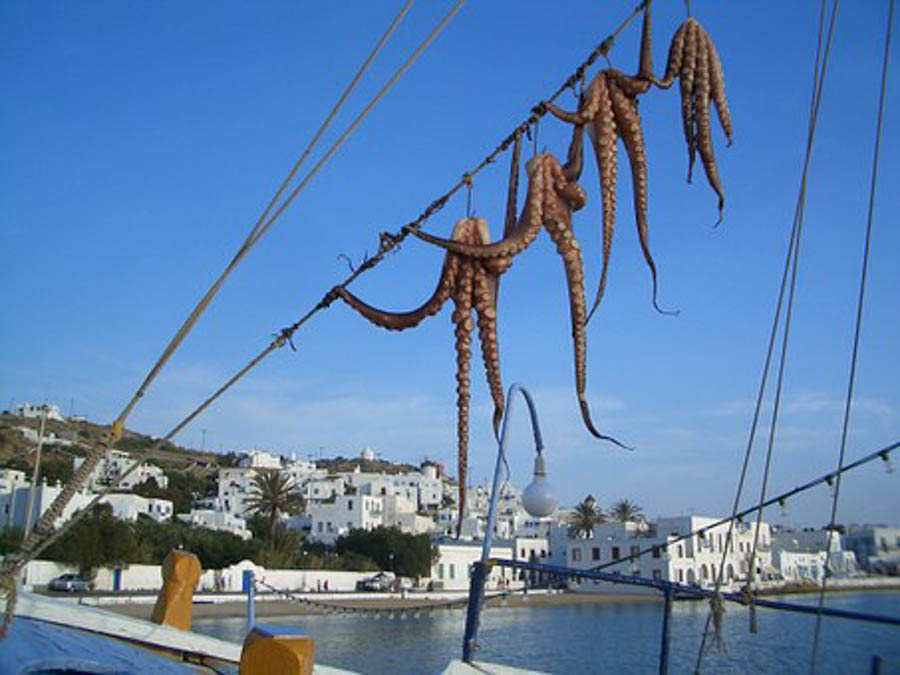 1.   Explore the Mykonos Town
Start your exploration of the island by wandering around in the Mykonos Old Town (also known as the Chora) and explore the hidden walkways and narrow streets that are lined with restaurants, bars, and boutique stores. Definitely one of the most charming areas of Mykonos, where you'll uncover whitewashed houses with colorful wooden doors and balconies and pops of colorful pink bougainvillea. There are beautiful churches and lovely chapels along the way. Later, you can head towards the Old Port of the city to explore the waterfront. The town has preserved its traditional character remarkably well.
The Old town or Chora is a refuge to an international set of visitors coming to explore the island and party at the many venues, bars, clubs and restaurants centered around Chora. Long established as a gay destination for LGBT travelers, the trendy Mykonos allure and trend so much that the local tourism industry focuses on this demographic to cater to a large gay audience.
Mykonos looks blindingly bright by day and alluring by night. Whilst the island is known as a party paradise, it is still worth visiting even if you're not into the party scene. You will love the Rarity Gallery that is acclaimed worldwide for its contemporary artworks, and the Dio Horia gallery, with some interesting exhibitions and pop-up installations. Stop at Katerina's Restaurant to enjoy a magnificent cocktail and Greek and Mediterranean cuisine. Shop for some souvenirs from Greece, such as Mykonos sandals, the famous evil eyes, Mykonian shawls, and more.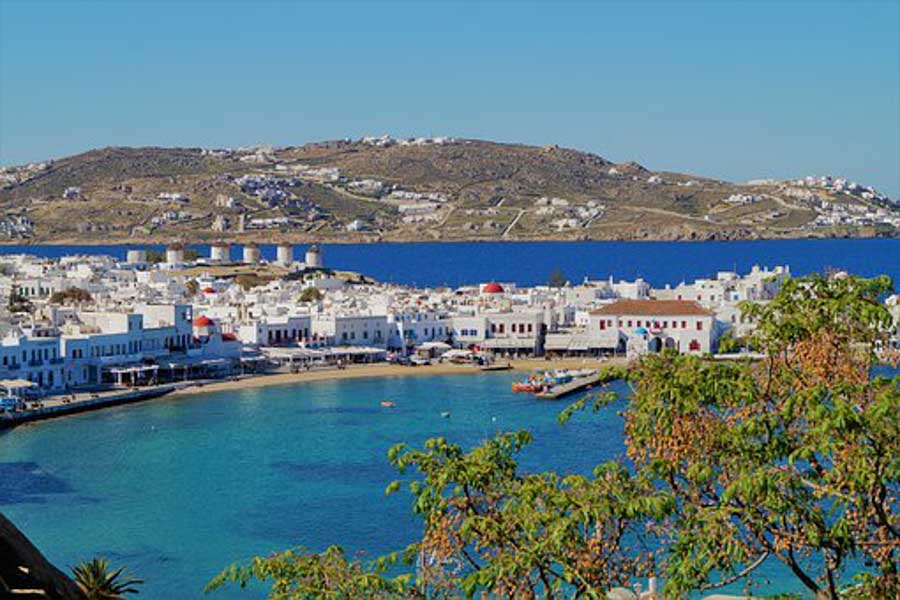 2.   See the windmills of Kato Mili
The windmills of Kato Mili are indeed one of the most well-known landmarks of the island, and probably one of the most photographed sights too, and you simply cannot leave the island without seeing them. The windmills are located right next door to the Old Town and are set in the perfect location from which to admire the sunsets of Mykonos. These 5 wood-and-straw capped windmills facing the ocean, were constructed close to the harbor so that it was easier to carry the mill grain brought in by the ships.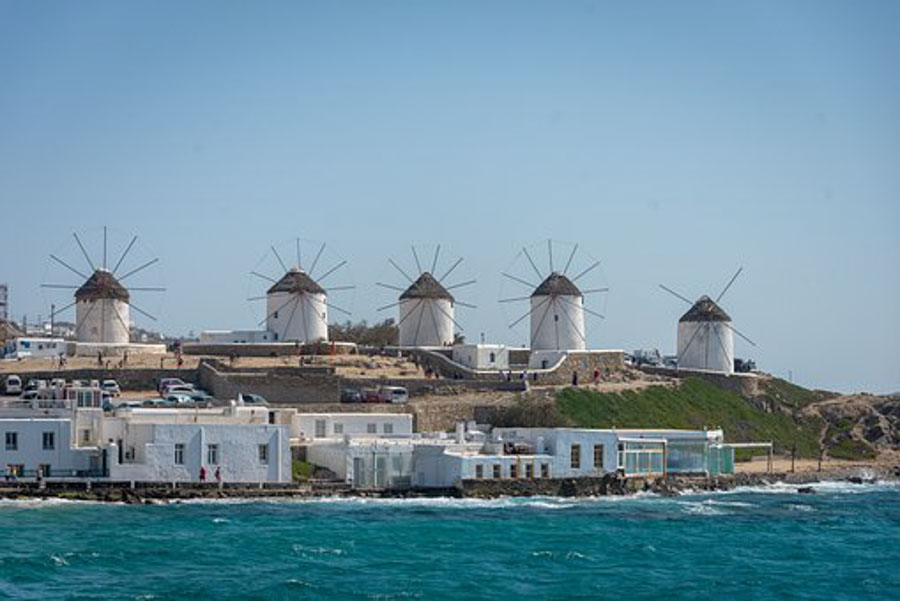 3.   Locate Panagia Paraportiani Church
Panagia Paraportiani Church, which translated means "Our Lady of the Side Gate", is a gorgeous historic church on the island and an important religious site on Mykonos. The fascinating church is located in the Castro neighborhood on the outskirts of the Mykonos Old Town. The complex is actually made up of five different church buildings that were built during the 14th century and built on top of each other. The highest church is dedicated to the Virgin Mary. The whitewashed walls of the church shimmer against the coastline, and the azure sky and its asymmetrical shape and style are quite rare to see.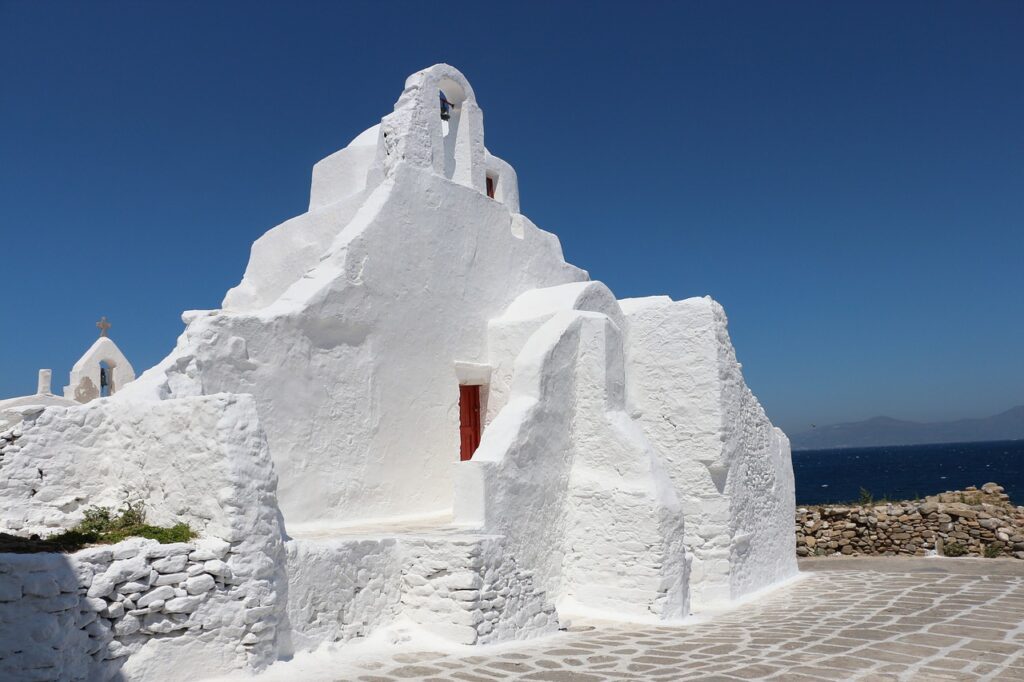 4.   Monastery of Panagia Tourliani
The Monastery of Panagia Tourliani is a short distance away from the Chora and dates back to the 16th century. This monastery complex features The Virgin Mary church, a marble belfry, as well as the monastery cloisters. Check out the beautifully decorated water spout in the courtyard. The monastery is easy to locate with its colored dome and whitewashed exterior. Inside, there are icons of apostles and saints and scenes from the New Testament on the iconostasis, which is decorated with green, red, and golden flowers.
It is considered the prettiest monastery to visit on the island, and one can learn about the history and see the impact of eastern influence on the construction and decoration of the monastery. Look at the rather impressive architecture of the monastery and admire the impressive wooden iconostasis made by the Florentine artists in the 18th century.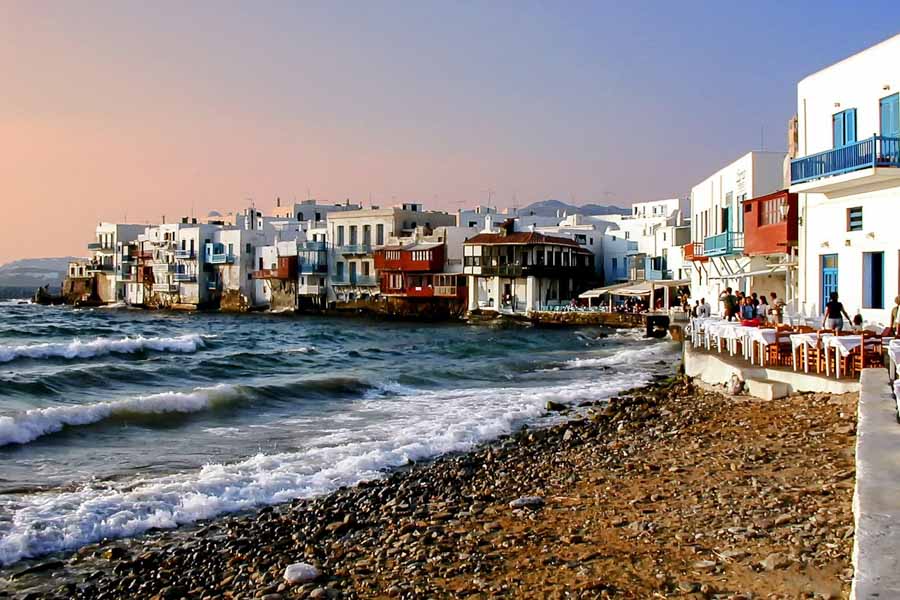 5.   The Little Venice of Mykonos
Mykonos has its very own Little Venice around the western tip of the Old Harbor, where you will find a gorgeous web of car-free alleys laid with the dark marble paving stones. The location gets the nickname because of the waterside lined up with restaurants. The slightly shambling buildings are painted in white and boast colorful window boxes and balconies. Little Venice was made by sea merchants during the 16th and 17th centuries, and today it boasts of the best nightlife on the island.
Little Venice is simply irresistible during the sunset, and one can book a table here for the evening and enjoy a great meal or popular Greek drinks while looking at the windmills catching the last rays. Do make sure to check the tides as the rising water levels and splashing waves may result in some of the outdoor terraces being closed.
6.   Relax on Platys Gialos Beach
Platys Gialos Beach is indeed one of the top places to visit in Mykonos, along with the incredible array of beaches found throughout the island. Located at a short distance from the Mykonos Old Town, the family-friendly beach is surrounded by numerous hotels and restaurants. The beach is located only a short 15-minute bus ride from the Mykonos Chora, making it one of the most accessible beaches to reach.
Platys Gialos Beach is also the main travel hub from where water taxis depart to the other famous beaches of the island, including Paradise, Super Paradise, and Paraga to name a few.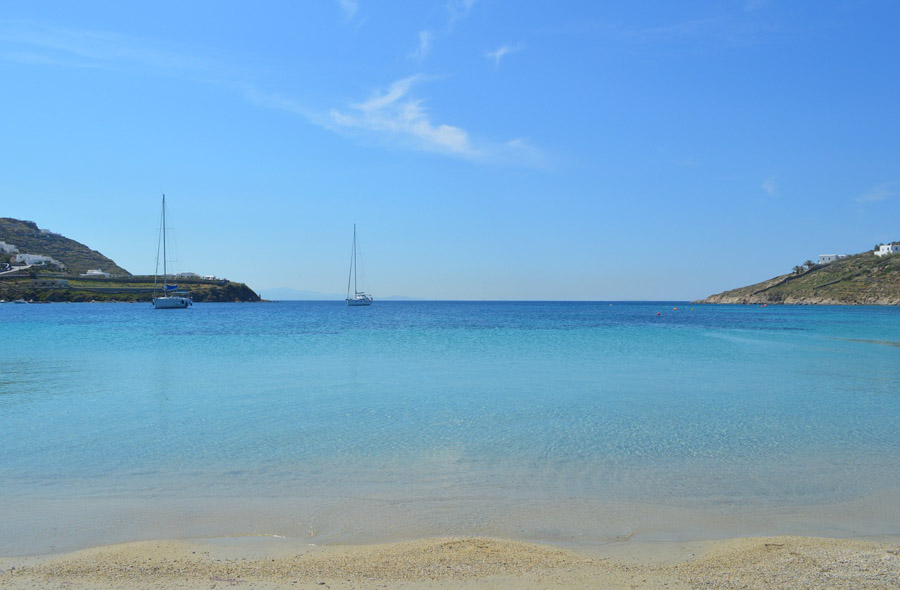 7.   Sail to the Island of Delos
Consider booking a day trip to the amazing little island of Delos, which is much smaller than Mykonos but well worth a visit. It is located a few kilometers from the southwest coast of Mykonos, and according to mythology, Apollo and Artemis were born on the island. The old harbor is considered to be one of the most treasured archaeological sites of Greece.
There's a lot to discover on the island Delos, which is also demarcated as a UNESCO World Heritage site. Explore the Sacred Harbor and do not miss the chance to swim in the crystal-clear waters of the island. Other highlights include the House of Dionysius, Terrace of the Lions, and Cleopatra's House.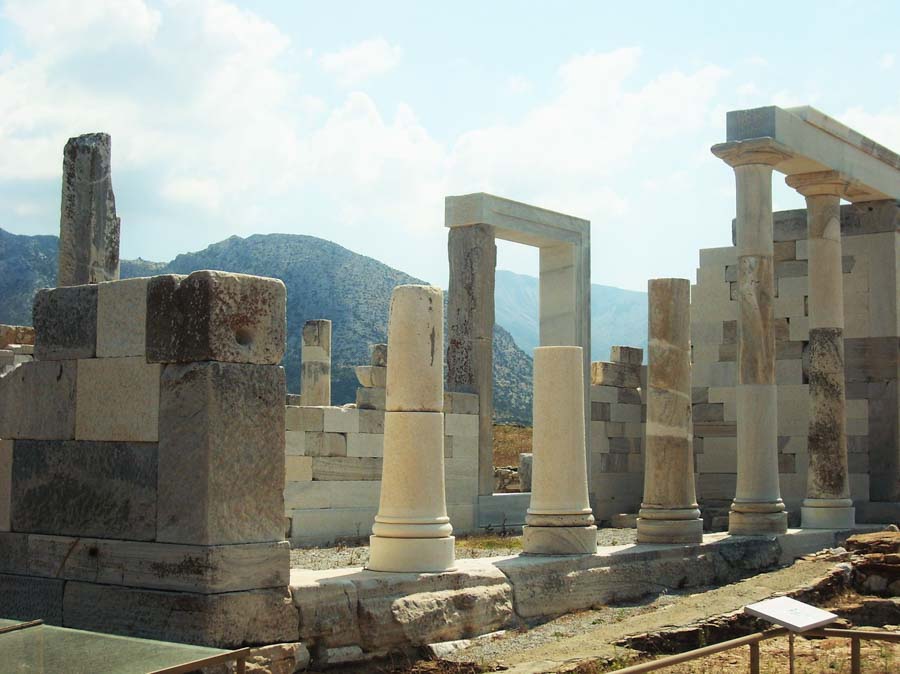 8.   Visit Archaeological Museum of Mykonos
Another must-see spot in Mykonos is the Archaeological Museum that has artifacts from prehistory to the end of the Hellenistic Period of Mykonos and adjacent islands. It is a real must-see for history buffs and boasts columns, vases, vessels, and sculptures dating back hundreds of years. Information boards in Greek and English make it easier for the locals and tourists to follow the instructions.
Although the museum is small, it has an impressive collection. Look at a large collection of ceramics that date back to the 1st century BC and the 7th century BC with reliefs portraying the capture of Troy. There's a remarkably old Cycladic patterned pottery that dates as far back as 2800 BC. Another outstanding piece is the statue of Heracles wielding a club, which is fashioned from the premium Parian marble in the 2nd Century BC.
9.   Kalafatis Beach
Kalafatis Beach is very popular with families with children and is located on the eastern side of the island. It is a less developed beach and away from the more touristy beaches of the island. This lovely beach has plenty of trees for shade, and there is a popular waterfront restaurant on the northern edge of the bay. Apart from taking in the amazing views or swimming in the turquoise waters, Kalafatis also has a watersports center for motorized activities like wakeboarding, jet-skiing, and waterskiing.
It is hard to resist the golden sand and shallow, clear waters and soft breezes. Consider renting a sun-lounger and cabana for the day and spend a couple of hours here simply relaxing and wading in the beautiful Aegean Sea.
Local food specialties and dishes to try in Mykonos
Mykonos offers a delightful array of local food specialties and dishes that capture the essence of Greek cuisine. Here are some must-try items:
**1. Souvlaki:** Grilled skewers of marinated meat, often served in pita bread with toppings like tomatoes, onions, and tzatziki sauce.
**2. Gyros:** Similar to souvlaki but typically made with shaved meat (usually pork or chicken) cooked on a vertical rotisserie. Served in pita with various condiments.
**3. Mykonian Salad:** A fresh salad featuring local ingredients like tomatoes, cucumbers, olives, capers, and Mykonian cheese, all drizzled with olive oil.
**4. Seafood:** Given Mykonos' coastal location, don't miss out on the freshest seafood. Try grilled fish, octopus, or classic dishes like "Psarosoupa" (fish soup).
**5. Louza:** A local cured meat made from pork, seasoned with spices, and air-dried. Served thinly sliced as an appetizer or meze.
**6. Kopanisti:** A spicy, creamy cheese dip made from cow's milk or sheep's milk. Enjoy it spread on bread or as a dip.
**7. Kremmydopita:** A savory onion pie made with caramelized onions, cheese, and pastry. A delicious snack or appetizer.
**8. Baklava:** A sweet pastry made of layers of filo dough, chopped nuts, and sweet syrup. It's a delightful dessert to satisfy your sweet tooth.
**9. Amygdalota:** Almond-based cookies or sweets, often found in various shapes and flavors, such as rosewater or honey.
**10. Local Wines:** Explore Mykonos' wine culture by sampling local wines, including the white variety. Assyrtiko and Malagousia are popular choices.
**11. Ouzo:** A traditional Greek anise-flavored spirit, often enjoyed as an aperitif. It turns cloudy when mixed with water or ice.
**12. Loukoumades:** Small, deep-fried dough balls served with honey and cinnamon, reminiscent of doughnuts.
**13. Greek Coffee:** Savor a cup of strong Greek coffee, often served with a glass of cold water.
**14. Raki or Tsipouro:** A strong alcoholic beverage, typically served as a digestive after a meal.
Exploring Mykonos' culinary scene is a delightful journey through Greek flavors. Whether you're savoring seafood by the sea or enjoying traditional Greek dishes at local tavernas, the island offers a rich tapestry of tastes to satisfy every palate.
More inside tips to visiting Mykonos island
Beyond the main attractions, Mykonos offers hidden gems and unique experiences that will make your visit even more special. Here are some inside tips for exploring the island:
Hidden Beaches:*
While the popular beaches like Paradise and Super Paradise are fantastic, consider exploring quieter, lesser-known beaches like Agios Sostis or Kapari for a more tranquil and secluded sunbathing experience.
Mykonian Villages:
Venture beyond Mykonos Town to explore charming villages like Ano Mera, where you can visit the historic Panagia Tourliani Monastery and enjoy authentic Greek meals in local tavernas.
Windmills at Sunset:
While the iconic windmills of Mykonos are a well-known attraction, visit them in the late afternoon to catch a breathtaking sunset over the Aegean Sea.
Matoyianni Street:
Wander the narrow streets of Mykonos Town and explore Matoyianni Street, famous for its boutique shops, art galleries, and quaint cafes.
Water Sports:
If you're an adventure enthusiast, try water sports like windsurfing, jet-skiing, or scuba diving at less crowded beaches.
Ano Mera Square:
Visit Ano Mera Square for a taste of local life. You'll find traditional bakeries, cafes, and a vibrant atmosphere away from the tourist hotspots.
Island Hopping:
Consider exploring nearby islands like Tinos, Naxos, or Paros for a day trip. They offer their own unique charm and attractions.
Sunset Bars:
Seek out bars with fantastic sunset views, like 180 Sunset Bar in Mykonos Town, where you can sip cocktails while watching the sun dip below the horizon.
Off-Season Visits:
If possible, visit Mykonos during the shoulder seasons (spring and fall) to enjoy milder weather and fewer crowds while still experiencing the island's beauty.
Local Festivals:
Check if there are any local festivals or cultural events happening during your visit. Mykonos often hosts traditional celebrations, like religious festivals or music events.
Island Cuisine:
Venture beyond the tourist areas to dine at local tavernas and try dishes that locals love. You'll discover authentic flavors and a warm welcome.
Beach Clubs:
Experience the vibrant beach club scene during the day. Many beaches transform into lively party spots with music and entertainment.
Mykonos is not just about its famous beaches and nightlife; it's a multifaceted destination with a rich culture and natural beauty waiting to be explored. By embracing these inside tips, you'll uncover the island's hidden treasures and create a truly memorable Mykonos experience.
Check out these other posts to visiting Greece
Twenty pictures of Crete in Greece
Photographs of Meteora, Greece
First impression of Thessalonikik, Greece
First impression of Athens, Greece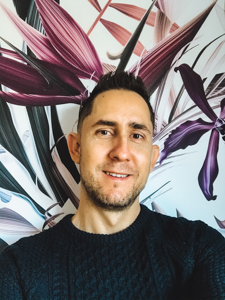 Author Bio:
Born and raised in South Africa, Marco Santos from Travel-Boo, currently resides in sunny Lisbon, Portugal. With an absolute love for Europe, he is on a mission to rediscover his own Portuguese & European heritage along the way. Marco has set out to blog and share his passion for travelling through and exploring Spain, Portugal and other parts of Europe, sharing what he's learned through his travel blog Travel-Boo.
Homepage      https://travel-boo.com/
Social Media Links:
Facebook        https://www.facebook.com/thetravelboo/
Pinterest         https://www.pinterest.pt/marcopsantos/
Twitter             https://twitter.com/Travel_Boo
Instagram       https://www.instagram.com/travel.boo/