An amazing visit to Knossos and exploring this ancient capital city
The Minoans are the earliest advanced civilization known to man and they made Knossos the largest settlement in Crete with a grouping of settlements just outside of the modern capital at Heraklion.  The sprawling palace complex at Knossos is impressive and is associated with the legend of king Minos with it's over 1300 room villa. The word Minoan comes from the mythical 'King Minos' of Knossos who was associated with the Greek Labyrinth and identifies the grounds around Knossos.
Built around 2000 to 1400 BC, the palace complex (anaktora) was known at its time as a luxurious palace and administration center, very advanced during its timeframe. Knossos is the largest of the bronze age archeological sites in Greece with five other administrative palaces scattered around the island. The complex  at Knossos served many purposes outside of just being the official residence of the king, it also had many administrative functions for civic and cultural event, religious services and an economic center to conduct business.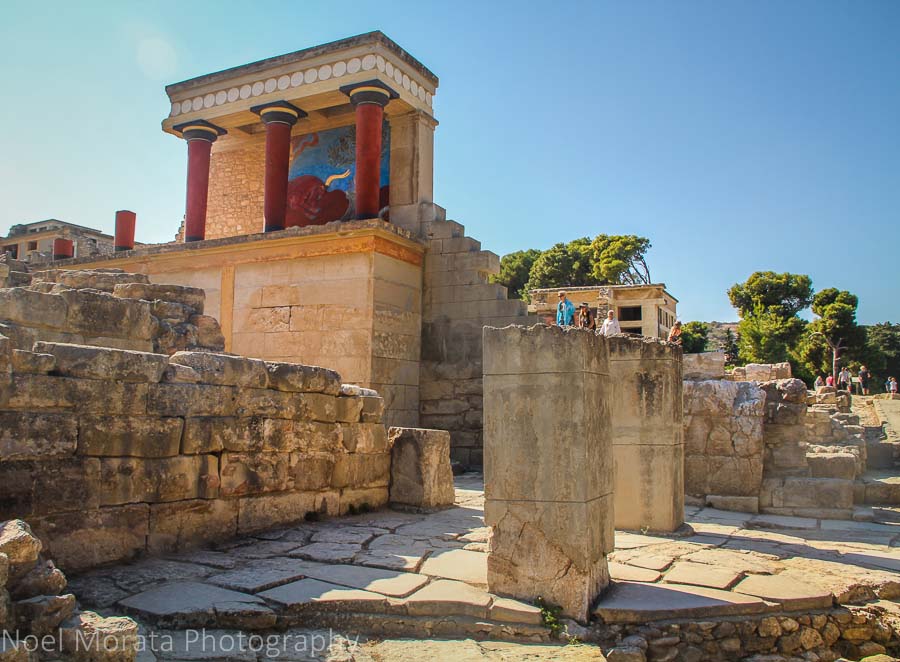 Here is a highlight tour Knossos
Early Minoan civilization
The Minoan civilization flourished around Crete and many of the Aegean around the Cyclades from 2600 to 1400 BC. They were traders exchanging handicrafts, ceramics, raw and precious materials and spices like saffron around the Cycladic islands, with the Egyptians to the south, Mycenae to the north and all the way to Canaan (Israel to the east) and Mesopotamia. Highly prized traded goods included ceramics, fine gold and silver and other luxury goods.
Knossos architecture and art
Minoan art and architecture focused on organic and naturalistic designs. Popular images used in Minoan art incorporated the use of spirals, triangles and circles along with studies of animals, fish, flowers, birds along with strong geometric lines and color blocking details. This is typically clear with the large number of found pottery, archeological ruins and small artifacts that have been uncovered at the main palaces and archealogical sites around Crete. Many of the grand rooms in the palace are supported with thick columns painted in solid black or red. Surprisingly, they are made completely of wood instead of stone. These columns are particular to the Minoan style and not Greek columns which are related more to the Mycenaean style of architecture.
The Throne room at Knossos
The most important room in the palace is the throne room with elaborate red frescos and murals with griffins that flank the main throne, which is a symbol of divinity. The throne room identified below has an alabaster seat thought to be a 'throne' along with a stone basin which might have been used for purification purposes. There is a mystery of the throne due to its  small seat. It is believed to either be made for a female individual like a consort or priestess or it may be reserved primarily as a symbolic seat for a goddess or a priestess that would be present at a function or event.
Reconstructed murals at Knossos
Although the ancient site at Knossos has been not been certified as a Unesco site due to certain restrictions and updates that were done to the site primarily the controversial restoration work of murals which originally were fragments in its original condition. It is still a worthy place to visit and get a better glimpse of Minoan civilization, art and history. There has been restorations made to the site to give a better look at the artwork done on the buildings which give a better representation of the real art made during that timeframe.  Even though the graphic murals are not original to the site, found ceramic designs and images were utilized in to decorate the different walls of the interior and exterior rooms throughout the palace. They create an enhanced room and give a better feel for how a particular room could be decorated during its timeframe. A case in point is this stunning recreation of a mythical creature which seems to be Griffin, which were important mythical creatures in Minoan imagery. The strong bold red color and geometric patterns around this room has been found on many of the wall ruins and replicated completely into this room filled with these creatures.
Other fresco motifs include: people, animals, rocks and vegetation, marine life and other natural scenes from the local environment. The relief below is titled ' Prince of Lilies' and represents a priest king with a crown of peacock feathers and a necklace of lilies leading an unknown animal to be sacrificed.
Many of the Minoan ruins on Crete were abandoned or damaged by invading Mycenaeans in the 15th century and left to natural ruin. The complex at Knossos was left intact for a several hundred years until it was also destroyed but not completely like the other Cretan sites which were destroyed.
 If you go – the details
1. Open hours are 8am to 8pm April/Oct and Nov/May 8am to 5pm
2. Best times to go to avoid the heat and direct sun would be early morning and late afternoon prior to close
3.  Admission: 6 Euros or 10 Euros combined with the Archeological museum
4. Directions:  From Heraklion take the road to Nea Alikarnassos
Where to stay in Crete
There are many coastal communities to stay around the island, but you'll find the majority of inns and hotels around the two larger cities of Chania and Heraklion.
You can also check into Air Bnb accommodations all around the island with both cities central to visiting all the different areas around the island. For reviews and current prices in Chania, Check out these Trip Advisor reviews here for an updated calendar and availability. For Heraklion, check out these reviews here for current availability and prices.
Would you like to visit this historic site at Knossos in Crete?
Does this type of historic site intrigue you to visit? Please share your thoughts in the comments below.
Thanks for checking out this post on a visit to Knossos in Crete. If you enjoyed the post, please share it with any of the social media buttons listed around the post, thank you. Also, please check out my highlight tour of the ancient capital of Chania in Crete. 
If you like what you see, come and check out my other social media channels for more updates, including Instagram, Pinterest and Twitter
Disclosure – There are affiliates links on this posts which provide a small commission to support this site at no extra cost to you. Thank you for reading, and happy travels