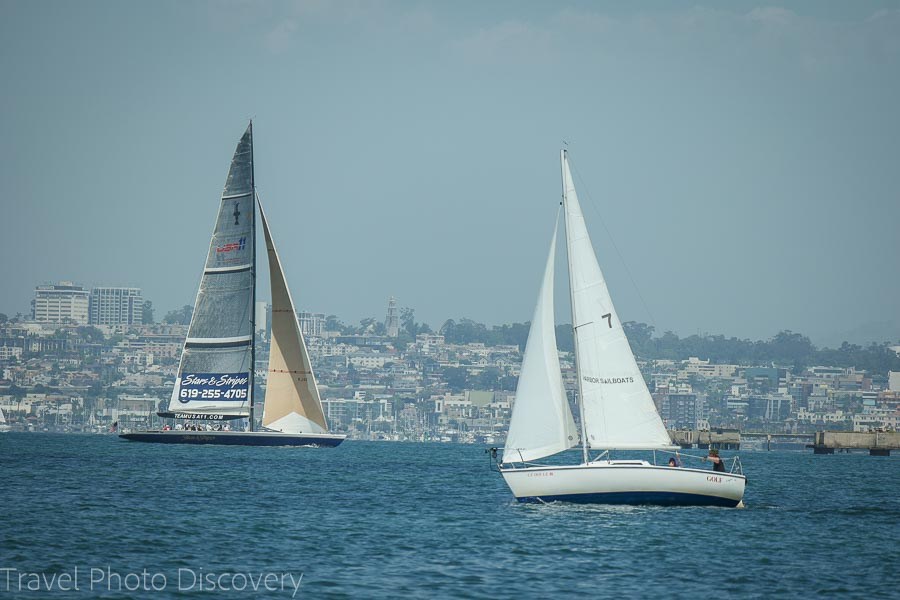 For all of you recreation and adventure junkies who love to add an sports or recreation component to your travels, check out these amazing adventure sports or recreation from top journalist who share their favorite experiences . Each have something special that they would love to share about their not to be missed adventure trip to a destination. It's time to break out and plan some of these thrill seeking adventure experiences around the world.
55 Top adventure destinations around the world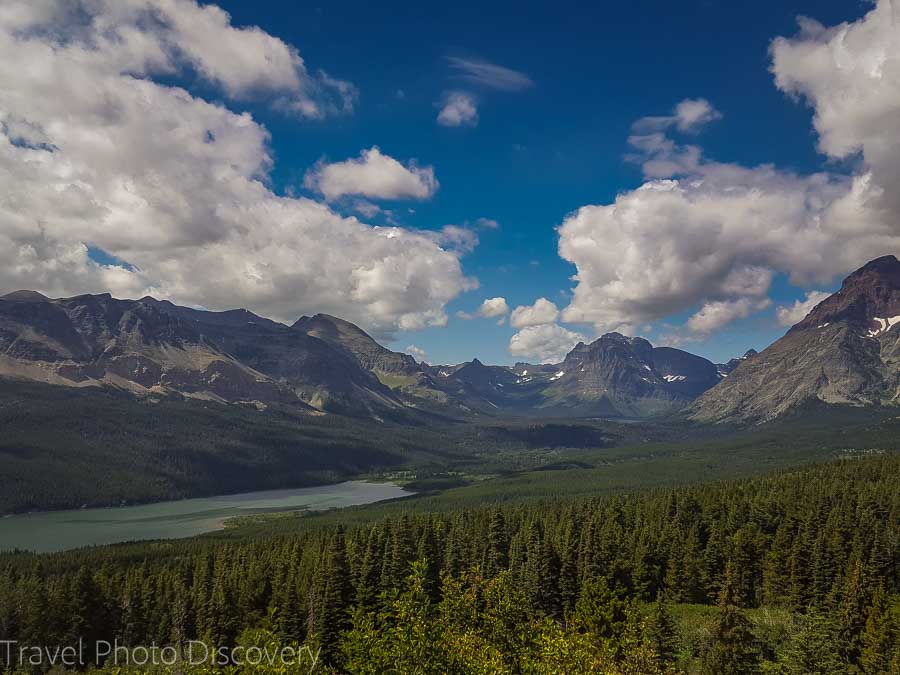 Adventure experiences in the United States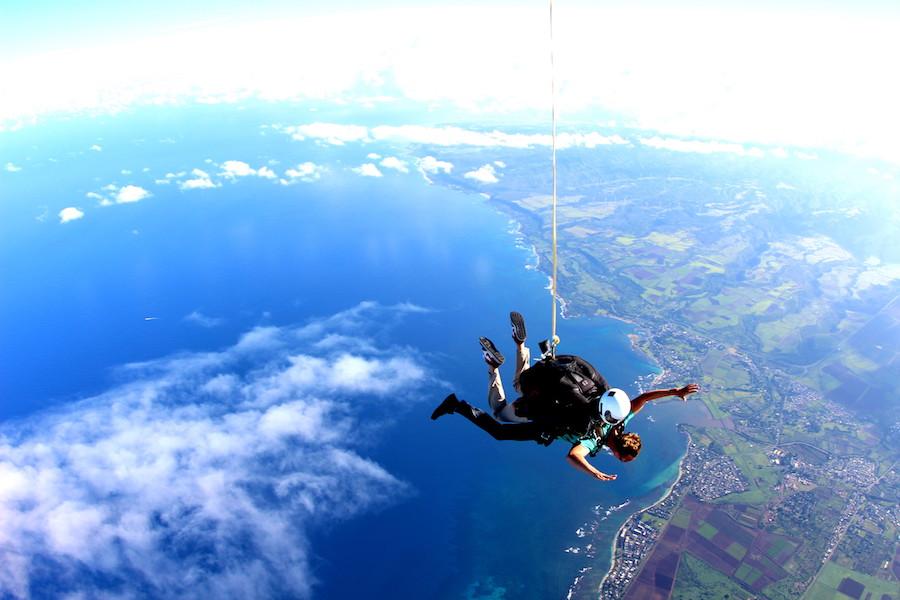 1. Skydiving on Oahu
Patrick with  The German Backpacker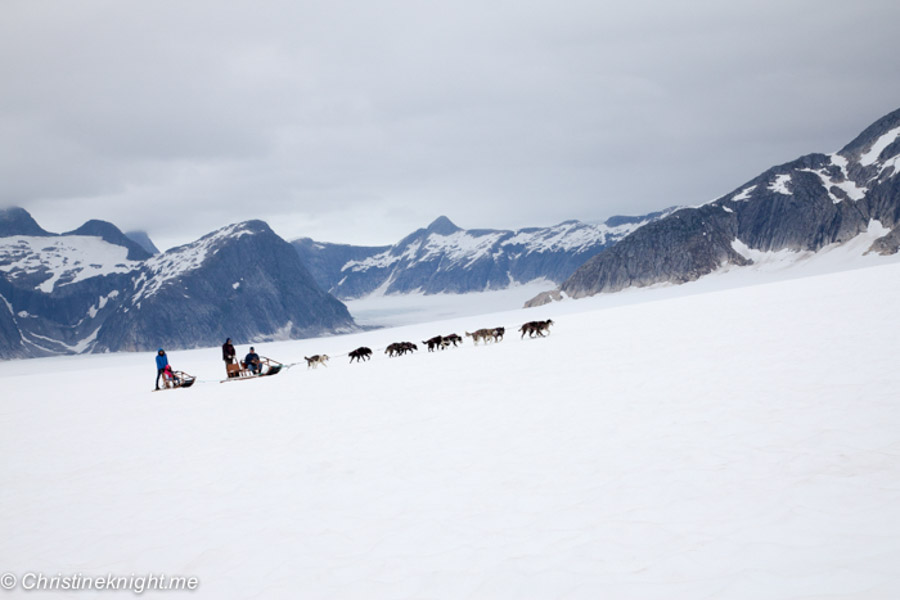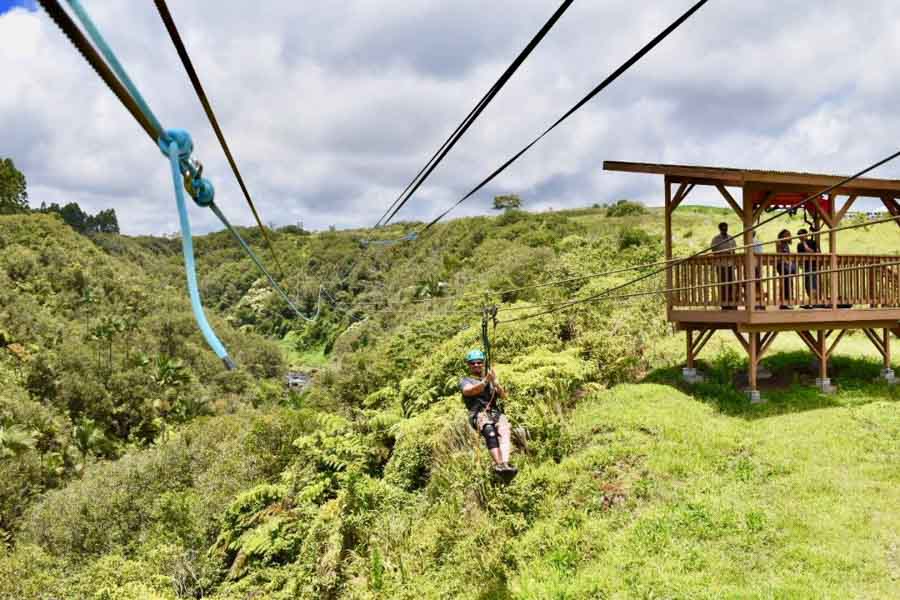 3. Ziplining experience in Hawaii
When we travel we love to go a little out of our comfort zone and try something new.  Hawaii has some great zip lines over waterfalls, so we decided lets head to Hawaii to zip line!  The zip line we chose was on the Big Island of Hawaii near Hilo.  The road up the mountain was through rugged trails and little bumpy, but the views were beautiful.
Once we reached our Zip Line base we were given our gear and instruction on who to fit into the harness.  Next, we were given details on what to expect and safety precautions.  I actually felt pretty confident and not scared.  That is until I had to stand on a box, I have no idea why my legs shook standing on a 2ft box!  But as we were informed, the box saved you from receiving a wedgie.  Camera in hand I waited anxiously for them to say let go.
Wow!  Zooming through the air over the gorgeous waterfalls surrounded in lush green was just amazing!  I loved every moment.  It was exhilarating and peaceful at the same time.  My husband and I both decided that we would continue to zip line whenever we can when we travel.  The views you get are some you would not be able to see unless you zip line them!
Sherri with Travel by A Sherri Affair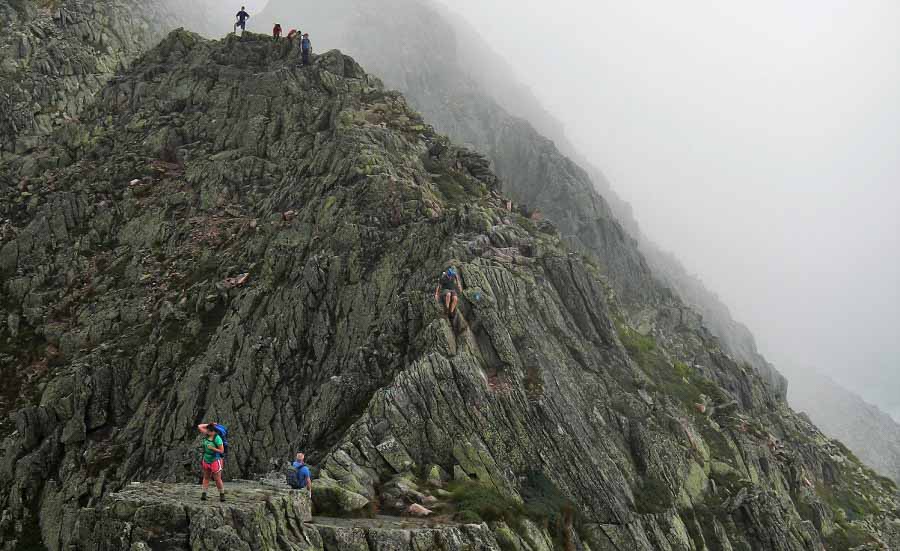 4. Hiking the Knife Edge in Maine
One of the top adventures in New England has to be hiking Knife Edge in Baxter State Park, Maine.  This iconic trail leads to the summit of Mt. Katahdin (terminus for the Appalachian Trail), which is the finishing point for hikers who have made the monumental journey of over 2,200 miles, starting in Georgia.
What Makes Knife Edge So Special?
Although reaching the summit of Mt. Katahdin is amazing, Knife Edge is the real epic adventure.  This awe-inspiring ledge is a rock scramble over 1.1 miles long.  When you first step out of the tree line to see Knife Edge for the first time, there are no words.  It is overwhelming to see and very intimidating to faint of heart with fear of heights (like me).
 Knife Edge is not Just a Name
Knife Edge earns its name from the narrow rocky trail, which at times becomes very intimidating with steep drop offs on both sides of the trail.  This trail is not easy and should only be attempted in optimal weather conditions with the proper hiking equipment.  Injuries from slipping on the rock that becomes very slick when wet is common.  
 Chimney Challenge
Beyond the narrow ledges and slippery rocks, Knife Edge has another challenge to overcome.  The Chimney is steep rock climb down followed by another steep rock climb up.  Be sure to stay focused on the rock in front of you and save your sightseeing for after you get past this part.
 The Reward
For those who choose to meet the Knife Edge challenge, you will be treated to fantastic views.  The adrenaline fueled hike is an amazing accomplishment and surely one to provide fond memories of an epic adventure.
 Check out Frank's post on best hikes in New Hampshire with Nothing but New England

5. Hiking adventures at Zion National Park
Adventure experiences in Canada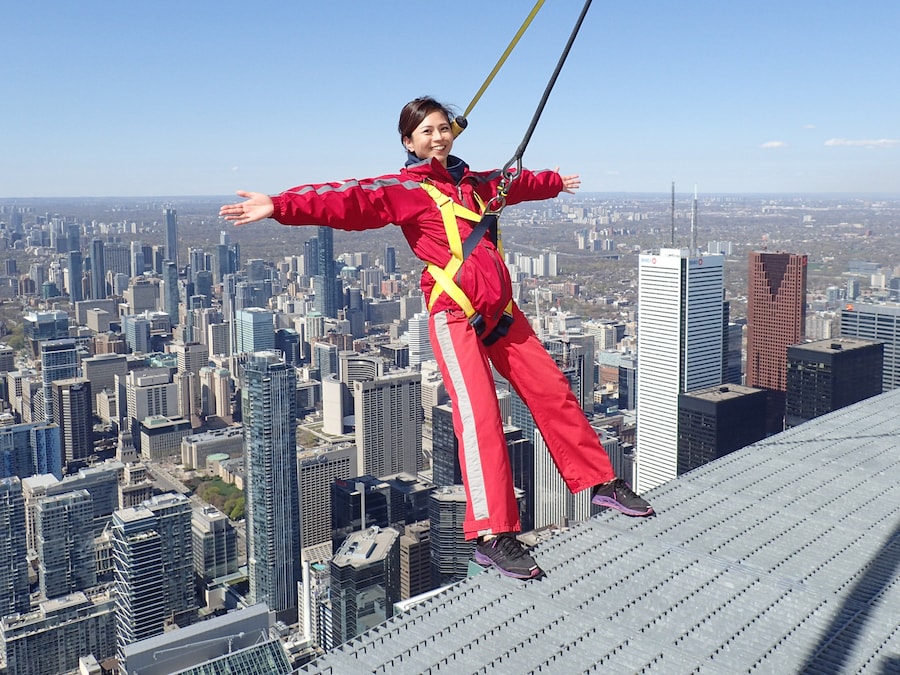 6. Be Fearless and Walk on the Edge of CN Tower
Want to test how brave you are? Try CN Tower EdgeWalk – the World's Highest Outdoor Walk on a Building.
 On top of Canada's most iconic urban structure, thrill seekers are invited to walk around the CN Tower ledge, hands free.  Standing 356m above the ground – at the highest point in the city – the activity promises to set your adrenaline pumping. The best part is seeing the city stretch out in every direction at your feet!
 The activity starts with a safety check at the base camp. A breathalyzer test will be administered, personal articles are stowed away, and harness securely strapped on. Then, a short elevator ride takes you all the way up to where the Edgewalk begins.
The first few steps might seem unreal and scary – don't worry, that's because you're not used to the height yet. With each step you make, you will feel more comfortable with the height. The thrill doesn't stop there though. As you walk around the pod, the guide will challenge you to stick your toes over the edge. If that sounds too easy, try leaning backward with only your feet touching the ledge. That will for sure give you an extra adrenaline boost!
CN Tower EdgeWalk (https://fortwoplz.com/2016/06/09/cn-tower-edgewalk/) is the most memorable and daring way to experience Toronto. Are you ready to test your limits? Sign up for the challenge the next time you visit Toronto!
Cat with ForTwoplz.com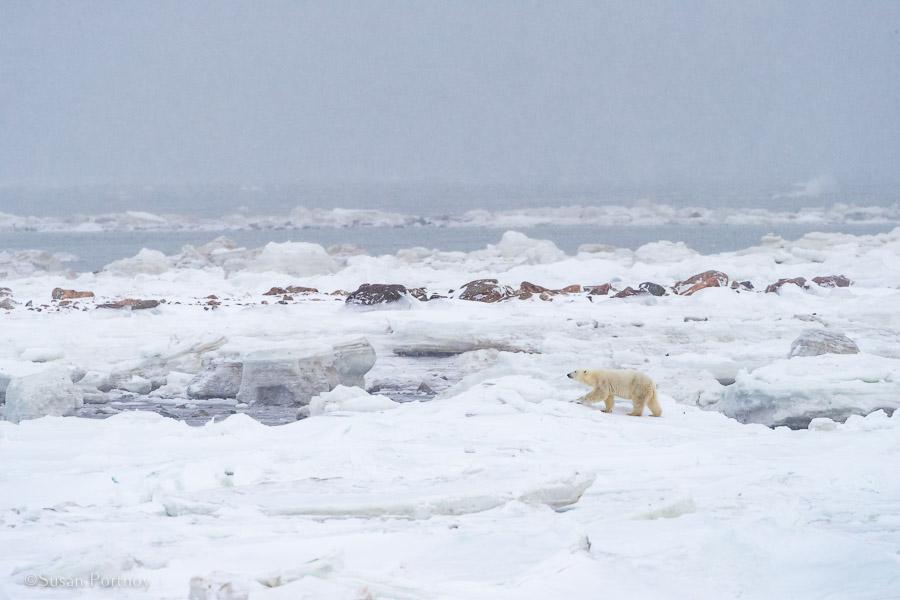 7. A polar bear safari in Manitoba
The first time I saw a polar bear in the wild I was mesmerized. She was resting on a rare patch of flat ice on Hudson Bay, her large clawed paw tucked sweetly under her chin. Surrounding her was an otherworldly landscape of frosty peaks formed by the tide still raging under the lake's frozen surface. She looked more slumbering house cat than a dangerous predator known for being easily annoyed. I was on a very special week-long sojourn with Churchill Wild in northern Manitoba, owner of three lodges along the bears' migration routes. Unlike other tours which relegate travelers to tundra vehicles, Churchill Wild offers the only walking polar bear safaris in Canada. Twice a day, led by experienced guides, I walked two to three miles in search of wildlife in the ice and snow. To my delight, each outing was met with success, not only for the polar bears we saw—one venturing 30 feet from me in an exhilarating encounter—but for the thrill of also photographing the wolves, arctic foxes and hares we found along the way.
Adventure experiences in Oceania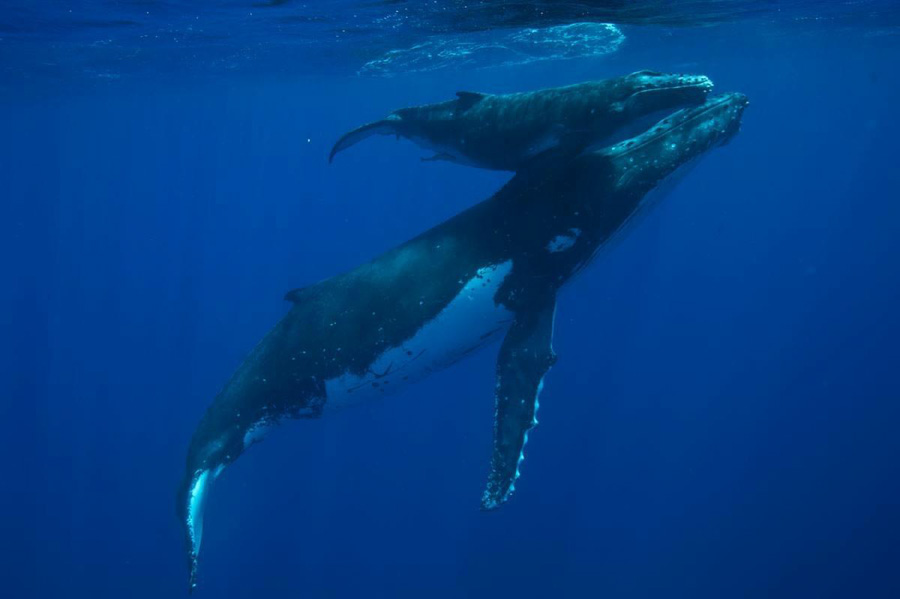 8. Swimming with whales in Tonga
Tonga is one of those places that few people visit or know about but the small Pacific Island has a lot to offer and is one of the few places in the world where it is legal to swim with humpback whales.  That's right, this is not whale watching.  This is getting in the water and swimming with whales that weigh up to 36,000 kgs.
I flew to the small island of Ha'apai to swim with the whales and stayed at a resort where they offered swimming with the whales for $120/day.  I found this to be a great deal as most people head to island of Va'vau to swim with the whales and it is really touristy and you don't spend as much time in the water with the animals.  The boats I went on to swim with the whales were small which was great because you can only have four people in the water at a time.
One of my favourite experiences from the week was a two hour hang with a mother and calf.  The mother was just chilling at the bottom of the sea floor while the calf would come up to the top for a breath and then come check us out before returning back to its mother.  You are in the water thinking the calf is huge and then its been 30 minutes and the mother needs to come up for a breath and then you really see just how big she is compared to the calf.  Definitely a must do experience.
Nicole from Travelgal Nicole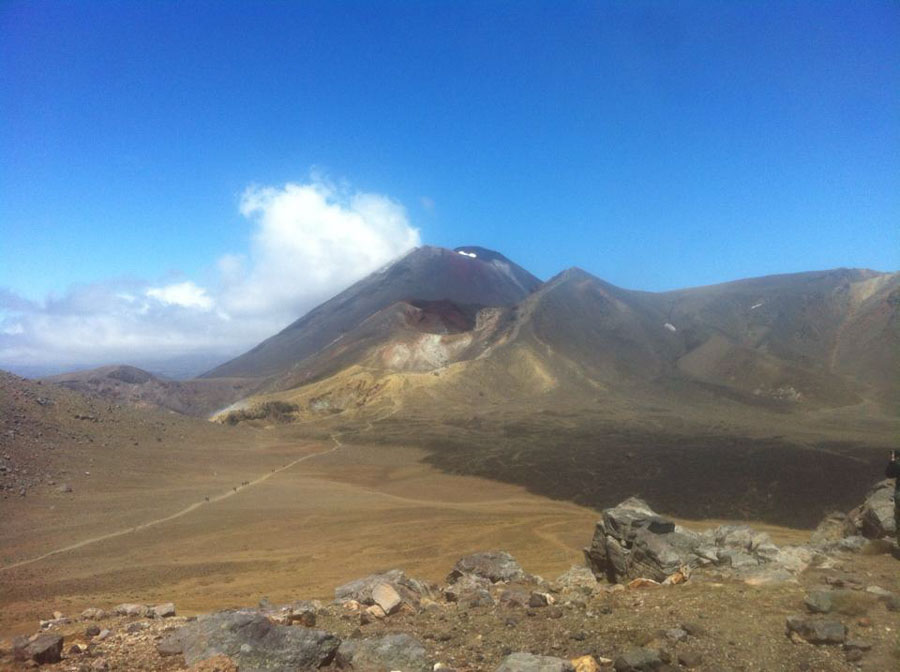 9. Hiking the Tongariro Crossing in New Zealand
Hiking the Tongariro Crossing is one of the best adventure activities you can do in New Zealand. That is saying something, as there are plenty of fantastic activities you can do in New Zealand. The good thing about the Tongariro Crossing is that it appeals to novice and experienced hikers. It's not too difficult to deter those unfamiliar with hiking, yet it's tough enough to get the juices of any seasoned hiker flowing!
The hike over an active volcanic field is one of the best I've done. You walk from your starting point on the West Side of Mount Tongariro to the North side. As you make your way across, you climb over towering hills and descend close to pools of steaming hot water. As you do the hike, you will pass Mt Ngauruhoe. You used to be able to climb the mountain, but the local Iwi people requested it be closed to the public.
The hike is exposed to the elements due to the altitude and the nature of the volcanic field. It is important you bring drinking water with you. Fresh water supplies are not guaranteed along the route. You can't drink water from the pools either, as they are scalding hot and tainted with minerals from the various volcanic craters that dot the landscape.
Hiking the Tongariro crossing is a fantastic experience as you traverse across a live volcanic field. The views along the way make it a special hike in New Zealand you must do!
Hope that's what you're after.
I don't have a specifc post about the tongariro crossing yet, but if you could link to this post, that would be great!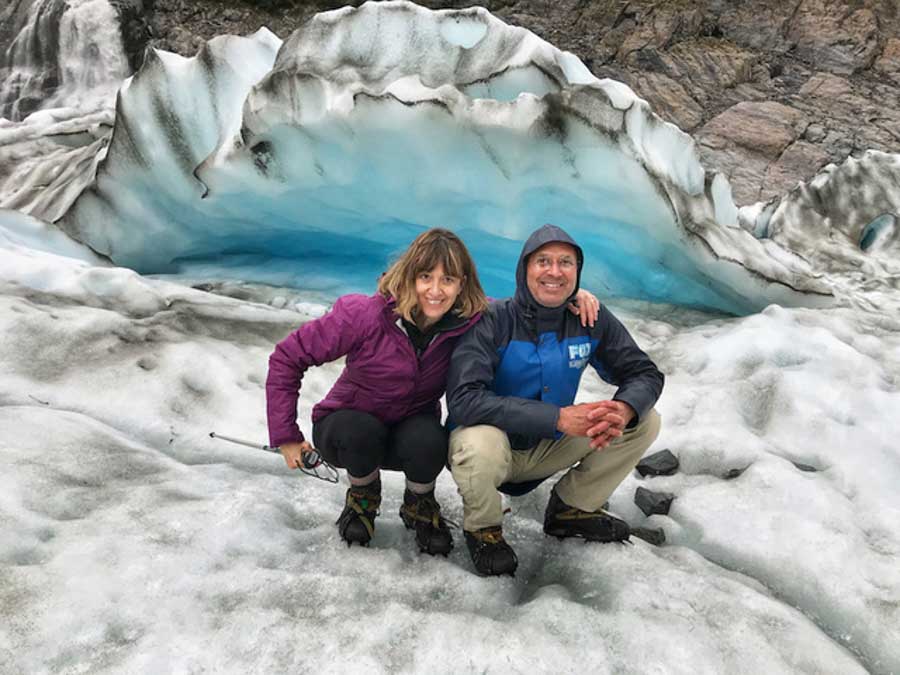 10. Fox Glacier Tour: A New Zealand Adventure
Our helihike on Fox Glacier on the wild west coast of New Zealand's South Island was an epic experience. It's less famous than Franz Glacier a few miles north and less crowded as a result.
We arrived in town a few weeks after a hurricane swept through stranding tourists and locals alike for a whole week in tiny Fox! The weather on the South Island is capricious; it changes throughout the day so we felt lucky to summit at all.
(Tip: Plan two days near Fox so if your summit gets canceled due to weather, you can visit nearby Lake Mattheson and try again the next day.)
First, we took a six-minute helicopter straight up from the valley floor to the glacier summit. Then our glacier guide instructed us on how to strap on crampons to our hiking boots. We followed her as she chopped out ice steps for us with her pickaxe and explained how glacier crevices are formed and why glaciers are blue (from the glacier's crystalline structure). After drinking from a glacier stream, a squall rolled, in cutting our adventure 30 minutes short. But all in all, it was an experience we'll never forget.
Read the complete review of our Fox Glacier helihike here, including details on our glacier guide, how we stayed on a deer farm, and where to find the best meal in Fox.
Chris with Explore Now or Never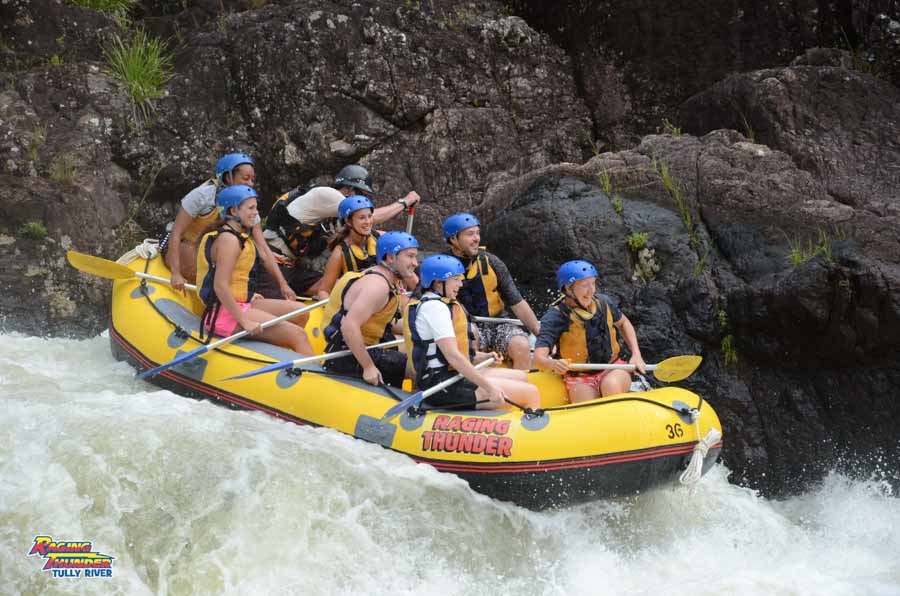 11, Extreme adventure sport in Australia – White Water Rafting
Cairns is known as the adventure capital of Australia and for very good reason. It's the only place down under where you can bungy jump, you can also scuba dive, swing through the rainforest on a Minjin Swing or zipline over a crocodile! One of the most adventurous things to do is to take on the rapids when you try White Water Rafting down the Tully or the Barron River.
It's a full day adventure and you'll spend the morning and afternoon speeding down the greade 3-4 level rapids in an inflatable boat through heritage listed rainforest – with a small team of thrill seekers and an experienced guide.
The Tully river is classes as Australia's number one site for white water rafting – and it has just been announced as the location for the IRF International Rafting Championships – meaning that you're getting a world class experience.
Not for the faint hearted – you can reach high speeds and rafters are often thrown into the swirling waters – thank goodness it's located in Tropical North Queensland where it always stays warm enough to dry off quickly.
White water rafting is Cairns is a year round activity with guaranteed water levels – bring along a change of clothes and enclosed shoes to wear on the day – and don't forget your sunscreen!
Bryony with CoastingAustralia.com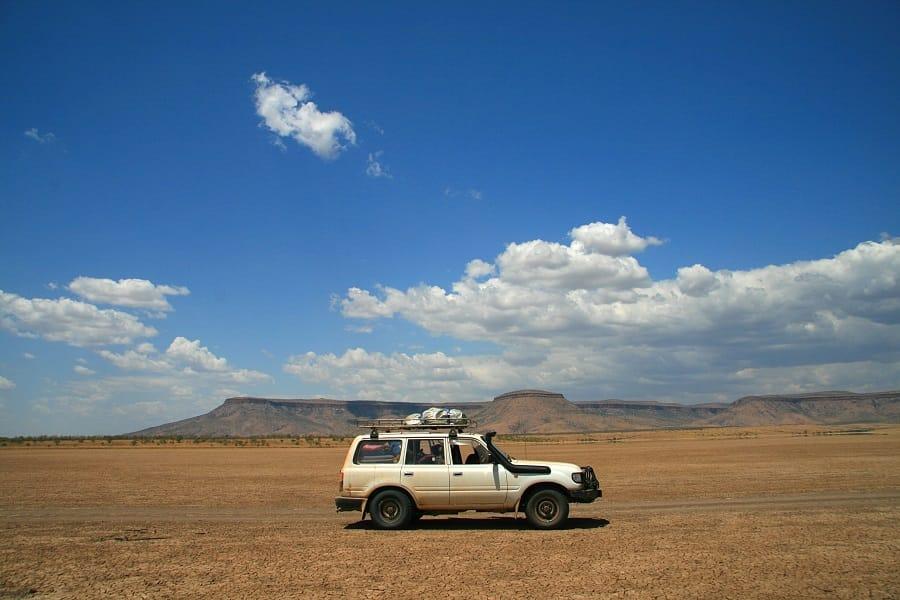 12. Road trip and camping the Australian outback
If you're looking for an adventure experience, then I can highly recommend a camping trip deep into the Australian outback. I actually spent a year doing just this – driving around the most remote parts of this massive country in a four wheel drive, often going for weeks without seeing another person, and sleeping under the stars.
My suggestion if you don't have the luxury of a year but still want an epic adventure, is to head to either the north of Western Australia, or the Northern Territory. These two areas of the country are some of the wildest landscape on earth, where you can truly get away from, well, pretty much everything. A four wheel drive adventure along the Gibb River Road in Western Australia for example, is a fantastic way to spend a week or two, exploring incredible landscapes, gazing at the stars, and finding crocodile free watering holes to swim in.
These parts of Australia are truly for adventure seekers though, and you do need to be prepared – either with the right vehicle, knowledge and equipment yourself, or you should look into doing a dedicated tour so you can hand over the responsibility to someone else, and you can just focus on enjoying the experience. Which is sure to be an adventure you will never forget!
Laurence with Finding the Universe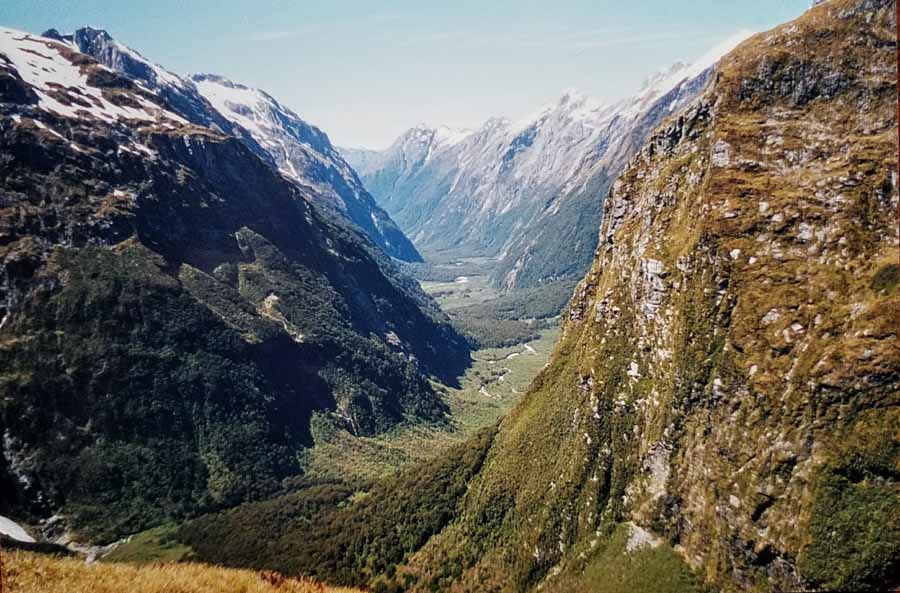 13. Adventure Travel Experience: Hiking the Milford Track in Fiordland National Park, New Zealand
Some years ago, my husband assigned me the task of planning our trip to New Zealand. Coincidentally, that morning, an article in our local newspaper's travel section caught my eye. It was titled, "The Finest Walk in the World". It was about the Milford Track in Fiordland National Park on New Zealand's South Island. Our "walk" turned out to be more of an adventure travel experience than the title of the newspaper article suggested.
The "walk" was, in fact, a multi-day, 35 mile guided hike from Lake Te Anau to the ethereal Milford Sound. We carried 40 liter packs and traversed a breathtaking (in more ways than one) mountain pass. We were warned about avalanches and heard some during our hike. Although the suspended, swaying pedestrian bridges tested my fear of heights, I was proud I never became unhinged by them as did one member of our group.
The Milford Track was what we would call a "trail". It was inaccessible except on foot or by an emergency helicopter evacuation. I resolved to avoid any broken bones at all costs. Our last day on the trail was 13 miles through a temperate rain forest — and rain it did, making us happy we heeded the advice to carry the recommended waterproof gear.
We arrived at the aptly named Sandfly Point tired, but exhilarated. Hiking the Milford Trackin New Zealand, ranks as one of our favorite adventure travel experiences.
Suzanne Fluhr with Boomeresque2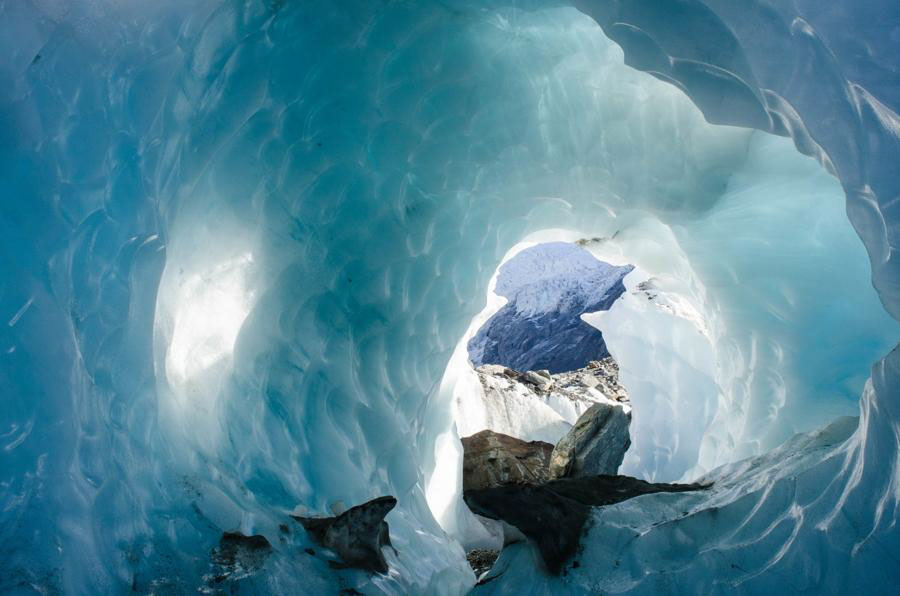 Adventure activities in Mexico & Central America

18. Climbing Volcano Acatenango in Guatemala
Climbing Volcano Acatenango in Guatemala was one of the hardest physical challenges I have ever had (and a few months of binging on tacos and tortillas in Latin America before climbing it sure didn't help)… and yet, soreness and pain aside, it was absolutely worth it.
At the end of a climb up Volcano Acatenango, you are rewarded with a
perfect view of nearby Volcano Fuego, and if you're lucky like we were,
you'll get to see it erupt again… and again… and again.
On the night we camped on the side of Volcano Acatenango after completing our climb, we lost track of the number of eruptions we saw: boom, the Earth groaned during dinner. Boom, lava is lighting up the night sky from our view over the campfire. Boom, the ground under our sleeping bags shudders.
It was awe-inspiring. It was incredible. It was beyond words.
And in the morning? A beautiful surprise greeted us before we started our descent, just waiting for us to enjoy it from high above the clouds.
Definitely do some research in Antigua and decide on the best tour company before heading out, and pack plenty of layers and extra snacks with you (and when the men at the start of the hike offer you a walking stick for a few pennies, take them up on the offer)… but don't leave Guatemala without summiting Volcano Acatenango.
When we completed our Volcano Acatenango hike, it was something we swore we had no intention of repeating anytime soon… and yet, a year later, it is our best memory from Guatemala.
Challenges pay off.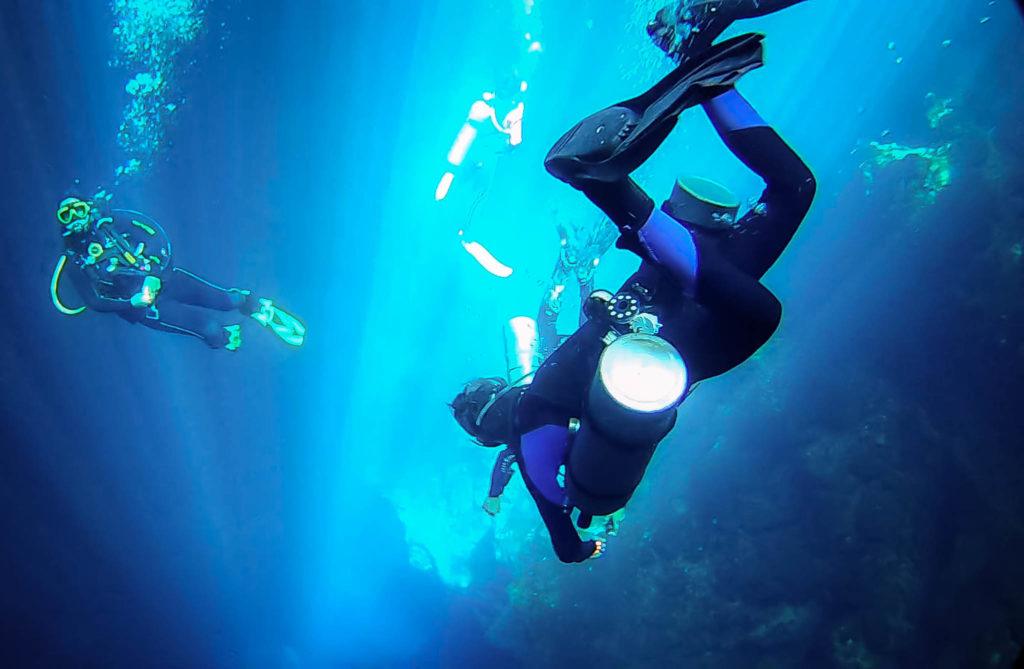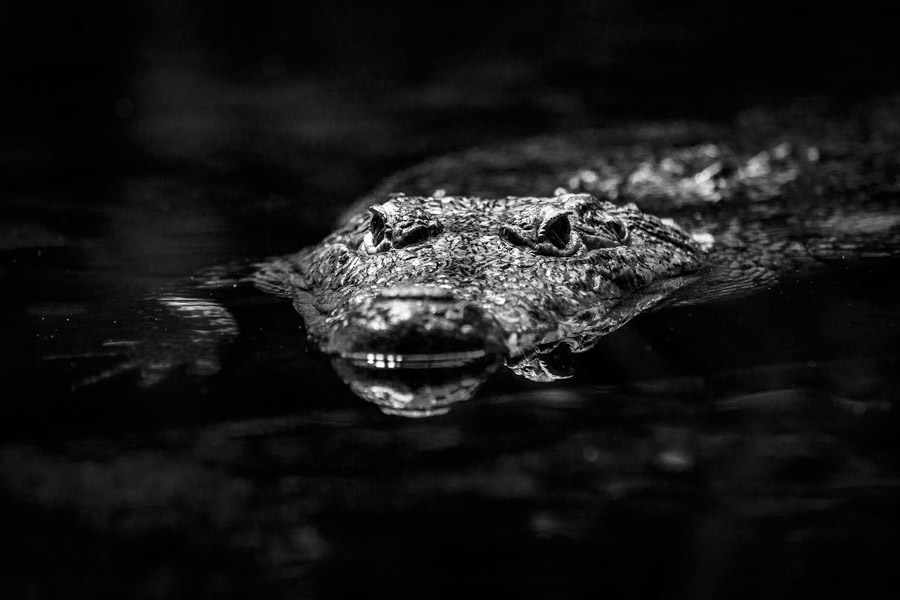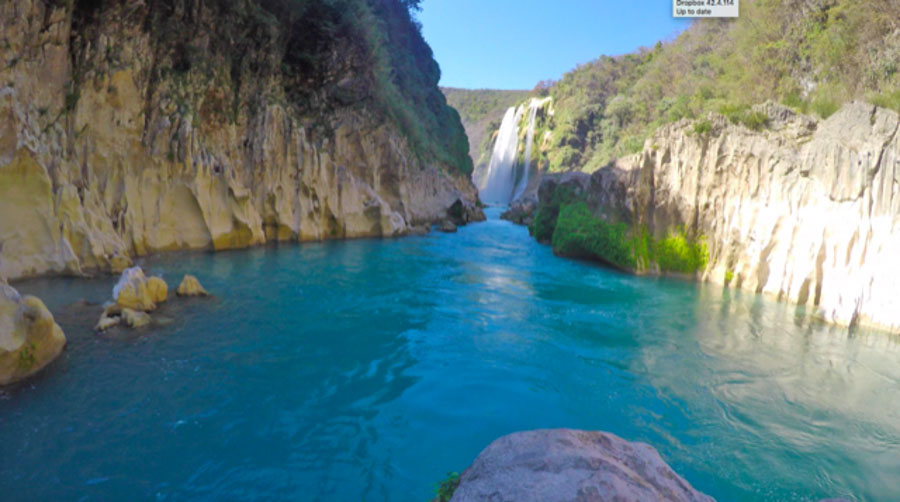 25. Experiencing the death road in Bolivia
Elisa from World in Paris
Adventure experiences in Europe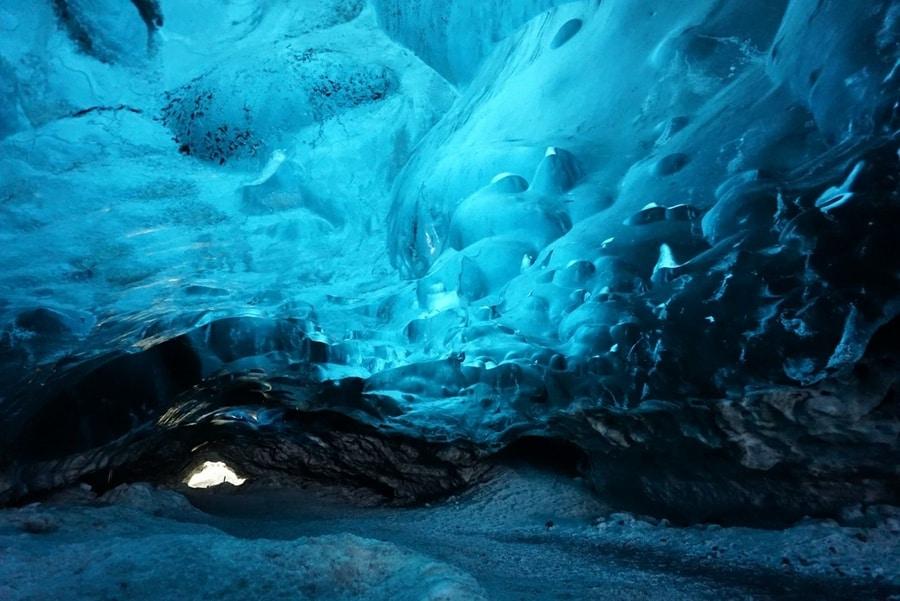 26. Exploring Europe's largest glacier
Europe's biggest glacier is located in southeastern Iceland and spending some time marveling at it on your trip is a must-do experience. We took a snowmobiling and ice caving tour that allowed us to explore the top of it as well as venture inside. Tours can depart from many places, including the famous Jokulsarlon ice berg lagoon where pieces of the glacier break off and float out to sea.
Getting to the base of the glacier via road is an adventure in and of itself. We spent more than half an hour driving over horrendous roads, bouncing out of our seats and joking that we should've put our snowmobiling helmets on for the van ride. Once we finally made it, we were paired up and hopped on our snowmobiles. I'd never ridden one before, and zooming across the snowy landscape was incredible. We climbed high into the ice-covered mountains before switching drivers and turning around to head back down to the base.
Once we parked, we got to head into an ice cave nearby. Walking through the blue ice was gorgeous and we were lucky enough to have the place to ourselves for a while. During warmer months, rivers of water flow under the glacier, carving out the caves and leaving beautiful patterns in the face of the ice. You can also see black patches contrasting with the blue ice where layers of volcanic ash dating back hundreds of years have been exposed. These tours are definitely not cheap, but they're an amazing splurge that shouldn't be missed.
Check out Chris' post on Vatnajokull Glacier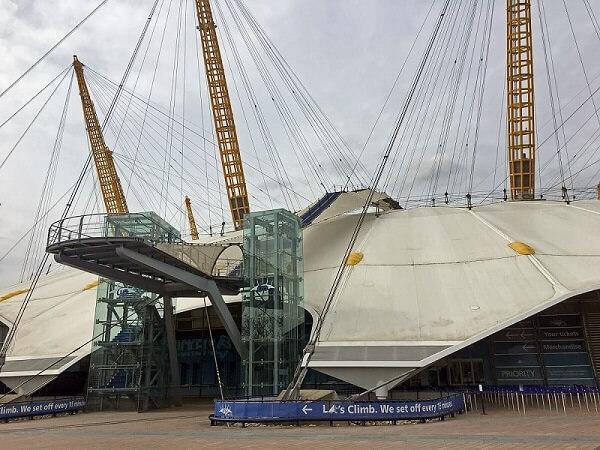 27. Climbing the O2 in London
Did you know you can climb over The O2 Arena in London? The Up at The O2 Experience allows visitors to walk on a path suspended 2 meters above The O2.  Your guide will provide you with all the gear you need including a safety harness.  At the beginning of the climb, you are going up at a 28-degree incline, then it levels off as you approach the top.
On the viewing platform at the top, 52 meters high, you have time to take in 360-degree views of London and even enjoy a glass of bubbly if you like.   Going down, in a way was more difficult than going up.  The incline was slightly steeper at 30 degrees and I didn't like the thought of looking down.  Luckily, my guide suggested that I go down backwards.  I took it slow and completed the climb!
I had never done anything like climbing The O2.  The only other attraction in the world that compares is climbing the Sydney Harbor Bridge, which I might have to try on my next trip there.  The O2 climb was definitely outside my comfort zone, I am not that great with heights or adventure experiences.  I was nervous, but with the harness, I knew it was completely safe.  Physically it was demanding too, as the beginning and the end of the climb were steep, but to me, it was more of a mental challenge.  After the climb, I felt a huge sense of accomplishment!
Anisa with Two Traveling Texans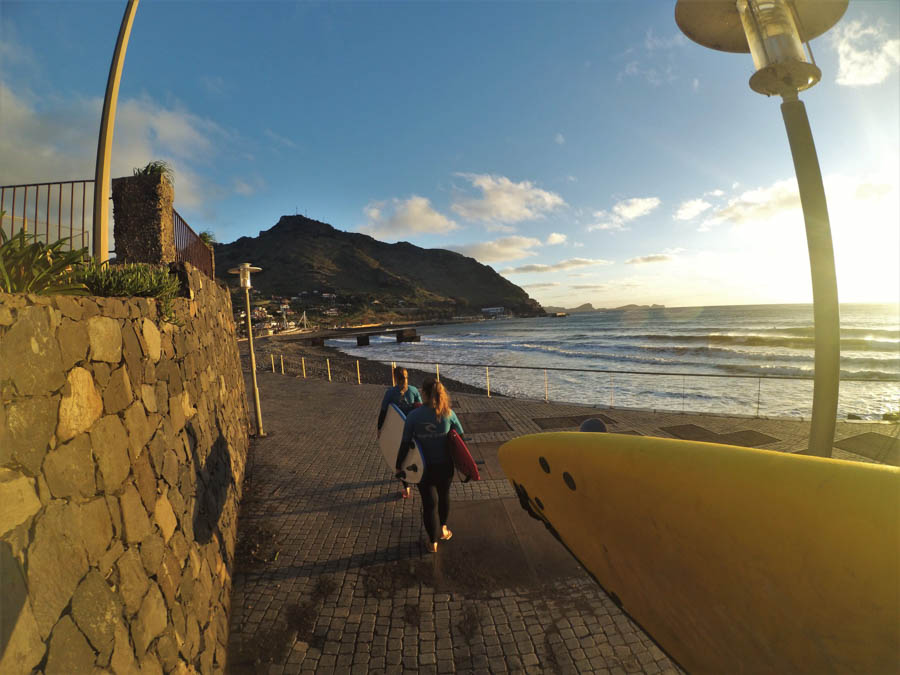 28. Surfing Experience under the Sunset in Madeira
My greatest adventure experience was surfing on the large waves in Madeira. It was my second time surfing. As I'm not a fan of lazy vacation on the beach, and the island cannot offer greatest beaches, I wanted to try some adventurous activities and sports there.
After that, I've been surfing numerous times, but this case was different because it was an entire experience, not only short instructions and some failed attempts to stand up on the board. I contacted the surf school in advance, asked them when the best day to surf is. They kept me up to date on best places and time to go surfing.
Although their surf school was located in the town of Porto da Cruz, we went to Machico, as the waves were better there. They picked me up at the hotel early in the morning, brought me to the place, provided with really good instructions on best techniques to surf, and already in the water they had a very personalized approach (as they were 3 instructors for 8 students), holding the board and telling when to paddle and stand up.
The experience didn't finish on surfing. Later, they took us to their surf school, showed the city and took to the best restaurant with a great view and outstanding and fresh cuisine. One of the surfing instructors also recommended to do paragliding there, and the paragliding instructor was sitting next to us in half an hour. In another half an hour, we were already in the sky.
It was the best adventurous experience in my life so far…
Learn more about Roman's experiences during his 10-day trip to Madeira here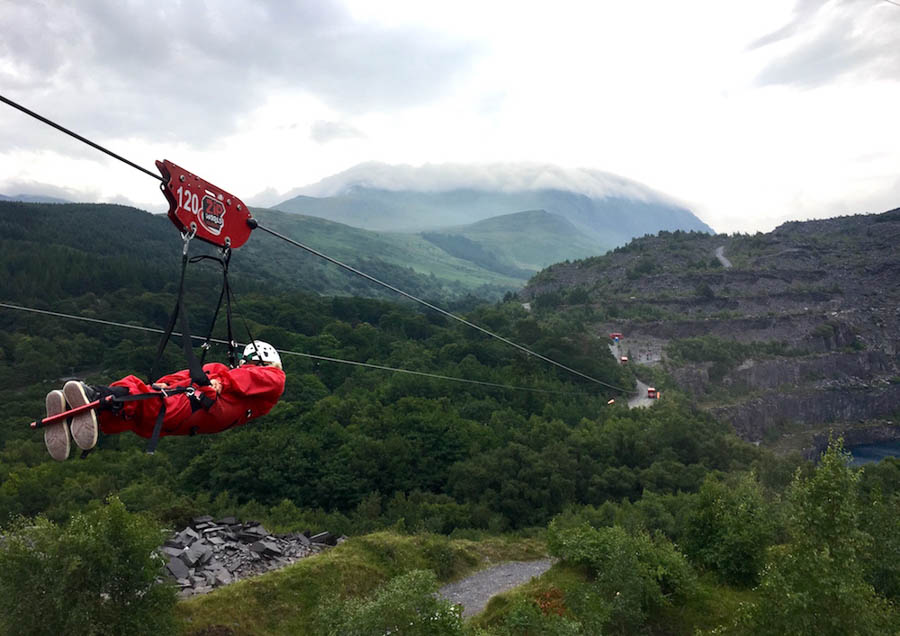 29. Action and adventure at Zip World in Bethesda, Wales
For the adventure of a lifetime try Zip World in Bethesda, Wales. At speeds that can reach up to 125 mph, the Velocity 2 Zipline at Zip World is the fastest in the world, with riders accelerating from 0 to 60 miles an hour in 10 seconds. It's also the longest zipline in Europe, a mile-long ride that soars over the historic Penrhyn Quarry at a height of 500 feet. As you're hooked up in a harness and launched off the platform, you'll experience a feeling of total freedom and exhilaration – as long as you don't mind heights. From a bird's eye vantage point you'll pass over the gleaming blue quarry lake and get to experience Anglesey and the mountainous region of Snowdonia from a breathtaking angle.
This is a side-by-side zipline, which means that you can go down alongside your friends or significant other, but the experience is mainly between you and the stunning scenery of north Wales as you hurtle towards the Menai Straights beyond. With custom technology that ensures a comfortable and smooth ride, the Velocity 2 is suitable for both novices and seasoned thrill seekers – it's the ideal way to bring out your inner eagle.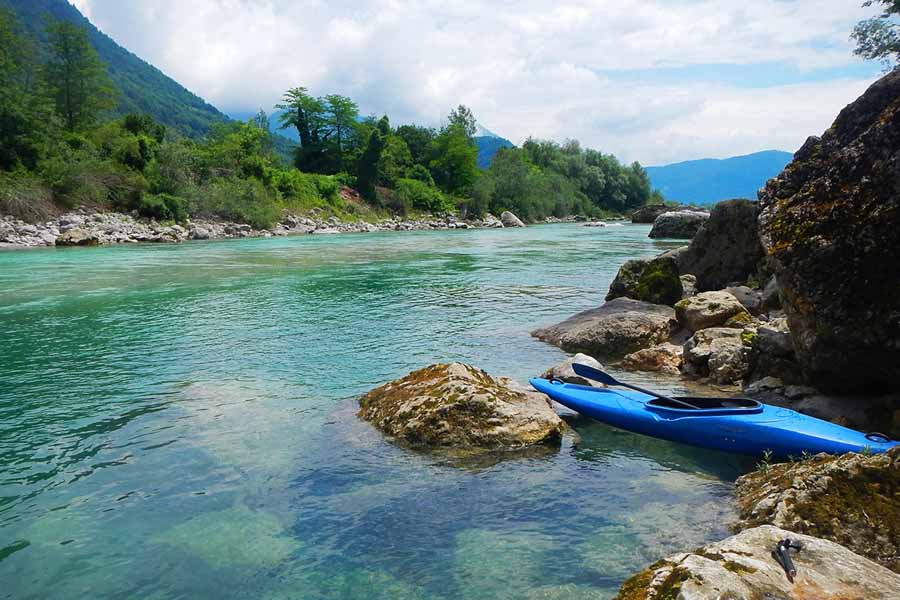 30. Wildwater rafting over one of the bluest rivers in Slovenia
Not many people know Slovenia, let alone a town called Tolmin. But from this picturesque town, you can start an amazing wild water rafting adventure over one of the bluest rivers in the world. The landscape looks like something of a postcard. With its extreme crystal clear water, high mountain peaks and green trees following the river.
We started our tour at the Maya Tour company in Tolmin. Unlike standard rafting, the guides accompany and guide you from their kayaks. So you really need to do all the work, which makes it extra adventurous. Our guide won the Wildwater World Cup Race, so we knew we were in good hands.
It turned out we really needed his skills after only 20 minutes on the river. The water can be very wild so pay good attention to the instructions of your guide. We were so amazed by the beautiful Slovenian landscape, that for only one moment we forgot to paddle in the right direction, which of course, led to us getting stuck in the middle of the river on a big rock. Luckily for us, our World Cup hero paddled up the stream to get us back in the water. If you listen carefully, you have nothing to worry about. But if this fairytale landscape gets you distracted, you might just want to order a drink and enjoy the incredible views from the terrace.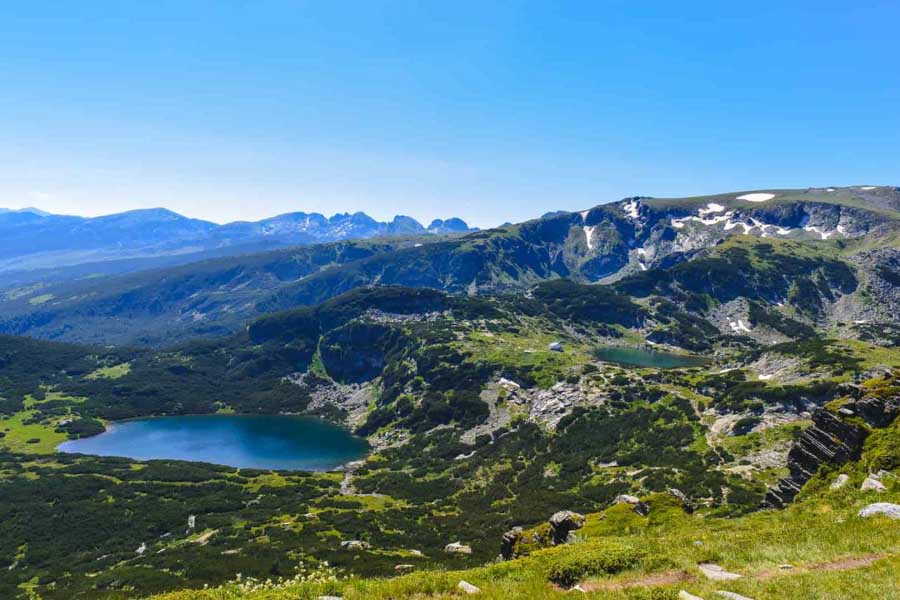 31. Hiking in Bulgaria to see the Seven Rila Lakes
Bulgaria is an amazing country to visit if you're craving some adventure travel! The amount and diversity of experiences you can have in the country are almost infinite. When we got the opportunity to choose our first Balkan country to visit, we were very unsure on which one to visit. After doing some research and seeing an image of the Seven Rila Lakes, we knew it had to be Bulgaria.
Rila is the name of the highest mountain range in all of the Balkans, located in southwestern Bulgaria. The area has many glacial lakes, but the Seven Rila Lakes are certainly the most famous. If you are looking for adventure and beautiful scenery but, like us, are just starting out and still far from experienced-hiker-level, this is the perfect choice for you. You can see the seven lakes in one day, and although the highest parts of the hike are a bit challenging, the staggering views absolutely pay for your efforts. It is certainly breathtaking in more ways than one.
We visited from the capital, but if you have the time, don't just do it as a daytrip from Sofia. Try to spend more time in the area, choose a more challenging hike trail, or even consider spending a few days in Sapareva Baya, a nearby town located at the north foot of the Rila Mountain.
Maria & Rui with Two Find a Way
32. Cycling around the Isle of Skye
Cycling around an island is probably not the first thing that comes to mind when you think of Scotland. Most people go for the Scottish castles or Harry Potter trails. But if you wish to make an adventurous experience out of it, why not rent a bicycle and see the island from behind the handlebars?
The Isle of Skye is probably one of the most popular islands on the West coast of Scotland and it completely deserves to be one. Within two days you can easily cycle through the main landmarks if you start from Portree and go up North passing through the Old Man of Storr, Kilt Rock and the majestic Quiraing coming back to Portree through Uig. This is the loop we have completed during a 2-day cycling trip in Scottish Highlands. Give another two days and you can go all the way to the Dunvegan Castle (see? you can still include a Scottish castle in your cycling route) and the Neist point, the most westerly point of the island and one of the most picture famous lighthouses in entire Scotland. Be ready to encounter plenty of sheep and maybe even some Scottish Highlander bulls with their fashionable long bangs.
What makes this adventure experience even better is that you can set up camp anywhere on the island, meaning you can go wild 100% and sleep under the stars. I must warn you, though, that the weather on the Isle of Skye is not always favorable to the travelers, so you have to pick your travel season wisely. The smallest chances of rain are between July and August.
Lena Tarasyuk at Travel Monkey Blog
33. Hiking the Caminito del Rey, Spain
Are you scared of heights? Then this hike might not be for you. The Caminito del Rey is a walkway in the south of Spain near Malaga which follows the steep sides of a narrow gorge. It replaces a former workers' trail which connects two water reservoirs in the area. After some 90 years, the old concrete trail had fallen into disrepair, and a number of hikers had fallen to their deaths on the crumbling walkway. The new path is a secure boardwalk which is anchored into the walls at a height of around 100 metres. The old walkway, support beams and handrails can still be seen in some parts of the trail.
Since its official inauguration a couple of years ago, the Caminito del Rey has turned into one of the most popular day trip destinations on the Costa del Sol. If you want to try it out you have to plan well ahead as tickets sell out quickly. You don't need to join a tour; we found the walk quite enjoyable even without explanations. You will be fitted with a hard hat, but make sure you carry enough water and sunscreen. The walk takes about three hours – three wonderful hours in which you will walk past sparkling reservoirs and through verdant valleys, crossing fragrant pine forests and coming past ruined farmhouses. An unforgettable experience, even if you only have a moderate level of fitness.
34. Hiking Meteora in Greece
Kristin and Tom with TravelPast50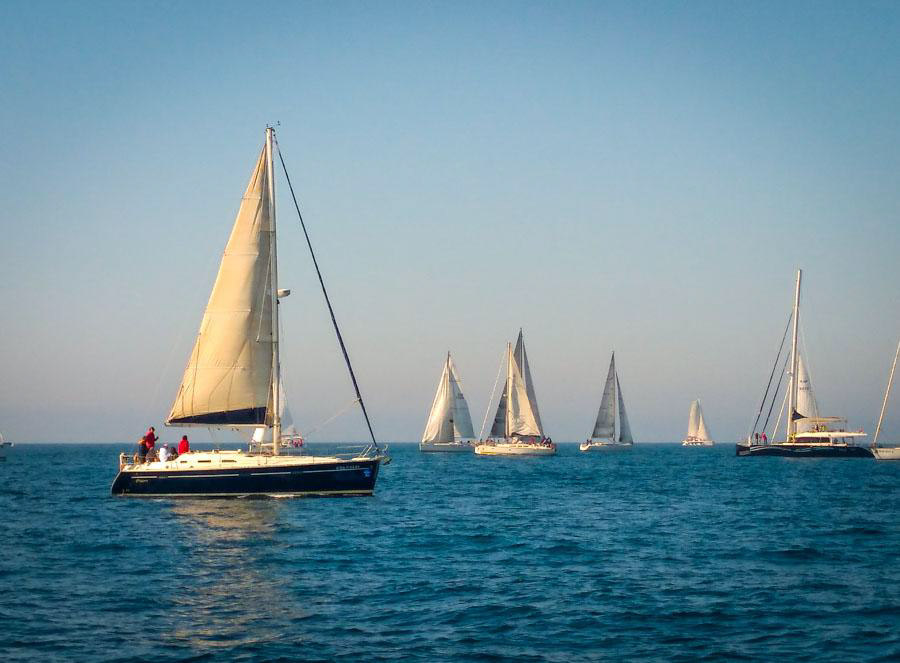 36. Join an Offshore Sailing Regatta in Spain
Sailing itself is already a beautiful and sustainable way to travel. But if you're looking for a real adventure, and the idea of steering a fifty foot yacht through darkness and against the clock, far away from the safety of shore doesn't scare you off, joining an offshore sailing regatta might just be the thing you're looking for.
I joined a team of nine on a 47 foot catamaran for the Ruta de la Sal regatta, one of the Mediterranean's most popular regattas in which 200 boats race from 3 different ports – our starting point was Port Ginesta near Barcelona – to Ibiza. With a distance of 140 miles, the race takes between one and two days depending on the winds, which can be somewhat unpredictable. When you're sailing, especially offshore, one of your challenges is to manage whatever nature throws at you!
Life on board is a great mix of exhilarating adventure and relaxation: Isolated from everyday life, offshore sailing is a beautiful way to detox, enjoy nature and watch sunsets and dolphins, if you're lucky. Learning the ropes, steering the boat and racing against the clock and your competitors all add a kick of adrenaline and can be a true challenge at times. It's definitely worth it though, just for the journey itself – and when your destination is one like Ibiza, that's a bonus that will motivate you to make it there just a little bit faster. We added a side trip to Ibiza's stunning neighboring island Formentera to make it a five day holiday of a lifetime.
If you're looking to replicate this trip, check with the Barcelona based sailing schools: many of them offer spots on their boats to newbies within the "training" category of the regatta.
Check out Edwina's post on Offshore sailing regatta adventure with Traveling German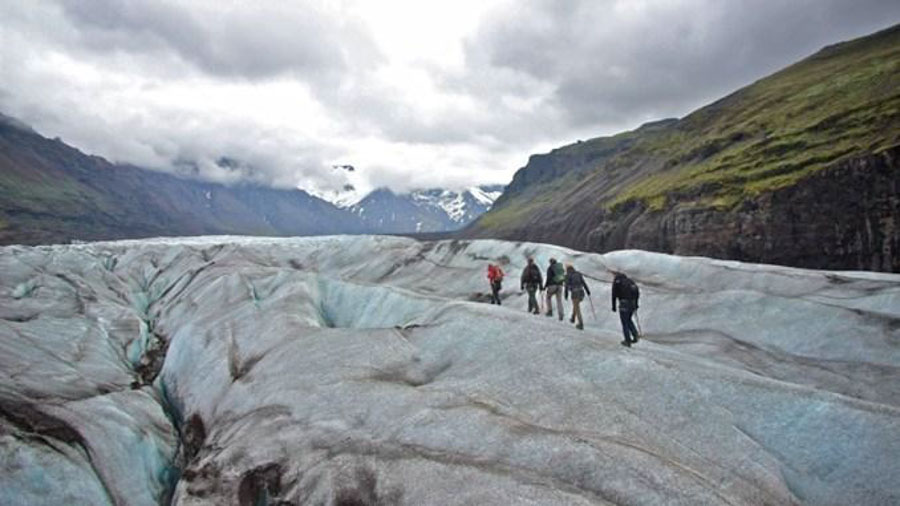 37. Hiking on a Glacier in Iceland
Iceland keeps climbing up the charts for the best Adventure and Luxury vacation. The landscape here changes every 30 minutes when you are driving around the island on the well paved Ring Road.  There are a gamut of adventures to be had – yes you can climb inside a volcano, heli-ski from the top of a glacier cap, dive between the continents on crystal clear waters…, but there is plenty to do for the average Traveler who can't do any of those.
The most adventurous activity we did was our snow mobile ride on top a glacier that sits on a volcano. From Waterfall chasing, watching a Geyser spout water into the air, hiking on Glaciers to visiting Volcanoes and smelling the bubbling mud pots to walking between the tectonic Plates – there are plenty of easy adventures in Iceland – 'Soft Adventures' as I like to call them, without having to get too adventurous. One of our family favorites was the Glacier Hike on Vatnajökull, which is an 8,100 sqkm dome of ice, about one twelfth of Iceland's surface and up to 800m thick.  To explore this gigantic glacier, we hired a mountain guide, who provided the gear and steered us safely through the many crevasses and pinnacles – one missed step and we could be stuck in the blue ice.  We spent a couple of hours with our guide from Icelandic Mountain Guides, as we walked with crampons, exploring the landscape of glacier ice, deep crevasses, and water cauldrons on Vatnajökull Glacier in Skaftafell National Park.
Priya with Outside Suburbia
38. Chasing the Northern Lights in Iceland
One of the coolest and most unique adventures you can do is to chase the northern lights in Iceland. Chasing the northern lights you have to be both spontaneous, be a night owl, and be brave enough to drive along the pitch dark roads of Iceland (there are no street lights outside the cities).
You'll find out the same day if it's possible to see it, and where the activity will be the strongest – this you can do through http://en.vedur.is/weather/forecasts/aurora/, which is the website I used to find a spot to see the aurora borealis.
I chased it for over 3 hours one night which was pretty tiring, but once I got to see it I understood why so many people travel to Iceland every year to try to get a glimpse of it. That specific night it was a strong aurora borealis activity. It danced all over the sky in both green and purple colors, which gave me a magical feeling in my whole body that I can't even describe with words.
It's simply an adventure you have to experience on your own! Just remember that the sky has to be clear, you can't see the northern lights if it's too cloudy.
Christine with Alien Chris
Adventure experiences in the Eastern Mediterranean region & Middle East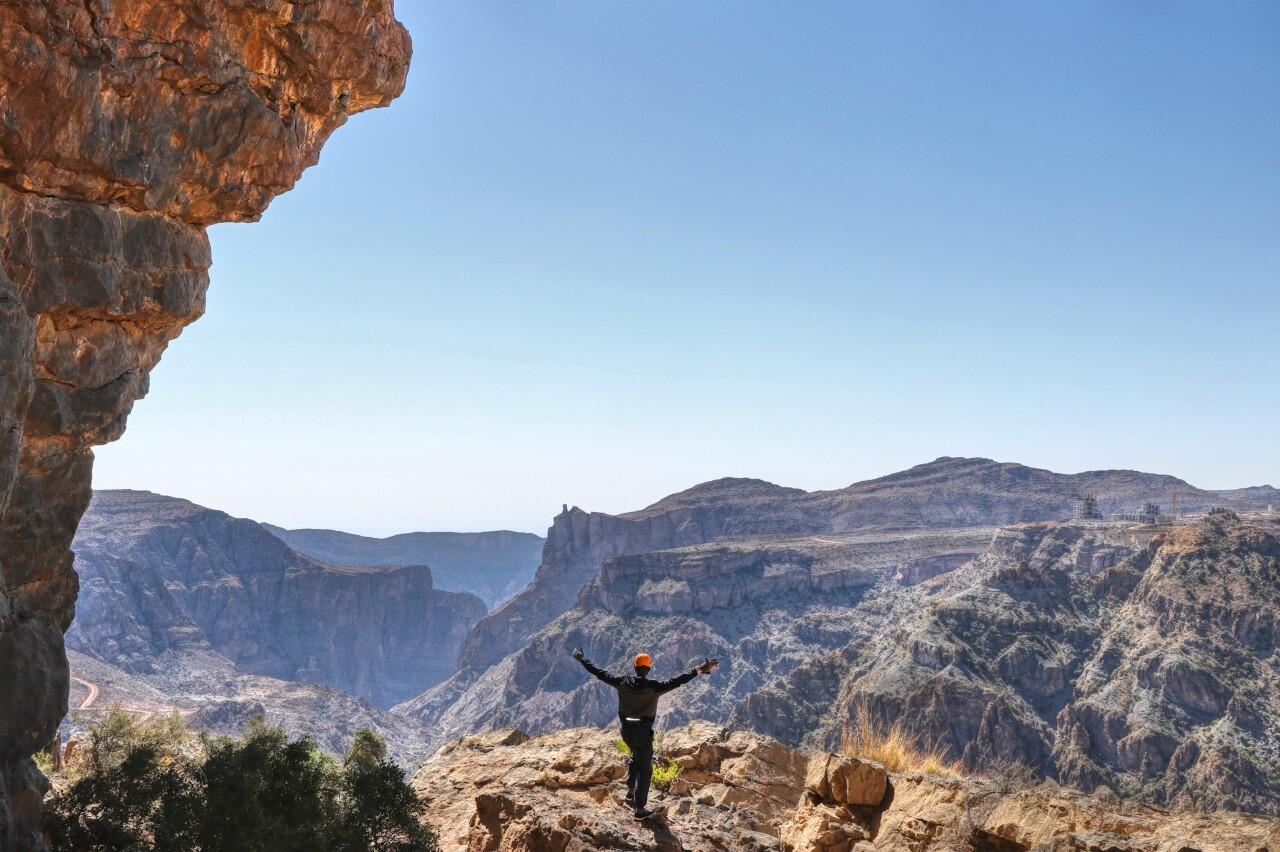 39. Abseiling and Rock Climbing in Oman on Jabal Akhdar
Oman is a stunning sultanate in the Middle East full of opportunities for adventure. Our favorite adrenaline-pumping experience was rock climbing and abseiling down Jabal Akhdar, part of the Hajar Mountain range, from an altitude of 2000 meters above sea level. This mind-blowing adventure is available at Anantara Al Jabal Al Akhdar Resort from a location so beautiful that it will take your breath away. The Jabal Activity Wall is one of the highest climbing locations in Oman and even in all the mountains in the Middle East. It is a must-do adventure activity in Oman, even for beginners like us who have never done rock climbing or abseiling.
The activity started with a via ferrata course over to the edge of the mountain, where we captured the jaw-dropping photo above. We were perfectly safe since we were attached to the mountain with steel cables, but it was still spine-tingling. Then we abseiled down the rocky facade of the mountain. We were both scared just before leaning back and trusting that the equipment would keep us from falling to our deaths, but pushed past our fears and made our way down safely. We thought that would be the scariest part but rock climbing up and then back down the mountainside was even more terrifying, at least for Alexis who is short and had less reach. Bertaut, who has long legs and arms, was like a mountain goat making his way quickly and easily. We were so proud of ourselves after our accomplishment. Make sure to bring along a GoPro camera so you can record your thrilling experience. You can read more about our rock climbing adventure including photos and videos here.
Check out Bertaut's post on rock climbing in Oman with World Travel Adventurers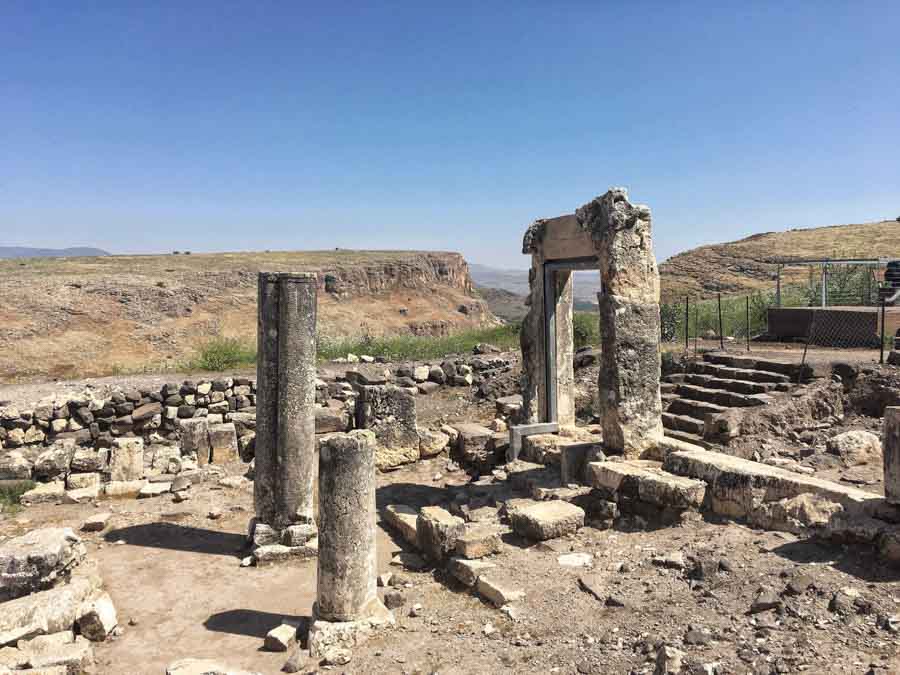 40. Hiking the Jesus Trail 
One of the most incredible adventures experiences around the world is hiking the Jesus Trail. I did that during my second trip to Israel and it was an exhilarating experience. The hike starts in Nazareth, the main city in Galilee, and throughout 4 days it goes all the way to the Sea of Galilee, following the footsteps of Jesus. Throughout the hike there's various places of religious and historical interest (though needless to say, the hike is an incredible experience even for those who, like me, are not religious). Kfar Cana is thought to be the place where Jesus performed his first miracle, for example. Other places with a special attachment to Christianity are around the Sea of Galilee – ie Tiberias and Capernaum.
The hike goes through the beautiful hills and countryside of Galilee, and many hidden archeological sites can be accessed, such as Zippori, Moshav Arbel and its synagogue, and the Horns of Hattin. The most breathtaking view is that from Mount Arbel: it expands to admire the Sea of Galilee.
Not many people walk this route, so it can be a very solitary experience. It is possible to sleep in the various villages along the way – there's hostels, cottages and camping sites which also offer meals at convenient prices. As there's no shops at all along the way, make sure to carry enough water for the day: it is possible to refill at the various campsites and guesthouses (tap water is safe to drink in Israel). Make sure to pack as little as possible – the Jesus Trail isn't a strenuous hike, but on an average day you'll be walking 15 km, and any extra weight will be hard on your shoulders.
The best time to walk the Jesus is in the early spring, when days are long, the temperatures still pleasant, and Galilee is in full bloom. Do make sure to wear sunblock though, as the sun can be fierce.

I first visited the seaside Turkish village of Oludeniz in 2006, as a kid I never knew anything about paragliding, seeing the endless stream of people floating over the beach I was mesmerised and terrified all at the same time. I vowed that one day I would come back and I would do it! Fast forward 10 years later and we found ourselves stood back on that stunning beach, the warm Mediterranean sea lapping up against its shore. But we were there for something else, as people in the village put it, we were here to jump off the mountain!
A rocky, steep and painfully slow accent up the mountain in one of the local Dolmus buses with our guides lead to the purpose built take off. The clouds had rolled in and we were unsure if this dream would finally become a reality today. But our guides were actually friends, having family living here now we pulled some strings (literally!) to jump outside of the usual slots! Flying at speed as we ran off the edge of the path and into thin air we broke through the thin layer of cloud! That incredible view of the world famous Blue lagoon was finally there, 7000ft below us! It took an unbelievable 45 minutes to reach the beach, floating effortlessly between the rocky mountainside and the shimmering azure sea. A truly unforgettable adventure in one of the most wonderfully stunning places in the world!
If you would like to do it, head to the town of Oludeniz, a short bus ride away from the small city of Fethiye on the southern Turkish Coast. The nearest airport is Dalaman and the cost of the paragliding is around £50-60 plus extra for photo and video!
 Nic and Paul from The Roaming Renegades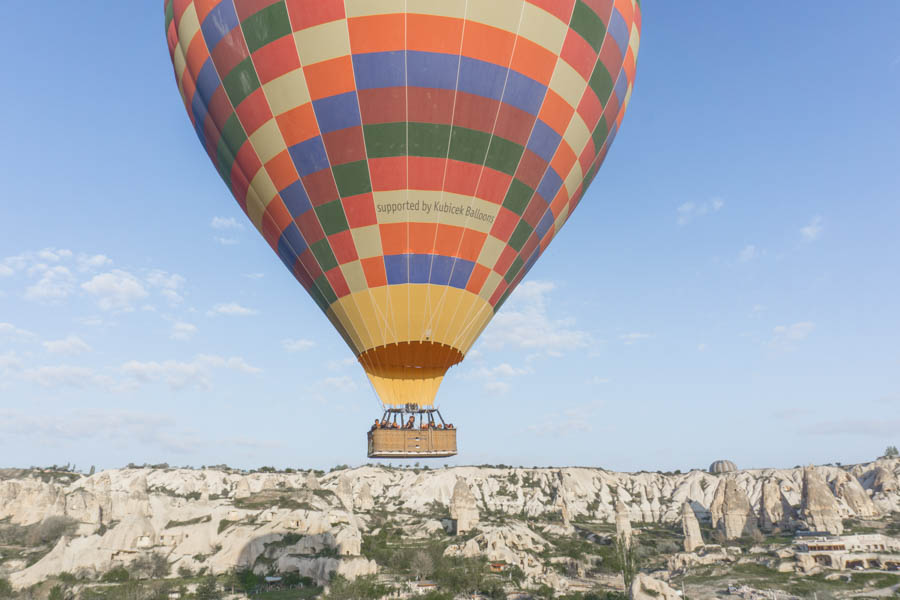 42. Sunrise balloon experience and hike in Cappadocia
Love waking up for sunrise and hikes at sunset? Then a trip to Cappadocia in Turkey is for you. This region of Turkey is known for its colourful hot air balloons which take flight just before sunrise every day (weather permitting) with baskets full of tourists with wonder on their faces. It truly is a lovely experience. The flight experience is the top thing to do in Cappadocia and starts with a buffet breakfast, short bus ride then the flame fills the balloon.
Once you are up, up and away, the pilot points out the important landmarks below such as Pigeon, White and Lovely Valley. The peaceful flight halts to an end with a small bump then a champagne reception! Grab a nap then set off in the afternoon for a hike through the unusual valleys of Pigeon, White and Love. What gives Love Valley its title? Well, the phallically shaped rocks erecting from the ground might have something to do with it! Not a fan of hiking, why not check out a quad bike ride, an activity for the adventure travel lover!

Gemma with Two Scots abroad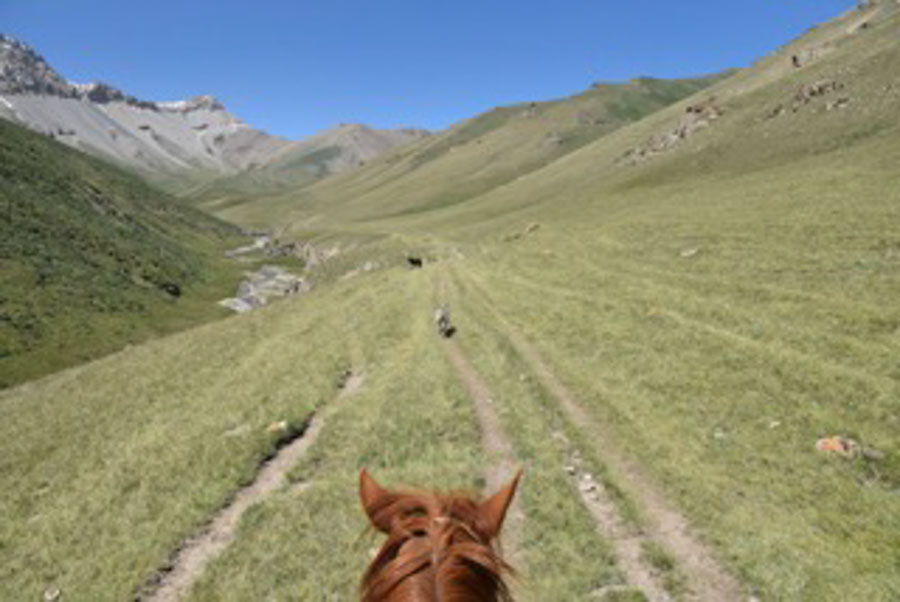 43. Horse trekking in Kyrgyzstan, one of the top adventure experiences in the world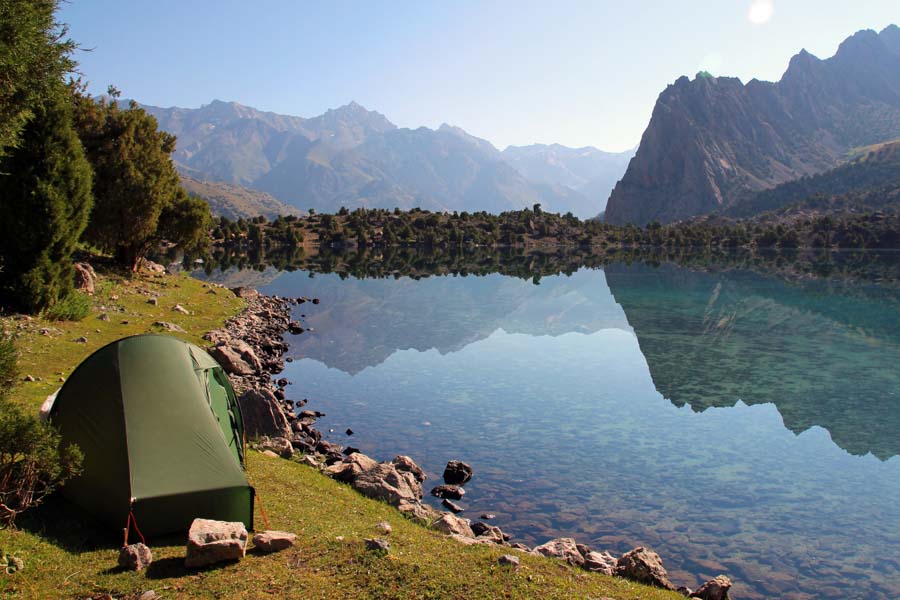 44. Trekking the Fann Mountains in Tajikistan
The Fann Mountains in northwestern Tajikistan are probably the most scenic mountains in Central Asia. Due to its remoteness, very few people venture here. However, those who do are surprised by its sheer beauty: turquoise lakes which seem to change color every hour, snow-capped peaks and green valleys. There are several both trekking possibilities, both short and long, which you can do on your own of with a tour company. One of the most well known trekkings is the 3-4 day Allaudin Lake trek, taking you past the high Allaudin pass (3860 meters) and the stunning Kulikalon bowl. You need to have a good level of fitness and some previous trekking experience is definitely an advantage. You may meet some of the welcoming locals on your way and at both Allaudin Lake and Kulikalon bowl there is a small wooden tea house. The Seven Lakes are also a popular trekking destination, but I found them less interesting in terms of surroundings and beauty. If you're looking for a remote mountain adventure: Fann Mountains is the place to go!
Manouk with Bunch of Backpackers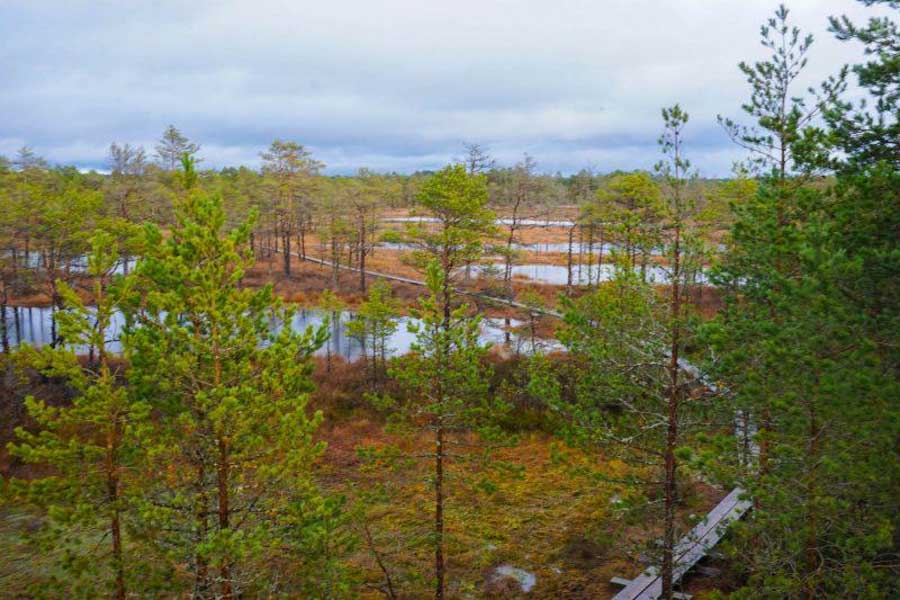 45. Bog-shoeing in Estonia
If you're looking for an adventurous but unusual experience, you can't miss bog-shoeing in Estonia. This odd sport is similar to snowshoeing, except that it doesn't require snow. Strangely enough, the best way to walk across the watery, mossy terrain of ancient bogs is with snow shoes — they keep you from sinking into the moss and water beneath you. While bog-shoeing in Lahemaa National Park outside of the capital, Tallinn, we found bog pools (which are natural pools that show up like holes in the bog and form larger and larger over time) as well as swaying and bouncing on a 100% natural waterbed where the ground seems to be about to burst beneath your feet.
The bog in Lahemaa National Park (Viru Bog) is over 3,000 years old and is gorgeous at all times of year, but my guide said we were lucky to be there in autumn, as that's when the moss is at its most vibrant colors — all shades of red and orange, like the leaves of autumn trees. The water level is also lower than it is in, say, spring after all the snow has melted. Bog-shoeing is not only fun, it's the safest way to enjoy the beautiful wetlands of Estonia without harming the ground beneath you. Plus, it's a good workout, as the shoes are heavy and it's not easy to balance as you're walking across the bog – I nearly fell into a bog pool twice!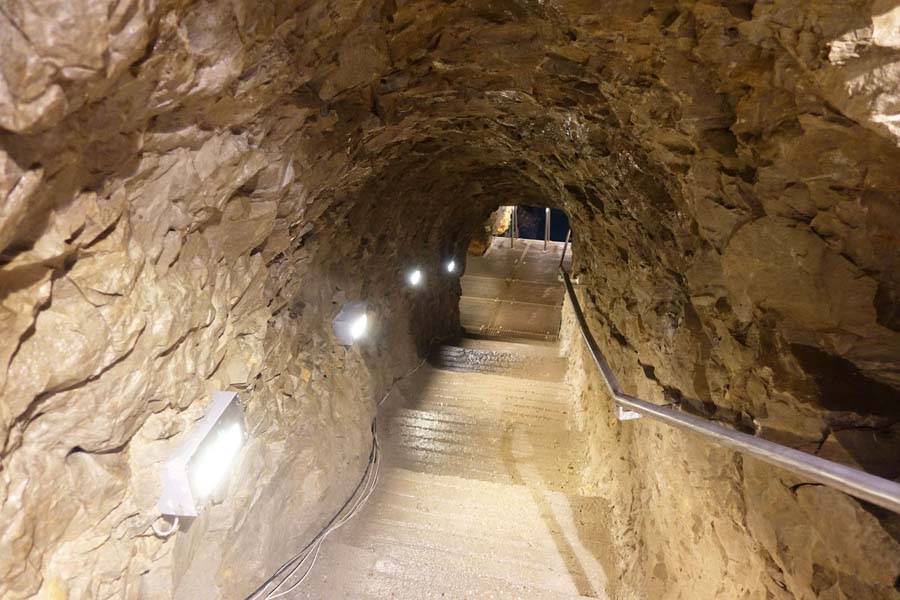 Adventure experiences in Africa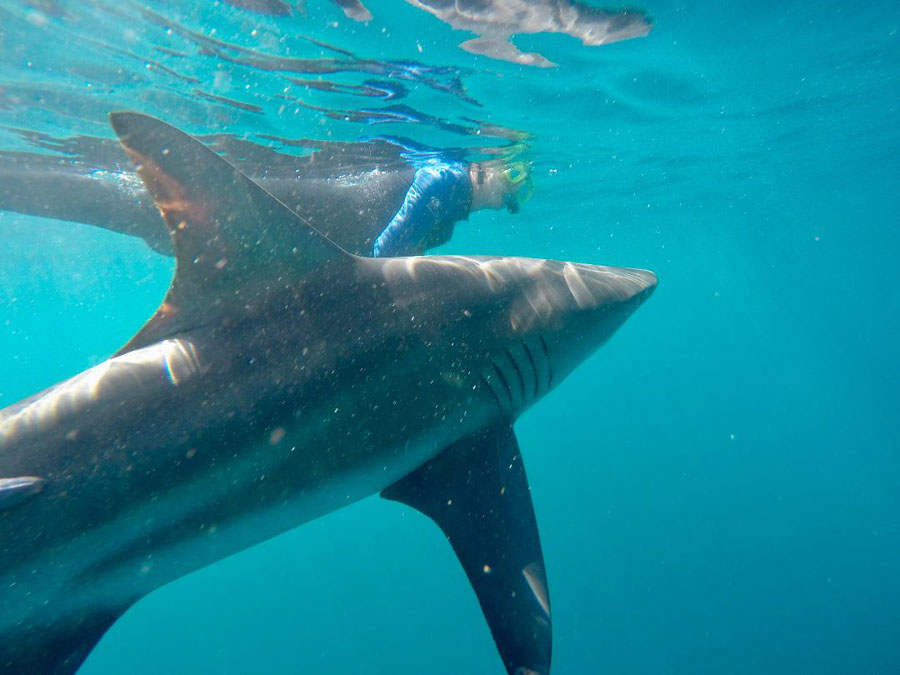 47. Swimming with oceanic black tip sharks in South Africa
Swimming with sharks was on our bucket list before our recent trip to South Africa. An hour from Durban, in Scottburgh, is Blue Wilderness, a company allowing you to cage and free swim with sharks.
After being kitted out in wetsuits and receiving a full safety briefing we headed out to sea. The beach departure is an adventure in itself as you head out through the surf. Once at the dive site a bait bucket was thrown overboard. Almost immediately we were being circled by Oceanic Black Tips! A cage was lowered into the water and some people climbed into the cage to view these majestic creatures.
We decided to free swim with these animals – an unbelievable experience with everlasting memories. We were swimming in the ocean with over twenty sharks circling us, many of them two metres in length! The sharks are curious and swim really close, occasionally bumping into you with their fins. Your arms must be crossed over your body so that the sharks don't mistake your fingers for sardines! It was a remarkable experience to be able to look a shark in the eye as it swam by. They appear to be looking at you too. We shared the water with these creatures for just over an hour.
Swimming with sharks is a real adventure experience, one which we'll remember for a lifetime.
48. Overlanding Africa in a 4×4 with young kids

49. White water rafting down the Nile river
Did you know that you can go white water rafting down the world famous Nile River? Right in Jinja, Uganda, conveniently dubbed the "adventure capital of East Africa," one can have some fun along the worlds longest river. 
The river Nile starts in Jinja making it a hotspot for tourists. There are many adventure activities to do, but one of the most popular is white water rafting down the river. 
I had been white water rafting four times before my time in Uganda, but nothing could prepare me for the Nile. Before we started our trip our guide went over the proper safety measures. We even had to mock flip over the raft. I thought the whole safety briefing was unnecessary as I had never flipped or fell out of a raft, but boy was I wrong.

During the course of the two hour trip our raft, and everyone else's raft flipped four times. I thought I was going to drown at least two of those times. Seriously, this trip isn't for the faint of heart, even the strong swimmers were sick of being in the water by the end.
Nevertheless, everyone survived and we can now say we white water rafted in Africa down the famous Nile. No hippos or crocs were spotted, but I'm almost positive they were there too. 
Check out Natasha's post on a self drive to Uganda with The World Pursuit.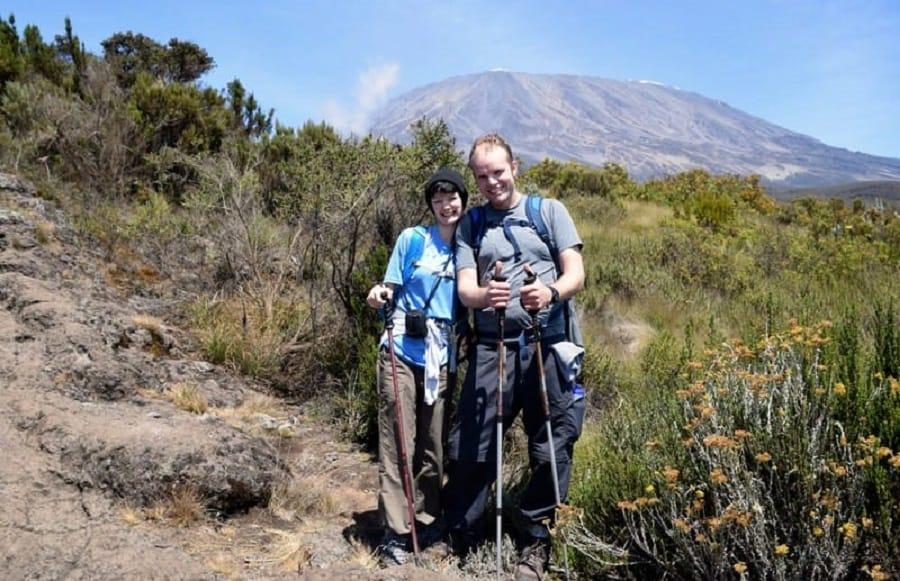 50. Hiking Mount Kilimanjaro in Tanzania
Mount Kilimanjaro is one of the seven summits of the world, and the highest mountain in Africa. Hiking Mount Kilimanjaro is a very popular adventure activity for those visiting Tanzania. The mountain is located in Tanzania, right next to the Kenya border.
Although the hike does not require any past hiking or climbing experience, it is strongly recommend that all those who wish to hike Kilimanjaro be in good physical shape and do some training beforehand to have the best chance to summit. You'll also want to do research and be well-prepared with proper hiking clothing, shoes, and gear. All hikers must be accompanied by a licensed guide to climb Mount Kilimanjaro and there is a park fee to enter the national park. Although it is possible for a very self-sufficient person to do the hike with a single guide, most people do the hike with a whole team of people. We had 1 guide, an assistant guide, and 11 porters for only 2 persons!
There are several popular routes that hikers can choose to take to summit Mt. Kilimanjaro and your hiking company or guide will help you decide in advance which is best for you. Hiking times depend on the route, hiking company, and fitness level of hikers, but the hikes generally takes between 5 days to 8 days.  Generally, the longer the amount of time on the mountain, the higher a person's chances of summiting the mountain. Depending on the trail you take, you will either stayed in shared shelters or huts where there are also covered cafeteria areas, or you will do tent camping.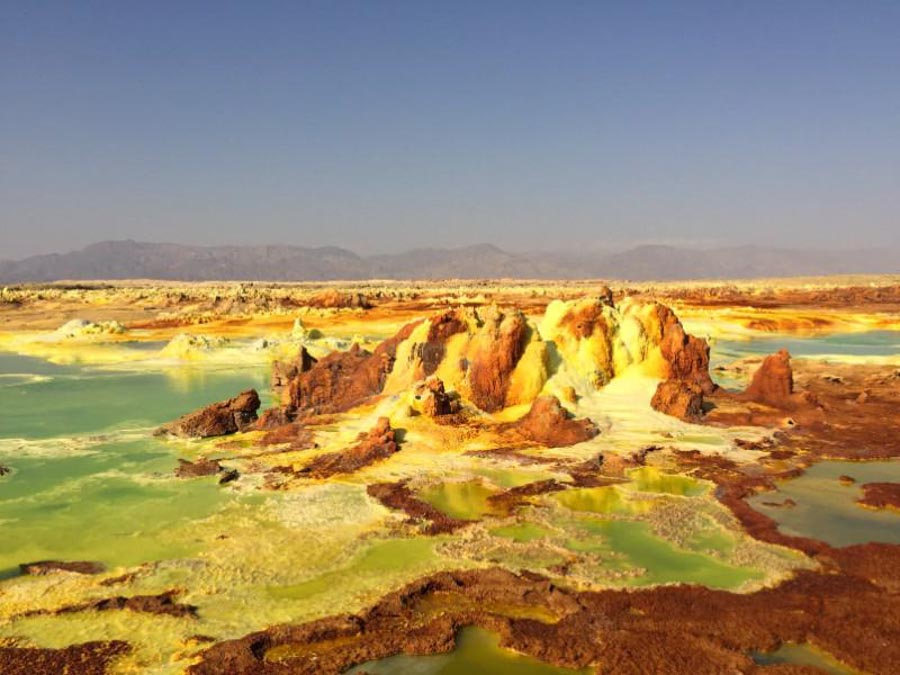 51. Hiking Adventure in Ethiopia – Climbing Erta Ale volcano
Erta Ale is a highly active volcano in the Danakil Depression in Northern Ethiopia. Its crater is constantly filled with boiling lava. In order to get to the base of the volcano, we first had to cross the Danakil Depression region. Due to shifts in tectonic plates, much of the area lies at an elevation below sea level and is considered the hottest inhabited place on earth. And the drive wasn't easy either. The last hours of the eight hour drive to the base camp from the nearest city leads over unpaved volcanic terrain.
Due to the extreme heat, it is only possible to do the three hour climb to the crater after sunset. So after a filling dinner at the basecamp we turned on our headlights and started off into the dark. After a couple of minutes, we could already see the red light of the lava lake reflecting in the night sky. A great motivational booster to keep us going through the windy and hot dry air.
But as soon as we reached the rim of the crater we knew it was all worth the effort. The strong winds were blowing the smoke of the volcano away from us so we could enjoy some great views of the lava boiling and bubbling – wow! We spent about an hour on the crater rim to enjoy the natural spectacle before moving to our night camp a couple of meters from the crater. We spent a short night on thin mattresses under the open sky before getting back up at 5am. We had to get back down to the base camp before sunrise. What an experience.
By Mike of 197 Travel Stamps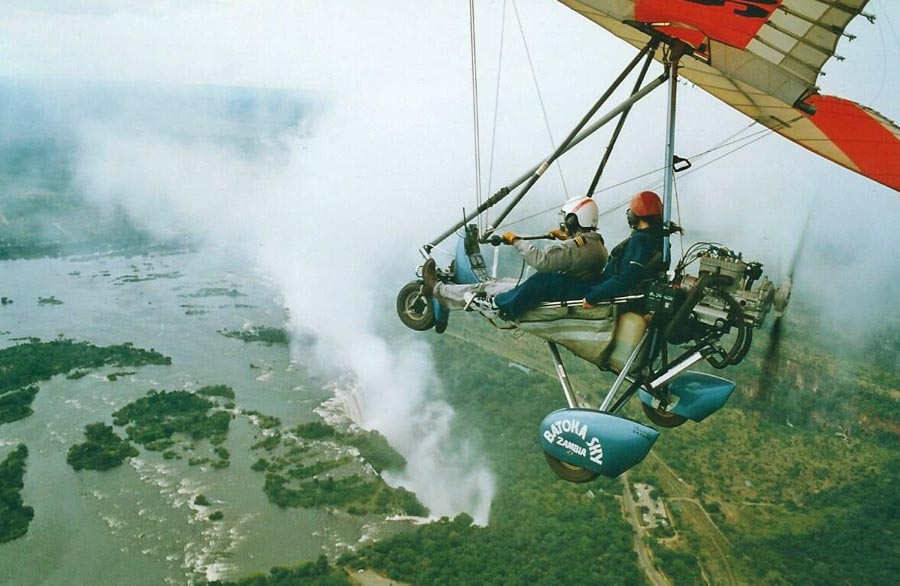 52. Taking a Microlight over Victoria Falls
One of the top adventure experiences that everyone should experience is to fly over Victoria Falls in a microlight. A microlight flight is a super-light aircraft that looks like a hand glider with a motor and is particularly unique way to view Victoria Falls.  Not only do you experience the falls up close while flying like a bird through "the smoke that thunders" but you get unobstructed views of Victoria Falls and mighty Zambezi River.  Although I don't have a fear of small airplanes or heights, I have to admit the experience was a bit scary because the microlight is open and I did not want to fall out!  But mostly the flight was exhilarating.  Not only is this a thrilling and exciting experience but it is a great way to see the magnitude of the falls.  While Victoria Falls is located at the border between Zambia and Zimbabwe, microlight flights are only available from the Zambia side. Depending on your budget, you can sign up for either a 15 minute flight over Victoria Falls and the Zambezi River or you can splurge for a 30 minute flight that also swoops over Mosi-oa-Tunya Zoological Park for some game viewing. While the experience is a bit pricey, it is definitely worth it.
Adventure activities in South America
53. Sandboarding Thrills in Concón, Chile
Concón, Chile is known for the beaches and the coastal views of the South Pacific Ocean. It's a quick 30 minute bus ride from Valparaíso, which makes it an easy day trip. Amazing sand dunes overlook the ocean and has your next thrilling adventure – sandboarding in Concón.
What is sandboarding? It's similar to snowboarding where your feet are strapped to a wooden board, and you down the dunes. A few people brought their own makeshift boards made out of cardboard or a thin piece of metal. If you've snowboarded before, sandboarding is a breeze.
The best part about sandboarding is the opportunity to carve into the sand and create your own path. The sand is clean and has various gradients depending on your abilities. You'll love the feeling of the wind in your hair and the fast speed going down the dunes. It's a good stress reliever too. We had newbie skill level so we fell a lot. We laughed and screamed our way down when increasing speed. It felt victorious making it down the dunes. Climbing up the sand dunes was challenging but there weren't any lifts here!
If you want to go sandboarding in Concón, get off the bus stop (dunes on the left), walk across the street, and rent a board. The rental for one hour is cheap at less than $2 USD and you'll get a few pieces of wax. Visit the dunes in the morning to avoid the crowds. Wear clothes that you don't mind getting sand all over the place or don't wear shoes when walking in the sand or boarding. Have fun sandboarding!
Contributors: Jackie Szeto & Justin Huynh from Life Of Doing
Social Media: Instagram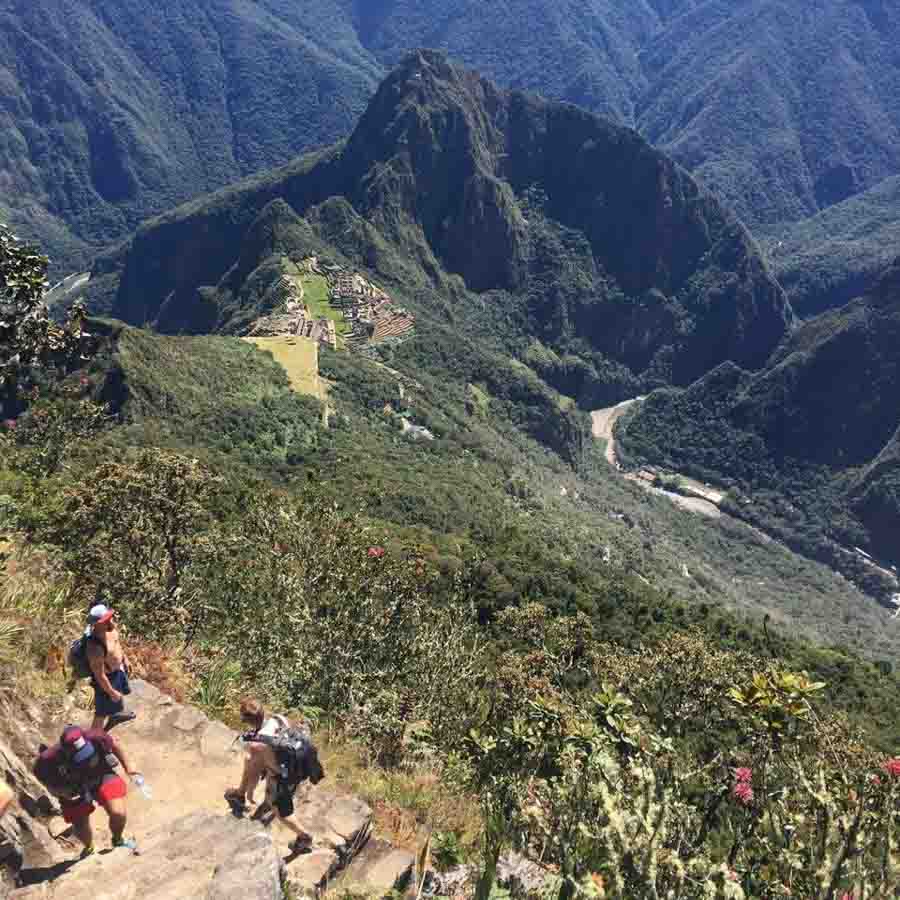 54. A Top Adventure Experience in Machu Picchu
When planning my trip to the iconic Machu Picchu, I wanted to add some adventure.
There are two mountains that you can climb when visiting Machu Picchu: Huayna Picchu and Machu Picchu Mountain. Machu Picchu Mountain is the highest, towering 3,061 m (10,042 ft) above sea level and providing unparalleled views of the Inca sanctuary and surrounding mountains. It seemed that it would be a top adventure experience to hike this mountain.
The hike takes at least 3h (1h30min each way) and the trail is well-marked, laid out with stones and earth and relatively easy to follow. But even though it may not be difficult, the high altitude makes it an arduous journey. After 10min I was already struggling to breathe.  On top of that, the hike is continuously uphill, with almost no flat parts anywhere.
I was sweating profusely and stopping every now and again to catch my breath. The good thing was that I wasn't the only one – it seems everyone on this top adventure experience were feeling the same.      Then it got even harder. The trail became narrower, steeper and more dangerous. Hikers were stumbling, stopping and cursing but also supporting each other.
After 1h15min, I reached the summit, out of breath and very tired, but the reward was awe-inspiring!  The panoramic view consisted of a bright blue sky, delicate clouds and the glittering Urubamba River snaking around colossal mountains covered with lush vegetation. The Inca ruins, Huayna Picchu and Putucusi Mountain looked so small in the distance, they seemed almost unreal. What an incredible sight!
Machu Picchu Mountain Hike is the hardest hike I've ever done but definitely one of the top adventures around the world. Be careful because you can easily injure yourself and don't forget to bring water, sunscreen and food. But most of all, enjoy the amazing view!
Check out more of Pericle's Machu Picchu mountain hike from 7 Continents 1 Passport.
More inside tips to doing these adventure experiences around the world
Certainly, here are some inside tips for adventurous experiences around the world, without explicitly mentioning the specific attractions:
**1. Local Guides**: When embarking on an adventure in a new destination, consider hiring local guides. They not only provide valuable insights but also enhance your safety with their knowledge of the terrain.
**2. Outdoor Gear Rental**: Instead of lugging your own gear around the world, look for local shops that offer gear rental. It's convenient and allows you to try specialized equipment.
**3. Sunrise or Sunset Adventures**: Opt for sunrise or sunset adventures. You'll often find fewer crowds, cooler temperatures, and the chance to witness breathtaking landscapes in a different light.
**4. Cultural Immersion**: Immerse yourself in the local culture. Whether it's kayaking in Asia or hiking in South America, participating in indigenous rituals or savoring traditional meals adds a unique dimension to your adventure.
**5. Eco-Friendly Choices**: Make eco-friendly choices whenever possible. Support adventure companies that prioritize sustainability and leave no trace principles. This ensures you enjoy nature without harming it.
**6. Adventure Groups**: Join adventure groups or forums online. They're great for finding like-minded travelers, sharing tips, and even organizing group expeditions. Safety and camaraderie go hand in hand.
**7. Off-Peak Seasons**: Opt for adventure activities during off-peak seasons. You'll not only find better deals but also a quieter, more intimate experience.
**8. Multisport Adventures**: Explore the versatility of your chosen destination. For instance, if you're into kayaking, find destinations that offer combined activities like kayaking, hiking, and biking in one package.
**9. Local Cuisine**: Taste local dishes on your adventure. Not only is it a delicious experience, but it also introduces you to the region's culinary traditions.
**10. Respect Local Customs**: Familiarize yourself with the local customs and etiquettes related to adventure activities. This ensures you have a positive interaction with the community you're visiting.
**Pros and Cons**: The pros of such adventures are the thrill and excitement, the chance to connect with nature and cultures, and the personal growth that comes from facing challenges. However, adventure travel can sometimes be physically demanding and carries inherent risks. Ensuring your safety should be a priority.
By following these tips, you'll enhance your adventure experiences and create lasting memories, regardless of the specific location or activity. Adventure is about discovery, so embrace the journey!
Enjoyed this? Pin it!
If you like what you see, come and check out my other social media channels for more updates, including Instagram, Pinterest and Twitter
Disclosure – There are affiliates links on this posts which provide a small commission to support this site at no extra cost to you. Thank you for reading, and happy travels.