Visiting Zion National Park: Exploring Popular Hikes and Natural Wonders
It doesn't matter what time of the year you visit Zion National Park, it still is a spectacular place to visit year round and worth seeing during each season. Since the park is relatively easy to get to from Las Vegas, it has become a very popular destination for a national parks. Or if your time is very limited, it can be done as a long day trip from Las Vegas. If you have more than one day, it really is worthwhile to spend as much time in the park and stay close by so you can see more of the stunning landscape or hike some to some of the popular landmarks within the park.
Entering the park
With limited parking access throughout the park, shuttle buses are the only vehicles allowed unless you are passing through to the east entrance of the park. For lodging, there are a few good camping options like this camping guide or staying at the Zion lodge and hotels just outside the park area. The shuttles run on a regular basis and are pretty efficient stopping at all the major vista points and attractions within the park. Once you find parking before the entrance, just follow the signs to the ticket area and visitors center on the way to the shuttle pick up spot.
A brief history about Zion National Park
Zion National Park, located in the southwestern United States, holds a rich and fascinating history that spans thousands of years. The region that is now Zion National Park has long been home to Native American tribes, with evidence of human occupation dating back over 10,000 years.
The Ancestral Puebloans, also known as the Anasazi, were among the early inhabitants of the area. They left behind impressive rock art, dwellings, and artifacts, providing glimpses into their ancient way of life. The Paiute and Southern Paiute tribes also have deep historical connections to the region, with their cultural heritage intertwined with the land.
European exploration of the area began in the 18th century, with Spanish missionaries and explorers venturing into the region. However, it wasn't until the late 19th century that Zion National Park gained recognition as a unique and awe-inspiring natural wonder. In 1909, President William Howard Taft designated the area as Mukuntuweap National Monument, primarily to protect the stunning sandstone cliffs and canyons.
In 1919, the national monument was expanded and renamed Zion National Park, with the word "Zion" referencing a place of refuge or sanctuary. The park's striking features, including the towering cliffs, deep canyons, and diverse ecosystems, captivate visitors from around the world.
Throughout the park's history, efforts have been made to preserve its natural beauty and protect its unique geological formations. The construction of the Zion-Mount Carmel Highway and the Zion Canyon Scenic Drive provided access to the park while minimizing impact on the environment.
Today, Zion National Park remains a cherished destination, attracting millions of visitors annually. It offers a wide range of recreational opportunities, including hiking, canyoneering, rock climbing, and wildlife viewing. The park's iconic landmarks, such as Angels Landing, The Narrows, and Emerald Pools, continue to inspire awe and wonder.
Hikes at Zion National Park
Spending time outdoors and visiting the popular monuments are a wonderful way to experience the park, if you have time then taking a nice hike on any of the trails within the park. There are many scenic hikes that you can do in the park depending on what you want to see, timeframes and length of hikes. The most popular hikes within the park including: the hike to the Emerald falls, the relatively short hike to the whispering falls and the more challenging Angels Camp. For early birds, an early morning hike to the scenic observation point overlooking the entire valley is worth getting up early and enjoying this wonderful and relatively easy hike with spectacular views of the main parts of the canyon. For a more comprehensive list of hikes available in the park, check out the Zion National Park hiking website here for more details and information.
Here are some highlights of my favorite trails in Zion National Park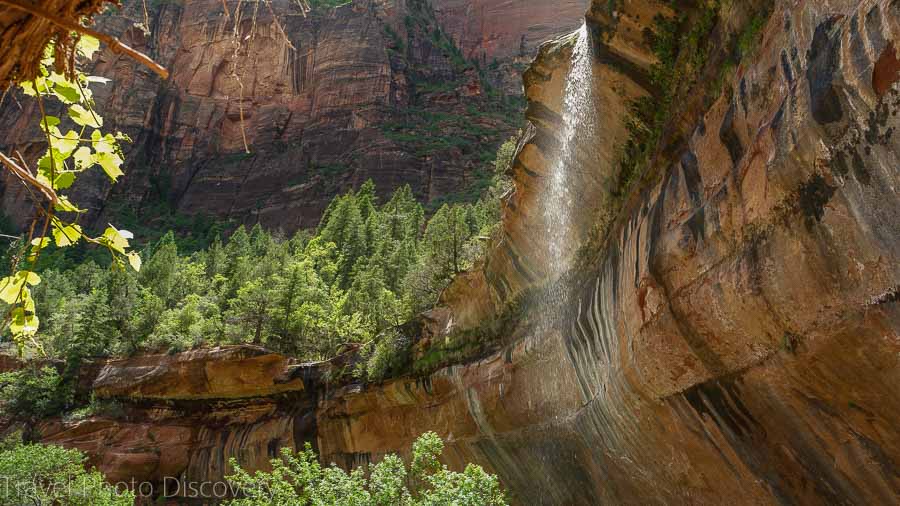 Hike to the Emerald Pools
This in one of Zion's signature hikes with breathtaking scenery, forests walks, going through behind shallow caves with waterfalls spilling out in front and climbing to wonderful panoramas of the canyon area. The round trip is about 3 miles in length but you can choose to just go in one direction and have the shuttle pick you back up at the designated bus stop. There is a series of lower, middle and upper pools that you can hike up to depending on your abilities but overall this is a moderate medium hike to do in the park.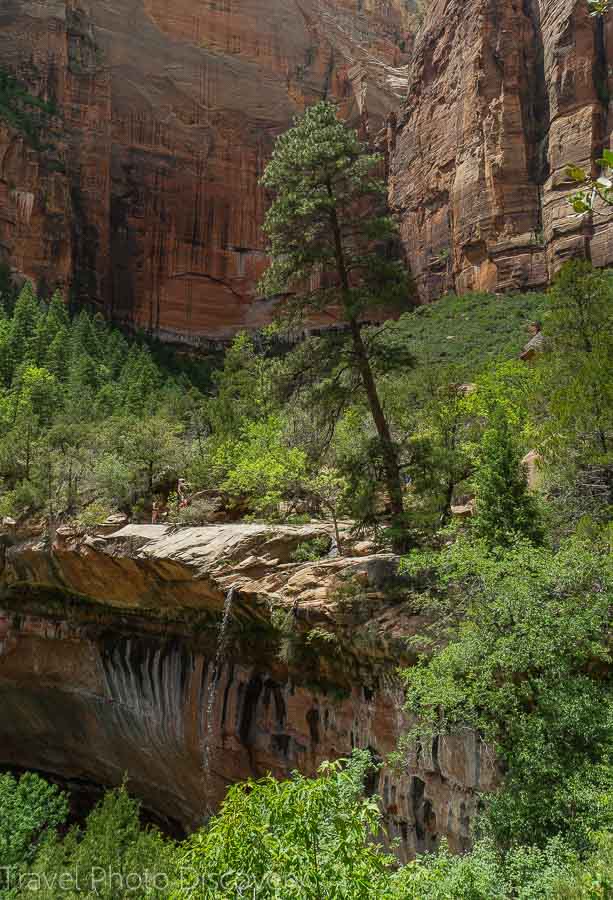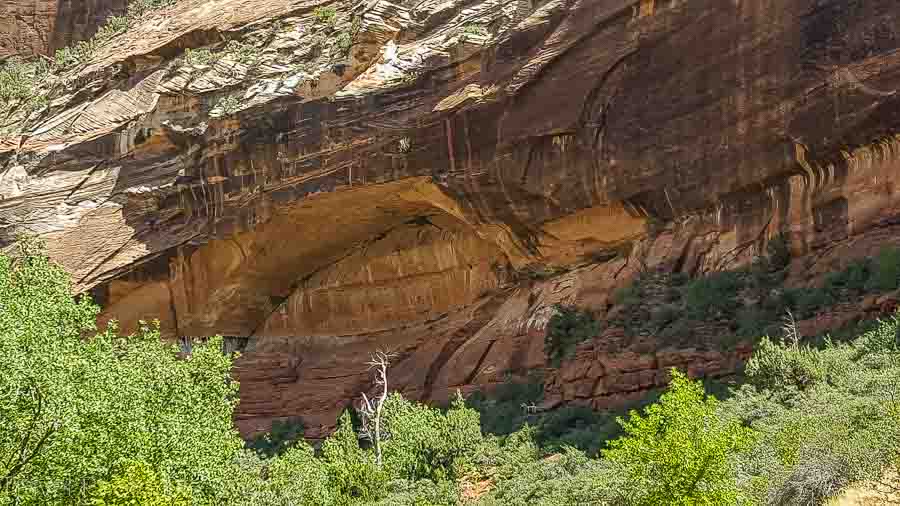 Weeping rock trail
A relatively easy hike to do, the Weeping rock trail is less than ten minutes to the seeping rocks and is considered family friendly. At the destination, you climb up to a shallow area at the base of the sandstone canyon walls where water weeps down the rocks into small waterfalls dripping across the shallow caves from hanging gardens above the canyon. Although it is relatively short, it is also steep with stairs at the end on asphalt pavement.
Wildflowers at the Weeping Rock Trail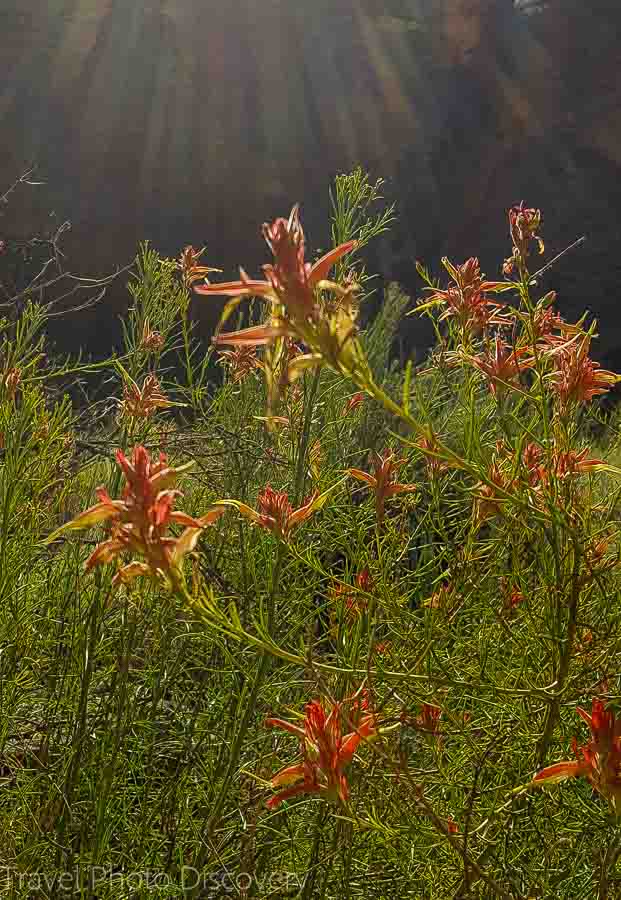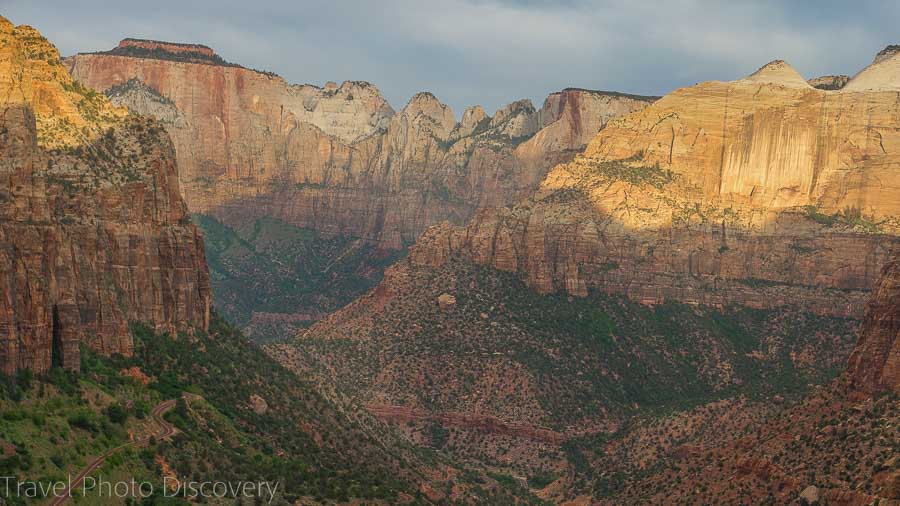 Canyon overlook trail
The best time to be at the observation point  from the Canyon overlook trail is for sunrise. This is a moderate hike about 1 mile roundtrip from the parking area. A mostly dirt and rock trail, it climbs up a canyon area through shallow caves and rocky terrain until you get to the clearing at the overlook area. On a clear sunrise, you will get an extraordinary scenic view of the entire canyon below you.
Tip: for a sunrise hike, make sure you bring a flashlight for the hike since the trail does go over rocky and unstable mountain terrain that is hard to see very early in the morning time frame.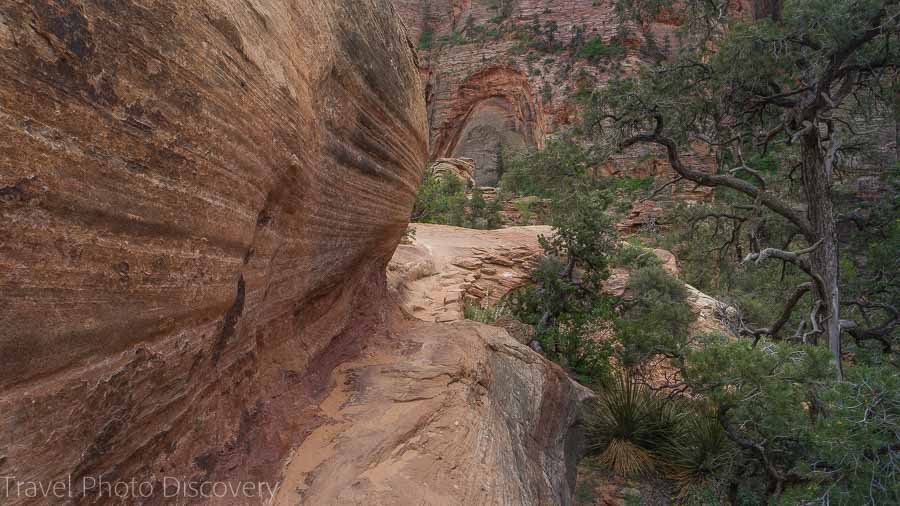 Scenic trail uphill to the overlook viewpoint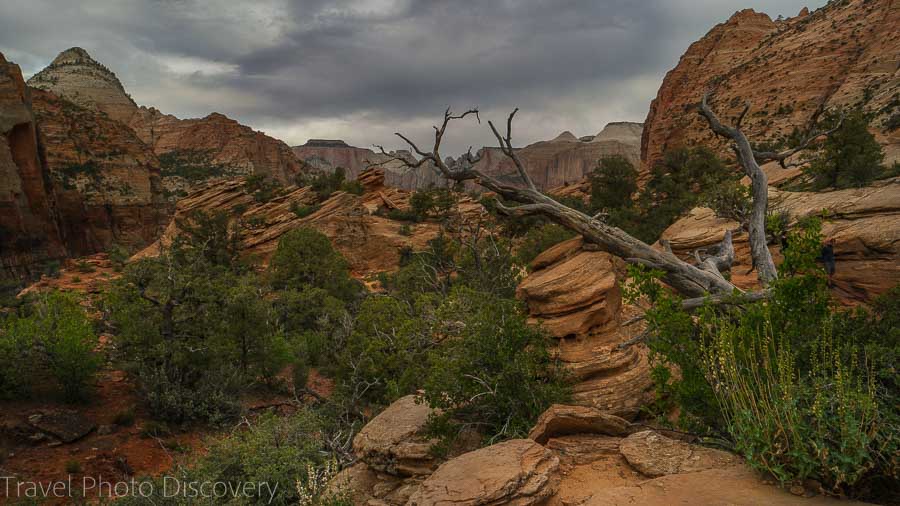 Riverside walk to the Narrows
Called the gateway to the Narrows, the riverside walk is mostly flat and on asphalt roads. As you walk along the Virgin river, you'll get wonderful views along the curving canyon walls which eventually start to narrow at the last point. This is where the trail head ends and you can basically continue by walking through the Virgin river into the famous Narrows of Zion National park. You can hike deep into the Narrows as far as you like or walk between 2 – 3 hours before you head into the area known as Wall Street. The entire length of the canyon goes up to 16 miles.
Tip: You will get wet either wading or swimming in certain spots walking through the Narrows on the Virgin River depending on conditions. The best times to take photographs with good lighting conditions in the Narrows would be from 10-3pm.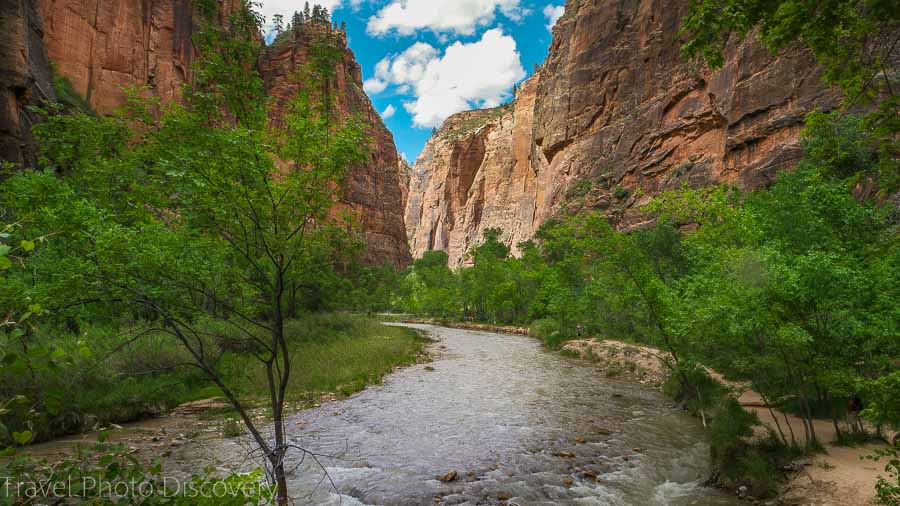 Entering the Narrows at Zion National Park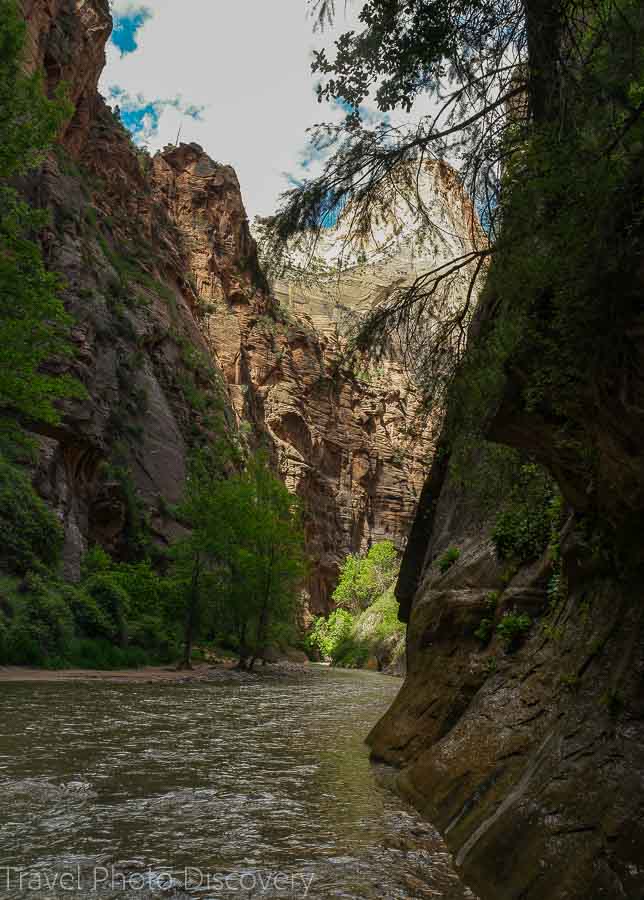 Kayenta Trail
This uphill trail skirts the canyon walls fronting the Virgin River and connects to the Emerald pools up on top. Mostly uphill on dirt/gravel paths, the scenic views are outstanding while you are heading up the canyon towards the pools. From the Emerald pools you can choose to hike back down the Kayenta trail or head the opposite direction down to Yellowstone lodge. Total round trip is approximately 3.1 miles depending on which direction you take roundtrip or headed to the lodge and bus stop.
Tip – later afternoon time frame is perfect to capture photographs of the canyon with valley views below and beautiful light that is hitting different areas of the canyon for you to create wonderful photos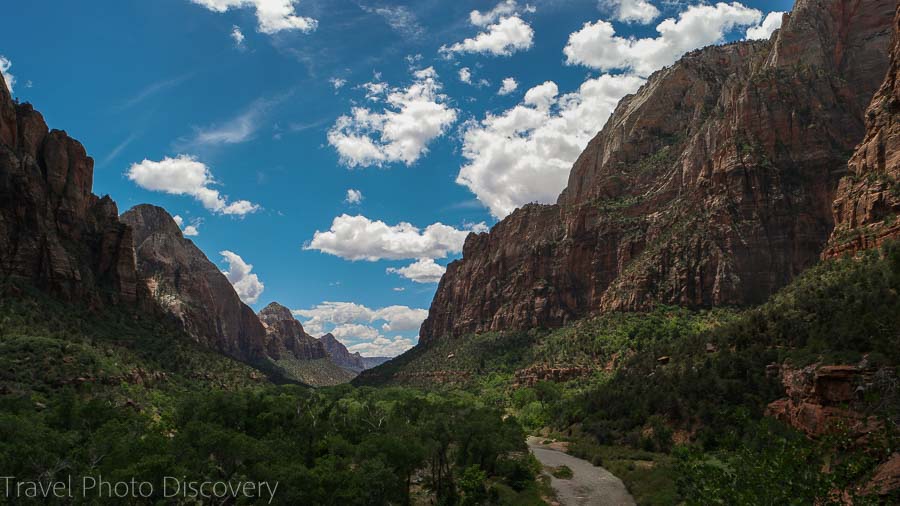 Climb up the Kayenta trail to Emerald pools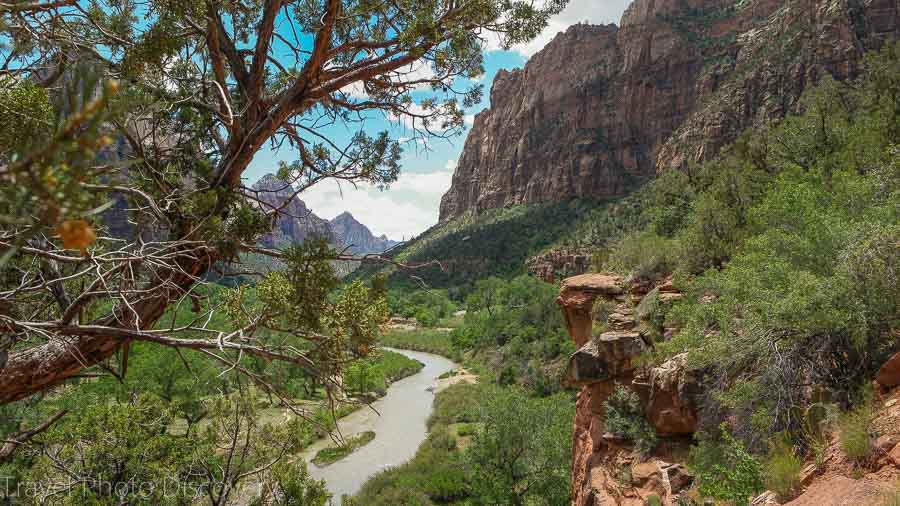 Pa'rus Trail
Skirting the canyon floor around the Virgin River, the Pa'rus trail is an easy hike on flat paved pathways which is also used for biking. You travel mostly through open meadows when scenic views of the Zion canyon with many of the monuments in view. The trail is about 3.4 miles in length from the main visitors center to the stone bridge scenic overlook.
Tip – you can break up your hike halfway by visiting the Zion Human History Museum or take a shuttle back directly to the campground or park main entrance.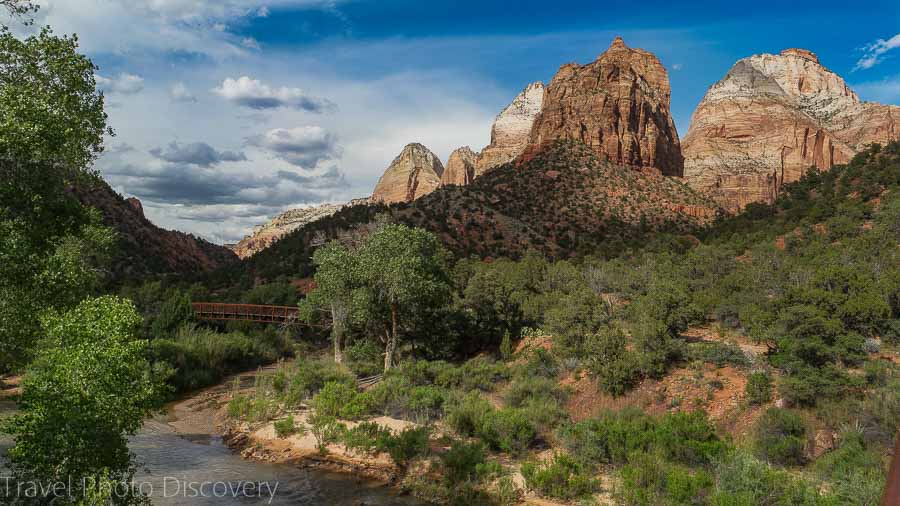 Scenic bridges over the Virgin river and the Pa'rus trail
Weather and the best time to visit Zion National Park
The weather in Zion National Park varies throughout the year, offering different experiences and opportunities for outdoor exploration. Understanding the climate can help you plan the best time to visit. Here's an overview of the weather and the ideal times to explore Zion National Park:
Spring (March to May): Spring brings mild temperatures, with daytime highs ranging from the 60s to 80s Fahrenheit (15-27 degrees Celsius). It is a beautiful time to visit as wildflowers bloom, and the park's landscapes come alive. However, be prepared for occasional rain showers during this season.
Summer (June to August): Summers in Zion National Park are hot, with temperatures reaching the 90s Fahrenheit (32-37 degrees Celsius). It is the peak tourist season, with longer daylight hours and ideal conditions for hiking and outdoor activities. Be sure to bring sun protection, plenty of water, and plan for crowded trails and popular attractions.
Fall (September to November): Fall is a popular time to visit due to the pleasant weather and stunning fall foliage. Daytime temperatures range from the 70s to 80s Fahrenheit (21-27 degrees Celsius), making it comfortable for outdoor exploration. It's advisable to pack layers as temperatures can drop in the evenings.
Winter (December to February): Winter in Zion National Park brings colder temperatures, with daytime highs ranging from the 40s to 50s Fahrenheit (4-10 degrees Celsius). Snowfall is common, especially in higher elevations. The park's striking landscapes covered in snow offer a serene and picturesque setting, perfect for photography and peaceful hikes. It's important to check for road closures and trail conditions during winter months.
The best time to visit Zion National Park largely depends on your preferences and the activities you wish to engage in. Spring and fall offer pleasant weather with fewer crowds compared to the busy summer season. However, if you plan to hike the park's famous trails, summer might be the preferred time despite the higher temperatures. Winter appeals to those seeking a quieter and more serene experience.
Regardless of the season, proper planning, checking weather forecasts, and being prepared for changing conditions are crucial when visiting Zion National Park. With its stunning landscapes and diverse ecosystems, Zion National Park offers breathtaking beauty year-round.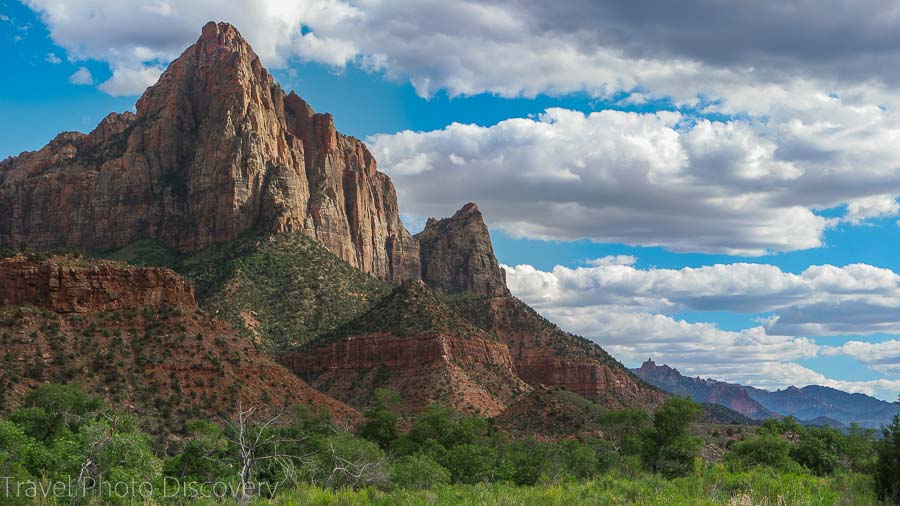 Tips and suggestions for planning your trip
Zion National Park is a very popular park due to its proximity to other national parks and landmarks close by, therefore you should plan and book all your accommodations, car rental and other tour activities in advance to your visit. The best airport with more airlines closest to the park would be Las Vegas International airport. It would be easy to also rent your car directly from the airport rental car centers which is just outside of the main airport.
Research and Plan Ahead: Familiarize yourself with the park's layout, hiking trails, and popular attractions. Consider the activities you'd like to pursue and plan your itinerary accordingly. Check for any trail closures, permits, or reservation requirements.
Choose the Right Time: Determine the best time to visit based on your preferences and the weather. Consider visiting during the shoulder seasons of spring or fall for milder temperatures and fewer crowds. If you prefer warmer weather and longer daylight hours, summer might be your preferred time.
Book Accommodations in Advance: Zion National Park and the surrounding areas offer various lodging options, including campgrounds, lodges, and hotels. Make reservations well in advance, especially during peak seasons, to secure your preferred choice.
Pack Proper Gear: Be prepared for outdoor activities by packing appropriate gear. Comfortable hiking shoes, layered clothing for changing weather conditions, sun protection (hat, sunscreen), a refillable water bottle, and a backpack are essential. Don't forget your camera to capture the park's stunning landscapes.
Stay Hydrated and Snack Smart: Carry enough water to stay hydrated, especially during hikes. Pack snacks or energy bars to keep you fueled during your adventures. However, remember to follow Leave No Trace principles and dispose of waste properly.
Be Aware of Park Regulations: Familiarize yourself with park regulations and guidelines, such as trail etiquette, wildlife safety, and proper waste disposal. Respect the park's rules to preserve its natural beauty and ensure the safety of both visitors and wildlife.
Consider Transportation: Zion National Park offers shuttle services during peak seasons to minimize traffic and parking issues. Check the park's website for the shuttle schedules and plan your transportation accordingly. If driving, arrive early to secure parking spots, as they can fill up quickly.
Embrace Leave No Trace Principles: Practice responsible tourism by following Leave No Trace principles. Leave the park as you found it, minimize your impact on the environment, and respect wildlife and natural resources.
Check for Ranger Programs: Take advantage of ranger-led programs and activities offered in the park. These can include guided hikes, educational talks, and stargazing sessions. Check the park's schedule for any upcoming events that align with your interests.
Enjoy the Journey: Finally, remember to slow down, take in the beauty of Zion National Park, and savor each moment of your trip. Immerse yourself in nature, disconnect from the digital world, and create lasting memories.
Details to visiting Zion National Park
Address: Zion National Park State Route 9 Springdale, UT 84767 USA:
Open Hours: Zion National Park is open year-round, 24 hours a day. However, the visitor centers, shuttle services, and certain facilities may have specific operating hours that vary throughout the year. It's recommended to check the official website of Zion National Park or contact the park directly for the most up-to-date information regarding visitor center hours and any temporary closures or restrictions.
Entrance Fees for Zion National Park:
Private Vehicle: $35 (valid for 7 days) Motorcycle: $30 (valid for 7 days) Per Person (on foot, bicycle, or shuttle): $20 (valid for 7 days)
Please note that these fees are subject to change, and there may be additional fees for certain activities, such as camping or backcountry permits. Annual passes, such as the America the Beautiful Pass, are also accepted at Zion National Park. For the most accurate and up-to-date information on entrance fees, it is recommended to visit the official website of Zion National Park or contact the park directly.
Hotel Accommodations
During peak season around Zion, hotels fill up quickly and any availability gets more expensive with any open rooms. To save on costs book months to a year in advance or plan on visiting the park during the shoulder season to avoid paying higher prices. Here are some sites you can check out below to secure a room reservation in the immediate area outside of Zion.
Trip Advisor reviews and prices here of Zion hotels
Hotels.com Zion Area hotels and inns
Car Rental Information
Priceline name your price car rental
Travelocity car rentals
Flying close to Zion National Park
Las Vegas International Airport is the most convenient airport in the area with the most available flights. Here are some of the sites I recommend for you to secure your flights to the park or within a relatively short drive to the park.
Expedia.com for flight rates, check their website here for prices and availability
Travelocity for flights to Las Vegas and best prices
Priceline check flight routes and prices here
Check these other popular attractions to visit in the area
Zion National Park in black and white
Visiting Bryce Canyon National Park
Grand Canyon Tours from Las Vegas
Zion National Park from Las Vegas
Valley of Fire State road trip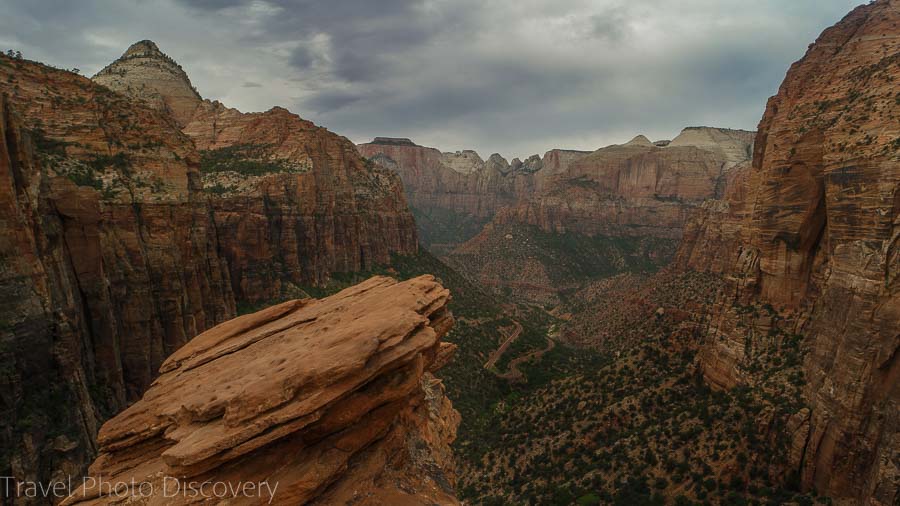 Conclusion to Visiting Zion National Park and popular hikes
In summary, visiting Zion National Park offers remarkable hikes and breathtaking natural beauty. Plan ahead, choose the right time, and pack appropriately. Respect park regulations, embrace Leave No Trace principles, and enjoy the tranquility of the surroundings. Let Zion National Park rejuvenate your spirit and create lasting memories in its stunning landscapes.
Thanks for visiting today, if you enjoyed reading this post on Visiting Zion National Park and popular hikes, please do share it with any of the social media links below, thank you.
If you like what you see, come and check out my other social media channels for more updates, including Instagram, Pinterest and Twitter
Note – some of the links above are affiliate sites to brands that support this web site. A purchase or click to any of the sites does help in the maintenance of this web site and I appreciate your generosity.