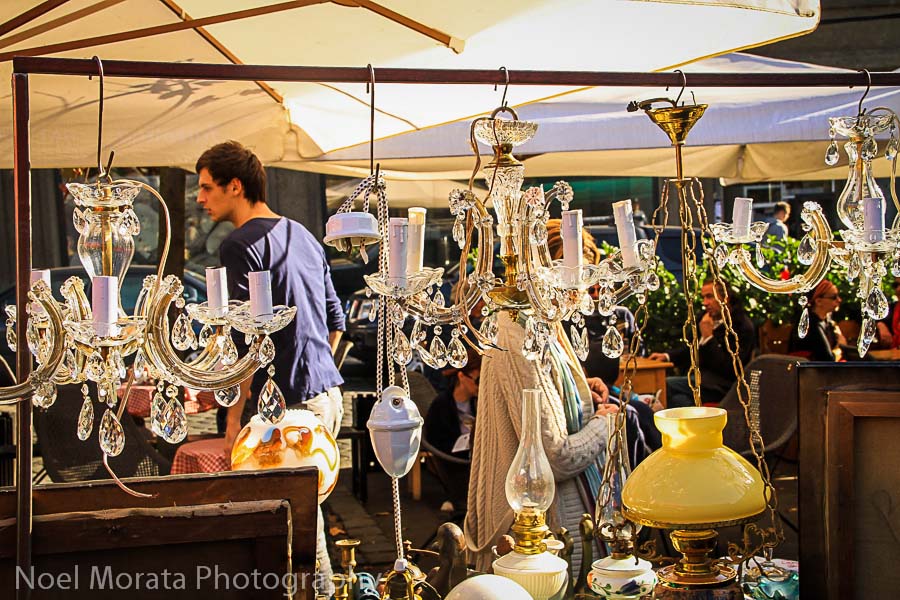 Exploring the Antique Markets of Zagreb: Uncover Hidden Treasures
On an early Sunday morning, the place to be in Zagreb is the antique market on British Square. It is quite busy already in the early morning hours with locals and tourists scavenging between the isles looking for interesting and one-of-a-kind collectibles only found at the market. It is a very entertaining and colorful market at the square with quirky and sometimes snarky vendors.
Why Visit the Antique Market in Zagreb?
Uncover Hidden Gems: The antique markets in Zagreb offer a treasure trove of unique and rare finds. From vintage furniture and retro clothing to antique jewelry and collectibles, you'll have the opportunity to discover one-of-a-kind items that hold historical and aesthetic value.
Dive into History: By browsing the antique markets, you'll immerse yourself in the rich history of Zagreb and the surrounding regions. Each item has a story to tell, providing a glimpse into the city's past and the diverse cultures that have influenced its heritage.
Authentic Souvenirs: If you're seeking authentic souvenirs or gifts, the antique markets are the perfect place to find something special. Rather than mass-produced trinkets, you can bring home a piece of history that reflects the local culture and craftsmanship of Zagreb.
Unique Shopping Experience: The antique markets offer a refreshing alternative to traditional retail stores. Exploring the stalls, interacting with knowledgeable vendors, and bargaining for a fair price creates a memorable and interactive shopping experience.
Personal Style and Home Decor: Whether you're a collector, a vintage enthusiast, or simply someone with an appreciation for unique aesthetics, the antique markets in Zagreb are a haven for those seeking to express their personal style and enhance their home decor with distinctive pieces.
Sense of Discovery: The thrill of the hunt awaits at the antique markets. You never know what hidden treasures you might stumble upon, making each visit an exciting adventure filled with surprises and the possibility of finding something truly extraordinary.
Support Local Businesses: By visiting the antique markets, you contribute to the local economy and support small businesses. These markets are often operated by independent vendors who are passionate about preserving and sharing their love for antiques.
Whether you're an avid collector, a history enthusiast, or simply curious about the past, visiting the antique markets in Zagreb promises a rewarding experience. Embrace the charm of these markets and embark on a journey of exploration, where you can uncover unique finds, delve into history, and bring home a piece of Zagreb's captivating heritage.
It's not often that you'll see costumed locals at an antique fair
Hang out spots around the Antique Market at Zagreb
A favorite hangout spot at the market is this cool vespa café, where all the outdoor seats are colorful vespa 's being used as chairs giving this place a very cool vibe and energy and the coffees here are very strong.
There are several hangout spots and bars located close to the antique market in Zagreb, offering a vibrant atmosphere and a place to relax after exploring the market. Here are a few notable options:
Tkalciceva Street: This lively street is lined with numerous bars, cafes, and restaurants, making it a popular choice for locals and visitors alike. Enjoy a drink or a meal while soaking in the vibrant ambiance and people-watching.
Strossmayer Promenade: Located in Upper Town, this charming promenade offers stunning views of the city and is dotted with cozy bars and cafes. It's an ideal spot to unwind, sip on a refreshing beverage, and enjoy the scenic surroundings.
Bogoviceva Street: Known for its bustling nightlife, Bogoviceva Street features a variety of bars, pubs, and clubs. Whether you're looking for a relaxed atmosphere or a vibrant dance floor, you'll find a place to suit your preferences here.
Cvjetni Trg (Flower Square): Situated in the heart of the city, this bustling square boasts several bars and cafes where you can relax and enjoy a drink. It's a popular meeting point for locals and a great spot to unwind and soak up the atmosphere.
Vinodol: Located near the main square, Vinodol is a beloved restaurant and wine bar that offers a wide selection of wines and delicious Croatian cuisine. It's an excellent choice for those seeking a cozy and sophisticated setting.
Check out all the cool architecture while you are in the area
If you are in the central district of Zagreb and looking for a unique place to spend the morning hanging and bargain hunting for cool antiques and collectibles, then head on out to the antique market on British square. It is an enjoyable way to spend the morning hours finding some treasures and gift items.
How to get to the antique market at Zagreb
Getting to the Antique Market in Zagreb is relatively easy with the following transportation options:
Public Transport: Zagreb has a well-developed public transportation system, including trams and buses. Check the local transportation website or app for the most convenient routes and schedules. Trams are a popular choice as they provide easy access to the city center and its surrounding areas.
Walking: If you are staying in the city center, the antique market might be within walking distance. Enjoy a leisurely stroll through the charming streets of Zagreb, taking in the sights and sounds of the city along the way.
Taxi or Ride-Sharing: Taxis and ride-sharing services are readily available in Zagreb. You can hail a taxi on the street or use a mobile app to book a ride. Inform the driver of your destination, and they will take you directly to the antique market.
Check out these other posts to visiting Zagreb area
Explore the ancient and cool Mirogij Cemetery at Zagreb
First impression of Zagreb, Croatia
Conclusion to visiting the antique market at Zagreb
Visiting the antique market in Zagreb is an engaging experience that offers unique treasures, a connection to history, and the opportunity to support local businesses. With various transportation options available, exploring the market is convenient. From vintage furniture to antique jewelry, the market caters to diverse interests. Embrace the joy of discovery and take home a piece of history from this charming market in Zagreb.
Thanks for joining me on visiting the antique market at Zagreb. . I hope that you enjoyed the visit and please do share the post with any of the social media buttons located around the post.