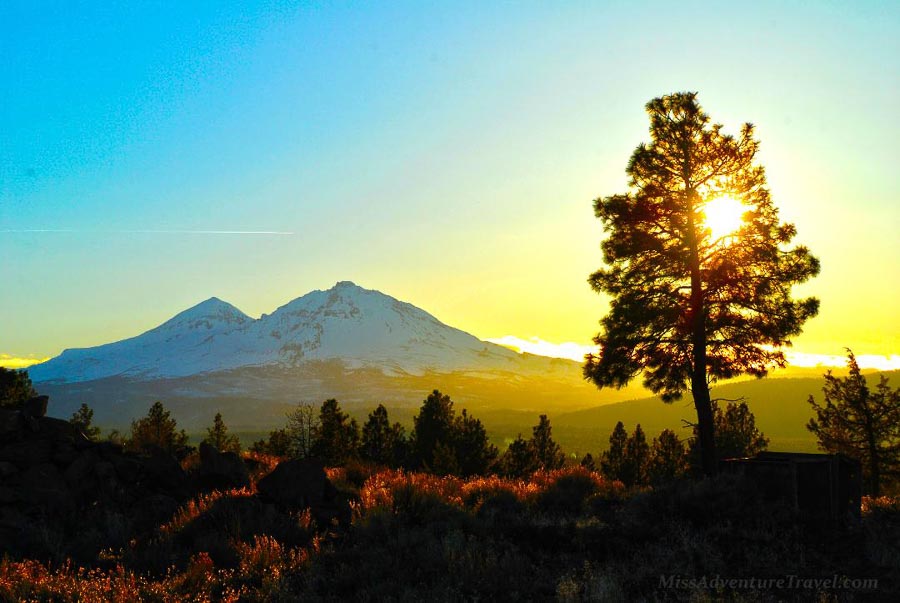 Nearly smack dab in the center of the state lies Oregon's best kept jewel. Bend is in the Central Oregon high desert sitting just to the east of the Cascade Range, providing it with a dry climate and 300 days of sunshine each year. It's not uncommon to overhear discussions of mountaineering, climbing, skiing, biking and other outdoor pursuits among its 100,000 residents (and quickly growing). Imagine a place where nightlife consists of a post-hike beer at one of the cities 22 breweries, where puffy jackets are always in fashion, and, despite having all four seasons, access to any outdoor activity you can dream up nearly year-round and check out any of these amazing Bend hikes in Oregon.
Try these hikes around Bend
I'm particularly keen on rock climbing, camping and hiking, and despite my preference for having the trails all to myself, I decided to share a few of my favorite hikes with you. If you love waterfalls, also check out these fabulous waterfall fall hikes near Bend along with these other awesome hikes below.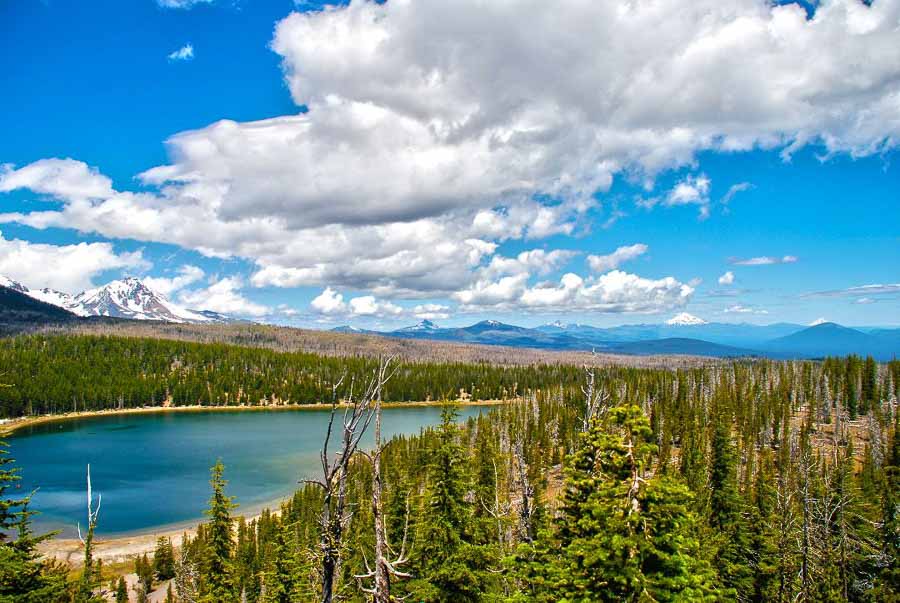 Tam McArthur Rim Trail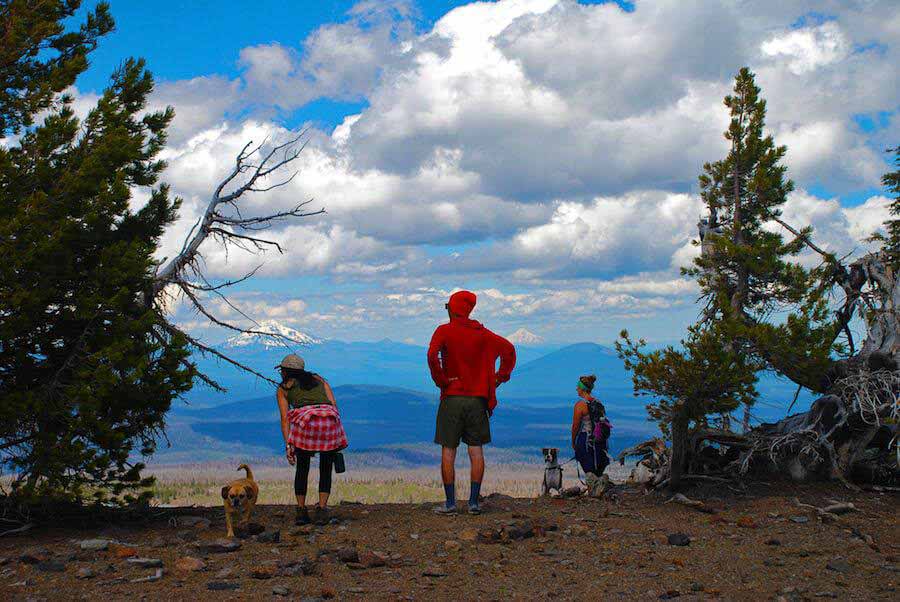 The author's friends and pooches Elvis and Hudson on a day hike to Tam McArthur Rim.
Just west of Bend is one of my favorite day hikes called Tam McArthur Rim. It starts at the beautiful Three Creek Lake and winds up through the forest and across an open plain until you reach the rim, offering expansive views of secluded lakes below, and across to the mountain peaks beyond. You can walk along the rim all the way to Broken Hand, a small rock formation with a bit of a scramble to the top. The views are all impressive, but standing atop Broken Hand changes the perspective just enough to make the climb up worth it. For those who want an even longer hike, or an overnight trip, continue down into the valley and across to Broken Top, then out of the trails leading to Cascade Lakes Highway.
Tumalo Mountain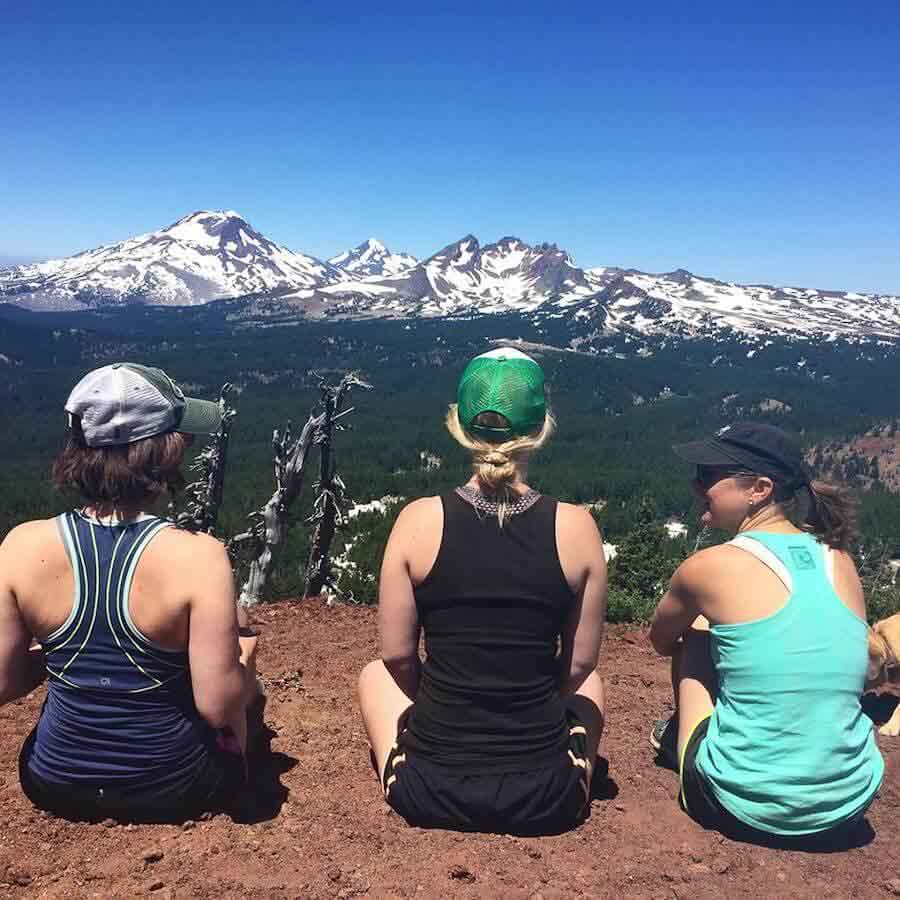 Jessica (far right) and her friends at the Tumalo Mountain summit, overlooking the Three Sisters.
Sitting just across the highway from Mount Bachelor (our largest ski resort), sits Tumalo Mountain, offering a beautiful, tree-covered dirt trail winding all the way to the top. From the peak you'll earn a 360-degree view, including the other mountains in the range and it's an unforgettable site to behold.
Green Lakes Trail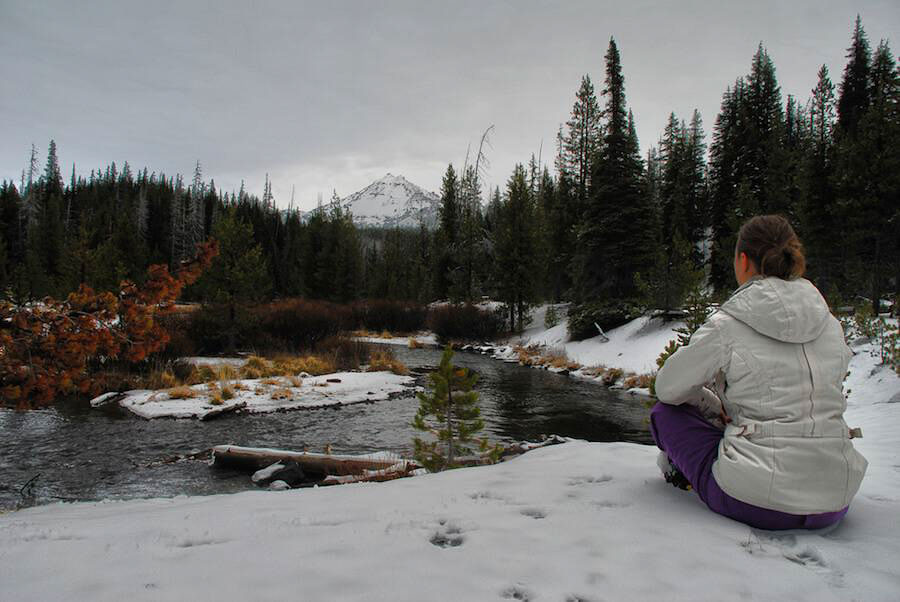 Jessica sitting at the Green Lakes trailhead, contemplating a snowy hike.
On summer weekends, this is one of the most popular trails since it's relatively easy and offers a full day's adventure. At 8.5 miles round trip, it takes about six hours, beginning with a forest-covered trail winding slowly up along the creek and past several impressive waterfalls, before eventually down into a lake basin sitting between the South Sister and Broken Top Mountains. On a sunny day, you can see them reflected in the main lake.
Misery Ridge at Smith Rock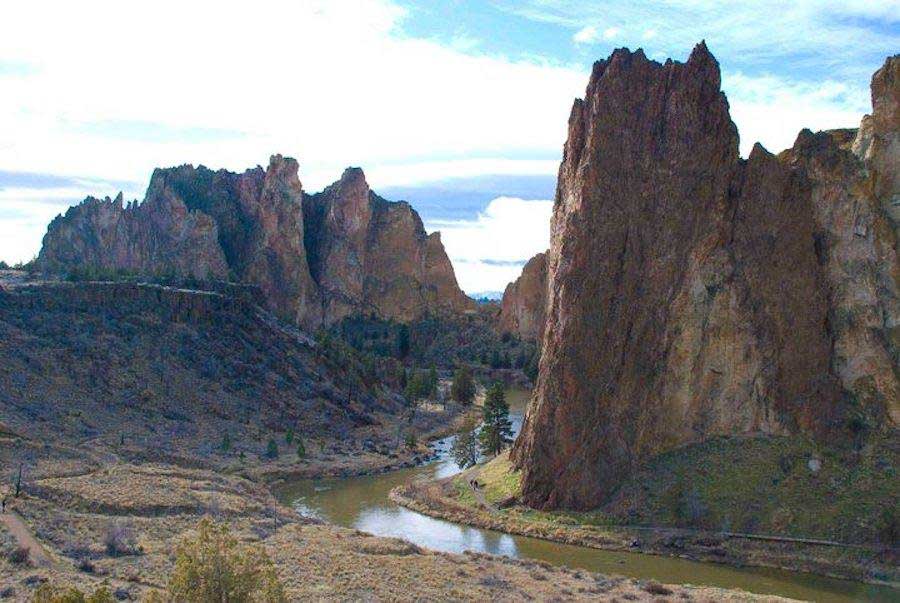 The view from the entrance to Smith Rock State Park, with part of the Misery Ridge trail winding along the Crooked River.
About 40 miles north of Bend, in the little town of Terrebonne, lies Smith Rock State Park, and it is perhaps one of Oregon's best kept secrets. Due to it's location being slightly off the beaten path and the popularity with the rock climbing crowd (fun facts: it's the place where sport climbing got its roots, and also the image on the Cliff Bars packaging!), arriving at Smith Rock can feel like you temporarily stepped into another world. The geography of the place is unlike anywhere else in Oregon, and Misery Ridge, the most popular hiking trail, leads you down to the river basin, then up a series of switchbacks to the top— where you can see Central Oregon sprawl out in all directions — before climbing down the other side and back along the river.
South Sister Summit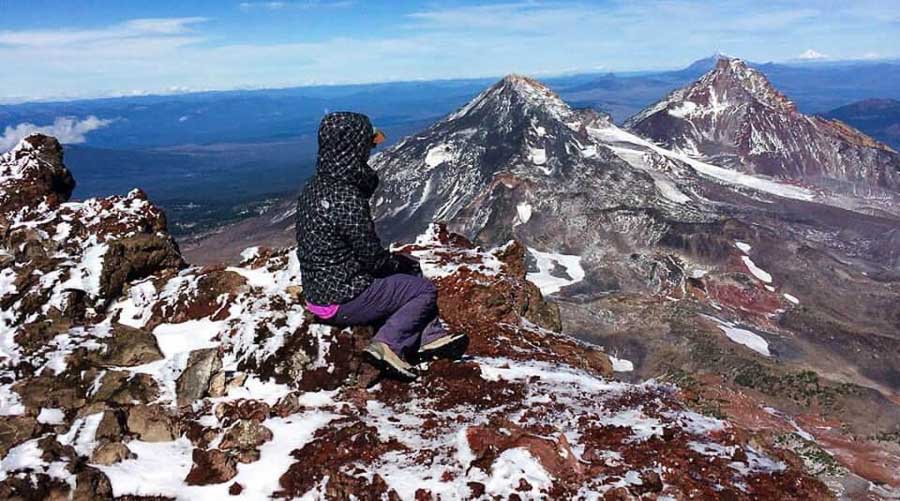 Jessica sitting on the summit of South Sister, overlooking the Middle and North Sisters on a beautiful October day.
If you're looking for more of a challenge than your typical 3- to 6-hour day hike, consider summiting the South Sister, which stands at 10,385 feet. While not an easy climb, it is a non-technical well-groomed 5.5-mile path to the top and is highly trafficked doable even by those who've never climbed a mountain (though it's not recommended if you're out of shape).
Tip: Take trekking poles, even if you normally hike without them. You're going to want them to save your knees on the steep descent to the parking lot!
If you're planning to visit Bend for some day hiking, it's best to come in the summer and fall when the trails are dry and sunny, but many of these are possible in the winter months as well, provided you have the proper equipment. Regardless of your chosen adventure, make sure to pack it in and pack it out to keep our trails as clean and nature-friendly as you're sure to find them.
If your thinking about visiting Central and Southern Oregon, why not consider an Oregon road trip and include some of these Bend hikes with your visit to the area.
Where to stay in Bend, Oregon
With Bend as a base for exploring these wonderful hikes in the area, you can find a variety of comfortable inns and hotels to accommodate all your needs. Here's a sampling of some places you might want to consider.
The Oxford Hotel – Fantastic ambience and location, this hotel is impressive will spacious and well appointed rooms with excellent restaurant/room service.
Tetherow Lodges – a beautiful location with views, this hotel has excellent amenities, Pool & gym, great breakfast service and comfortable bedrooms for your visit.
Spring Hill Suites by Marriott – New and modern hotel in an excellent location. Comfortable stay and Marriott service and quality.
For more reviews of hotel and inn availability and prices, check out Trip advisors top 10 recommended stays here for more information.
If you enjoyed the post, please pin it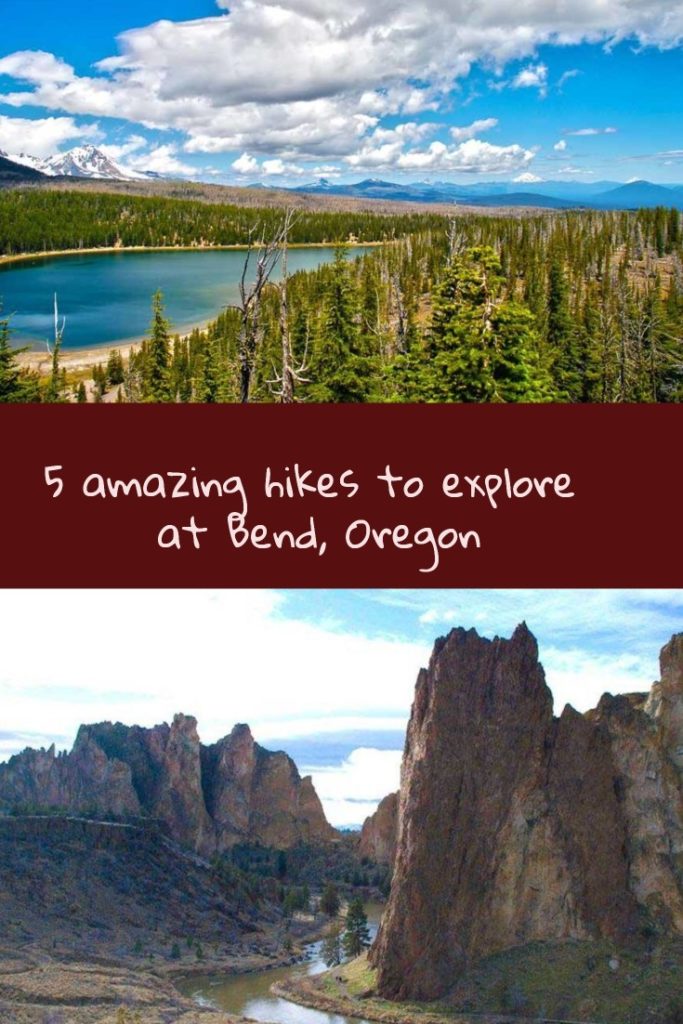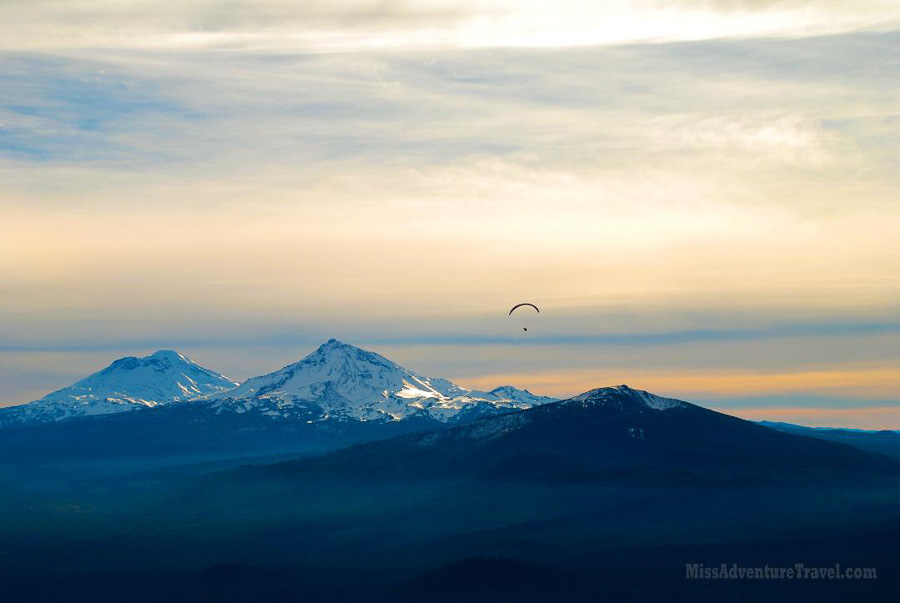 Guest blogger bio
Jessica Hill is the face of MissAdventure Travel, a blog about adventure travel and teaching English abroad. After teaching English in Thailand and China, she started a TEFL agency (Teach English: ESL) where she helps others teach English abroad.
Thanks for visiting today and checking out this post on the best Bend hikes in Oregon, if you enjoyed the images and post, could you please share it with any of the social media buttons located around the post.
If you like what you see, come and check out my other social media channels for more updates, including Instagram, Pinterest and Twitter
Disclosure – There are affiliates links on this posts which provide a small commission to support this site at no extra cost to you. Thank you for reading, and happy travels.