If you have 2 days in Portland, you'll have enough time to visit the most popular tourist attractions. Some of the top things to do in Portland include visiting the International Rose Test Garden, tasting Pacific Northwest style sour beers, and eating VooDoo Doughnuts. You'll enjoy all these fantastic things to do in Portland below and we've broken it down to a fun two day itinerary.
Portland is the capital city of Oregon, a state in America's Pacific Northwest. Many travel enthusiasts decide to road trip through Oregon. Oregon is home to some jaw-dropping natural wonders like Multnomah Falls, the Painted Hills, and Crater Lake. Also, there's the Newberry National Volcanic Monument outside of Bend. If a road trip through Oregon isn't on your bucket list, it should be!
While you are road tripping through Oregon, be sure to devote 3 days to explore Portland. It's a quirky city that's known for vintage thrift stores, fantastic food truck hubs, and an overwhelming amount of waterfalls. You'll also find world-class museums and exceptional restaurants in Portland.
Things to do in Portland Itinerary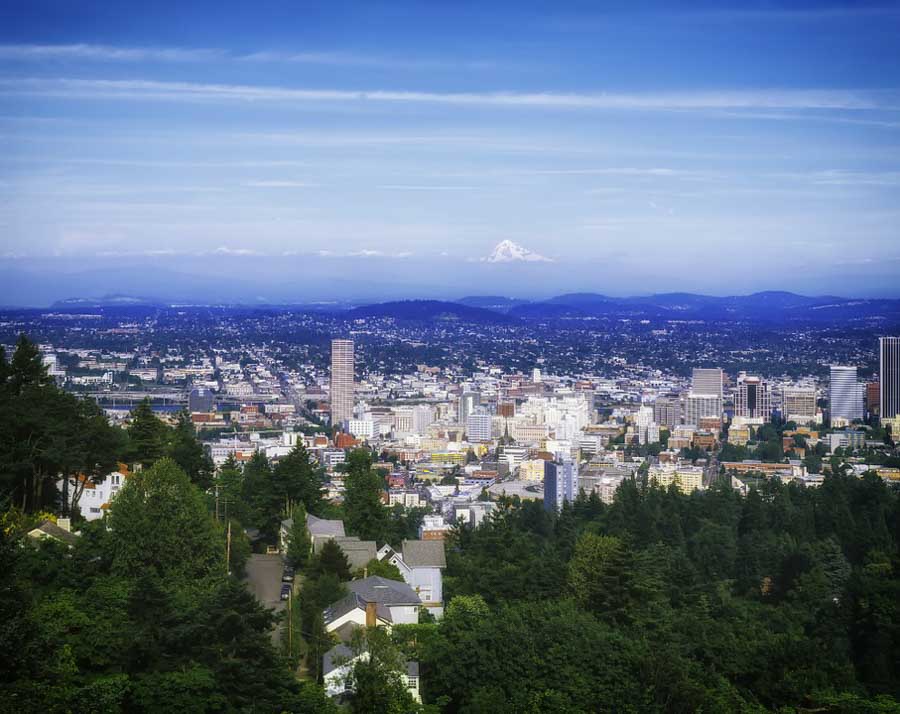 Flying or driving are the easiest ways to get to Portland. You can fly into Portland's international airport from many major cities in America and around the world. You can drive to Portland in 3 hours from Seattle, or 7 hours from Boise, Idaho. 
Most travelers choose to visit Portland during the summer months, especially June and July. If you are particularly interested in roses, June is the absolute best time to see them. However, you will be able to appreciate roses through September.
Portland is notoriously wet and cold in winter months. It is not advisable to visit during November, December or February. However, May and September are the best times to enjoy milder temperatures as well as reduced crowds.
2 Days in Portland Itinerary
To get the most out of this itinerary, it's best to stay in downtown Portland. You'll also have an easier experience if you can have access to a car.
This high-energy itinerary is designed to give you the most authentic Portland experiences within a short period of time. During day 1 in Portland, you'll check out the famous Powell's City of Books and go shopping for unique vintage pieces.
During day 2 in Portland, you'll tour both the International Rose Test Garden as well as the Japanese Garden. If you have more than 2 days in Portland, consider taking a day trip to the nearby Willamette Valley wine region or the gorgeous Columbia River Gorge.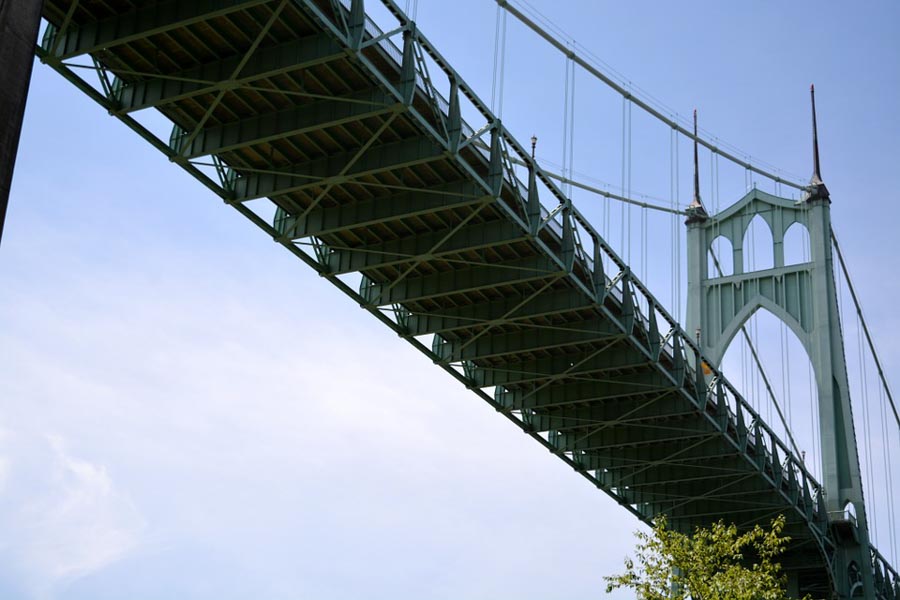 Day 1 in Portland
During day 1 in Portland, you'll start your day with a delectable breakfast at Hunnymilk. Once you finish breakfast, you'll learn more about the city on the Secrets of Portlandia Tour. Later, you'll visit Powell's City of Books, go thrifting, and try some brilliant brews. If you only have one day in Portland, consider doing many of the fun activities and attractions around the city.
HunnyMilk
Hunnymilk is the best place to go if you're looking for an especially delicious breakfast. Don't worry, you don't need a reservation since this restaurant operates on a first come, first served basis. If you can make it there before 10 AM, you likely won't need to wait for a table.
Hunnymilk is a brunch focused restaurant. You can expect to find mouthwatering, inventive, dishes as well as the typical breakfast cockatils like Bloody Marys and mimosas.
Secrets of Portlandia Tour
The Secrets of Portlandia tour is a fantastic introduction to this vivacious city. It's one of the most popular walking tours, and it's FREE! Well, not exactly. This tour operates on tips.
The tour guide is notoriously funny and entertaining. Narratives are engaging and memorable. Specifically, you'll hear the origin story of the famous VooDoo Doughnuts. You can also expect some spooky ghost stories.
In addition to learning some of the interesting history of Portland, your guide will be sure to provide recommendations about restaurants, bars and shops. It's a unique opportunity to meet a local resident and obtain insider tips.
Powell's City of Books
Powell's City of Books is one of the most popular tourist attractions in Portland. You may have read about it blogs or news publications. It's been named the biggest independent new and used bookstore in the country. You will find Powell's City of Books in Portland's downtown Pearl District.
Leave some room in your suitcase, so you can buy a few books at Powell's. This will make a very good souvenir! At Powell's City of Books, you can expect to find everything from classics, to sweet deals, New York Times Best Sellers, and, even, rare first editions.
You may not believe it…but there are so many books at Powell's City of Books that the retail space takes up an entire city block! You may get lost in one of the over 3,000 sections. It's a bookstore unlike any other in America.
Portland's Pearl District is also home to the 'Keep Portland Weird' mural as well as the Portland Oregon White Stag Sign. These are two of the most instagrammable places in Portland. It will only take 15 minutes of your time to visit both locations and snap a few photos.
Vintage shopping
Portland has one of the largest collections of vintage boutiques in the country. There are nearly 50 different vintage shops in the city of Portland. Thrifting is one of the fun activities you can't miss. You will easily be able to find many affordable high-quality pieces.
Portland's Hawthorne district is most notorious for having a high concentration of vintage shops. Drive to Hawthorne Boulevard. You can walk to local favorites like Magpie and the House of Vintage. Stop by the Red Light Clothing Exchange or In Real Life.
You can find 90s tees, kid's pieces, jewelry, or accessories. There are also plenty of furniture pieces, fascinating pop culture items, or collectibles. You'll be sure to find something you won't find anything else!
While you're in the Hawthorne district, be sure to stop by Cartopia for the ultimate food truck experience. The Cartopia Cart Pod is an open-air food market with cozy fire pits so you can stay warm during cooler weather.
At Cartopia, you can find everything from Mexican to Middle Eastern food. You can also expect American favorites and classics like pizza. Alcoholic beverages like wine and beer are also available. This is a great place to go with a group since everyone can choose what they like.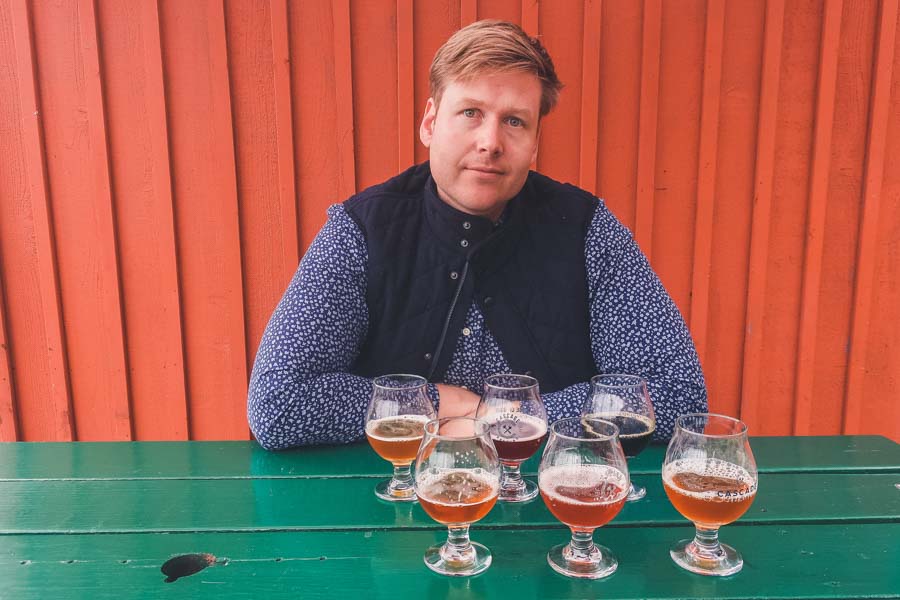 Cascade Brewing Barrel House
There are so many breweries in Portland that you'll have a hard time choosing which ones to go to. Portland is commonly called 'Beervana,' because there are close to 70 breweries in the city. You can't say you've been to 'Beervana,' without sampling some of the beers.
Consider visiting the Cascade Brewing Barrel House because they pioneered one of the most iconic Portland Beers, the Northwest Sour Ale. Cascade Brewing Barrel house has been in Portland for over 20 years, but they only started making sour beers in 2006.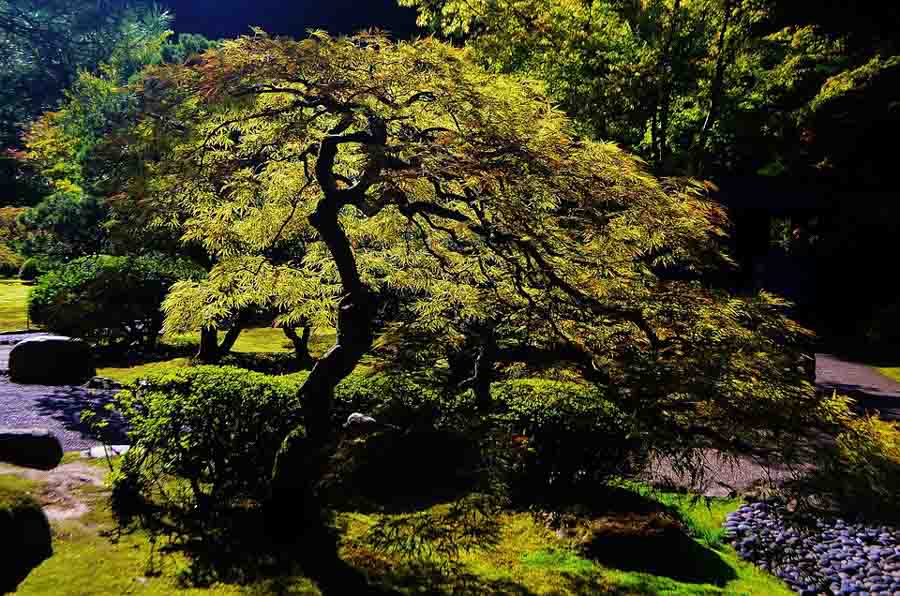 Day 2 in Portland
During day 2 in Portland, this itinerary will take you to the International Rose Test Garden and the Japanese Garden. You'll have a traditional Pacific Northwestern style lunch at Higgins. Finally, you'll hike at Council Crest Park and watch the sunset at Departure Restaurant and Rooftop Bar.
Ken's Artisan Bakery
There's no better place to start your day in Portland than Ken's Artisan Bakery. Ken Forkish is the esteemed author of Flour Water Salt Yeast. The book is an easily accessible how-to guide for making homemade bread. His book has won a James Beard award and an IACP award.
After a visit to Ken's Bakery, you might consider purchasing Flour Water Salt Yeast. If you're already an owner of Ken's book, and you've had a chance to sample some of his recipes, you'll enjoy the experience all the more!
You can expect to find the typical menu items like bread, sandwiches, cookies, and croissants. They also serve soups and coffee. Ken's Bakery partners up with Proud Mary Coffee Roasters. Recommended menu items include the Ken's Hero sandwich or the bakery's iconic walnut bread.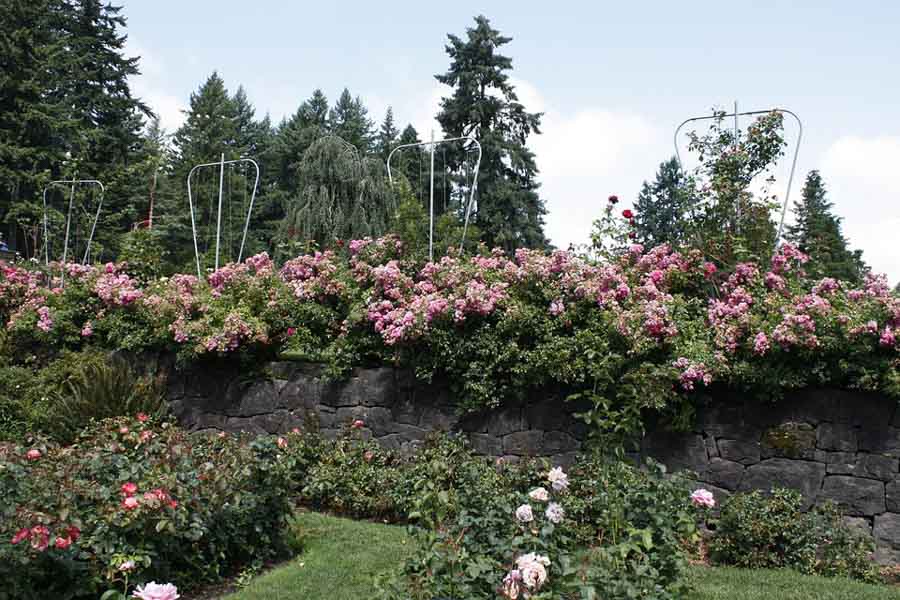 International Rose Test Garden
A visit to the International Rose Test Garden is a must while you're in Portland! This city has earned the admirable title of, 'City of Roses.' The name comes from a longstanding history of rose cultivation within city limits. This wonderful tourist site holds the title for being the longest operating rose garden in America that has always been open to the public.
It wasn't until the late 19th Century that the first rose bush was brought to America's Pacific Northwest. Much of Portland's rose history is intertwined with the story of the city's famous Pittock family. The Pittocks were early settlers and entrepreneurs. Georgina Pittock loved roses and she founded the Portland Rose Society.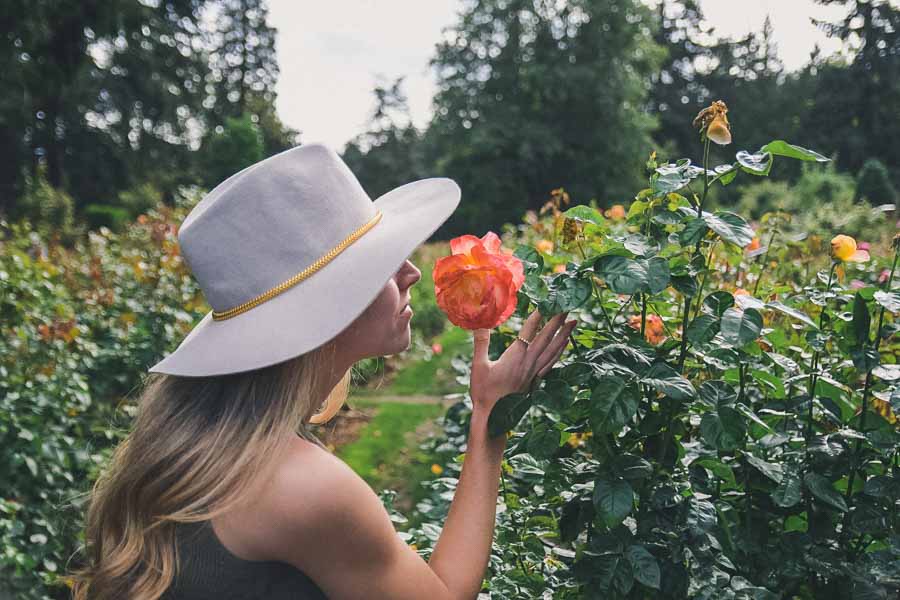 Given the city's passion for roses brought about by Georgina Pittock's Portland Rose Society, rose bushes were subsequently planted in very large numbers in preparation for the Lewis and Clark Expedition held in 1905. 
Although, there was another even more significant event that cemented the prestige of the International Rose Test Garden, WWI. During WWI, many European cities were under attack and desperately needed safe places to transport their rose hybrids. Their refuge for roses was Portland. So, roses were sent to Portland from all across Europe and the International Rose Test Garden was born.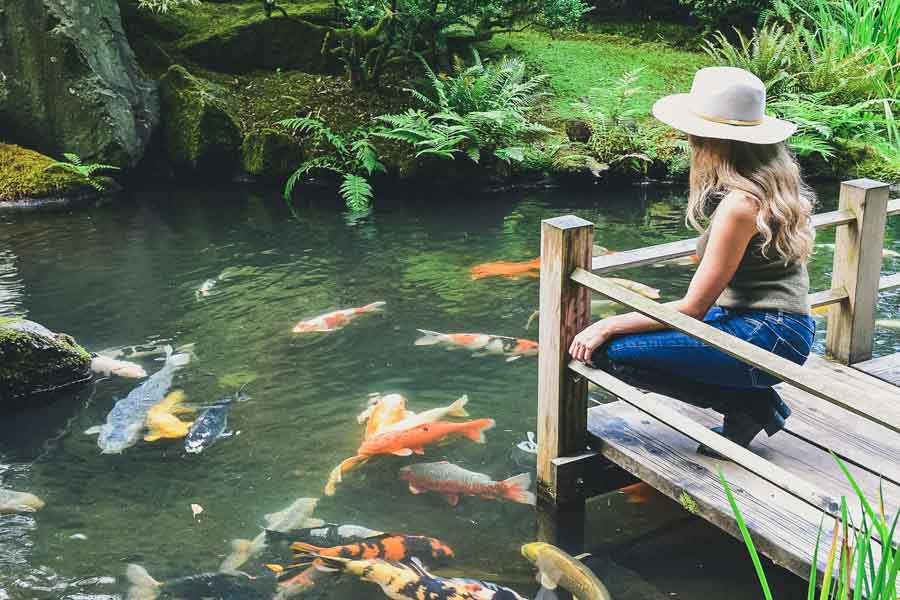 Portland Japanese Garden
Since you're in the neighborhood, you should also make time a quick visit to the Portland Japanese Garden. The Japanese Garden is made up of 8 distinct landscape regions that occupy over 12 acres. The Portland Japanese Garden offers a quiet refuge from the hustle and bustle of the city.
Portland's Japanese Garden is considered one of the most beautiful and authentic Japanese Gardens in America. It was praised by Nobuo Matsunaga, former Ambassador to Japan. You can meander along stone walkways, stop and listen to the babbling brooks, and enjoy the enchanting koi pond. The views from Portland's Japanese Garden are quite spectacular. You can even see Mt. Hood on a bright, sunny, day!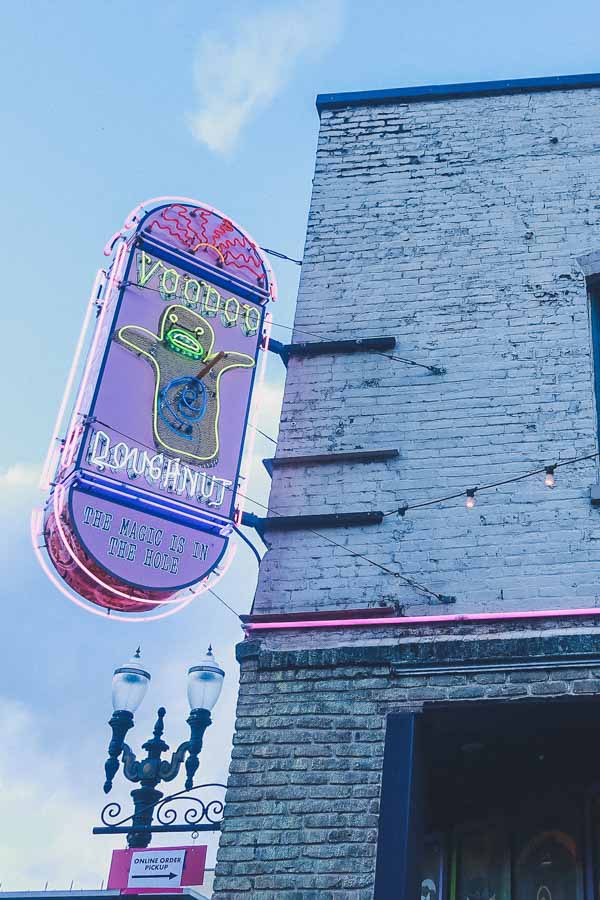 Lunch & Doughnuts 
Drive back into downtown for a healthy and scrumptious lunch at Bistro Agnes. This French-style bistro features a menu created by James Beard Award winning chefs. You'll want to book a reservation in advance to dine here. 
If you have room for dessert, head over to Voodoo Doughnuts. Voodoo is known for wild and wacky flavors like 'Viscous Hibiscus,' or 'Espresso Yo'self.' Voodoo's original location is located in downtown Portland. Nearby, you can also visit the highly instagrammable 'Keep Portland Weird' mural the Portland Oregon White Stag Sign.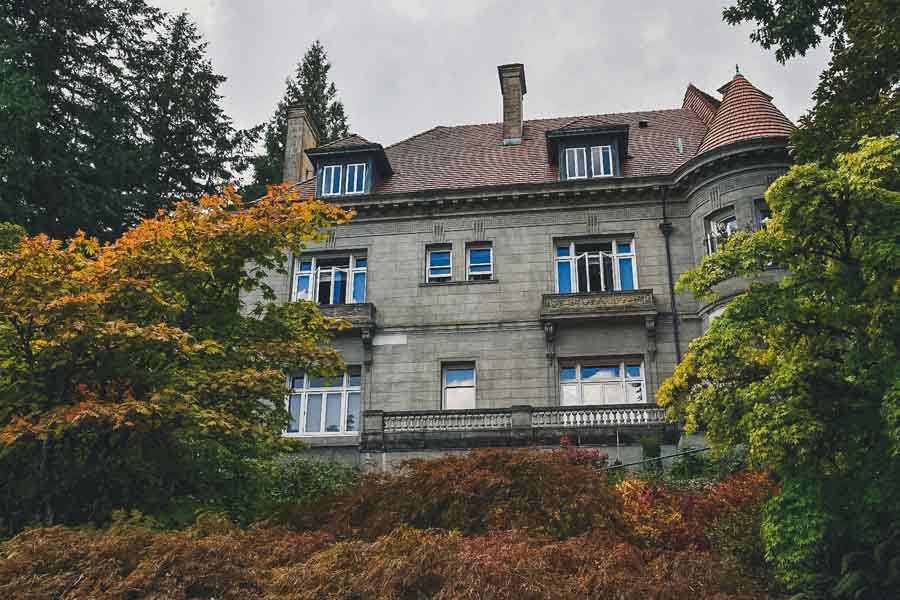 Pittock Mansion
The Pittock Mansion is a must-see on any Portland itinerary. It's an important piece of Portland's history, and the views from the property are breathtaking. Completed in 1914, this gorgeous French Renaissance style mansion was built for Henry and Georgiana Pittock. 
Henry Pittock was a successful businessman who earned an impressive fortune in his day. Accordingly, the property was built with many lavish modern amenities (state-of-the-art during this time) including an intercom system, an elevator, and a walk-in refrigerator.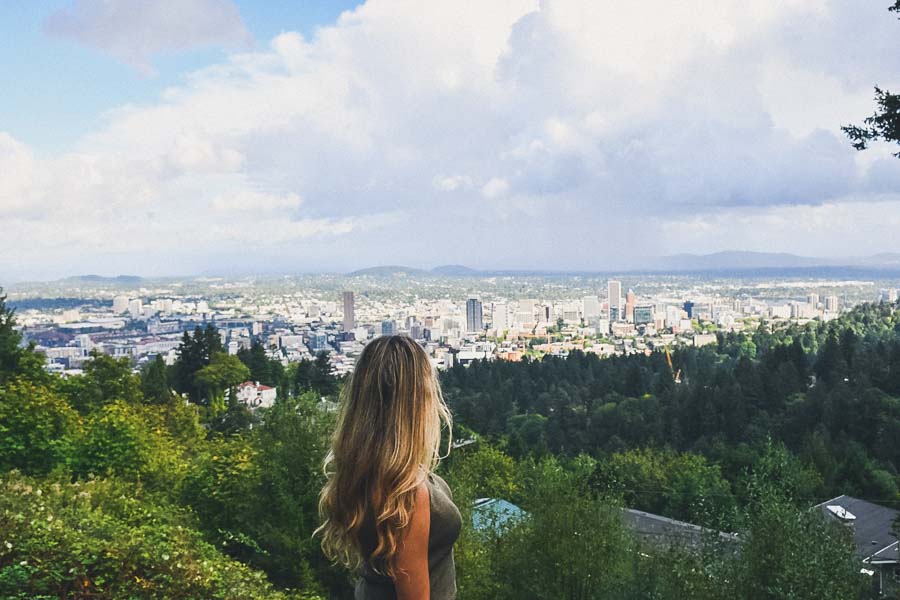 Dinner at Departure Restaurant
Departure is one of Portland's award-winning restaurants. It was given a Traveler's Choice award in 2020. Departure's menu focuses on pan-Asian classics. It serves them up in a refined setting. Although, the best part of Departure Restaurant is the rooftop bar.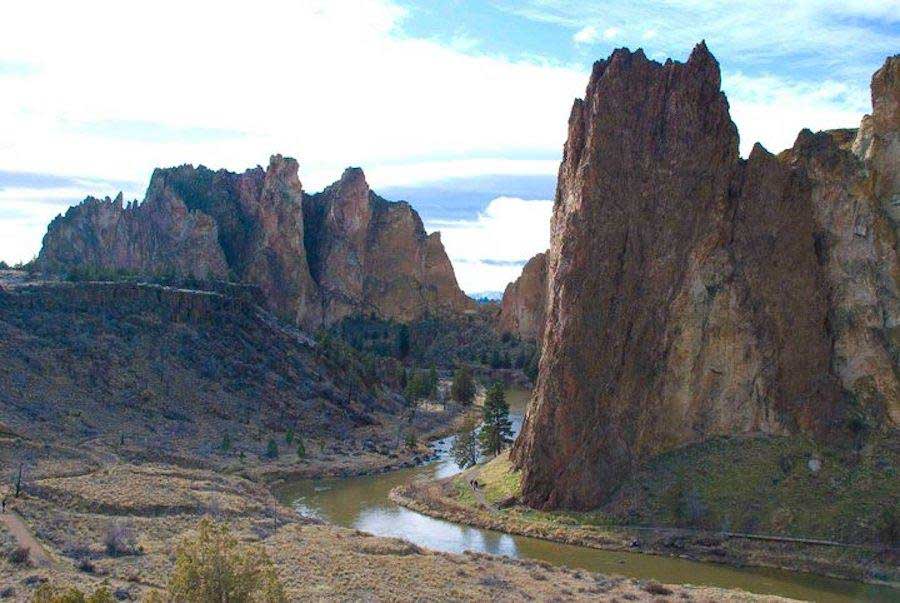 Have Extra Time in Portland?
Visit the nearby Willamette Valley. The Willamette Valley region is about an hour's drive outside of Portland downtown. The Willamette Valley is ideal for wine growing because of the cool climate and rich soils. You'll be delighted to discover 19 unique viticultural areas which are home to over 700 independently owned wineries! Within the region, there are over 70 distinct varietals grown. Pinot Noir steals the show here! Great places to visit include Domaine Serene Winery and Penner-Ash Wine Cellars.
Visit the Columbia River Gorge. The Columbia River Gorge is the ultimate activity for adventurers and nature lovers. In under an hour's drive from downtown Portland, you can reach an exceptional recreation area. You'll be able to go hiking, kayaking, fishing, and more! The most popular tourist attraction along the Columbia River Gorge is Multnomah Falls (the tallest waterfall in the state). There are also plenty of orchards, fruit stands, and wineries near the Columbia River Gorge in Oregon's Fruit Loop.
Spend a few days in Bend, Oregon. In under 3 hours driving, you can reach the quaint town of Bend. This is an ideal place to stay if you'd like to explore Crater Lake, the Newberry Volcanic Monument, or the Painted Hills. The town has plenty of comfortable accommodations, breweries, and some excellent restaurants.  
Looking for more Oregon Inspiration?
Best places to visit in Oregon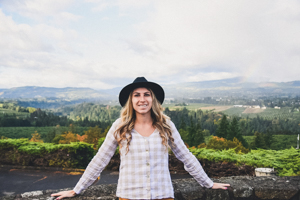 Author Bio
Valentina has always been obsessed with researching, organizing, and planning her vacations. She knows that many people don't have the time and energy to do this, but they still want to get the most out of their travels. Valentina's Destinations allows her to help other busy professionals maximize their experiences. Valentina is originally from Serbia, but she grew up in Chicago. She loves hunting down local restaurants, unique experiences, and hidden gems.
 Social Media
https://www.instagram.com/valentinasdestinations/
https://www.facebook.com/valentinasdestinations