A visit to Bonaventure Cemetery in Savannah, Georgia
I've heard from so many travel stories that when you visit Savannah, coming to the Bonaventure Cemetery is a must visit destination to get a better perspective of Savannah's history and traditions from the Victorian age to present. I love doing quirky and unusual tours and knew that coming to this famous Southern cemetery would be unlike any other cemeteries in the United States. Not knowing enough about the cemetery or the famous dead in Bonaventure, I decided that the best way to experience this amazing place and one of the top things to do in Savannah is to take a tour with an expert who can share some of the wonderful stories and history of this famous place. So I made a tour reservation (You need to book in advance) with Shannon Scott for his fun and informative tours of Bonaventure. If you are looking for a weekend getaway adventure in Georgia, then consider visiting Savannah and this amazing cemetery in the heart of Savannah.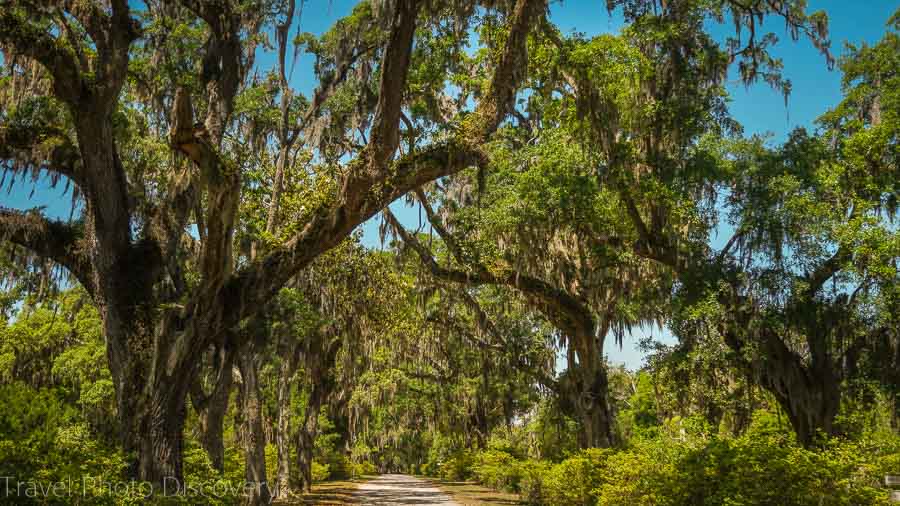 Part showman, storyteller and artist, Shannon skillfully draws us into his world with fascinating tales and bizarre stories of life in Savannah during the Victorian age when this cemetery was initially planned. Apart from the many squares in Savannah during that timeframe, Shannon tells us that there were not that many parks in the city that gave a sense of space and for that matter fresh air from the dank smells and sewage around the city during that time frame. Even though Bonaventure was a cemetery, it was also a getaway for the locals to be outdoors and they treated the cemetery like a park and took day trips from the city to visit their dead relatives.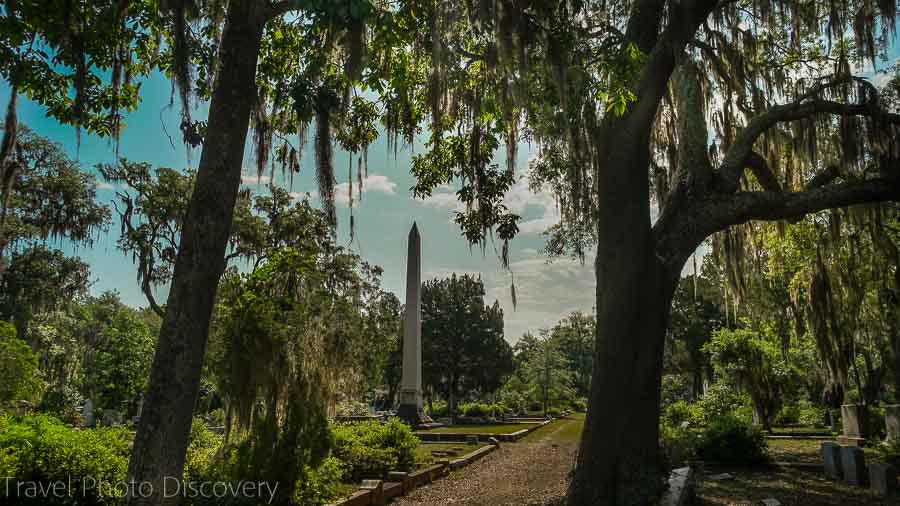 Avenue of Oaks at Bonaventure
Large Oak trees filled with Spanish moss create that quintessential Southern look and lining the major pathways of Bonaventure cemetery in grand style. In between the views to these dramatic trees are the plots of Savannah's elites and wealthy families, showing their wealth even in death with massive obelisks, statuary and other impressive architecture. Shannon draws us in to the mysterious and dark past with stories of kindred spirits, name dropping famous personalities like they were besties from their past lives and now being retold to his visitors at Bonaventure.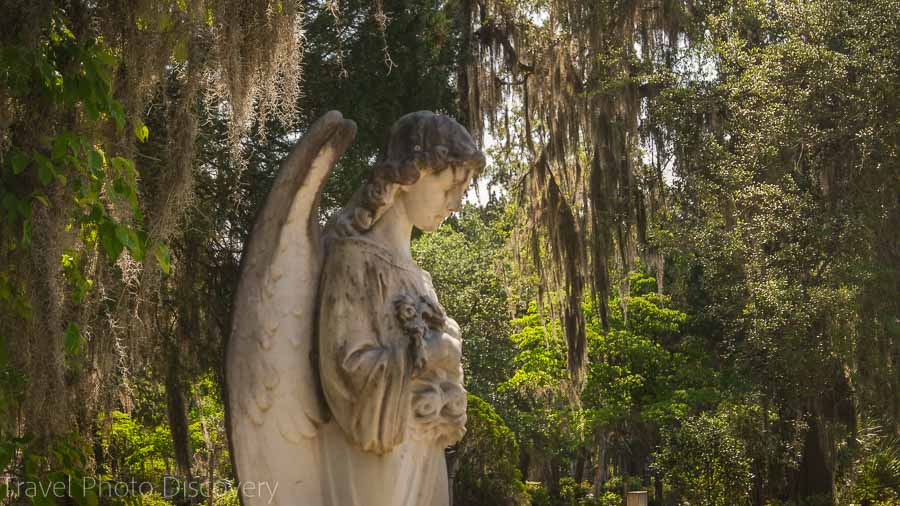 Wildflowers and unkempt gardens give a sense of wild abandon to Bonaventure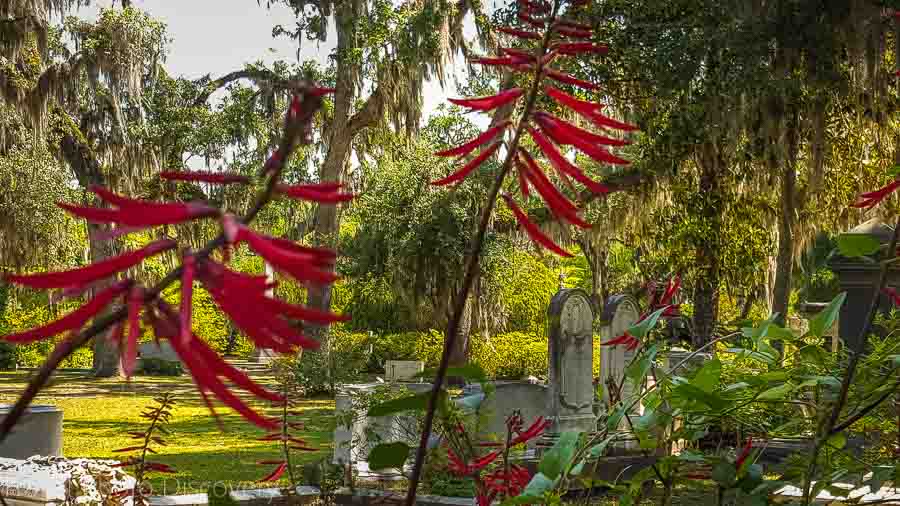 Scenic vistas overlooking the Wilmington River
At the edge of Bonaventure we walk along a path fronting the Wilmington river and Shannon tells us that right across the banks on the other side is another extension of the cemetery that still sells available plots for locals wanting to be buried at Bonaventure. This idyllic scene with the river and oak trees give such a wonderful presence to this spot that it really feels more like a park than an actual cemetery.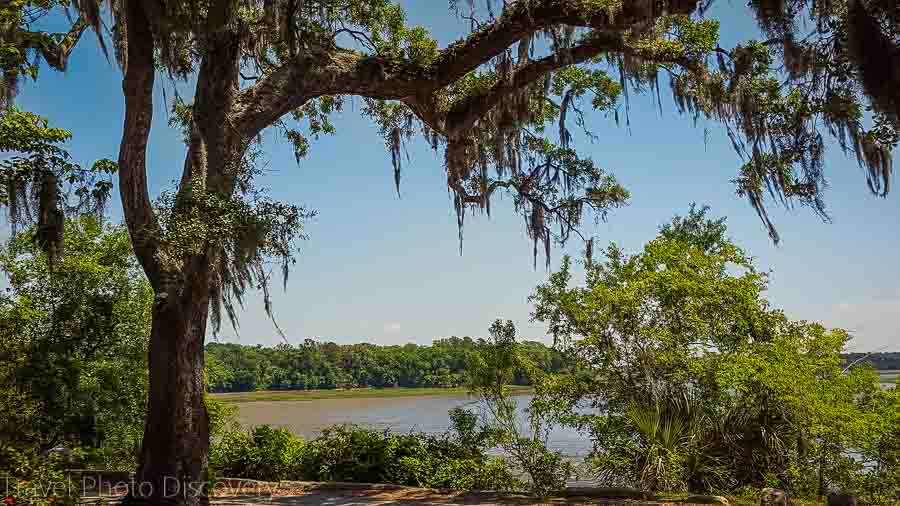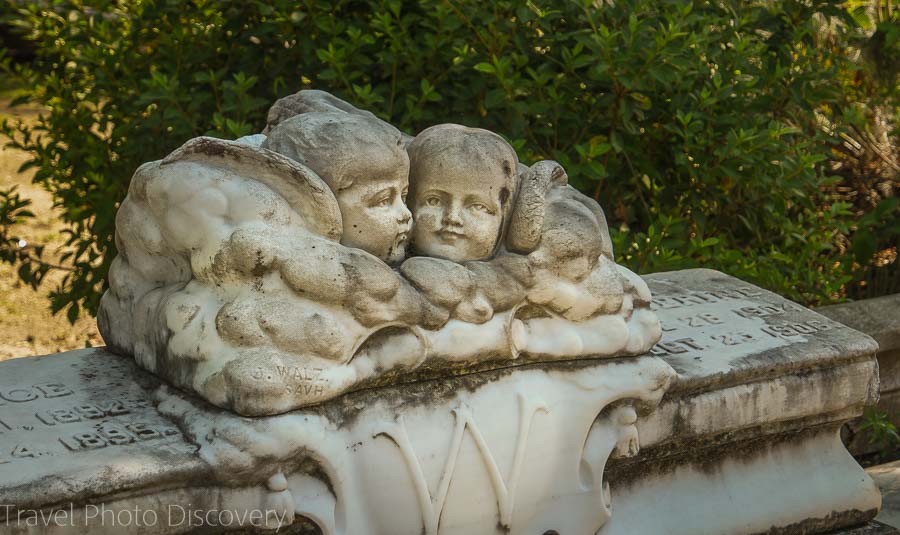 Children at Bonaventure
Shannon tells us during the Victorian age in Savannah, mortality rates were high for very young children and you can see many plots with children's busts like the sweet image of these young cherub like faces sculpted by local artist John Walz. This famous sculpture created amazing pieces around the cemetery including the well-loved child of Savannah 'Little Gracie', who's grave is the most visited  site at Bonaventure. Surrounded by an ornate iron fence, I spotted a variety of toys and other memorabilia at the gravestone and apparently visitors always come to visit and leave little gifts for the girl who charmed the entire city of Savannah during her short life.
The grave of Little Gracie at Bonaventure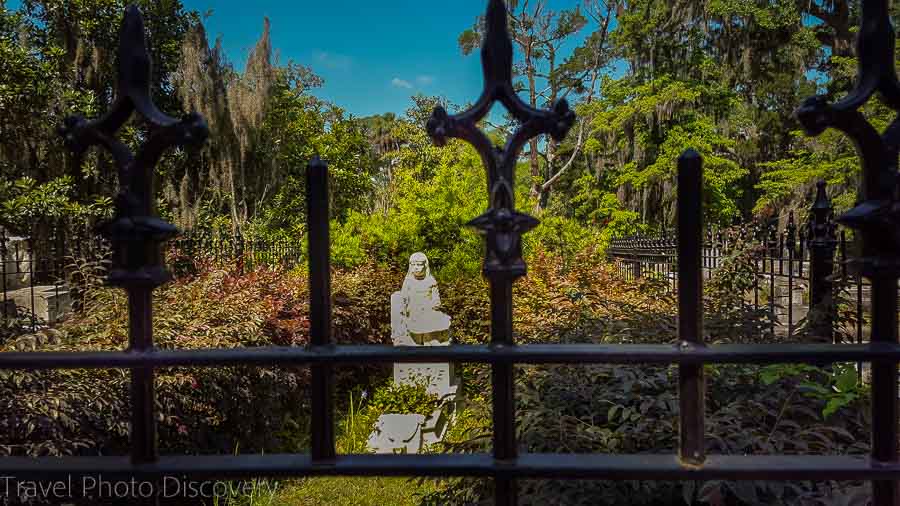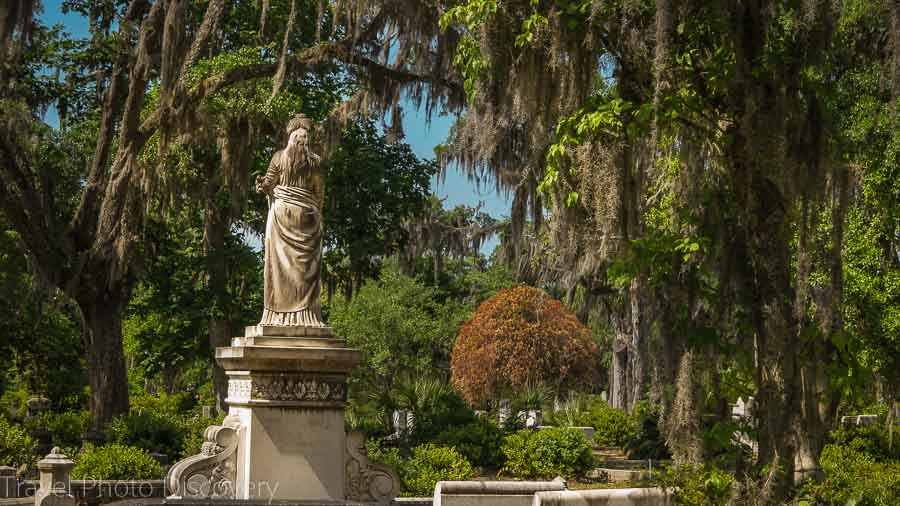 Johnny Mercer family plot
Savannah's musical genius has a quiet spot at Bonaventure, but music aficionado Scott shares some wonderful story's about Mercer's history and upbringing in Savannah. Scott captivates us with his storytelling to this music prodigy who started at as a young white Jewish boy singing in popular black Minstrel shows. Eventually Mercer wrote and performed over 1,500 popular songs and later became the founder of Capital Records. He was also well-known for writing the music and lyrics to many famous Broadway shows, being nominated for 19 Academy Award nominations and winning 4 Oscars for his original songs.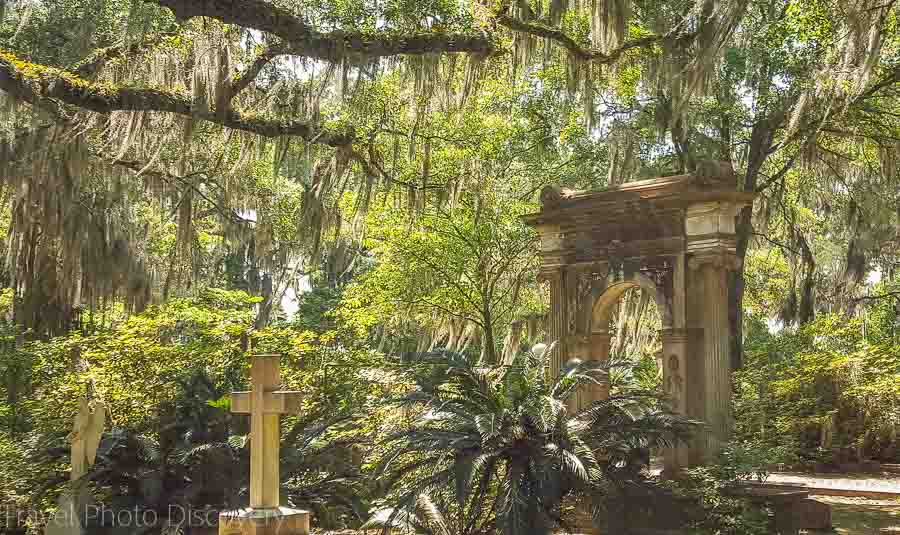 At the end of the tour, I decided to walk along the banks of the Wilmington river and try to find the illusive 'Bird Girl' statue of famously written up from the novel, "Midnight in the Garden of Good and Evil" by John Berendt. It wasn't until later that I learned the Bird Girl had been moved to the Jepson Center for the Arts, but it wasn't that big a deal, the walk and views were magnificent. Eventually I made it to the front gates and captures some gorgeous visuals looking up at the stone figures gracing the gates with those iconic oak trees framed in the background. I'll always remember and enjoy this last image that I took at the Bonaventure cemetery and sharing it with you below.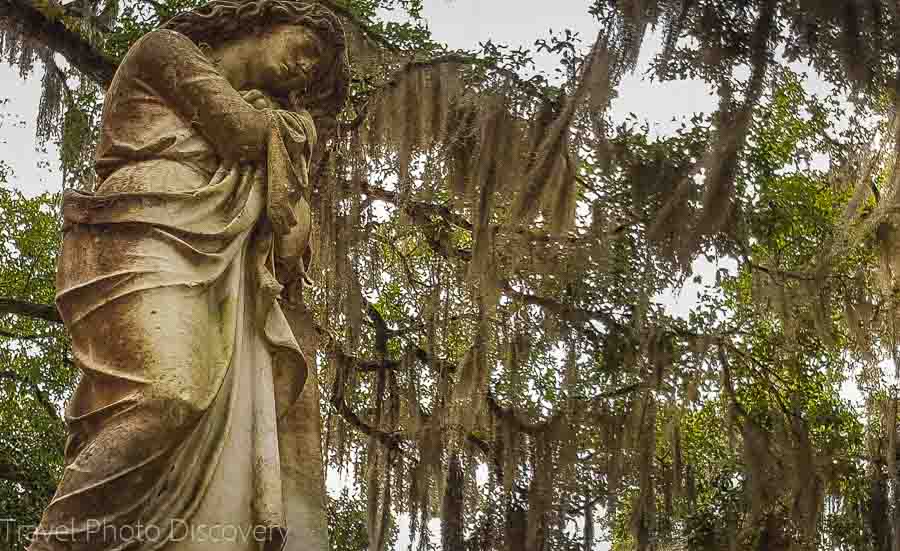 Thanks for visiting today and checking out this post on Bonaventure Cemetery Savannah , hopefully this visit will inspire you to go visit the cemetery if you go to Savannah. If you enjoyed the images and post, could you please share it with any of the social media buttons located around the post.
Also if you enjoyed this post please check out my other post that I wrote about Savannah below.
If you like what you see, come and check out my other social media channels for more updates, including Instagram, Pinterest and Twitter