Visit Savannah in 48 hours: fantastic attractions and places to explore (updated 2023)
Are you looking to visit Savannah in 48 hours and looking for things to do in the area? Savannah is one of those quintessential southern cities that completely retains its traditional roots and southern charms. We can thank the Northern Union army for sparing the city from being totally demolished during the Civil war, unlike Atlanta and some of the interior cities of Georgia that were burned to the ground.
Visiting Savannah's historic district with all the well-preserved homes with gorgeous squares, green belt parks and beautiful details is perfectly Southern. Savannah has maintained it's genteel Southern lifestyle and dignity while being actively marketed as a tourist destination to the Southeastern region of Georgia. Magnificent private mansions and the historic district boast of the richness to Savannah's architectural styles and sophisticated taste of influential Savannah families and creating a prestigious presence to this lovely city. A visit to Savannah includes a visit to these historic Savannah sites in a short weekend getaway to Savannah.
Best things to do in Savannah and surrounding areas
On a relatively short two-day tour of the city, I was able to see many of the iconic monuments and historic landmarks in my Savannah travel. Here are highlights of the two-day visit to Savannah and what to see in Savannah. There's so many fantastic things to do in Savannah and I cover the best things to do around the city below.
Visiting Savannah – video highlights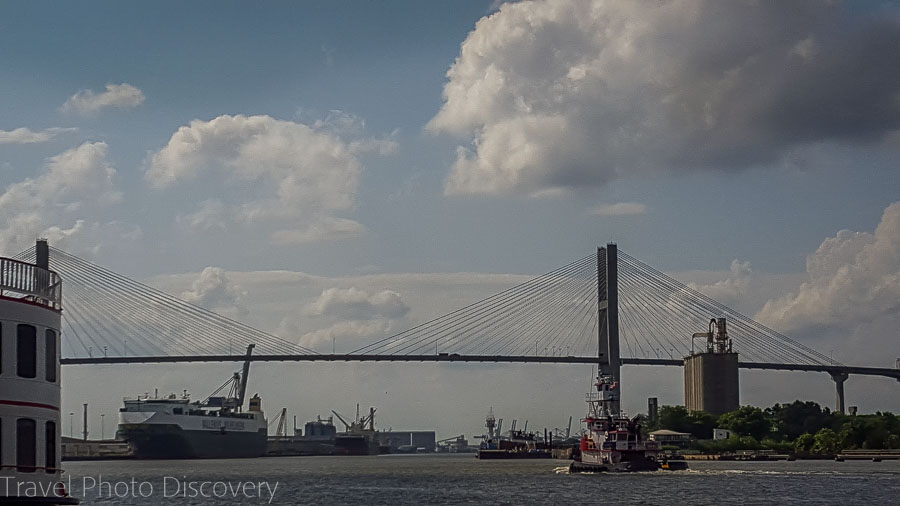 Visit Savannah in 48 hours – Drive from the low country region
It was only 7am and I was driving up from St. Mary's (close to the Georgia/Florida border) which is about a two hour drive on Highway 95. It seemed like I was the slowest driver on the highway that morning with everyone zipping quickly past my relatively slow 75 mph, or maybe that's just how people drive in this area?  Passing so many rivers and flat countryside, it was surprising how fast the drive is to Savannah. After finding my accommodation at the Hotel Brice next to the Savannah riverfront, I was ready to start my Savannah tour and exploring the city. Arriving mid day made for perfect timing for my first lunch destination at Mrs Wilkes Dining Room , a well loved establishment known for serving a traditional Southern food. Located in the basement of a stately brick home on James street, Mrs Wilkes buffet serves up a bountiful family style service with every type of Southern inspired dish that every Grandma would be proud of serving  visitors. After being divided up into groups of 10 people, we were lead to the back room with table service for our group all set along with over 15 types of typical Southern side dishes with crispy fried chicken, meat loaf and beef stew for entrees. If you plan on visiting to this buffet, come hungry since there is a lot of food presented on each table.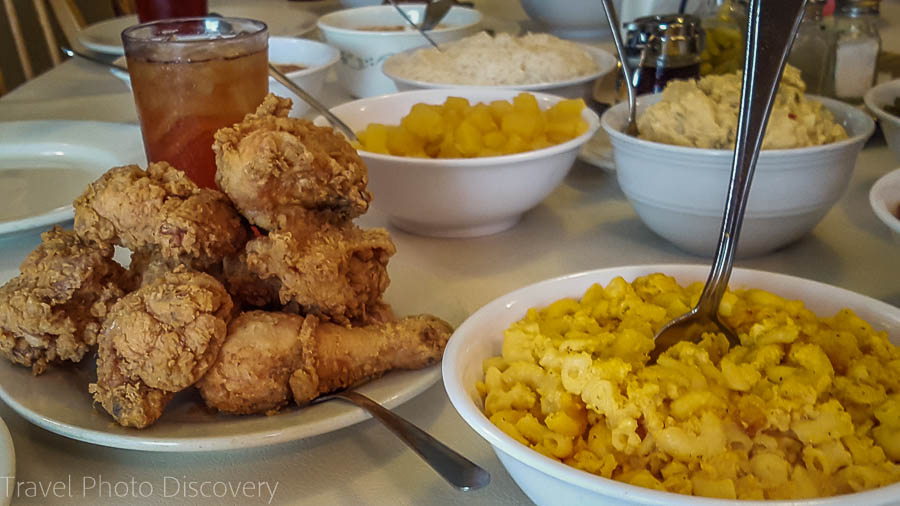 Lunch at Mrs Wilkes Dining Room – A Savannah institution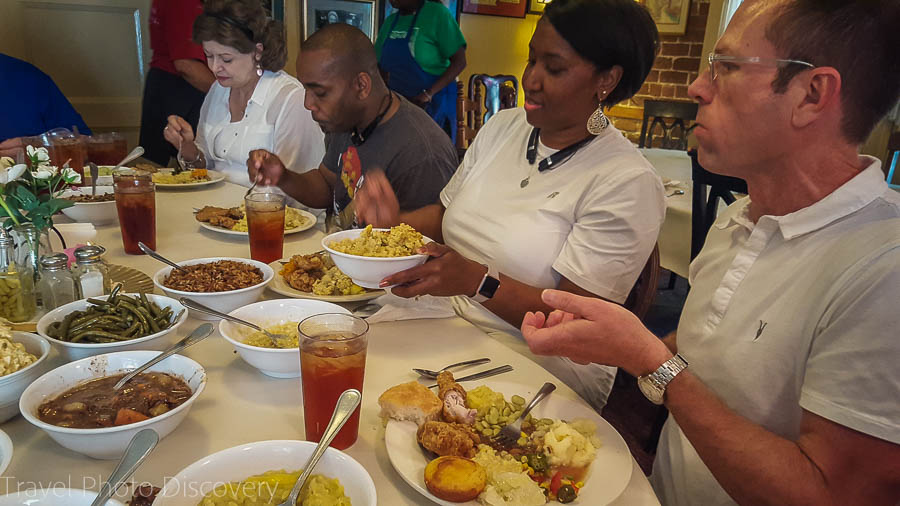 Eating Southern food – a favorite Savannah activity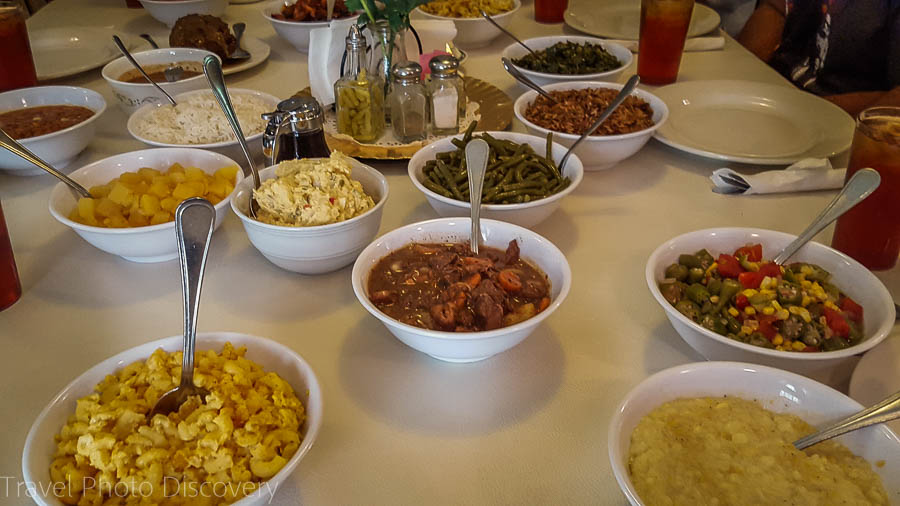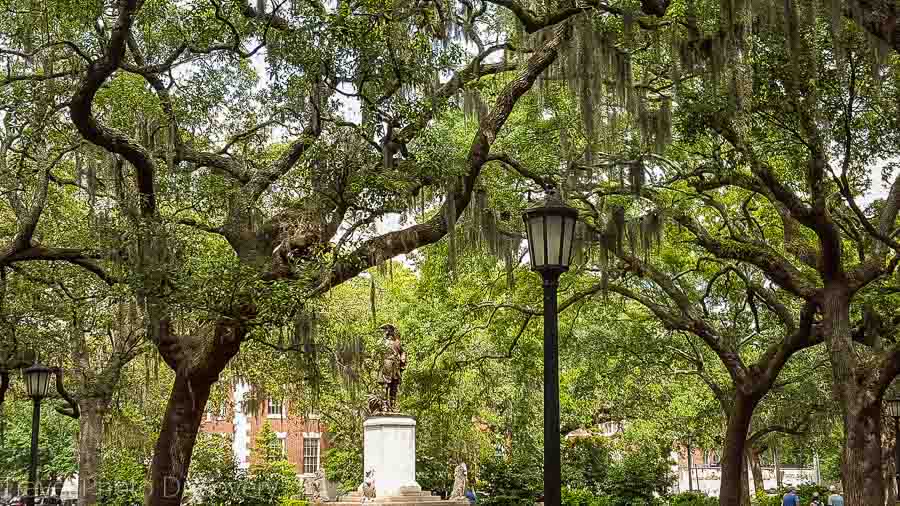 Visit Savannah in 48 hours – Must see Savannah sites in the Historic District
Visiting the historic district of Savannah was first on our list of places to explore in the city. After lunch, we ended up hopping on the Old Town trolley tours with a hop on, hop off service that makes it easy to stop at any of the squares or interesting attractions that you want to spend more time to explore on your own. What's great about this tour is that the guides on the trollies are local and they each share lively stories of Savannah's glorious past while driving around the many famous squares of the city. We were able to stop off some of the more scenic squares to check out the magnificent homes and amble down some of the cobblestone or brick roads. You can really enjoy the city by walking through these squares to admire the gorgeous architecture, fountains or statuary and then hop back on the trolley to another landmark worth getting off the trolley.
Tip – there are one or two day hop on/off trolley rides in Savannah, you can check out more details here for the schedules and updated prices.
Visit Savannah in 48 hours – Catholic cathedral of St. John the Baptist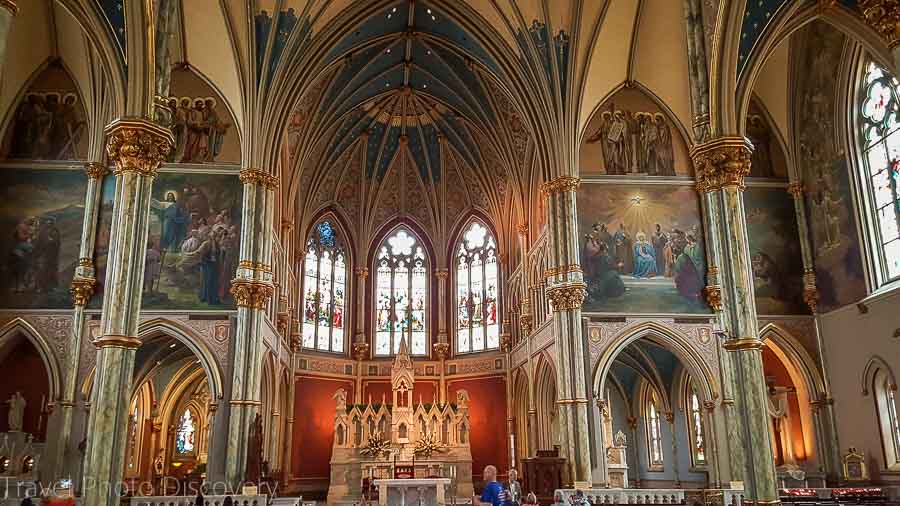 One of the first stops was to the Catholic cathedral of St. John the Baptist. An imposing and ornate French Gothic style church built in 1876, this is one of the key attractions to see in Savannah. A major fire and several renovation projects has created a beautiful structure to the outside façade and stunning interiors, altar details and the smaller chapels around the cathedral. Impressive stained glasswork, large scaled paintings, sculpture and architectural details make the interiors one of the most outstanding interiors to visit in Savannah, Georgia.
This is such an amazing cathedral to visit and the square facing the church is also wonderful to take a stroll and enjoy the beautiful fountain in the middle.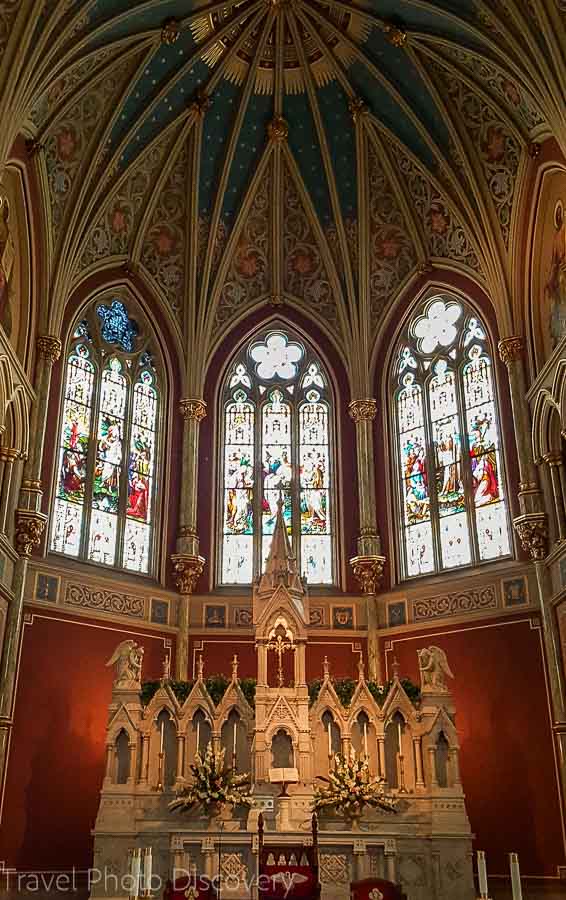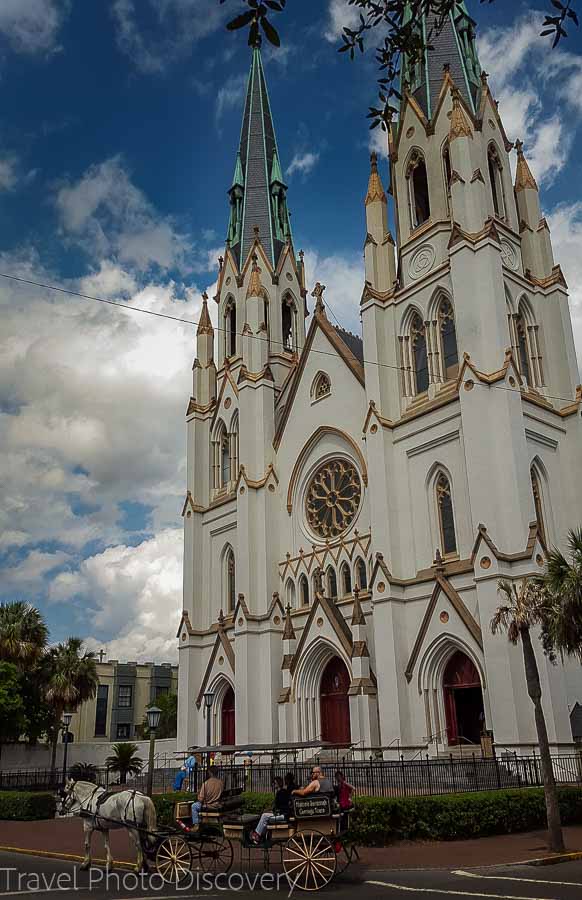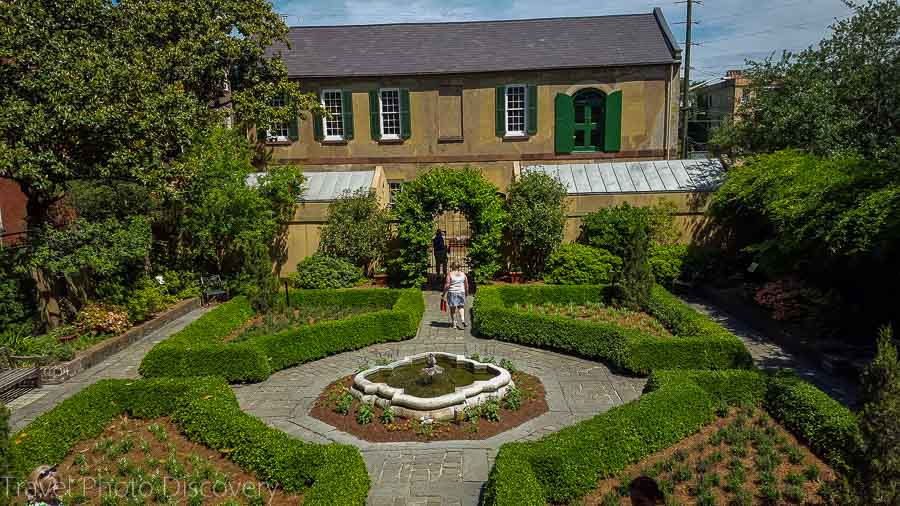 Visit Savannah in 48 hours – Owens Thomas house
Later in the day we visited the Owens Thomas house which is part of the Telfair museum.  A stunning English Regency style home originally built for a plantation/slave owner, it is now a museum that showcases the mostly intact collection from the Owens family furnishings along with an arts collection and collectibles. The home had passed through different owners and also was placed on the national register for housing the Marquis de La Fayette on his Americas tour. This was one of the first homes in Savannah that had running water and flushing toilets which was very sophisticated for its day in America. I loved to hear about what it took to run the household with all the slaves and all the finest details of the interior being explained including the latest fade of painted wood to resemble fine materials like marble and stone. There is a wonderful slide presentation in the slaves quarter in the back of the house and you are allowed to take photographs only in the garden and exteriors to the property. For more information about visiting the Oscar Thorne home, you can check out the Telfair Museum website here.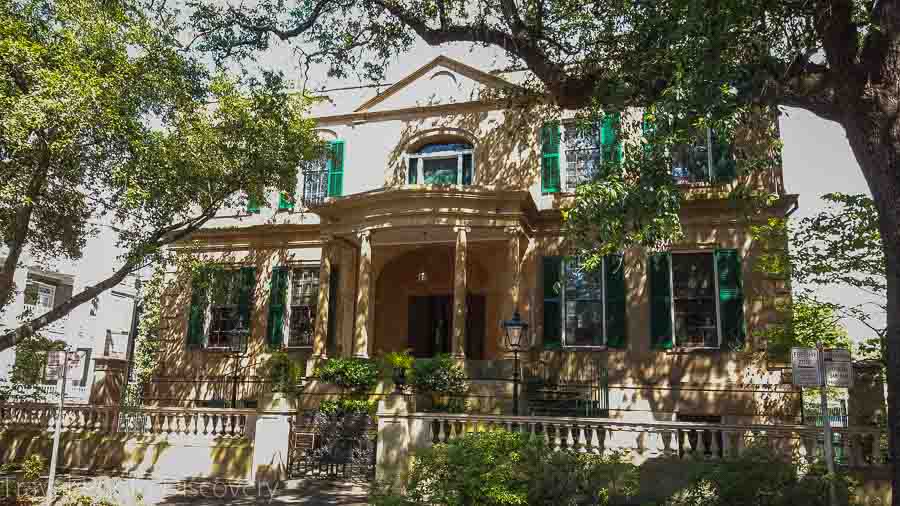 Front views to the Oscar Thorne home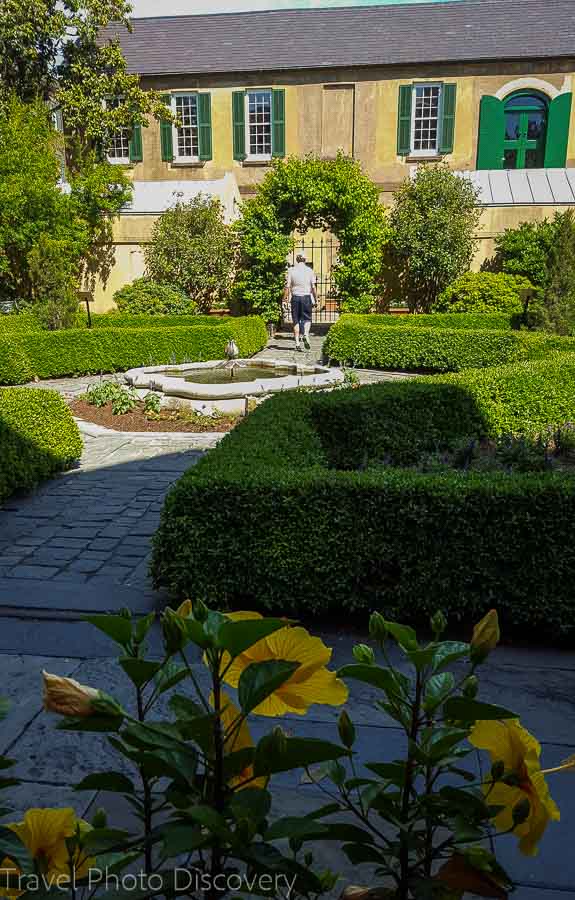 Visit Savannah in 48 hours – Walking through a

Savannah's

squares 
With a map of Savannah's historic squares, it is very easy to do a self tour and walk around the historic squares of downtown Savannah. Each square is typically dedicated to a major figure, founder or personality that has a historic background that is tied to Savannah and you will find a monument, fountain or some sculptural piece in the center of each square that commemorates a significant event or contribution to the city. A wonderful oasis that exudes formal and gracious charm, it is fun to walk through or just enjoy a few minutes to view each square and soak in all that Southern lifestyle.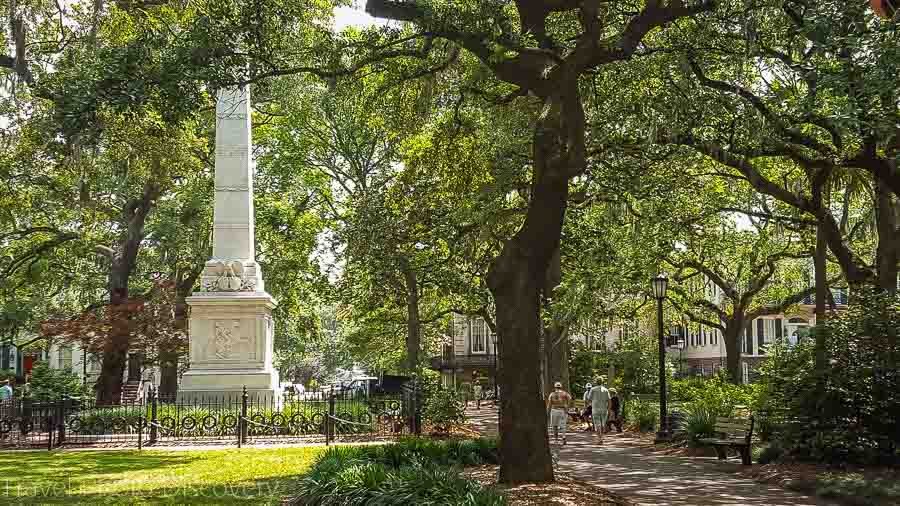 Carriage rides are a fun way to explore the squares of Savannah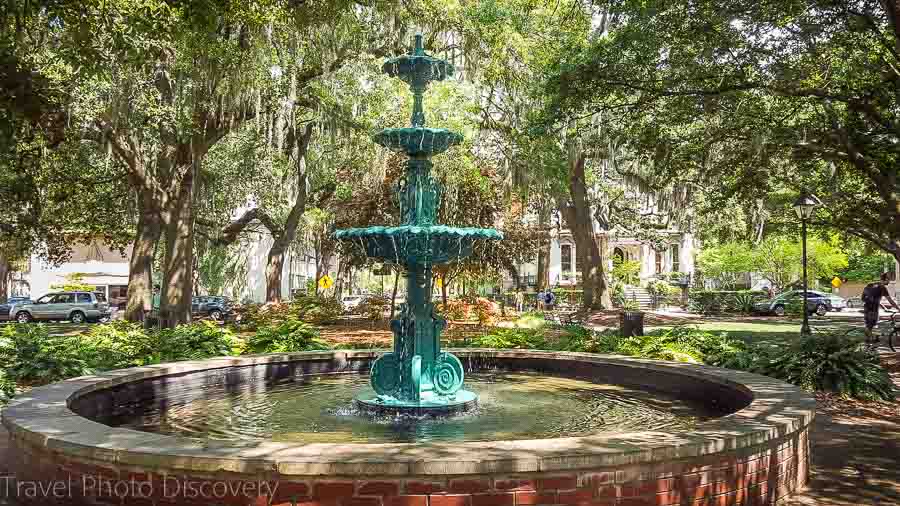 Day two in historic Savannah
Looking for an interesting breakfast place around my hotel, the concierge suggested I check out the Funky Brunch Café which was just a few blocks down the road. Definitely a colorful and quirky eatery with a really funny menu and titles for each entrée, I selected the Kevin's Kombo and was completely stuffed from the generous breakfast plate that was served in front of me. With a full breakfast behind me, I was ready for a second day of exploring more historic sites around Savannah.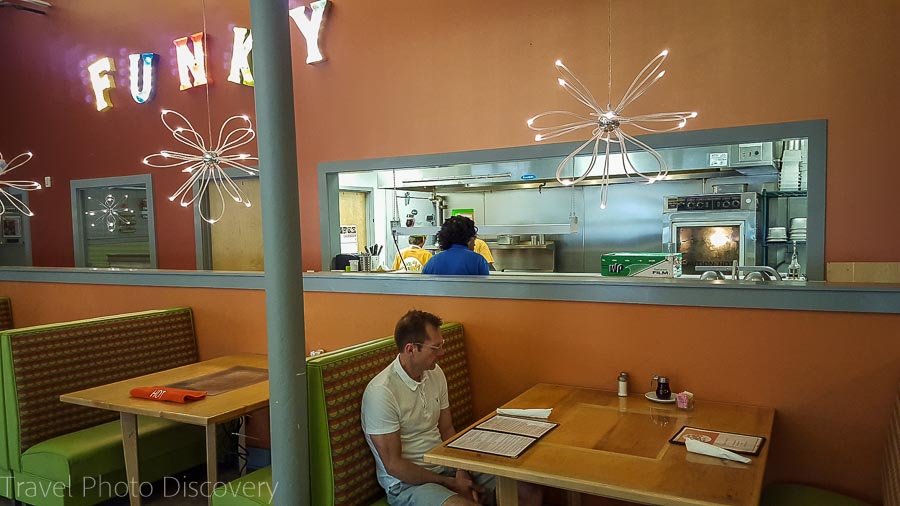 Quirky and colorful for breakfast at the Funky Brunch Café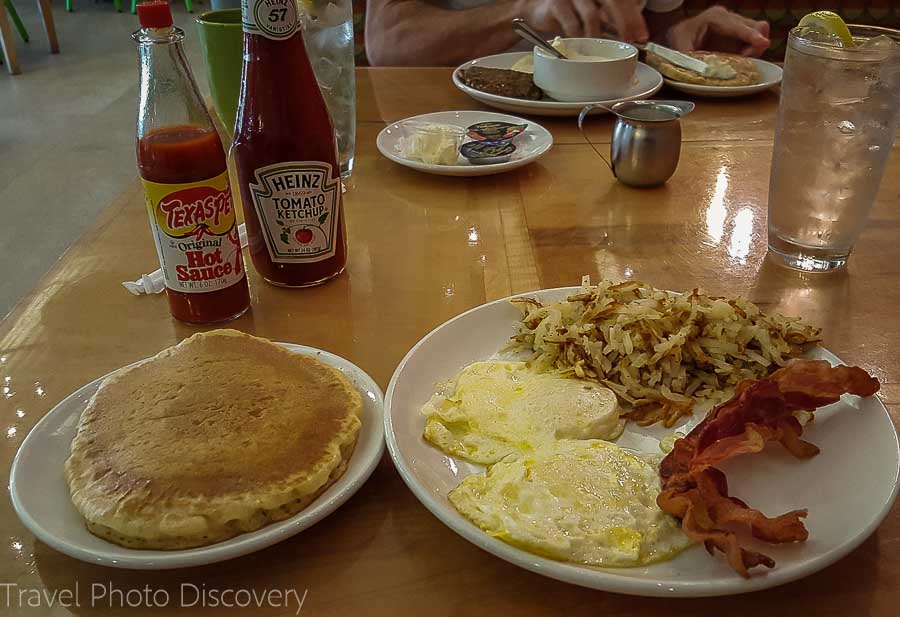 Visit Savannah in 48 hours – Bonaventure Cemetery
One of the fun things to do in Savannah would be a visit to the Bonaventure Cemetery. We took the perfect tour of the cemetery with our guide Shannon Scot , an artist and story teller who brought the dead alive with fascinating stories of the famous and quirky Savannites of the past including famous Eddy Mercer, Conrad Aiken, Weigand and other Savannah celebrities, This historic cemetery was just oozing with gorgeous stone work, dripping moss and curling live oaks, mysterious obelisks and Egyptian memorabilia of the trades masons of Georgia. Our guide explained that Bonaventure was treated more like a grand park that the local Savannites visited to get away from the dank and dreary city center, he also shared some wonderful stories of the famous dead, art, architecture and Victorian burial traditions and symbolism around the cemetery. If you are a fan of historic cemeteries and learning the amazing stories from the past, take Shannon's entertaining and educational tour to take filled with factoids and intrigue to why visiting Bonaventure was like a visit to one of their first major parks in the city.
Check out more images and details of places we visited at Bonaventure on my post here for more inspiration to this amazing cemetery visit.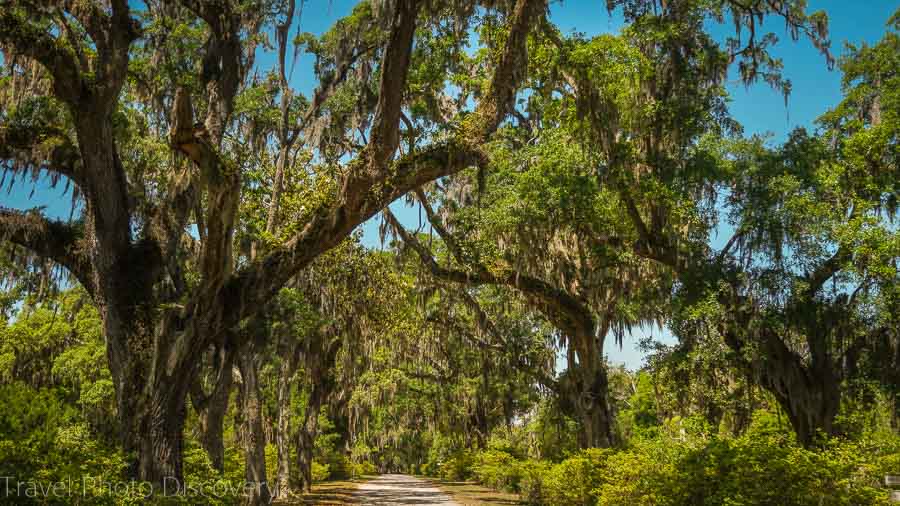 Wide boulevards with curly oak trees dripping with Spanish moss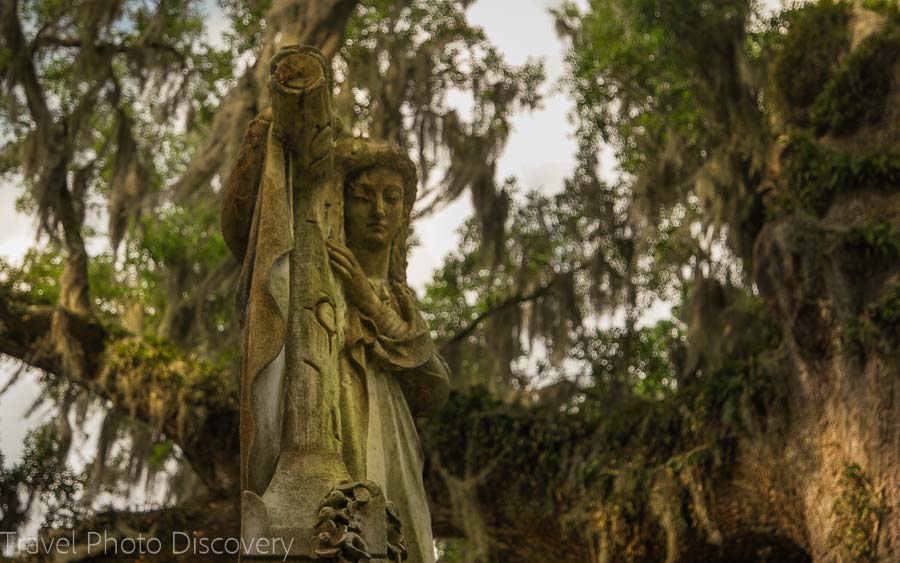 Beautiful statuary of Savannah personalities were masterfully crafted from skilled artisans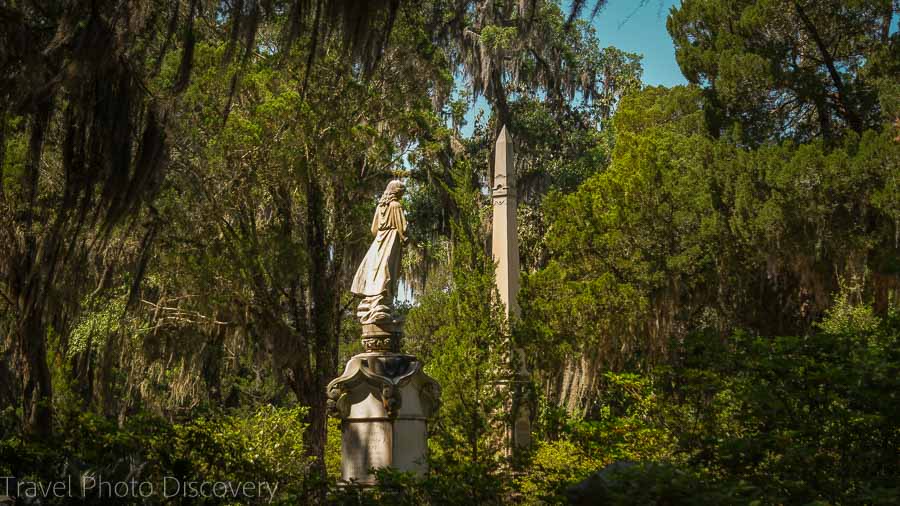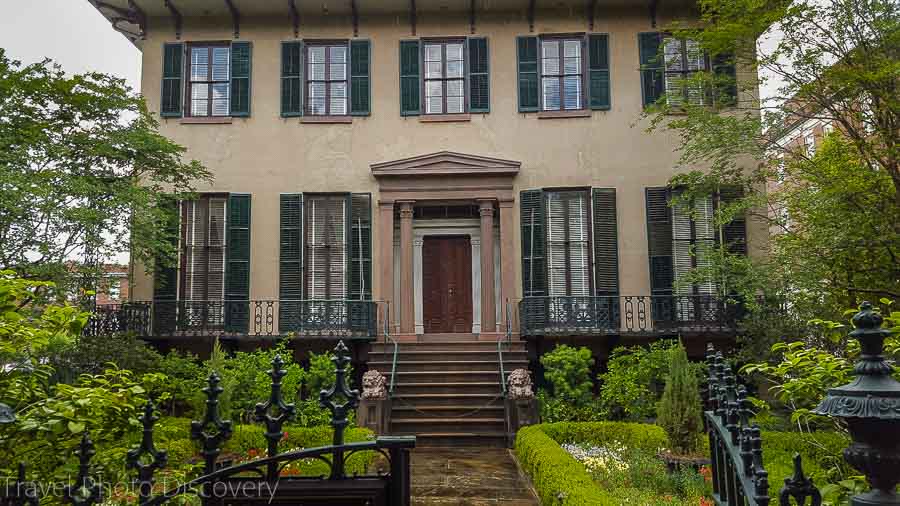 Visit Savannah in 48 hours – The Andrew Low House
Located on the opposite corner to the Savannah Catholic cathedral, the Andrew Low House fronts an impressive square and exudes formal charm with its Italian villa styled architecture and details. This handsome home designed for Andrew Low – a wealthy cotton farmer who came to Savannah when he was only 16 years old where he worked for his uncles cotton firm and later became a partner and managing director.  It is fantastic entering a well maintained museum/home like the Andrew Low House which contains almost all of the original furnishings, artwork and collections to showcase what the wealthy lifestyle was like in Savannah during its golden years.
Although taking photographs of the interior are not allowed, you can take photographs of the exterior and the front garden which is formal and well maintained. For more information and hours to visit the home, you can check out their website here.
Formal front garden of the Andrew Low House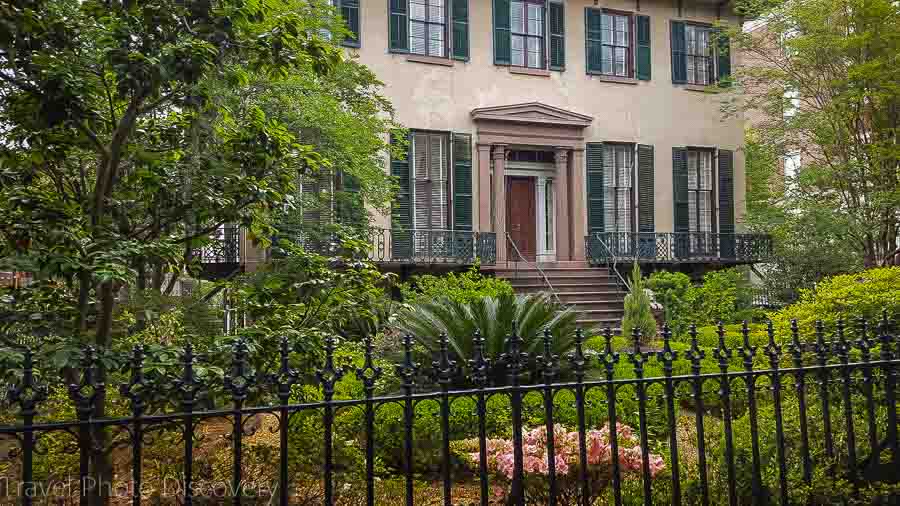 Accommodations in Savannah's historic district
There are a variety of unique boutique and historic hotels in Savannah to stay in, many in the historic district that have been converted from private homes and old commercial buildings into hotels. We stayed at the fabulous Kimpton Brice Hotel, a modern southern belle that was originally an old livery stable, cotton warehouse and a Coca Cola bottling plant. Stylishly decorated in the Kimpton's whimsical style, the contemporary design elements mix effortlessly with modern conveniences in each hotel room.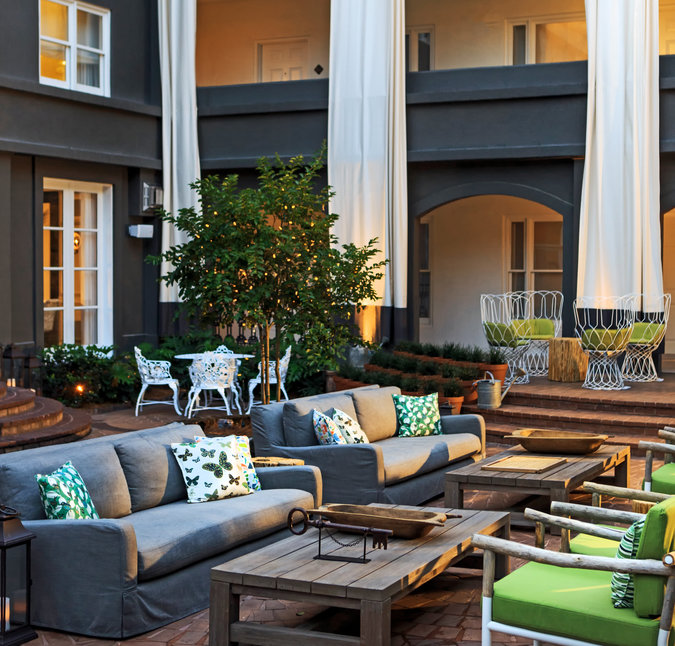 Gracious enclosed outdoor areas at Brice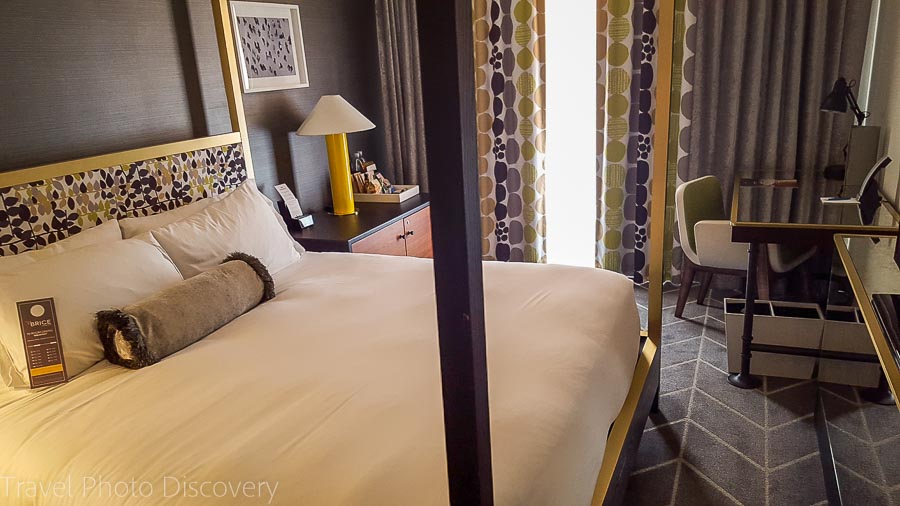 Modern and colorful bedrooms at the Brice Hotel
I found the stay and pampered lifestyle at the Brice matches perfectly with the casual Southern hospitality right down to the complementary afternoon wine and tea time with small bites. It's a perfect way to unwind after a full day of discovery in Savannah's historic district and enjoy being centrally located  downtown.
For more details, images and room rates with the Brice hotel, Check Trip Advisor here for the best prices and updated information.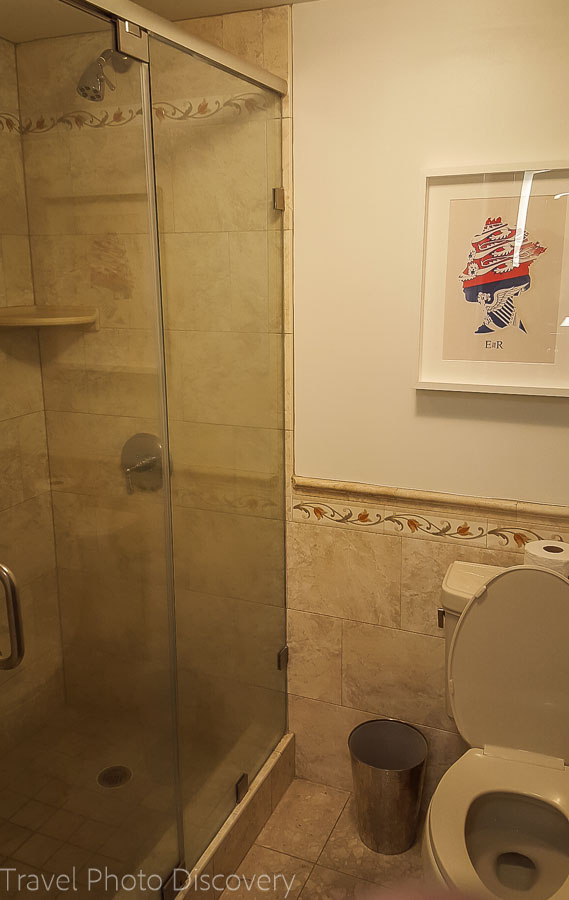 Where to stay in Savannah
Planters Inn – A classic brick hotel on Reynolds Square with elegant rooms and furnishings, spacious and clean rooms with excellent breakfast service
Mansion on Forsyth Park – An elegant hotel across from Forsyth Park, this classic converted mansion shows the old Savannah lifestyle, customer service and beautiful rooms and appointments.
River Street Inn – A historical and converted inn located on the waterfront within the historic district. Clean and classic inspired rooms and furnishings with all the modern amenities
The Kehoe House – An elegant home converted to an inn and located in one of the fashionable squares of Savannah, this classic Georgian style home dripping with beautiful craftsmanship and perfect Southern hospitality. Old style rooms still have modern amenities to make it a comfortable and unique stay in the historic district.
Check out these other historic inns of Savannah with Trip Advisor reviews and latest updated prices.
Savannah's southern hospitality at its best
Often when most people think of the quintessential Southern city in Georgia, thoughts immediately get directed to the gorgeous city of Savannah, and a fun Savannah vacation visiting these popular Savannah attractions. The city really exudes the Southern history, classic architecture and squares, and that complete Southern hospitality and lifestyle effortlessly. Thanks for visiting today and checking out this post on Visit Savannah in 48 hours.   If you enjoyed the images and post, could you please share it with any of the social media buttons located around the post.
If you enjoyed this article, please pin this post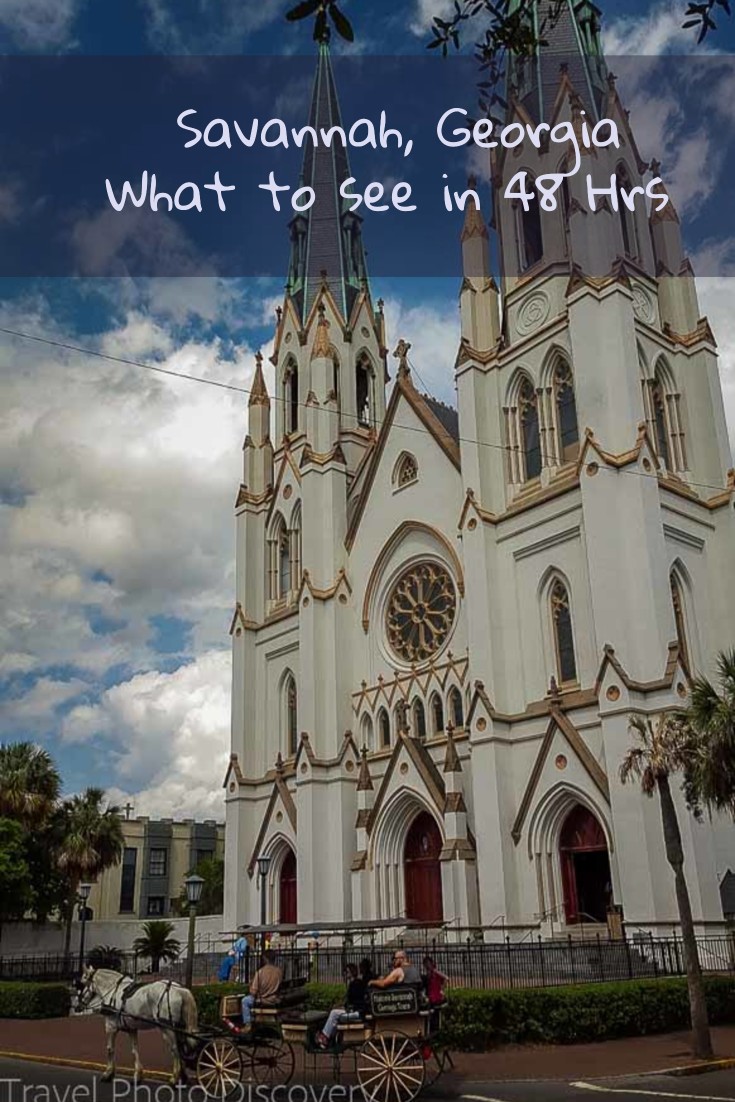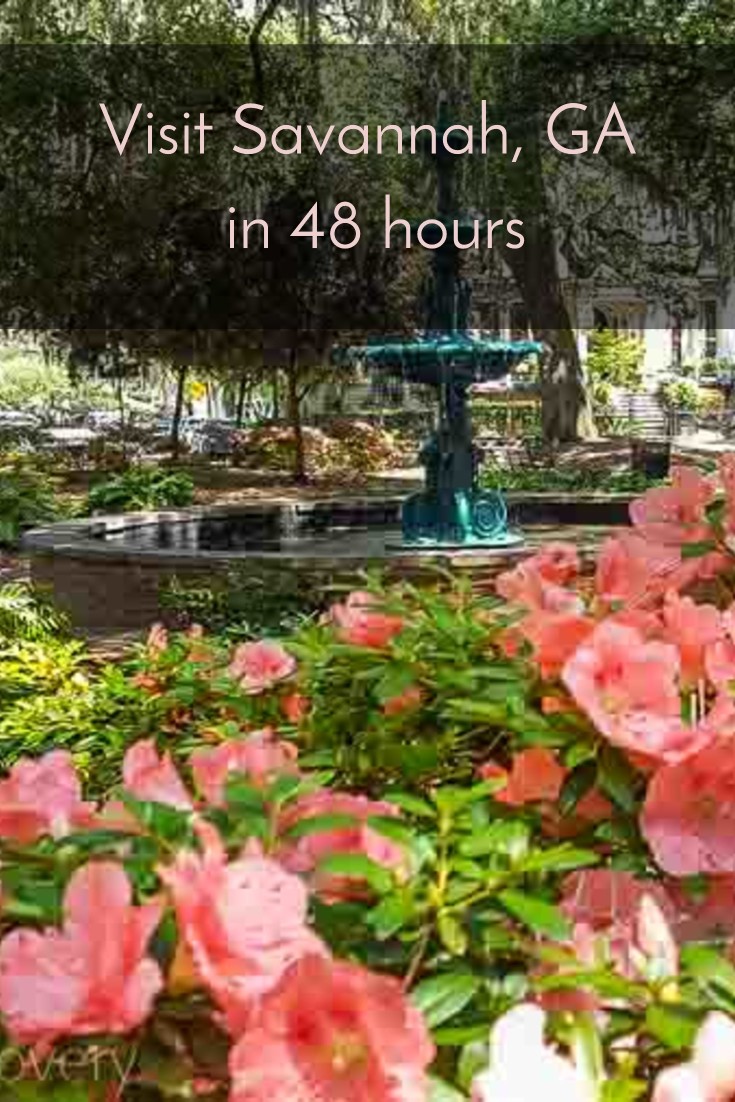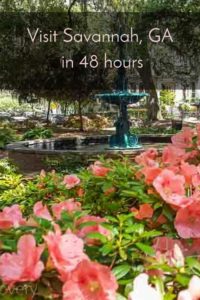 Conclusion to visiting Savannah in 48 Hours
Hope that this post on a visit to Savannah has inspired you? Please share your thoughts in the comments below.
If you like what you see, come and check out my other social media channels for more updates, including Instagram, Pinterest and Twitter.
Disclosure – There are affiliates links on this posts which provide a small commission to support this site at no extra cost to you. Thank you for reading, and happy travels.
Note: Thanks for Savannah Tourism which offered some of the wonderful tours in Savannah, all thoughts and opinions are my own. The post above has affiliate links and help to fund my travel site at no additional cost to you. I thank you for supporting my site with any purchases you have made.