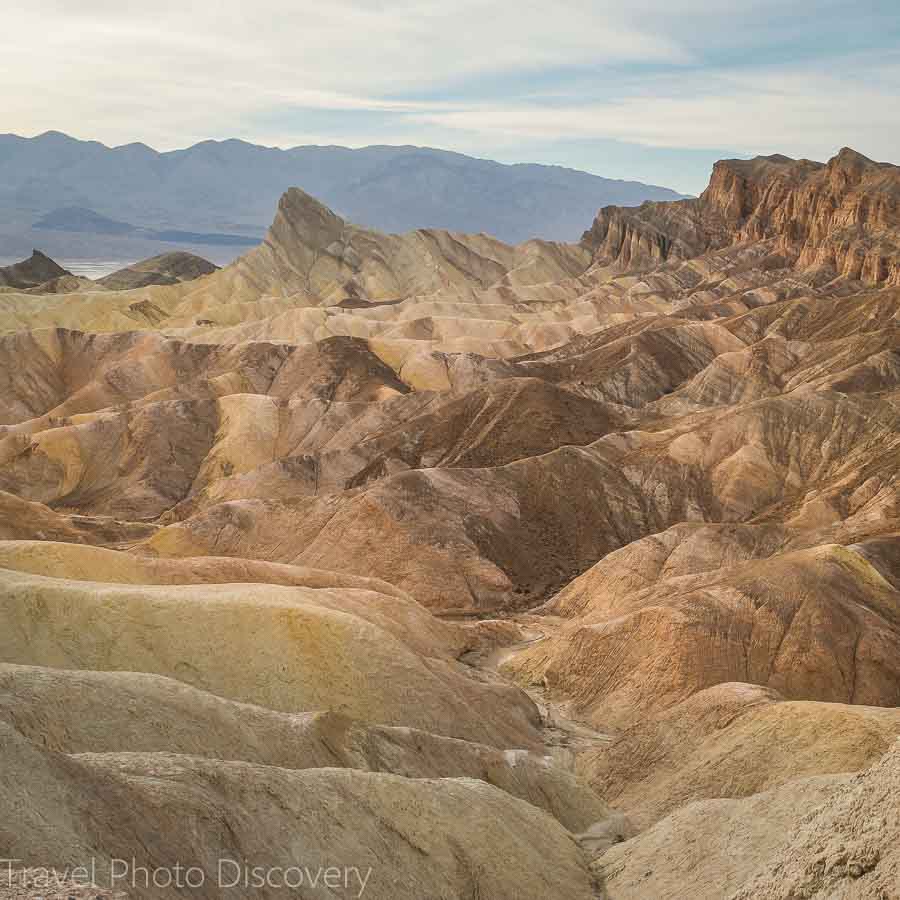 Death Valley National Park captured in 20 photographs
Death Valley National Park inspires every visitor that comes to visit the park especially to experience the extreme heat, amazing landscapes and what it feels like to be at the lowest point below sea level in the United States. It also looks like this vast terrain is more than just desert, but filled with amazing rock formations, large sand dunes, salt flats and fascinating topography that is fun to explore along many of the hiking trails around the park. It's not difficult to find inspiration to wander around the park and photograph so many of the popular attractions and striking landscape. After taking quite a few photos around the park, I've narrowed my favorites down to 20 photographs in order to give you a highlight tour and hopefully inspire you to visit Death Valley National Park.
Here's what to see and do in Death Valley
Badwater Basin
The large area of white desert or salt flats represent Badwater Basin which is the lowest point of elevation in North America, 282 feet below sea level. The shallow shelf of salt flats contain a spring fed pool of "badwater" and accumulates large areas of salt pools hexagonal honeycomb shape salt crust. The large salt pools and crust are sitting on a mud basin making it hazardous to walk on.
Abandoned red fire truck at Stovepipe wells
Golden Canyon and Gower Gulch Trail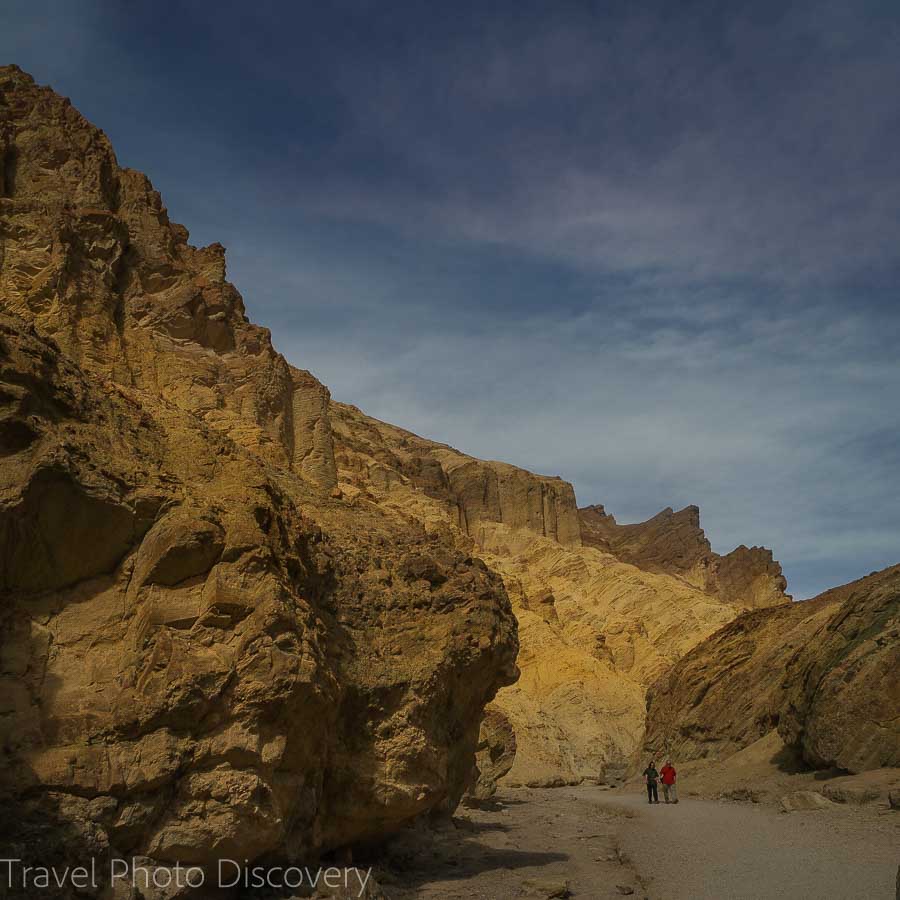 Just south of Furnace Creek, this popular and relatively easy hiking trail leads you through various rock formations and golden canyons. The moderate hiking trail ranges from 3 to 8 miles depending on how far you want to go and even hike all the way to Gower Gulch and Zabriskie Point. The complete circuit trail is about 8 miles or you can drive to Zabriskie Point and hike through the colorful Badlands Loop.
Stunning views at Zabriskie Point
Just east of Furnace Creek is the beautiful rock formations and hiking trails to Zabriskie Point, a very popular viewing site and place for magnificent sunset views. I arrived late in the afternoon to capture some of the beautiful golden light and hiked a bit beyond the observation area.  The beautiful colored rock striations illuminated these striking diagonal patterns on the rock and in different earth tones of ochre to dusty reds which made this a fascinating place to explore and photograph.
Tip – the Badlands Loop is a moderate trail from the observation area that is  about 2.7 miles going through the colorful Badlands landscape and ancient lake bed.
Golden hills at Zabriskie Point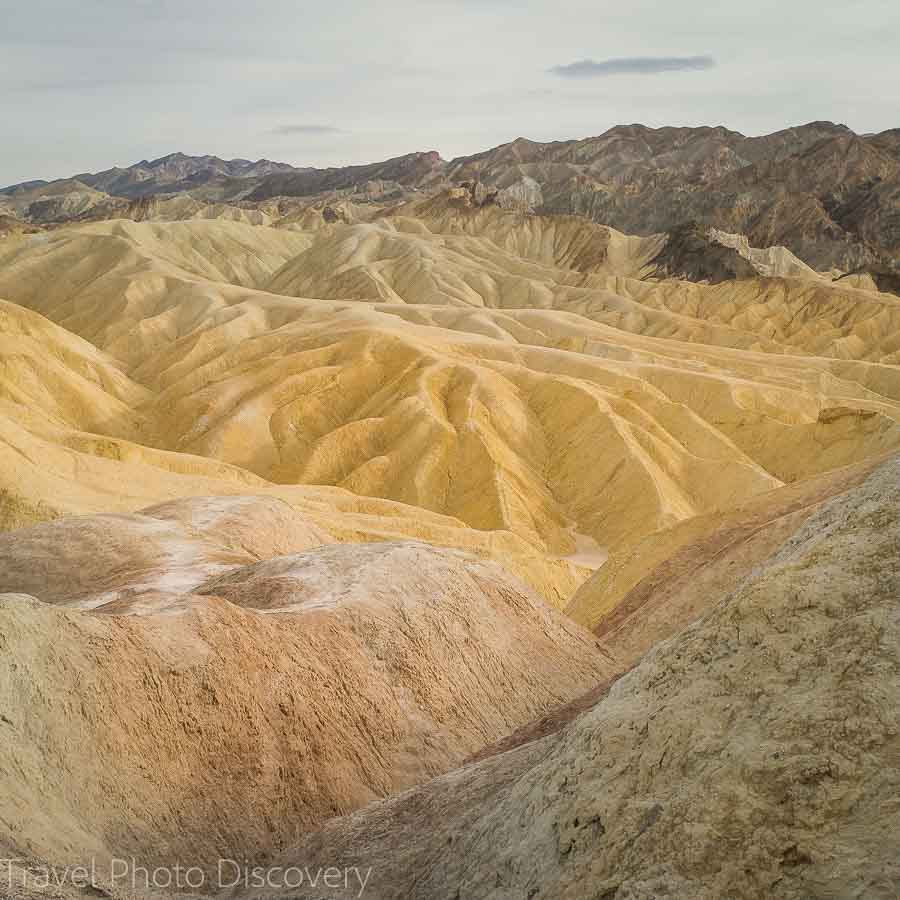 The Harmony Borax  Works
Checking out the Borax wagons used at the Harmony Borax  Works
The Harmony Borax Works is a short trail that leads to the Borax mines located just north of Furnace Creek. This popular mineral borax mine in Death Valley was a large scale mining operation during the 1880s to 1890s and these large Borax wagons were pulled by twenty mule teams to the nearest railway station in Mojave, California. These are the remnant wagons used at the mines and are impressive to see and photograph along this short walk to the mines.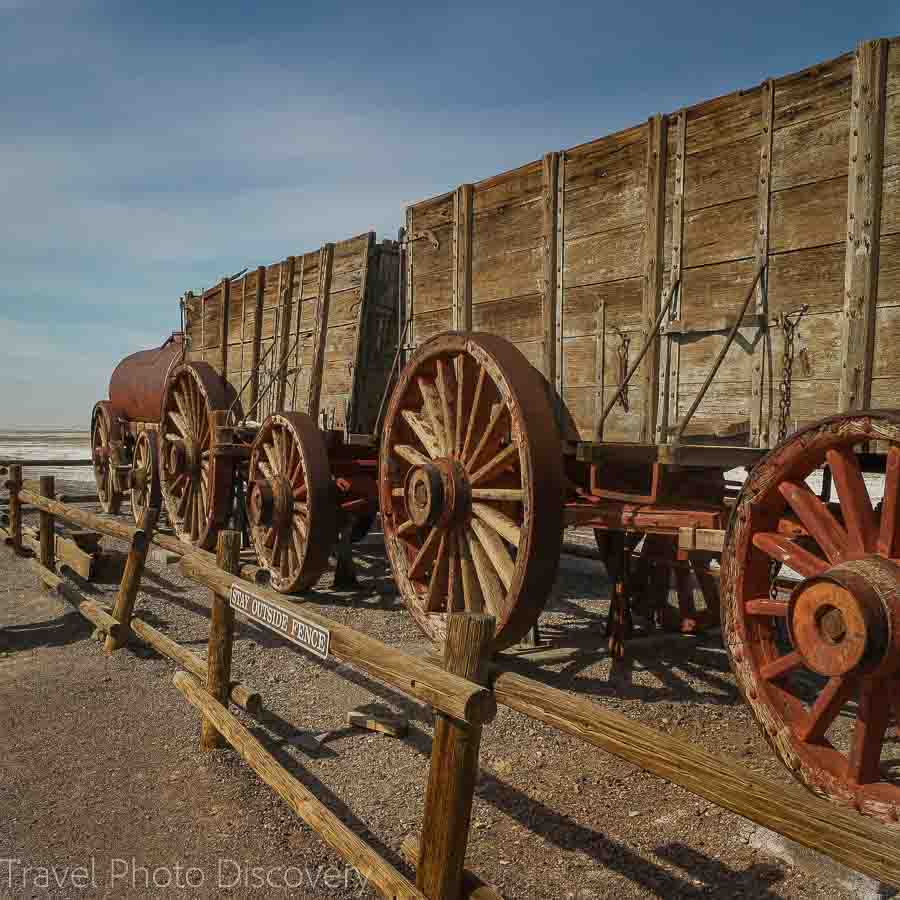 Approaching the Natural Bridge
Across from  the Badwater Basin is the exit sign to the Natural Bridge – you drive a few miles down dusty gravel roads past hilly terrain until you reach the main parking lot. From there it is a short 1 mile roundtrip hike (about 45 minutes roundtrip) to get to the Natural Bridge and along the way you enter this narrow canyon above that invites you to keep exploring until you finally reach the spectacular natural arch.
Tip – If you pass underneath the arch the views and photo composition is more interesting with the lit up rocks in the background towards the afternoon time frame.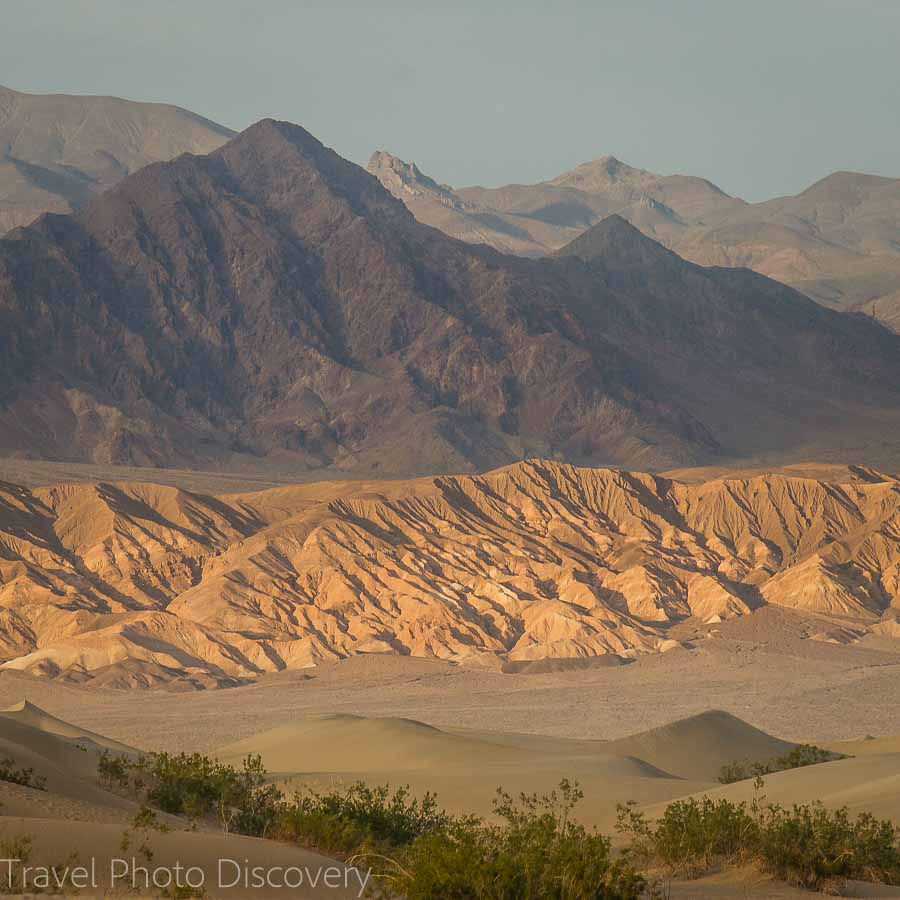 The Mesquite Flat Sand Dunes
Just outside of the Stovepipe Village, you can see the large expanse of the dunes at Mesquite Flat. A quick turnoff into the parking lot and you are viewing the vast sand dunes of Death Valley.  There are no formal trails but the dune hike to the summit of the high dune is about 1 mile or 1.5 hours round trip. Since this is a popular area, you have to hike further away to avoid the crowds in your photographs or you can also capture the dunes from a further distance just off the main road.
Tip – late afternoon to sunset is the most popular time to visit so plan accordingly in order to get a parking spot and then hike to the perfect sand dune to photograph and enjoy sunset in the park.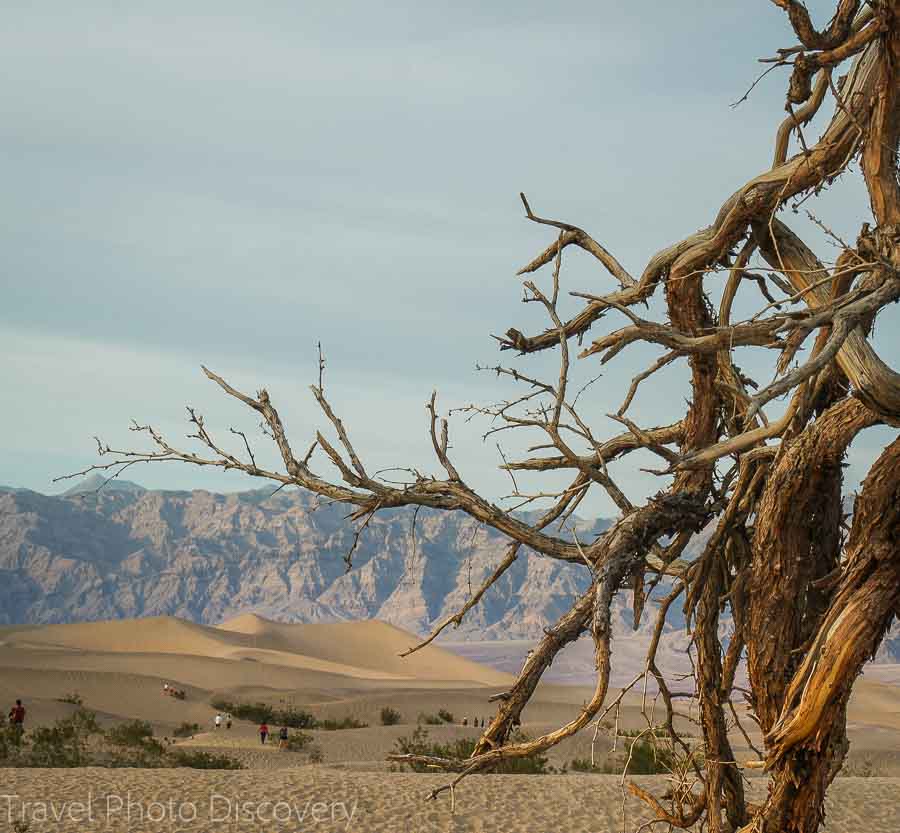 Keep walking further to avoid all the crowds at Mesquite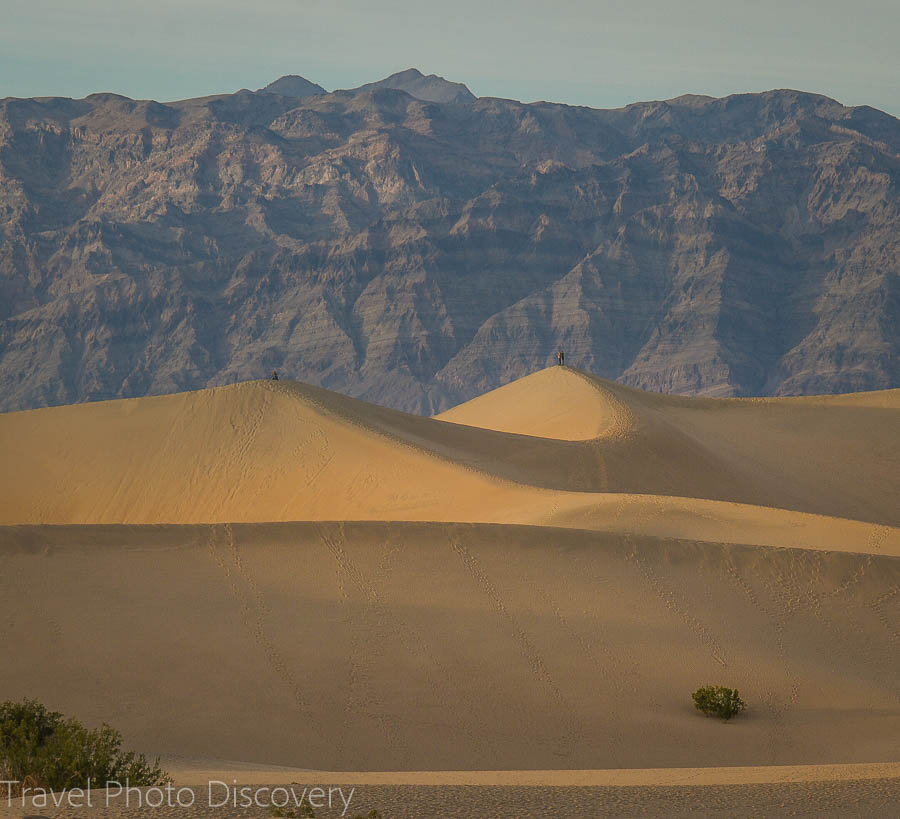 Or use some figures in your photograph for scale in the desert landscape
Waiting for sunset to approach at Mesquite Flats
End of day in Death Valley National Park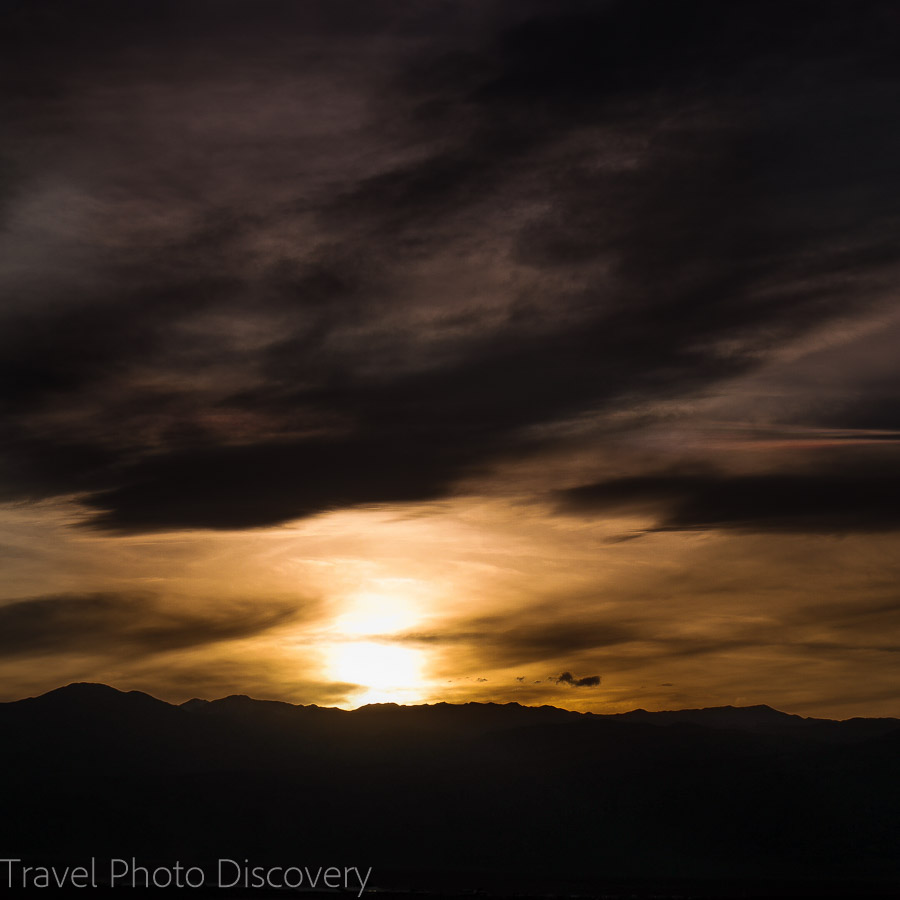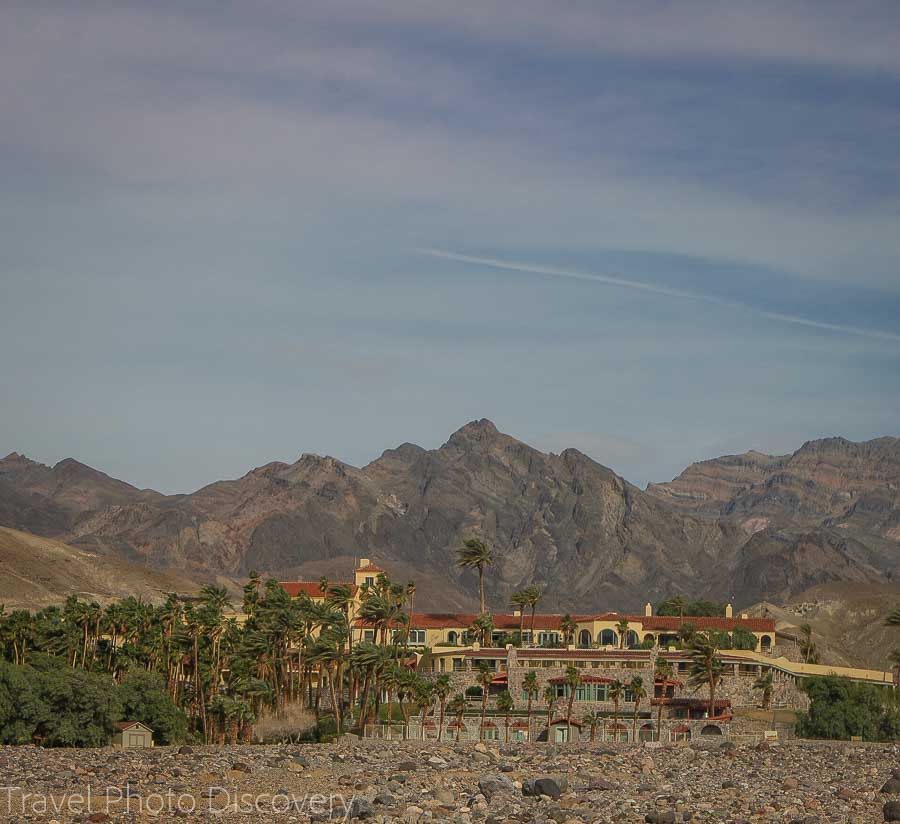 Where to stay in Death Valley
There are not too many choices of Hotels in the national park and just a few located in nearby towns, so you should try to secure your accommodations as early as possible for visiting the park or else you will be driving long distances for the closest places to stay.
The Ranch at Furnace Creek – This hotel is located in the park at Furnace Creek and is the luxury resort within the park. Centrally located to many popular attractions, the ranch has tennis courts, pool & sauna and each spacious room includes free wifi service.
Stovepipe Wells Village – Relax motel style rooms in a western setting and has swimming pool, playground and small golf course. The rooms are basic with air conditioning, Satellite TV, ensuite bathrooms and typical bath amenities. Affordable hotel rooms in a central location at Stovepipe Wells.
The Inn at Furnace Creek – this historic luxury hotel has been updated with an 18 hole golf course, sauna/pool, outdoor tennis courts and other modern amenities and needs in a Hacienda and open floor plan with a nice restaurant, shops and galleries on the property.
Amargosa Valley
Located about 40 miles East and outside of the park past Death Valley Junction in Nevada – the Amargosa Valley has more choices in range of motels to medium quality hotels in the town. For a list of available hotels in Amargosa Valley, check out this check out these hotels for current prices and availability.
Death Valley Junction
Located at the Southeast entrance of the park, Death Valley Junction contains a variety of low priced motels, affordable inns to casinos that service visitors coming from the South East area. There are about 18 hotels to choose from, check out this check out these hotels for current prices and availability.
Shoshone
The southernmost entrance to the park and the fastest access to Las Vegas, Shoshone has a variety of services and hotels that services the area. For a complete listing of hotels that are located here, check this check out these hotels for current prices and availability in the Shoshone area.
Rental Cars visiting Death Valley
you can rent cars easily from Las Vegas and drive over or from any location around the Southern California metropolitan cities. There are no major restrictions for driving around the park outside of 4×4 roads which are only accessible to all terrain vehicles. Las Vegas is about 150 miles to the South Entrance of the park and the closest city in California is Bakersfield at 218 miles to the west entrance.
For great rental car rates check out these rental car sites for prices and availability.
Priceline car rentals – name your price for 40% off car rentals
Travelocity – search for car rental deals
Details visiting Death Valley National Park
Operating hours – Open daily 24 hours
Main Visitors Center is located at Furnace Creek
Website – Death Valley NPS 
P.O. Box 579 Death Valley, CA 92328
If you enjoyed these Death Valley views, please pin them!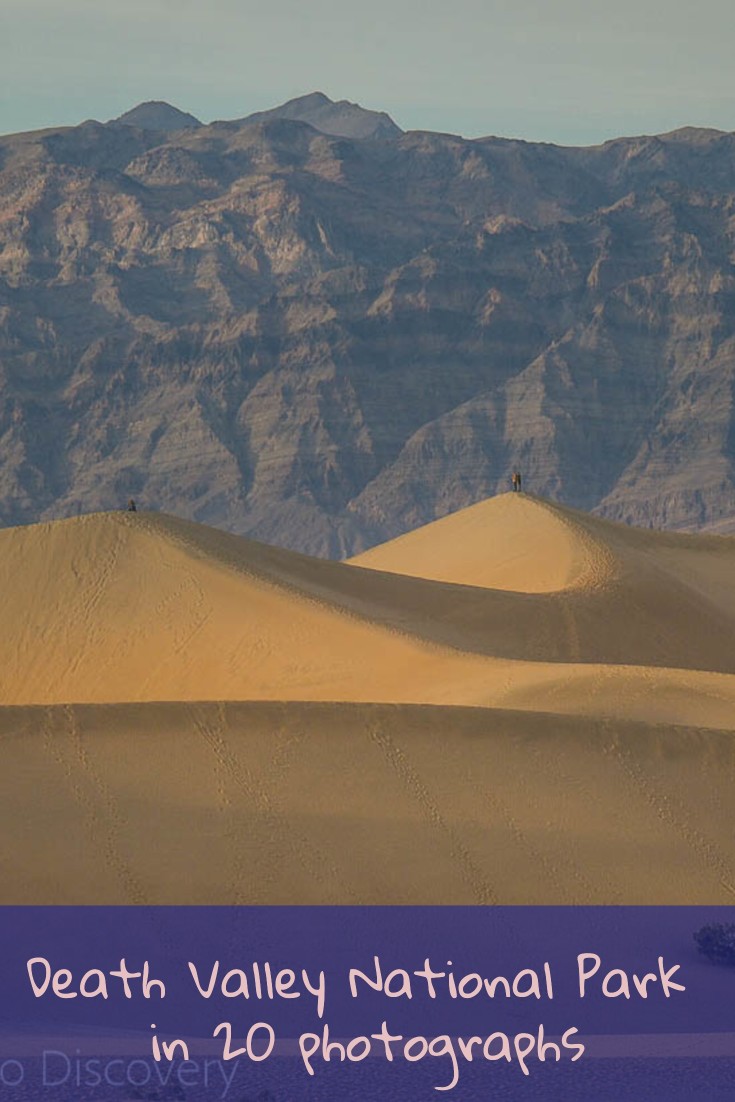 Thanks for visiting today and checking out this post on the Death Valley National Park,  hope you are inspired to plan a visit to Death Valley and visit these wonderful attractions.  If you enjoyed the images and post, could you please share it with any of the social media buttons located around the post. Seniors, take advantage of the national park senior pass now while prices are really low for a life time membership.
If you like what you see, come and check out my other social media channels for more updates, including Instagram, Pinterest and Twitter
Some links in this article on Death Valley National Park are affiliates which provide a small commission to support this site at no extra cost to you. Thank you for reading, and happy travels!