Road trip to the spectacular Valley of Fire State Park outside Las Vegas
If you are looking for some fantastic natural rock formations and a beautiful state park to experience while you are visiting Las Vegas then head out to the Valley of Fire State Park. Located northeast of Las Vegas on Highway I-15 and less than a fifty minute drive outside of the city. You can easily explore the park on the scenic road, go on some of the iconic trails or check out the gorgeous vista points that are mentioned here for you to enjoy.
The Valley of Fire State Park is one of the most beautiful and natural state parks in Nevada and a must visit if you are in Las Vegas. If you are looking for a natural wonderland away from all the glitz and neon light then this is the place to visit just a short drive outside of the city's metropolis sprawl.
Let us show you the highlights and a guide to visiting the park below and what you should see and do inside the park.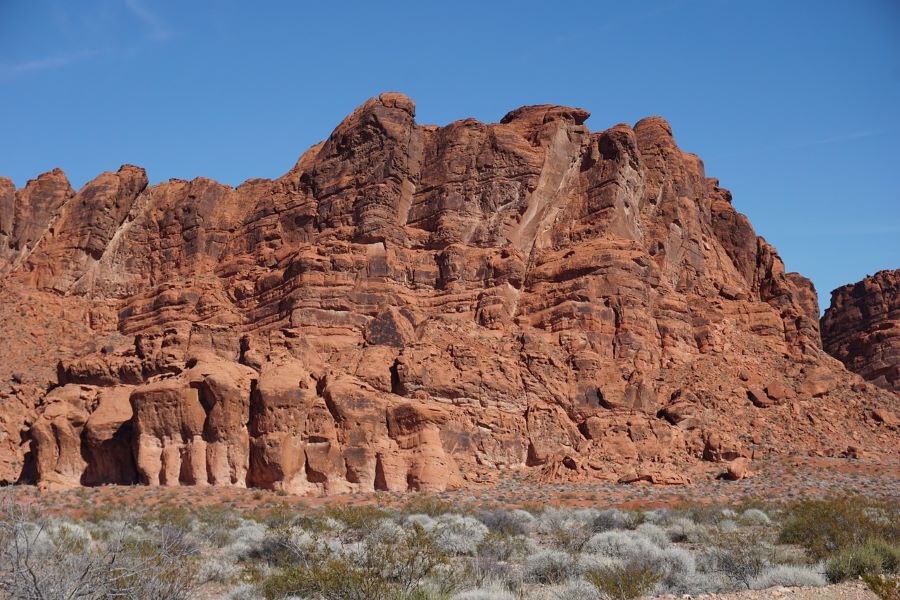 What is the Valley of Fire?
This spectacular and brilliant landscape called the Valley of Fire is the largest and oldest state park in Nevada. With over 40,000 acres of scenic land, you'll find panoramic vistas, petrogyph areas, fantastic hiking trails, amazing scenic drives and gorgeous formations of white, red and pink rock combinations to explore.
What makes the Valley of Fire state park fascinating is the varied topography, gorgeous formations and easy to hike places or just a road trip experience visiting the main attractions within the park. Have you ever seen a Pastel (pink) canyon area and trail before – well you definitely need to explore and experience this for yourself.
The Valley of Fire got it's name from the pink and red sandstone formations combined looking similar to a fire – hence The Valley of Fire. These sandstone features were created over 150 million years ago from all the shifting sand dunes that covered this area of the Mojave Desert.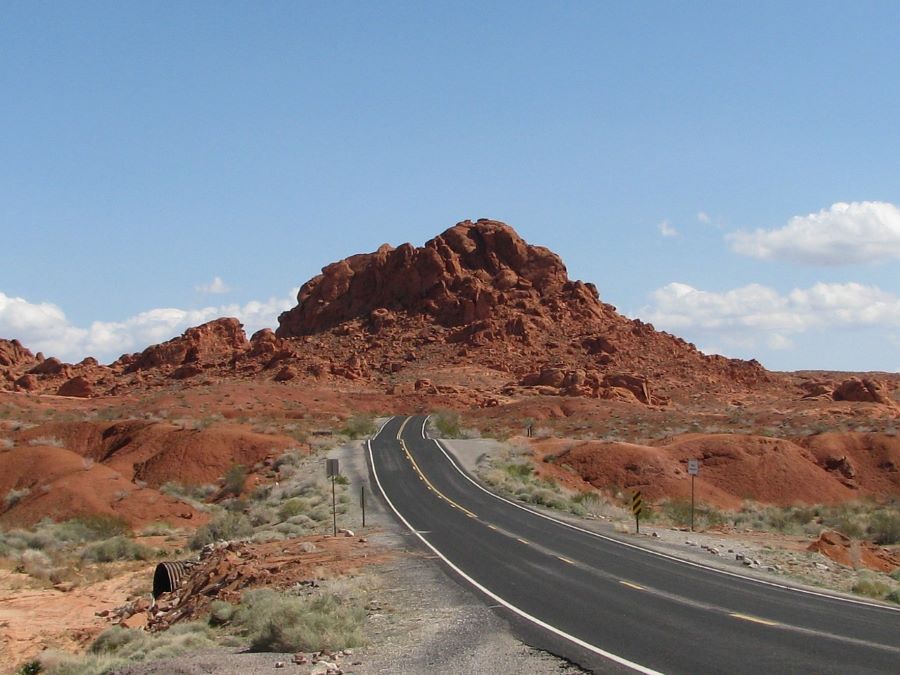 How to get to Valley of Fire State Park
Head out of Las Vegas on Highway I-15 towards St. George, the entrance to the park is about 50 miles just outside of the metropolis and driving through arid desert area. Take exit 75 which merges to the Valley of Fire Highway – a two lane winding road that will lead to the entrance of the park.
Distance to Valley of Fire State Park – fifty miles on Highway I-15
Distance covered – approximately 140 miles round trip including driving both roads inside the park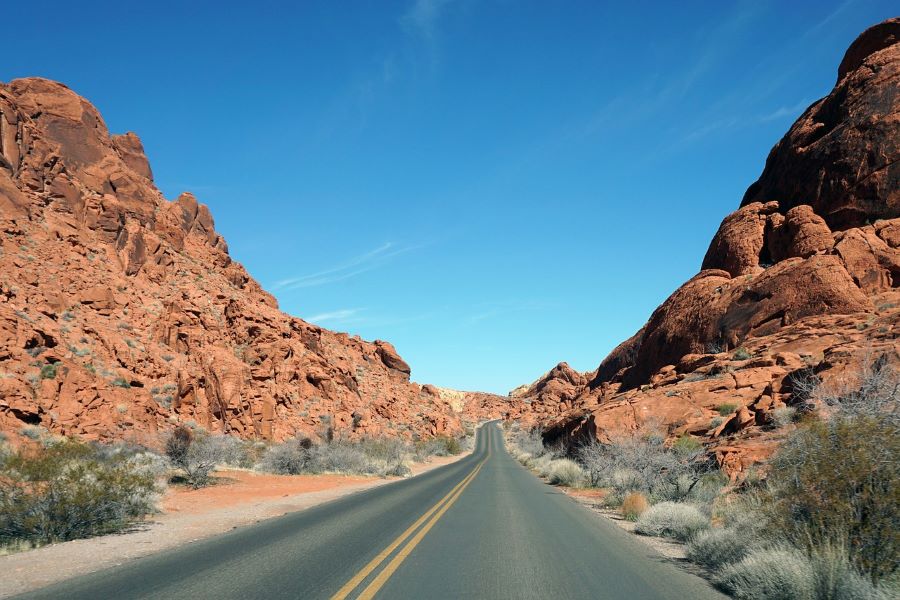 Road trip through scenic roads at the Valley of Fire
Driving around the park area covers two main roads – the Valley of Fire Highway which starts at the south entrance and runs west to east
Mouse's Tank Road – also known as the White Dome's Road runs through the central part of the park area with stunning viewpoints and an overall excellent driving experience through the various features in this area.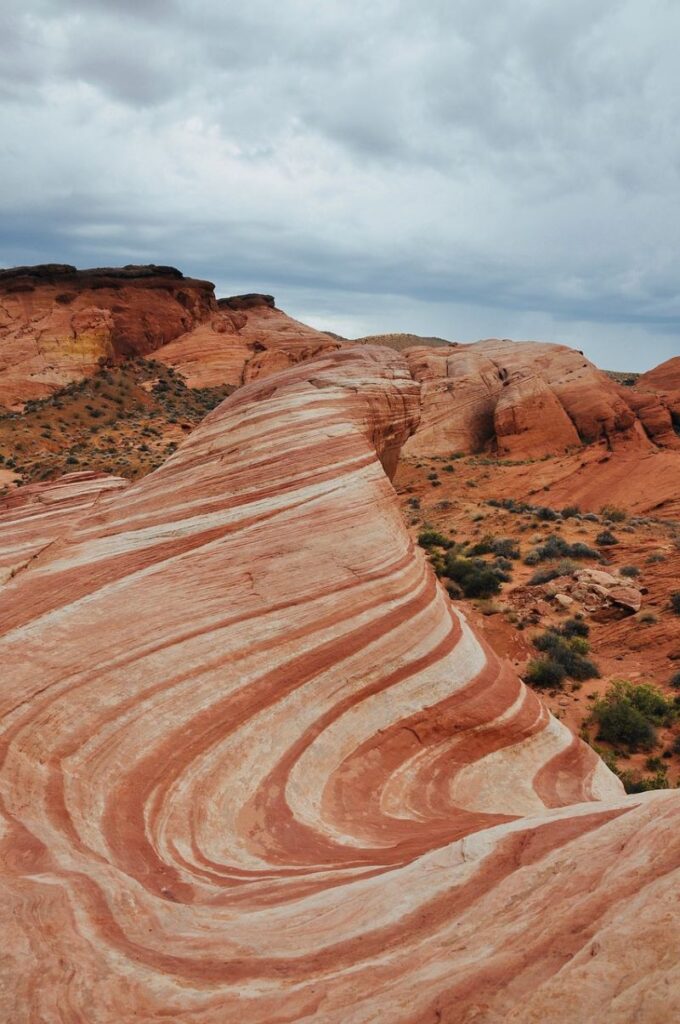 Top things to do at the Valley of Fire State Park
You can easily spend a day here at the Valley of Fire State Park doing road trips to the two areas and stopping at Vista Points along the way. You can also do some of the easier hikes to more extended hikes depending on how you want to structure your time visiting here.
Stop at the Visitor's Center first
Get oriented at the Visitors Center first which is located just off the main entrance to the park. Located at the intersection of the Valley of Fire Highway and Mouse's Tank Road. You'll find some fun exhibits and informational displays along with a gift shop and snacks or drinks you can purchase at the store.
Visit the Beehives
Just beyond the entry gate, the Beehives is one of the first places you will encounter with tall sandstone formations that have have been shaped and eroded with the elements, some looking like giant beehives. The formations are otherworldly and worth the first stop in the park area.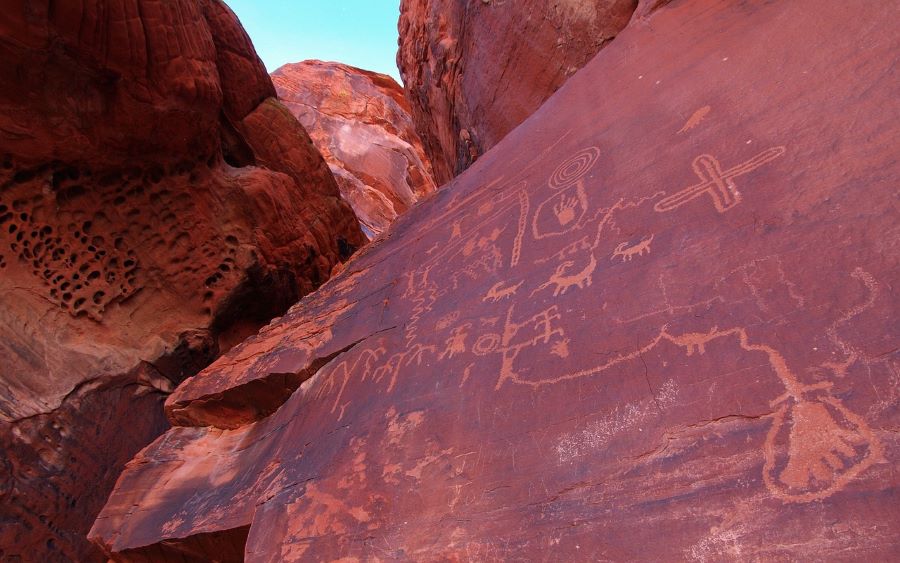 Atlatl Rock
Further down from the Beehives is this historic site of a giant rock formation you can take the stairs to a flat platform area with 360 degree views of the park. One some of the flat stone faces are 4000 year old petroglyphs that the early indigenous people of the area carved into the rock all the way to the top of the rock face.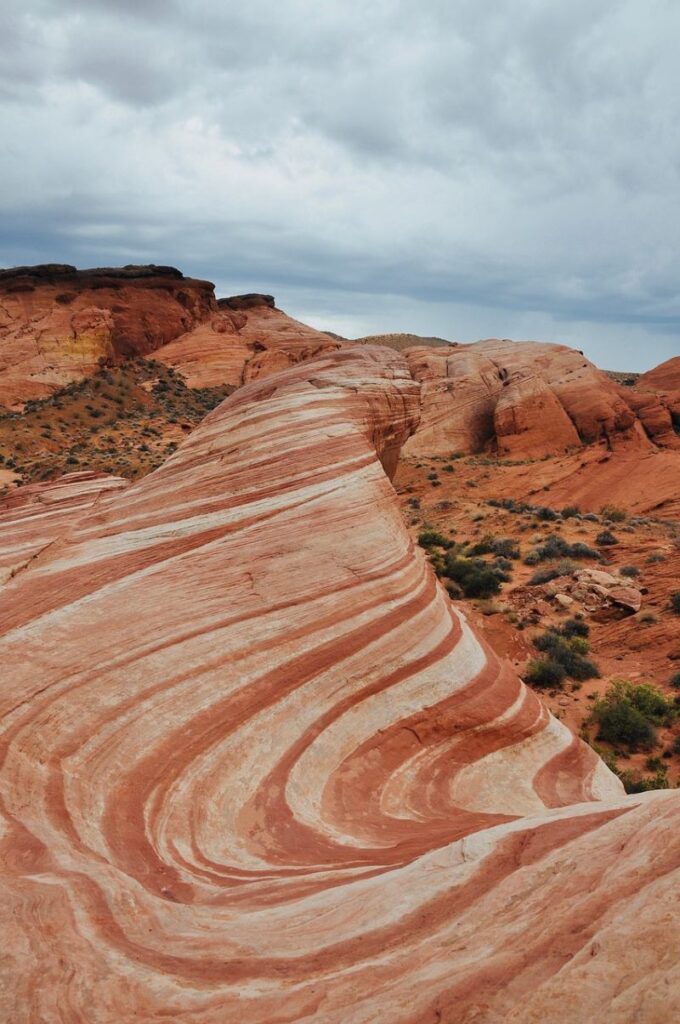 Arch Rock and Firewave and Windstone Arch
Just down the road from Atlatl Rock is the Arch Rock which is accessible and easy to spot on the road while you visit the next site called the Firewave and the Windstone Arch. There are neat caves and erosions you'll find on the many rocky outcrops in this area worth exploring on foot and visiting the many firecaves and smaller arches in this really unique rock formations.
The Seven Sisters
Continuing on you will find the Seven Sisters which also has a fantastic picnic area to have a meal or break. The seven sandstone towers are impressive and jut out into the blue sky and makes fantastic photo ops in the landscape to capture.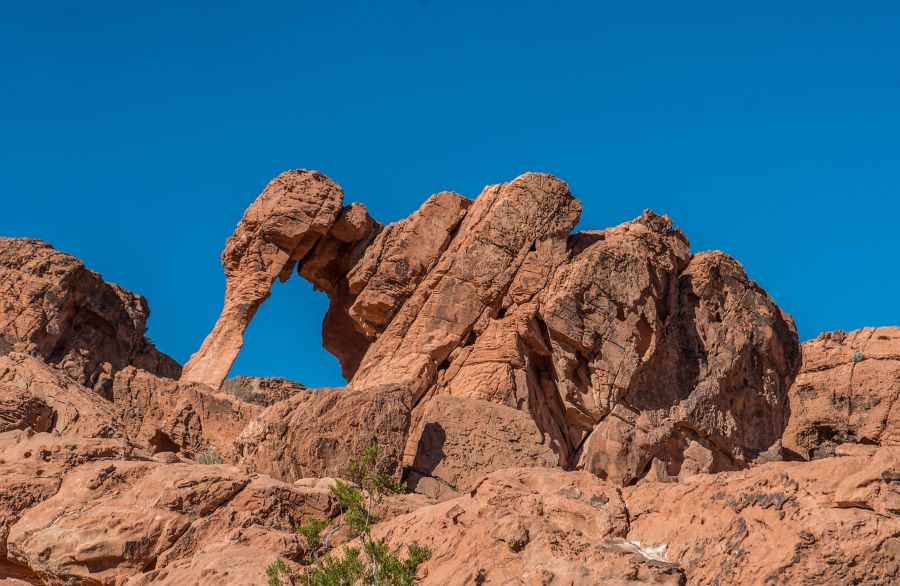 Visit Elephant Rock
One of the most iconic landscapes to the park is just a .3 mile round trip walk from the parking lot to view this arch that is in the shape of an elephant. Outside of the arch are other sandstone caves that you can also explore.
Mouse's Tank Scenic Road
Heading back towards the visitors center, you will find Mouse's Tank scenic road which is an entire roadway experience snaking its way through canyons and valleys. There's plenty of lookout points and places to stop to just enjoy the views of these vibrant sandstone features.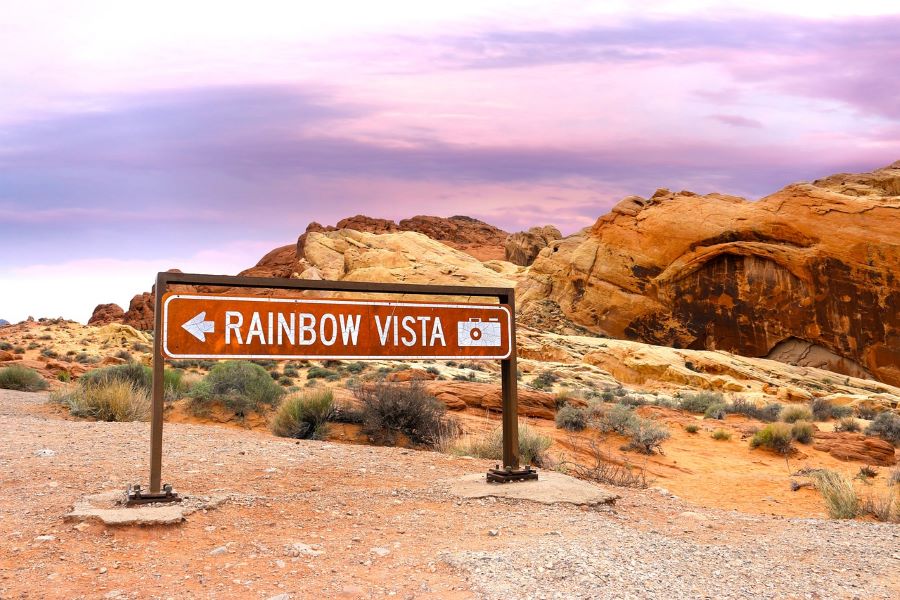 Rainbow Vista Viewpoint
One of the must stops along Mouse's Tank is this viewpoint that is a short uphill climb over some slanted rocks all the way to the top of Rainbow Vista. Once at the top, the views are spectacular views of the red rock canyon below.
Fire Canyon and Silica Overlook
A little bit further down from the Rainbow Vista is this canyon that is a quick stop with an easy to reach the observation overlook again to the beautiful landscape with white rocks in the foreground and dark red to chocolate hills in the background and creating high contrasts to the landscape.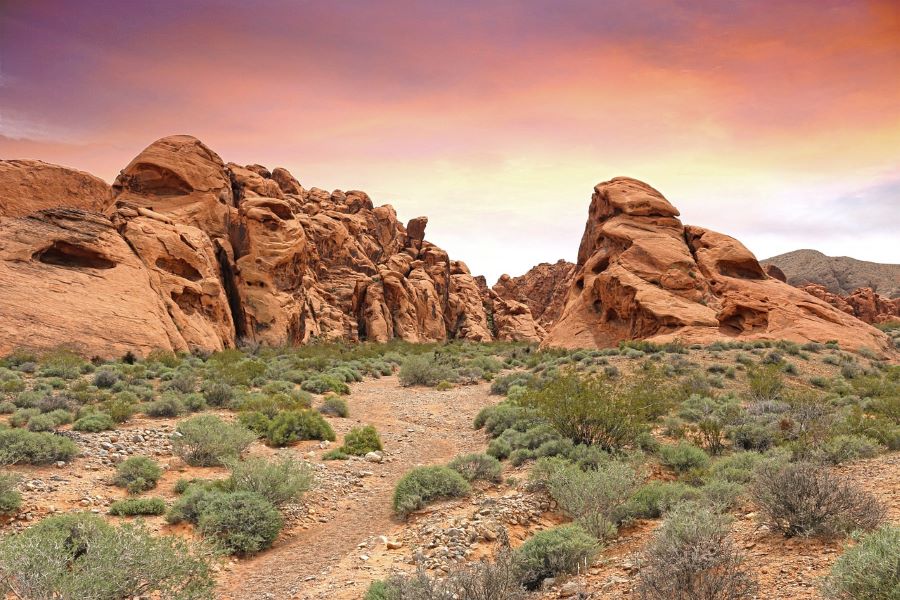 Valley of Fire State Park – Top hiking trails
There are a lot of fantastic trails that you can do separately or combine them into a longer hike with most being relatively easy hikes under one mile in length. Many of the hikes are relatively short and under a miles length, but you can combine them to explore more on foot and cover some of the areas that are truly stunning in the park area.
Here are some of the top recommended hikes to explore around the park area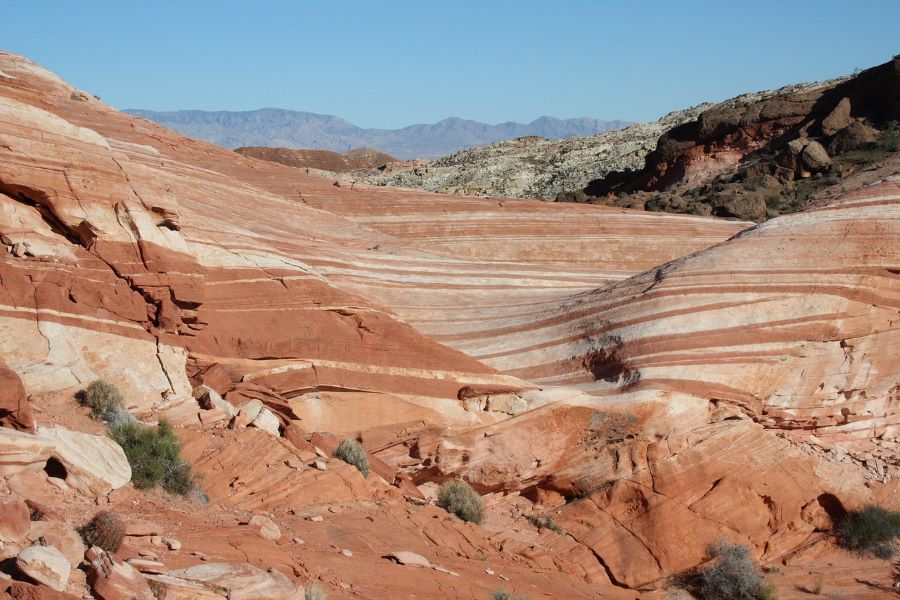 Fire Wave Trail
Length 1.5 miles
Elevation gain 236 feet
Difficulty easy
Route – out and back
This spectacular trail leads you to the Valley of FIre's own version of the wave landscape of swirling sandstone formations. You'll be rewarded at the end of the hike with swirling red, white and pink sandstone in a water and wave type motif that is vivid and fun to photograph or do some selfies.
Located at #3 parking lot across from street on White Dome Road. You'll find the trail well marked with beautiful sandstone formations to check out along the way.
Tip – try to get here later in the afternoon to early evening when the golden light adds a different dimension to the landscape
White Domes Trail
Length – 1.1 miles
Elevation gain – 173 feet
Difficulty – easy
Route – loop trail
The White Domes Trail is a relatively easy and fun hike around 1 mile with mild elevation change and fun domes you can climb for the views, a cool narrow slot canyon to explore and one part that is a little steep but if you take your time, you can do this climbing portion
Pastel Canyon Trail
The Pastel Canyon, also called the Pink Canyon, is a fantastic trail that you can tie into the Fire Wave trail and is very scenic with a beautiful light pink color on the walls of a short slot canyon you hike through
Length – 2.1 miles
Elevation gain – 50 feet
Difficulty – easy
Route – located close to Mouse Tank Road off the Fire Wave parking lot and Fire Canyon Road
Mouse's Tank Trail
This is a great and easy hike to do with children that is fairly flat hiking through sand with Petroglyphs and walk through a beautiful canyon and ends at a basin that is filled with rainfall during the cooler and rainy months
Length .8 miles
Route – Out and Back
Valley of Fire Weather
Wintertime to early spring, the weather is quite pleasant with the average temperature in the mid 70s to 80s for spring and winter temperatures around December to Early February ranging from the mid 50s to mid 70s during the day time.
In summertime the temperatures soar quickly in the morning from 100 to past 115 degrees farenheit.
To get updated weather visiting the Valley of Fire, check out this website here for current weather conditions.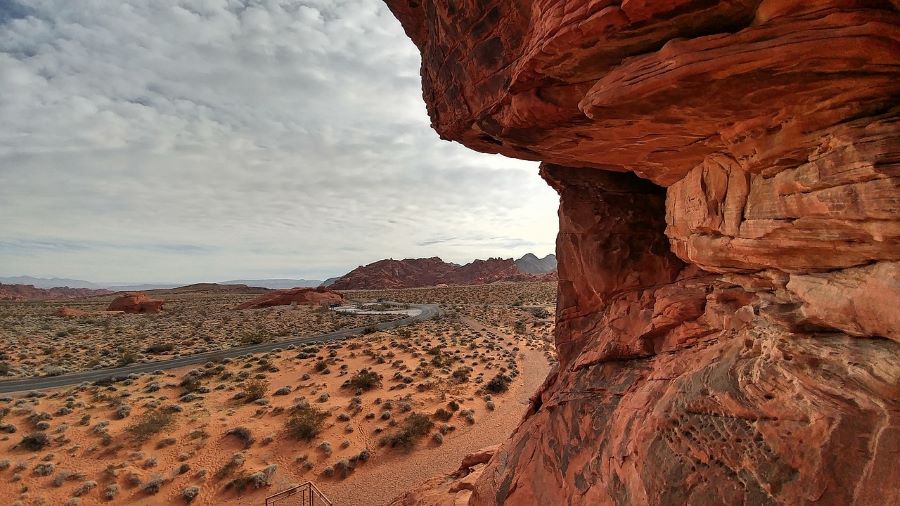 Details to visiting Valley of Fire State Park
There are campsites located on the west side of the park
There are no hotels or places to eat at Valley of Fire so you can easily pack a lunch or snacks and the drive to Las Vegas is relatively short with plenty of options of hotels.
The weather can be quite intense and hot during the day time so be prepared with sunscreen or cover up to the heat and wear hats and other sun protection.
If you plan on hiking around the park then easy all around tennis shoes are adequate for doing most of the trails around the park area.
Entrance to the park area and fee
Follow the road from Highway I-15 to exit 75 which will take you directly to the park entrance.
Entrance fee to visit the park is $10 per car per day.
Check out the main website here for more details to your visit to the park.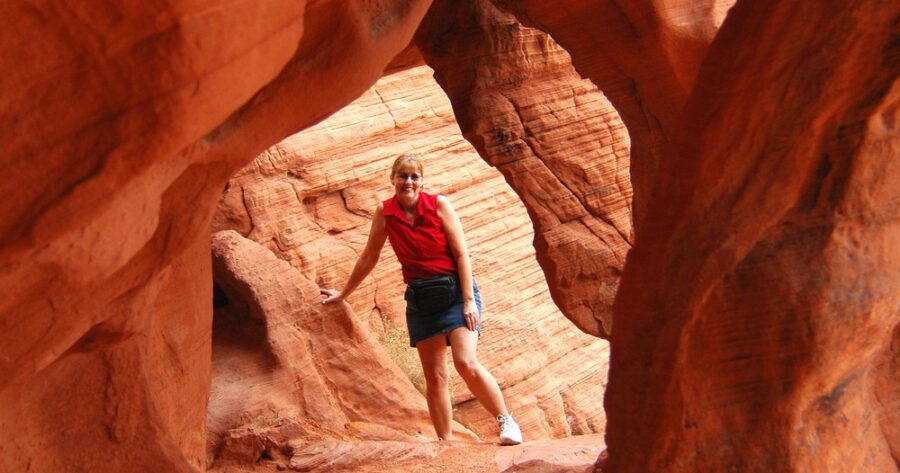 Consider these guided tours of the Valley of Fire State Park
If you want to leave the driving and tour guide to this scenic road trip to the Valley of Fires State Park, then consider these unique options below for a fun and worry-free trip to this gorgeous venue. Or you can also try some of these fun adventure tours to really amp it up a notch to visiting and experiencing some exciting adventure thrill at the Valley of Fire.
Quad ATV Tour
Tour Valley of Fire on quad ATVs on a small group tour of some stunning landscapes with hotel pick up and lunch included
Check availability and prices here
Valley of Fire helicopter and champagne tour
This unique tour from above includes an hour and a half helicopter tour with champagne and hotel pick up service
Check availability and prices here.
Photographer's hiking experience
Check out this fabulous half day photography tour and hiking experience at the Valley of Fire with an experience guide on some short hikes with lunch included and hotel pick up.
Check availability and prices here.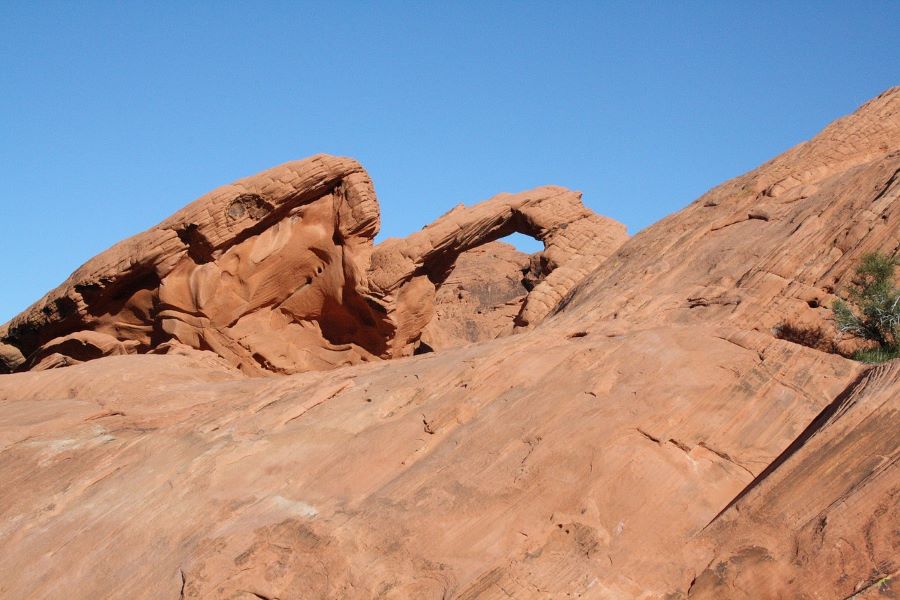 Valley of Fire State Park FAQ
Is Valley of Fire Worth visiting?
Yes, this is the oldest and most scenic state park in Nevada with red, white and pink rock formations, gorgeous vista points, amazing hikes and an easy road trip to do from Las Vegas.
Do you need reservations to drive through the Valley of Fire?
You can drive through the park entrance at the west and east gates and entry to the park is $10 per car and $15 for non-NV vehicles. There is no off roading allowed throughout the park area.
How far is the Valley of Fire from Las Vegas
The drive from Las Vegas to the Valley of Fire State Park is about 53 miles on Highway I-15 N
Is there a scenic drive through the Valley of Fire?
Yes, this is a scenic drive on Highway NV 169 going through the park and also the White Domes Road known as Mouse's Tank Road. Both are spectacular with colored rock formations, vista points and eroded rock outcrops through different segments of the park.
Which is better to visit, Valley of Fire or Red Rock Canyon?
Each of these state parks are very different from each other. Red Rock Canyon is closer and easier to start a visit from Las Vegas. Valley of Fire is also fantastic with nice road trips and hiking trails. We recommend doing both if you have the time.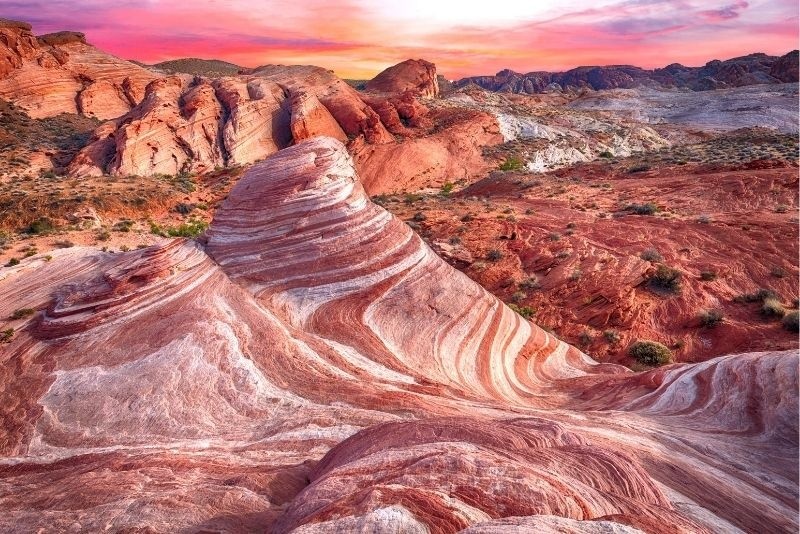 Check out these other posts and road trips from Las Vegas
If you are looking for more road trips and places to explore around Las Vegas, check out our posts below.
Day trip to Red Rock Canyon outside Las Vegas
Cheap things to do in Las Vegas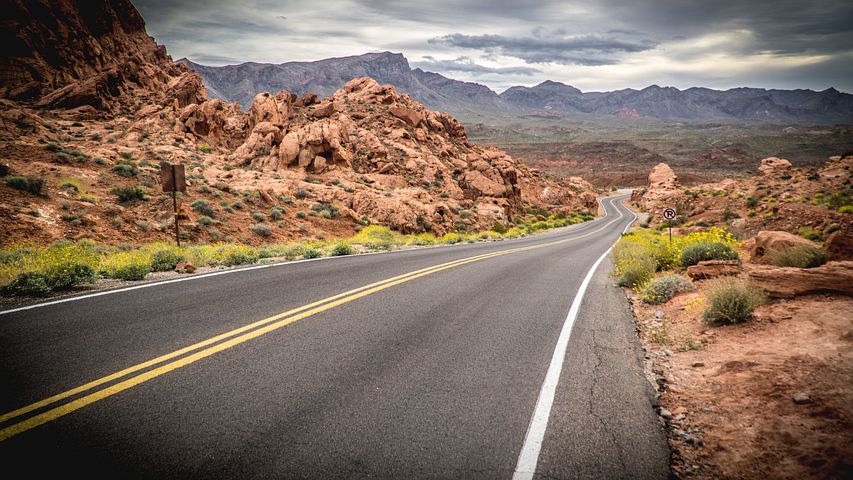 Conclusion to the Valley of Fire State Park Road trip
If you decide to visit Valley of Fire State Park from Las Vegas, you won't regret your visit here. Bookmark this guide to seeing the best of the attractions and short hikes within the state park. Thanks for visiting USA Road Trip Now and checking out this post on the Valley of Fire State Park Road trip.
Hope that this post has been helpful to planning your visit to Valley of Fire and if so, please do share it with any of the social media channels and buttons located below.
Disclosure – some of the links above are to affiliate sites that are either reviews or recommendations if you book helps to keep our site running at no additional cost to you. We appreciate your supporting our website meanwhile.