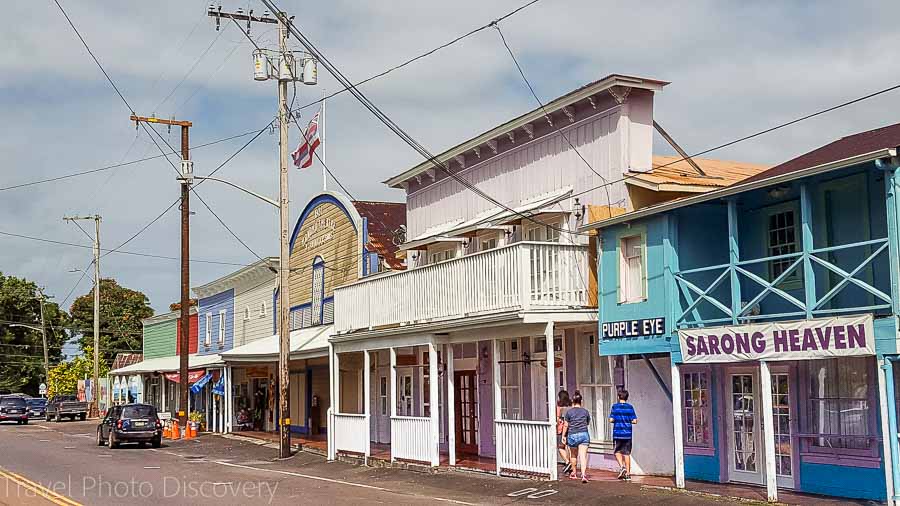 Since I'm spending more time on Hawaii island, I've decided to spend a little more time and share some of the beautiful landscape, attractions and towns around the island. There are so many unique communities and towns that have developed from the plantation days, serving their little communities. Nowadays, the towns have preserved most of their individual flavor and characteristic – attracting tourists and locals like to shop and enjoy a variety of services. Following are some of my favorite towns around Hawaii that have maintained their distinctive, unique identities and historical significance on the island.
What to see in Hawaii Island
Honomu, Hamakua
The little town of Honomu, better known as the gateway to Akaka Falls is a well-preserved town with colorful buildings evoking an old plantation pastime. Now the old plantation town caters mostly to a tourist crowd stopping by from the falls for refreshments or some souvenir shopping. It's a fun town to explore the galleries and shops and to find something unique or hand-made from Hawaii, and maybe even try some of the local ice cream flavors made locally.
Pahoa, Puna
Pahoa town, on the eastern side of the Puna district, has an old wild west appeal with simple clapboard styled, ageing storefronts with rickety elevated walkways that barely protect you from occasional rains. It's run down and quaint at the same time with little shops and a variety of surprisingly good food of different cuisines. Stop by on your way touring around Puna or the panoramic loop and coastal areas of the red road.
Hilo town
The largest population on Hawaii Island is centered on old Hilo town, a place that seems to have been lost in a time warp that hasn't changed dramatically and actually that's what the locals like, something authentic and real for the locals and not catering to the tourist crowd. Although as a tourist you can visit popular attractions like Kaumana caves, Rainbow falls, Coconut island, Hilo farmers market and Liliuokalani gardens just to name a few must visit spots in town. There's an actual revival of supporting local businesses, restaurants and shops in town because these are places that have been around for a while. Although we do like to have new and exciting places to also dine and enjoy a nice night out and Hilo does offer all those options even on a smaller scale.
If you're hungry, check out all the top places to eat in Hilo town here for inspiration and great places to chow down on local food.
Kailua, Kona
Over on West Hawaii Kailua Kona a town that caters mostly to a tourist crowd but also locals typically going for shopping and other daily routines. The town has many historic and ancient monuments that keep the history and importance of this town in which Kamehameha 1st (Hawaii's first king) resided. Today the town is filled with many restaurants, shops, farmers markets and many little coves and beaches like Kahalu'u beach park and Magic Sands that are a draw for snorkeling and a quick dip before heading into town.
If you are looking for delicious food, check out all these popular places to eat in Kona here for inspiration and finding the best spots to eat great food.
Holualoa, Kona
Above Kona in the hills of Holualoa is the town of Holualoa, a small art community with many little art galleries and shops ,along with a variety of coffee farms and tasting rooms along the main corridor. The area up in the cloud forest all the way down to south Kona is where most of the coffee plantations are located and you can visit many of the farms and coffee tasting shops throughout the area. It's a perfect place to visit some unique local artists and try some of the well-known Kona coffee that is a popular souvenir to take back home.
Kainaliu, South Kona
In the southern part of the island is the town of Kainaliu which has so many coffee plantation farms and tasting rooms along the route on highway 11, its hard to choose just one spot to try some coffees. The town itself is a long strip of shops, galleries, cafes and coffee tasting rooms. The Kealakekua bay and the Captain Cook monuments are the most popular tourist destination points to visit with beautiful snorkeling and other water related activities.
Other cool topics on the Big Island
Conclusion to scenic towns of the Big Island
Thanks so much for coming to visit Travel Photo Mondays and touring some of the distinctive towns of Hawaii Island. Come and enjoy some of these other bloggers from around that world showing you some beautiful imagery.
If you enjoyed this post on Distinctive towns of Hawaii Island , please consider subscribing to the blog below – and if you could kindly share the post with any of the social media buttons attached, I would appreciate it!