---

Eco luxury stay in Bocas del Toro
My first bite of this decadent chocolate truffle was everything I was craving – crunchy on the outside and soft chocolate oozing with creamy perfection inside. The minute I had the first taste of the truffle, I knew that my visit to the La Loma Jungle Lodge in the remote island of Bastimentos was going to be a memorable experience. The region of Bocas del Toro mainly attracts nomadic travelers–younger and more budget-minded, who visit for longer periods of time. But now there are more mid-range and upscale options for tourists in the eco-luxury space.   La Loma is an eco-destination like no other, with a satisfying, organic vibe and "farm to table" delicious meals at their central jungle lodge in the midst of tropical canopy.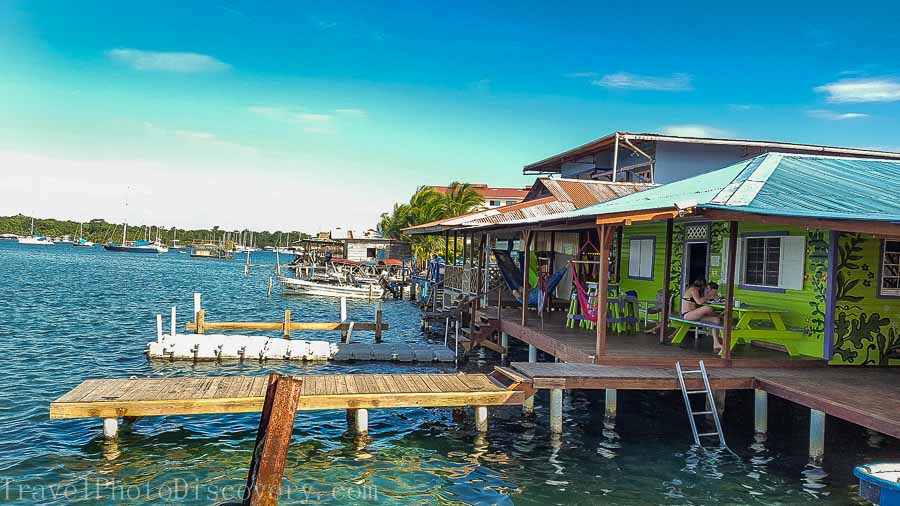 Arrival at Bocas del Toro
We meet Henry, the co-owner of La Loma at the designated stop in Bocas town, a surf shop with a boat dock, for our boat ride to Bastimentos.  Henry's cacao farm and eco lodge is ensconced in the middle of a dense jungle with tall old growth trees which protect the shorter and prolific cacao trees dotting the plantation. The cacao trees are understory plants that thrive in the partly shaded environment and flourish in the rain that comes down on the island.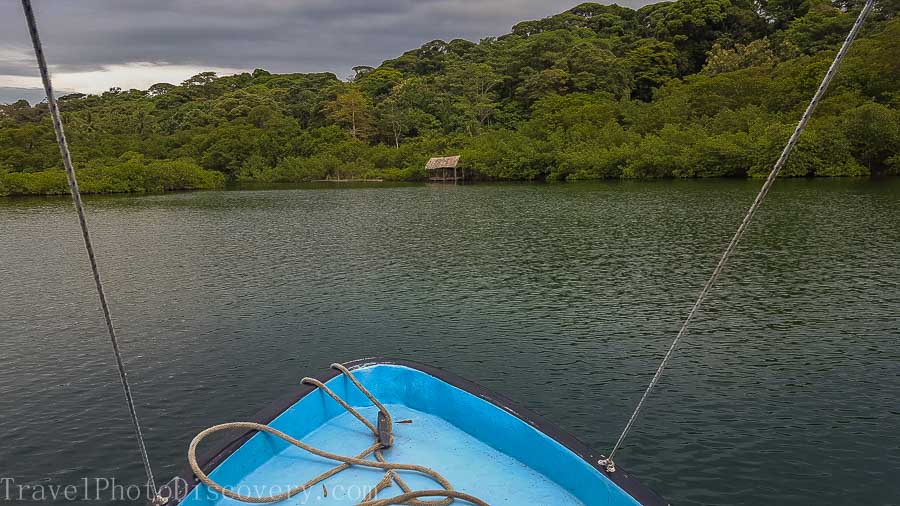 Traveling by boat to Bastimentos island and La Loma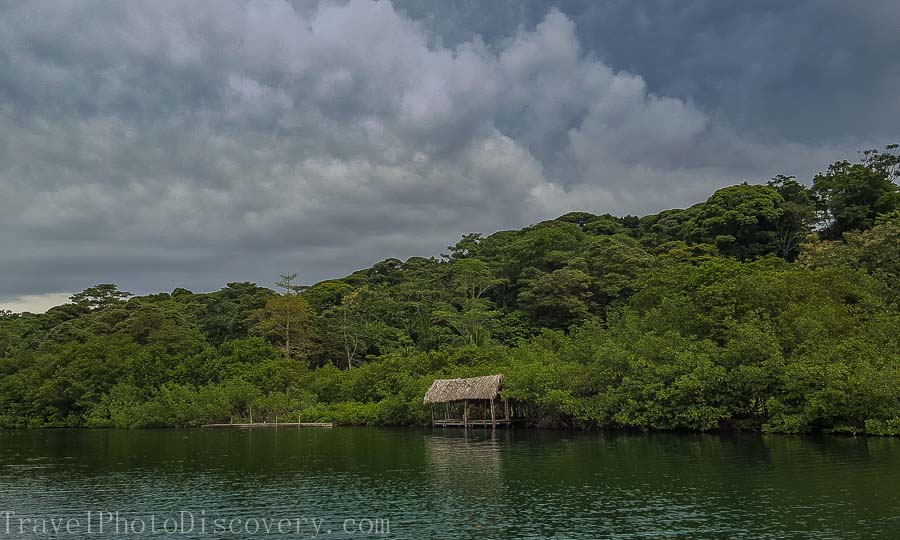 The boat ride is pleasant.  We traverse through mangrove islands and flat islands along the inter coastal areas of Bocas del Toro – the  region in the northeast section of Panama bordering Costa Rica. Along the ride, we see dolphins breaching and millions of small and large jellyfish floating in the quiet waters. Henry gives us a basic geography lesson about the islands we are passing by, provides an overview of the indigenous people, and he recounts the story of the creation of their eco business and cacao farm. We pass along some quiet bays along the inter coastal areas of Bocas del Toro dotted with colorful homes and many native villages. Henry provides an overall relaxing ride in the late afternoon to Bastimentos and La Loma.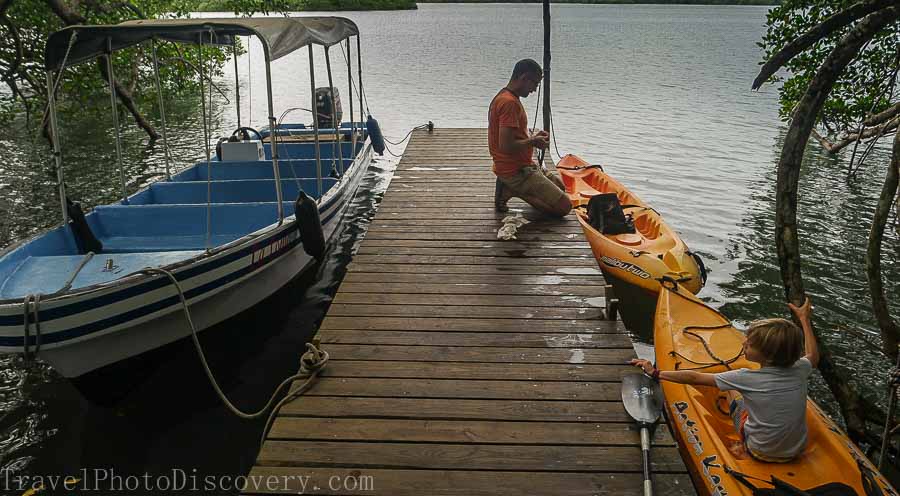 Docking at La Loma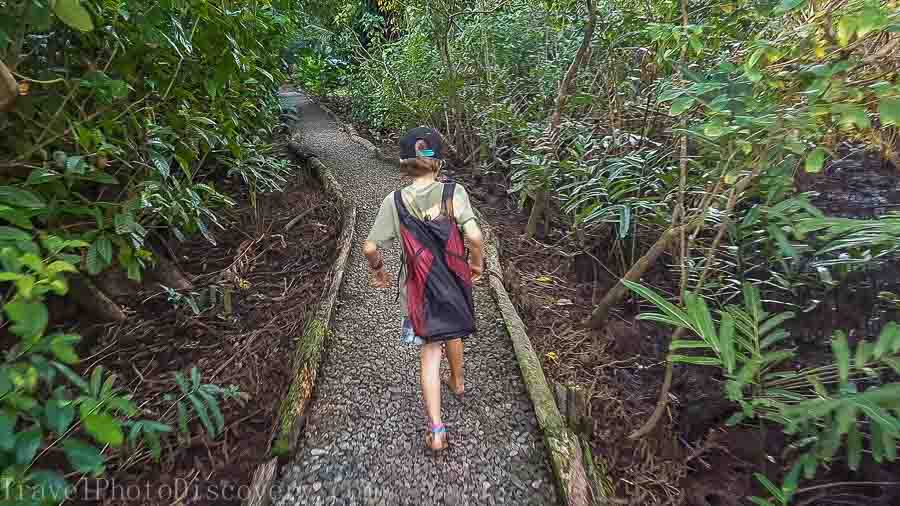 Arriving at La Loma cacao plantation
La Loma Lodge sits on an isolated part of Bastimentos adjacent to the local Ngobe community – indigenous locals that survive off the land or fish for a living. Some work for the lodge as porters and caretakers of the farm and cacao processing business. We walk through the jungle past lush tropical plantings of oranges, guava trees, bananas,  atemoya and other tropical fruit-I can already imagine all the delicious fruit and locally made jams we will be having for breakfast. We climb up to the main lodge, a wooden tree house-like structure with lovely custom long tables, mahogany styled shelves and colorful hammocks, and then enjoy some sweet lemonade.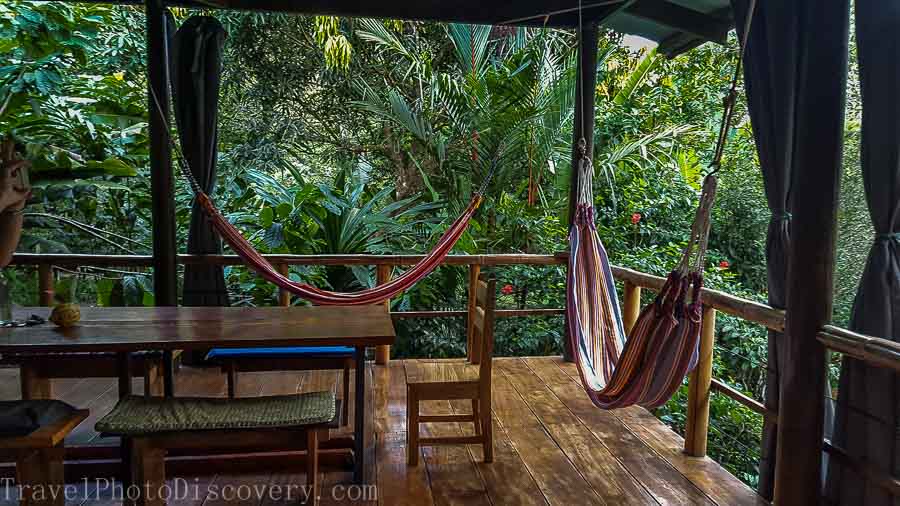 Fresh tropical fruit from the garden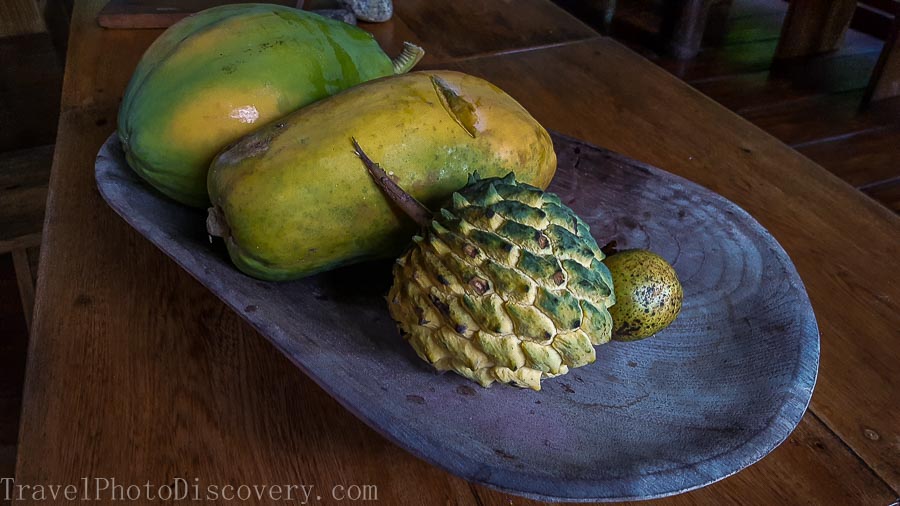 Wild orchid display at La Loma

The tree house casita
It's early evening and we finally trek uphill to our treetop casita – a spacious one bedroom and living room open-air suite with a private toilet.  The beautiful accommodations are open air with plenty of space for lounging and enjoying the forest. The sunset is perfectly timed as we enter the room over the inter coastal waterway.   Henry gives us a quick tour and relates all the cool eco features of the casita, including these mosquito net bedrooms and the living area –the unit is built to ensure you feel a part of the jungle. The bathroom is behind the living area in an open air with bamboo doors that separate from the living room and walk through closet areas, a wonderful outdoor (but covered) shower sits right off the bath area for that open air vibe but with plenty of privacy (photo below)  After the tour, Henry leaves us to enjoy the space and welcomes us to dine in the main lodge in about an hour for our dinner.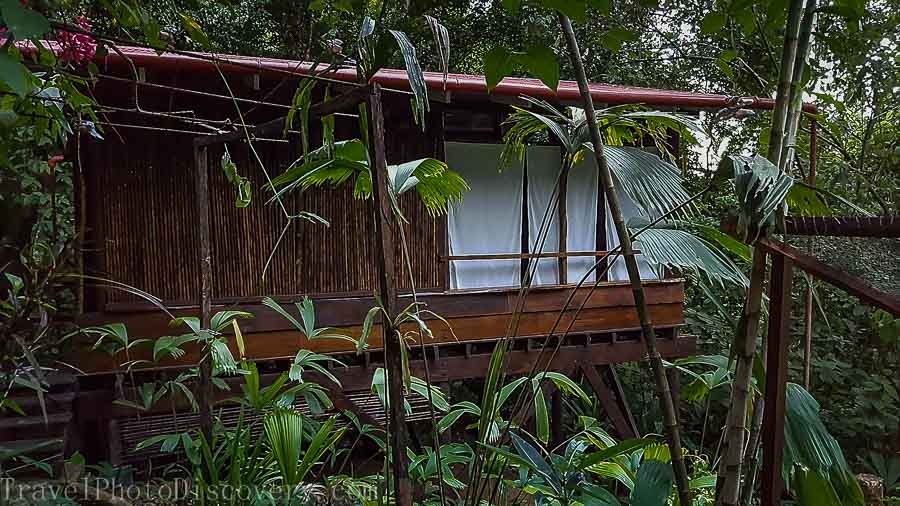 Lovely open air living in a casita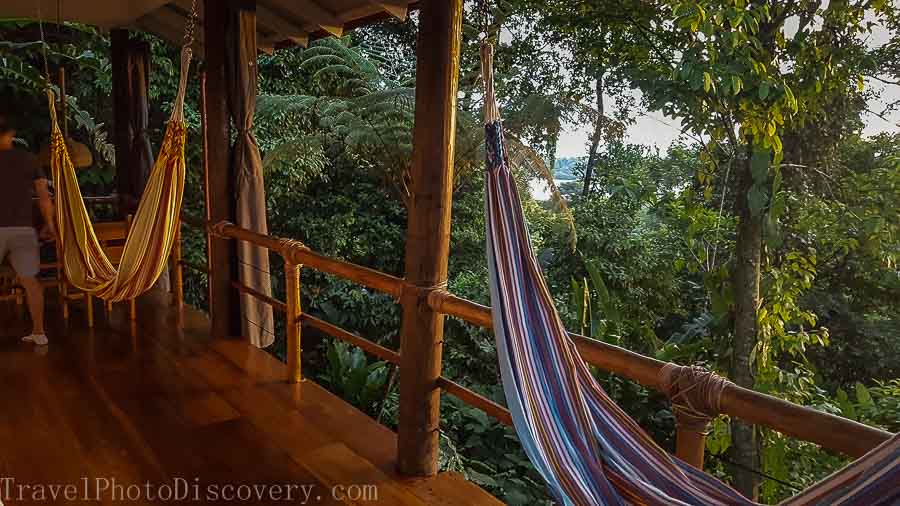 The living room area in a La Loma casita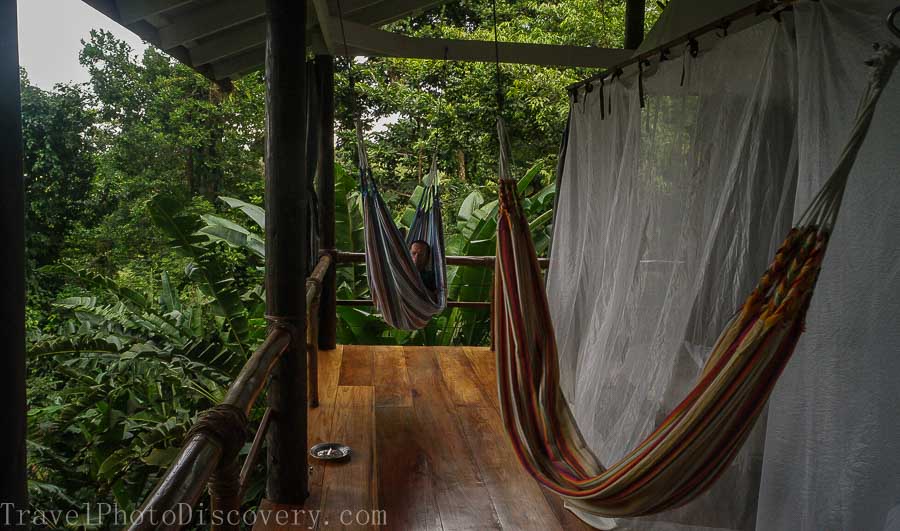 Arriving just in time for sunset at La Loma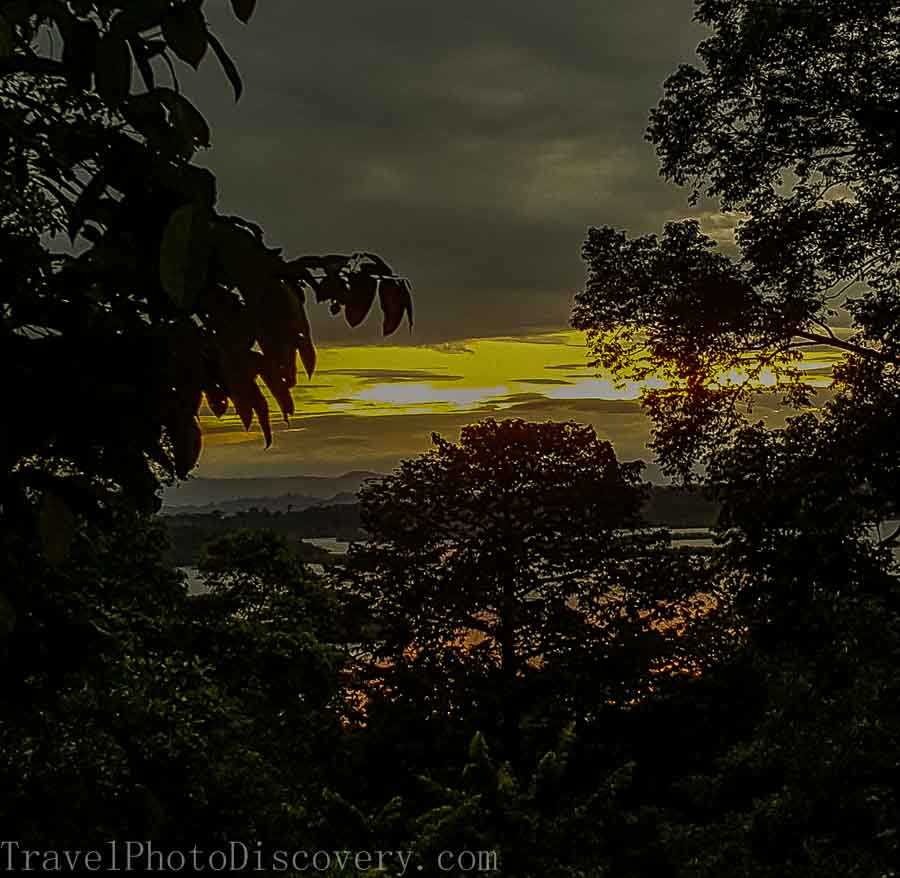 A farm to table approach at La Loma
We climb back down to the main lodge famished and ready for dinner and it really is spectacular! Both Henry and his wife Margaret are there to greet us for dinner with a warm welcome.  Henry quickly mixes up a delicious rum and guava concoction that really delivers a nice tropical zing. We have a lovely conversation about living in a jungle environment and I imagine just for a moment what it really would be like to live in these exquisite surroundings.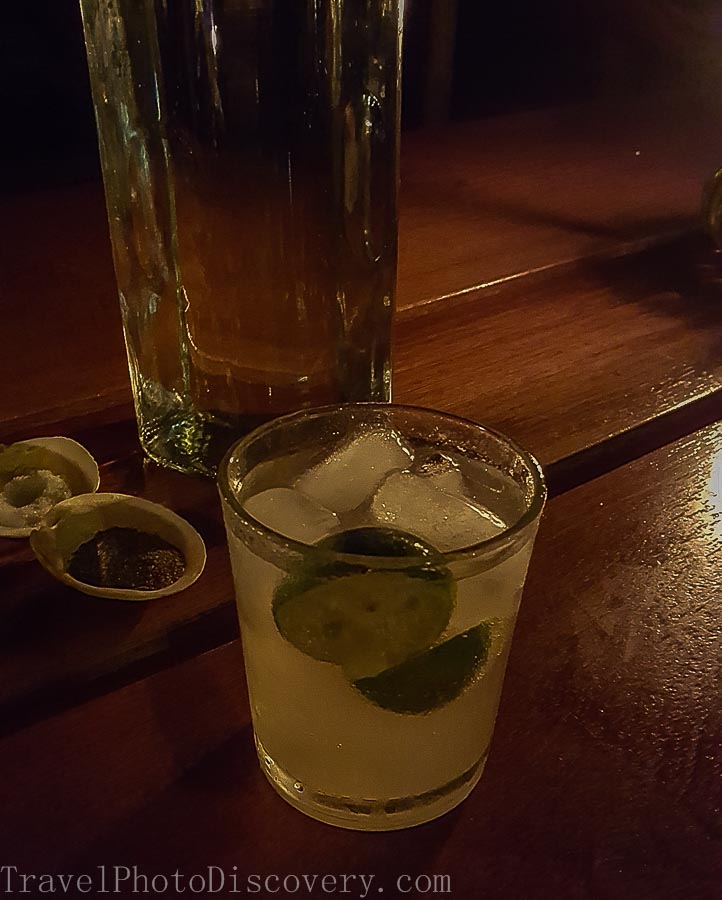 Henry motions us to the large wooden table and we start our meal beginning with a delicious soup made with local pumpkin with a dollop of crème fraiche sitting delicately on top, this is followed by a local tuna sitting on a bed of coconut rice and seaweed with a tropical salsa for that Caribbean flavor. Of course the dessert is the ultimate winner with a huge molten chocolate cake wrapped around an edible hibiscus flower. The dinner was really scrumptious and the perfect way to cap an incredible day spent at La Loma. In fact all the meals at La Loma receive the special attention and details to every ingredient sourced locally from the immediate island and vicinity around Bocas del Toro.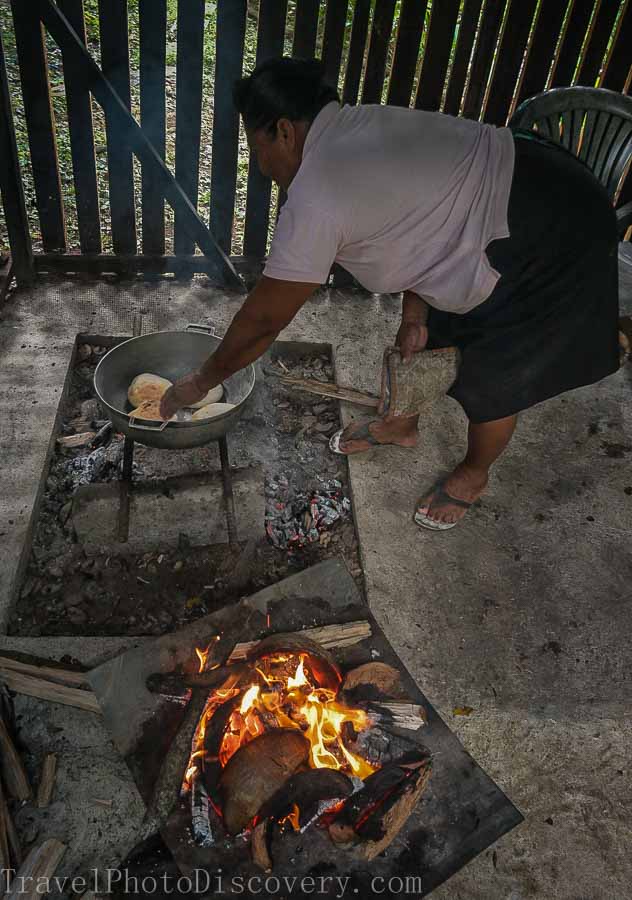 Watching the Johnny cake bread cooking open air at La Loma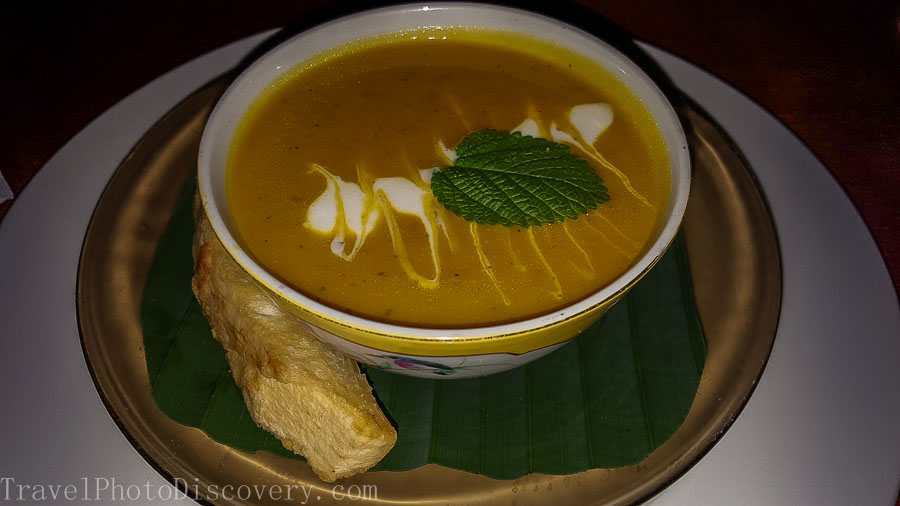 Delicious farm to table at La Loma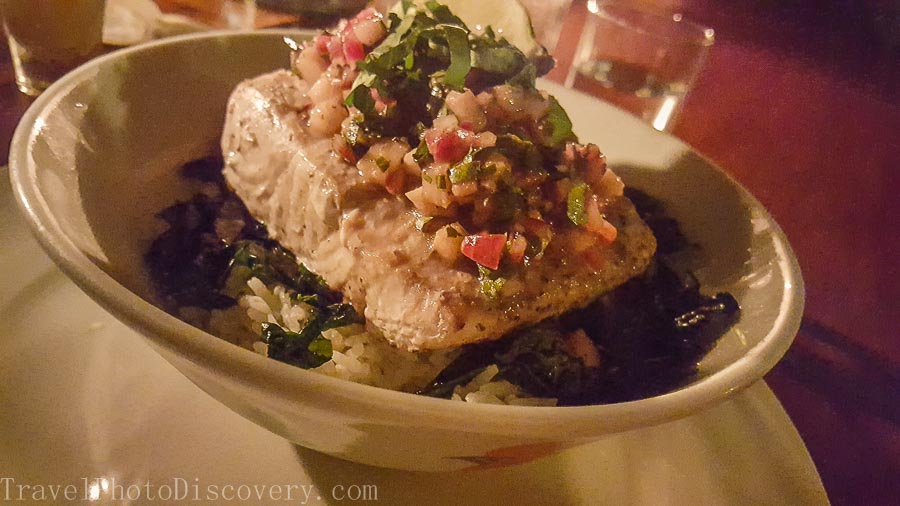 Chocolate desserts at La Loma, Oh my!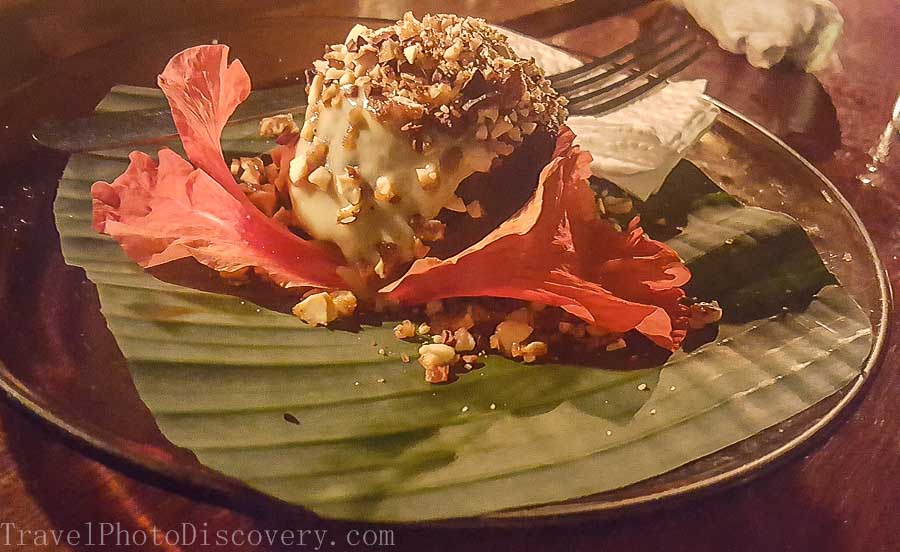 Touring the Cacao Plantation
After a restful sleep and wonderful breakfast meal, the guests are invited to tour the cacao grove and tropical fruit garden growing around the plantation. We meet Henry's cacao guide, Robert, who has lived on the island most of his life after coming from Jamaica. We are touring along with a family from Norway joining us just for the cacao tour (you can book a cacao tour and lunch separately even if you are not a guest of La Loma) and we spend the next few hours learning about some of the local fruits grown on the property along with the massive cacao trees on the property.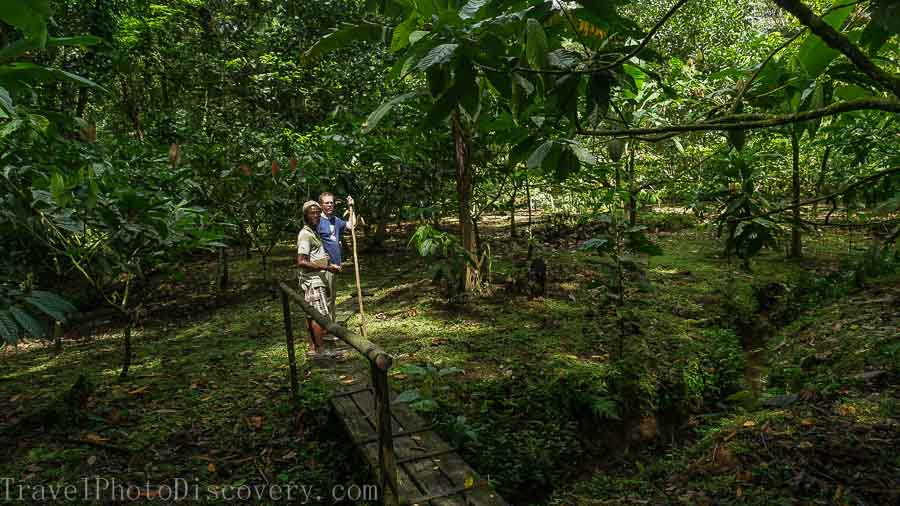 Walking through a grove of cacao trees at La Loma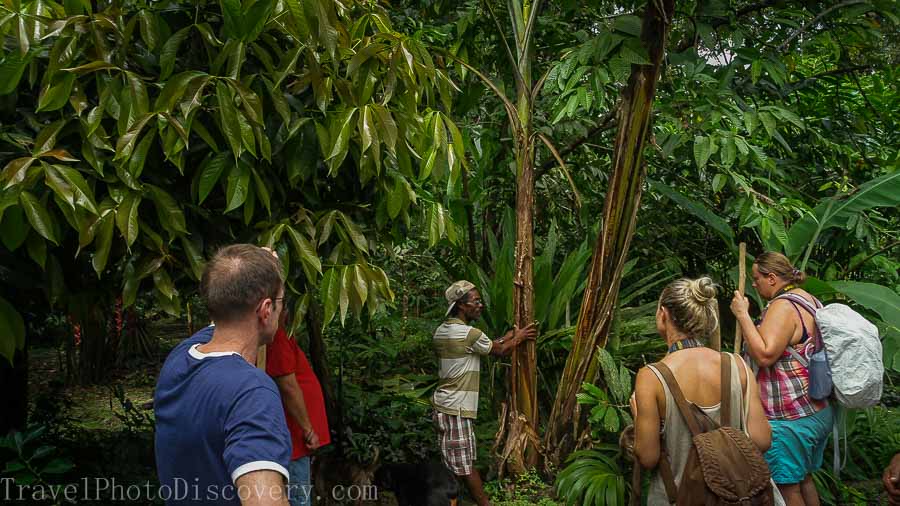 A cacao fruit at the plantation tour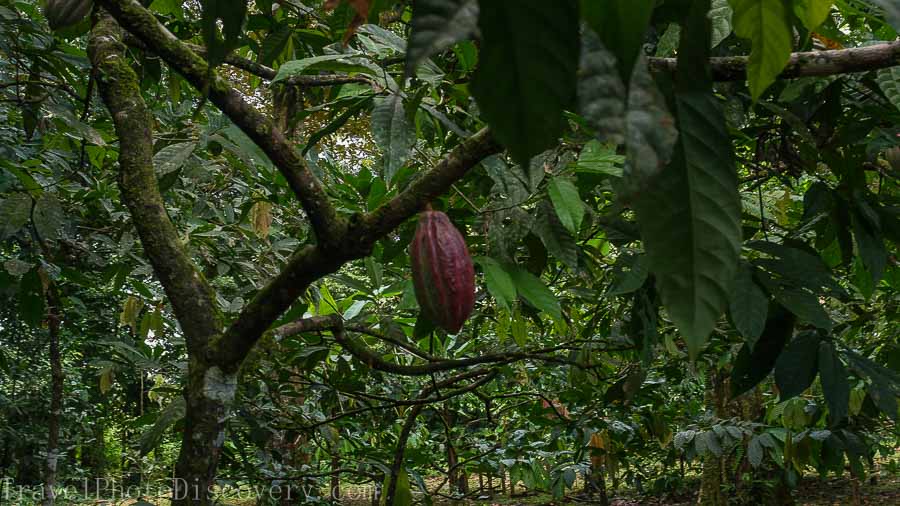 We learn that cacao trees are understory plants that need to grow under taller trees in filtered light for them to thrive and it seems like the trees have found the perfect conditions because every tree we spot are loaded with cacao pods. Our guide explains the growing cycle and sharing that the pods turn from green to different shades of red, orange and yellow then they are finally ripe and ready to pluck from the tree.  Along the way we pass some streams, shady forested areas and other scenic spots to take pictures – we even make a stop at the chicken house which seems to house hundreds of cackling chickens ready for their breakfast meal.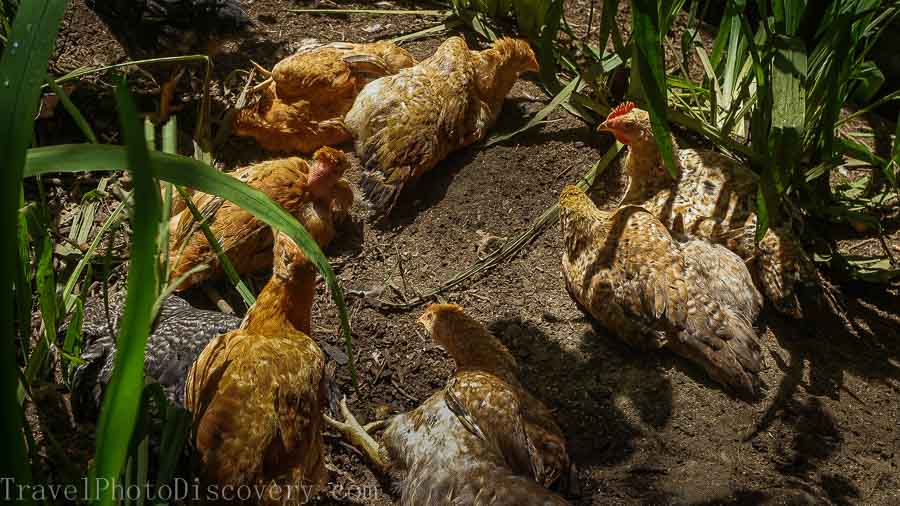 Happy chickens doing a dirt bath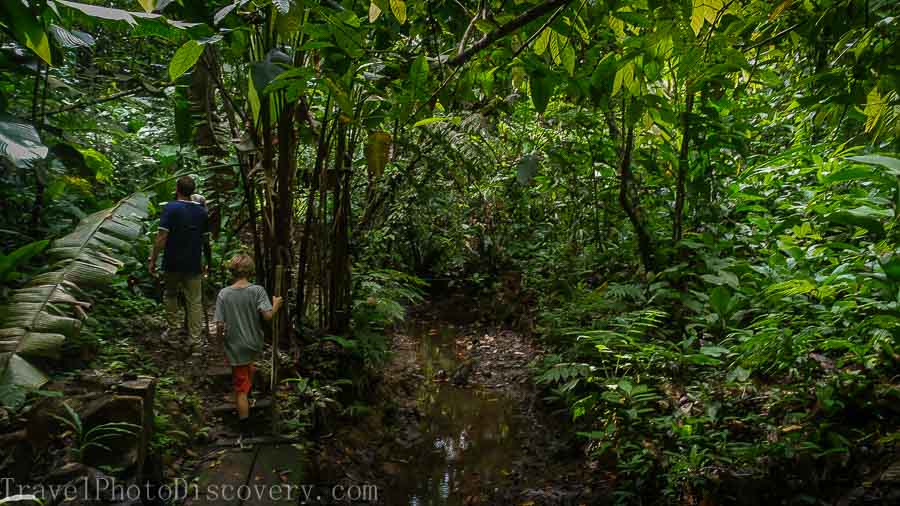 The next part of the tour included stopping by the processing area where our guide shows us how the pods are air dried during the fermentation process, roasted and the roasted segments eventually crushed into smaller nibs which are sold in this state or further processed by crushing the nibs and forming a softer paste like product that is rolled up into cacao balls and then dried and sold to local shops or at their gift shop.
Cacao processing to nibs and cacao products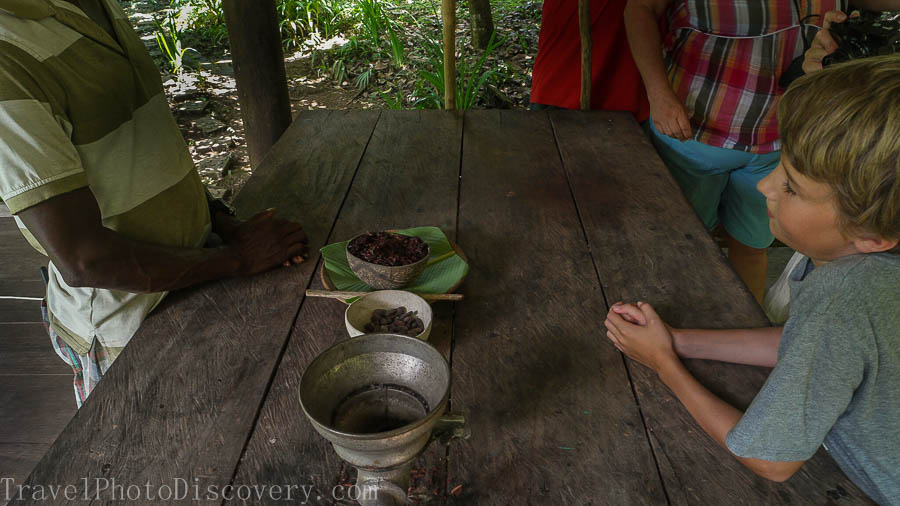 Grinding down the cacao nibs into a paste and rolling into a ball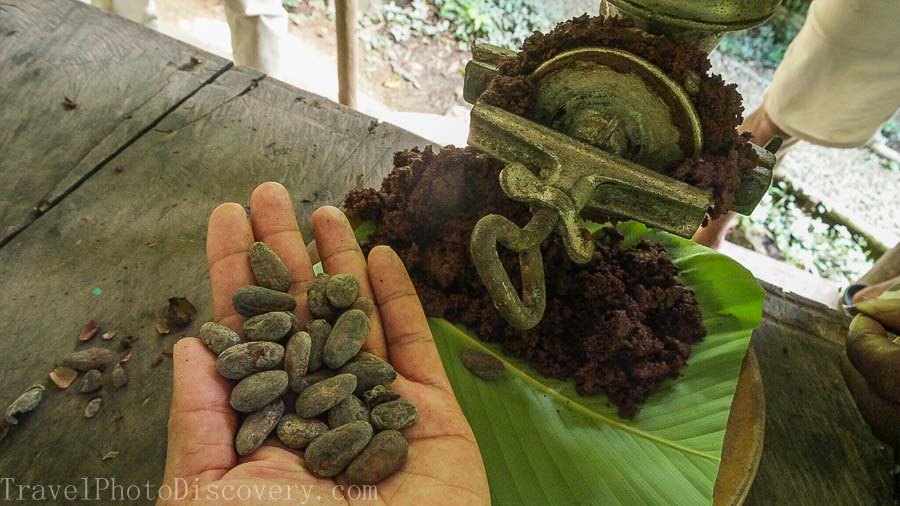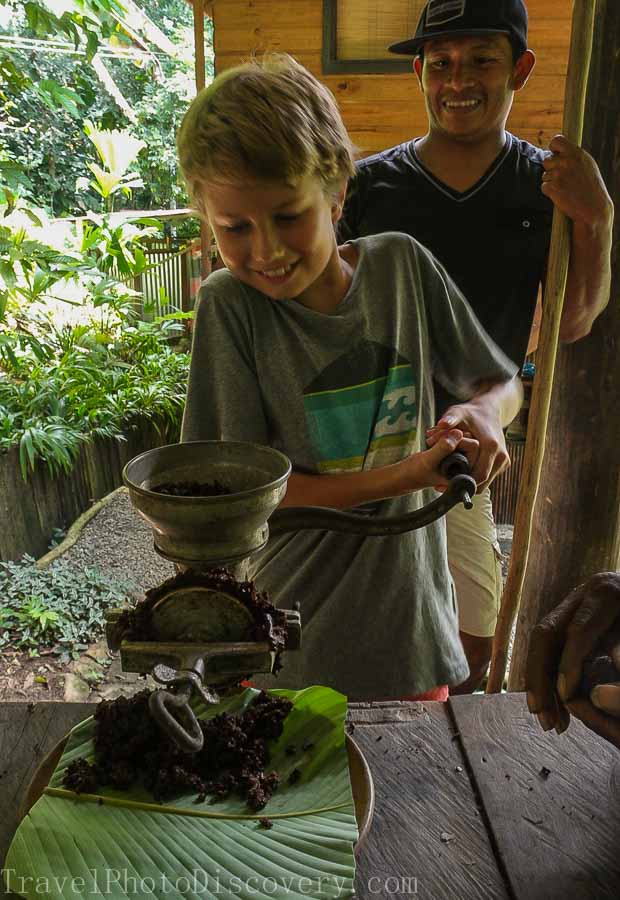 Hanging out before lunch at La Loma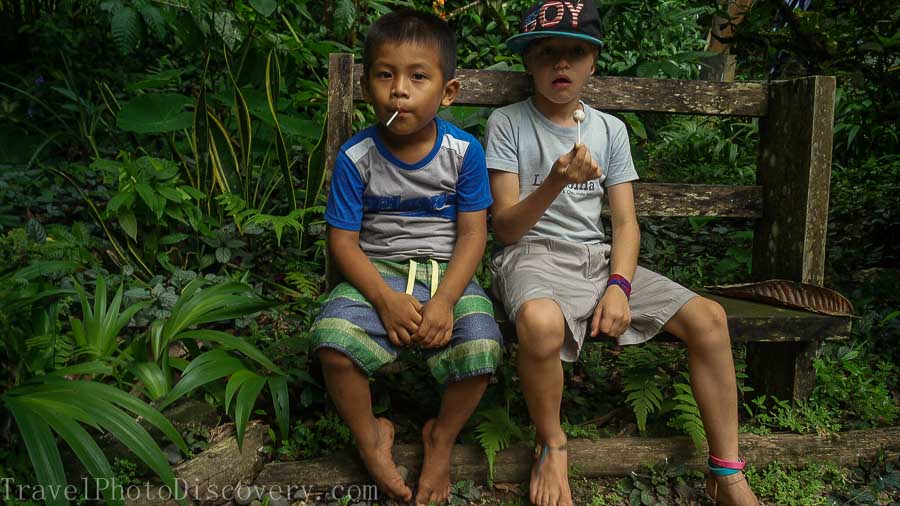 After the cacao tour, lunch is served
By the end of this tour, we get to indulge in a wonderful light lunch of fresh green salad and a simple tofu/cheese quiche followed by a decadent twin dessert of chocolate truffles and to die for brownies made with their incredible cacao, picked that morning.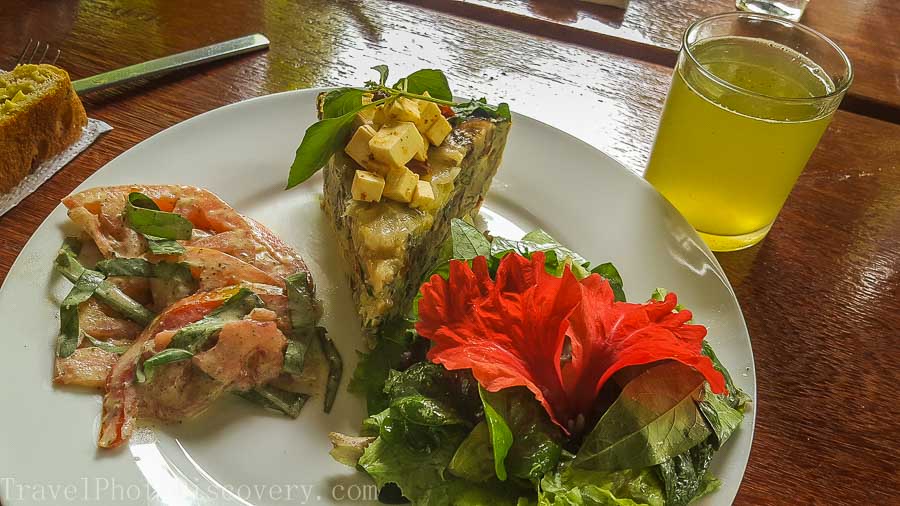 Chocolate sampling after the cacao tour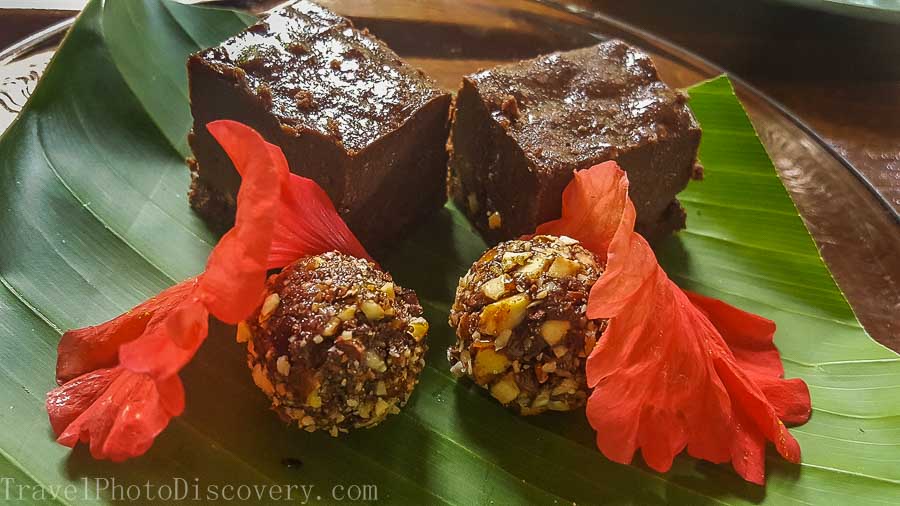 Thumbs up for La Loma
After three days spending time leisurely kayaking, exploring the local islands and just wandering around the nearby Red Frog beach and coastal trails, it was time to head back to Bocas town for a few nights. But it was really difficult to get back on the boat going back to town, since Keith and I were really spoiled beyond our wildest expectations and enjoyed every minute of our eco stay at La Loma. Being isolated on Bastimentos, lets you live quietly and connecting with the environment while noticing the amazing wildlife like the red frogs, sloths and monkeys and even the lizards and giant ants that crawl all around the property – it truly is wonderful to enjoy nature this way but within luxurious surroundings and carefully eco focused details. The meals with a farm to table approach and the host's eye for mixing ingredients inventively was truly the highlight of the stay and worth the price of a visit to La Loma which I highly recommend when visiting Bocas del Toro for a one of a kind eco experience in the region.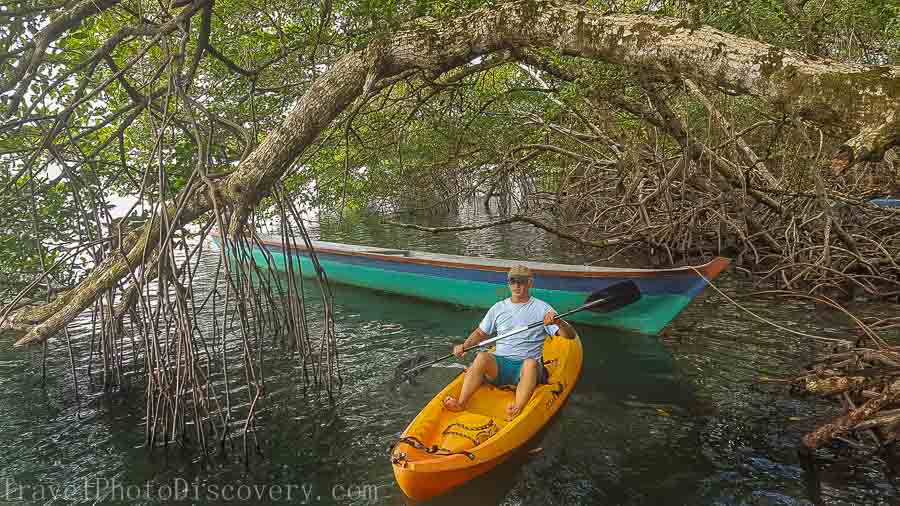 For more information about staying at La Loma, check out their website here for more details and availability. Thank you for allowing me to stay and share my experience at La Loma – all thoughts and opinions are my own and I know you would have an amazing stay and visit here.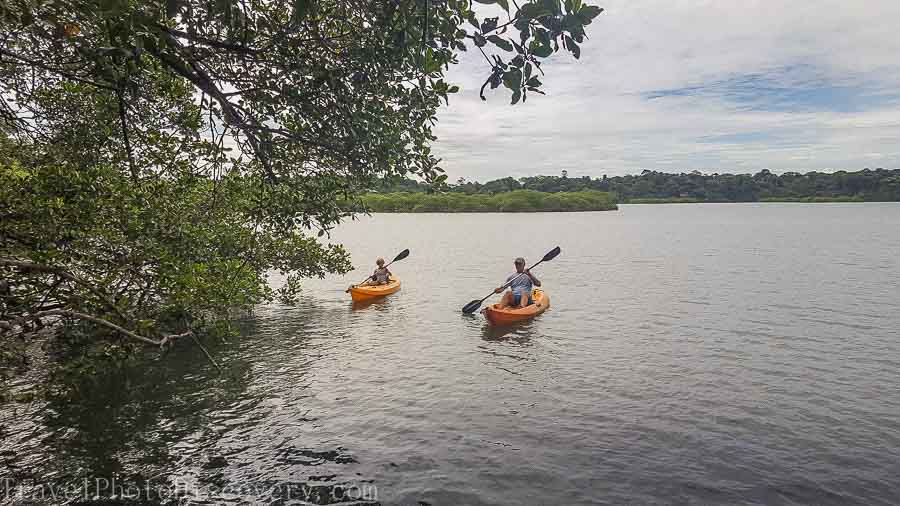 Thanks for visiting today and checking out this post on an Eco luxury stay in Bocas del Toro, hopefully you will be able to experience a wonderful stay at La Loma Jungle lodge and plantation when you visit Bocas del Toro in Panama . If you enjoyed the images and post, could you please share it with any of the social media buttons located around the post.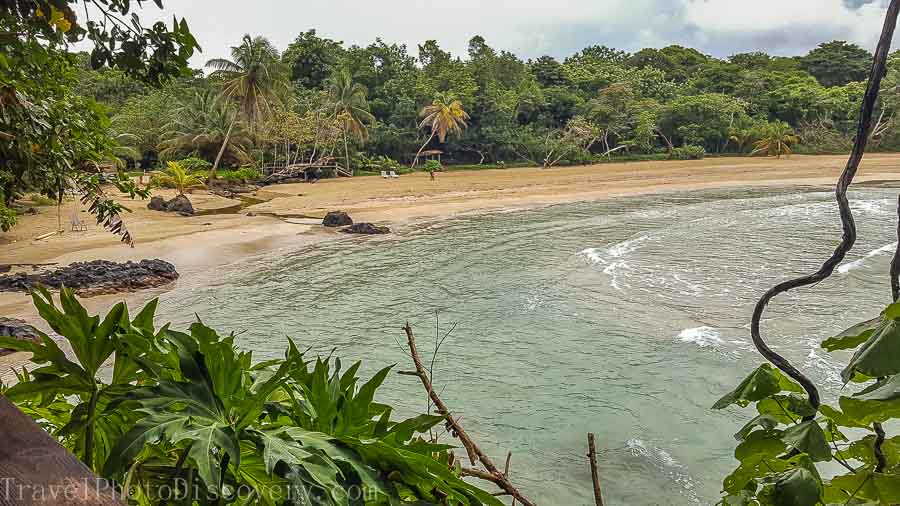 If you like what you see, come and check out my other social media channels for more updates, including Instagram, Pinterest and Twitter