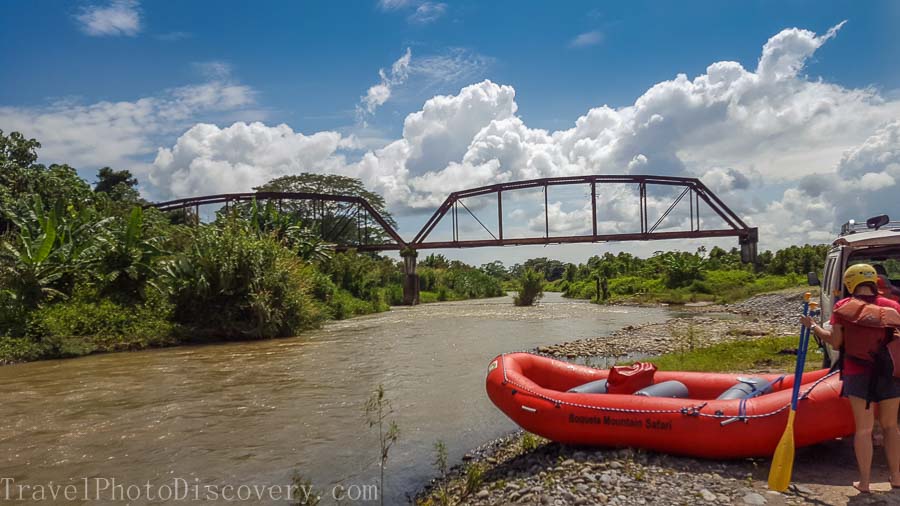 River rafting adventure in Boquete, Panama for an river adventure not to be missed
The area surrounding Boquete, Panama is filled with stunning landscapes, coffee plantations with views, colorful botanic gardens and adventure activities. I was looking for a place in Panama that combines the scenic beauty of the region, spectacular mountains and vistas and outdoor adventure that ties in with the stunning landscape. I signed up for a river rafting adventure tour with outfitter, Boquete Outdoor Adventures, a well run operator doing a variety of outdoor/recreation tours in the region.
The white water rafting experience in the Chiriqui Province covers a variety of rivers depending on the season and water levels. But this outfit offers class 1 to 3 rafting through Panama's white water rivers including: the Rio Chiriqui Viejo, Rio Fonseca, Rio Gariche, Rio Chiriqui, and others.
Where is Boquete in Panama located?
Boquete is a charming town nestled in the western highlands of Panama, located in the Chiriquí Province. It's renowned for its stunning mountainous landscapes, cool climate, and outdoor adventures, making it a popular destination for nature enthusiasts and adventurers.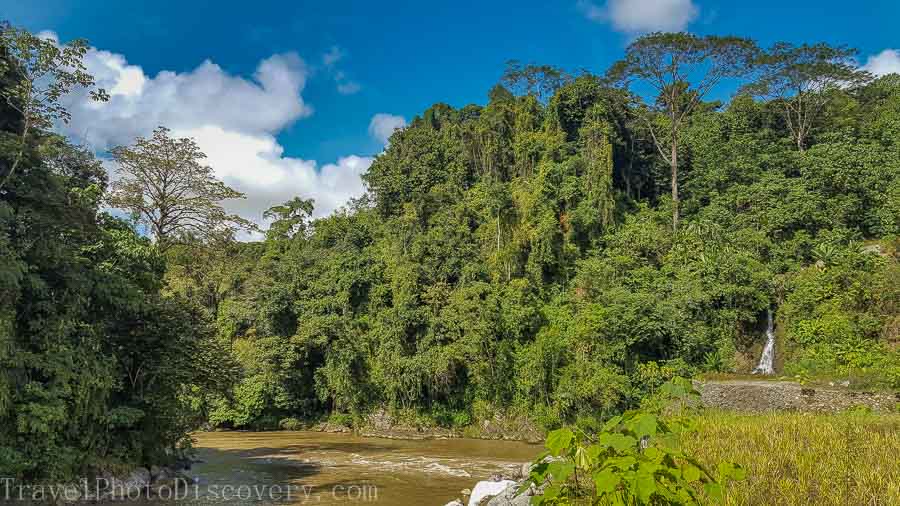 Why do a river rafting experience in Boquete?
A fantastic experience to see the countryside from a water viewpoint and a slower pace to really enjoy the river lifestyle and also adventure experiences on this river rafting tour that is on the edge of Panama and Costa Rica on the other side of the river is a different and cool experience.
On this particular river rafting tour outside Boquete, we were scheduled to go down the Rio Chiriquí Viejo river which is the most popular route with rapids ranging from class levels 1-3 through beautiful landscapes, waterfalls and skirts close to the border with Costa Rica. The landscape, varied birds and other amazing wildlife and the thrill of the whitewater really made this an exciting experience while we were visiting the Boquete region of Panama.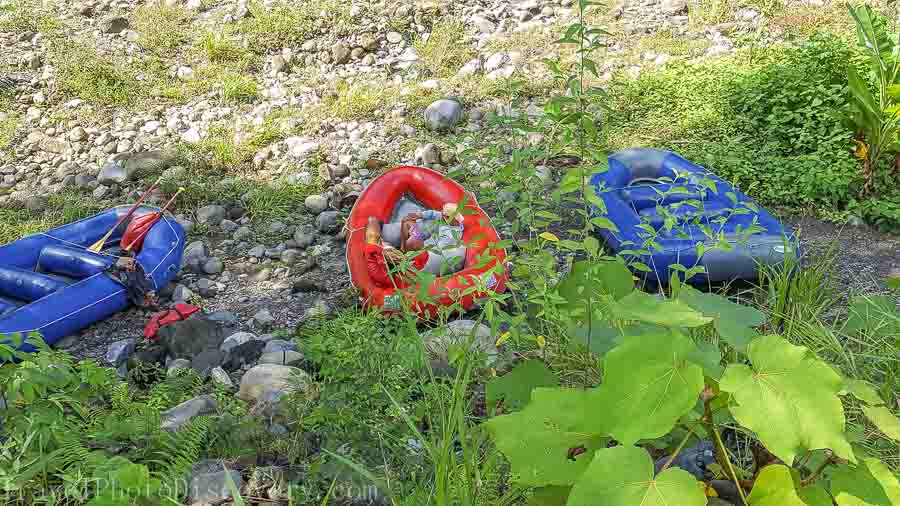 The rafting experience in Northern Panama
After a quick check in and signing the waiver forms, we boarded a large van for about an hours drive outside Boquete and going towards the Costa Rica border and the Chiriqui Viejo river. We travel through paved highway and towards the end, more gravel/dirt roads to the launching area – a big bend where the rafts were already assembled and ready to go.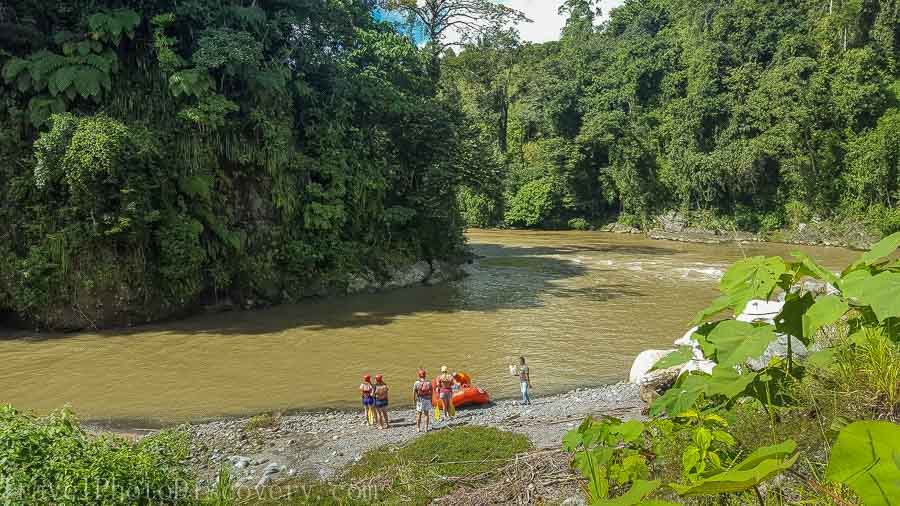 We quickly get off the van and try hats and water shoes for the right fit and immediately head down to the river to meet our guides and do a quick intro and where are you from greeting. Our guide Jose gives us a basic instructions to paddling and his main commands that we practise doing on the placid parts of the river before we start to head into our first series of rapids.
Getting started down the Chiriquí Viejo
Shooting the rapids of the Chiriqui Viejo river
It didn't take to long to hit our first series of rapids and I found out that sitting in the front was not the right choice for a tall and clumsy person, so I opted to sitting in the middle section. The rafts could comfortably fit 7 persons including the guide so it was just the right size and space for everyone to feel safe despite the unknown rapids we were starting to cross. Most of the rapids were easy and a few were quite terrifying, but our guide yelled out commands that everyone followed to a T and we almost capsized once on a big wave that took out half the group when the raft almost flipped except for the captain and one person.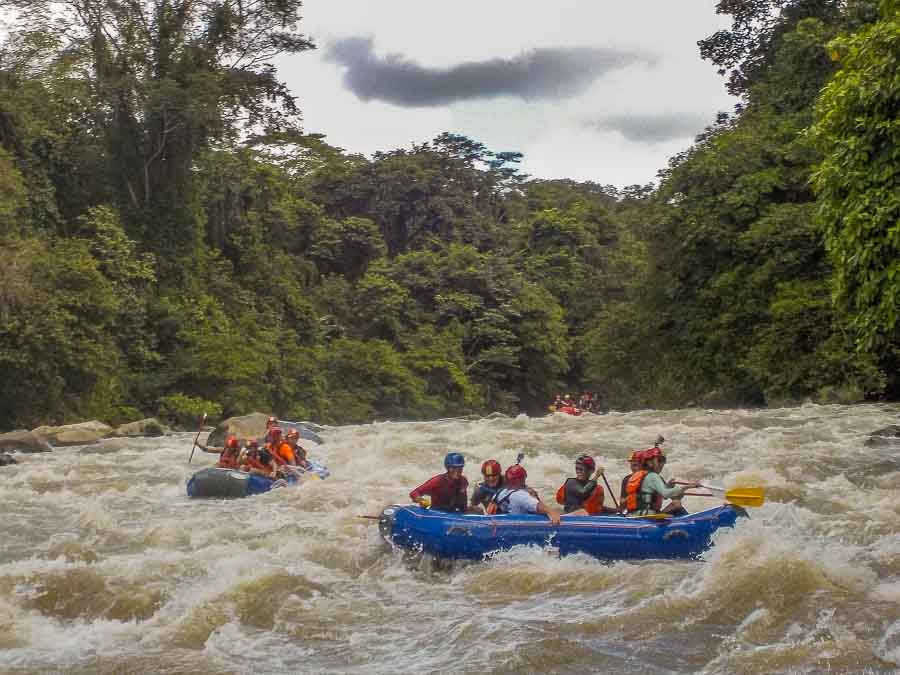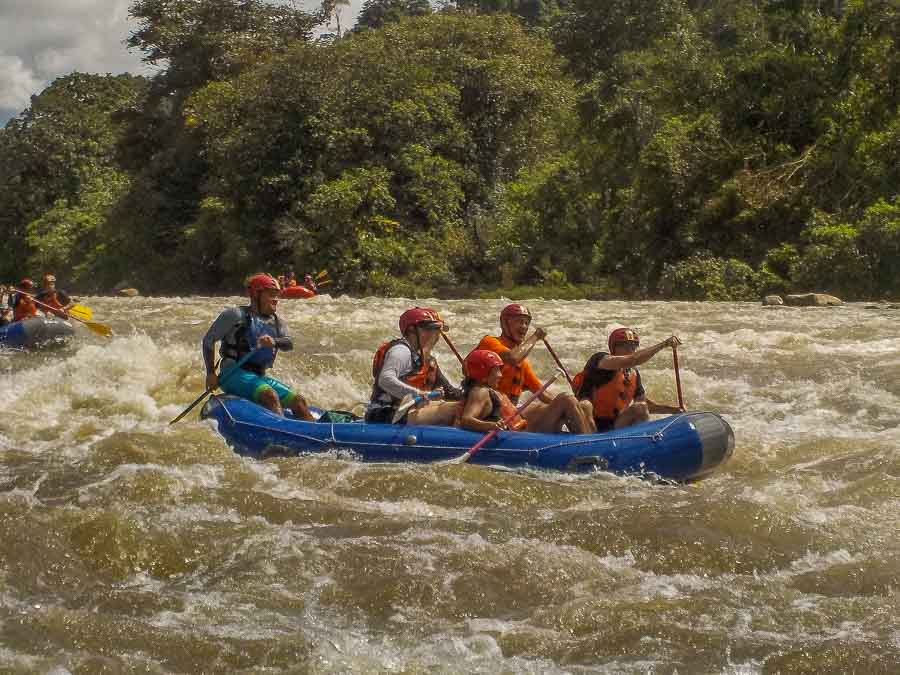 Paddling through Class 3 waves on the Chiriqui Viejo river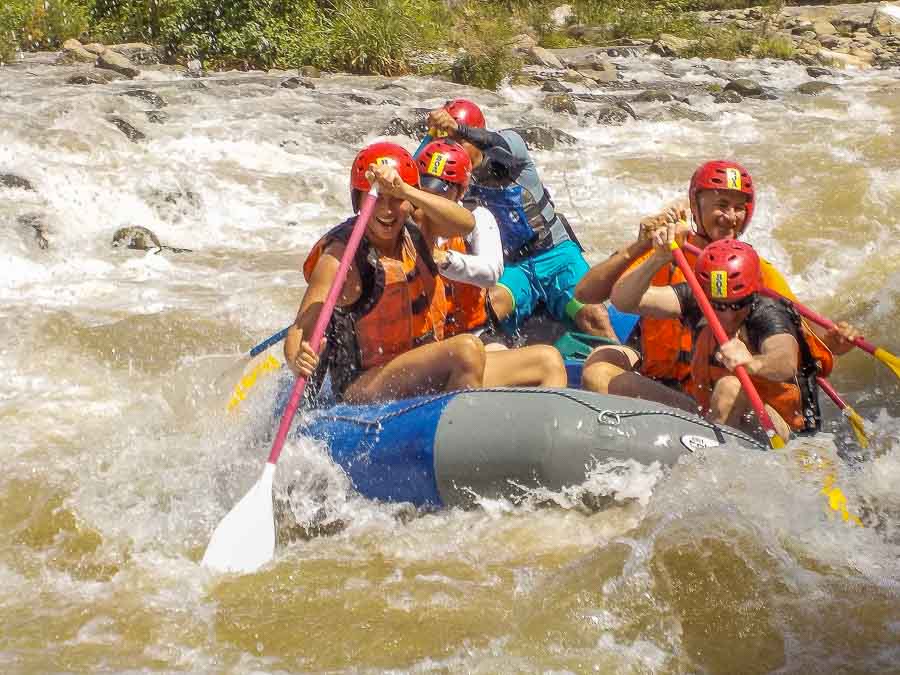 Checking out the wildlife and flora
We pass through some placid areas of the river and the landscape is agriculture focused with some jungle areas in the remote area along the river.  Many of the farms along the river were small, growing a variety of tropical fruit and vegetables. Along the way our guide points out a variety of egrets, hawks, buzzards, a few night monkeys and even a sloth very well hidden in the forest. It seemed like the river was full of life and the birds were nesting all along the river banks in shady forest areas. The area is alive with wildlife that live along the trees lining the riverbanks and forest areas adjacent to the river.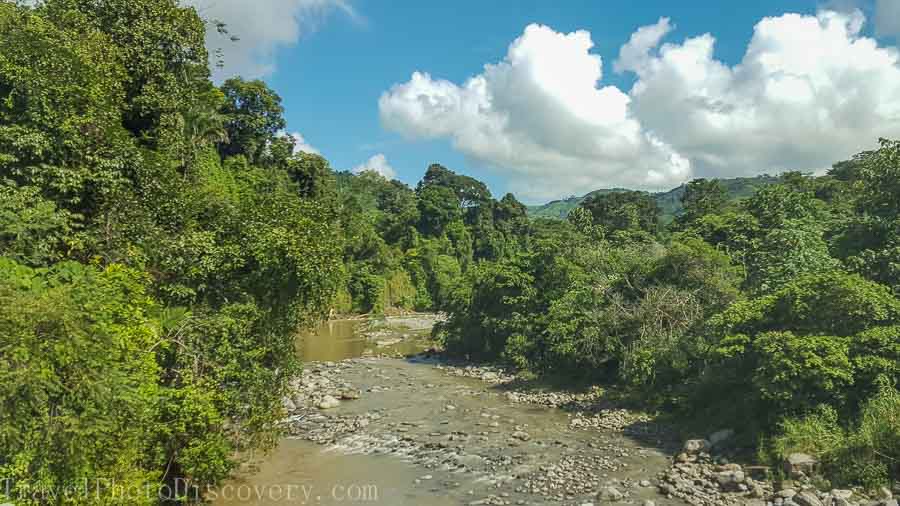 Lunch is served on the rafts
After about an hours rafting, we approach a riverbank and the guides quickly set up a simple lunch with a do it yourself spread of meats, cheeses, breads and fruits along with some juices and sodas. The guests quickly form a line and devour the food – it always seems like being around water makes everyone very hungry. After a quick lunch and bathroom break, we head back into the river and hit another string of rapids
End of the road on the Chiriqui Viejo
This certainly was one of the longest white water rapid tours I have taken and the all day tour covered many scenic locations and fun rapids throughout the entire trip. We approach a bridge which signals the end of our journey and we see the bus van and other vans off to the right for us to land. While everyone takes off their gear and changes back to regular clothes, the staff quickly deflated the rafts and places all the equipment back into storage bins set up for the vans to carry back staff and equipment.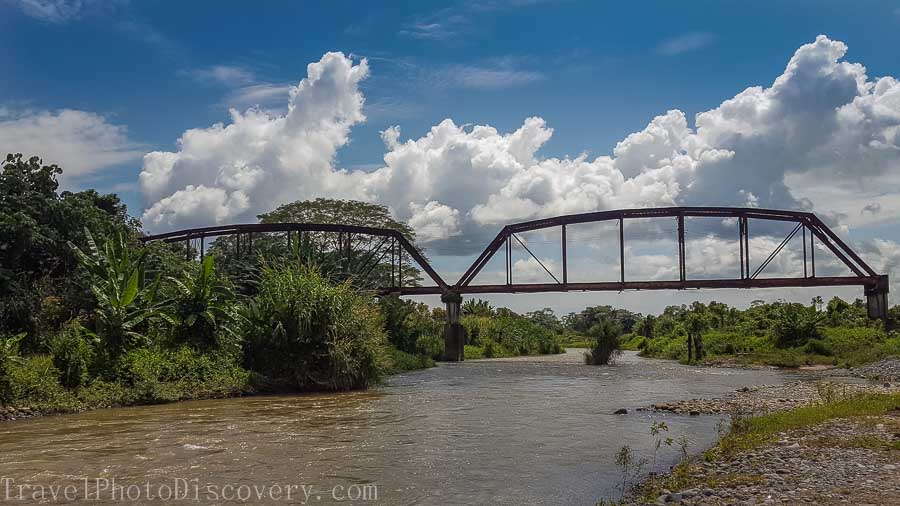 The guides handle all the details in packing back up
More inside tips to doing a river rafting experience through Boquete, Panama
River rafting in Boquete, Panama, is an exhilarating adventure that allows you to navigate the region's pristine rivers and immerse yourself in its natural beauty. Here are some inside tips to make the most of your river rafting experience:
1. **Choose the Right Season:** River conditions can vary depending on the season. The best time for river rafting in Boquete is during the rainy season (typically May to November) when water levels are higher, and rapids are more thrilling. However, always check with local operators for the most up-to-date information on river conditions.
2. **Select the Appropriate River:** Boquete offers several rivers suitable for rafting, including the Chiriquí Viejo and Chiriquí Rivers. The difficulty levels vary, so choose a river that matches your experience and comfort level. The Chiriquí Viejo is known for its challenging rapids, while the Chiriquí River offers a more relaxed experience.
3. **Go with a Reputable Operator:** Research and book your river rafting tour with a reputable and certified operator. They will provide experienced guides, safety equipment, and ensure your adventure is both thrilling and safe.
4. **Pack Essentials:** Wear comfortable swimwear or moisture-wicking clothing, a hat, and sunscreen. Water shoes or sturdy sandals with straps are recommended for footwear. Most operators provide life jackets and helmets, but it's wise to bring your own if you have them.
5. **Listen to Your Guide:** Pay close attention to your rafting guide's instructions. They will provide safety guidelines and paddling techniques to navigate the rapids effectively. Follow their guidance for an enjoyable and safe experience.
6. **Be Prepared for Rapids:** River rafting in Boquete can involve challenging rapids, so be prepared for an adrenaline rush. Hold on tight, stay in your raft, and work as a team with your fellow rafters to navigate the whitewater.
7. **Enjoy the Scenery:** While the rapids are thrilling, don't forget to take in the stunning natural scenery surrounding you. Boquete's rivers flow through lush rainforests and canyons, offering a unique perspective of Panama's wilderness.
8. **Capture the Moment:** If you're comfortable with it, bring a waterproof camera or GoPro to capture the excitement of your river rafting adventure. Just make sure it's securely attached to avoid losing it in the rapids.
9. **Respect the Environment:** Maintain the pristine beauty of Boquete's rivers by adhering to responsible tourism practices. Dispose of trash properly and avoid disturbing the local flora and fauna.
10. **Relax Post-Rafting:** After your adventure, take time to relax and unwind. Boquete offers various hot springs and spa facilities, allowing you to soak in the therapeutic waters and soothe any sore muscles from your rafting adventure.
River rafting in Boquete, Panama, is an unforgettable experience that combines adrenaline, nature, and adventure. By following these tips and choosing a reputable operator, you'll have a safe and thrilling journey through this stunning region.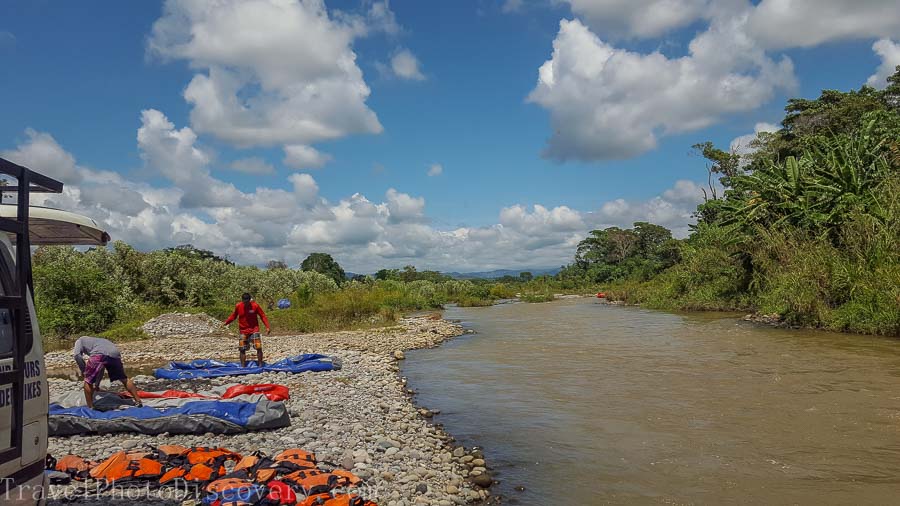 Final thoughts
That was a fun way to explore the various rivers and the scenic Chiriqui Province and the experience was definitely a thrill of a lifetime. The guides and rafting experience with Boquete Outdoor Adventures was really well done and coordinated from start to the end and my friends and I had an excellent time. We definitely recommend this experience if you are looking for some adventure while visiting the Boquete area in Panama.
Base yourself tin Boquete for doing a river rafter or adventure experiences
If you want to do some outdoor adventure and river rafting experience, all the outfitters leave from Boquete so you can easily base yourself in the city in a variety of different accommodations in the city. Check out the top reviewed hotels and inns here for inspiration and current prices.
The Inn at Palo Alto – located riverside in a lush property outside of the city, this beautiful and well appointed inn is spacious with beautiful gardens, nice comfortable rooms and outdoor pool and spa area
Hacienda Los Molinos Boutique Hotel – a classic and gorgeous property on the hillsides above Boquete in an elegant and romantic styled boutique hotel with gracious customer service.
Bambuda Castle – a hostel on the comfortable and pricey end but with fantastic amenities, swimming pool in a unique castle style accommodation just outside of the city and priced competitively.
Check out these other posts visiting Panama
Top things to do around Panama
A luxury experience in Bocas Del toro at a cacao plantation
15 things to do in Panama City
Conclusion to doing a River rafting experience in Boquete, Panama
Thanks for visiting today and checking out this post on the River rafting adventure in Boquete, Panama, hopefully you will be able to see and experience Panama City and some of these wonderful attractions and landmarks for yourself. If you enjoyed the images and post, could you please share it with any of the social media buttons located around the post. Thanks to Boquete Outdoor Adventures for allowing me to share this experience – all thoughts and opinions were my own. Also, many of the whitewater images are credited to the guides at Boquete Outdoor Adventures since I could not bring my photo gear into the water.
If you like what you see, come and check out my other social media channels for more updates, including Instagram, Pinterest and Twitter
Disclosure – some of the links above are to affiliate sites that are either reviews or recommendations if you book helps to keep our site running at no additional cost to you. We appreciate your supporting our website meanwhile.