Embarking on an Adventure: Exploring Chitwan National Park and wildlife (2023)
Most visitors to Nepal know about Mt. Everest and the Himalayas, but few people are familiar with  another major national park in the country that hosts wild rhinos, tigers, buffalo, leopards and sloth bears at Chitwan National Park. This region located in the southern part of the country and bordering India lies in a sub tropical and relatively flat region of the country.
The  confluence of three major rivers coming down from the Himalayas create a lush and unspoiled environment for wildlife to roam carefree in this amazing sanctuary and protected reserve. There's a lot to see and do exploring Chitwan National Park in Nepal – it's a must visit destination while you are visiting the country. My visit to Chitwan national park included a stay at the lovely Machan Wildlife Resort which is located right next to the national park.
Where is Chitwan National park located?
Located in South Central Nepal bordering with India in the subtropical Inner Terai lowlands and is the first national park established in Nepal. Reached mostly through buses or private transportation and now flyiing directly to the regional airport and transfers to the park area.
From there, you can arrange private transporation through your lodging and stay around the national park grounds and local areas outside.
How to get to Chitwan National Park in Sri Lanka
Chitwan National Park is not located in Sri Lanka; it is actually situated in Nepal. To get to Chitwan National Park in Nepal, you can follow these steps:
**By Air:**
International Flight:
If you are traveling from outside Nepal, the first step is to book an international flight to Tribhuvan International Airport (TIA) in Kathmandu, the capital city of Nepal. TIA is the primary international gateway to Nepal.
Domestic Flight:
From Kathmandu, you can take a domestic flight to Bharatpur Airport, which is the nearest airport to Chitwan National Park. It's a short flight of approximately 25-30 minutes.
By Road:
Kathmandu to Chitwan:
If you prefer a scenic overland journey, you can hire a private vehicle or take a tourist bus from Kathmandu to Chitwan. The drive takes approximately 5-6 hours, depending on road conditions and traffic.
By Tour Package:
Tour Packages:
Many tour operators in Nepal offer complete packages to Chitwan National Park, including transportation, accommodation, and safari activities. This can be a convenient way to explore the park.
Once you arrive in the vicinity of Chitwan National Park, you can coordinate with your accommodation provider for transportation to your specific lodge or resort within the park, as they often offer pick-up services.
Please note that Chitwan National Park is located in Nepal, not Sri Lanka, so it's important to plan your travel accordingly.
Weather and best time to visit Chitwan National park
The best time to visit Chitwan National Park in Nepal is during the dry season, which spans from October to April. This period offers pleasant weather and optimal wildlife viewing opportunities. Here's a breakdown of the weather and why these months are ideal:
October to November:
During these months, the monsoon rains have subsided, leaving lush green landscapes. The weather is comfortably warm, and wildlife congregates around rivers and waterholes, making it an excellent time for safaris.
December to February:
This is the winter season in Chitwan, with cooler temperatures. While it's a bit colder, the wildlife remains active, and the clear skies provide excellent visibility for spotting animals.
March to April:
As spring arrives, the weather warms up, and the jungles start to bloom. This season offers pleasant temperatures and an abundance of birdlife, making it a fantastic time for birdwatching.
It's important to note that Chitwan experiences a monsoon season from June to September, characterized by heavy rains and flooding. During this period, many parts of the park may be inaccessible, and wildlife sightings can be limited.
In summary, to make the most of your visit to Chitwan National Park, plan your trip during the dry season, from October to April, for comfortable weather and optimal wildlife encounters.
Entering Chitwan National Park
Chitwan National Park on the Terrai lowlands in southern Nepal is a bio diverse environment with dense jungles, grassy plains and large rivers that protect many bird species, rare wildlife including leopards, Bengal tigers, one horned rhinos and other rare mammals found in the national park. Getting to the park entrance is a relatively long 9+ hour bus j0urney from the capital at Katmandu due to heavy road construction and repair.  If you have limited time, you can easily fly to the regional Bharatpur airport and arrange for your lodge for pick up service from the airport. (Typical roundtrip airfare is approximately $100 USD).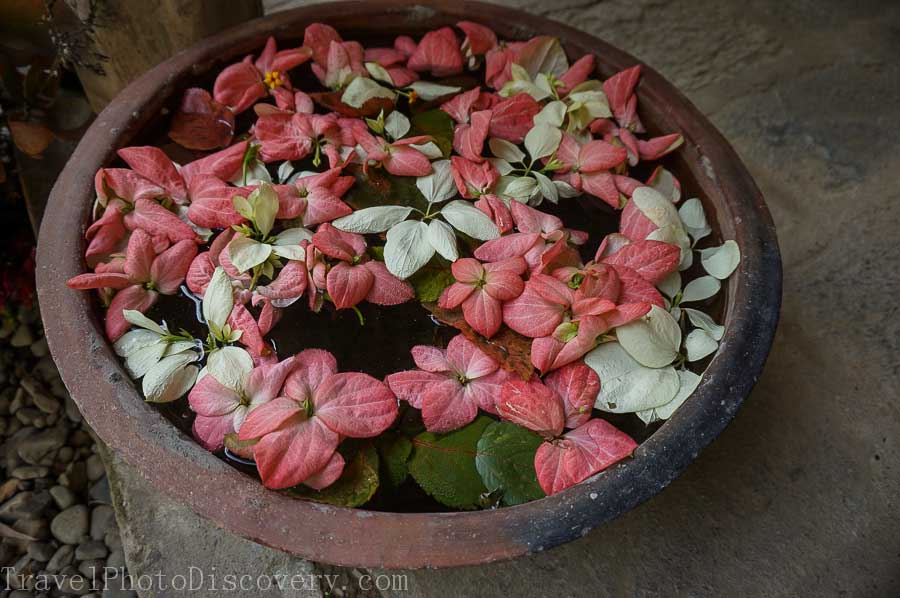 Check in at Machan Wildlife Resort
I stayed at the Machan Wildlife Resort which made all the arrangements to arrive at the park. If you come by regional plane, they can also arrange pick up directly at the airport and to the resort.
The Machan Wildlife Resort arranges for any logistics to the park via air, bus or personal driver, they create different tour packages based on different activities and meals built into a typical visit. First thing in arriving the park is the check in to the eco resort and getting settled in your own private room which is spacious and beautifully designed, filled with artistic details and modern amenities for a comfortable stay. You can create a customized tour and stay based on what you want to see and do in the park or around region. If you want to do more activities like water rafting or visiting the holy site of  the Buddha's birthplace at Lumbini, the resort can set up a complete itinerary for you for an extended visit to the region.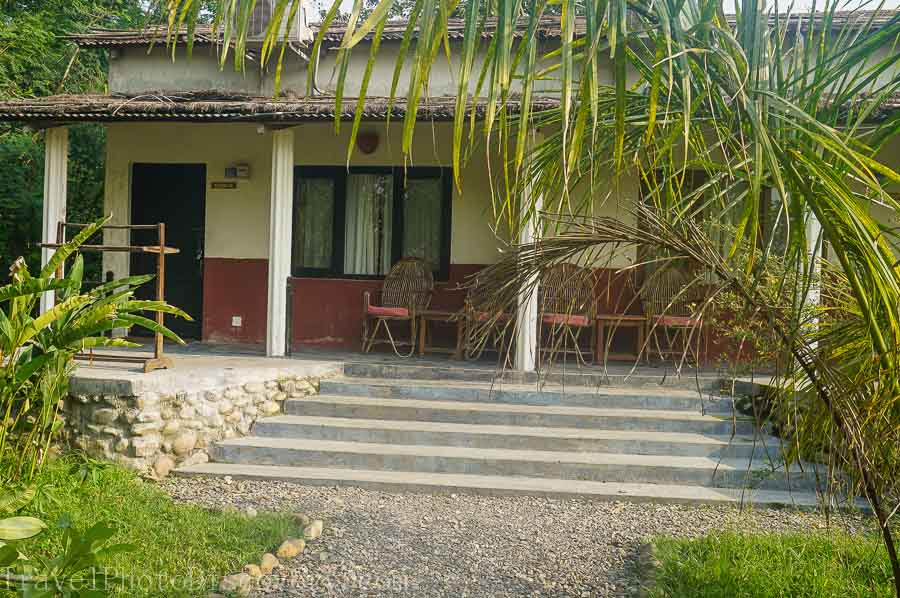 Spacious bedrooms at Machan resort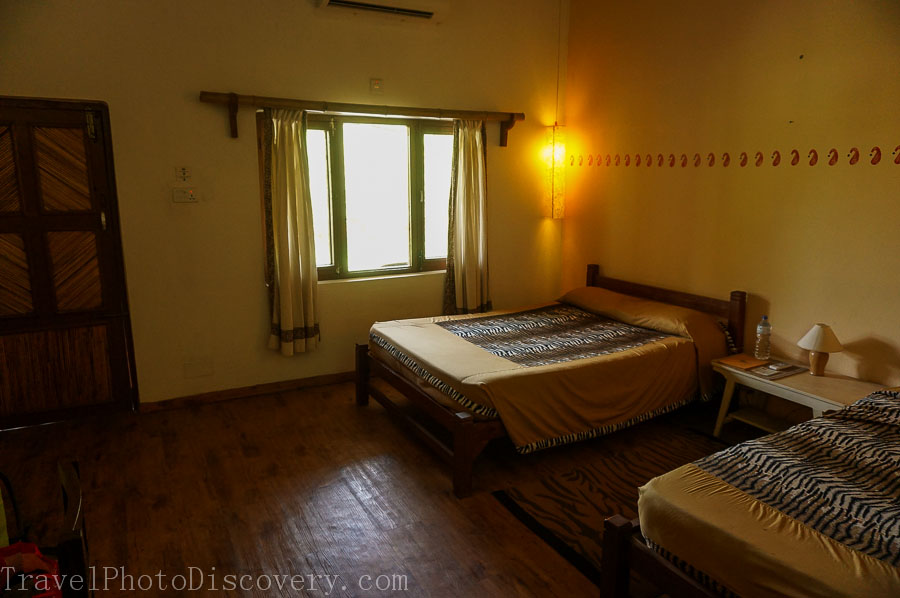 Safari tour of Chitwan National Park
After a quick check in process and lunch at Machan, we were scheduled for an afternoon tour of the park when the sun and temperatures were not so harsh towards the later part of the day. Our small group boarded two open air jeeps for the afternoon tour of the park. We pass a large gate designating the entrance to the park and drive through some rough trails and open terrain while the guides diligently looked around the jungle for wildlife to spot on the tour.
If you don't stay at Machan, most properties also offer safari tours of the National Park arranged by your accommodation or outside outfitters that share various tours and packages.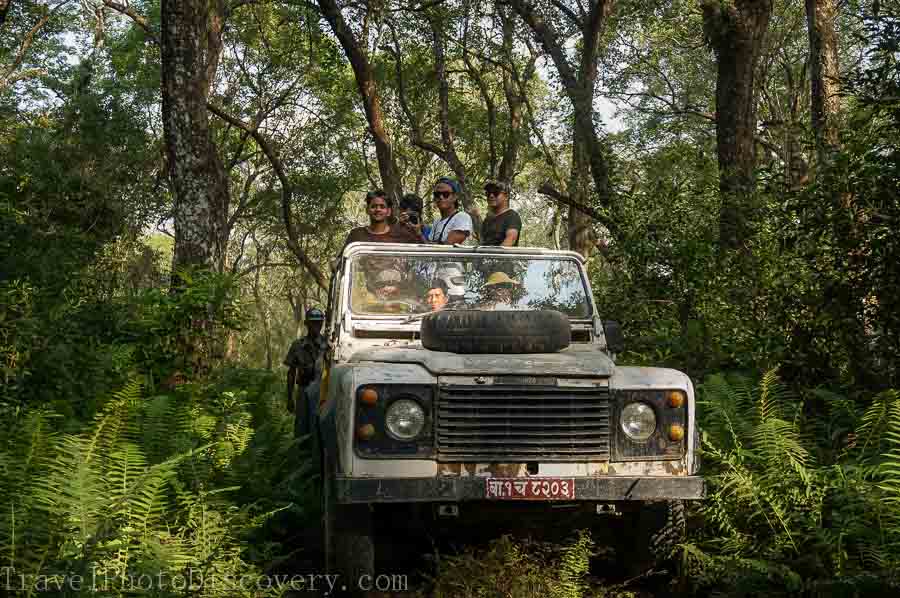 Exploring Chitwan Park and observation towers
Along the route are several look out towers that you could climb and we stopped by a few of these to check out the lovely landscape and vista points from above. The lush green flora with wild ferns, tall skinny trees and verdant land below create beautiful vignettes to photograph and admire along our trip – the hardest part of the tour was to try and spot those elusive wildlife hiding out in the dense jungle.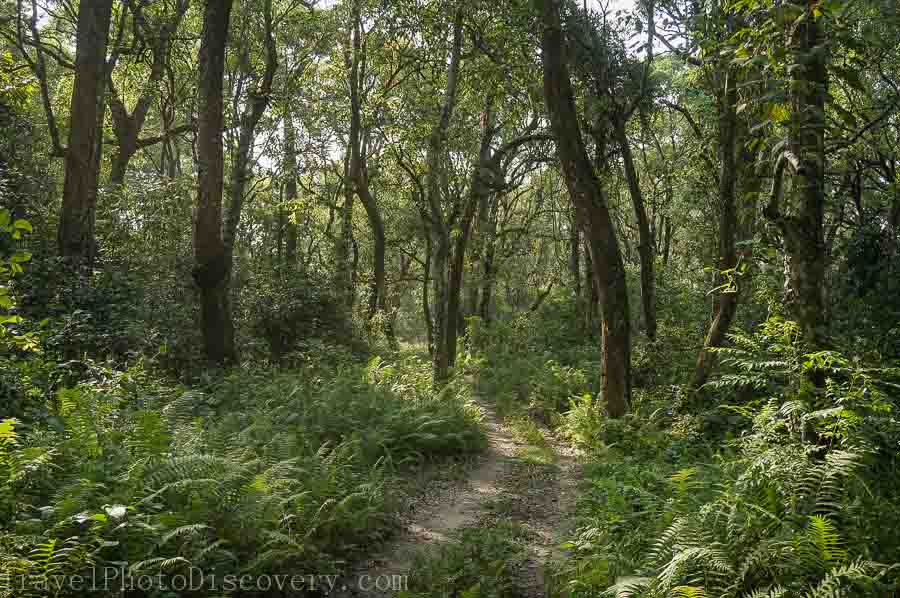 The view from a tower station looking below to the marshland and meadows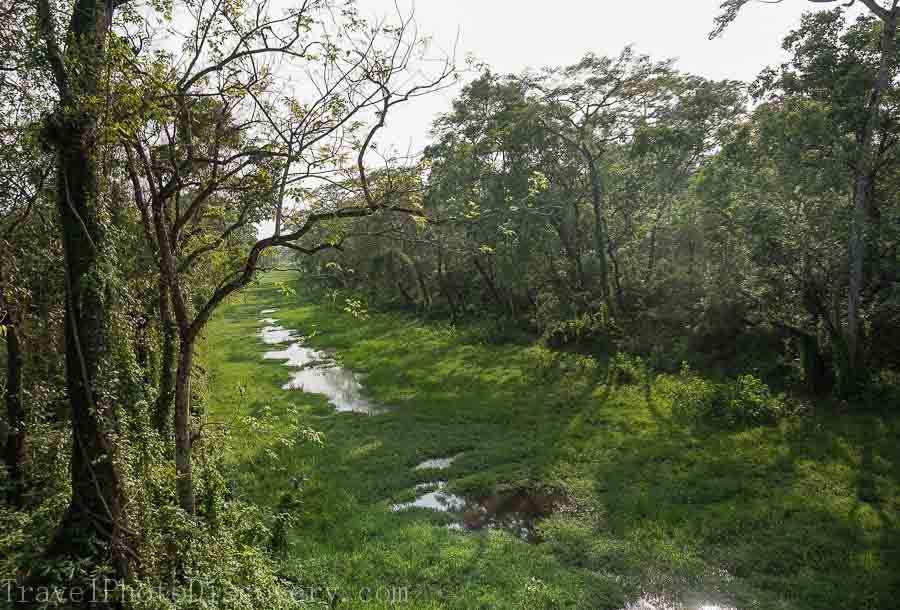 Spotting wildlife at Chitwan National Park
After a long drive through dense jungle and missing the cues from our guides to quickly look left and then right at eagles, monkeys and deer often hidden in the bush and quick to disappear on cue. One of the guides quickly hopped off the jeep, walking silently along a small stream and then motioning us to also follow quietly to an open spot where we finally get to see something quite spectacular.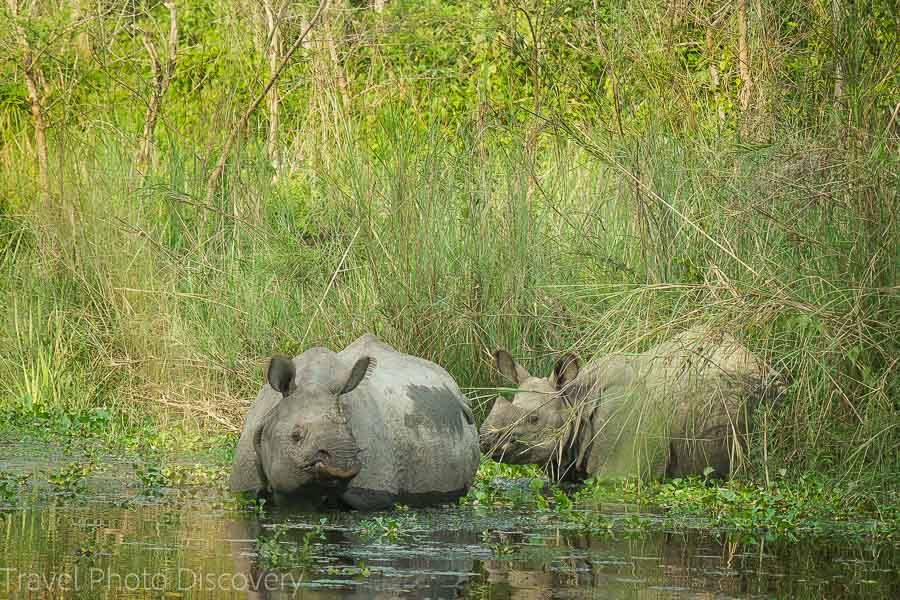 Lounging and munching quietly on edible water plants, a pair of wild rhinos were spotted at a short distance in front of us – we were all completely mesmerized and quickly pointed our cameras in their direction as if we were capturing our prize photograph from the experience. Luck was on our side today when we were able to spot six sets of rhinos along our journey along with wild buffalo, spotted or barking deer and even some wild crocodiles.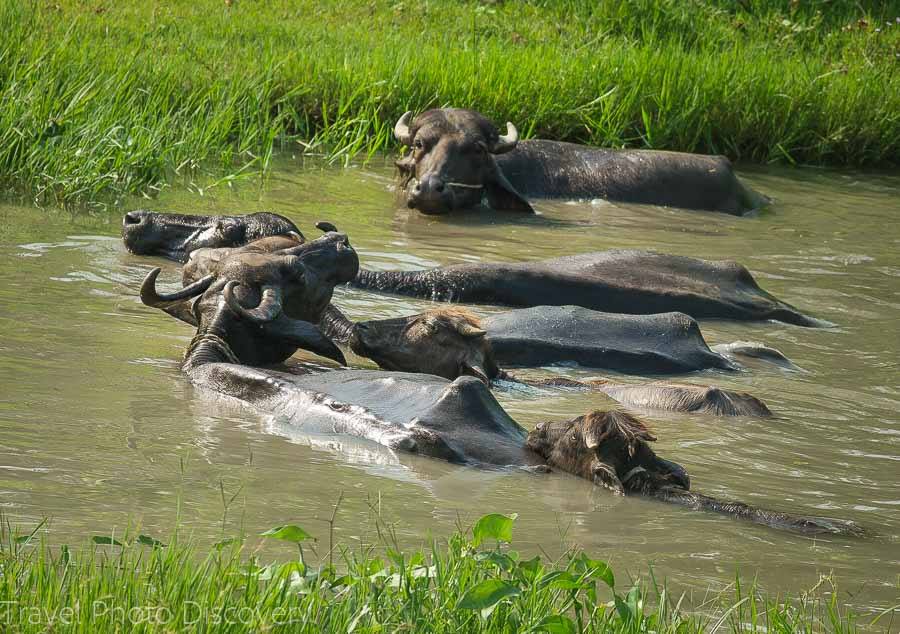 A solitary rhino coming in for a close inspection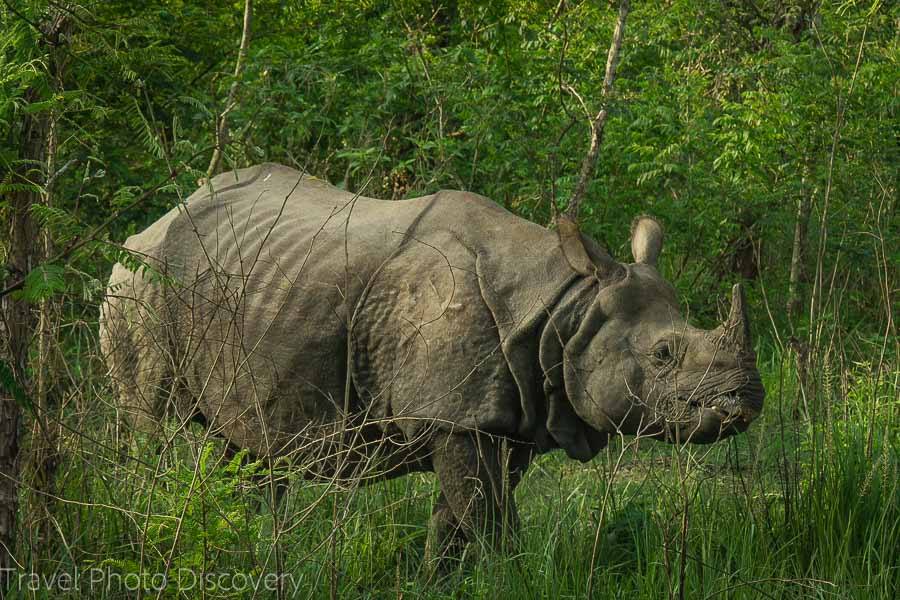 An adult Asian elephant at the ranger station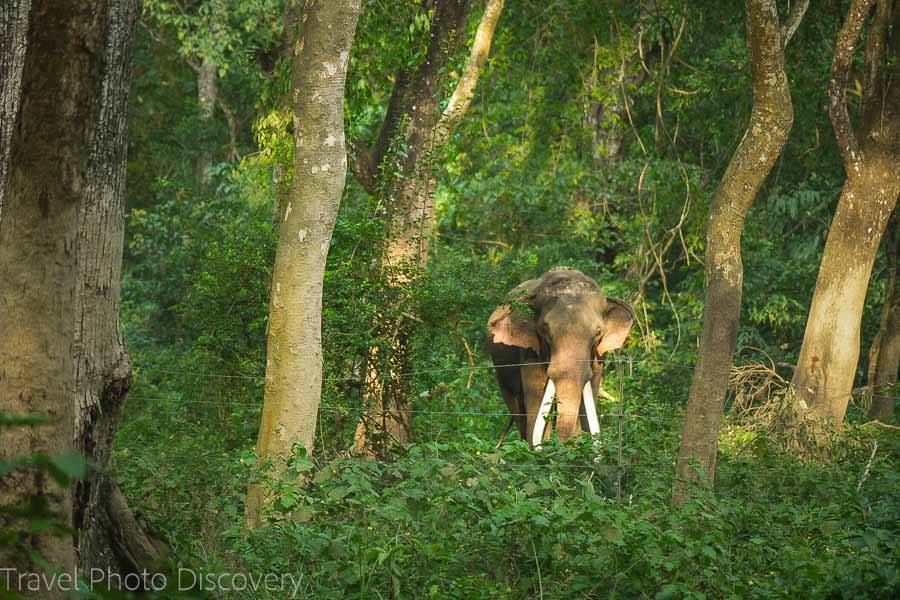 What wildlife can you find around Chitwan National Park
Chitwan National Park is home to a diverse array of wildlife species. Here are some of the remarkable animals you can encounter during your visit:
One-Horned Rhinoceros: Chitwan is renowned for its population of the majestic one-horned rhinoceros. These impressive creatures can be spotted grazing or bathing in the park's grasslands and wetlands.
Bengal Tigers: As one of the last remaining habitats of the Bengal tiger, Chitwan National Park offers a chance to catch a glimpse of this elusive and magnificent predator. Though sightings are rare, the park's dense forests and marshy areas provide an ideal habitat for these iconic big cats.
Asian Elephants: Chitwan is also known for its population of Asian elephants. These gentle giants can be observed during jungle safaris or while enjoying an elephant-back ride, offering an up-close encounter with these magnificent creatures.
Gharials and Mugger Crocodiles: The park's rivers and lakes are home to two species of crocodiles. The endangered gharials, known for their long, thin snouts, and the mugger crocodiles, with their robust build, can be seen basking on riverbanks or swimming in the water.
Sloth Bears: Chitwan is one of the few places in Nepal where you can spot the elusive sloth bear. These shaggy-coated creatures are primarily nocturnal, so spotting them requires some luck and patience.
Deer and Antelopes: Chitwan National Park hosts a variety of deer species, including the spotted deer (chital), hog deer, and sambar deer. The park's grasslands are also frequented by antelopes like the nilgai and the four-horned antelope.
Birdlife: Chitwan is a paradise for birdwatchers, boasting over 500 species of birds. From colorful kingfishers and striking hornbills to majestic eagles and storks, the park offers abundant opportunities to observe and photograph a wide variety of avian species.
Twilight river excursion at Chitwan National Park
The guides wisely arranged for a twilight river cruise on the Rapti river to spot more wildlife present on the river banks at that time – mostly rhinos lounging, egrets, eagles and the occasional crocodile sleeping on the riverbanks. Even though the wooden boats feel wobbly, we are in capable hands from the boatmen guiding us quietly through the calm waters of the lowland plains.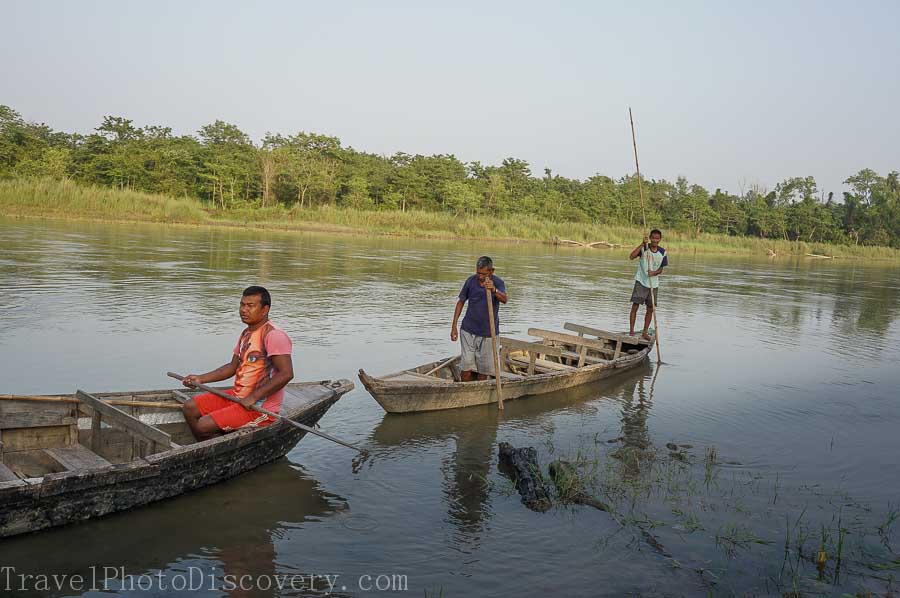 Climbing into row boats along the Rapti River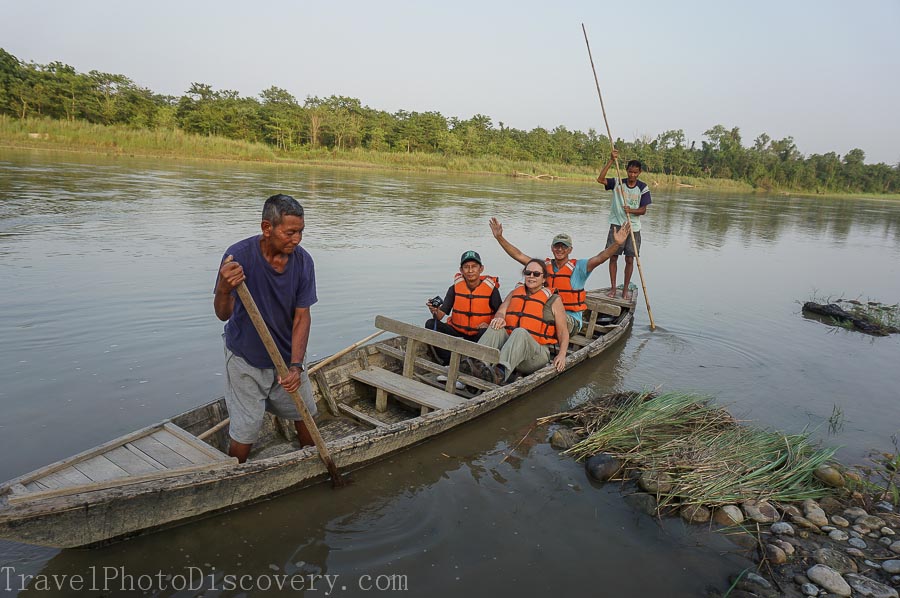 The pace slows down and everything  along the Rapti river is still and quiet. The boatmen's easy strokes evoke such a peaceful and seductive ride through this calm and scenic river while the last golden rays of light spotlight distant mountains and the lush surroundings. Lovely landscapes unfold in front of us and wildlife appear on the riverbank for a drink – it's a beautiful scene and I treasure this tranquil feeling and experiencing the twilight hour on the Rapti river.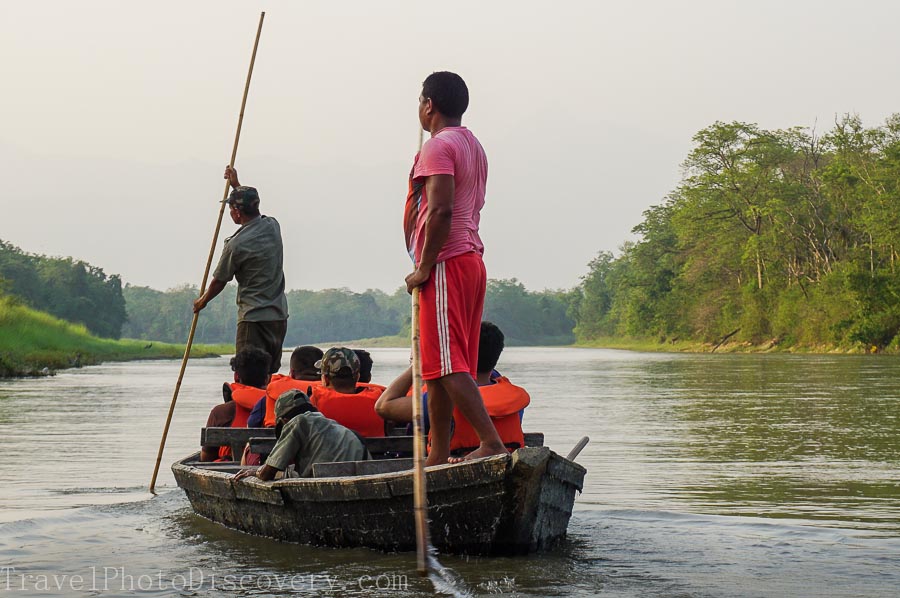 Our guide quickly spots an albino looking crocodile and we turn the boat around for a closer look at he sleeping giant, I point my camera and quickly shoot while I'm trying to keep up my balance and keep very still. It's thrilling and nerve  wracking at the same time, but really no worries the giant beast is sound asleep and couldn't care less with our presence. We glide through another hundred meters and stop by the shoreline where the jeeps are waiting to take us to our next destination.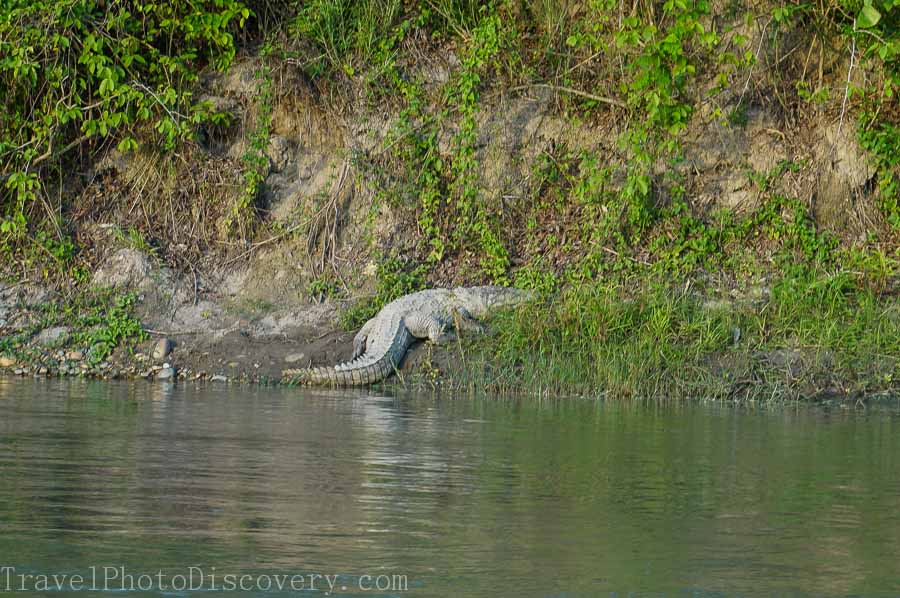 Cocktail time and sunset at Chitwan
What a surprise – at the end of our river cruise and jungle trek, the Machan crew had arranged for a special sunset viewing and cocktail party fronting a serene area with picture perfect views for sunset. You couldn't ask for a better moment, except that the wines were chilled, the beers refreshing, fresh fruit and cheese set for a magical end to our safari. I love little surprises and details like this and Machan really delivers those special moments and caters to your every whim.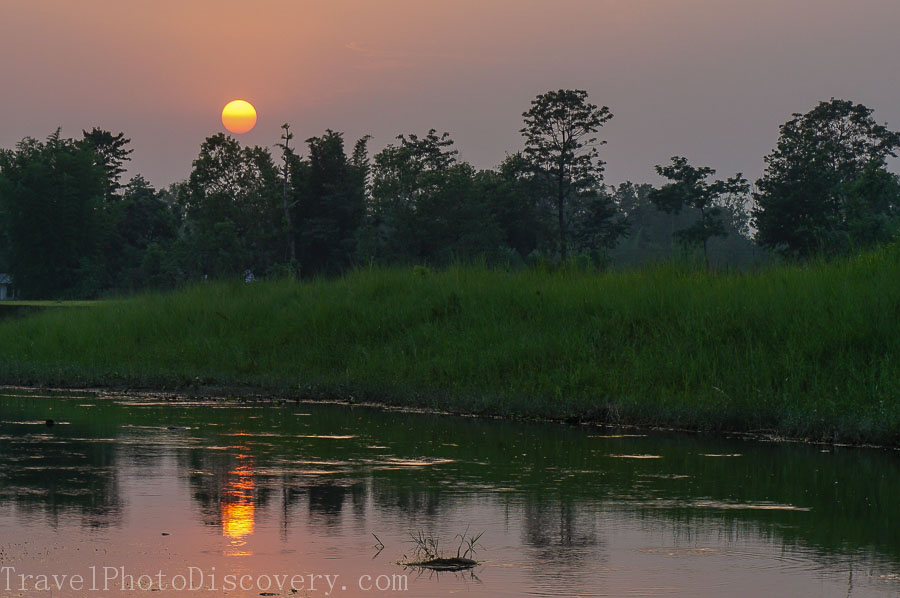 Sunset viewing and cocktails at Chitwan – a perfect ending!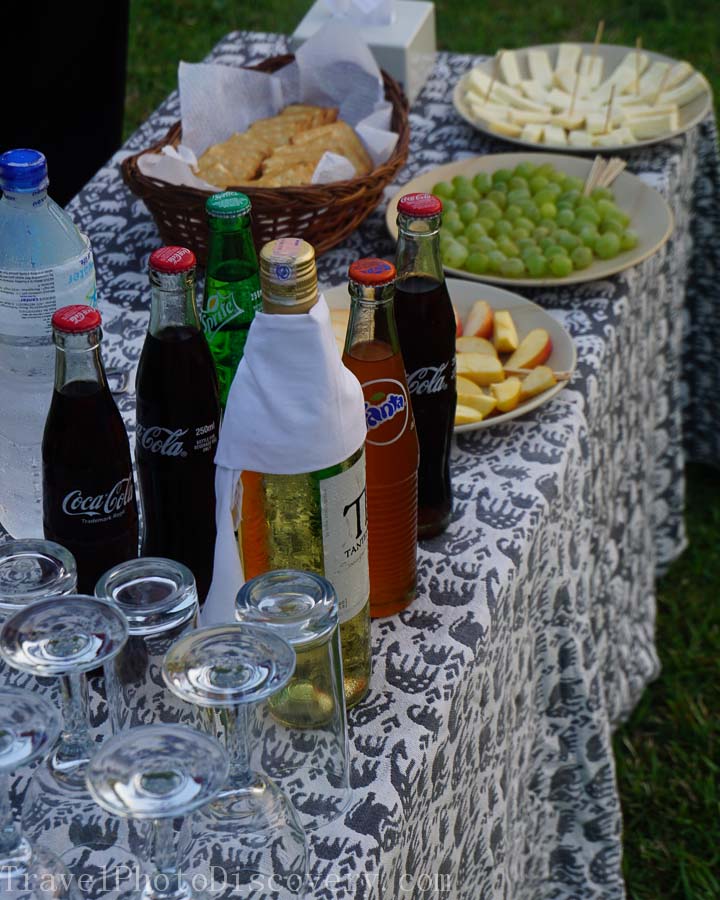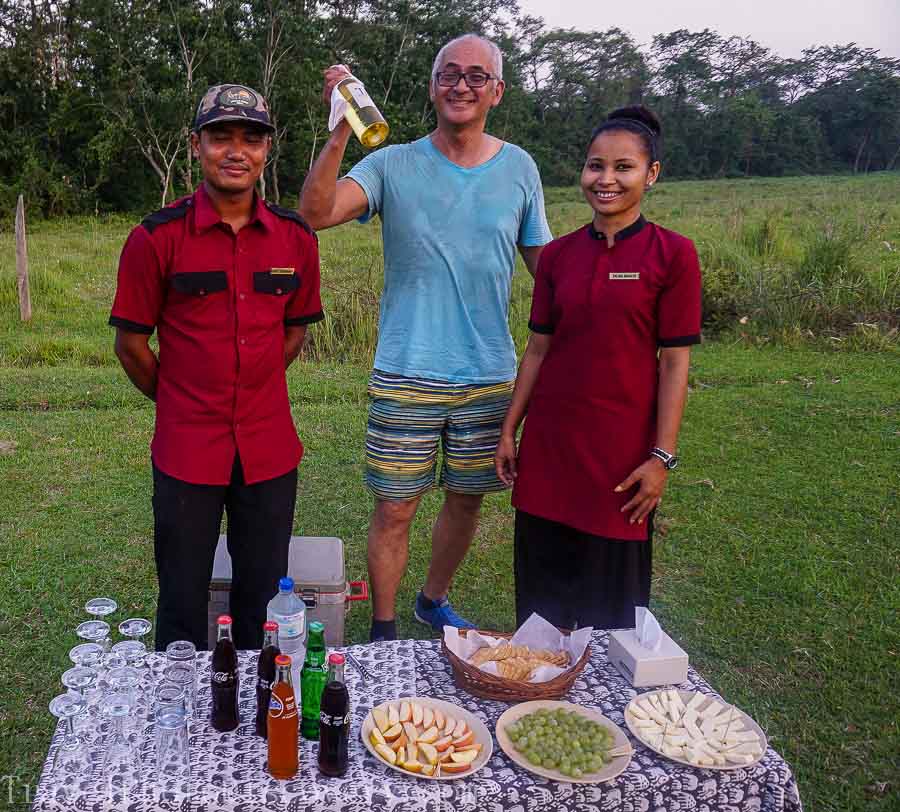 Afterwards, we head back to the resort to relaxed and freshen up for dinner and have a delightful dinner feasting on Nepali specialties and other local dishes from the area.  After dinner a few lounged around in the open bar and revisit some of the fantastic experiences we had today on our safari and river cruise. But most of the group opted to head back to  their deluxe rooms and go straight to bed.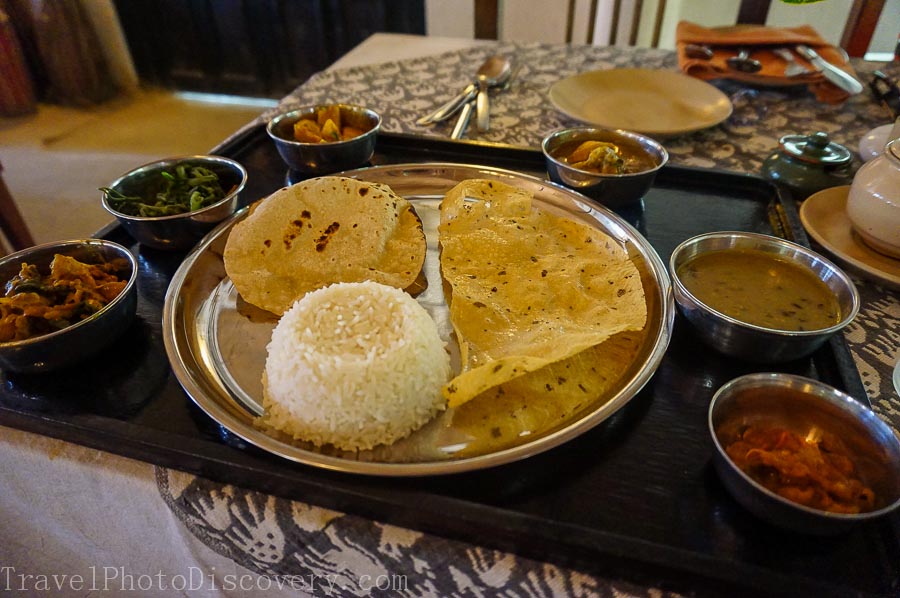 Morning trek at Chitwan National Park
For the second day, our guides gave us options for the days activities and we all opted to do a walking trek in the park through dense jungle and then to the riverfront areas – we were hoping to find the more elusive wildlife in the area. Escorted by two elephants and guides for protection, we started our journey passing through the main gates to the park and detoured through a walking trail going towards the main river called the Rapti. We quickly passed through the main gates to the park after an obligatory photo-op and proceeded to where the elephants were stationed for the morning walk along a large grassy plain area.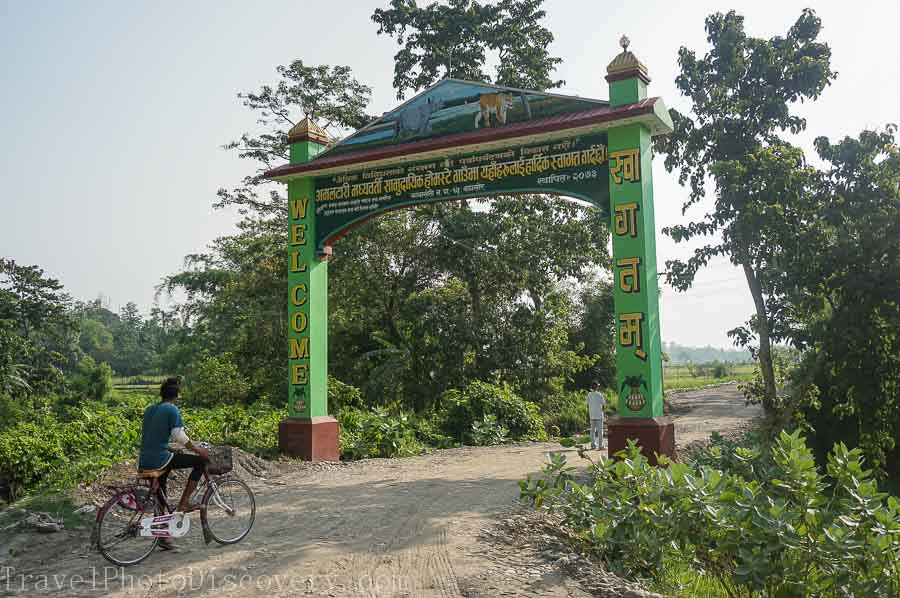 The elephants are stationed for our morning trek at Chitwan National Park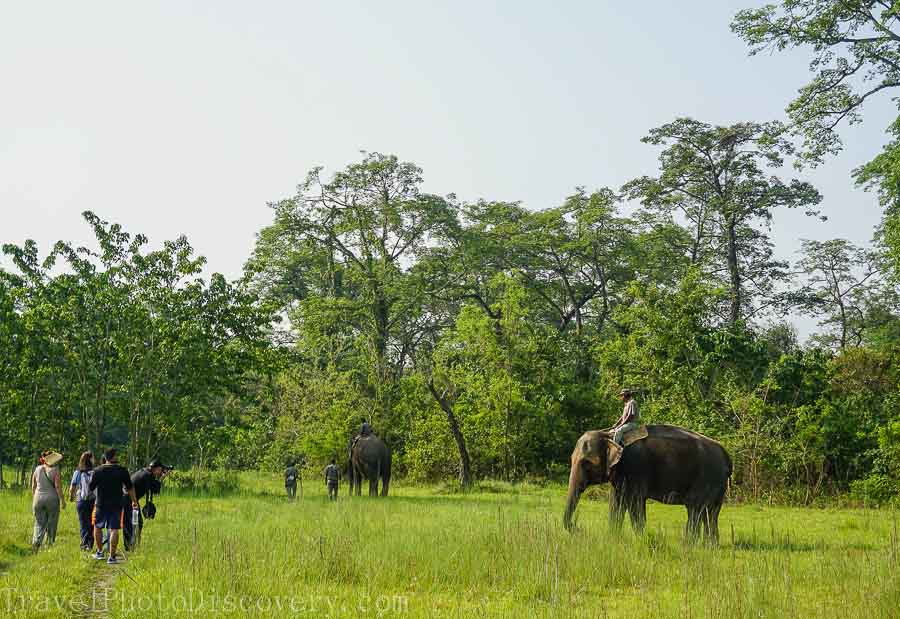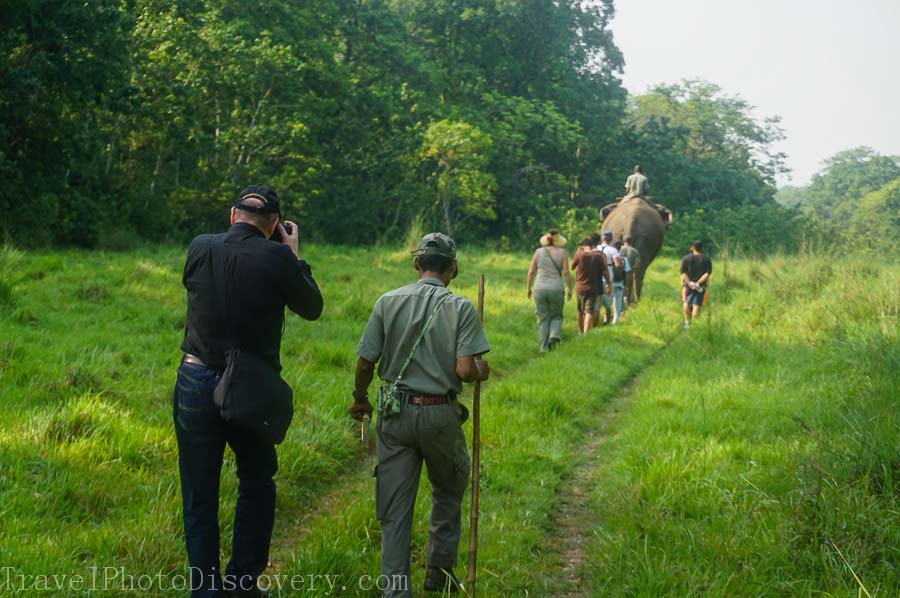 The elusive Bengal tigers were on the prowl and we were only able to capture fresh tracks spotted on the trail only a few hours before they visited the area.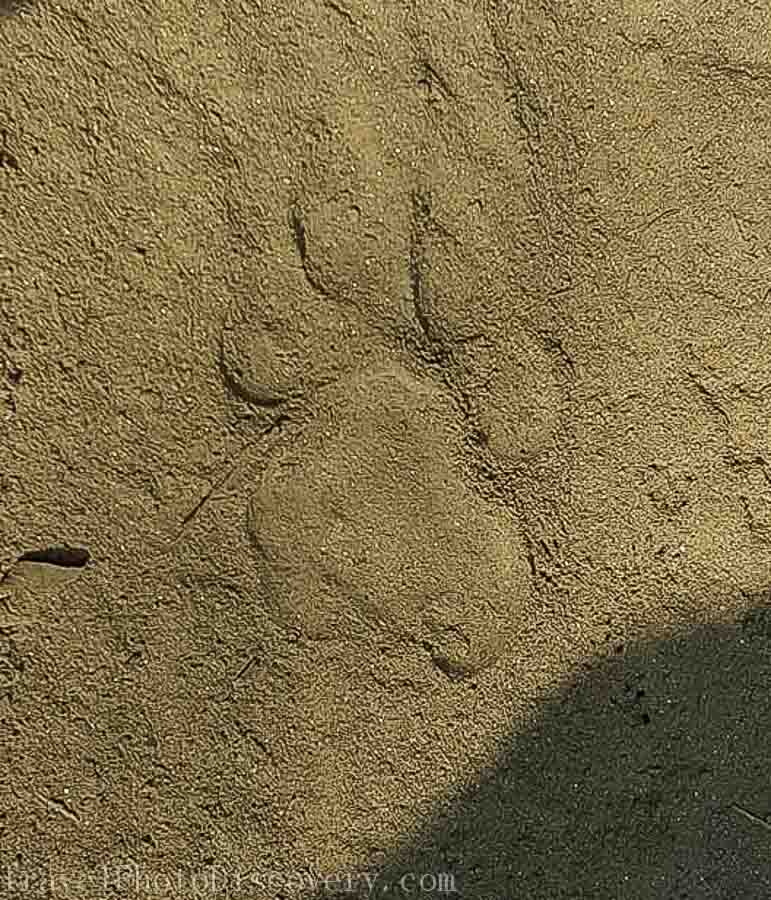 We weren't so lucky this time outside of spotting a few more spotted deer. But, it didn't matter, the landscape was beautiful and we passed so many orchids growing wild and in the trees and blooming in large bracts.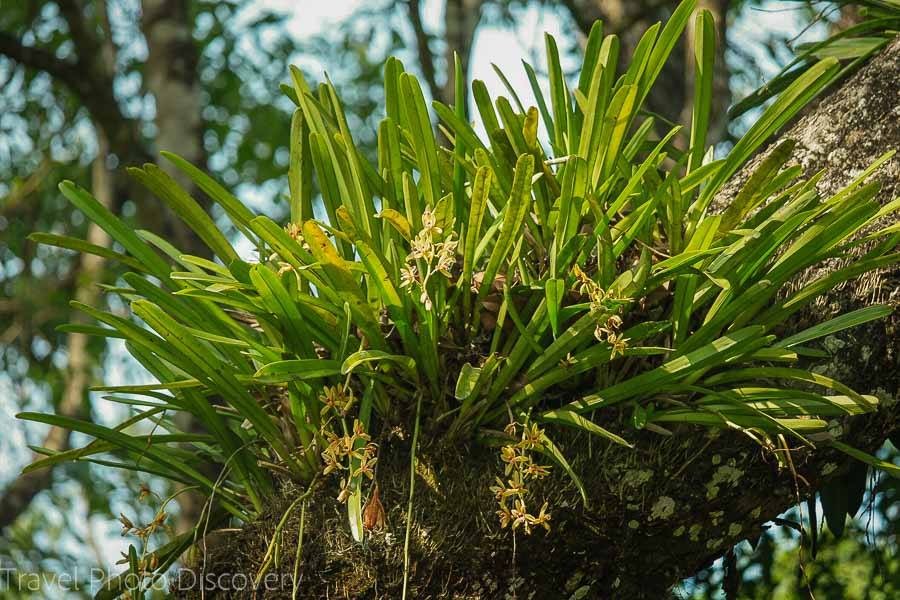 Afternoon stroll at a local village
There are many indigenous tribes located around the national park including a small village just outside of the Machan Wildlife resort. Our guide takes us for a nice long walk around the village and it's been going through major changes. There are just a few of the mud and dung walled structures left, replaced with western style stucco and tiled roofed homes. Many tribesmen have left to wealthy areas in the middle east and sent back home money to buy better comforts for their families. Despite the changes, there's still plenty to see and photograph in this colorful village with friendly people that let you visit their modest homesteads and let you explore around their property.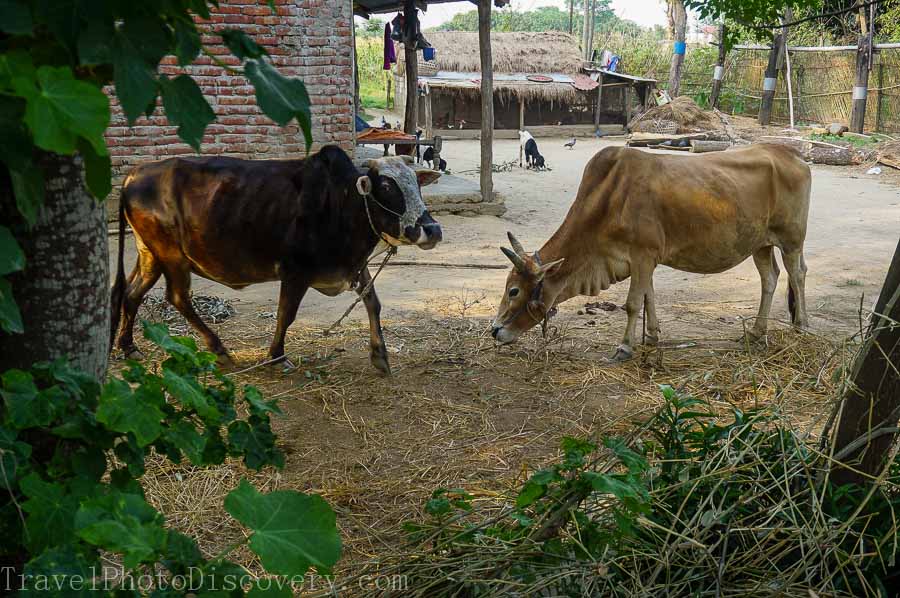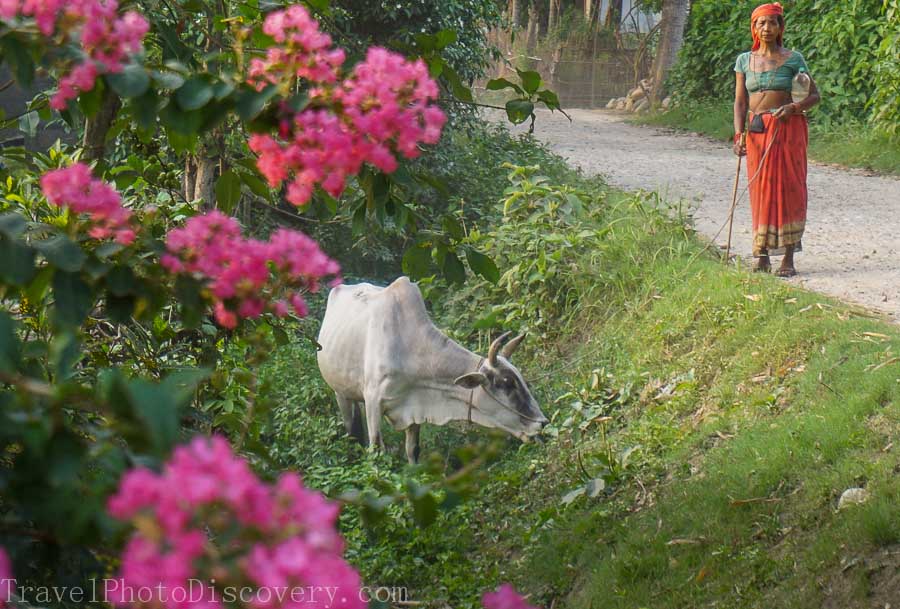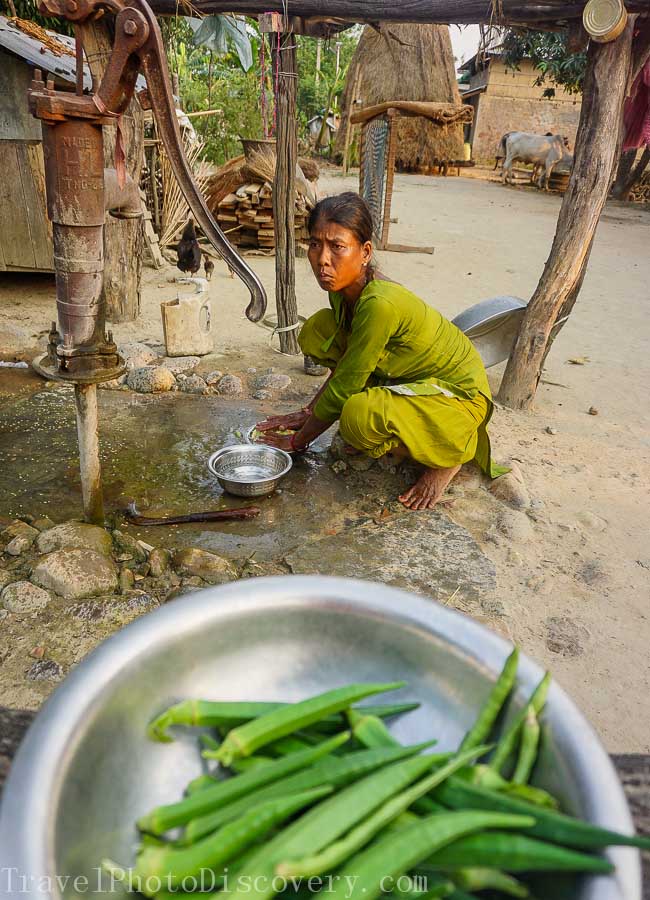 Weather and best time to visit Chitwan National Park in Nepal
Chitwan National Park experiences a subtropical climate influenced by its location in Nepal. The weather can be divided into four distinct seasons: spring (March to May), summer (June to August), autumn (September to November), and winter (December to February).
The best time to visit Chitwan National Park is during the autumn and winter months, specifically from September to February. During this period, the weather is generally pleasant with mild temperatures and clear skies. It's an ideal time for wildlife sightings as the vegetation is relatively sparse, making it easier to spot animals in the park's grasslands and wetlands.
Spring (March to May) is another favorable season to visit, characterized by warmer temperatures and the blooming of various plant species. The forest comes alive with vibrant colors, and birdwatching becomes particularly rewarding during this time.
However, it's important to note that the summer season (June to August) brings heavy rainfall and high humidity to the region, resulting in dense vegetation and difficult wildlife sightings. The monsoon rains can cause flooding in some areas, leading to limited access to certain parts of the park.
To avoid the monsoon season's rainfall and maximize your chances of wildlife encounters, it is recommended to plan your visit to Chitwan National Park during the autumn and winter months. Be sure to check the weather forecast and pack appropriate clothing, including lightweight and breathable attire for the warmer days and layers for cooler mornings and evenings.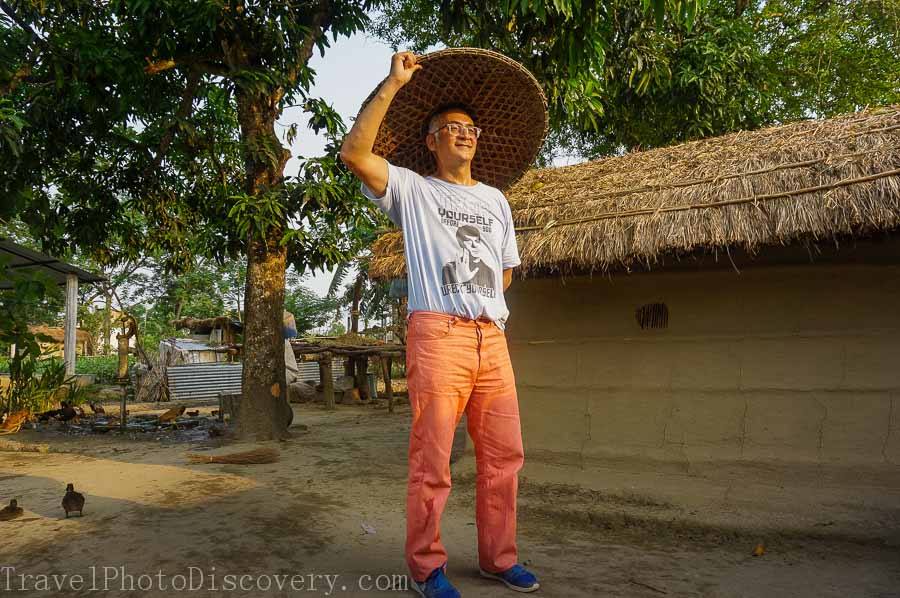 More details to visiting Chitwan National Park
Most of the eco resorts and hotels arrange different stays and activities while visiting the national park, but you can also arrange your own tour or visit. To find out more information about Chitwan National Park, check out their website here for more details.
For Nepal tourism and visiting other key attractions in the area, check out the Nepal tourism site here for more details and other exciting destinations in the area.
For a stay at Machan Wildlife resort and their safari tours and activities, check out their website here for more details.
Transportation options to Chitwan National Park, check out the website information here for more details and updated travel options.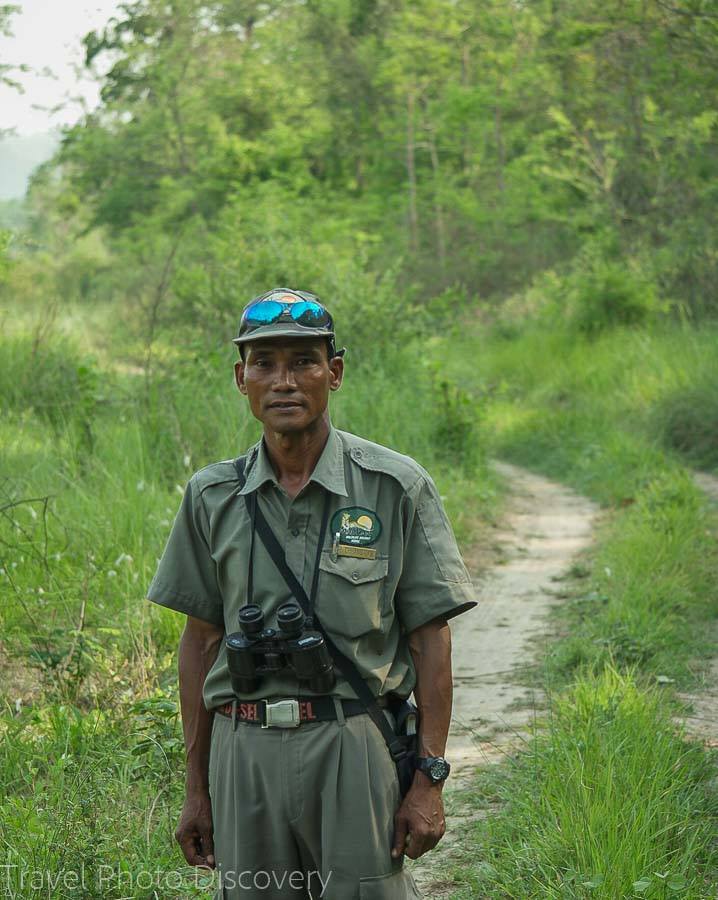 More inside tips to visiting Chitwan National Park
Certainly, here are some insider tips to enhance your visit to Chitwan National Park in Nepal:
Book a Local Guide:
Consider hiring a knowledgeable local guide when exploring the park. They can spot wildlife more effectively, share insights about the flora and fauna, and ensure your safety during safaris.
Choose the Right Accommodation:
Chitwan offers a range of accommodations, from luxury resorts to budget-friendly lodges. Select one that aligns with your preferences and budget. Staying in a jungle lodge or resort can provide a more immersive experience.
Early Morning Safaris:
Morning safaris tend to yield the best wildlife sightings, as animals are active during the cooler hours. Plan your jungle safaris for the early morning hours.
Respect Wildlife and Their Habitat:
While observing animals, maintain a respectful distance and follow your guide's instructions. Avoid making loud noises or sudden movements, as this can disturb the wildlife.
Pack Proper Attire:
Wear lightweight, breathable, and earth-toned clothing to blend in with the natural surroundings. Don't forget to bring comfortable walking shoes and a wide-brimmed hat to protect against the sun.
Stay Hydrated:
The park can get hot and humid, so carry sufficient water to stay hydrated during your excursions.
Experience the Culture:
Chitwan is not just about wildlife; it's also an opportunity to learn about the Tharu people, the indigenous inhabitants of the region. Explore their culture, traditions, and perhaps even witness a Tharu cultural dance performance.
Visit Elephant Breeding Centers:
Chitwan has several elephant breeding centers. If you're interested in conservation efforts, consider visiting one to learn more about the Asian elephant and its conservation.
Birdwatching:
Chitwan is a haven for birdwatchers. Don't forget your binoculars and a bird guidebook to spot the numerous bird species that call the park home.
Responsible Tourism:
Be a responsible traveler by adhering to park rules and guidelines. Avoid littering, respect local customs, and support sustainable tourism practices.
Take a Canoe Ride:
Enjoy a tranquil canoe ride on the Rapti River. It's a different perspective of the park and a chance to spot aquatic life.
Photography:
Chitwan offers excellent photography opportunities. Bring your camera, but remember to respect wildlife and not disturb them for the sake of a photo.
By following these insider tips, you can make the most of your visit to Chitwan National Park and create lasting memories of this remarkable natural sanctuary.
Read more about Nepal
Buddha's birthplace at Lumbini
Please pin this!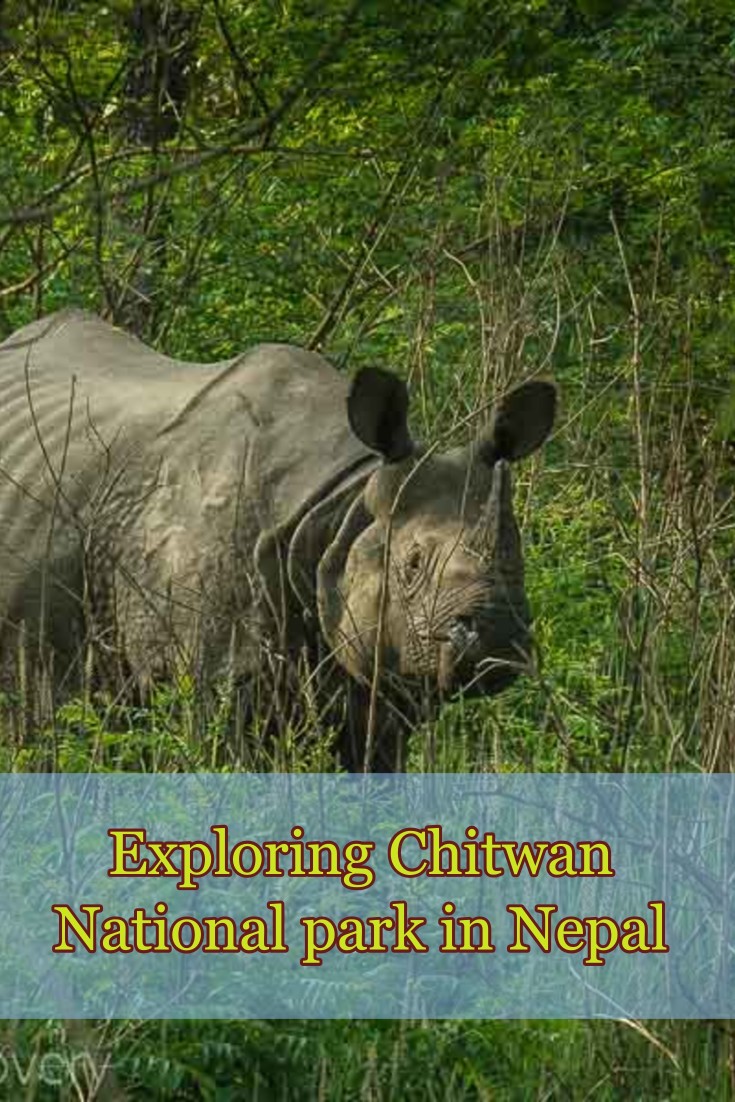 Conclusion on Exploring Chitwan National Park in Nepal
Chitwan National Park in Nepal is worth the effort to visit and see the natural habitats to these amazing wildlife that live safely in this park and understand their environment and natuiral surroundings. The experience is so unique when you are actually here and spotting them in their habitats.
Thanks for visiting today and checking out this post on Exploring Chitwan National Park in Nepal, if you enjoyed the images and post, could you please share it with any of the social media buttons located around the post.
If you like what you see, come and check out my other social media channels for more updates, including Instagram, Pinterest and Twitter