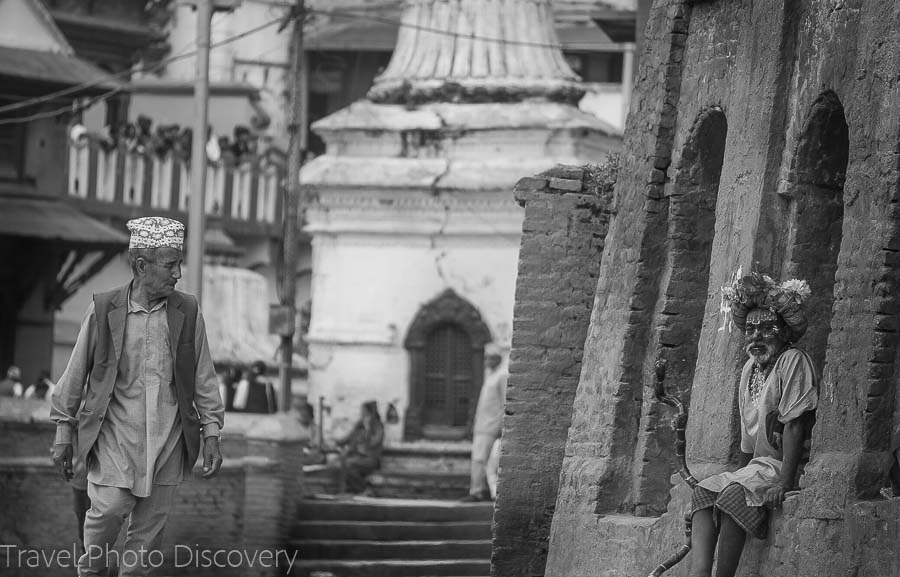 You might wonder why would someone want to do Nepal photography in black and white? Nepal is a world of color,  patterns and a busy, chaotic world all wrapped up in an intense blend of daily life. But it is also an ancient world, of religion and spirituality, beautiful people and amazing street life. You can easily find inspiration in the many striking temples, monasteries, scenic landscapes and incredible wildlife – let's not just get taken away with those majestic Himalaya range that the country is well known for. I took this journey of discovery to experience, observe and challenge myself to present Nepal's unique culture, traditions and scenery by presenting Nepal photography captured in black and white.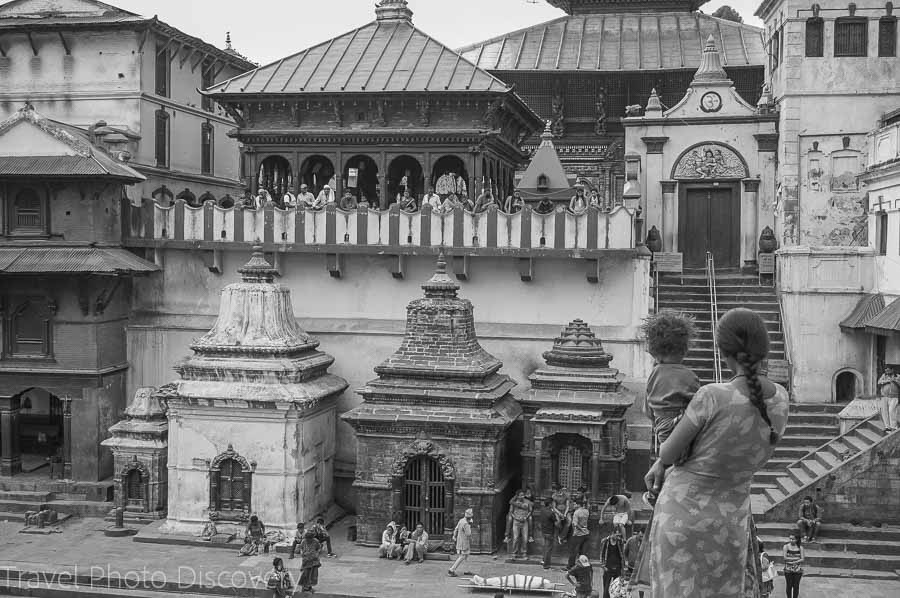 My favorite Nepal photography images in black and white
Everyday life in Nepal is always a jumble amid a world of exotic culture and tradition, comfort food, impressive architecture and grand temples, while the crumbling infrastructure makes it a challenge for everyone struggling to scrape a living. It's about living for today mixed in a changing environment that embraces the old world and religion beliefs juxtaposed with cell phones everywhere and selfies taken at every interesting monument. You definitely need patience and warm and friendly smiles to get into the essence of the people and the place around the country.
Slow down and  breath – Nepal unfolds in its own pace and is discovered best when you take in the country in a relaxed and comfortable pace. Observe all the details and nuances, frenetic lifestyle and impressive landscape that you will come across on your journey. I find that presenting black and white photographs capture a different vibe and feel, effectively presenting both New and the old in a timeless way but in a world in transition. It's exciting and wonderful to discover.
Exploring Katmandu in black and white
The historic capital of Nepal in Katmandu is seeped in so much history, traditions and incredible monuments from its illustrious past from ornate places in the three Durbar Squares of the ancient capitals of Katmandu, to mysterious and exotic Hindu and Buddhist temples that are pilgrimage sites that believers come to visit and pay their respect.  It is in these incredible places of worship and grand architecture that you will find the everyday situation even gossip immediately brings a sense of place and humanity to these stunning landmarks worth visiting around Katmandu.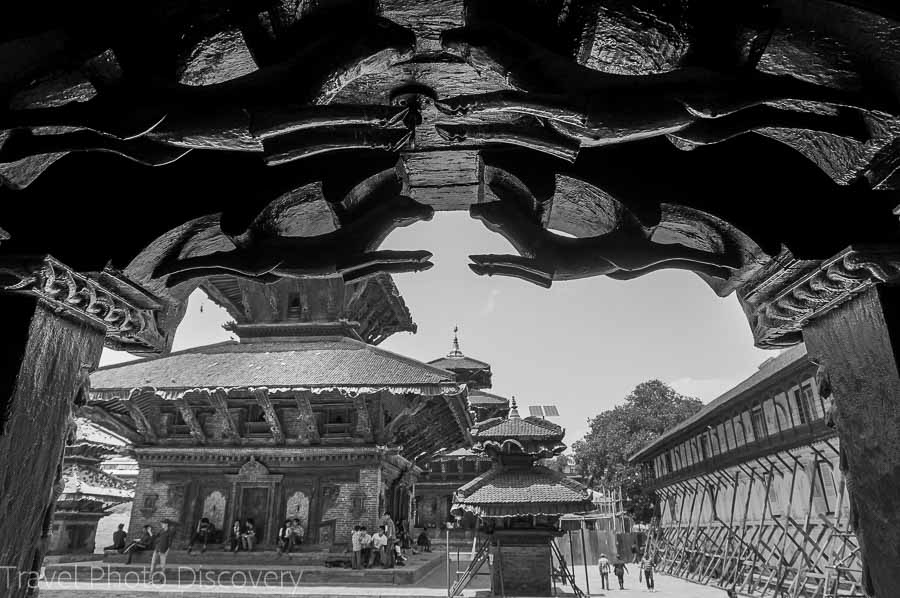 Katmandu's royal palace and grounds
A place of worship at Pashupatinath Temple in Katmandu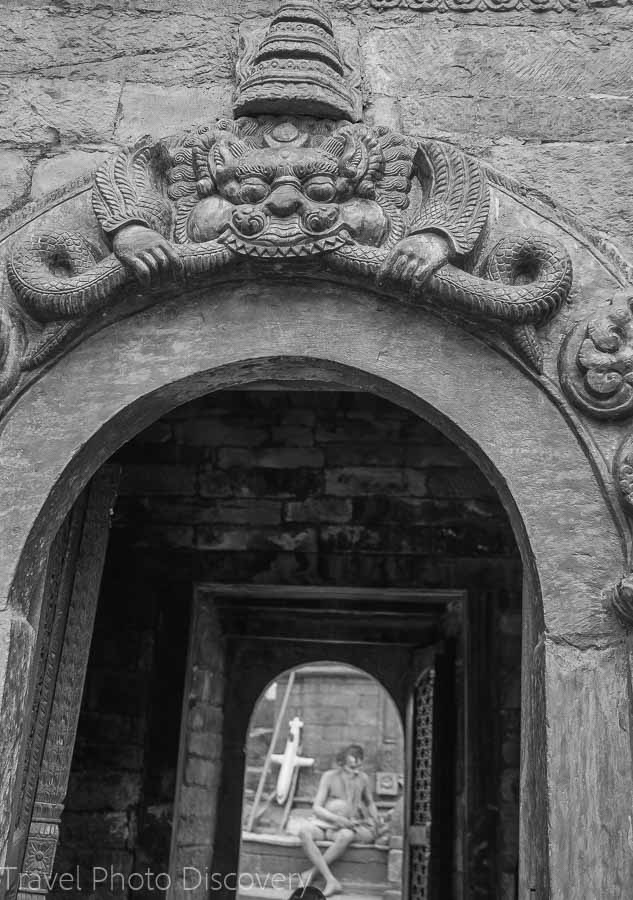 One of the holiest hindu temples in Nepal, Pashupatinath Temple in Katmandu is a very important pilgrimage site with a complex of temples, monuments and burial activities that occur daily at the temple. In between all these various processions and activities the monkeys casually wander around looking for food scraps and anything they can get their hands on – they are fun to photograph ordinary things that mischievous monkeys will always do.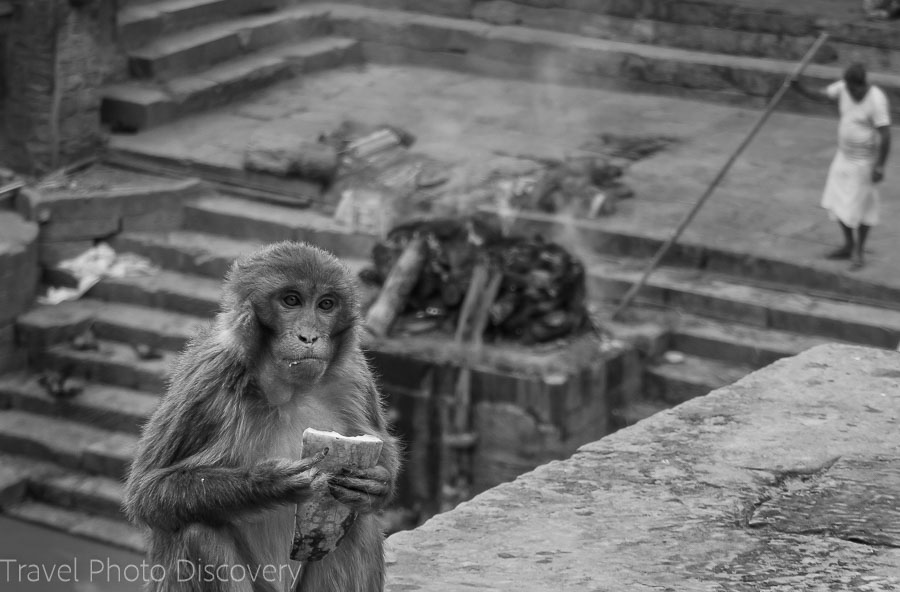 A saddhu at Pashupatinath Temple in Katmandu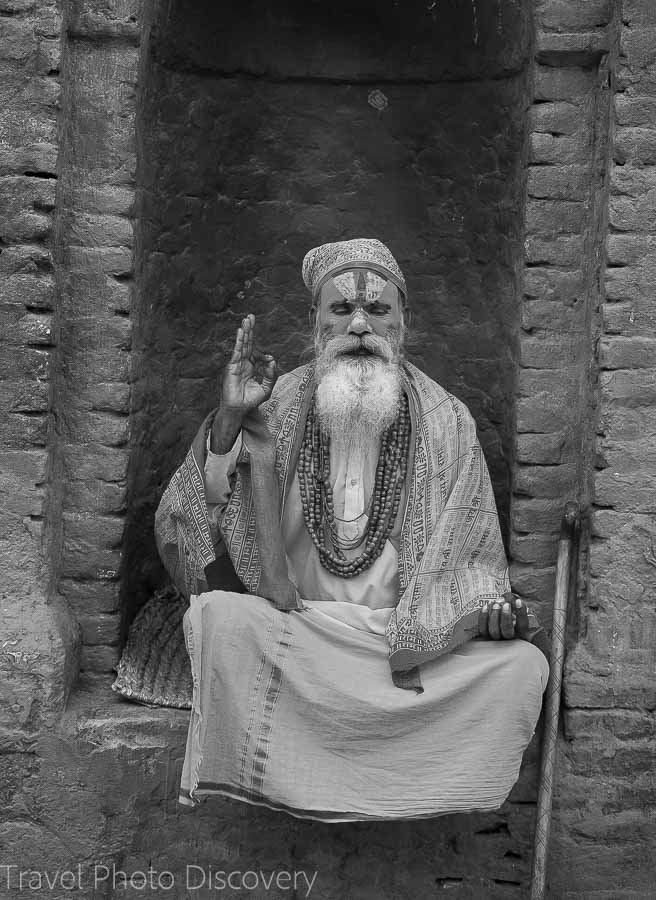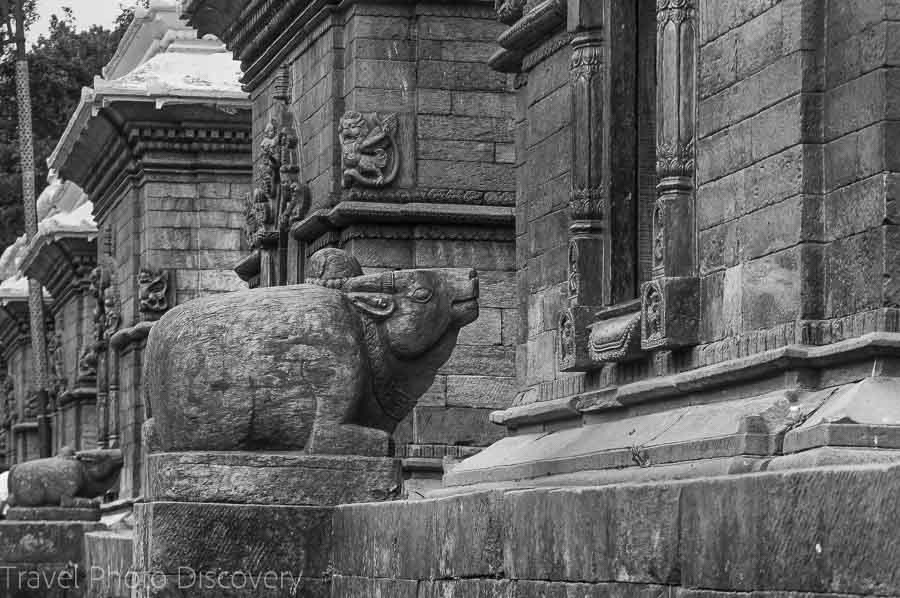 Nepal photography in black and white – Chitwan National Park
In the southern part of the country, the national park of Chitwan is impressive and worth visiting when you come to Nepal and why you may ask? The national park hosts some of the most amazing wildlife and rare animals that you will find anywhere in the world and this includes rare rhinos, Bengal tigers and leopards, sloth bears and spotted deer, it's all pretty spectacular. Photographing the countryside and wildlife seems pretty natural to do this in color so you can easily get the wildlife in focus and color. Doing this in black and white tends to be more challenging with landscape or animals that can be hidden into the jungle with imagery that can be relatively flat in presentation. But sometimes it does work with a little luck in lighting, sighting spectacular wildlife and getting your camera ready to capture those amazing moments.
I have written a post about this amazing safari experience in Chitwan National Park here, check out more images and inspiration from this discovery tour.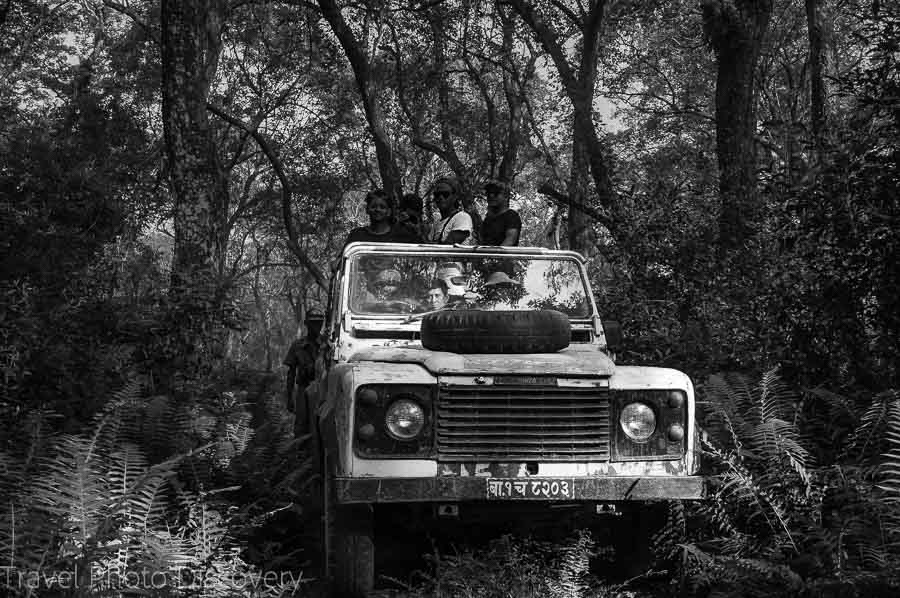 A safari experience at Chitwan National park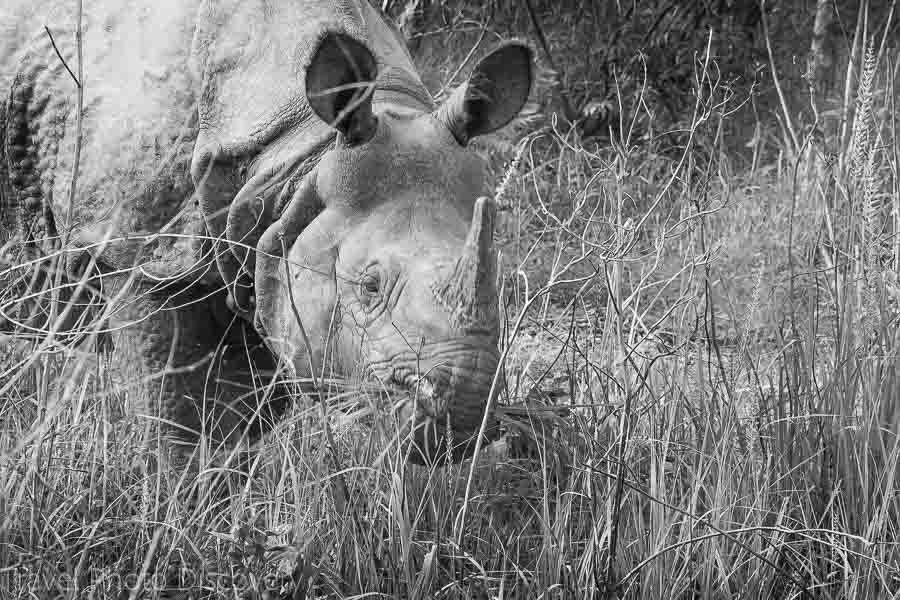 Beautiful landscapes at Chitwan National Park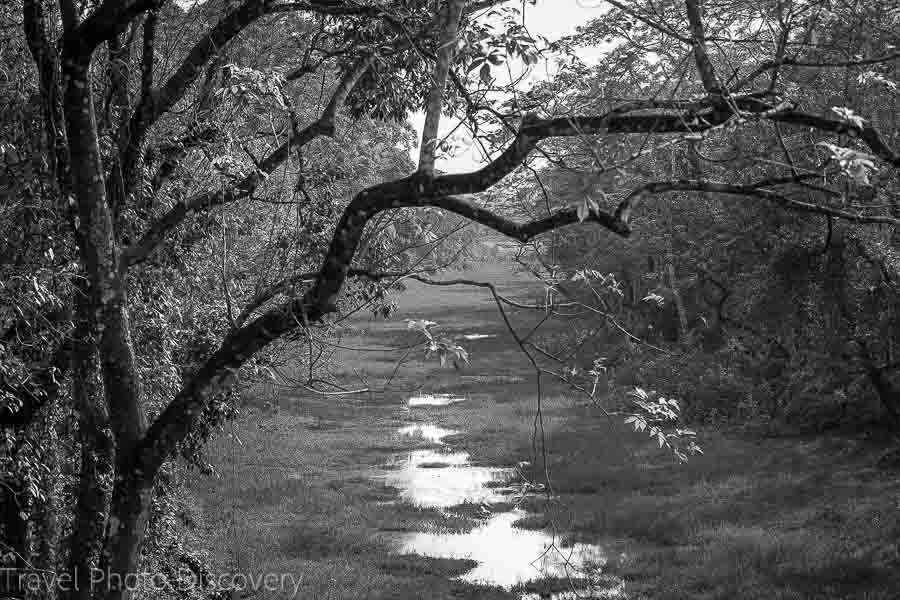 Nepal photography in black and white –

Buddha's birthplace at

Lumbini
Lumbini is an inspiring place to visit and photograph because this is where the Buddha was born and is a significant spiritual pilgrimage site and Unesco World Heritage Site. There are so many fascinating temples, monasteries and the holy site at Lumbini to explore – you can check out more images and inspiring attractions of Lumbini here for more about my experience visiting this Unesco site.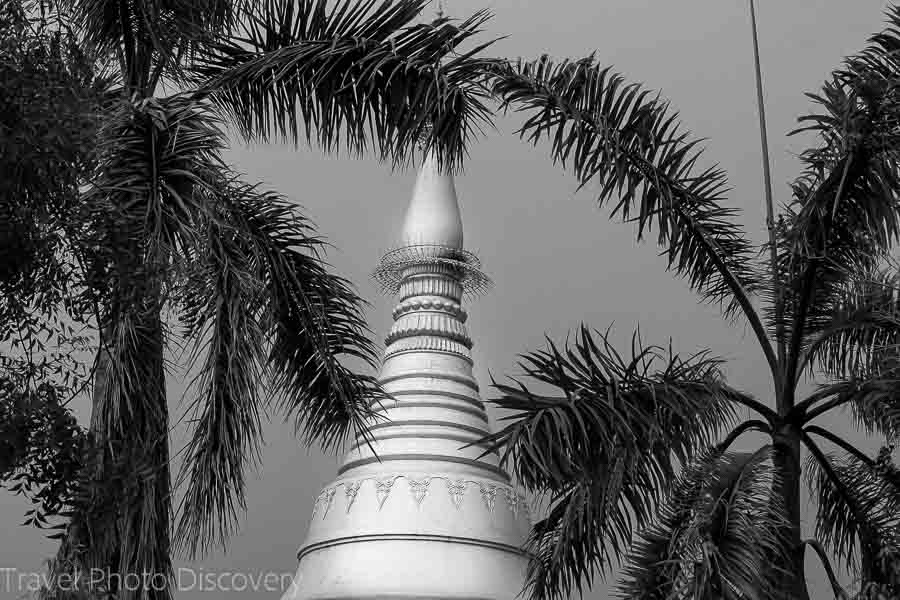 Lovely temples and monasteries of Lumbini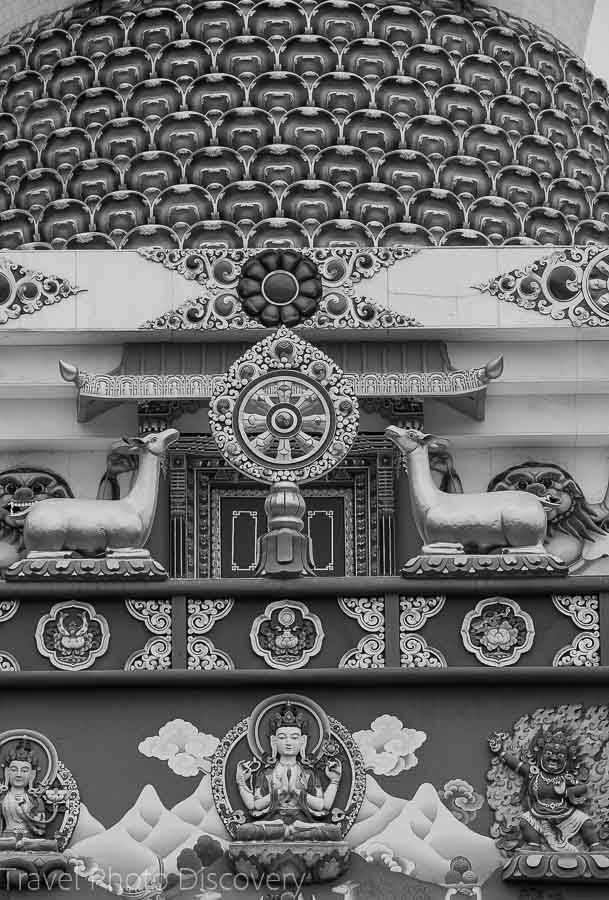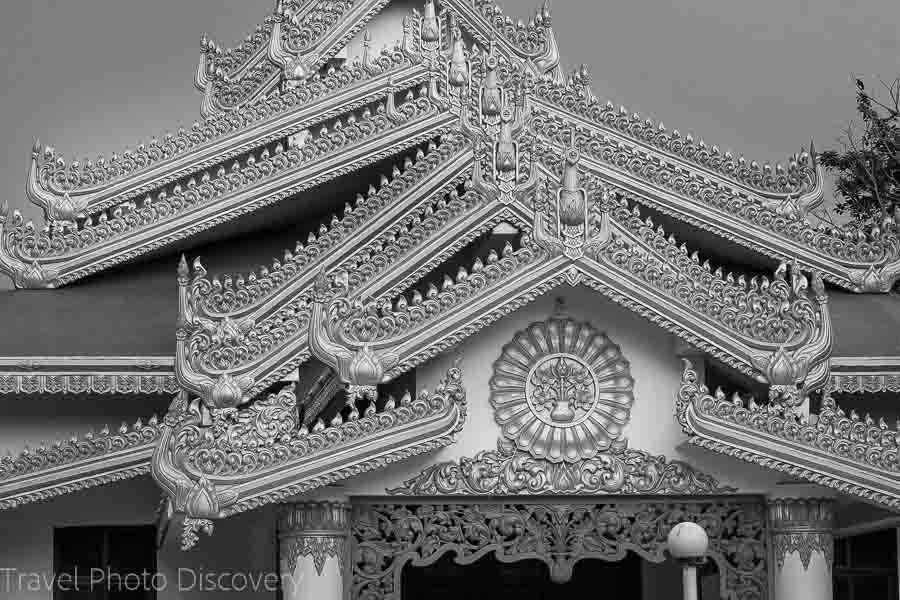 Nepal photography in black and white  – Durbar Square & temples of Bhaktapur
One of three kingdoms around the Katmandu area, Bhaktapur is one of the most stunning and severely damaged areas of the major earthquake and destruction in Nepal. But what has survived and going through massive reconstruction of this incredible Unesco site is so amazing to witness and capture in photographs whether it is the incredible architecture and cultural treasures to the everyday living and street that occurs in this historic ancient capital. Here are some of my favorite captures visiting Bhaktapur in black and white.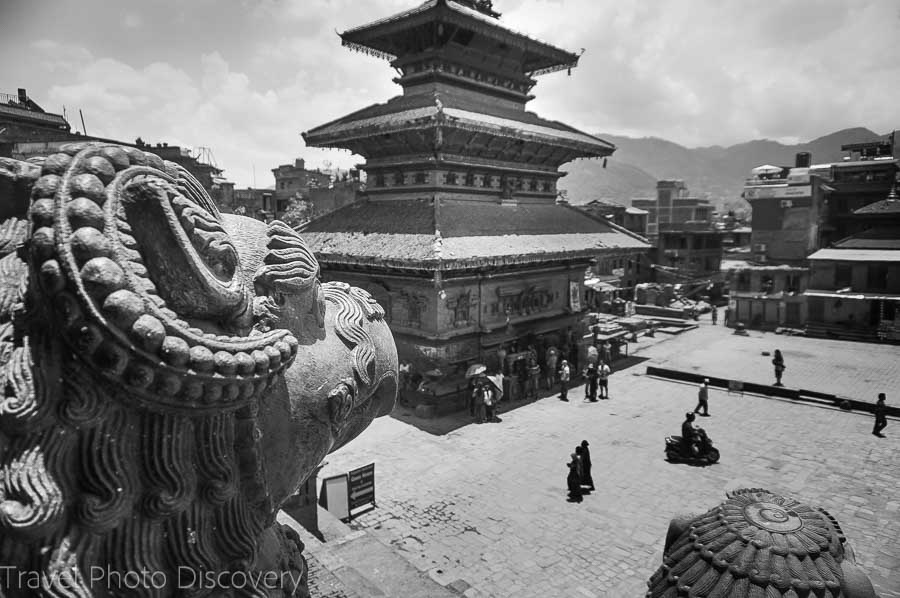 Street life in Bhaktapur's Durbar Square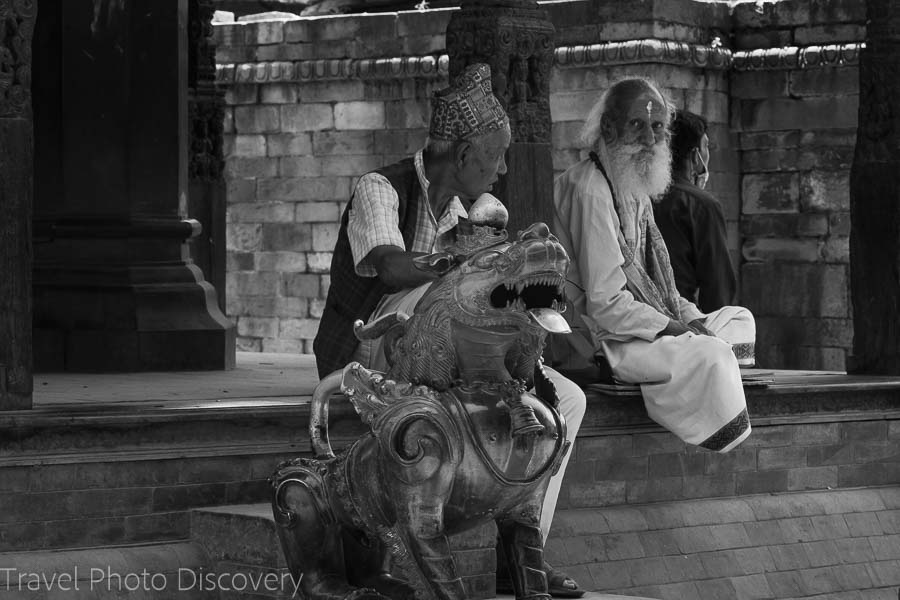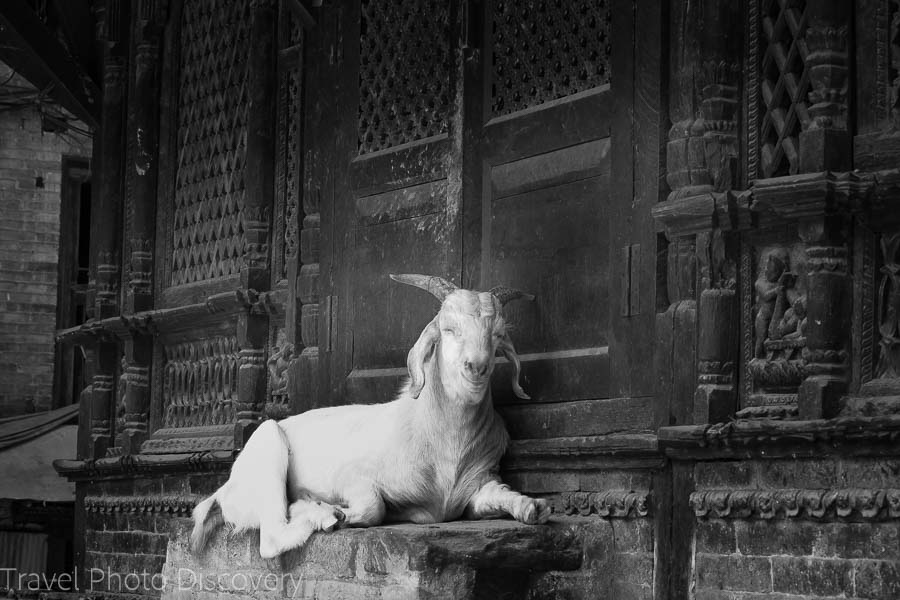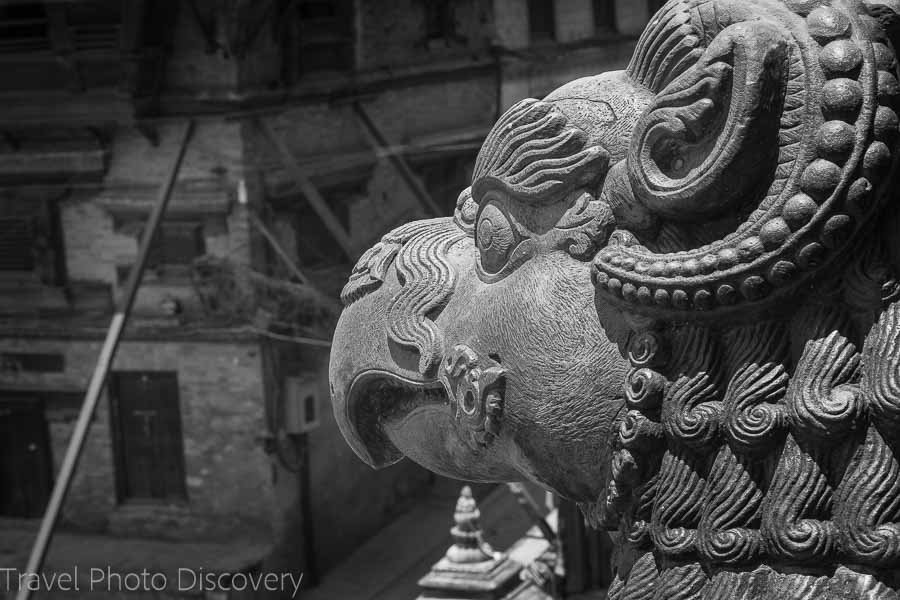 Street life and Nepalese portraits
Nepalese people are really approachable and friendly – most don't mind you taking a picture of them when you either ask or gesture with your camera and look them in the eye. I love to walk around busy streets with the possibility of capturing something spontaneous, unique and tells its own story. Here are some of my favorite street scenes and portraits from around Nepal and the urban environment.
Market stalls in Thamel, Katmandu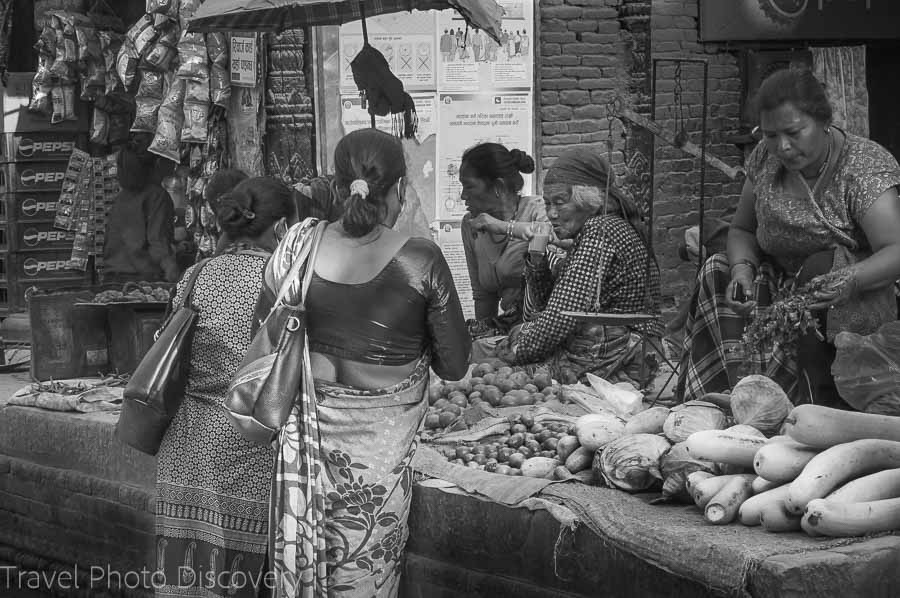 Passing a small shrine in the Thamel district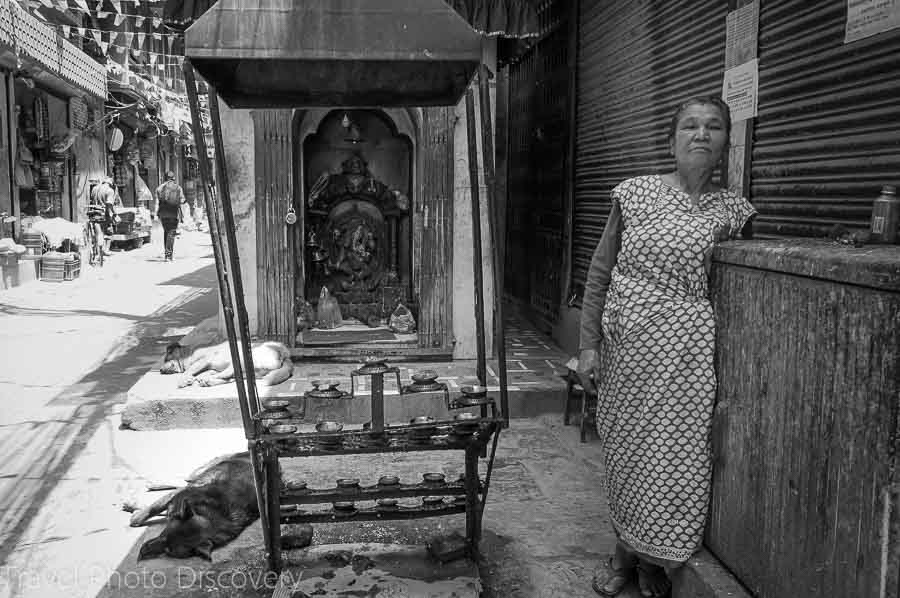 Watching the funeral pyres at Pashupatinath Temple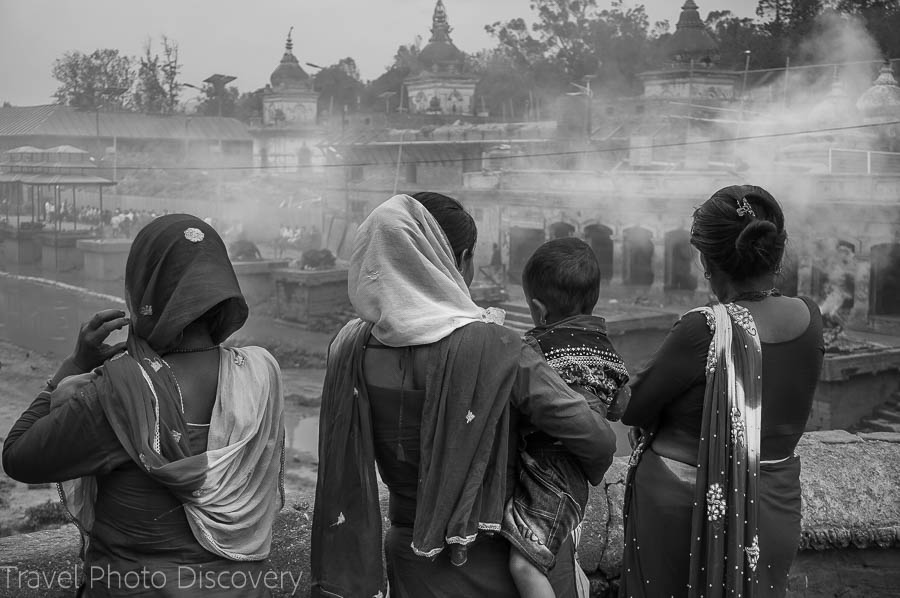 Life and death is celebrated at Pashupatinath Temple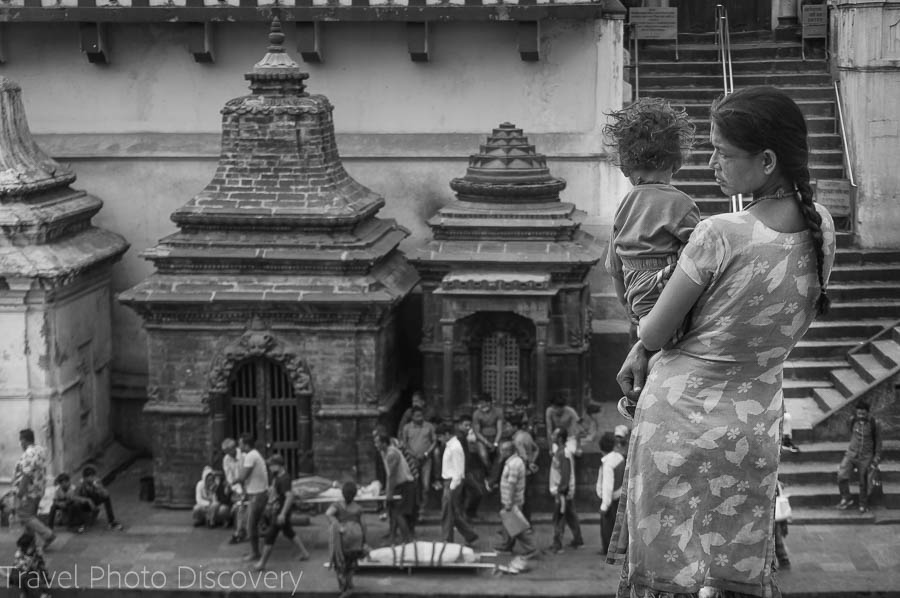 Nepal photography in black and white – Pokhara at the base of the Annapurnas
Pokhara is the main base where treks and tour companies can be found and this bustling city is very tourist driven with a tacky tourist area right on the lakeshore of the scenic Fewa lake. But if you can look beyond the hordes of souvenir shops and hotels and walk, bike or even paddle around the lake, you will find a delightful place that definitely is worth exploring even if your not the type of person to go out on a trek up to the Annapurnas. Here are a few of my favorite scenes and images while exploring Pohkara.
As you can see Nepal is a very chaotic but exciting place to visit and filled with photo opportunities and you get a different perspective presenting Nepal in Black and White. When you try to focus and eliminate the vivid colors of Nepal and pare it down to the basic elements of black and white, what you end up with is the rich taspestry of incredible patterns, smiling faces, exotic temples and the truly gorgeous landscape of the country. I hope this post has inspired you to visit Nepal some day or to even try creating or experimenting with black and white imagery and composition for your travel photography.
Check out these other posts on visiting Nepal
Buddha's birthplace at Lumbini
A visit to Chitwan National Park
If you enjoyed the post, please pin it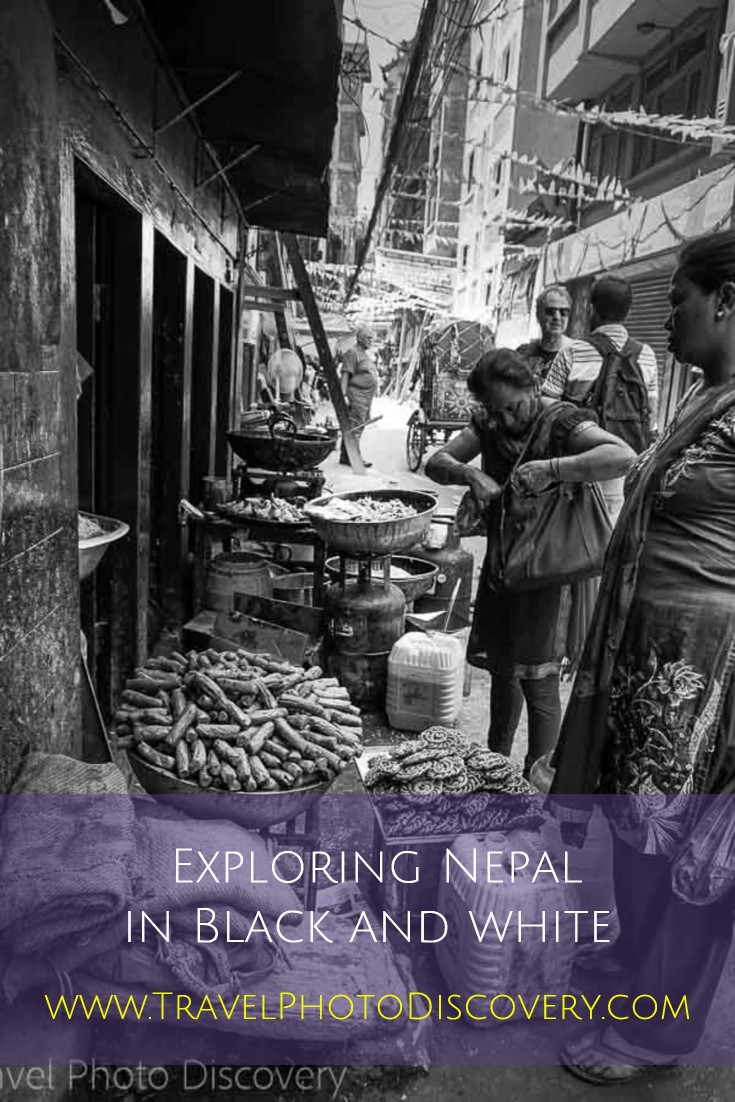 Thanks for visiting today and checking out this post on the Nepal photography in black and white, if you enjoyed the images and post, could you please share it with any of the social media buttons located around the post.
If you like what you see, come and check out my other social media channels for more updates, including Instagram, Pinterest and Twitter