Exploring the funky and fun at Dotonbori in Osaka
Osaka's Dontonbori district is really crazy! This strange and fun part of Osaka feels like a combination of a tacky tourist trap and amazing food destination all wrapped into this cool and unusual destination. Although food is a major draw to Dotonbori, the area is quite eclectic with all the neon light like New York's Time Square, the tourist trap and delicious seafood at Fisherman's wharf in San Francisco, seedy red light district of Amsterdam, the back streets of Montmartre, and even the impromptu street performers at Leichester square in London. If your looking for foods to eat in Osaka, the Dotonbori district is where you should go. The district combines colorful eating venues with fun hangout spots or bars, bizarre attractions and neon lights filling up the area with glitz and more outrageous acts than you can imagine. The area is a major entertainment zone filled with the night clubs, strip bars and mega dance halls open all night and into the early morning for all the party set to get a little crazy and forget about their daily grind the following day.
Here are some highlights of visiting Dotonbori from sunset until late into the evening hours
The main square at Dotonbori really feels like Osaka's version of Times Square with its vivid neon lights, illuminated billboards and mechanized screens along the main boardwalk. At night-time, the more strange and crazy your outfit is, the better it looks in Dotonbori….although you never know if the Cosplay, pimp boys or sweet smiling girls are looking for trade or just getting you to visit a local bar or restaurant and rack up a tab, it's business as usual in Dotonbori.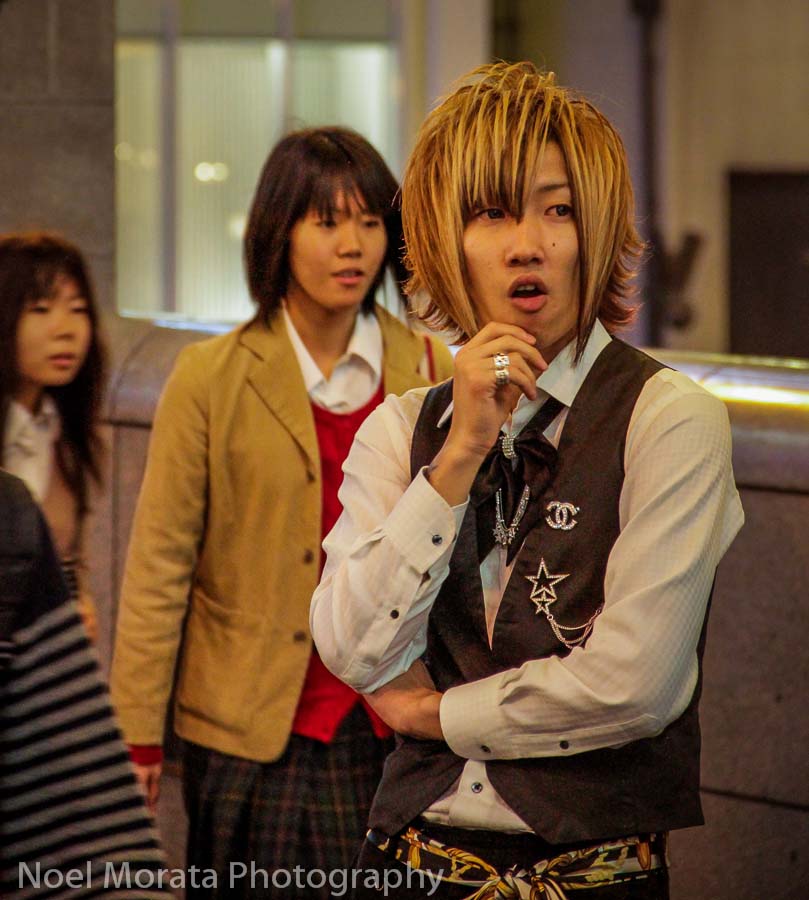 Dressed to impress or at least stand out in Dotonbori for the night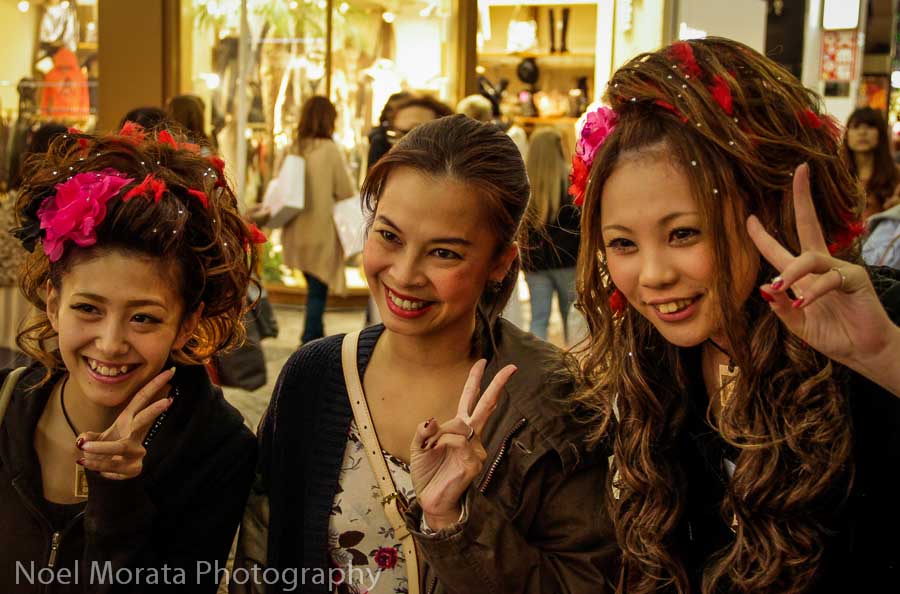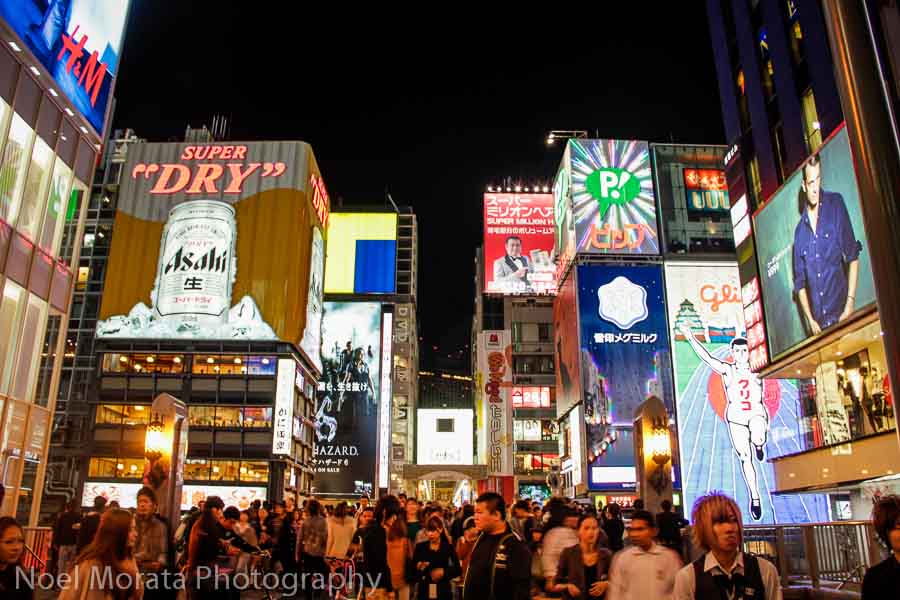 It seems like the gaudy and flashy all clash here and vie for your attention – bigger is better and draws in the crowds. Everything and everyone tries to draw you in, and it's intoxicating with all the noise, loud barkers, giant crabs and bright neon – they are all trying to draw your eye to check out what is going on inside. It's almost sensory overload walking through the neon lit zones and masses of people all looking for food and entertainment at the same time. For a breath of fresh air and respite from the crowds, the Dotonbori canal behind the main promenade is more low-key and calming for the eyes especially at sunset below. There are still a variety of dining venues around the canal to explore if you want to stay away from some of the crazy and loud venues around Dotonbori.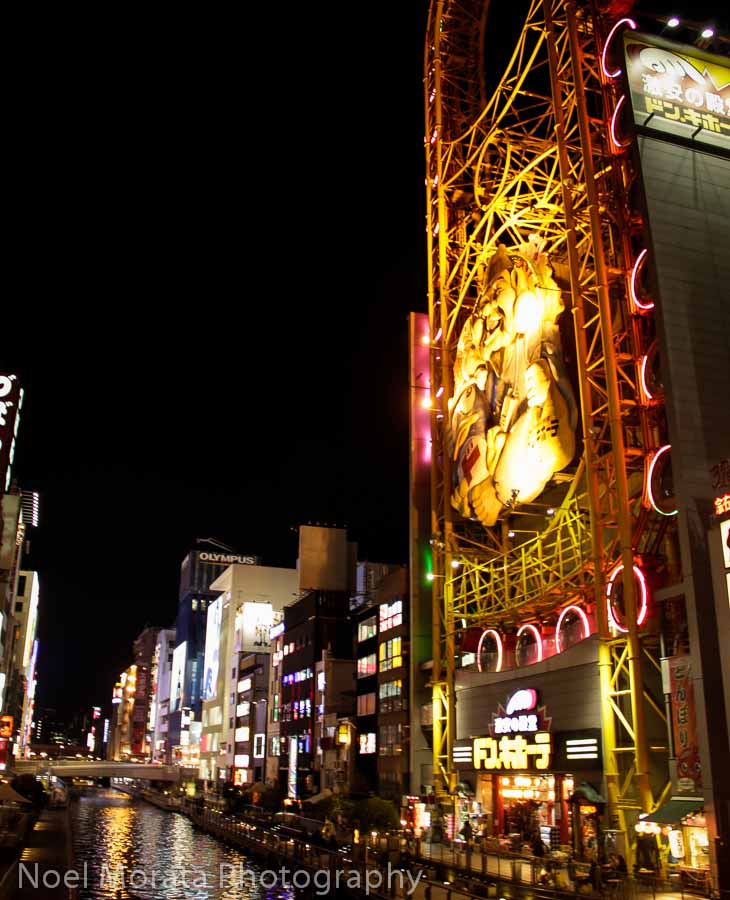 Would you eat at this dive with the giant crab?
There's always entertainment going on the streets with barkers, hip hop dancers and girly boys latching onto you to get you into their bars to rack up a tab on those expensive drinks. Yes it's entertaining and you'll never know what to expect just walking down the block. A very popular term in Japanese is Kuidaore translated loosely as "ruining oneself to extravagance in food" and this is apropos for eating out and even gorging on the abundance of food venues in Dotonbori. You can try some of the popular local dishes from the region including: okonomiyaki, takoyaki, and kitsune udon.
Eating some delicious sushi in Dotonbori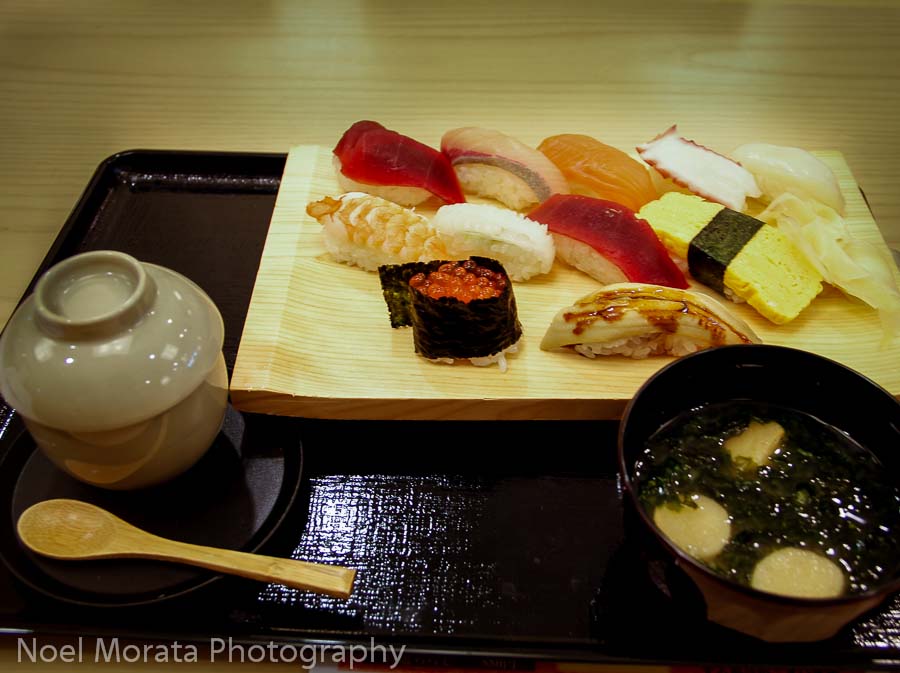 Street performers strut their stuff every night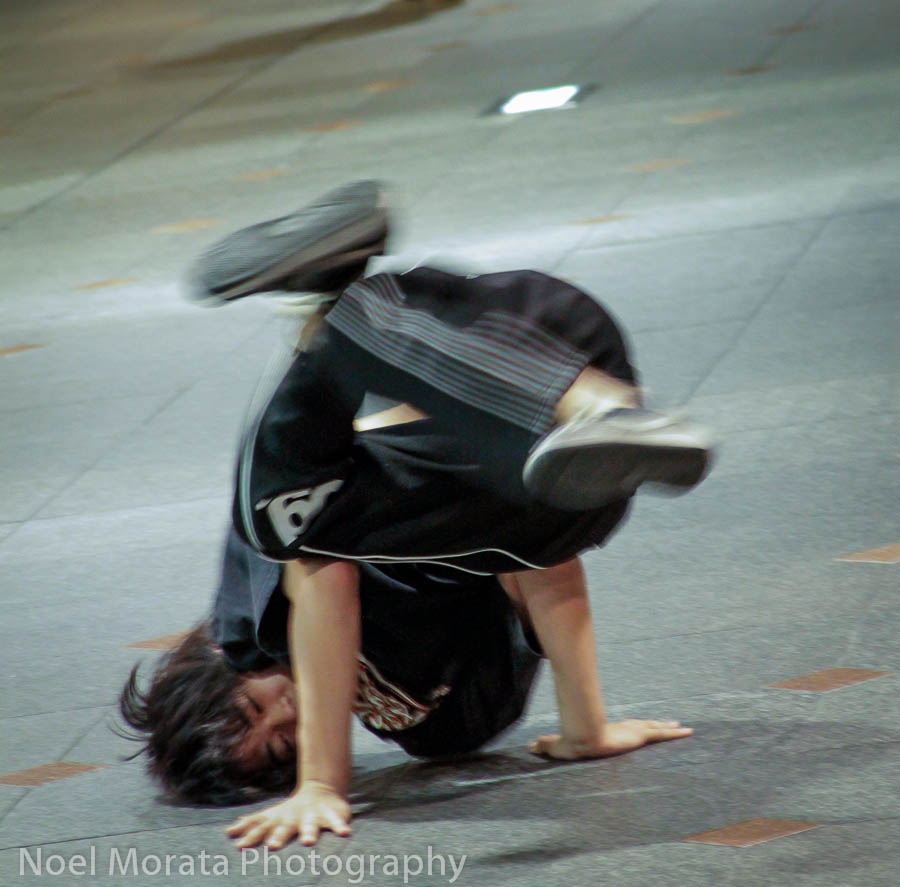 For pure entertainment, food venues and people watching this is the place for visitors to check out Osaka's crazy but fun late night gathering spot. You definitely be entertained or shocked by all the activity and strange vibe of this lively city.
Tips for exploring Dotonbori
Best photo moments are at night at all the main promenades and neon boardwalk area.
Beware of barkers trying to get you to visit their establishment, they are very aggressive.
People are not camera shy here, but if you initiate conversation or gesture with your camera, you may just get more than you bargained for.
Make sure you check out the menus first so you don't get sticker shock with some of those prices.
Drinks can be expensive here in Dotonbori so be careful of those barkers and pretty girls getting you to visit their bars
Street performers are at every corner and always appreciate tips
Check out the side streets or quiet areas for some of the hidden gems and nicer restaurants
Take a look at this solo travelers guide to visiting Osaka for inspiration and information to visiting other attractions and must visit sites.
Please pin this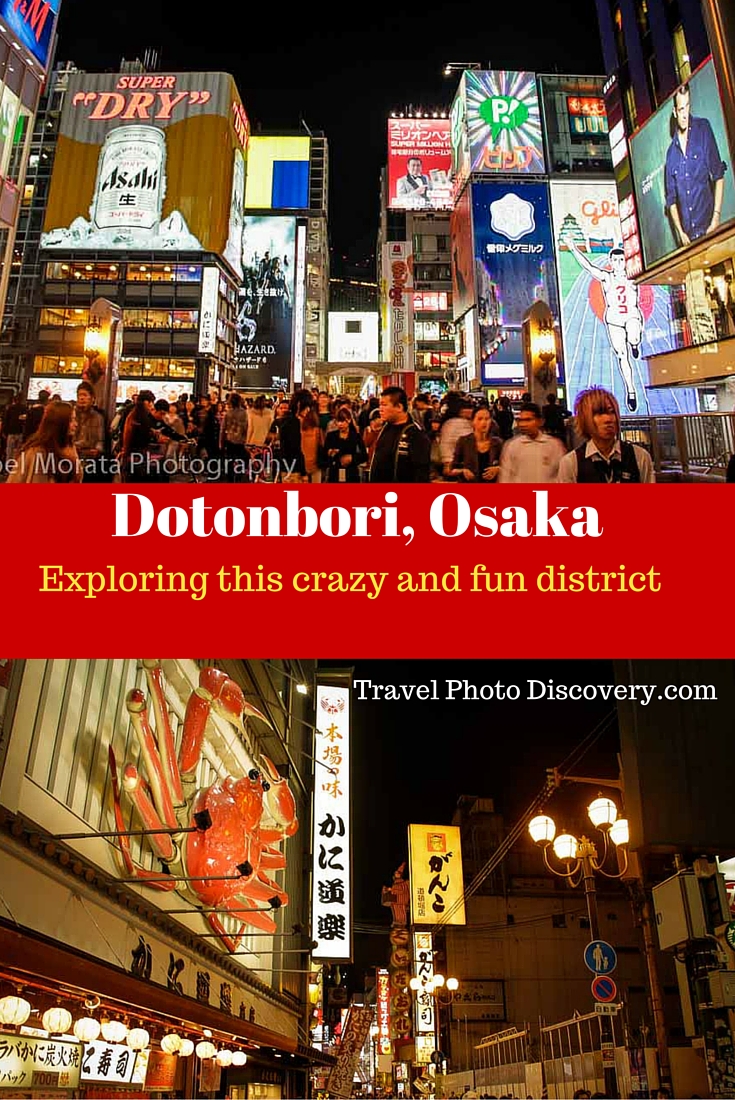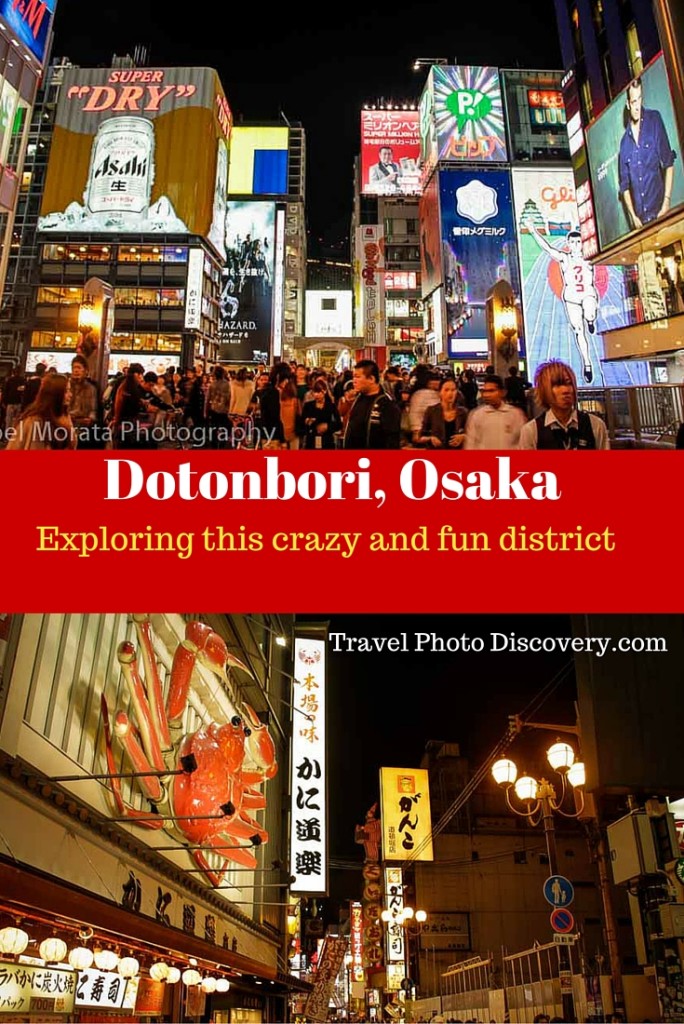 Thanks for visiting today and checking out this post on Exploring Dotonbori in Osaka. If you enjoyed the images and post, could you please share it with any of the social media buttons located around the post.
If you like what you see, come and check out my other social media channels for more updates, including Instagram, Pinterest and Twitter