Discover the Natural Beauty of Hinkley Reservation: A Tranquil Escape in Nature
You couldn't ask for a better autumn day early November to be outdoors and enjoy Hinckley reservation in Northeastern Ohio. The weather is perfect to bike around the lake and then do a quick hike up through Whipps Ledges which is an area of stunning rocky outcrops on top of the hills reservation. This is also a great time to see all the fall colors with all the trees turning gold, orange and some red leaves to match the stunning landscape. A park within the Cleveland metro parks systems, Exploring Hinckley reservation in Ohio is fun being outdoors and checking out all the trails and other local attractions to visit in the area or just fun spots to hang out.
Hinckley is definitely one of the jewels in the chain of parks called the Emerald necklace of Cleveland and a great place to explore in the Cleveland parks area.
Exploring Hinckley reservation in Ohio – fun, scenic, cool rock climbing 
Biking and hiking Hinckley Reservation in Ohio
Getting to Hinckley reservation is a short and scenic road trip from where we are based in Medina but Hinckley is a relatively short trip from the Cleveland metro area. The road trip is bucolic with rolling hills on country roads, small farms with little ponds and trees in all shades of autumn's glory. I'm going to explore with my nephew Carlos who's game to doing both these outdoor activities with me today to visit this cool park and fascinating geological features to explore.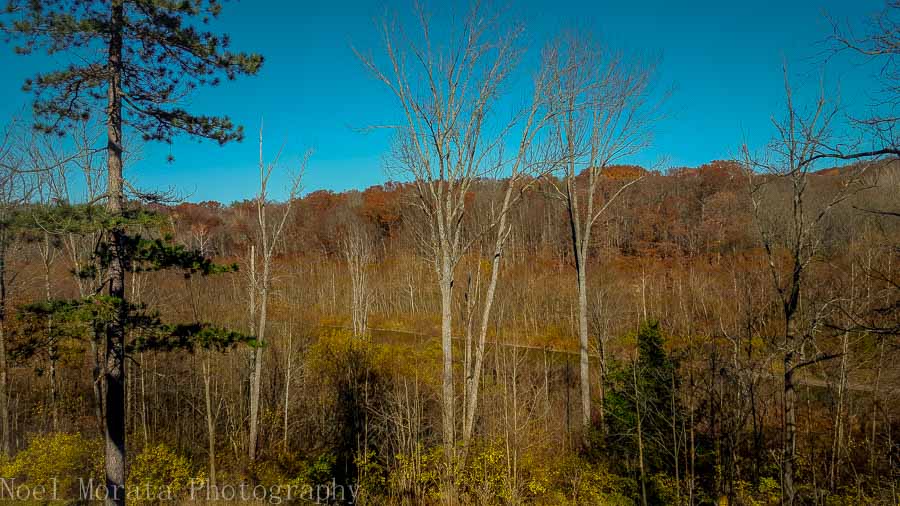 Explore these lovely landscapes at Hinckley Reservation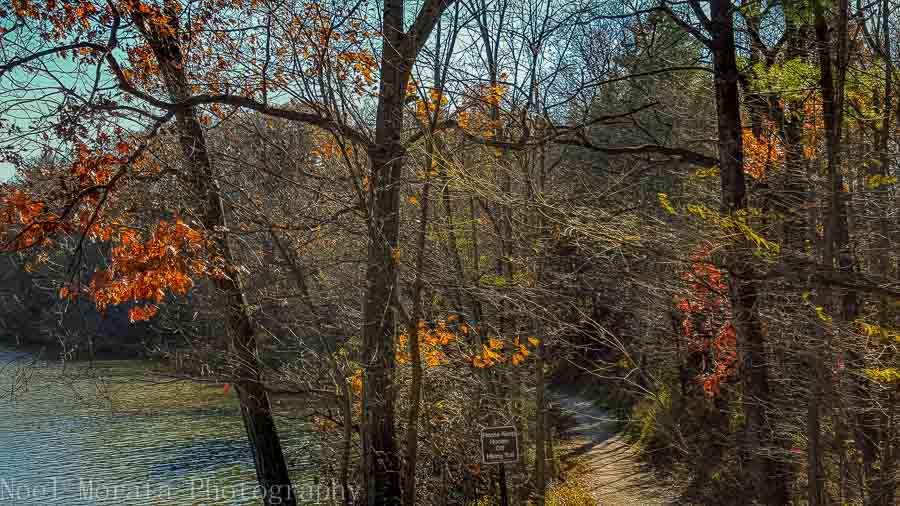 Where is Hinckley Reservation located?
Located in the southern end of the Cleveland Metro parks area Hinckley Reservation is located at 1822 East Dr, Hinckley, OH 44233
Here's a quick overview of Hinckley Reservation
Entering Hinckley lake
Water recreation and sport is a popular activity year round with boating, fishing, (SUP in the warmer months), sailing and swimming. There is an asphalt trail that goes around the lake which is about 3 miles in distance. There are also dirt and horseback riding trails that either go closer to the lake front or surrounding areas of Hinckley reservation.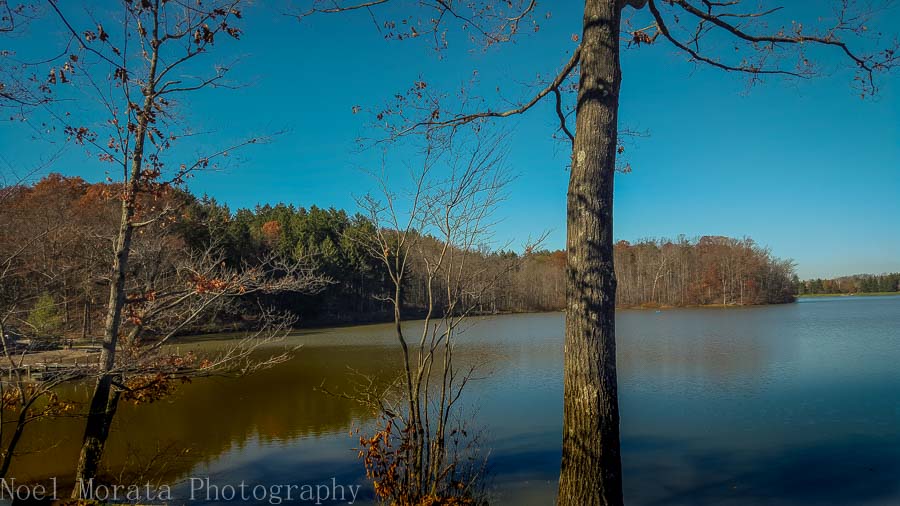 A brief stop and photo op moment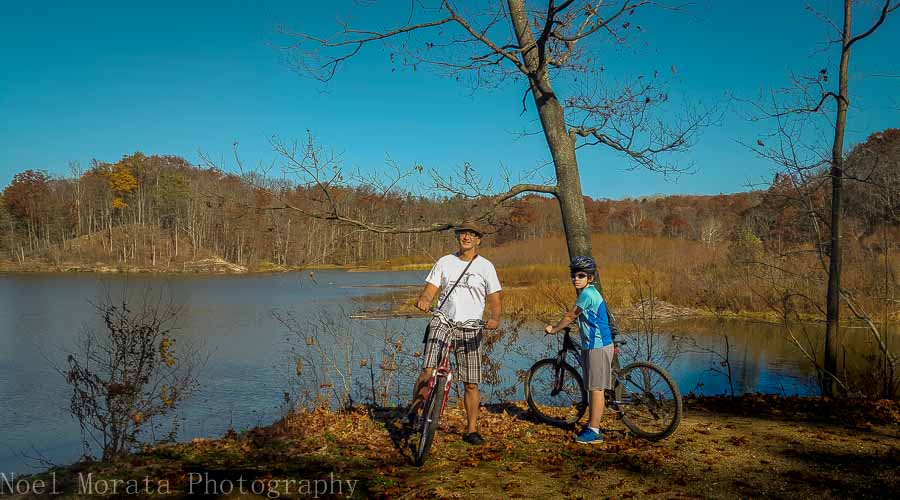 Water recreation and sport is a popular activity year round with boating, fishing, (SUP in the warmer months), sailing and swimming. There is an asphalt trail that goes around the lake which is about 3 miles in distance. There are also dirt and horseback riding trails that either go closer to the lake front or surrounding areas of Hinckley reservation.
You can kayak around Hinckley Lake below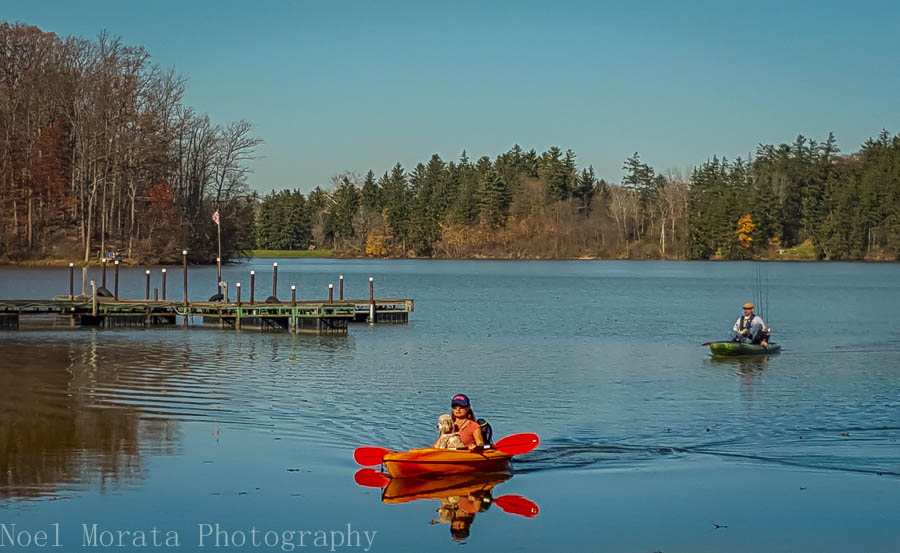 A fun video view from above the lake area
Hiking Whipps Ledges
Definitely one of the most beautiful and fascinating parts of the park to explore is Whipps Ledges and doing some fun hikes around the area.
A unique feature in Hinckley reservation with sandstone ledges rising above the lake at 350 feet in elevation. Created over 250 million years ago, there are some interesting (and old carvings) made on the sandstone by visitors. You can find them along the main stone staircase leading up to the top of the ledges. Rock climbing the sheer faces of the ledges are allowed through a reservation system on the Cleveland Metro park website here. There is no fee for the permit but the website states that you need to have a $300k of 'personal liability' insurance to rock climb the ledges.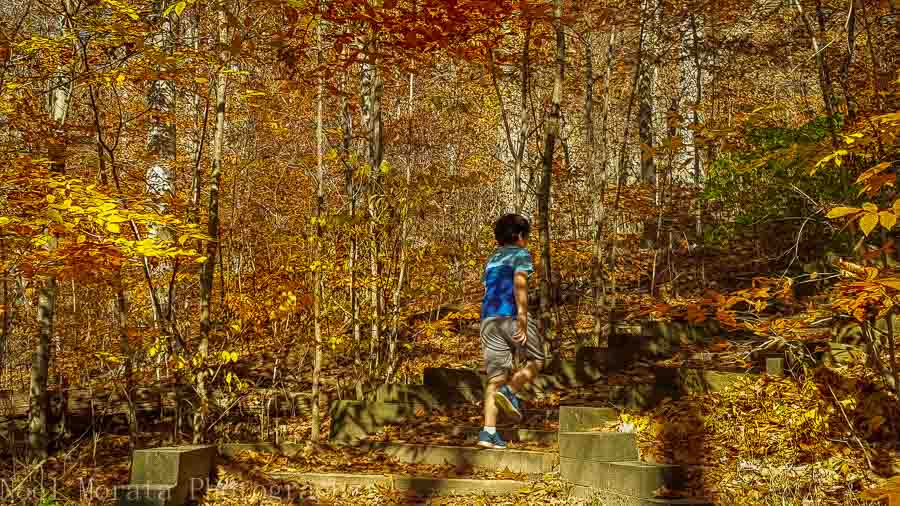 Golden amber on the trails at Whipps Ledges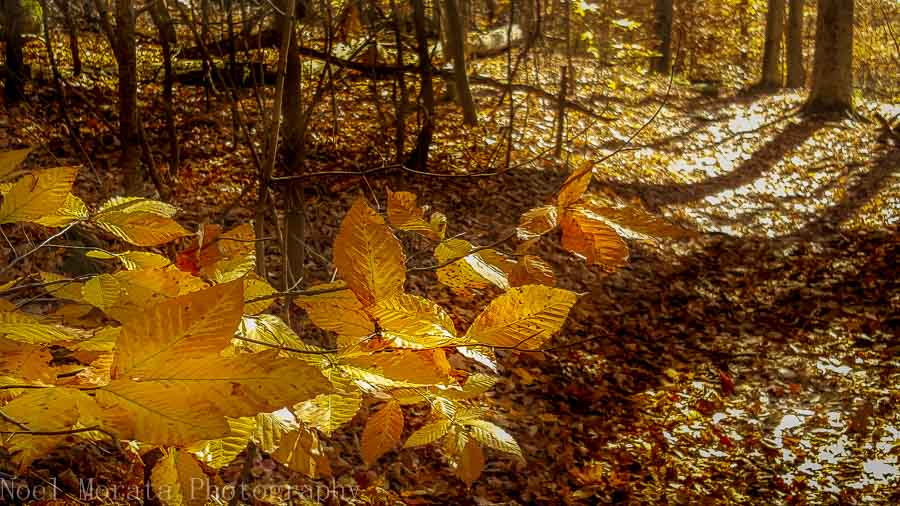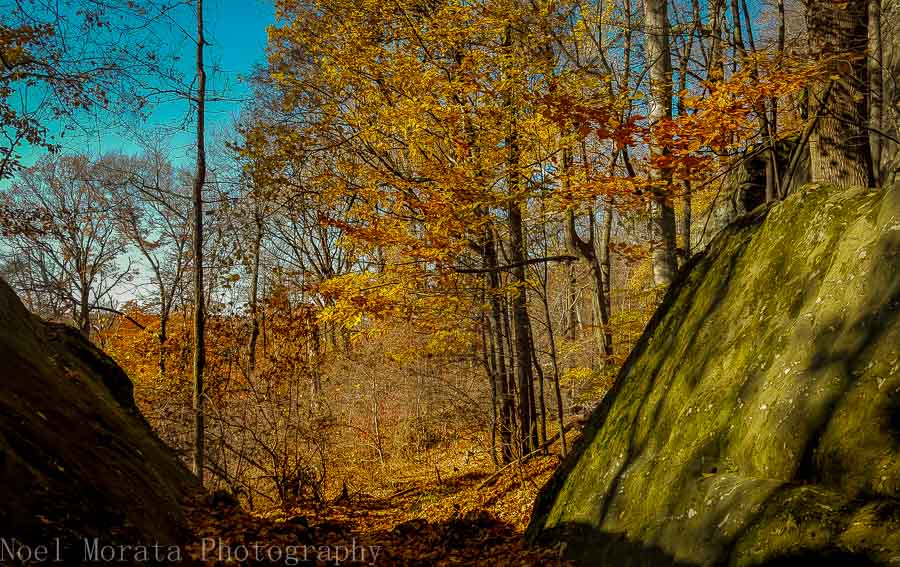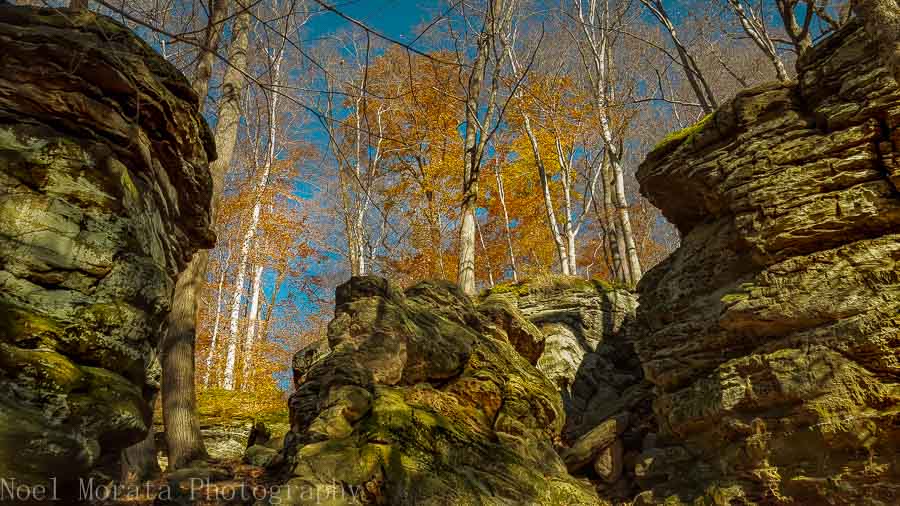 Moss covered stand stone at Whipps Ledges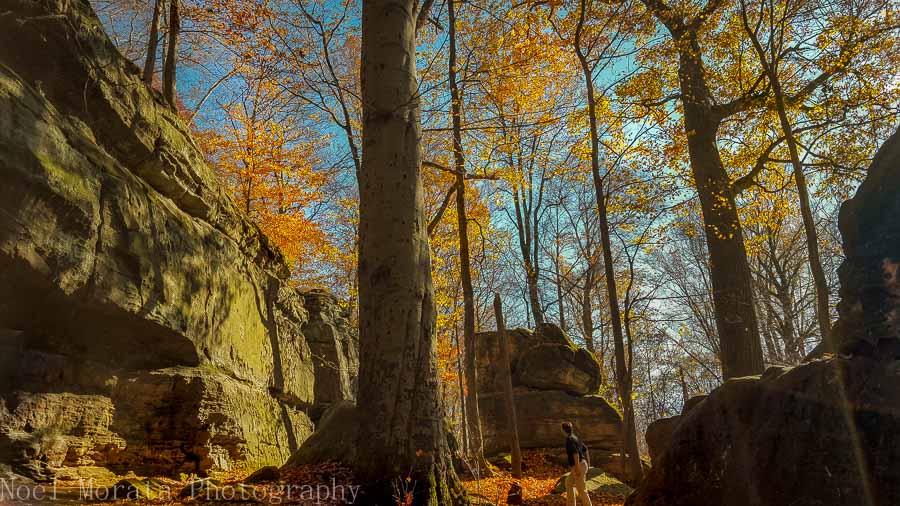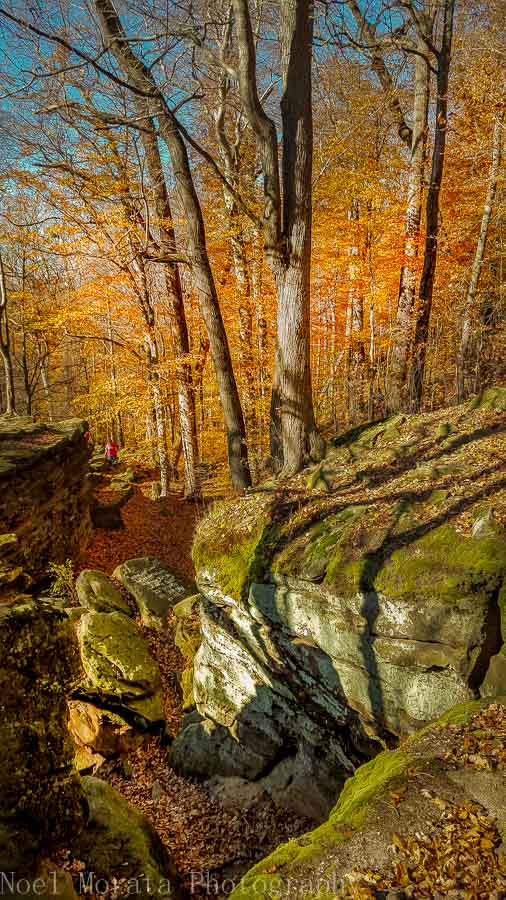 The views from above at Whipps Ledges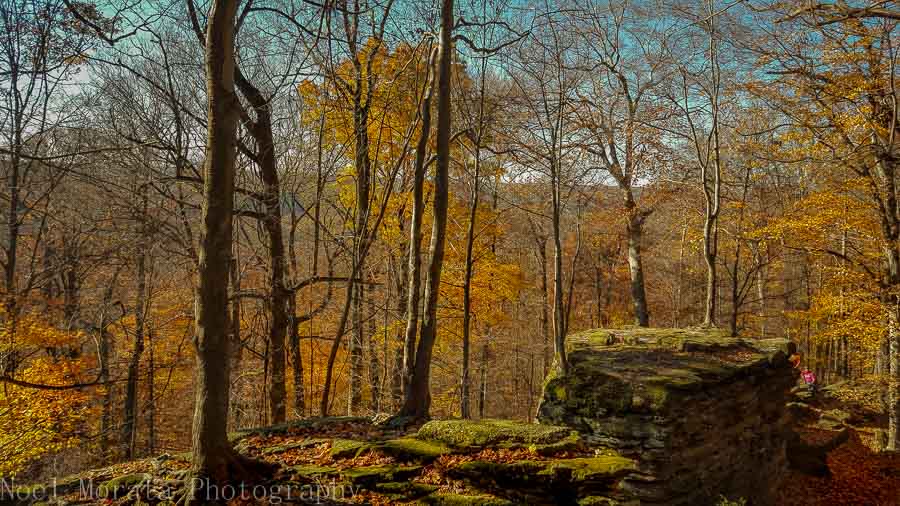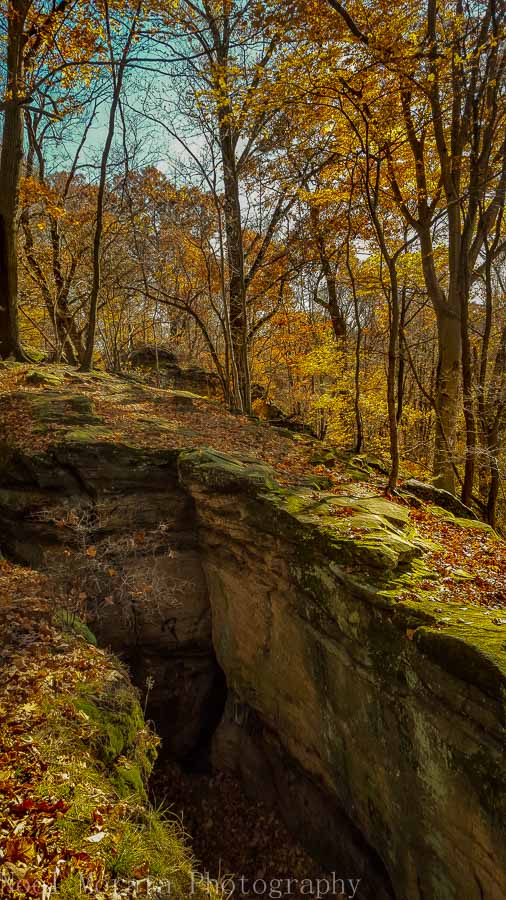 Visiting Whipp's Ledges in a video tour below
Fall glory in rich ambers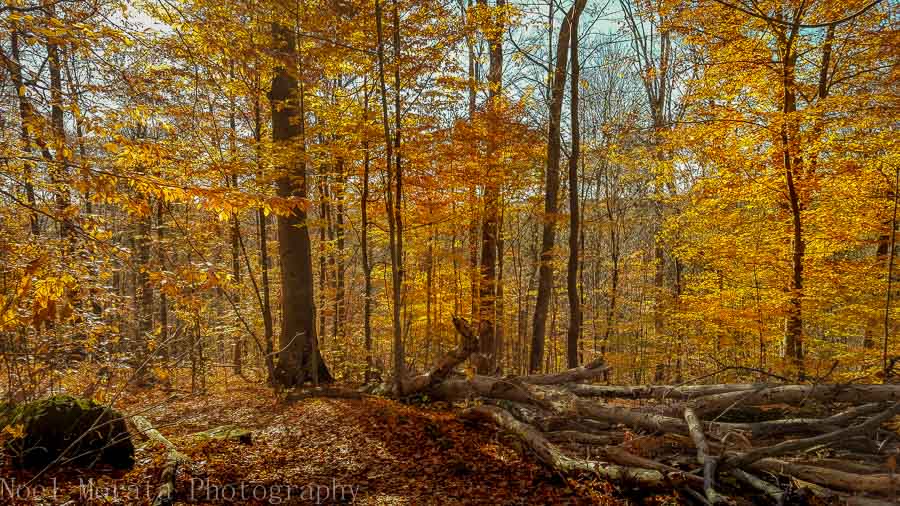 Heading back down to the parking lot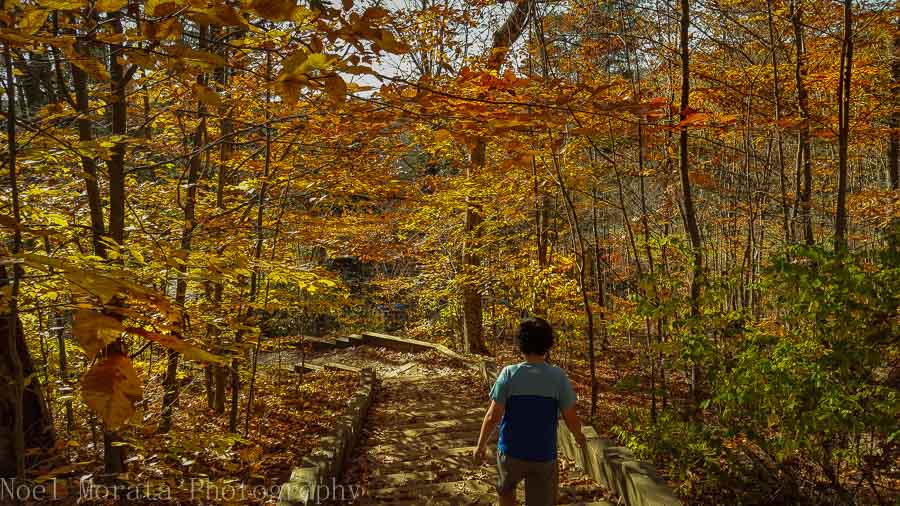 Falls a great time to visit the Hinckley Reservation, check out this fun video tour below
Fall time is great but this is a fantastic year-round destination
Coming here during the fall season is really spectacular if you can schedule a time to visit during this time frame. But the park is just as beautiful to discover and enjoy the outdoors the rest of the year for outdoor activities and exploring. Each season offers a different perspective and experience and definitely worth visiting at different times of the year.
Details if you go to Hinckley Reservation
Check out the main website to Hinckley reservation and the Cleveland Metro parks here
There is a nature and visitor center at the park, you can check out their location and website here.
There are many recreational activities and sports available at the park, you can check out a list here.
To find out about current activities at Hinckley reservation and the Cleveland Metro Parks, you can check out the calendar here.
Cleveland Metroparks area in Ohio
Inside tips to exploring Hinckley Reservation
Here are more inside tips to enhance your visit to Hinckley Reservation in Ohio:
1. **Buckeye Trail:** Explore the Buckeye Trail, a long-distance hiking trail that passes through Hinckley Reservation. It offers diverse terrain and scenic vistas, making it ideal for experienced hikers.
2. **Whipps Ledges:** Hike to Whipps Ledges for stunning sandstone formations and breathtaking views. Wear sturdy hiking shoes, as some sections can be challenging.
3. **Biking:** Bring your bicycle and enjoy the dedicated bike paths within the reservation. It's a fantastic way to explore the area at your own pace.
4. **Observing Wildlife:** Keep an eye out for wildlife, including white-tailed deer, wild turkeys, and various bird species. Binoculars and a field guide can enhance your wildlife-watching experience.
5. **Fishing:** If you're an angler, don't forget your fishing gear. Hinckley Lake offers opportunities for fishing, with catches including bass, catfish, and panfish.
6. **Visitor Center:** Start your visit at the Hinckley Lake Boathouse and Store, where you can get maps, information, and even purchase refreshments. The center often hosts educational programs and nature exhibits.
7. **Picnicking:** Pack a picnic and enjoy a meal at one of the designated picnic areas. It's a lovely way to relax and soak in the natural beauty of the reservation.
8. **Photography:** Hinckley Reservation provides countless photographic opportunities, from vibrant wildflowers to serene lakeshores. Don't forget your camera or smartphone to capture the beauty.
9. **Stargazing:** On clear nights, the reservation's rural setting offers excellent stargazing opportunities. Bring a telescope or simply lay out a blanket and gaze at the night sky.
10. **Nature Programs:** Check the reservation's calendar for nature programs and guided hikes led by park rangers or naturalists. These programs can provide valuable insights into the local ecosystem.
11. **Leave No Trace:** Practice responsible outdoor ethics by following the Leave No Trace principles. Respect the environment and fellow visitors by leaving nature as you found it.
12. **Check Trail Conditions:** Before embarking on a hike, check trail conditions, especially after heavy rain or during wet seasons, as some trails may become muddy or slippery.
13. **Stay Informed:** Stay informed about any seasonal events, closures, or updates on the reservation's official website or by contacting park authorities.
14. **Off-Peak Visits:** To avoid crowds, consider visiting on weekdays or during the early morning hours. Hinckley Reservation can get busy on weekends and holidays.
15. **Respect Wildlife:** When observing wildlife, maintain a safe and respectful distance to avoid disturbing animals or their habitats.
By following these inside tips, you'll have a memorable and enriching experience while exploring Hinckley Reservation's natural wonders and outdoor activities.
Conclusion to visiting Hinckley Reservation in Ohio
A visit to Hinkley Reservation is a delightful retreat into nature, offering a tranquil escape from the hustle and bustle of everyday life. With its picturesque landscapes, diverse wildlife, and serene trails, Hinkley Reservation provides an opportunity to reconnect with the natural world and rejuvenate the mind and spirit. Whether you're hiking, birdwatching, or simply enjoying a peaceful picnic surrounded by the beauty of the reservation, the experience is sure to leave you with a sense of serenity and appreciation for the wonders of the outdoors. So, plan your visit to Hinkley Reservation and immerse yourself in the captivating tranquility of this natural gem.
Thanks for visiting today and checking out my post on Hinckley Reservation in Ohio. This is a short postcard series to show where I am traveling to currently around the world and I'm here enjoying the fall weather in Ohio while visiting family. If you enjoyed viewing the article, could you kindly share it with any of the social media buttons around the post, thank you.
If you like what you see, come and check out my other social media channels for more updates, including Instagram, Pinterest and Twitter