A visit to Kings Landing Hawaii along the Puna coastline in East Hawaii
Today, let's go visit another beautiful area in East Hawaii, one of my favorite beaches is called Kings Landing in the Puna District. I've only been to this beach once since it is on private property and access through the shoreline an extremely difficult four-hour hike in one direction. The reason it's a special place because of the green sand interspersed along the rocky beach which very rare to experience in Hawaii.
The green sand is composed of olivine crystals which develop from erosion of basalt lava flows and end up along the shorelines due to its heavier weight to black lava rock. It is a common mineral found in lava formations and is one of the first crystal to start forming once the hot magma starts to cool off. In Hawaii these crystals are also called 'Hawaiian diamonds' by the locals in the area. The mostly public beach is not easy to access with a difficult hike through coastlines filled with rocks and lava fields to get to this rare black and green sand beach.
A rare visit to Kings Landing in East Hawaii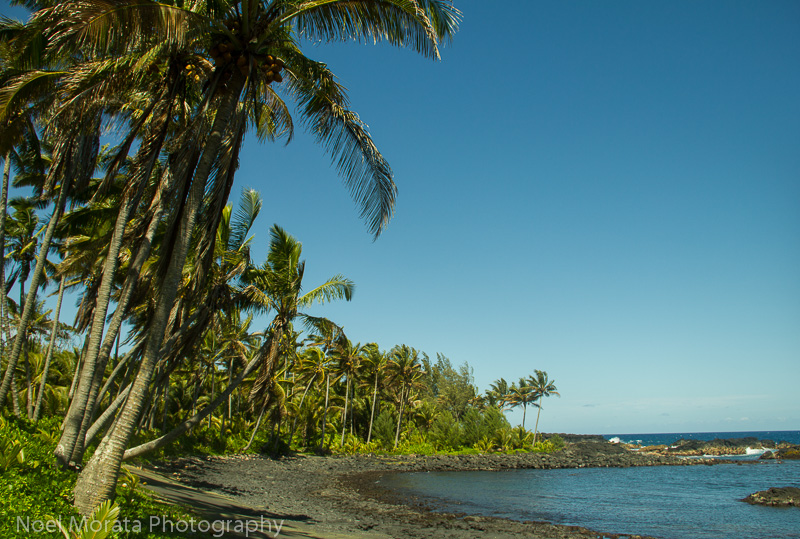 The sheltered bay is a favorite spot for sea life including green honu (turtles) and the rare Hawaiian monk seal. Known to the native Hawaiians as ʻIlio-holo-i-ka-uaua, or "dog that runs in rough water," the seals find refuge in the little lagoon fronting the beach with little intrusion from human activity.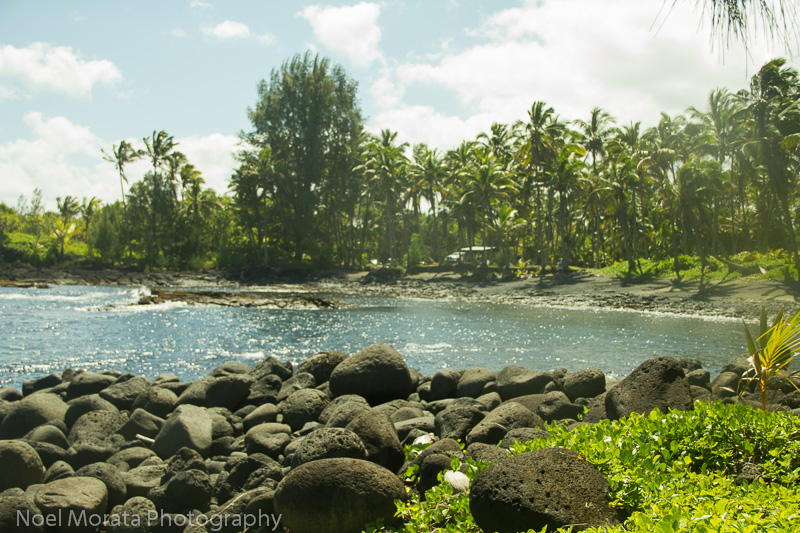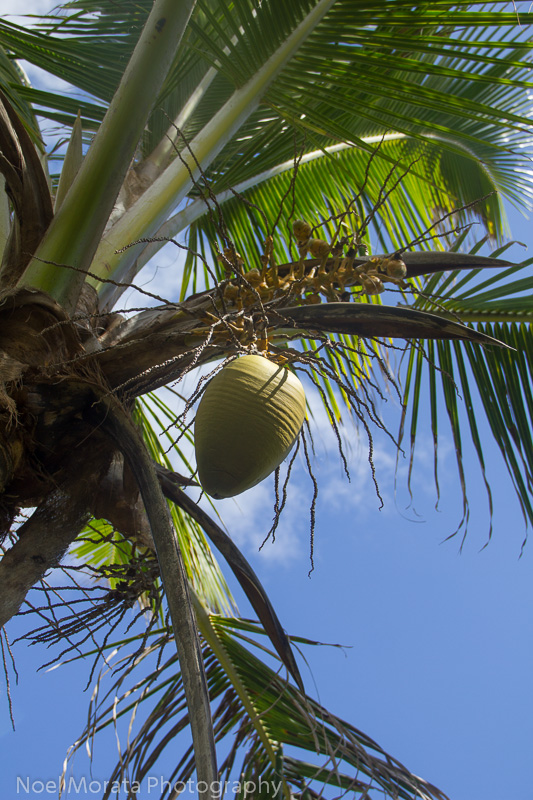 Many coconuts trees with fresh coconuts available for the picking
In the late afternoon light, the sun actually makes the olivine glow into a more metallic green-gold color which is quite dramatic and beautiful to see. Here is a better detail shot of the green crystals below, gorgeous don't you think?
Actual green sand beach along the Puna coastline
Kings Landing is one of those rare beauties in East Hawaii with a gorgeous green sand beach, beautiful vistas and practically no crowds or visitors to this remote beach that is only accessible by long hikes through lava strewn and large boulders on the coastline. The one access road is private and takes over an hour drive from the highway which is less than a few miles away from this region of the Puna coastline.
Thanks so much for coming to visit Travel Photo Mondays and visiting this beautiful green sand beach in East Hawaii. Come and enjoy some of these other bloggers from around that world showing you some beautiful imagery.
Where else can you find green sand beaches in Hawaii?
The most popular is the Green sand beach called Papakolea located in South Point. Two other beaches closer to the Hilo side with green and black sand mixed in Richardson Ocean Park and Hae'na beach in Hawaiian Paradise Park. All of these beaches are spectacular to visit here on the Big Island and worth visiting if you are in the area.
Check out these other posts to visiting Hilo and East Hawaii
Things to do around Hilo, Hawaii
Must visit Big Island Waterfalls
Free of cheap things to do on the Big Island
Places to visit in East Hawaii, Big Island
Now it is your turn – Have you been to a green sand beach in Hawaii?
Have you every seen or been to a green sandy beach before? Please share those in the comments below.
Conclusion to visiting Kings Landing in East Hawaii
Rarely visited by anyone, Kings Landing is not an easy place to hike to along the shoreline from Hilo area or from Ha'ena beach on the eastern side of the Punta Coastline. There is no easy access to these green sandy beaches in the Puna district, but they are quite spectacular to witness for those that are able to visit this rare green sand beach in East Hawaii.
Thanks for visiting this post on the Kings Landing Hawaii, if you enjoyed reading this post, please do share it with any of the social media buttons located around the post.